There is no question that BOB knows a thing or two about jogging strollers, so I was excited to check out their new 2016 Revolution Pro.
BOB Revolution pro review
Even though I'm not much of a runner (shocking, I know) I loved this stroller for everyday use. It's air-filled tires and shocks make for a smooth ride like buttah, but it's nimble enough to fit through doorways. Personally, I would have loved this sucker as an everyday stroller but I think if you like running, you'll really love it.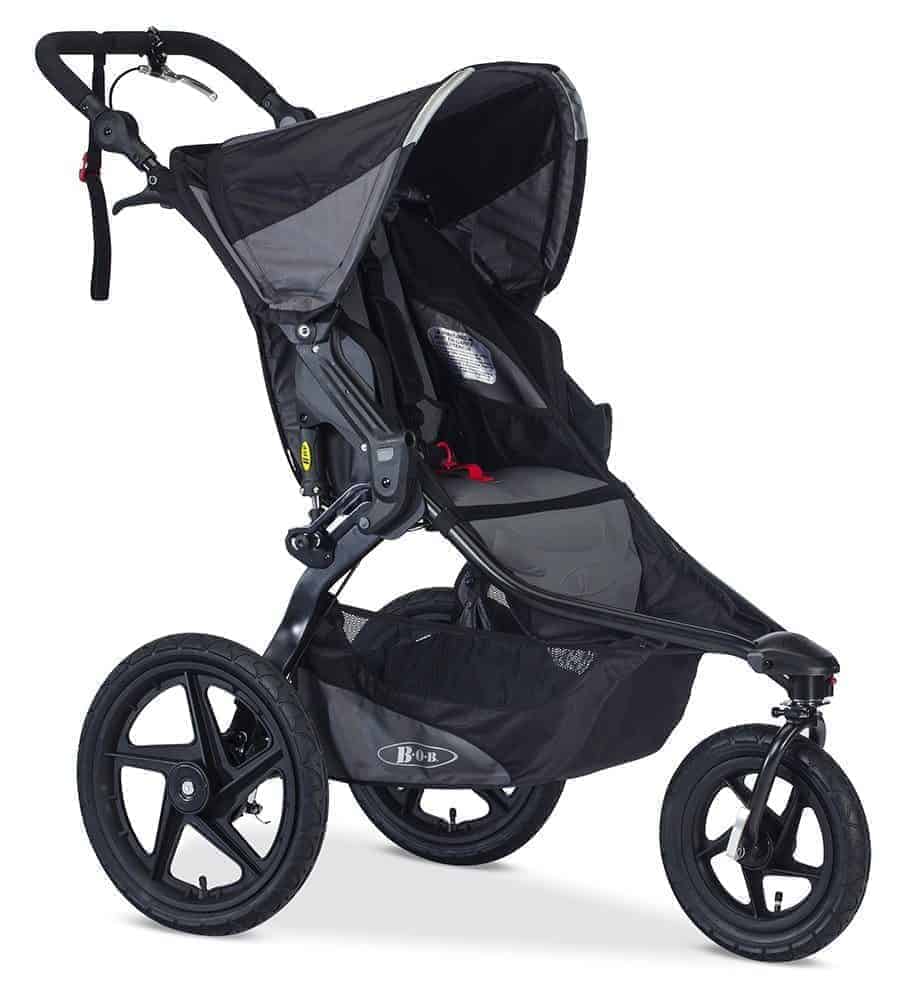 Things I Loved:
The new hand-activated, rear drum brakes come in handy when you're going down a lot of hills
Adjustable handlebar is amazing if your partner is a lot shorter or taller than you
Adjustable suspension and air-filled tires make the ride smoooooooth
The fold is easy. It's just so-so compact but jogging strollers rarely are.
You can get a car seat adapter to make it into a travel system (just don't jog with an infant in there – you'll knock something loose.)
One-hand recline adjustment is pretty easy to use
Monster canopy
Easy-remove wheels so you can stash it in smaller spot
Great, smooth parking break
It would be wicked in snow, gravel, uneven surfaces, etc.
Things to consider:
Like most jogging strollers, it's heavy. If you want something to pop in and out of a trunk go for something else.
It ain't cheap. BOB makes nice strollers and there's a price tag with that – these run around $450 – but they do tend to hold their value if you want to sell it later.
If you want a comparison, I'd look at the Flex (the main difference is that it doesn't have the hand brake but it's cheaper), Joovy Zoom (lighter and less expensive but doesn't have the adjustable handle height) and BOB Ironman if you are a hardcore runner (it's more expensive but it has a fixed front wheel for extra stability – only get this if you don't want to use it for your everyday stroller)
Would I recommend the BOB Revolution pro?
If you think you'd like to go running with your kiddo and you live somewhere hilly, I would definitely look at this one. It's a well made and rolls like a dream and I think it's worth the BOB pricetag.
If you have one, let me know what you think of it!
---
Get posts & giveaway updates delivered right to your inbox
---
---