Honda Canada loaned me a Pilot to drive for the week and had me and my family up to the Windermere Resort in Muskoka for Dorito consumption. All my opinions are my own especially because I had to give the car back.
As some of you may know, I love my Honda CRV. If I won the lottery I would probably buy some kind of fast sports car for my husband and another CRV myself – it's how I roll, son.
So the gang at Honda asked me if I'd like to have a family weekend at a cottage resort highlighting all the new Honda products called "Camp Honda." They also said they would loan me a new 2016 Pilot to drive me and my family up in. Er, okay, I think I can swing that. (High kick, yes!)
So they drop the car off and it's lovely. Of course they loan me the model with all the bells and whistles so my 2004 CRV that smells of stale french fries and spilled coffee looks extra tired next to this 'new girl with big tits' at school.
Now, we need a new car and my plan was to get an Odyssey (here's my review on it). All that kid stuff is taking up waaay more space than I currently have – hockey gear, bigger clothes, bikes, eight million dollars in Lego, not to mention that the boys are in booster seats so if a fifth person needs to be in the car (like my mom or one of the boys' friends) they have to squish in between them and it's way too tight.
At first I discounted the Pilot because I didn't think it would have enough room in the way back, but taking a look at it with the third row of seats down, it was way bigger than my CRV. Plus, I would only be using that third row occasionally so I could always leave them stowed if I needed the space.
So I jump in the car to pick the boys up from school. Everything in it is really nice. This is when most people would tell you about horsepower and crap. I have no idea. When I hit the gas it went fast – that's the extent of my feedback there. However, I just felt very small in it which made the ride really awful for me. I drove around like this for three days thinking, "everything in this car is so fucking amazing, I just which it didn't make me feel like a garden gnome. If only I could raise the seat up or something. Wait a minute. What does this button do?" Wahhaaaaaaaa! I can see! I feel like a grown up again! Perfect car!!! Why did I doubt you?!
And the true love affair began.
HERE'S WHAT I LOVED:
It's bigger than my CRV and can therefore fit us plus crap.
I personally like the new look because it's less boxy (some people hate it).
It has seating for 7 (I think the other models are even seating for 8 so you could have a row of three car seats AND fit people in the way back without driving a bus.)
The model I had has the entertainment system so I can listen to my music with all the foul lyrics while the boys watch Despicable Me.
It warns you if someone is in your blind spot when you go to change lanes.
It has something called Collision Mitigation Braking System which should have just been called "Bitch, brake!!!" because it warns you if you are going to slam into the back of someone and brakes for you if you're still being clueless.
It also has Lane Departure Warning. So if you're driving along and start to drift out of your lane the steering wheel trembles a bit to say "hey, wake up, Bud." It also made me aware that I drive a bit like Ernest Hemingway on a bad day.
It will be awesome in the snow.
If you're a minivan hater you'll like the sporty look with the space.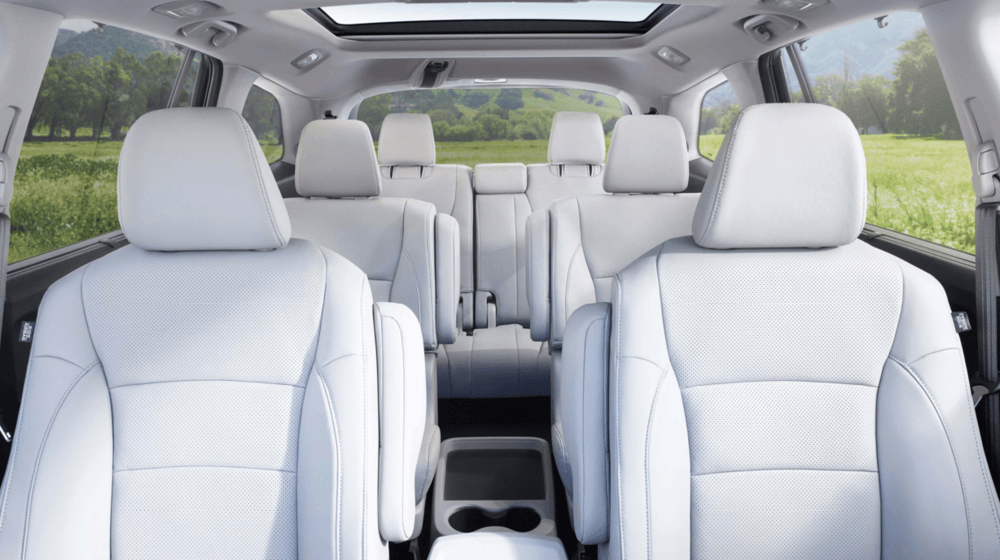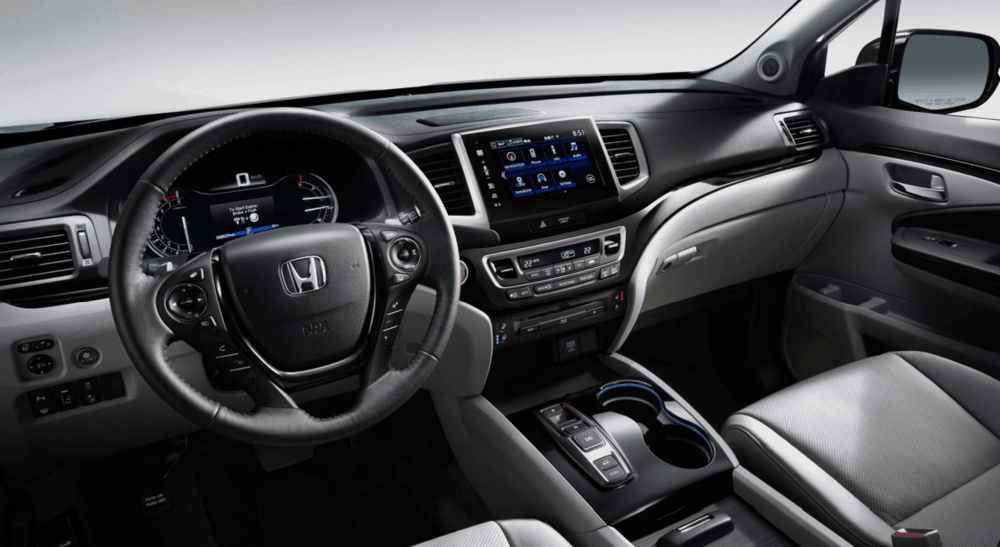 THINGS TO CONSIDER:
If you're short you need to raise the seat up (I know, you're welcome).
If you have three or more kids, don't get a model that has captain's seats because you'll have to put one kid in the way back which will suck up ALL your trunk space.
The side doors open instead of slide like a minivan. I LOVED this feature when I drove the Odyssey because I never had to worry about the boys dinging cars next to us when they got out.
It's pretty expensive. Honda's aren't cheap and this one add up quickly when you start start adding features. I'm not sure what would be in the same camp as these though so maybe you're getting a lot of bang for your buck compared to cars in the same category.
All that said, I loved it so much that I'm getting one instead of the minivan that I've coveted for so many years. Of course I don't have it yet because the model I want with the colour and interior has to be whittled by pixies somewhere but I'm still excited!
As for the weekend, it really was amazing and nothing makes me happier than a brand I love inviting me to something kick ass because I don't feel like a whore if I decide to write about it.
Here are all the pictures. And feel free to ask me questions about anything (except fuel economy, torque, fuel injection and other crap I don't understand.)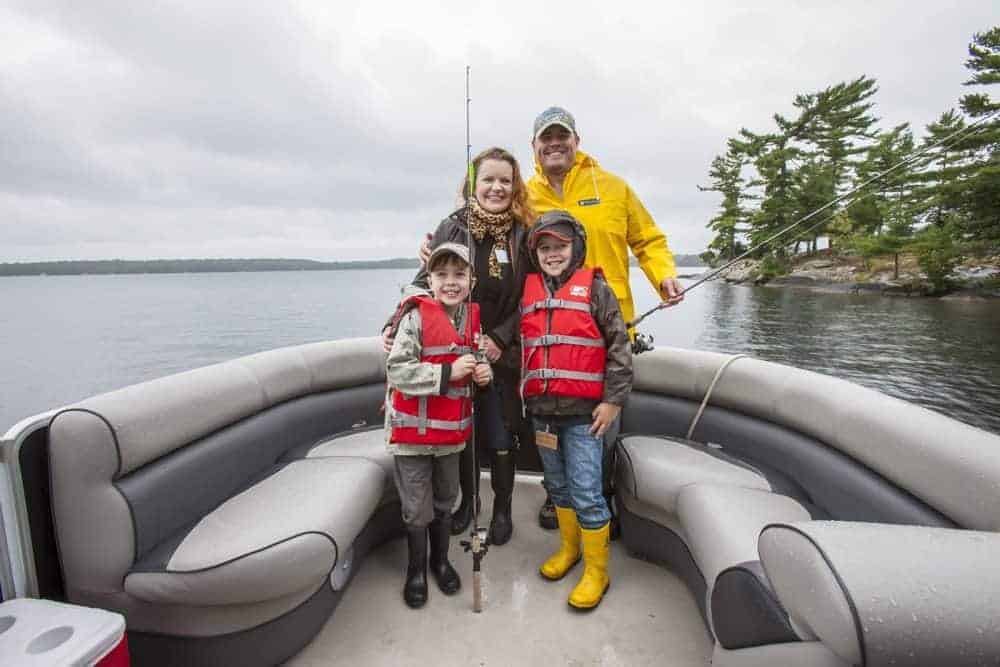 This is the only time where I did the "we were invited on this amazing weekend so just get up here and smile' moment. I don't know if you can tell from my gritted teeth.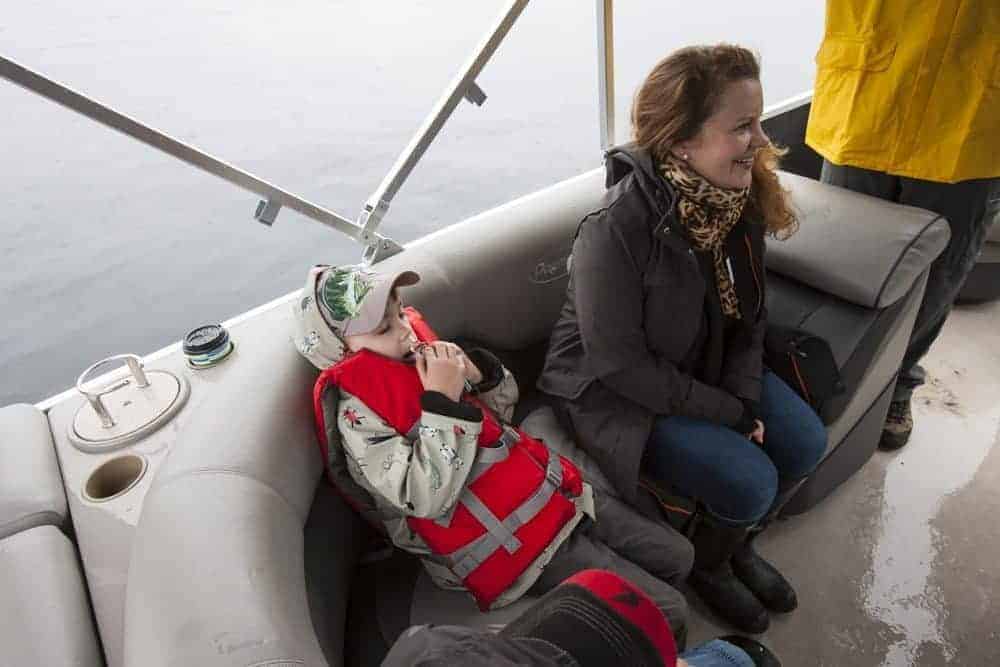 Each location had snacks and I think my kids blew through about 80 bags of doritos.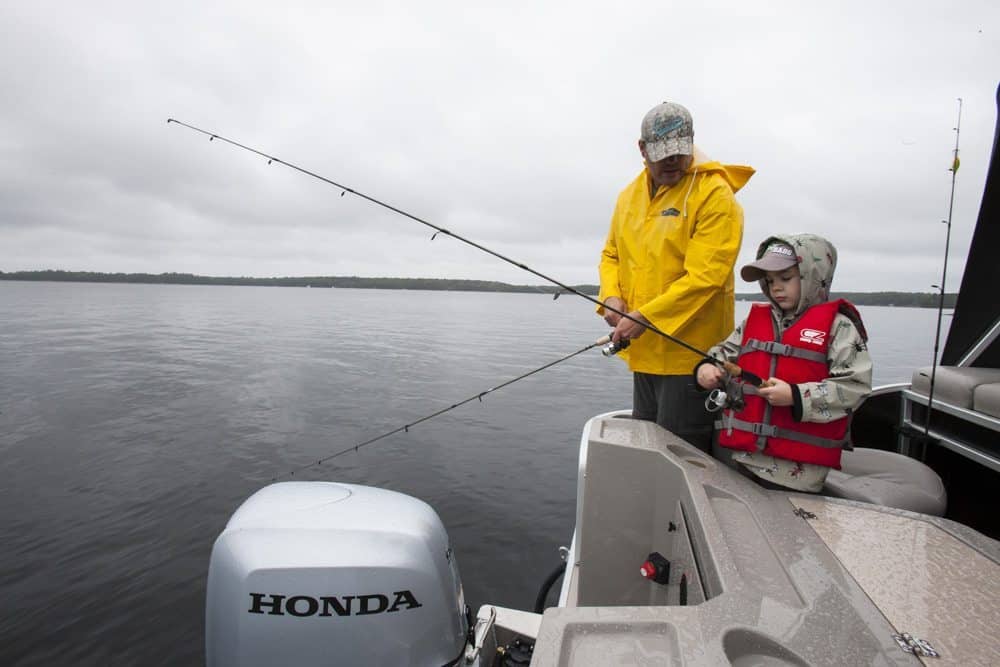 Andrew loves fishing. Like LOVES. That yellow jacket was not supplied to him – he owns it. So I was particularly grateful to the gracious guys on the boat that let him re-tie all the rods with more suitable lures. To his credit, we were the only ones that caught a fish the whole weekend.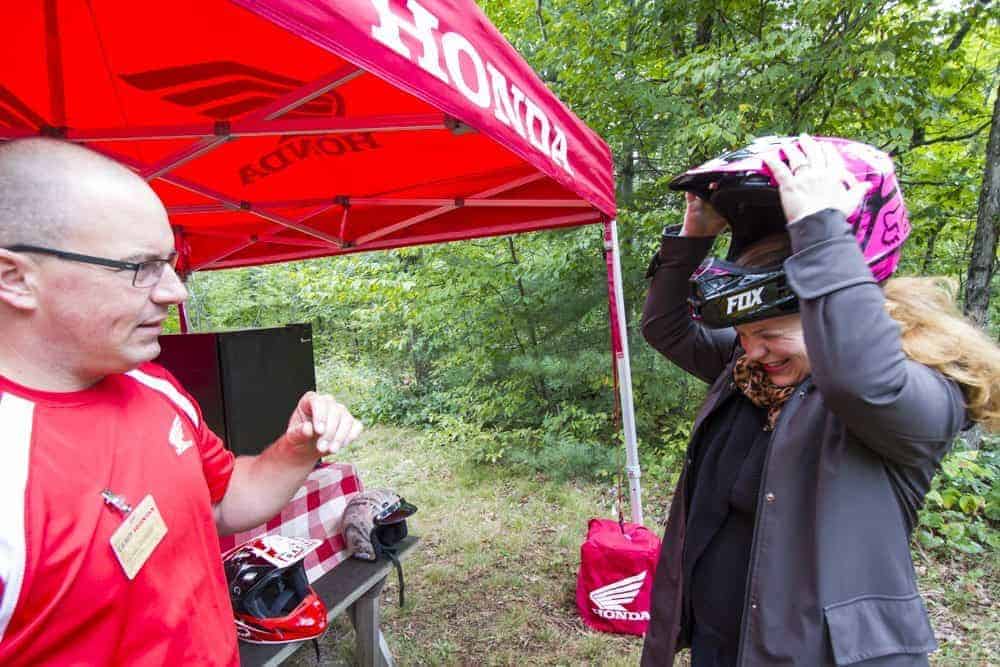 I was made aware of my Welsh heritage with this peanut helmet and my giant head.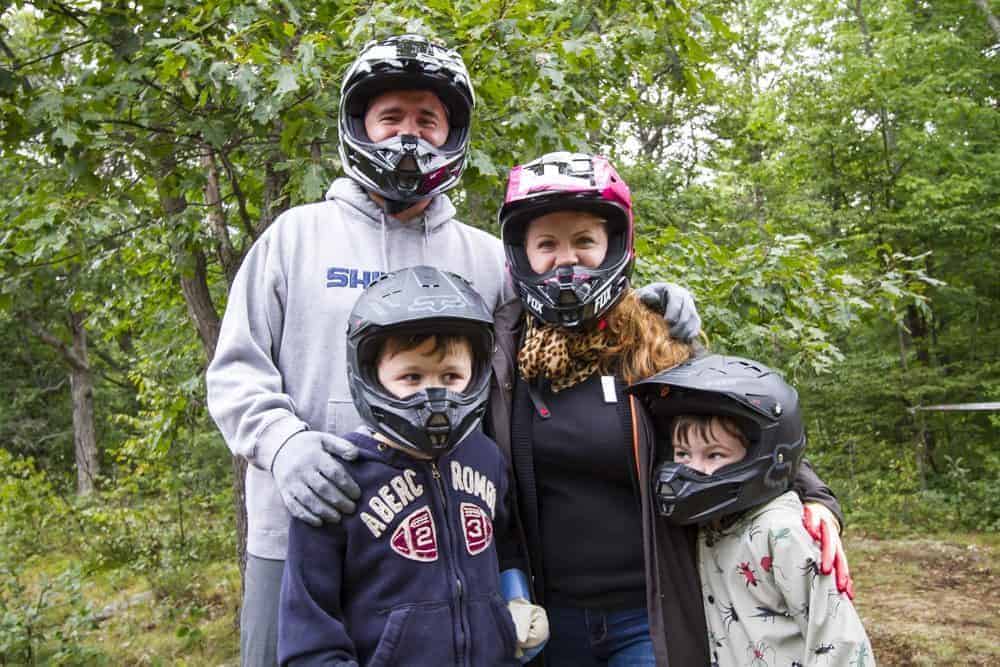 I thought my younger son was going to lose his nut he was so excited to go on a real ATV.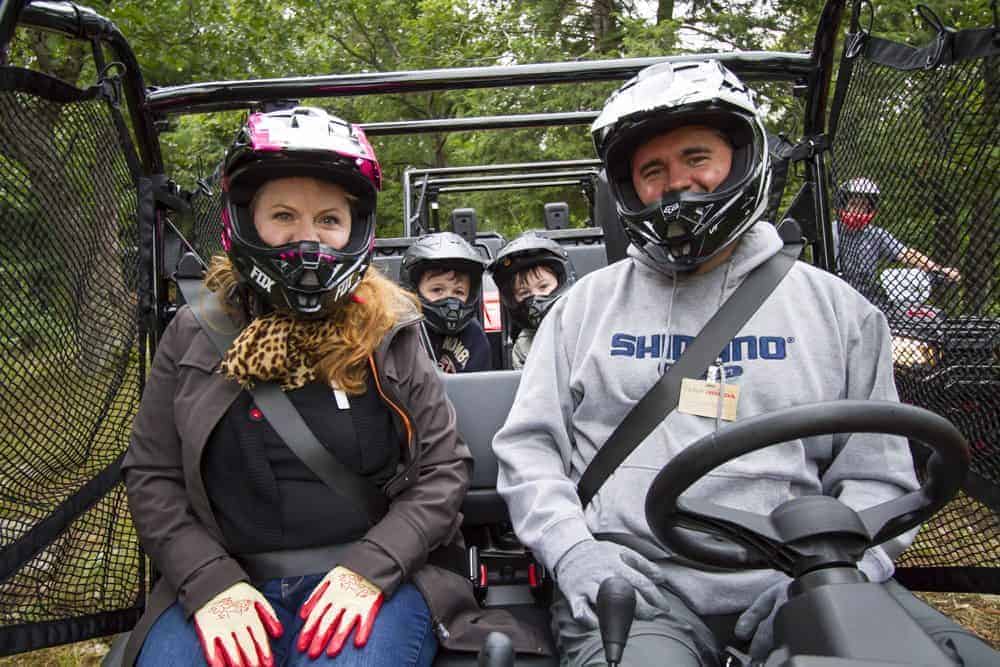 I have to admit, I've never seen the appeal of off roading until we did this. It's a ton of fun even though I refused to drive.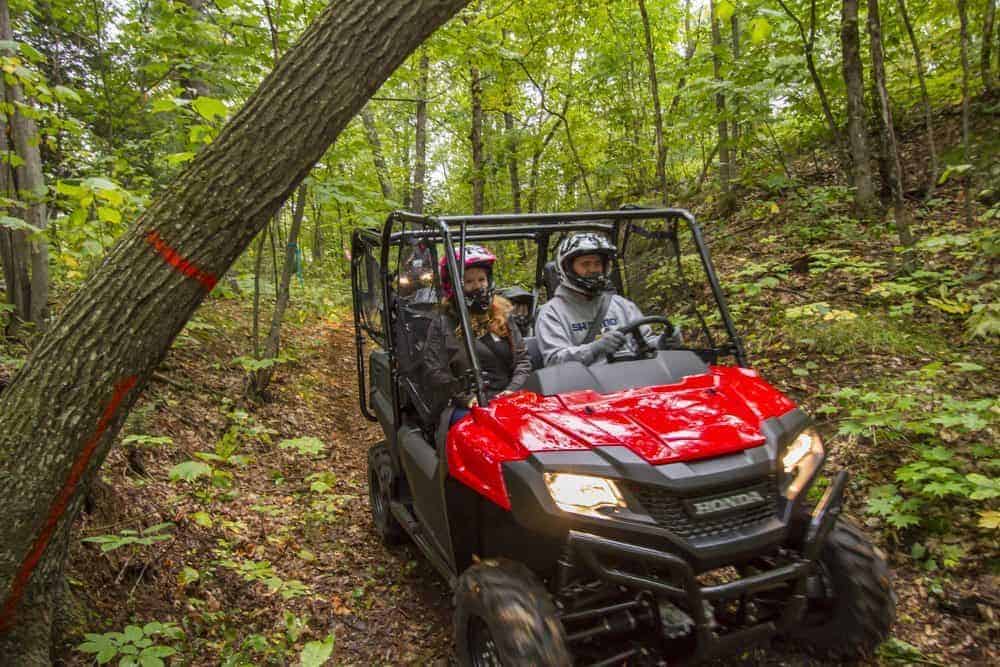 Once again, Andrew LOVED this adventure and was all "Squatch Hunter in the Outback" whereas my older son was more like "let's eat more Doritos by the fire".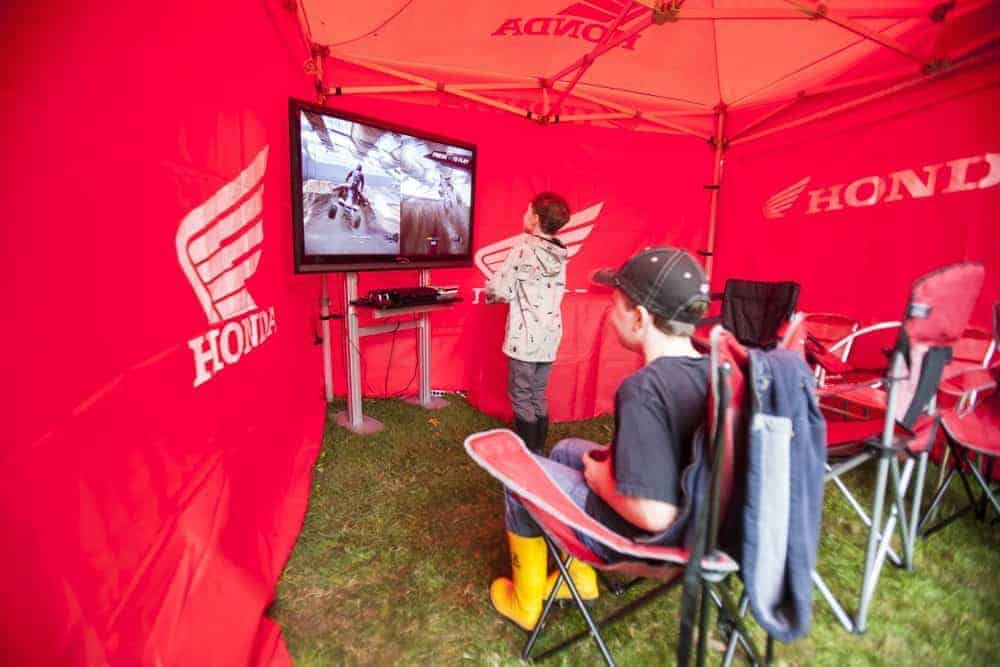 They set up a generator with a video game to occupy the kids while their parents checked out the engine stuff.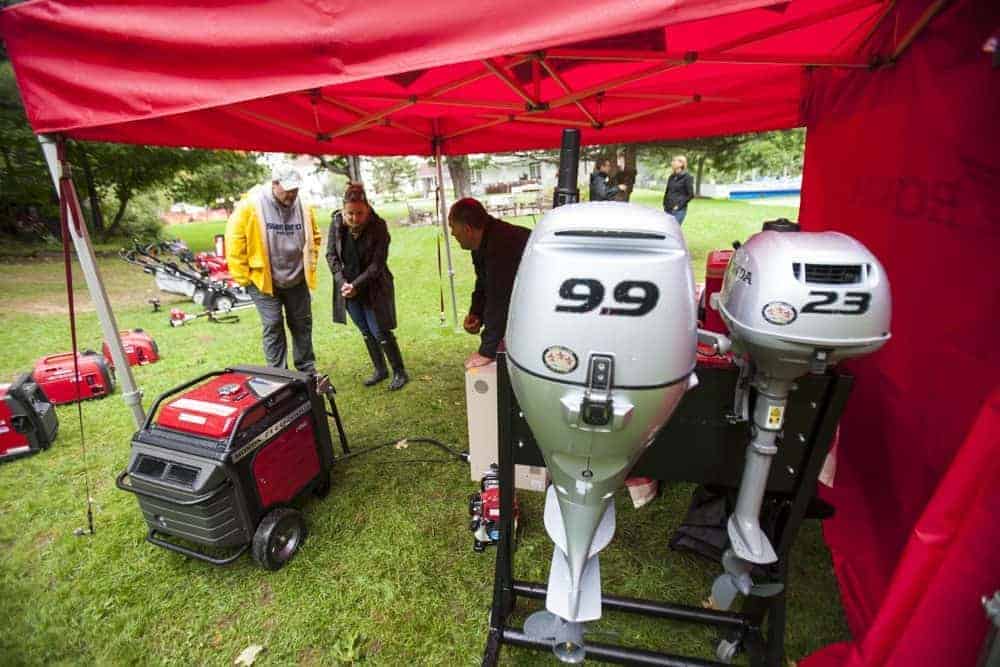 I happen to LOVE anything that has to do with disaster/zombie apocalypse stuff so I was right on board with the generator demo.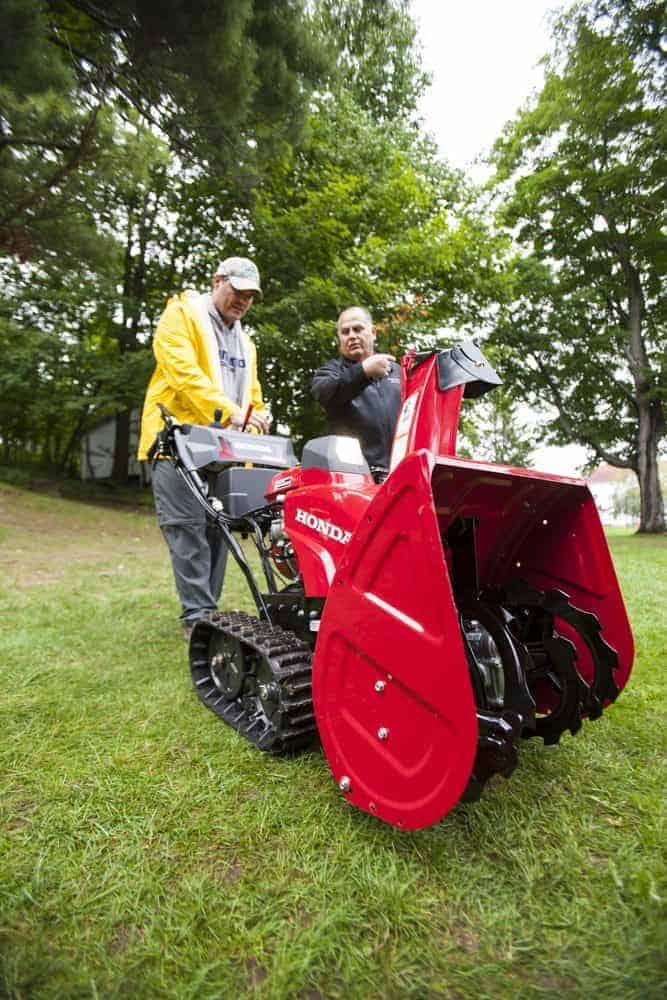 Canada. Snow blowers. Yep, interested.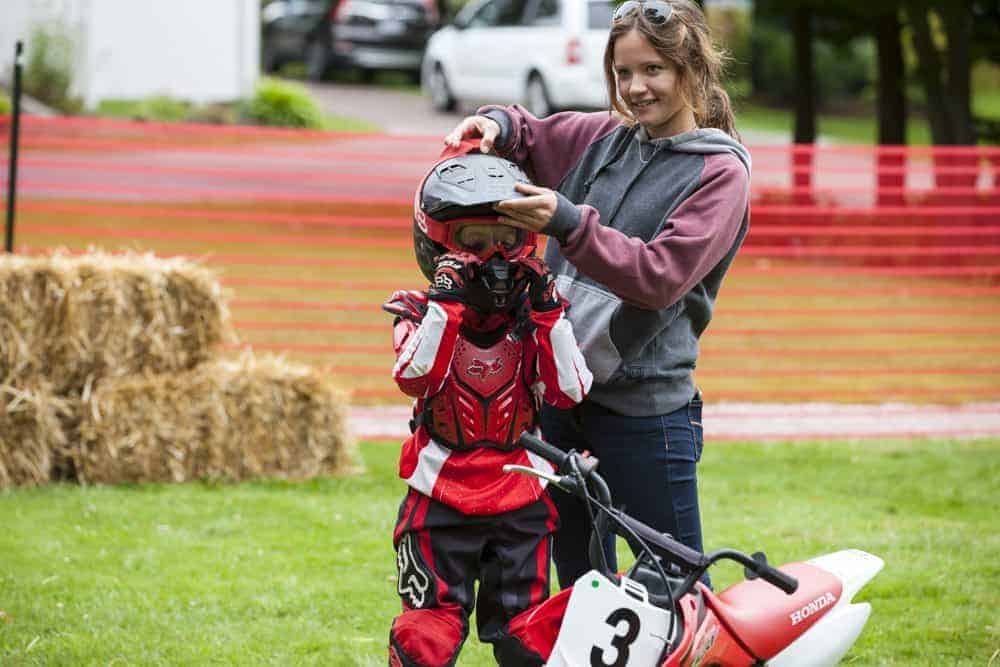 This is the Junior Red Riders Program and I highly recommend it.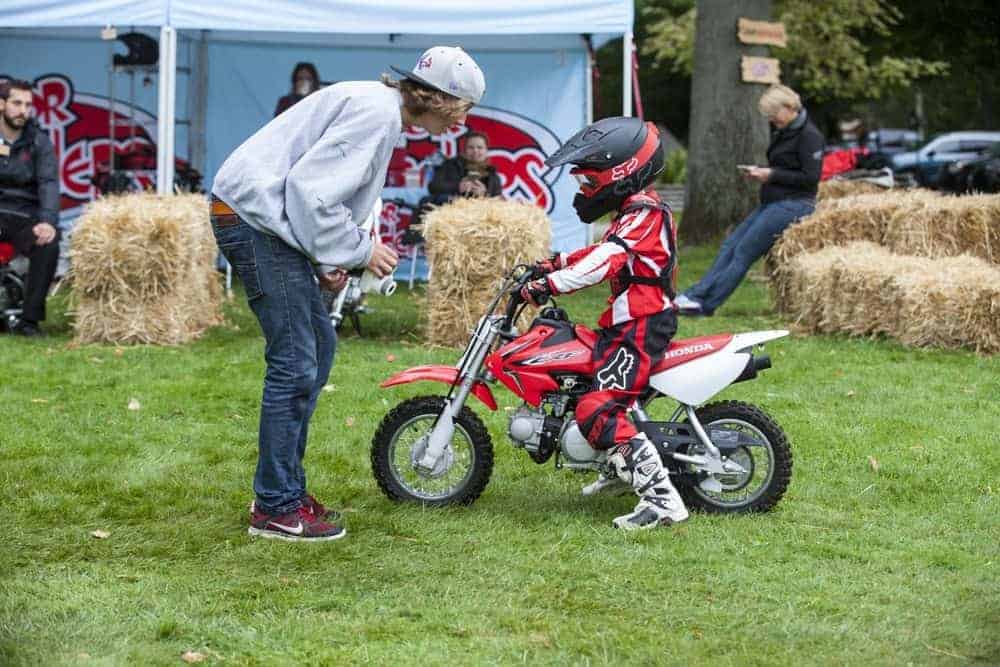 I felt my kids were completely safe this whole time and that's saying something considering that I still cut their grapes in half.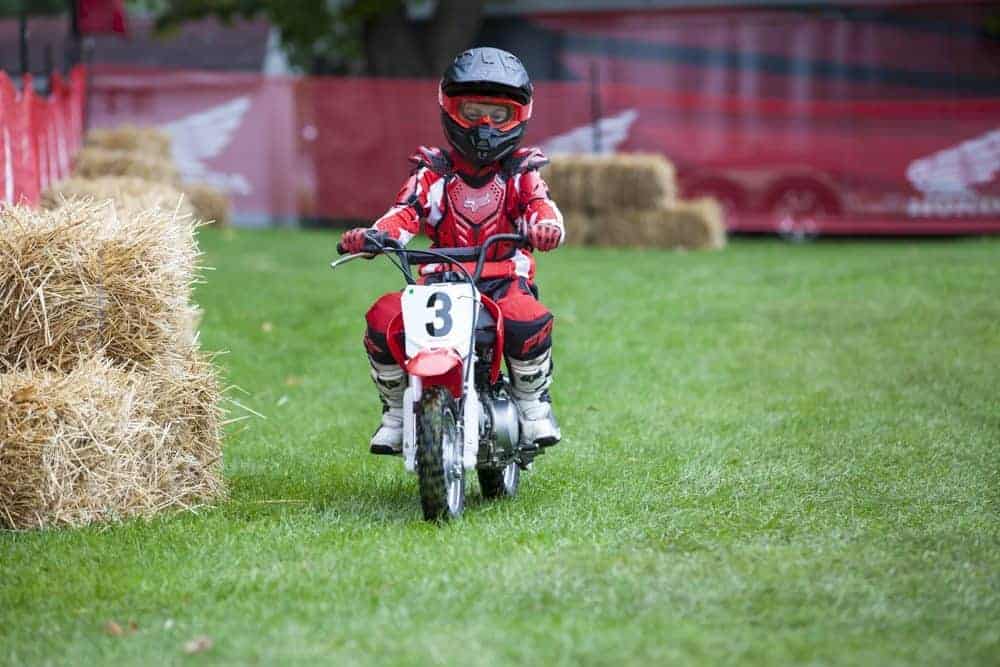 He was up and running in no time.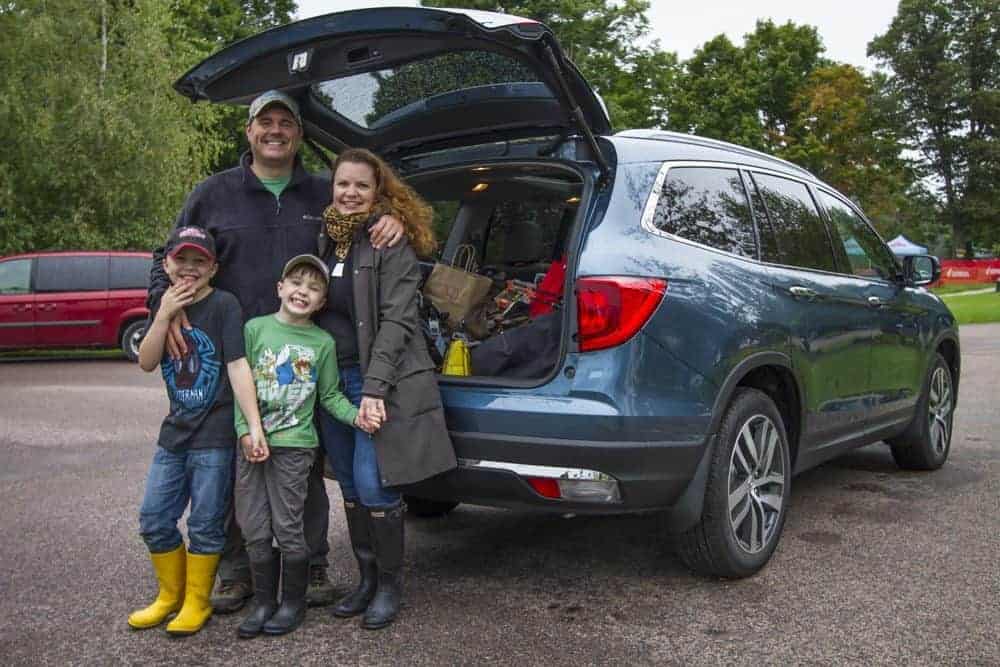 Just before we were leaving they asked if they could take a picture of us by the car. Would it be weird if I used this as my Christmas card? My kids are both smiling at the camera and they are HOLDING HANDS!! WTF?!?!
---
Get posts & giveaway updates delivered right to your inbox
---
---