This post was created in partnership with Gugu Guru. All the opinions, criticisms and observations are my own. Thank you for supporting the brands that make this site possible.
Picture this, you are pregnant and know you have to get a bunch of stuff. You walk into a baby store all prepared to get this party started but you are hit with a sea of baby crap. Oh shit.
Are the people working there telling everything is a 'must have' because they work on commission or do you really need all this stuff?
You heard wipe warmers are stupid. Are they stupid?
Nipple shields? WTF?
What do you mean you have to figure out if you're going to bottle feed, cloth diaper or use a baby wrap now?!
You'd run out of the store if you weren't pregnant but you get winded easily and you have to pee.
Wouldn't it be great to just hire someone to figure all this out?
Someone that would just flat out tell you what stuff would be the best stuff for you without you having to sift through a billion 'must have' lists and gear reviews? Gugu Guru now has a service called Gugu Concierge and I think it's so brilliant.
I'm going to start with the priciest Preparation Package ($299) because it has the most stuff.
To start, you fill out a questionnaire so your dedicated concierge has an overview of your lifestyle and preferences (do you live in a walk-up in a city or on a farm in Wisconsin, are you all about tradition or more of a modern minimalist, etc.).
Then that concierge gives you a shout to discuss your questions, concerns, and preferences to coordinate recommendations that are just for you. Not someone like you – recommendations just for YOU. She doesn't work on commission or need to push certain products. She doesn't care how much stuff you get. You have simply paid for the time of an expert to curate the perfect collection of baby items that are ideal for you, your family, and your baby.
Oh, but that's not all
Once you have your list together, you even get a full month of email support – "Hey, I just read something about hip safe carriers. Is the one I'm getting "hip safe"? Does that even matter?" Your concierge will know the dealio so you won't be haunted by the choices you've made and second guess yourself a billion times.
You also get a Bump Box filled with $50 worth of goodies (nice) and a 30-minute session with an internationally board certified lactation consultant and postpartum doula (that alone is worth the cost of the package).
Is Gugu Concierge worth it?
I mean we spring for wedding planners and interior decorators, why wouldn't we hire someone to help us prepare for a baby? That's a whole damn person and it's around a heck of a lot longer than your drunk uncle Jimmy at the open bar or wall sconces, so I'm going to say 'yes'.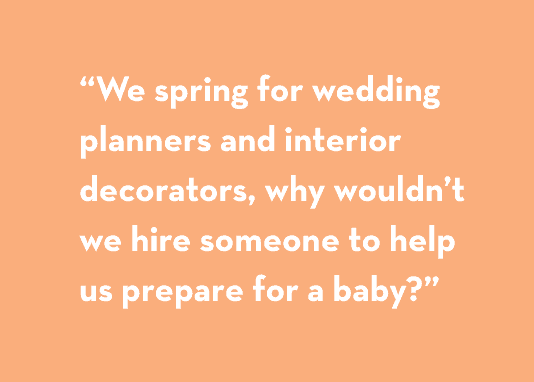 Still too pricey?
If you want to skip the postpartum doula, Bump Box and email support, they have 'lighter' packages – including one for $99. You can see how they compare here. All of them include the 45-minute consult which is one of the biggest benefits in my mind.
Is it right for you?
Unless you own a baby store, I think most people would find this beneficial. I am a type A research-the-heck-out-of-everything person and I would still have used them because I would have loved pinning down an expert to confirm my choices (and possibly tell me what a wonderful mother I'd make but I suppose that wouldn't be essential). However, there is a cost that comes with this and not everyone can afford it. Even though it's a favorite with celebrities, I'd have a look at the testimonials they have from real moms so you can get a feel for whether it's a good fit.
Either way, I think it's a really cool service and I wanted to get it on your radar.
Check out Gugu Guru's Free Services too
Also, have a look at some of their amazing free features like the registry questionnaire that will help hone your choices. It's less tailored than a concierge but certainly points you in the right direction. You can read my review on that here. They also have a new product recommendations service you can sign up for called, Grow with Gugu, that sends you tailored recommendations based on your baby's age and your profile. It's a nice way to stay on top of what's new and cool out there especially as your baby gets older and it's harder to stay in the loop.
What do you think though? Could you see yourself using something like Gugu Concierge? What part of the baby prepping process have you found the most confusing or overwhelming?
Our next recos: Baby on a Budget – the Barest Bare Essentials
---
Get posts & giveaway updates delivered right to your inbox
---
---