Where do you get maternity and baby stuff?
When I was pregnant the first time, not only was I overwhelmed at the thought of giving birth, but I didn't know where to get anything. I mean, it wasn't like I had any reference beforehand – if I saw a baby in a stroller holding some toy I just figured it kinda came like that. Sadly, kids need some stuff and not everybody knows where to get it so I thought I would put my baby expertise to good use here and create a bit of a list. It's by no means a full listing but it's where I direct my friends when they are overwhelmed and need to know where to go.
If you need a list of what to get, I have two posts that you may find helpful:
Some of the links on this site are affiliates which means I get a small commission if you buy through the link (there is no extra cost to you). If you do shop through these links, I REALLY appreciate it – if you buy a $2 book I suggested then a giant bag of dog kibble and a flat-screen t.v. they have to give me commission on all of it. (I would like to make out with the person who purchased a $1,400 gift card on Amazon one month because you paid my phone bill.)
I partner with sites that I think have a great product and/or can get you a great deal. There are some sites that try to bark up my tree but I know their product is either crap or way less expensive somewhere else so I don't work with them.
Actually, if there are certain bloggers that you really love, try to shop through the links on their sites. It's a great way to support them without too much effort. I know they all appreciate it as much as I do.


I find you there are two ways to go with maternity clothes. Either you're in them for such a short period of time so go cheap and cheerful, or you are wearing the same clothes over and over again so get stuff that fits well and lasts. I feel like a hybrid of both is the way to go, unless you're Beyoncé and can afford $87 tank tops. You do you, Boo.
Old Navy: I really like their tanks, tees and other staples. They fit well and get ratty quickly so you don't want to lay out the big buck. They have really good sales too.
GAP: Same as Old Navy but I little bit better made so sometimes their pants fit better (that may be just me).
Destination Maternity: They have a nice selection of clothing that spans all budgets.
Pea In The Pod: A little pricier, but this is a great place to find some beautiful clothes and high end jeans.
Motherhood: They have some nice basics and a popular Plus Size section.
H&M: If you have a party or want something trendy, these guys do it well and are budget friendly.
ASOS: They have really gorgeous dresses (and swimwear.)
Ann Taylor Loft: They have really nice, classic styles and they have a great petite section.
ThreadUP and Bellies to Babies: Check these guys out for consignment clothes. You can scoop up some really good deals on barely worn items.
Nuuly: a rental service for maternity clothes. Just wear them until you're sick of them then swap them out.
StitchFix: They hand pick items for you and you buy and keep what you like. It's a great idea if you're at a loss for how to dress the bump or don't have time to find stuff that doesn't make you look like a circus tent.
Bump Glow Maternity: These guys are able to find wholesale brand name clothes and sell them at a much cheaper cost.
Craigslist and Thrift Stores: It's not always a sure shot, but you can score big time if you keep your eyes peeled. Some lady that's your size, with your taste, may have unloaded all her maternity duds that day and you can scoop them up for a fraction of the price.

Some pregnant women can get away with just using regular granny panties in a bigger size. Same with a swimsuit—some ladies just rock their pre-pregnancy bikini and look glorious. But if you want some undies or a swimsuit that's designed to support your belly, these are some places to check out.
Here are two handy posts as well:

OK, you know you're gonna need some stuff. Even if you're going totally minimalist you're probably still going to want some diapers and a couple pacifiers. These stores are your best bet.
Amazon: If you see a deal anywhere, check it against Amazon to confirm it. They may not have the best price every time but they consistently have really good ones.
Target: They typically have pretty good prices and carry some great brands like babyganics and aden+anais, plus, they have some really good deals every so often so check in with them.
buybuybaby: There are a lot of baby stores online but I recommend these guys quite a bit because they have a lot of selection and they have a price match guarantee which comes in really handy when you are shopping for big ticket items like strollers.
Once you decide on a big ticket item, check the price against these stores too. They will *sometimes* have a promotion on that's unique just to them.

Most major stores carry furniture so if you find a crib, glider, changing table, etc. that you really want, be sure to cross check it against Amazon, Target, Sears, Khol's, Nordstroms,Walmart, etc. to see if they have a better price. That said, here are a couple of places where I love me some baby stuff:
Ikea: I love Ikea for baby furniture. Babies aren't babies for very long so if you're looking to stretch the budget a bit, this is a great place to shop. You also don't have to limit yourself to 'baby furniture' – a great set of drawers with a changing pad on top makes a great change table.
Pottery Barn Kids: Again, beautiful stuff that can get pricey. It's all fairly timeless though and I bought a quilt and an Everywhere Chair for my son when he was born and they are still in his room 10 years later.
Wayfair: A couple of readers said they had great success with these guys. Certainly worth checking out.

If you're really lucky you have a relative or friend who previously had a baby born at the same time of year, in the same climate, who is not planning to have any more kids. You will hit the clothing hand-me-down jackpot! But if not, you have some clothes shopping to do. There are TONS of places to buy baby clothes, but here are my tried and true picks.
Old Navy: Similar to above, the staples are great and the prices during sales are fantastic, but the clothes wear out pretty quickly. This isn't as much of an issue when your 2 month-old is just sleeping all day.
GAP: Again, great staples. More pricey than Old Navy, slightly better quality. And the styles are SO cute.
Target: Great prices on their Circo stuff and you can get a lot for a little money during sales.
Carter's: This is a super popular baby store and the quality of the clothes is great. I especially love the animals on the bum and their fleece PJs. Don't shop there without a coupon!
Children's Place: Really cute and good quality clothes and they often have good sales and coupons, too.
Hanna Anderson: I get really excited when I get Hanna hand-me-downs because you can barely tell another kid ever wore the thing. The quality is fantastic, but the price point is a bit high. Be sure to hit the sales.
Mini Boden: These clothes make me drool, they are so gorgeous. The prices are high and so are the styles.
Online Clothing Consignment: Not everyone is lucky enough to have a kids' consignment store where they live but there are now tons of options to re-sell your baby's gently worn clothes online and shop for more!

Quite a few moms I know like to grab some cheap and cheerful tanks or tees and just do the old 'pull down' when nursing. But for those of you looking for some actual nursing wear, this list covers a good range of brands and styles.

If you are a fellow Canadian, you know the pain of seeing 80% off! Only to find out it doesn't apply to us, or you have to pay $7 billion in shipping and customs. Here are the online resources that are within Canada and have nice selection AND will even ship to us. Snack on that with a Timbit and maternity leave!

KNOW OF A GREAT PLACE TO SHOP?
Feel free to let me know if there's an online resource out there that you really love! Email me with the subject line 'shopping guide'.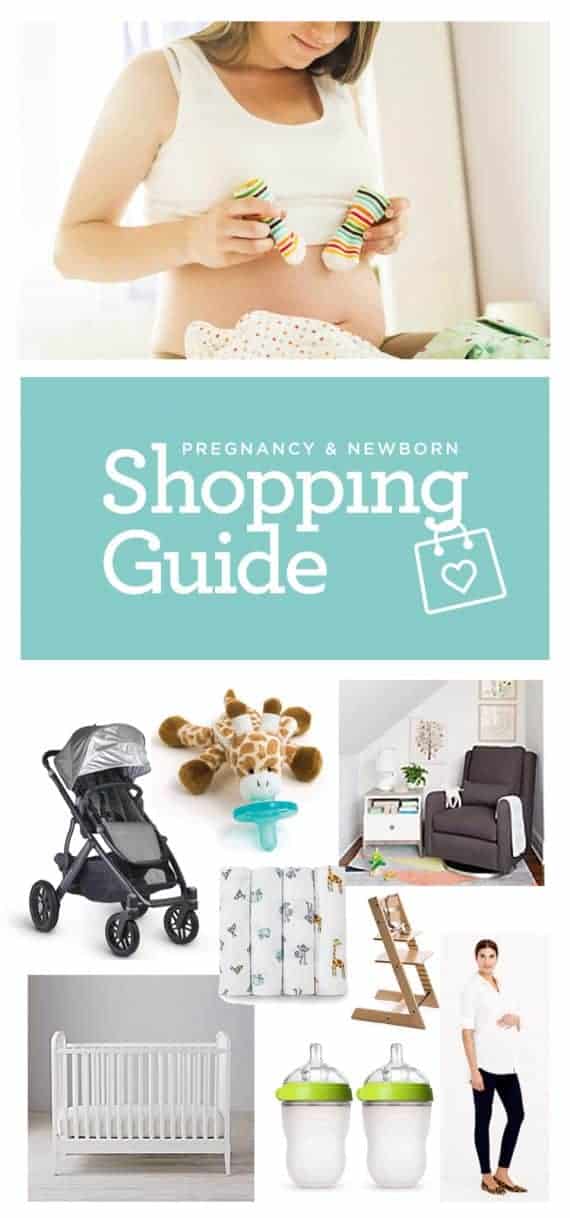 ---
Get posts & giveaway updates delivered right to your inbox
---
---