A few people I know have gotten their birth announcements through Tiny Prints so I thought I'd poke around the site a bit to see what they had, and I was pretty impressed.
It's a bit of hobby for me to shop for imaginary babies (mine is named, Flick) so I figured it wouldn't hurt to share my findings seeing as many of you guys may actually need birth announcements.
Here's what I found:
Good Photography Announcements:
If you've actually gone to the expense of having professional shots taken, then you want to get birth announcements that really makes them shine. These are the ones that I thought did a good job with making it all about the photo.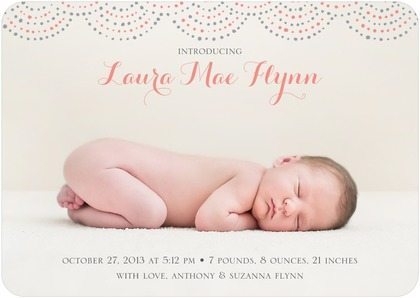 I love this one because it's nice and clean and lets any horizontal shot shine. I picked the one for a little girl, but they do have a boy version as well.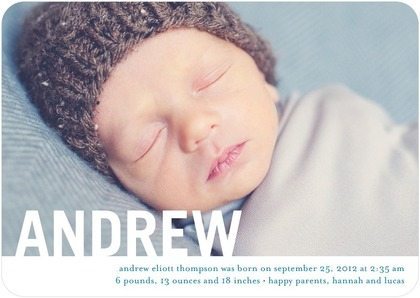 Love the knock out type on this one. Just make sure to use an image that doesn't have much going on in the bottom left-hand corner. There's a girl version as well.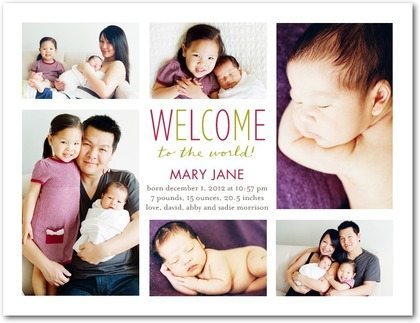 I love how everyone is featured on an announcement like this – especially the siblings who may feel a little left out right now. Bravo for mom getting in on the shoot too. I looked like a sweaty garden slug when my kids were this age but that's what good lighting is for, right?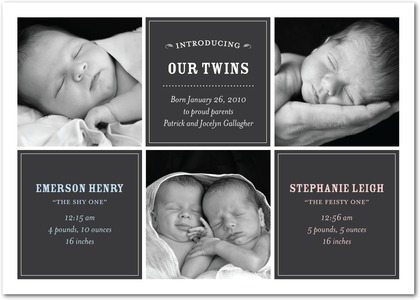 I love that they haven't forgotten about the twins!
Announcements that Let the Stats Shine
These announcements are great because they are more about the stats than the photographs, so if you're not feeling up to a professional photoshoot a week after giving birth, these are a great option because even a few little snaps taken at home will do the trick for these ones. If you're looking for some inspiration, check out my Baby & Cool Photography board on Pinterest.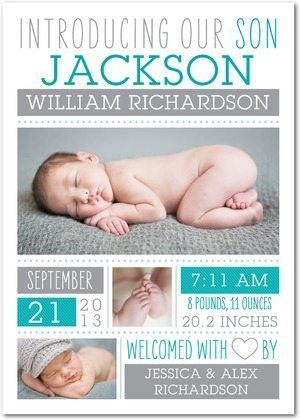 Everything about this announcement is just lovely in my opinion. It gets all the details in there graphically and tastefully. They have a baby girl version as well.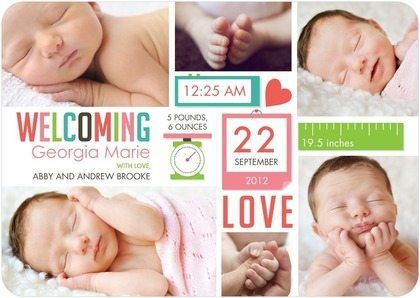 Again, the stats are just as important as the snaps on this one. I love that you can feature little shots of toes, etc. in the tiny photo spots. Try to keep all your shots in a similar tone – all from one photoshoot would probably work best – or convert them to black and white to get a consistent look. There's a darker palette for this one as well.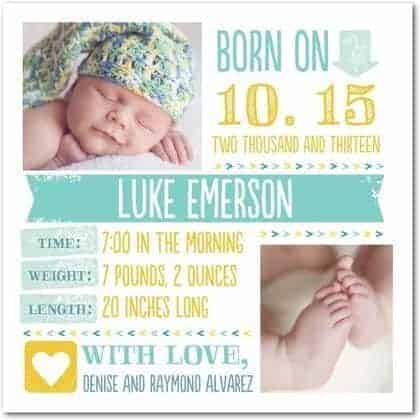 I love all things square. Of course it costs more to mail square envelopes (thanks post office) so they offer a rectangular envelope if you want to save a few bucks on postage. The pink version is equally pretty.
No Photo Announcements
I didn't have time to bathe let alone pull together birth announcements after my kids were born, so I love these no photo options. Just bookmark the page and plug in the stats once you know them and you're good to go. You can pop a little picture in with the announcement if you find you have a couple good ones once you're ready to mail them.  A nice to-do to give to a helpful visitor once the baby arrives.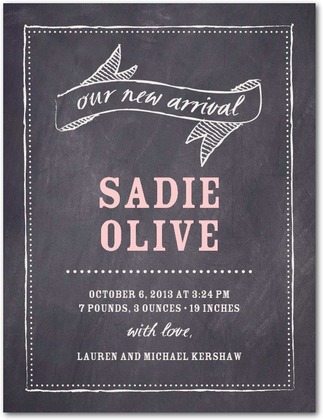 I really dig the chalkboard theme because it looks soft without being cutesy. They also have a photo version and a baby boy version of it.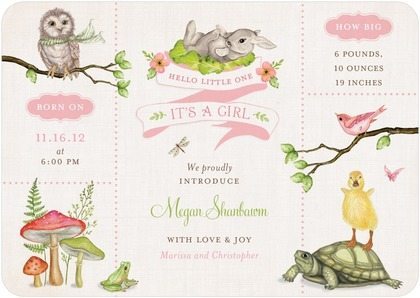 There's something very Beatrix Potter about this yummy vintage style that makes me happy. There's a little boy version as well as coordinating shower invitations if you really want to look like you have your shit together.
More than Birth Announcements
I've always had it in my head that Tiny Prints was all about birth announcements, but I was surprised at some of the other goodies they have.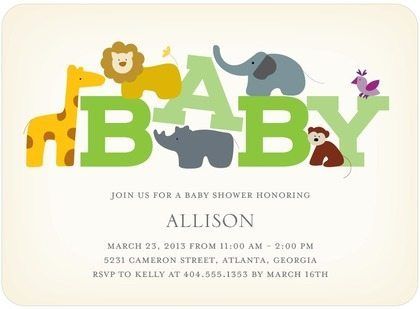 Baby Shower Invitations: Save someone the hand cramp and get shower invitations printed. They even have return address labels to go along with them.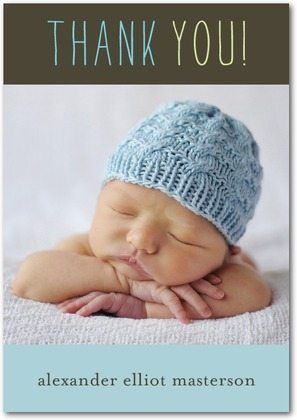 Thank You Cards: They have a nice selection of photo and type-only thank you cards. After all, it's hard to get pissy about a thank you card that is four months late when it comes from an adorable baby.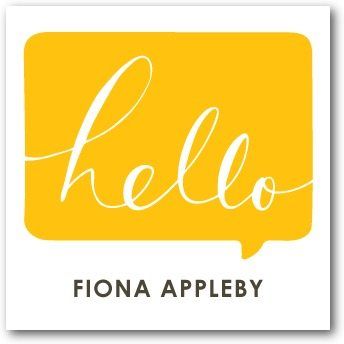 Contact Cards: I remember seeing the idea of having a contact card before I had kids and thought it was stupid – how hard is it to find a damn pen? Turns out these are brilliant I and I could have used a simple card with my name and address on it about a billion times while functioning in the parent world. I could have used one to hand the cool mom I meet in the park instead of writing my email an old receipt for toilet paper and tampons (charming). I could have used one to leave at playdates and birthday parties instead of scribbling my emergency contact info on a paper napkin. I also could have really used one to hand a parent at school instead of using my business card which informed her that I was a graphic designer (guess who laid out the cookbook this year?). I would keep it simple with my key contact information but you can use them for allergy info, emergency contacts, etc. These would make a nice shower gift too.
I found the one above in the business section but they do have a section that is solely contact cards for parents.
Cool stuff, eh?
I'm actually going to do my holiday cards with them so I'm not frantically mailing out cheesy box cards on December 23rd. Instead I'll be frantically mailing out beautiful, custom cards on December 23rd! Wish me luck.
---
Get posts & giveaway updates delivered right to your inbox
---
---