Today I've pinched a guest post from Alison at An American Mommy in Paris.
I'm currently reading her book "Paris with Kids" which is a compilation of little stories about her five year stay in Paris while her husband worked for the U.S. embassy.
I have decided that I wouldn't survive in Paris because I can't walk in heels. I have no idea what women with Fred Flintstone, flat feet do there – perhaps they are sent to the forests to search for truffles.
One of her stories also covers a French birthday party for three-year olds where I would have been arrested for trying to liberate a bunch of children like something out of a fucked up Madeline book.
So here's a little amuse bouche about the Top Ten Reasons to Give Birth at the American Hospital in Paris. This place sounds incredible and I would actually consider getting pregnant again if I thought I could give birth there, but I have a feeling they would banish me and my flat feet to some alley where businessmen piss (Also covered in the book.) Un bon moment.
Top Ten Reasons to Give Birth at the American Hospital in Paris
10. You are guaranteed a spacious, private room.
9. No one will kick you out mere hours after giving birth. You can stay as long as you'd like. Really.
8. A one to one nurses to newborn ratio is maintaned at all times.
7. They moisturize your baby's skin with the most amazing smelling cream ever invented.
6. They are very liberal with the drugs during labor. No need to wait until you are 4 cm dialated for pain relief. All you have to do is ask once for pain relief and you'll get it.
5. Every room comes equipped with satellite TV and WiFi.
4. You can order a bottle of champagne sent to your room. It will be delivered by a guy wearing a tuxedo.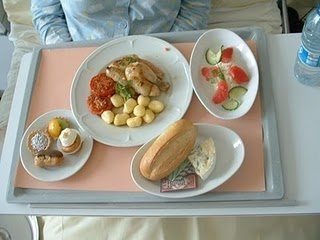 3. Three gourmet meals are delivered daily. A sample menu: crab salad on green apple gelée, free range chicken with taragon sauce and pommes dauphinoise, bread, cheese and of course, mini pastries for dessert. I loved the food so much, I even took a picture of it.
2. Wine served with every meal, of course.
1. A hairdresser and make-up artist on call to prep the you for your first photos after the birth of your bébé.
---
Get posts & giveaway updates delivered right to your inbox
---
---