Here's how to get a Willow Breast Pump through insurance.

If you're planning on pumping, and specifically want to explore handsfree options, there's some exciting news on the wearable breast pump front. The Willow, a handsfree, all-in-one wearable breast pump is now available as an insurance upgrade option via Aeroflow.
What Makes Willow Different?
The Willow is a wearable breast pump, meaning you stick the two cups in your bra (no special bra is needed, although it won't work with underwire or padded bras), and let it do its thing. There are no wires, and no tubes, allowing you to be as mobile (or immobile!) as you want. The suction is strong enough you can even lay down and get a minute of rest while it gets the job done. You can pump directly into no-leak reusable milk containers, or spill-proof milk bags for easy storage.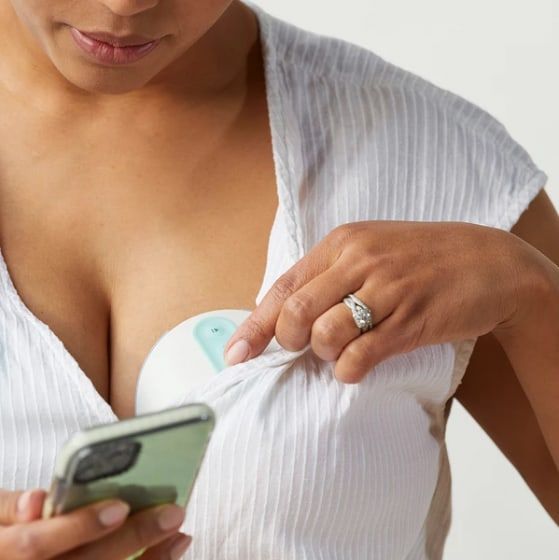 Is the Willow Covered by My Insurance?
While the final details will have to be worked out between your insurance company and Aeroflow, the goal is to reduce the out-of-pocket cost to pumping moms, making it a more easily attainable pump for those who need it most.
Finding out if it is covered by your insurance company is easy enough on the Aeroflow website, where you'll give them all of your info, and they will contact your insurance company to figure out what pumps are covered, and what options you have. One quick note, Aeroflow has it listed as an "insurance upgrade option" which means it likely won't be free for you, but it will still be cheaper than the original price.
Willow Makes Virtual Access to Certified Lactations Consultants Easy
Willow has partenered with SimpliFed to give lactating parents access to a network of IBCLCs regardless of insurance. These lactation consultants can help with a range of questions that might crop up starting before your baby arrives through weaning - with just about any feeding related issue you might come across in between.
Willow users can access these services through Willow's Mom Care services, webinars, and classes, as well as the Willow Go™ app.
Are There Other Pumps I Can Get Through Insurance?
Thanks to the Affordable Care Act, most insurance plans will cover one pump with each new pregnancy. What pump options you're given, though, varies between companies. For more info, including how to find out what pumps are covered by your insurance, click here.
What Does a Real Pumping Mom Say About It?
Going hands-free is a game changer for moms on the move.
Here are some positive things that one mom of two had to say about the Willow:
Very easy to use, can be put on with one hand which is helpful when you have your hands full of fresh baby.
Can be used with any bra, which means you can easily feed on one side and collect from the other if your babe fills up
Has an app that's intuitive and helpful, recording information like amounts collected, time of day, and from what side
The pumping cycle stimulates and expresses automatically, so you don't need to push any extra buttons
No issues with leakage, even chasing a toddler around
Comes with both 21mm and 24mm flanges
Has an option for a reusable pumping container that you can empty straight into storage containers or bottles
And here a few other things worth mentioning:
The bags are on the spendy side, and are often out of stock (at least at the time of writing this)
You can only charge one pump at a time, so you'll want to heed the low battery warning when you see it
Have you used the Willow?
Let us know what your experience was like in the comments below
---
Get posts & giveaway updates delivered right to your inbox
---
---