If you've ever wondered who's in charge of making sure the products you're using on your baby are safe, you're not alone. The information around baby product safety is ever-evolving, and sometimes a product parents swear is a lifesaver one day is considered a ticking diaper bomb the next. If you're in the dark about what acronyms like "ASTM", "CPSC", "JPMA" and "AAP" stand for and what in the sweet hell they've got to do with baby safety, we've done some digging so you don't have to.
Who Are All Of These Baby Product Safety Groups?
Let's take a peek at who they are and what they do.
Who are they?
The American Academy of Pediatrics was created in 1930 with the aim to keep young people mentally, physically, and socially healthy. Currently, 67,000 pediatricians in the United States, Canada, Mexico and beyond are members.

What do they do?
The AAP has over 30 committees that develop positions and programs on topics like injury and poison prevention, nutrition, and more. They work alongside Congress, the Administration and the judicial system to weigh in on child health issues and make recommendations on child safety legislation. Their partner website, healthychildren.org has information for parents on topics like safety, prevention and healthy living.
Who are they?
The Consumer Products Safety Commission is the federal agency that aims to protect us and our kids from unreasonable risks of injury or death from the products we use.

What do they do?
The CPSC keeps consumers and manufacturers informed on safety standards and product regulations. They also enforce the regulations that they've set. When consumers make complaints about a product, the CPSC hangs onto them and looks for patterns (like, does a particular product have a lot of complaints about kids getting their fingers caught in one of its parts?) They use that information to create new or revised standards that relate to that product. The CPSC is also in charge of product bans and recalls.
Who are they?
The American Society of Testing and Materials is a not-for-profit organization that develops and sets standards for consumer products. They often expand on existing mandatory government standards.

What do they do?
The U.S. juvenile products industry has been using ATSM guidelines for over 20 years to set safety standards on those products.

The ASTM develops their guidelines with input from engineers, consultants, federal government representatives (like the CPSC and the National Highway Traffic Safety Administration), manufacturers, retailers, test labs, consumer advocate groups and consumers themselves. The ASTM looks at the ways consumers use (and misuse) products to set standards and create warning labels for them.
Who are they?
In 1962, a group of manufacturers in the juvenile product industry came together to tackle issues common to the industry. Today, they represent about 300 manufacturers who are members.

What do they do?
A JPMA certification seal means that a manufacturer has gone through an extra set of testing above the standard requirements set by the government. Every product a manufacturer with the seal releases must meet the standards of the JPMA and the ASTM. These products have to be tested every year.

If the product you're looking at doesn't have the JPMA seal, it doesn't necessarily mean that the product isn't safe. There are a lot of reputable baby brands who have opted not to join the JPMA. It's also worth noting that certain products, (like crib mattresses, pacifiers and toys) don't get certified by the JPMA, but they still have to meet federal standards for safety.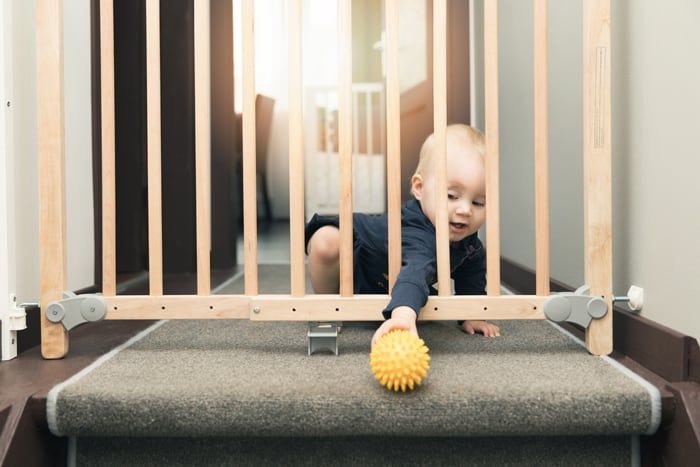 Does That Mean Every Baby Product Sold Is Safe To Use?
I guess that depends on your definition of "safe".

The good news is, any product that's intended to be used by a kid 12 and under has to meet a general set of guidelines when it comes to phthalates, lead, and small parts. They have to be tested by a CPSC-accepted, third-party laboratory in order to be certified, and have to come with a registration card in case of recalls.

"General use" products, on the other hand, don't have to be tested by a CPSC-approved third party lab. The standards that must be met, obviously, aren't specific to kids.

Here's where it gets a little fuzzy. What exactly is a "children's product"? Just because your 2 year old loves scribbling all over the wall with your favorite pen doesn't mean it's a children's product. If, however, that pen has fun decals on it that are appealing primarily to kids (but not equally appealing to adults), then it's probably a children's product. So, maybe that glitter pen with the fun bobble head and flashlight on the end meets the requirements set for children's products. Or maybe it doesn't.

You can check out one of the 25 categories created by the CPSC for "durable infant or toddler products" to see what regulations are in place. Each category has a definition and an additional set of standards that relate specifically to products that fall under that umbrella.

Knowing that there are specific requirements that a certain product has to meet to be certified should definitely give you some peace of mind as a consumer. Unless, of course, the item you're wondering about doesn't actually fit into any of the categories laid out by the CPSC.
What Happens If A Product Is Unregulated?
Unregulated products are allowed on the market, but it's up to the manufacturer to make sure that they're tested for safety.

So, depending on what the company feels is necessary, a product might be tested a bunch, or maybe not at all. Also, this pretty much leaves the standard of what's safe up to the manufacturer, and their standard may not exactly be universal. Since there's no set standard to violate, recalls on unregulated products are also pretty hard to set in motion.

There's no shortage of products on the market that fall into this hazy landscape of unregulated but still for sale. Car seat add-ons, Moses baskets, floor-resting cradles and loungers like DockATots and Snuggle Mes are a few unregulated products that come to mind, but by no means is this an exhaustive list. Again, while they aren't necessarily dangerous, the safety testing is left up to the company selling it – some will test it above and beyond while others will just close up shop and change the company name if a bunch of babies get hurt.

Something else that's worth noting is that companies sometimes like to create their own categories to test that are specific to their product. The problem with this is that these categories have no actual approved or regulated test standards. For example, baby sleep products that have been tested for 'breathability', or car seats that have passed 'side-impact testing" don't have any actual baby product safety standards to live up to (except for the ones set by the manufacturer themselves). It's like getting an A+ on a test you wrote the questions and answers for.
Okay, so what's the best way to stay safe?
1. Read the Instructions (I am famous for skipping this)
No matter what the product is, always be sure to read the instructions that come along with it to make sure that you're using it properly.

2. Note the Warnings
If a product has a warning saying not to leave your baby in it on a table, there's a good chance a baby has fallen off a table in it. If something says, "not intended for sleep" then it's likely that the manufacturer (or their lawyers) are pretty sure bad things can happen if your baby sleeps in it.
3. Register Your Gear
Register all your baby gear with that little card that comes in the packaging. It's not a scam. If something is recalled, the manufacturer will be able to contact you and let you know what the next steps are. Most of the time it's something small but something you'll want to know about. Like, "Hey, it looks like kids can worm their way out of the high chair leg holes, so we're going to send you a new lap belt."
4. Check recalls.gov
If you didn't get the chance to register a product your baby is using (either because it's secondhand or you don't have access to the registration card), check recalls.gov to take a peek and make sure it hasn't been recalled.
5. Ask Yourself Questions
A good safety rule of thumb is to ask yourself the following questions.
Can my baby fall out of/off this product? Even if you don't think your baby is mobile yet – anything that has a buckle on it is hinting that yep, they definitely could.
Can it pinch/sheer baby skin?
Can it strangle my baby? This doesn't have to include string/cords. Babies are geniuses at getting their necks stuck in things. This is why those old drop sided cribs were recalled.
Can my baby bite a piece of it off easily?
Can it fall on my baby?
Can my baby eat it?
Can it eat my baby? Kidding, but only kind of.
Oh, and one more thing.
If the price of a product seems too good to be true, it probably is.
If you find an awesome deal on a product on Amazon, check other retailers to see if they have a price on that item in the same ballpark. If what you're seeing on Amazon is a crazy steal, the product might not be legit. It's a bummer, but more than a few parents have unknowingly purchased counterfeit car seats from Amazon, Walmart.com, etc. They are not safe and these scammers are interested in your money and not your baby's safety.
Baby Product Safety Summary
It's important to know that there is more than one safety group out there trying to make sure the products you use are safe for your family. What's even more important is recognizing that they don't cover everything. There are a ton of loopholes that sketchy manufacturers use to their advantage (I'm looking at you, baby sleep positioners advertising on Facebook). So, just because it's sold doesn't mean it's safe.
This is when some people like to chime in to say, "back in my day we didn't have all these silly regulations".
Well, I'd like to thank many of them for cracking their heads falling out of high chairs, getting their heads stuck in playpen railings and going down flights of stairs in their walkers, because it's thanks to them that so many of these life saving regulations are in place today.
Do you have any tips for other parents dipping their toes in the shark-infested waters of baby product safety? We'd love to hear them in the comments!
You might also like: Why Parents Should be Aware of Fake Reviews
---
Get posts & giveaway updates delivered right to your inbox
---
---