It's exciting to have your family meet and spend time with your new baby. Traveling to get there can be a bit of a headache though.
Trying to figure out what baby travel products are worth it, and which ones you can pass on isn't always clear. Even though you may be staying with loved ones who are going to have a few more amenities than a hotel, there are still a few question marks. How much do you lug with you? How much can you just use there? How do you maintain the groove (or sort of groove) you've established at home?
I've found some great baby travel products that you pack in the car or even take on a plane, but that said, YOU DO NOT NEED ALL OF THIS. I just wanted to get a few things on your radar so you know what's out there to get you thinking like, "Oh yeah, mom's dog goes bananas anytime someone sets foot in the room. How are we going to swing naps?"
Here are some of the best baby travel products: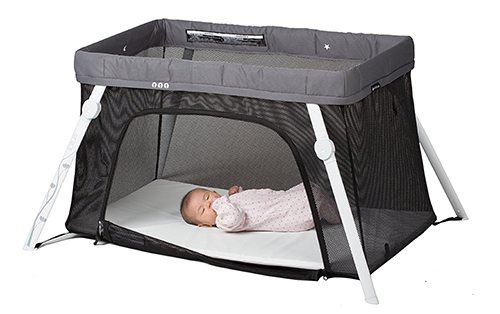 As far as baby travel products go, this crib is a great choice for a few reasons. It's easy to set up, it has high sides so it can double as a playard, and it can be used for babies that roll. It has the side zip so you can put the baby in there from the side rather than lowering them in from the top, so you don't have to worry about a not-so-gentle lowering of a sleeping infant due to postpartum lack of core strength (just me?). The side zip is also handy if you nurse your baby to sleep and want to crawl in there.  You can buy one here.
Note: a cheaper alternative is the pack n' play. They are a little more work to set up and they are heavier, but they are less expensive and if you're driving to your destination and setting it up once, who cares, right? (Second note: have your baby sleep in the pack n' play bassinet and not the napper – it's only safe for hanging out and not safe for extended sleep.)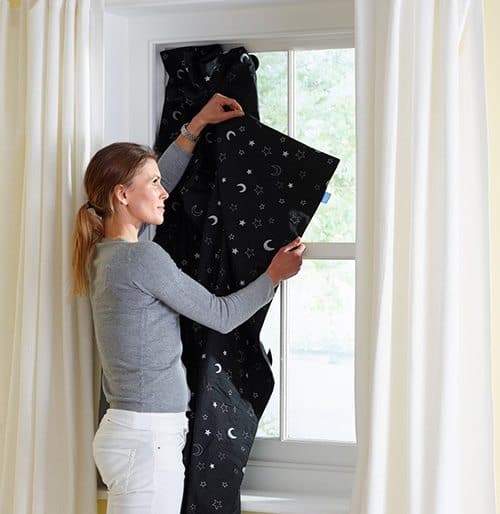 If you've established a great sleep routine that's about to go out the window (see what I did there?) you can consider investing in a Gro-Anywhere blind. The suction cups adhere to windows and frames to block out the sun if your baby needs a nap at high noon. You can buy one here.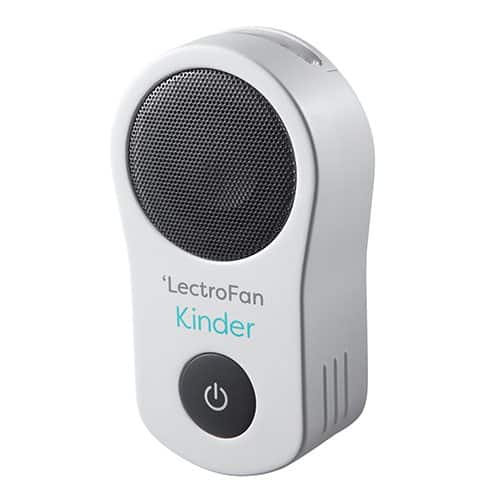 Babies love noise but sometimes new noise like your mother-in-law's hysterical terrier or your Uncle Mike's unmistakable laugh is going to throw a wrench into nap time. If you have one of these set up at home, they are portable enough to take anywhere. Pop it into a plug then control it all from an app on your phone. Your baby will think, "Ah yes, this sounds like home. This sounds like a three-hour nap." (Fingers crossed). You can even change the volume, sound and night light from the app so you can turn it up and change it to "mountain stream" when Auntie Barb arrives and hits the wine box with a vengeance. You can buy one here.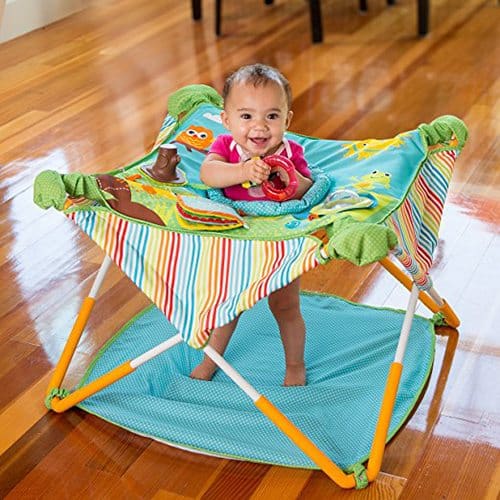 Not only is this activity center great for travel, but it's also great for picnics, camping, or plain old space saving when you don't want a giant "circle of neglect" in your living room. It folds up like a camping chair and slips into a bag. It even comes with a canopy to block out the sun and the mat below protects little feet on grass, stones or questionable floors. Hook some of these rings onto it with a couple of inexpensive never seen before toys and you'll have a whole minute of quiet time! You can buy one here.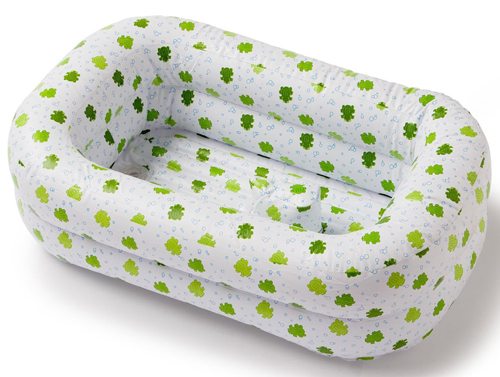 Inflatable bathtubs are lightweight, portable and come in handy if your destination has a giant tub or no tub at all. I like this Mommy's Helper Inflatable Bath Tub because it has the 'crotch stopper' for kids who slide down in the tub. These are also great for camping or summer backyard 'pool parties' when you want to change it up a little.

Note: these suckers may be small but a baby can easily drown one so don't leave them unattended. You already know that though. You're super smart.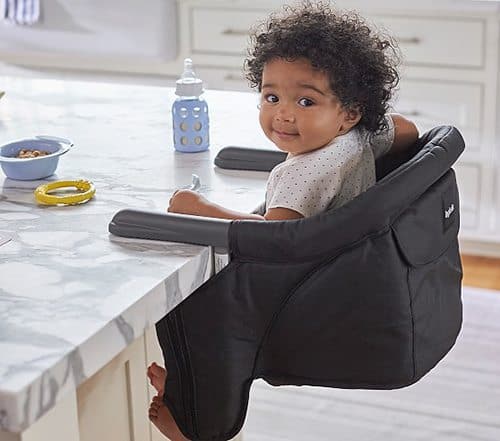 Once your baby can sit up, portable high chairs are a great way to keep them involved at mealtime. Another reason is that they're a great baby travel product: they are a nice way to keep babies safe in a space that isn't baby-proofed like your pad. I love the Inglesina Fast Table Chair because it's easy to clip on and your baby is right up at everyone's height.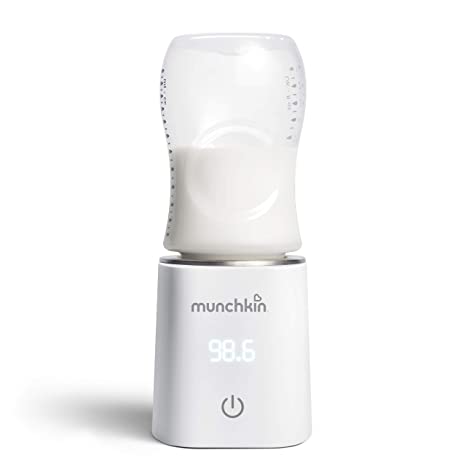 If you're in for a long car trip and need to warm a bottle, this one from Munchkin plugs into a car adapter and fits most bottles and cup holders. It just dawned on me that I may be able to use this for coffee. I'm going to get one then report back because cold coffee is the bane of my mom existence. You can buy one here.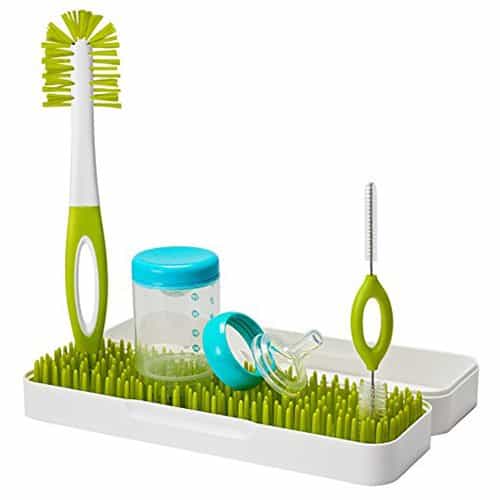 This portable drying rack from Boon is great for bottles and comes with a built in drying rack. It all folds up into and tidy carrying case, making it a shoo-in for the best baby travel products lists. You can buy one here.
Umbrella Stroller
Umbrella strollers are lightweight, easy to carry and a great alternative to carrying a baby around with you all day – especially when they are out of the newborn phase. I'm often asked about umbrella strollers, which is a whole post in itself, but here are my top three picks to get you started. If you're traveling with an infant car seat, also check out the Snap n'Go.
Lightweight
Easy fold
Baby Jogger has great resale value
Summer Infant 3Dlite Convenience Stroller
Relatively inexpensive
Lightweight
Decent canopy and storage
Lightweight
Great canopy
Nice fold
Note: If you are checking a stroller or car seat at the airport, have a look at a Car Seat Travel Bag or a Stroller Travel Bag. It's a fairly inexpensive way to protect a pricey piece of baby gear.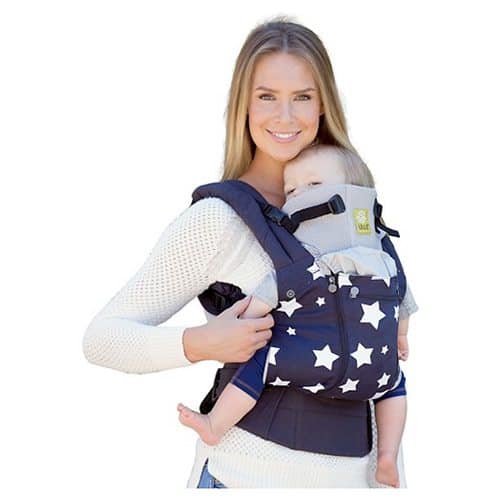 Think about whether you even need a stroller. You may be able to get away with your carrier or sling for the trip, plus, you can tie that baby onto other members of the family – "Here dad, let me just tether this screaming kid to you for your evening walk. Love you!!" The carrier featured above is a LILLEbaby and you can buy one here.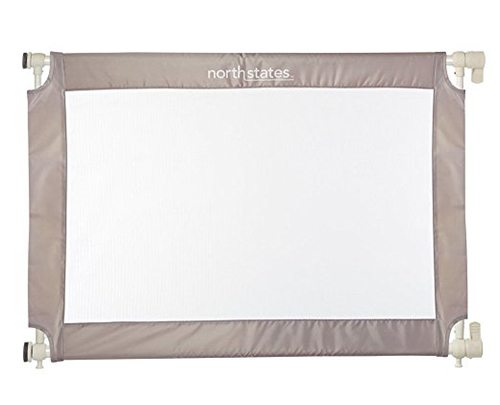 If you're headed somewhere with a crawler or early walker, this travel gate is held up with pressure (no screwing hardware into the wall) and rolls up for easy transport. Evenflo also makes a wider version. These are best suited if you're trying to keep a curious baby out of a kitchen or room of antique china, and not suited for the top of the stairs or over-enthusiastic large dogs. You can buy one here.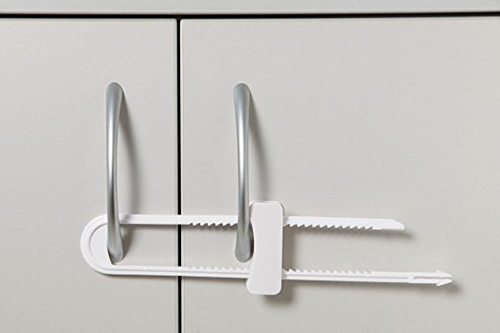 There are always one or two spots a baby shouldn't venture and these sliding locks are super easy to install and relatively inexpensive. You can buy them here.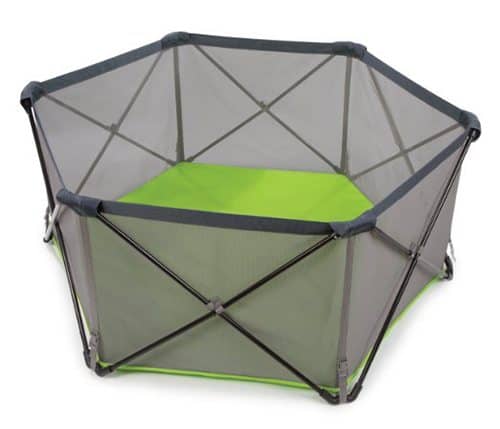 Sometimes it's just easier to secure the baby rather than trying to secure the house. Plus, baby gates can be hard for some people to navigate (i.e Auntie Barb after the box of wine above). This portable baby thunderdome is great to have at home, in the backyard or taking on the road. You can even get one with a canopy if you are going to be in a sunny spot. You can buy one here.
Another hack is to pack a baby pool. Simply inflate that sucker, fill it with toys and let the fun times begin. It only works with new crawlers who are pretty happy staying put – if you have a determined adventurer, stick with the thunderdome.
Handy Tips
Packing list: write your list over the course of a day so you don't forget the mundane stuff. (This is how I forget socks.)
Just in case stuff: medicine, diaper rash cream, nail clippers, insurance cards, etc. are stuff that you may not use day-to-day but may be a pain in the ass to track down while away.
Weather: Keep the weather conditions of your destination in mind. Will you need something warm for the baby or perhaps the hats and sunscreen you've tucked away for the season?
Ship Ahead: Think about shipping extra diapers, wipes, formula or new gear to where you are going rather than hauling with you in the car or on the plane.
Renting: consider renting baby items and have them sent directly to your destination. Google "rent baby gear <city>" to see if there is a service nearby. We have a nice post on it here.
Prepare: Brush up (or have your family brush up) on things like Surprising (and Not so Surprising) Choking Hazards for Babies and Top Tips for Introducing Pets to Your Baby so there are no unpleasant encounters with a bowl of loose peppermints or a wary chihuahua.
Most of all, take it in stride. Chances are your baby will throw a fit in front of your Uncle Mike who says "kids are spoiled these days" while a drunken Auntie Barb wipes out on the baby gate but who cares. Hand the baby off to a friendly relative, dip into the box wine and enjoy the magical time spent with your one-of-a-kind family.
Happy travels and let me know if there is anything else you would add to the list!
---
Get posts & giveaway updates delivered right to your inbox
---
---