If you're planning on having a vaginal birth chances are you're going to want something to take care of the good china after you've had your baby.
Hospitals will often give you mesh underwear and/or maxi pads that look like something from a 1978 public health film, but there's a great way to upgrades those thunderpads.
Padsicles!!
Yep, padsicles are a frozen treat for your sore exit and they are incredibly easy to make with just a few simple ingredients. My guess would be six would do the trick (you can always make more).
Here's a quick video to show you how to make a padsicle:
Here's what you'll need:
Padsicle Step-by-Step
Unfold your pad – if it has wings, remove the tabs but save them because you'll need to put them back on
Saturate the pad with the witch hazel – about three or four tablespoons so the pad is good and soaked
Pump or spoon about two tablespoons of aloe onto the pad
Add one or two drops of lavender oil (Feel free hum a Mary Poppins tune here)
Use the back of a spoon to spread the aloe and lavender evenly over the pad
Gently refold your pad (reuse your wing tabs so the whole thing doesn't stick together)
Put your pads in your Ziploc bag and pop it in the freezer
Once you're ready to feel the 'ah', simply remove the pad from the freezer and let it thaw a bit (you want cold, not frozen because you don't want to have to explain that kind of frostbite) and use it as you would a regular pad. These do get wet so consider sitting on a towel or in a place where you don't mind leaving a bit of a puddle.
Do Padsicles still absorb blood?
Sort of. Even though you have added liquid to the pad they can still absorb some postpartum bleeding, however, I would still swap them out regularly and use a towel or adult diaper as backup .
How many Padsicles do you need to make?
It sounds like 6 or 8 will get you through the storm, but they are pretty easy to make so feel free to just make a couple to see what you think.
If you're lucky, someone will give you a set of these with a tub of ice-cream and a frozen lasagna. Chill, Mama!
Have you made these?
I would love to know how many you ended up using. Did you find them helpful? Let me know in the comments! You know I always love your feedback.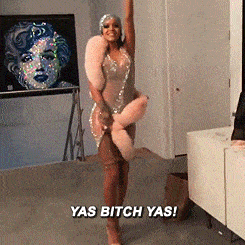 Our next recos: After Birth "Exit" Care
---
Get posts & giveaway updates delivered right to your inbox
---
---