This post was created in partnership with Babylist and contains affiliate links. All the opinions, advice and typos are mine.
One of the most overwhelming tasks for me was figuring out what I needed to get before my baby arrived.

Even if money was no object (which it was) I just didn't know how much stuff to get. Did I need two sleepers or 20? Did I need bottles if I was planning to breastfeed? Aren't a swing and a bouncer the same thing? If they aren't, then would I need both of them?

So with the help of Babylist registry, I've put together a checklist of things you can consider when you're having a baby.
New Baby Checklist: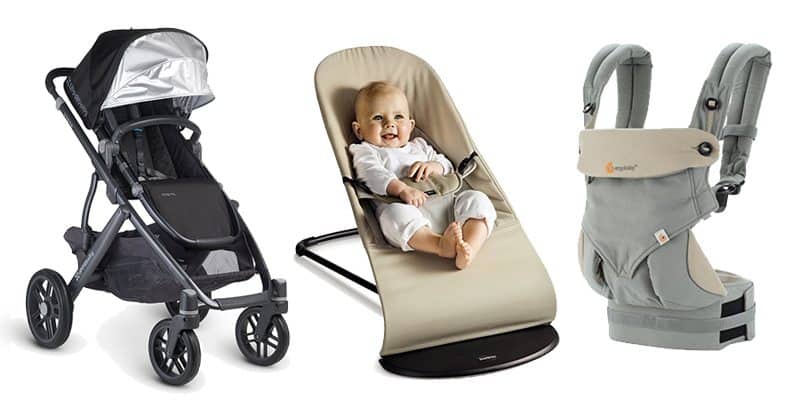 1. Stroller + Car Seat
A stroller is typically a big ticket item. I would recommend figuring out which stroller you'd like, then pick your infant car seat because you can snap your car seat into many stroller frames to toot around the mall.

If you don't know where to begin, my tried and true recommendations are Mockingbird Single to Double and UPPAbaby Vista. They are great all-purpose strollers and might be your primary mode of transportation for a while. I would definitely register for a stroller even if it's just to get a completion discount.

Also, feel free to have a look around for strollers second hand (it's an excellent way to save some cash) but buy the car seat new unless you know the history of it.

Here's a helpful post on car seats to help you narrow it down (and not feel stupid in Target.)
2. Baby Carrier
A carrier is another place where I would take some time to research. There are a lot of them out there and what one person loves, another person will hate. Try them on, see if you can borrow one from a friend, and never ever turn down a free carrier from anyone willing to give you a hand me down.

Be sure to read my post on 'crotch danglers' in case anyone tells you that you'll ruin your baby if you don't buy an expensive carrier too. If I only had to recommend one, it would probably be an Ergobaby Omni 360 but there are so many good ones out there so have a look around.

You can also check out: Best Baby Carriers: Which Carrier is Right for You?
3. Swings and Bouncers
For me, swings and bouncers often came down to the price paired with the rating.

Something like the BabyBjorn Balance is awesome (frankly, I'd love chilling in that) but a Bright Stars bouncer is still going to do the trick so don't sweat it too much if your budget is tight.

Anything that moves helps save your sanity when you have to put this kid down to, oh, I don't know, shower, cook, or pee, so I recommend getting something.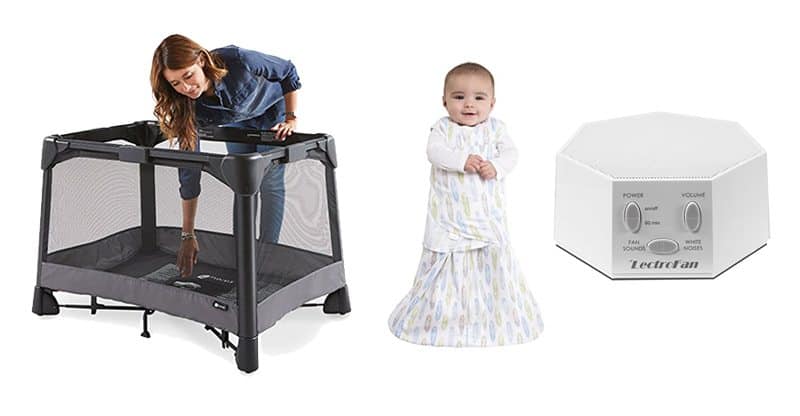 4. Bassinet or Crib
As for sleeping arrangements, my recommendation would be to at least buy something bassinet'ish for when the baby first arrives.

You can make the call about crib, co-sleeping, etc. down the road but it's recommended that you sleep in the same room as your baby but in different beds.

The Snoo is hardcore nice, I love the portability of something like a BABYBJORN Cradle, and the 4Moms Breeze covers a lot of bases – you can use it as a bassinet in the beginning then use it as a play yard.
5. Baby Monitor
Perhaps it's because I'm not very techy but I got overwhelmed by baby monitors very quickly. There are a zillion out there and many of them have been designed by childless engineers who don't get outside much (I meet a lot of them at baby shows.)

Some people don't even bother with a monitor and some people get motion detectors with night vision. This is an area where I'd have a hard think about what kind of person you are and what type of product would give you the most peace of mind – that doesn't always translate to the most expensive or fancy. Here's a post to help figure out which monitor might work best for you.
6. Sleep Sacks and Swaddles
I would initially stay somewhat conservative on your sleep sacks and swaddles. Both you and your baby may have a preference for a certain kind and style so just grab one or two to get started. Plus, swaddles are often a go-to gift at baby showers. Halo makes great sleep sacks and wearable blankets that come in all kinds of weights and styles.

Skip crib bumpers (they aren't safe) and keep blankets to a minimum because you'll probably get a ton as gifts if you're having a baby shower. You can read up on creating a safe sleep space here.
7. White Noise Machine
I've included a white noise machine but it is by no means essential. I had a hatch noise machine – and thought it was a godsend. The great thing about them is they 'prime' a kid (and me) to let them know it's time for sleep. They cut out sharp noises (like dog barking and doorbells) and can be used well into the toddler years. Heck, I probably benefit more from my LectroFan than any baby would.
8. Glider Chair
I skipped a glider because the nursery was really small and I usually ended up either feeding him on the couch or bouncing him on an exercise ball to get him to sleep anyway. That said, they are really nice and comfy and tend to make a larger nursery look complete – when I polled readers who had one, over 90% said they loved theirs.

9. Bath Tub
Newborns don't do much in a bath (except terrify me with how slippery they are) so your needs are pretty basic in the beginning.

I really like the Bath Time Bundle by Frida Baby because the tub has a sit up feature when your child wants to sit up but tends to topple over (it's a charming time). It also comes with a hair rinser which is really helpful and their fantastic body wash.

I found that most bath accouterments were purchased once my kids got older – toys, faucet covers, etc. are more of a factor once they are sitting up anyway.
10. Towels and Washcloths
I liked having a hooded towel for my baby because it was easier to wrap him up – the hood seemed to hold it in place better. Washcloths are great for getting neck cheese, wiping faces, and general rolls and folds cleaning.

You can check also out my How to Give a Newborn a Bath post to go into more details and has a list of items.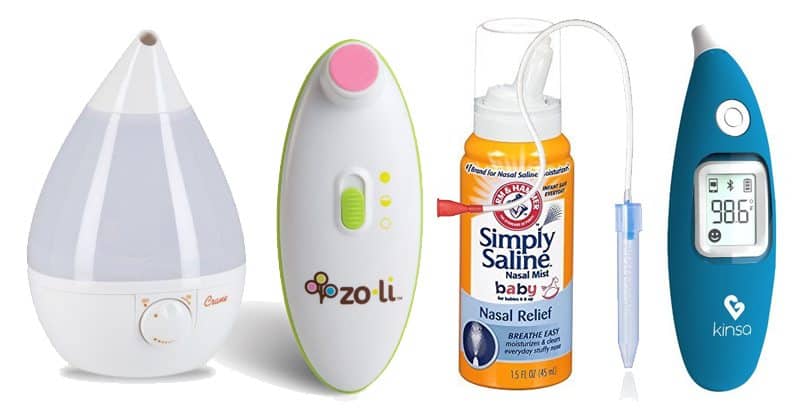 11. Snot Sucker and Thermometer
Most of my medicine cabinet was acquired by my husband at 3 am with me screaming on the phone "I don't know what's wrong, just find something that says 'colic' on it!!!" That said, it doesn't hurt to have a couple of these essentials on hand when you bring your baby home.

I prefer the Nose Frida over the suction bulbs because I think it works better, and the saline helps loosen the nose goop. And I really like the thermometers Kinsa makes. I've had the ear version for almost a decade and it still works perfectly.

We also have a post on all the meds you could have on hand for a baby.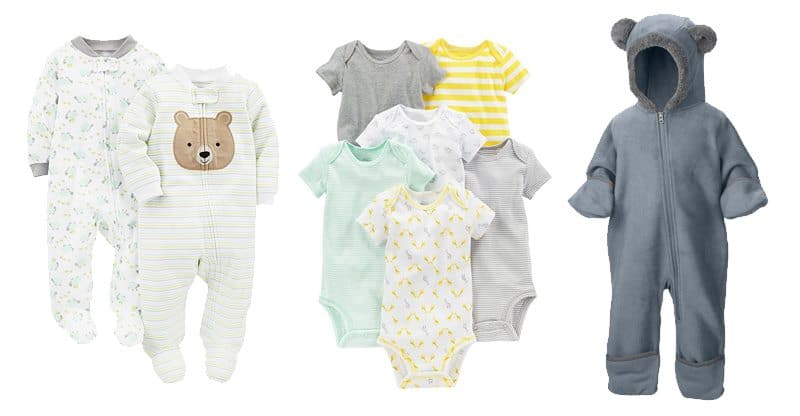 12. Simple Onesies + Sleepers
I feel like overbuying baby clothes is the number one first-time parent mistake (this included me). I grossly underestimate how quickly a baby grows, how many clothes people would give me, and how rarely we met with royalty.

My reco would be to stick to soft and basic and pick the onesies you like then match everything to them. Sleepers are the same – soft and easy. I preferred zippers over snap pajamas because I found them easier to deal with, but that's a personal preference.
13. Mesh Laundry Bag
I included a mesh laundry bag because baby socks are the true phantoms of the laundry load. I have a post on how to do baby laundry if you want to get into more detail there too.
14. Bunting Suit
If you are in a cold climate, consider where your baby will be in chilly weather. If it's traveling to the car, get a car seat safe cover or blanket (here's a post if you don't know what I'm talking about). If it's going to be in a stroller or carrier, get a snowsuit with legs – if you're looking for something wallet friendly, I'm a big fan of Old Navy for outwear because their snowsuits fit well and are inexpensive.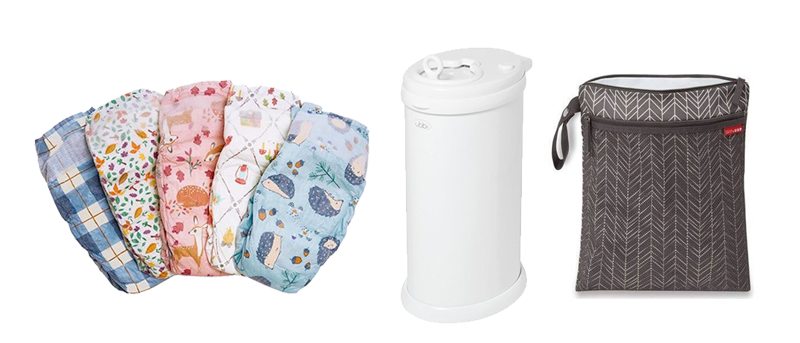 15. Diapers + Wipes
Depending on whether you are going to go with cloth diapers or disposable (or both) will dictate more of what you need (here's some pros and cons if you're trying to decide).

If you're going the disposable route, I would buy one pack of newborn-size and a box of size one. Neither of my monster babies fit newborn diapers and I ended up giving about five unused packs away. So if you see a huge diaper sale, stock up on larger sizes like 2 and 3 because kiddos are in those for a lot longer.

Feel free to hoard baby wipes. You will use them everywhere.

If you're going the cloth route, I would skip the newborn size and use disposable diapers during that time because they are in that size for such a short period. Buy a couple from each brand and style to see what you like. You'll need about 20'ish so you don't run out between washes. Here's a nice guide to get you started.
16. Changing Pad
While you don't have to use a changing table (I just put a changing pad on a set of drawers) you do want to have some kind of system for diaper changes. The pad that comes with a diaper bag works perfectly fine.
17. Diaper Pail
As for diaper pails, my favorite stink container is Dekor – heads up that you will need a liner if you're going to go with cloth diapers. I didn't use a diaper pail and just put dirty diapers in the garbage because the hike wasn't that far.
18. Wet Bags + Sprayer
Even though they are primarily used for cloth diapering, I listed wet bags and a sprayer as well because I find hosing down and containing disasters is fairly universal.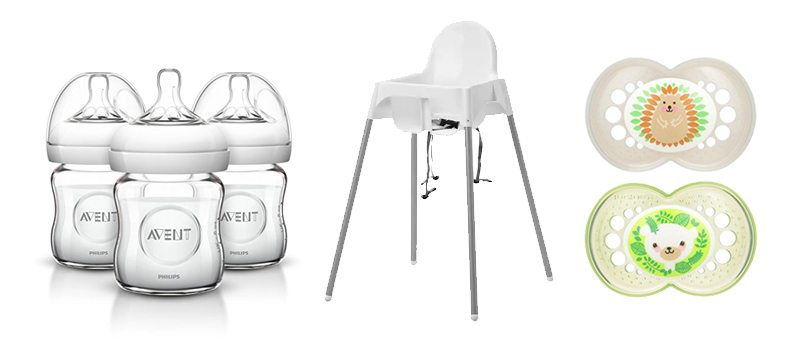 19. Bottles + Pacifiers
Feeding is another area where there's a bit of a fork in the road – you may need some items more if you formula feed or breastfeed.

Once again, I wouldn't stock up on bottles and pacifiers because you and your baby will probably have a preference so I'd get one or two of a couple of brands. Babylist has a great bottle box and pacifier box where you can try out the most popular brands.
20. Nursing Bra + Pump
If you're going to be breastfeeding, I would get at least one comfy nursing bra – they make a world of difference. I have a guide to buying nursing bras here. And, for the love of Pete, check to see if you can get your breast pump through insurance. It's easy to find out what you qualify for.
21. High Chair
You won't be getting into food for quite a while, but I did add a high chair because it tends to be a larger ticket item and you may want to add it to your registry. I loved my IKEA highchair, but if someone else was footing the bill, I'd probably get a Nomi High Chair – it's an ergonomic dream and it can be used forever.
22. Formula
If you know you're going to be formula feeding, add it to your registry – it's pricey and you're going to need a lot of it. If you're going to be using Bobbie, I have a discount code in our review.

Whew! That's it!
Do you NEED all of it?
No. As you can see from my Baby on a Budget post you can be pretty nimble when it comes to babies, but I wanted to put something together that would give you a relatively comfortable set up so you aren't frantically scrambling for stuff after you've given birth.

Plus, I'd rather you didn't get something because you decided that you didn't need it rather than skipping it because you didn't know it existed.
Can you get more?
Sure. Buying for babies is fun so if you want to go nuts, have at it!

I remember everyone telling me how stupid wipe warmers were but then thinking one February night, "I don't know, I think my baby would like having his sleepy bum wiped with something warm right now." I have all kinds of things on my Kick A$$ Registry that is more of a want than a need but haters can suck it.
Also, keep in mind that you can always get stuff once the baby gets here.
If you find you need another set of onesies, you can always order them online or shuffle off to Target. For some reason I felt like I was prepping for house arrest and didn't think the UPS guy could come to the house once I gave birth (not only could he come to the door, but he was unfazed by my left boob hanging out while I signed for a package. "Evenin', ma'am.")

So have fun! Happy nesting! And let me know if there's anything you'd add!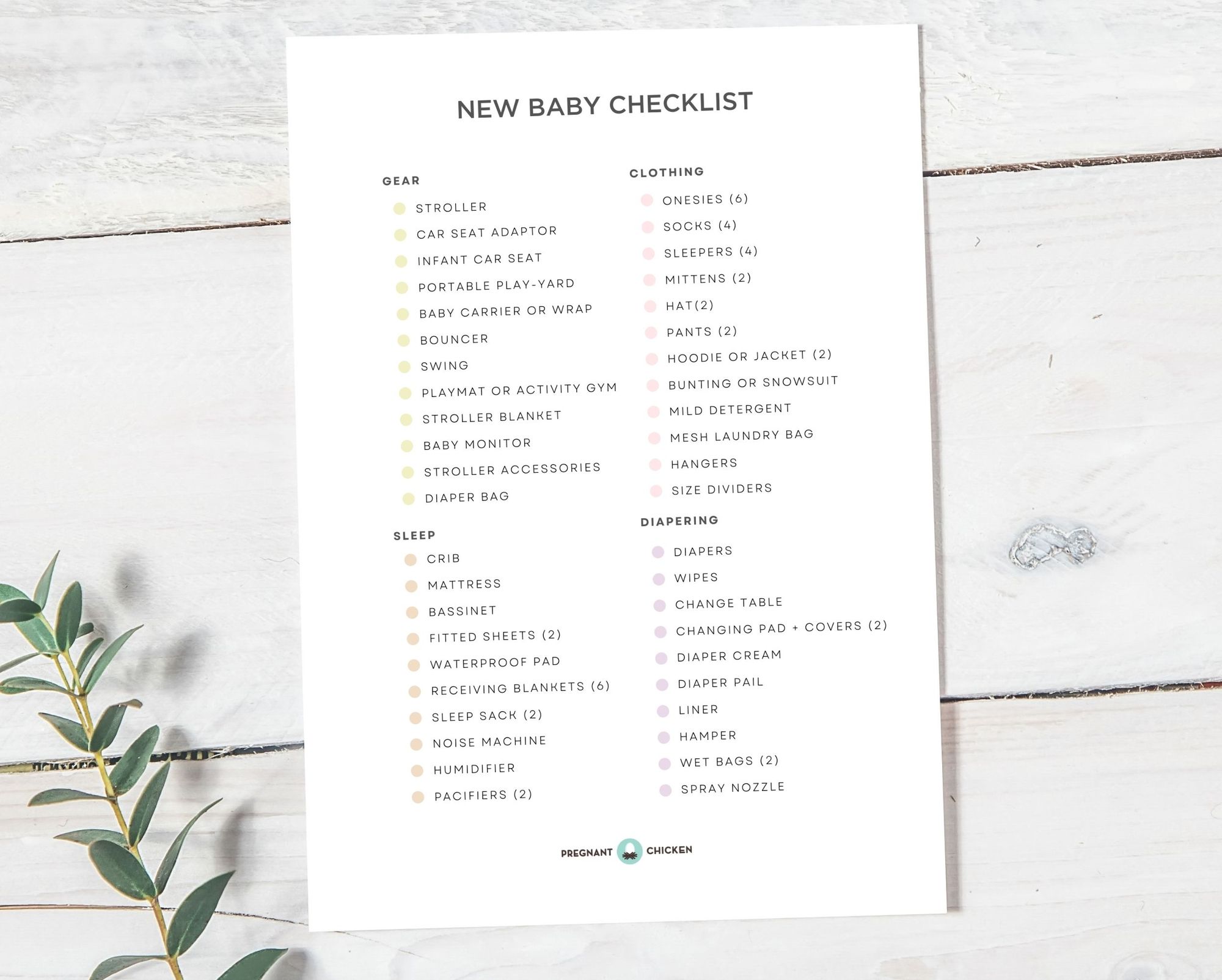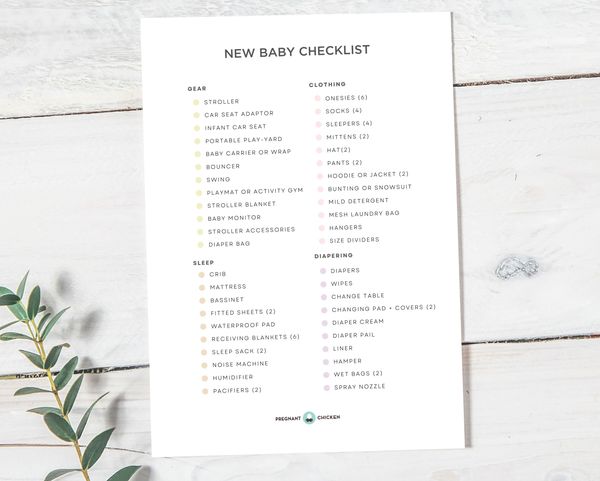 Get your free ultimate baby registry checklist
I have a full 30-page Baby Prep Kit for sale in the shop but here's a free download of the two New Baby Checklist pages as a preview.

You can add anything to your baby registry with Babylist. Literally anything – even Etsy items, babysitting help, or a family zoo membership! It's easy, beautiful & free. BabyList works just like Pinterest, and it's simple enough for the grandparents-to-be too. Building your registry with BabyList is fun (and a lot less overwhelming) with the help of the BabyList Best Guides, dozens of inspiration registries, and personal registry consulting from the Happiness Heroes too.
---
Get posts & giveaway updates delivered right to your inbox
---
---