I'm often asked about what baby carrier someone should get and my answer is always the same: it depends.
I think the main question is what kind of walking you're going to do with your child – are you talking quick trips to the mall or a Lord of the Rings march?
Other factors like expense, ease of use and size of the person wearing the carrier factor in as well, but with that in mind, here are my top picks to help you narrow it down a bit.
Finding your best baby carrier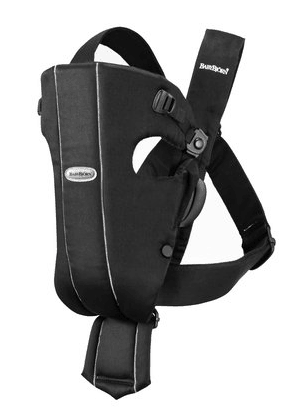 Baby Bjorn baby carrier
Personally I loved my Bjorn for my newborns. It is easy to figure out (especially helpful for my first-time-mom jitters) and keeps the baby nice and tight on your chest. It doesn't look too "hippyish" so my husband was happy to wear it as well. I loved it when I wanted to drive somewhere but wear my baby at the destination (mall, farmers market, etc) so I wouldn't have to haul the car seat around. The only downside to the Bjorn is that I found it started to hurt my back when my baby got bigger (like over 6 months) so I traded it in for an Ergo. I also found the Bjorn a dream to get my baby in and out of – I was actually able to transfer from carrier to crib a couple of times with it.
Best for: newborns, anti-hippy people, people who are driving a lot and want an easy in-n-out carrier, short periods of baby wearing. You can usually find it for around $80.
---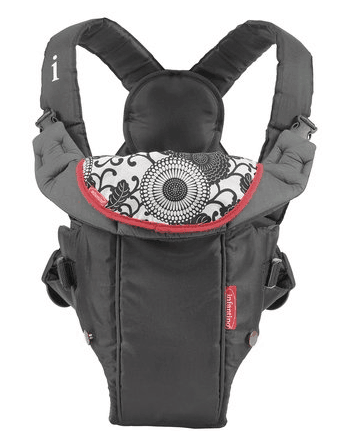 Infantino Swift baby carrier
If you're on a bit of a budget or just need a carrier for when you're in a pinch, nothing beats Infatino's Swift. For less than $20 you get a sturdy carrier that gets the job done. This would be great for someone that usually gets around with a stroller but wanted a newborn carrier once in a while. As with the Bjorn, I have to think this would get hard on your back as your baby got bigger (I don't buy the whole crotch dangler argument) so you'd probably want a second stage option whether it be another carrier or stroller. They also make a nice Mei Tai option as well.
Best for: Tight budgets, stroller users that want a back up for a newborn, short periods of baby wearing. You can usually find it for around $20.
---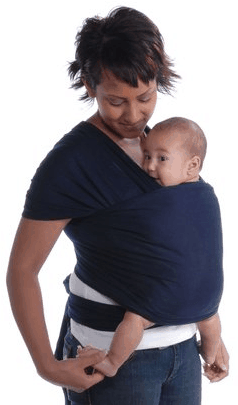 Moby
I have to admit that Mobys intimidated me when I was pregnant. What if I didn't tie it correctly and the baby just dropped out of the bottom?! Now that I've had to secure a couple of kids to my body, I realize how unlikely that was – babies are pretty light and you can really feel if they are slipping or not.
The best thing about the Moby is that you can customize the fit to both you and your baby. Super wee babies fit nice and snug up to your chest and gooney toddlers can comfortably sit on your hip. It has more of a 'granola' feel than a more structured carrier but once you get the hang of it, the Moby sounds like a really comfy option. Some reviewers have said it can get hot with all the fabric – which can be a plus or minus depending on where you live.
Best for: newborns (can go up to 35 pounds though), cooler climates, someone who doesn't mind a little learning curve to get the customized comfort, long periods of baby wearing. You can usually find them for around $50.
---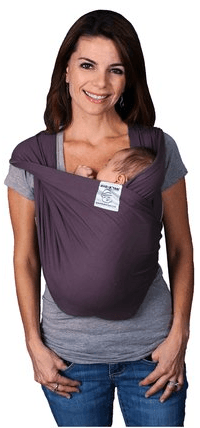 Ktan
So the Ktan is similar to the Moby in that it's a wrap'ish carrier but rather than a long length of fabric, it's a loop (like an infinity scarf). Some people feel that it's a little easier to put on and there is less of a learning curve to use it. It has that nice, comfy custom fit and doesn't cost an insane amount of money. The slight downside is that it is sized so if you are small and your husband is large (or vice versa) you won't be able to use the same carrier.
As with the Moby, the Ktan is a dream for newborns because you can really tuck those little bugs right up to you and they love it.
Best for: newborns (but works up to 35lbs), single users (or a bunch of people that are similar in size), small learning curve for customized comfort, long periods of baby wearing. Typically run about $50.
---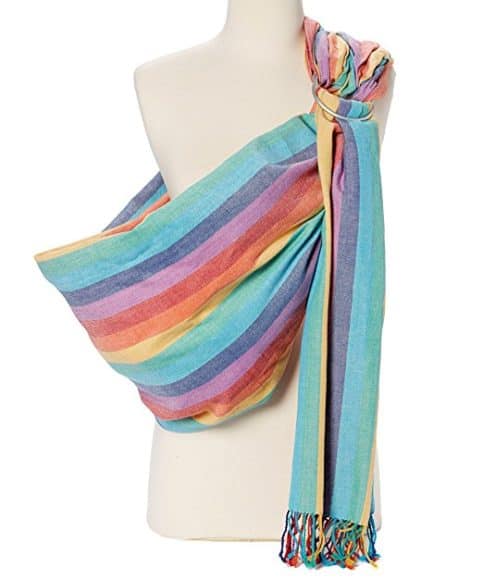 Ring Sling
Unlike a wrap, you just put the sling on and slip the baby in so there's no need for tricky tying or gymnastics to get your baby secured. They are light, compact and comfortable. The hip Baby is nice and wide so it doesn't cut into your neck (I'm assuming that's a feature we'd all enjoy) and it actually can go up to 35lbs so you can haul a pretty big kid in it. Some people find slings in general too loosey goosey and are willing to trade the ease of "on and off" for a more secure fit of a wrap.
Best for: simple lightweight baby carrying, all sizes (but I would still say newborn), long periods of baby wearing, quick on and off, very compact. About $50.
---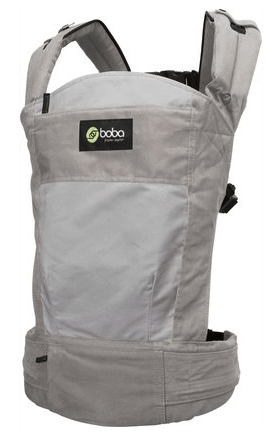 Boba 4G baby carrier
If the idea of a wrap doesn't appeal to you then a Boba 4G may be a nice solution. It's a soft-structured carrier that actually comes with a simple to use newborn insert that acts like a little bum booster pillow when your baby is little. Anyone can wear it and there is very little learning curve on how to use it. It is starting to get pricier but it will last you past the newborn stage as you can wear it on your front or back. Some kids get a little pissy that they can't see out all the time but that's a bit of the trade off you get for the incredible support – it even comes with a little head holding sleeping-hood if you need it.
To me it looked like it could get a little tricky getting a baby in and out of (especially a squirmy toddler) but as with everything, I'm sure you could master it with practice.
Best for: all stages, multiple wearers, long periods of baby wearing, anyone that like the idea of wrap comfort but doesn't trust their tying skills. Usually runs around $125.
---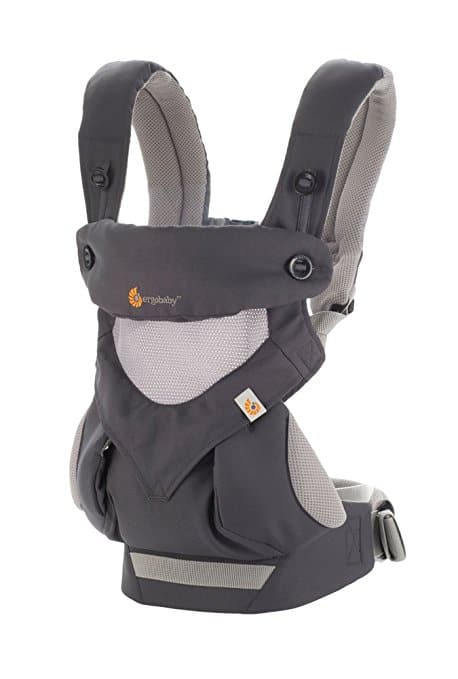 Ergobaby 360
When my son was around 7 months old I found my Baby Bjorn was starting to hurt my back so someone suggested I check out an Ergobaby carrier. First I balked at the price then decided I would give it a whirl – we always went for such long walks that I figured it would be worth it if it worked. Sweet baby jebus, what ergonomic wonder was this? I found the Ergo extremely comfortable and could haul that kid to the ends of the earth in it. I actually carried him through a snowstorm in it when he was two and I was 7-months pregnant (it wasn't a pretty postcard but, hey, I was getting from A to B.) My husband still preferred the Bjorn and I always wondered if that has anything to do with weight distribution between men and women being higher and lower (dunno).
I do find the Ergo to be better suited to non-newborns. They have an insert that you can buy separately but I've read that it can be bulky and hot (maybe not a bad thing if you live in a cold climate). Some people find the back clip tricky to get at in which case a Beco may be a better bet.
Best for: Non-newborns (you can buy an insert though), long term wearing, easy to get on and off, really comfortable. Around $160.
---
Carriers are a really personal thing.
So much depends on how long you want to wear your baby (quick trip grocery shopping or walking around for hours), how willing and confident you are to learn how to customize a fit, and what your budget is like.
That said, there's a reason parents have been strapping their kids to them from the beginning of time; it keeps the baby safe and close, and kids generally love it, so read the reviews and snap one up and always, ALWAYS say 'yes' someone offers you their carrier – you never know what's going to strike the right chord with you and your baby.
Let me know which one you used and if you liked it or not!
Happy hauling!
Our next recos:
Stroller Struggles: 5 Tips for Picking the Right Stroller
What to Get When You're Expecting – New Baby Checklist

---
Get posts & giveaway updates delivered right to your inbox
---
---