Hitting the 1st birthday is not only a big milestone for a child but for a parent as well so it's no surprise that a lot of parents want to celebrate in style.
I've partnered with Minted on this post because not only do I love the gorgeous cards Minted makes but they have over 400 unique 1st birthday invitations in all sorts of designs and popular themes. You can even request free samples to see which design you like the best!
So whether it's a close family gathering or a full on bash, here are some of the best invitations I've found to mark 365 days of an amazing little soul being on the planet.
Here are some of my favorites from Minted's first birthday invitations.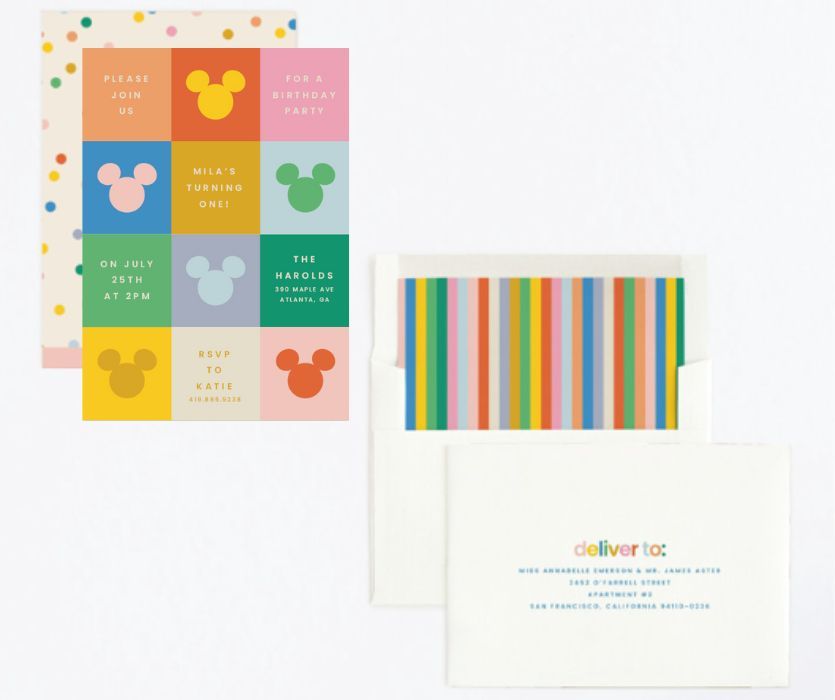 Best Mickey Mouse First Birthday Invitations
How nice are these Mickey Mouse invites from Minted's Disney collection? I love how the variety of colors and shapes gives you some flexibility with the decor.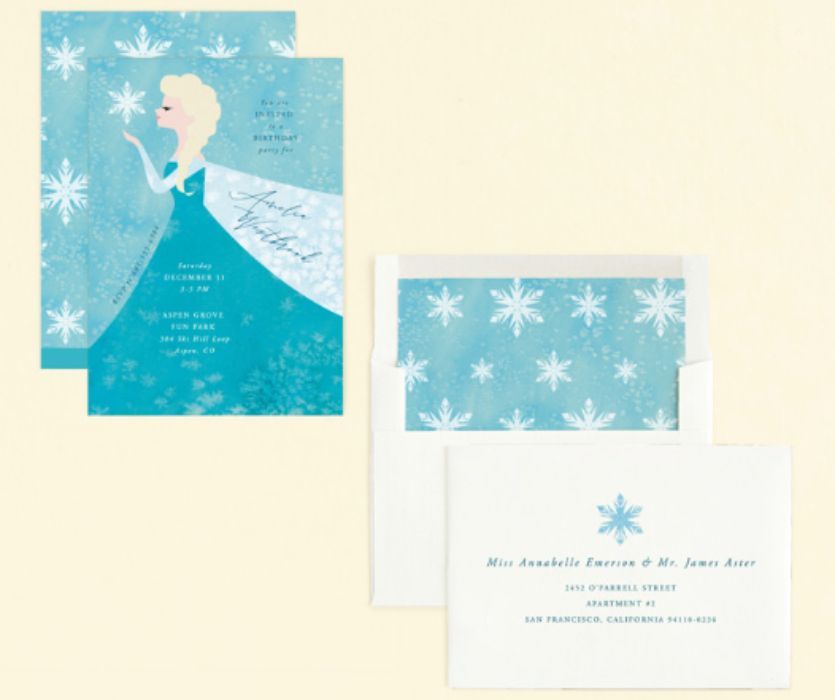 Best Frozen First Birthday Invitations
How gorgeous are these Elsa's Snowflake invitations? These would be fantastic for any Disney Frozen fan.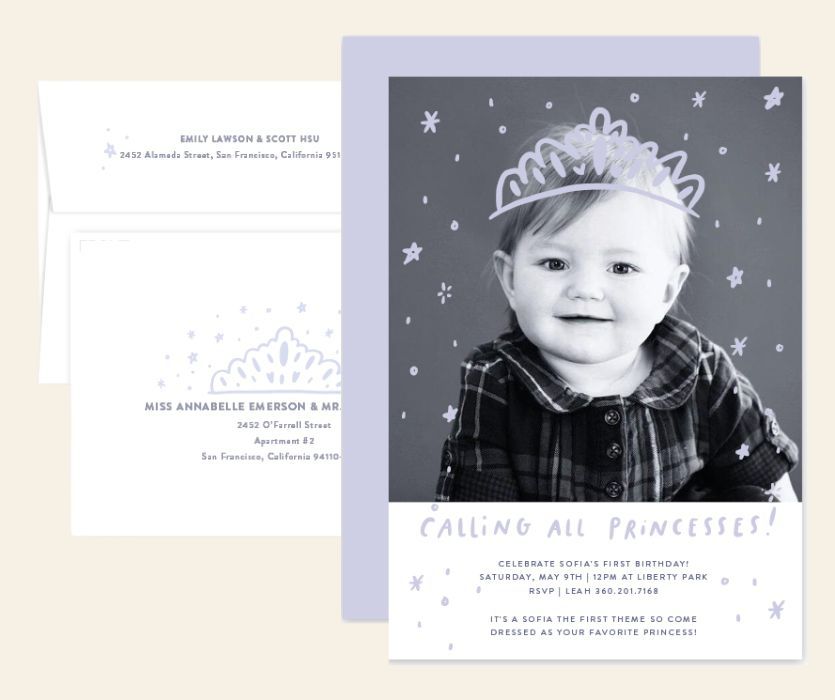 Best Princess Invitations
If you love a good princess theme but aren't keen on the Frozen or Sofia the First invitations out there, check out these Calling All Princesses cards where your princess is the main character. Minted invitations include free personalization and envelope addressing and I love the tiara that's included in these.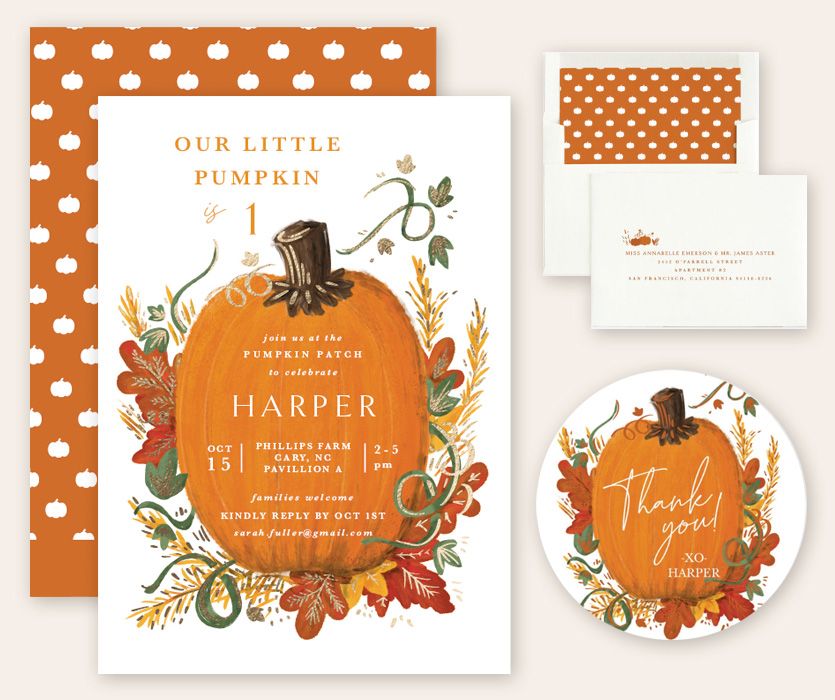 Best Fall First Birthday Invitations
Being a fall baby myself, I was happy to find some great autumnal themed birthday invites. This Pumpkin Patch invite includes foil printing so many of the design elements have that beautiful golden glow. You can also get party stickers, favor tags and thank you cards all in the same theme!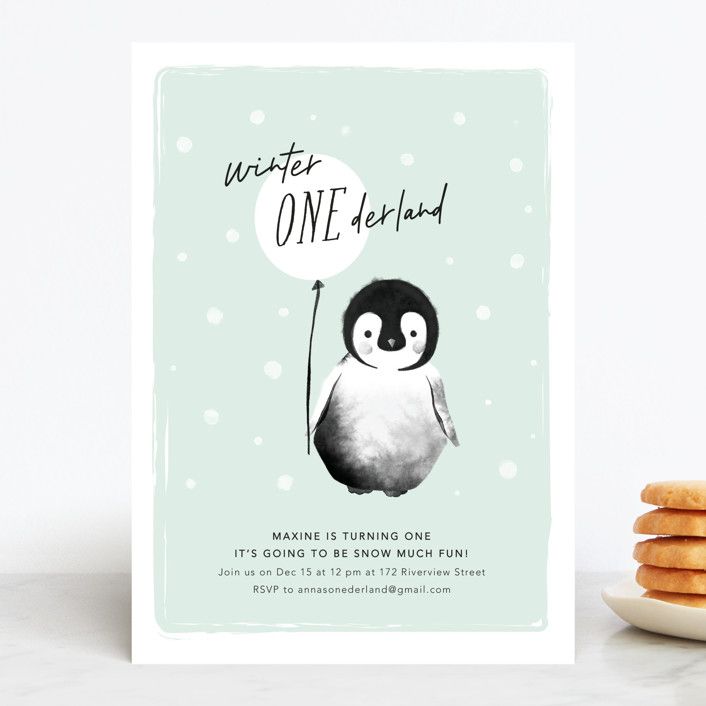 Best Winter First Birthday Invitations
Nothing says winter like a baby penguin. I mean, c'mon, it's adorable. This ONEderland invite also has matching thank you cards, sticker and favor tags and comes in a postcard, petite card or regular size.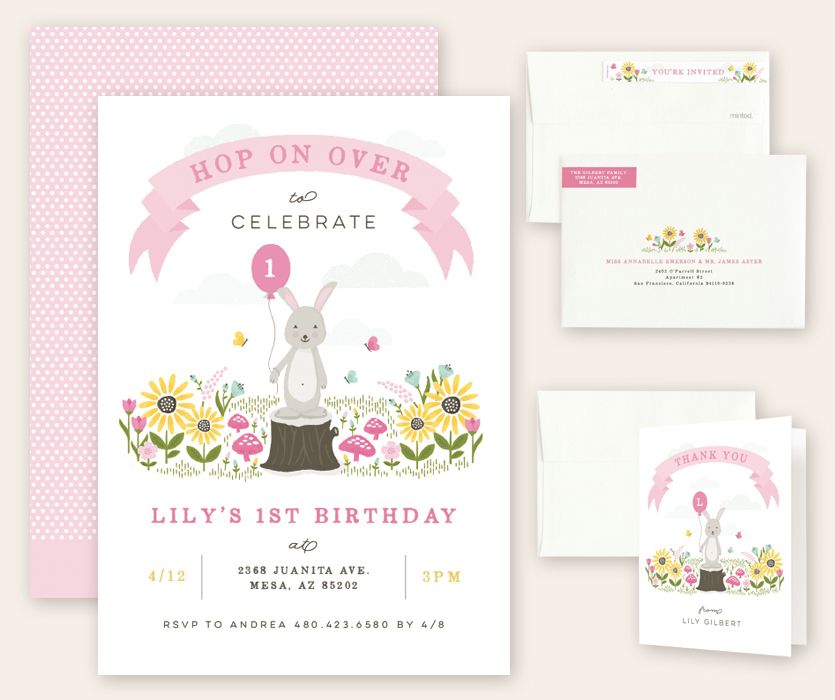 Best Spring First Birthday Invitations
What's not to love about this little spring bunny in a fresh woodland setting? You can customize the balloon number on this Little Bunny invite so it doesn't have to be for a first birthday. It comes in three formats; regular, petite and postcard.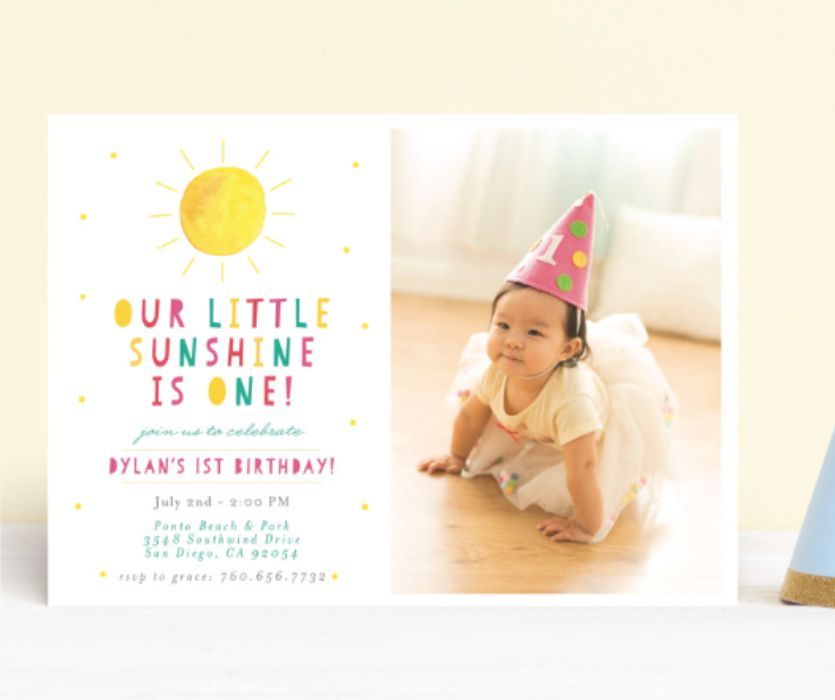 Best Summer First Birthday Invitations
Let the sun shine in with this Little Sunshine invite. There's even a polka dot option for the envelope liner. It comes in three formats; regular, petite and postcard. There are also thank you card, sticker and favor tag versions.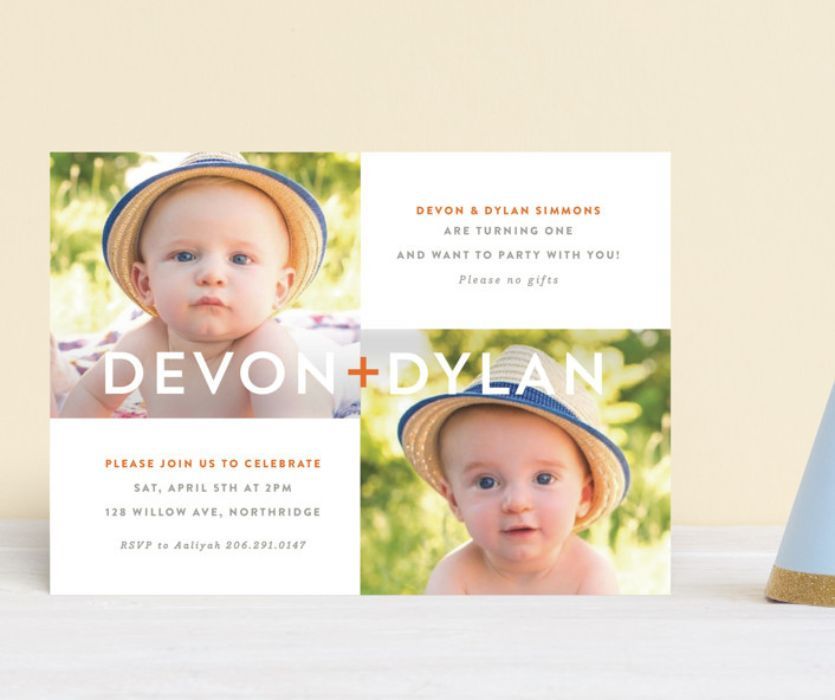 Best Twins' First Birthday Invitations
Raising twins is no joke and their first birthday is definitely worth celebrating. I love this Plus Children's Birthday Party Invitation because each twin gets their own showcase image.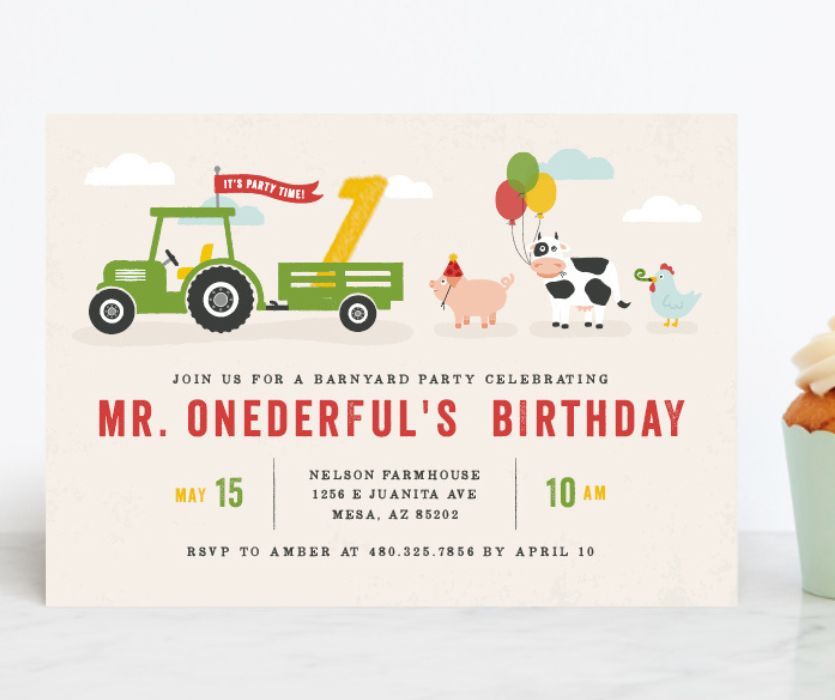 Best Mr. Onederful Invitations
Whether it's Mr., Ms., or just plain Onderful, you can pair your overall theme with the 'one' factor. I love this Party Parade invitation if you're into a farm theme.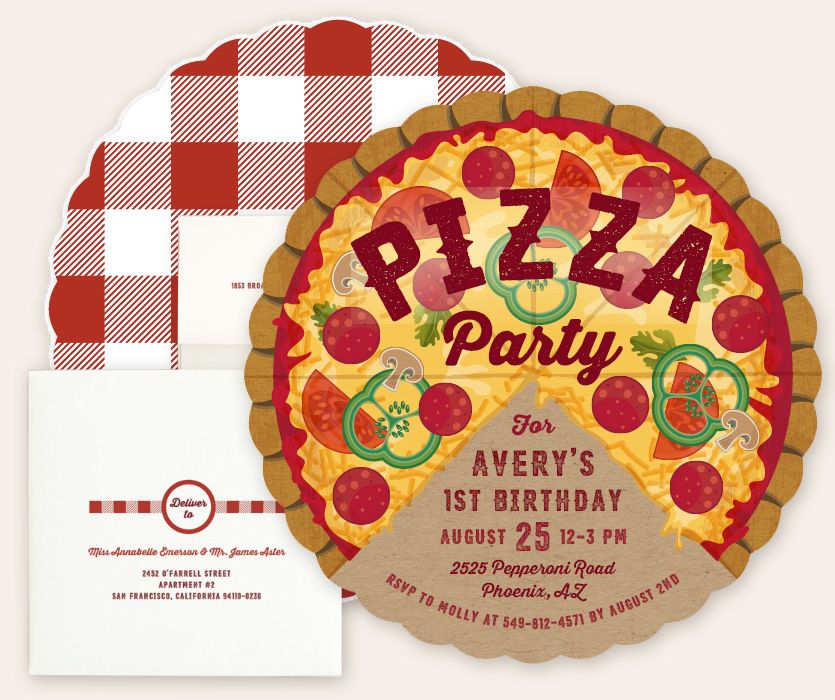 Best Pizza Party Invitations
This Pizza Pie Party invitation stopped me in my tracks (to be fair, most pizza stops me in my tracks). There's something so low-key fun and old school about a birthday pizza party – just pizza, cake and the ones you love.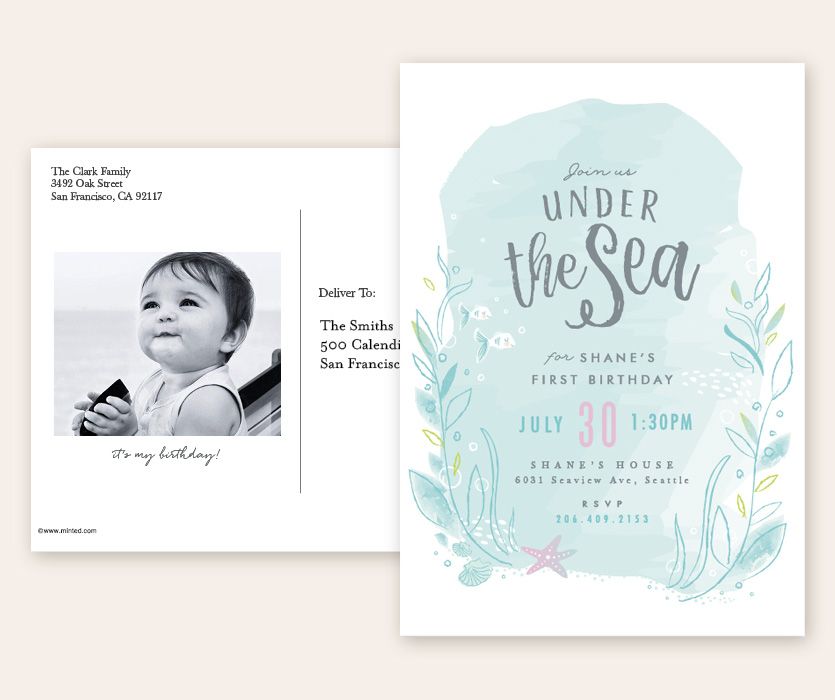 Best Pool Party First Birthday Invitations
Minted offers a postcard format for many of their designs. I love this Under the Sea invitation that can be customized with a photo (it comes in a regular card and petite card format as well).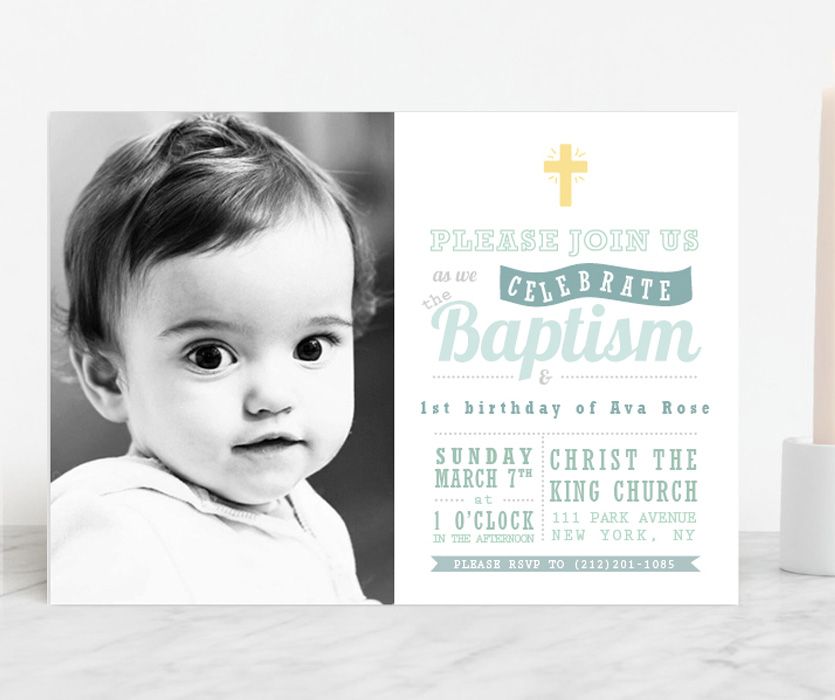 First Birthday and Christening Invitation
One of the things I love most about Minted is you can customize many of their existing designs to fit very specific events. I created this baptism birthday combo with their Shades of Blue card myself but you can use their amazing design services to create your own custom card if you don't feel like you're up to it.
Wording for First Birthday Invitations
Any invitation you send out needs the 'what, when, and where' (I once sent out an invitation with the time but no date 🙄) so you'll need the date, location, time and how to RSVP.

Add something like "Let's have some fun when Arlo turns one!" or tap into some verbiage around the theme like "Celebrate Oliva's First Birthday with a Splash!"

Most of all keep it short and sweet.
Which of these was your favorite?
Is there a theme I missed or a party idea that really knocked your socks off? Let me know in the comments below!
Our next reco: Baby Gift Ideas: 100 Great Gifts for Babies Turning One!
---
Get posts & giveaway updates delivered right to your inbox
---
---