When it comes to picking a diaper bag, many parents and caregivers don't care what it looks like – does it hold baby stuff? Check! But I wanted to find a few choices that were a nice balance between not too "frilly" and not too "skin a deer in the forest while surviving on Season 12 of Alone."
Can you use any bag for a diaper bag?
Yes, you definitely can, however, diapers bags typically have unique features like insulated bottle pockets, mildew resistant change pads, and plenty of pockets so you aren't frantically digging through an abyss of a bag with one hand while trying to contain an epic poosplosion with the other. It's not essential but it will probably make your life a lot easier.
Best Diaper Bags That are Gender Neutral or Unisex:
Note: I've tried to list all the places you can shop each bag but check them all before you buy as the prices can vary wildly between stores (especially on Amazon).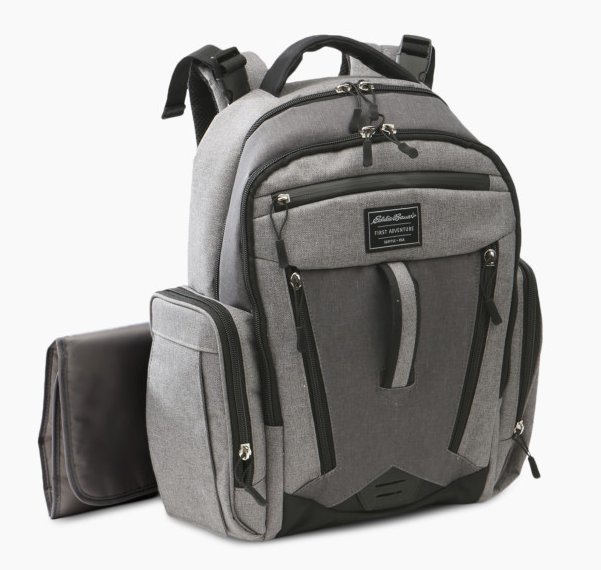 Eddie Bauer Traverse Diaper Bag
This bag has a spacious interior and 11 pockets for organization. It includes two insulated pockets and a large zippered front pocket for wallets, keys, cell phones, etc. You can wear it as a backpack with the padded adjustable shoulder straps or attach it to your stroller with the stroller clips. It also comes with a pop-open removable wipes case and changing pad for easy on-the-go diapering. You can find it at Babylist and Target.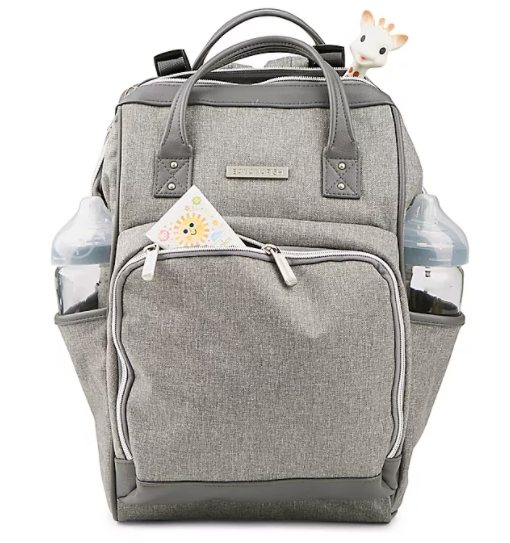 Bananafish Melanie Backpack Diaper Bag
This can be worn as a backpack, carried as a tote or attached to your stroller. The spacious interior has ten elastic and zippered pockets, two interior insulated bottle pockets and comes with a portable fold-up changing pad so you're always ready. You can find it at Babylist, Target and buybuy Baby.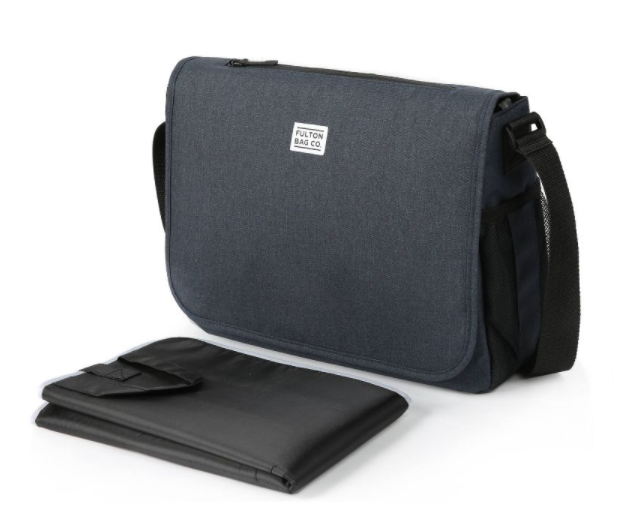 Fulton Bag Co. Messenger Diaper Bag
This can be worn as a messenger or crossbody bag and features a main compartment with multiple accessory pockets, thermal bottle compartment, a portable, padded change mat.The polyester change mat and all white lined pockets have Microban antimicrobial protection to resist mold, bacteria, and mildew. You can find it at Target.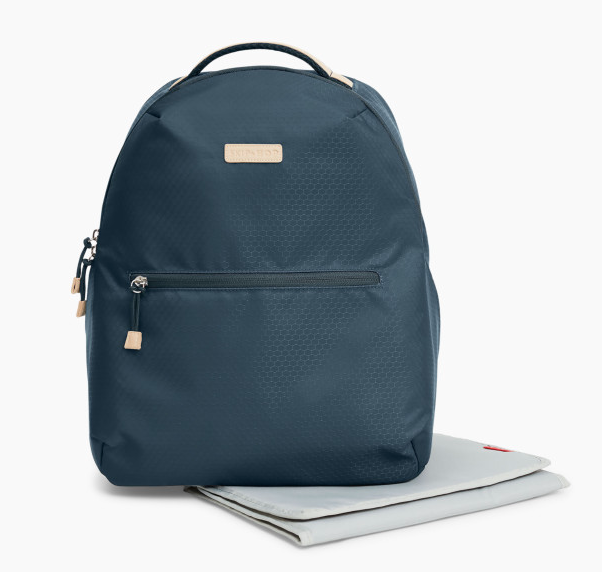 Skip Hop Go Envi Eco-Friendly Diaper Backpack
Made from recycled plastic bottles, it's durable, lightweight and holds all your essentials. Vegan leather trim adds a stylish touch and built-in stroller straps make it easy to secure during outings. The back zip compartment can also fit a 15" laptop. They even tucked a reusable food tower inside to add to the earth-conscious design. You can find it on the Skip Hop site, Babylist, Target and buybuy Baby.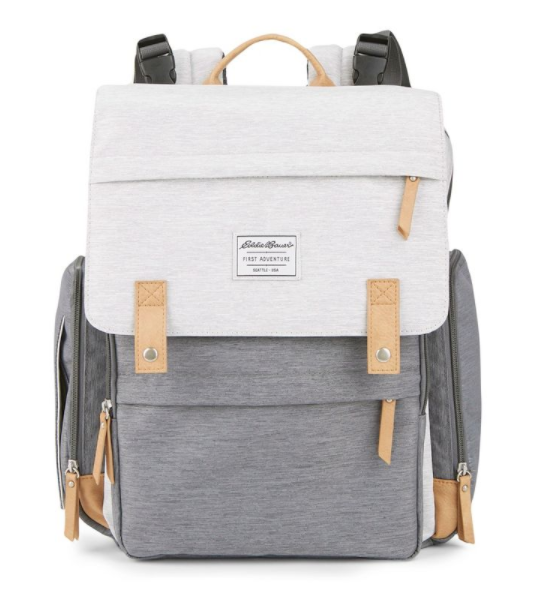 Eddie Bauer Cascade Back Pack Diaper Bag
A spacious interior compartment and 12 pockets offer room for diapers, bottles, baby wipes, blankets, change of clothes and your personal items. It has one exterior and two interior insulated pockets keep bottles cool. It has padded and adjustable shoulder straps, stroller loops and a coordinating diaper changing pad. You can find it at Target.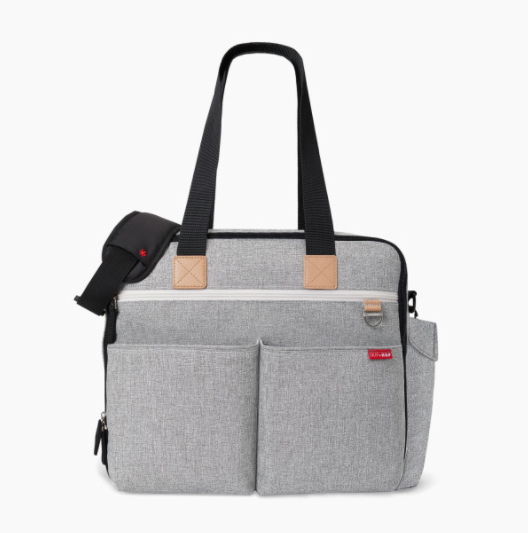 Skip Hop Duo Weekender Diaper Bag
If you need something larger (for travel, multiple kids or twins) this is a supersized version of the Duo Signature. The roomy main compartment has a wide, "drawbridge" opening so you can easily see and access your gear and it includes two packing cubes. There's an insulated, double bottle pocket outside and it comes with a changing pad. You can carry it by the handles, as a crossbody bag, or clip it onto your stroller. You can find it on the Skip Hop site, Babylist, Target and buybuy Baby.
The Honest Company City Coated Canvas
Made from black coated cotton canvas, this backpack has 7 roomy interior pockets, a large insulated pocket, changing pad with a zippered pocket. It has a wipeable PVC-free lining for easy cleaning and sanitizing and is embellished with silver zippers. You can find it on The Honest Company site, Nordstrom and buy buy Baby.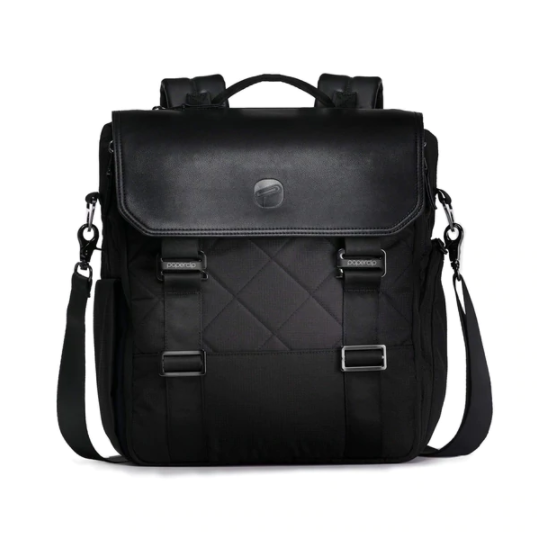 Paperclip Willow Diaper Bag
Made from water bottles, this bag features a roll-out changing station that provides privacy and security with built-in sidewalls that detaches with ease when it's time to be cleaned. These backpack/messenger bags include a padded laptop compartment and a luggage pass-through pocket to let your suitcase do the lugging. They are pricey but they are beautifully made. You can find them on the Paperclip website, buybuy Baby and Nordstrom.TWELVElittle Unisex Courage Backpack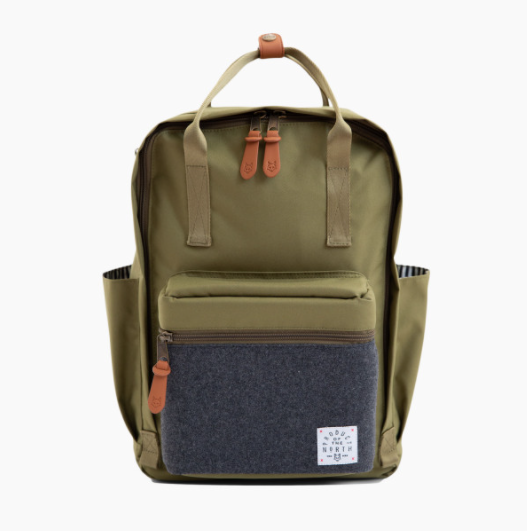 Product of the North x Babylist Sustainable Elkin Diaper Backpack
With laid-back style for moms or dads, this bag is made using recycled water bottles. The exterior is made of sustainable blusign fabric, and the fabric for the liner and changing pad is 100% recycled. There are interior pockets to stash your necessities like snacks, pacifiers, diaper cream and toys. Carry by the top handles or wear it as a backpack. You can find it on Babylist.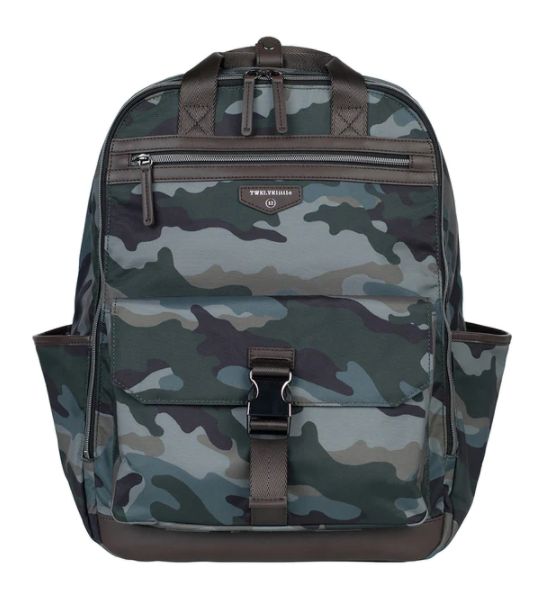 TWELVElittle Unisex Courage Backpack
Water-resistant and durable enough to be fully machine-washable, this diaper bag backpack is finished with gunmetal hardware and has magnetic snaps and a wide slip pocket inside. It can fit up to a 15" laptop with the front zipper extending all the way down for easy access. There's plenty of storage room in the interior and exterior pockets to haul all your baby gear. You can find it on the TWELVElittle site and Nordstrom.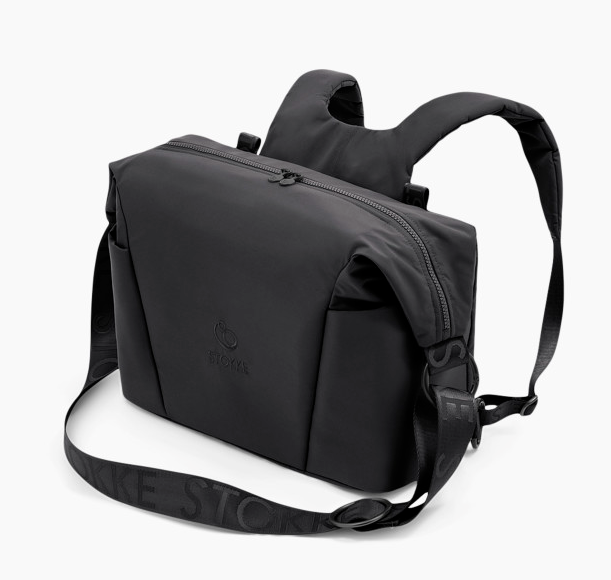 Stokke Xplory X Changing Bag
This can be attached directly to your stroller or carried as a shoulder bag or backpack. A foldable changing mat and detachable carry bag are also included. It features pockets of varying sizes, including a waterproof side pocket and comes in a variety of colors. ​The extra-soft fabrics are UPF 50+ and PFC-free water repellent and easy to wipe clean. You can find it on the Stokke website, buybuy Baby and Babylist.
Did you find a unisex diaper bag that you love?
Let me know in the comments and I'll add it to the list!
Related: What to Pack in Your Diaper Bag
---
Get posts & giveaway updates delivered right to your inbox
---
---