Move over hedgehogs because sloth baby stuff is all the rage right now. They sleep a lot and I've heard they smell bad, but they sure are cute and I can get behind their general life philosophy. From teethers to diaper bags, here are some of the best baby things that celebrate that #slothlife. Here we go!
Sloth Baby Stuff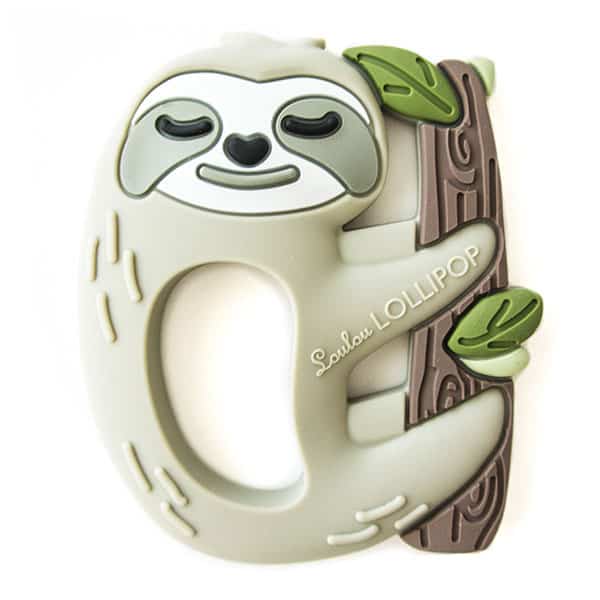 Sloth Teether
This little fella is made of 100% premium quality food-grade silicone and features nubby textures on both sides to soothe sore gums. The heart-shaped cut-out allows for attaching an optional clip. Tested regularly at a government-accredited lab to meet and exceed safety standards. You can find it on Loulou Lollipop and on Amazon.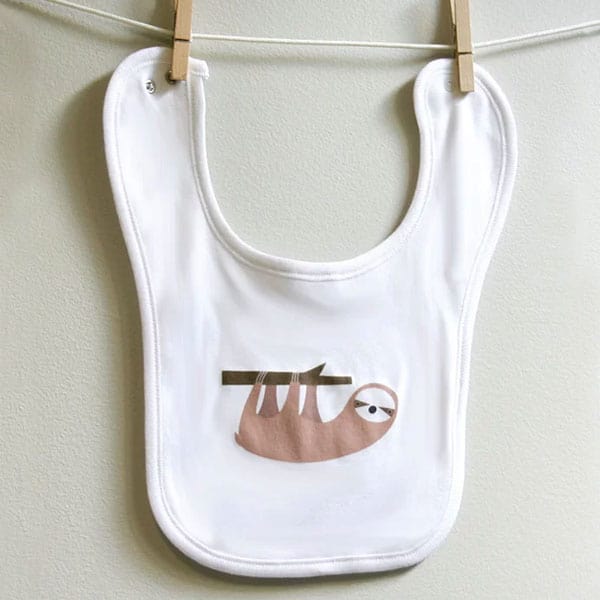 Sloth Bib
This generous toddler sized 100% Cotton Interlock Bib is large enough to catch those big spills! Made from one-ply 100% Cotton Interlock fabric, this bib has an easy close hook and loop tab. You can find it on Etsy from squarepaisleydesign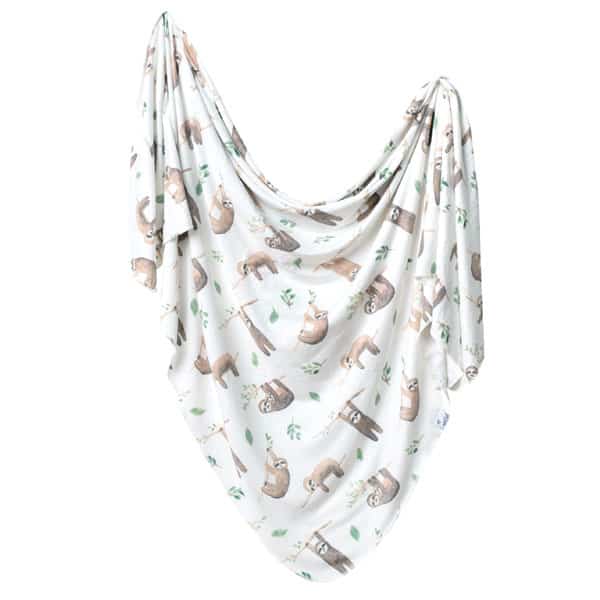 Sloth Swaddle Blanket
Great for the perfect swaddle or as an all-purpose receiving this large 46'' x 46'' design grows with babies through the toddler years. Copper Pearl makes the softest swaddles with just the right amount of stretch. I love them and recommend them all the time. You can find it on Copper Pearl – they also have a matching hat – or on Amazon.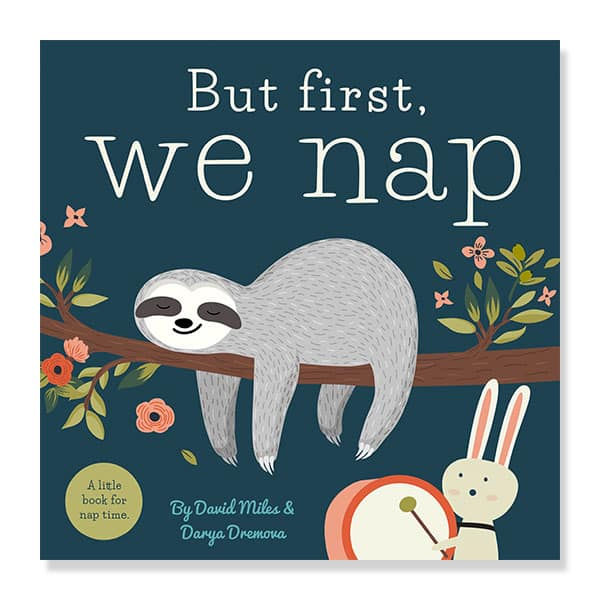 But First We Nap Board Book
Sloth wants to nap. Rabbit doesn't. Who will win in the end? Funny illustrations depict Rabbit upping his antics while the ever-patient sloth repeats, "But first, we nap." Finally worn out, Rabbit gives in, and the pair―and hopefully your child―snuggle and nod off. (I'm with the sloth.) You can find it on Amazon.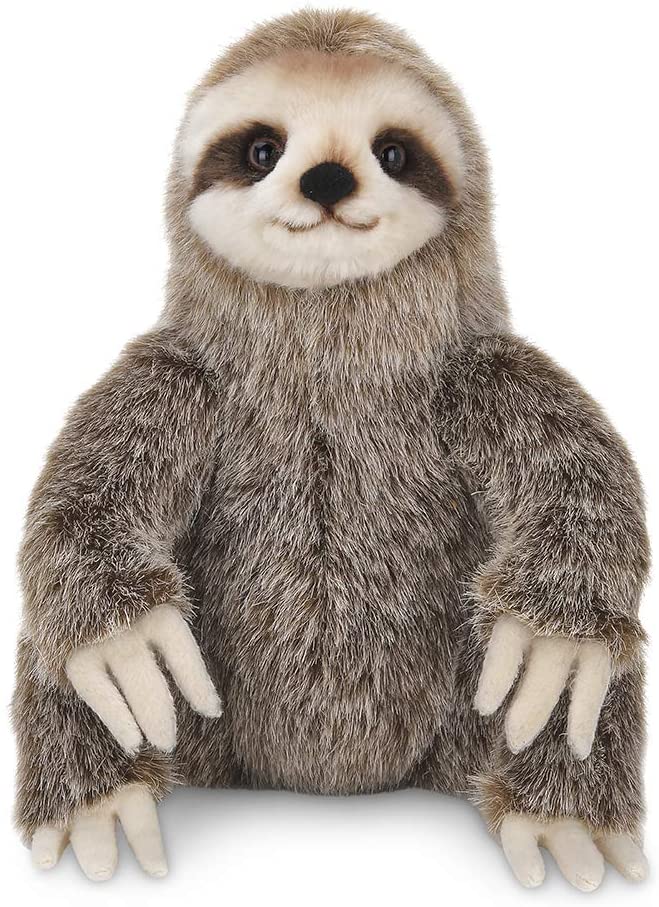 Sloth Stuffed Animal
I found it tricky to find cute stuffed sloths that weren't terrifying and/or didn't look like a monkey. You can find a selection on Amazon.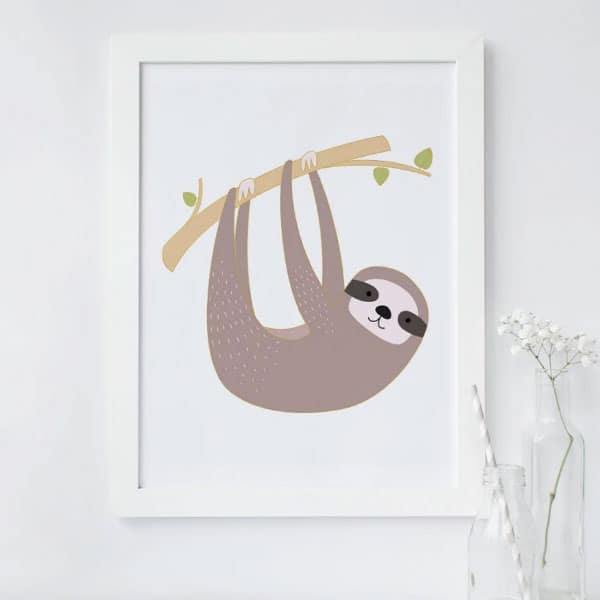 Sloth Nursery Art Printable
This nice thing about printables is that they are inexpensive so you can swap them out if and when your tastes change. I love the graphic illustration of this print. I found it on Etsy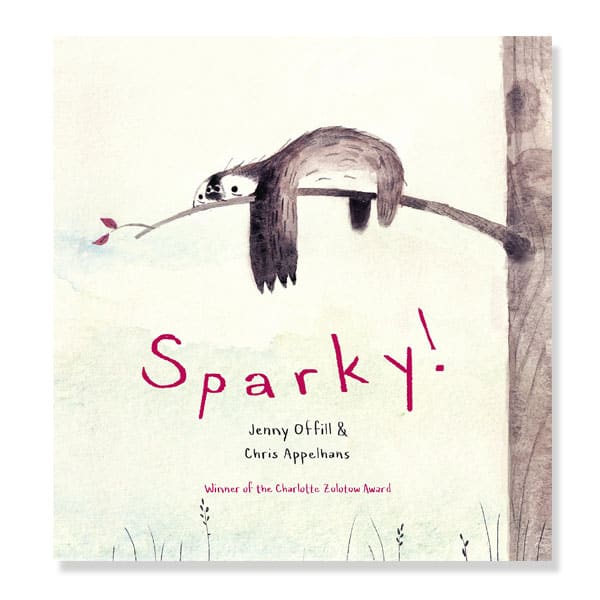 Sparky!
Sparky stars a pet who has more to offer than meets the eye. When our narrator orders a sloth through the mail, the creature that arrives isn't good at tricks or hide-and-seek . . . or much of anything. Still, there's something about Sparky that is irresistible. Winner of the Charlotte Zolotow Award. You can find it on Amazon.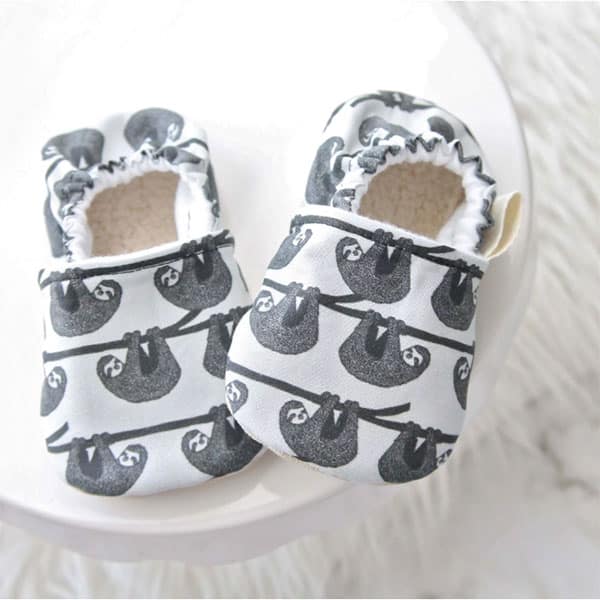 Sloth Baby Shoes
If you are having a bad day, simply search 'sloth baby shoes' on Etsy. I was so hard to pick one pair. There are tons of adorable sloth shoes on Etsy if you want to check them out.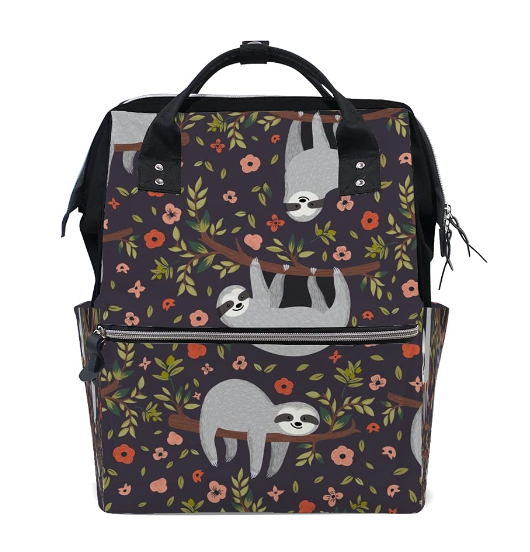 Sloth Diaper Bag
This fun sloth diaper bag has one large main compartment, 4 separated storage pockets, an outside zipper pocket, and 2 side pockets. You can carry it as a backpack or from the top handles. You can find it on Amazon
Bring on the sloth, baby!
So there you have it. A true sloth bonanza for anyone out there who worships that slow, sleepy lifestyle. Here's the real question though – what animal will be next in the race to be Animal Of The Year? Let us know below!
Our next reco: 100 Great Gifts Ideas for Babies Under One
---
Get posts & giveaway updates delivered right to your inbox
---
---