Britax supplied us with a ClickTight car seat but my only compensation was not having to read car seat safety regulations anymore. This post contains affiliate links.
A few months ago we wrote this handy post about common car seat mistakes. But there was something sorta confusing that we left out of that post: when installing your car seat, should you use the LATCH system or the seat belt?
First off, you might be wondering what the hell the LATCH system is. LATCH stands for Lower Anchors and Tethers for Children and it's those round metal brackets you can find wedged in the seats of most cars made after about 2003.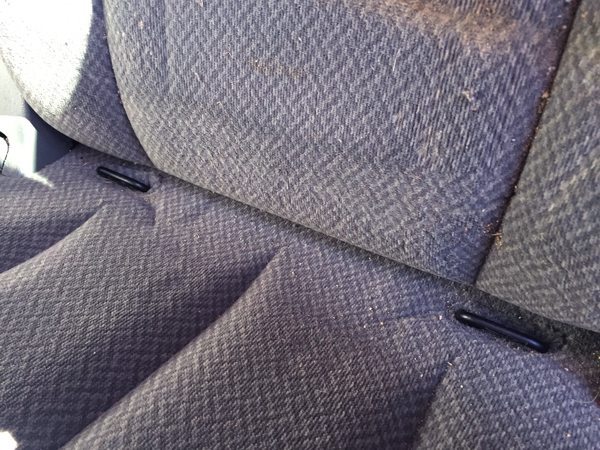 See? These are the lower anchors of the LATCH system. Ignore the nasty seats in my minivan
Historically the seat belt alone was used to attach a car seat to a car, but people often found getting super tight installation with a seat belt really challenging. The LATCH system was invented to create an easier way for parents to secure the car seat. Rather than snaking the seat belt through the seat and cursing a lot, your car seat comes with these lower anchor connectors that basically click into the lower anchors (above). Then you tighten it up and that sucker is attached to your car. (If you're a visual learner like me, check out this video so you can see an example of one type of LATCH install.)
When my husband and I installed our first car seat we thought the LATCH system was the bees knees. So much easier and way more convenient than using the old seat belt! We continued to use it for rear-facing and eventually our forward-facing car seat installs.
But then in 2014 the National Highway Traffic Safety Administration (NHTSA) was all like, WHOA NELLY! They figured out that, because new car seats are now much heavier than ten years prior, these little metal anchors might not be strong enough to hold a heavy car seat and a child to the frame of a car in a crash. As in, they might just break off and send the car seat flying. Fuck. NHTSA released new guidelines saying that LATCH is fine to use when your kiddo is little but when the car seat weight and child's weight are combined, the maximum weight limit for the LATCH system is 65 pounds.
Ok, great, that's all well and good. But how the hell are you supposed to know exactly when to stop using LATCH and switch over to using the seat belt?
First off, you need to know how much your kid weighs. Duh.
Secondly, if your car seat was made in the last 2 years then you car seat manufacturer did the math for you based on the weight of the seat you bought. There should be a clear label on the side of your seat showing you your install options for your specific seat based on your chid's weight.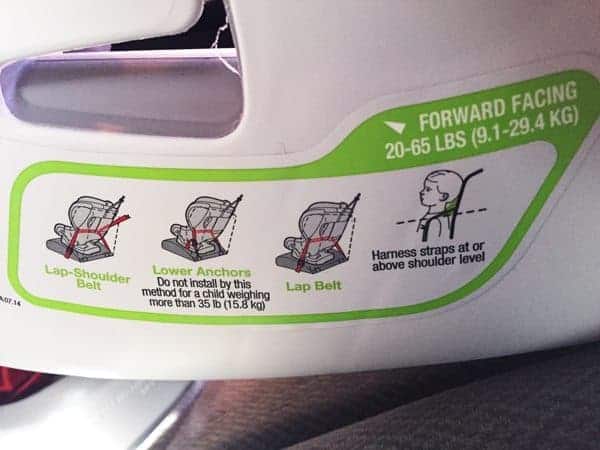 If your seat does not have this label on it then it gets a bit more complicated. My advice is to either make an appointment to go see a Child Passenger Safety Technician or call the manufacturer of the car seat and ask them about the weight limit for LATCH and your specific model. Or, you can just install the car seat with the seat belt and skip using the LATCH altogether.
Thirdly, just to get your ducks in a row, you need to check your vehicle's manual because sometimes a specific vehicle has a lower weight limit than 65 pounds. If that's the case for your vehicle, call the car seat manufacturer or go see a Child Passenger Safety Technician and explain your vehicle's LATCH weight limit and they can help you figure out your own install guidelines. Or again, just skip the LATCH and install your seat with the seat belt.
Other notes about LATCH:
Don't use LATCH and the seat belt together! You can read about that here. The short answer is that manufacturers don't crash test with both, so just stick with the instructions given in your car seat's manual, which typically say use one or the other, not both.
Also, I didn't mention the tether part of the LATCH system. Most convertible car seats come with a strap on the top that you can tether to the frame of the car for added spine/brain safety in a crash. You've gotta check your car seat's manual but typically you can and should use this tether if you're using LATCH or your seat belt to install the car seat because it reduces how much the top of the seat 'flings' in a crash. So using the tether can really reduce spine and brain injuries in a major crash.
Here's a handy dandy graphic that explains all of this!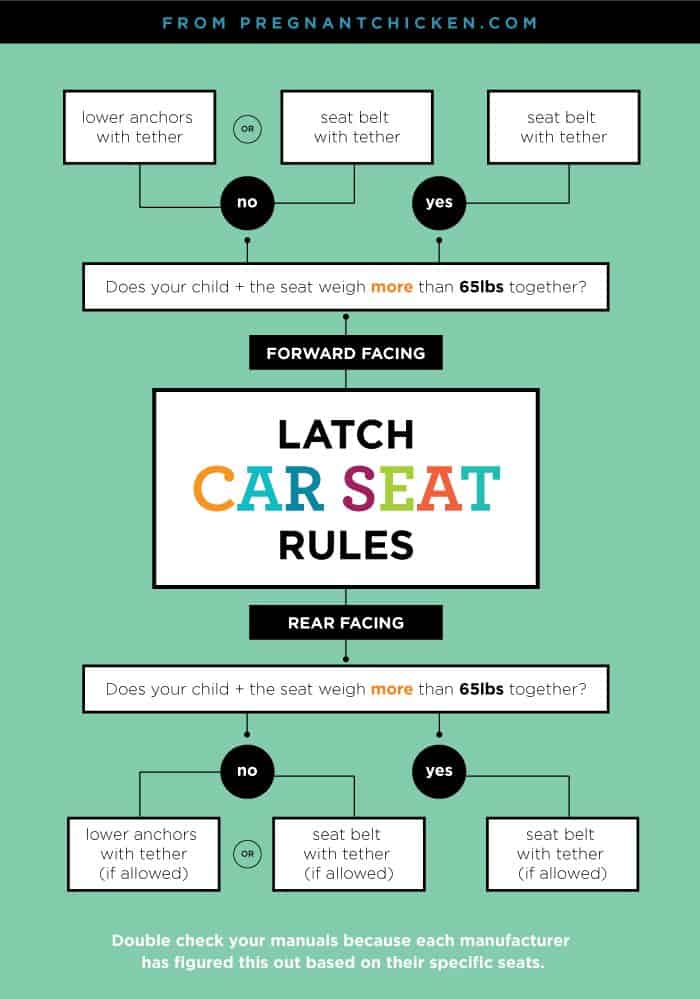 Here's some real talk: I suck at installing car seats with the seat belt. I am a moderately intelligent person. I have read the car seat manuals. I understand HOW to do it. But I always felt like my installation was too loose, no matter how many times I climbed into that tiny seat and tried to tighten that damn seat belt.
Enter the newest in car seat seat belt installation technology: The ClickTight system from Britax. I swear when I installed this car seat for the first time I almost wept with gratitude and relief. The one shown here is the Advocate.
To install it you turn this little knob and pop open the base of the seat. Then you thread the seat belt over the exposed base of the seat like this:
So it looks like this: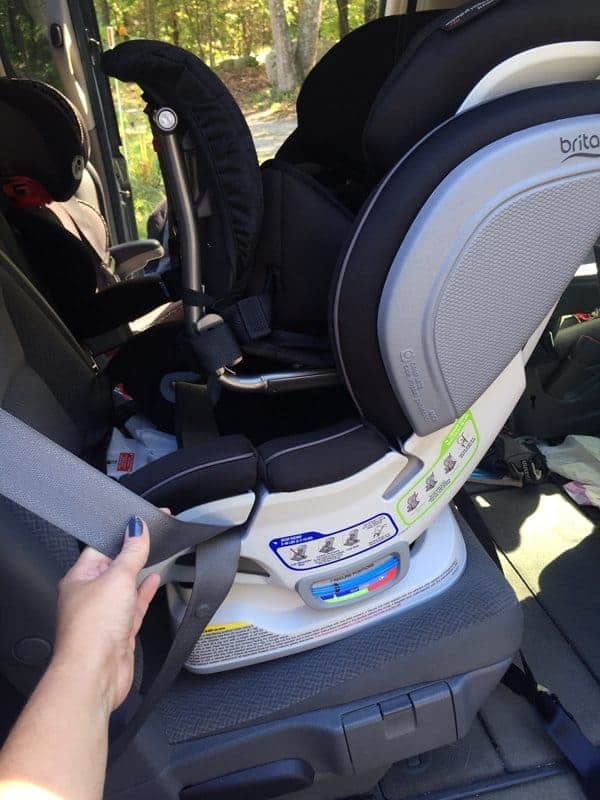 Then you just lower the seat base down again until it clicks into place.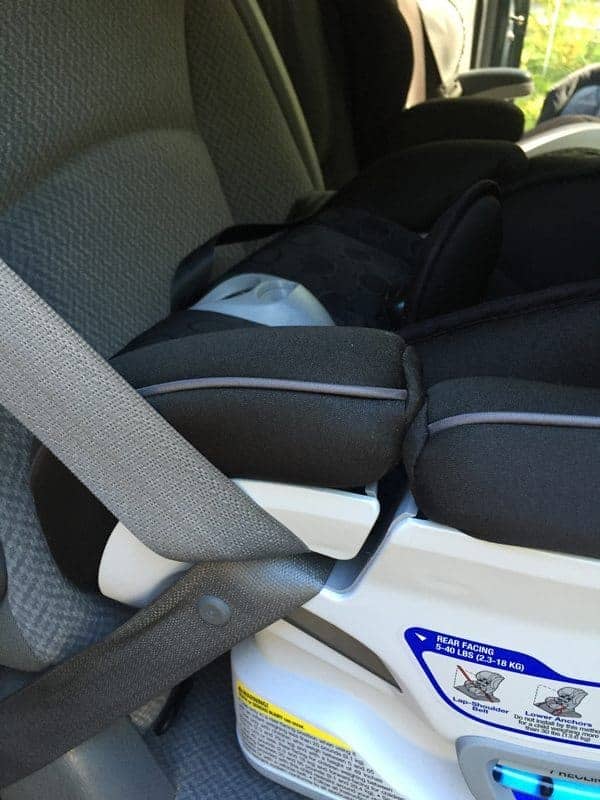 DONE. It essentially takes the guess work out of the seat belt installation. I know it's tight enough and it takes less than a minute to install it. And you don't even have to climb in the seat or anything. Love!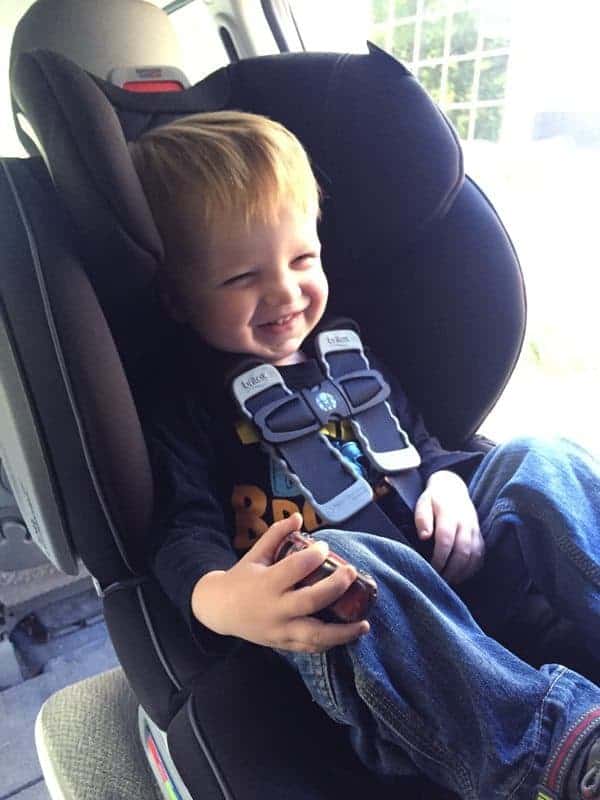 My kiddo loves it, too! Goofball.
Good luck with those car seat installations, folks! Buckle up!
---
Get posts & giveaway updates delivered right to your inbox
---
---