OMG, nothing scares me more than talking about car seats on the Internet.
Seriously, guys, I think I'd rather arm-wrestle the Demogorgon than willingly enter any kind of car seat debate.
But with that said, we need to talk about how important it is to keep your child rear-facing until after they turn two. (**Braces for the onslaught of rotten lettuce and tomatoes virtually thrown my way**)
Keeping your child rear-facing until after the age of two is 5 times safer than allowing them to forward-face. Why you may ask? Prior to two, their skeletal and muscular systems aren't fully developed, and keeping them in a rear-facing position allows their giant heads, and tiny necks to be supported in an accident, by a car seat specifically designed with this in mind.
Oh but wait! It gets more complicated!
A few years ago Consumer Reports released findings suggesting all kids be transferred from an infant car seat to a convertible car seat by the age of 1, for maximum safety.
If you're like me, you started with an infant car seat, because hello! So convenient!
If you're also like me, the idea of having to purchase another car seat, a mere 365 days after the first, makes me twitchy. Being someone who doesn't wipe my butt with cash money, purchasing car seats with that kind of frequency is a hard pill to swallow. But even considering NOT doing it majorly adds to the mom guilt.
Well I'm about to blow your mind, in the form of a full sentence in capital letters because hiring a sky writer was out of the budget:
YOU NO LONGER HAVE TO CHOOSE BETWEEN AN INFANT SEAT AND A CONVERTIBLE SEAT TO ACHIEVE YOUR SAFTEY GOALS!
Nope. Thanks to Chicco, a new style of seat has been developed that allows you to have the convenience and comfort of an infant seat for the first year, and with a few simple adjustments, the safety and spaciousness of a convertible seat – the Chicco Fit2. What the what?!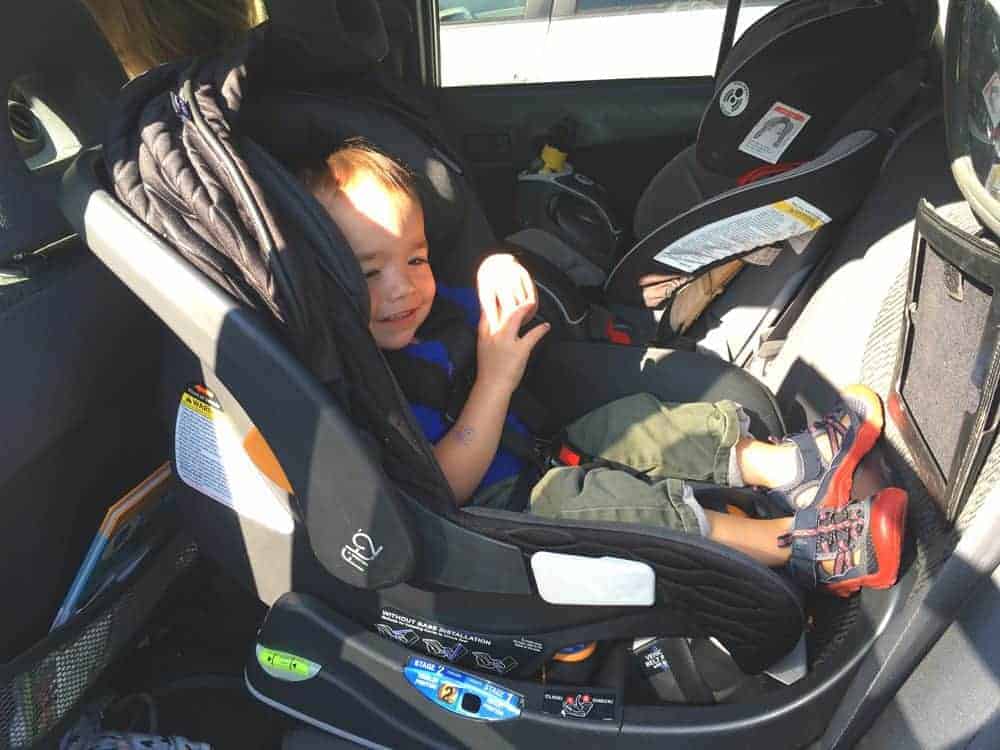 The Chicco Fit2 car seat has two positions: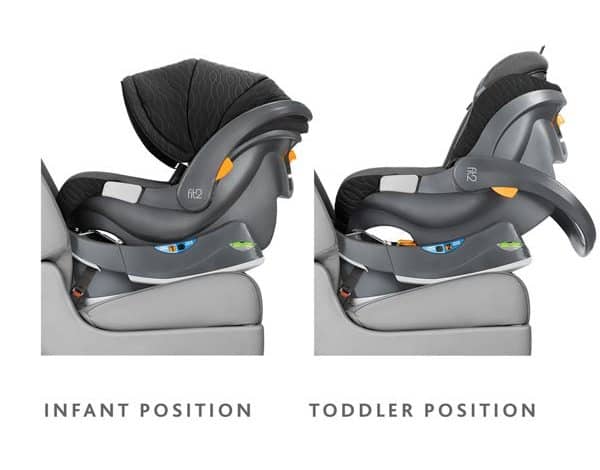 0-12M / Infant position: This provides more reclined seating, and comes with a selection of soft, comfy, removable head and body supports for newborns and infants from 4-35#, and up to 35".
9-24M / Toddler position: This provides more upright, spacious seating, and has a 7-position adjustable head support that raises and lowers to accommodate growing toddlers from 15-35# and 35". The upright position allows for more legroom, perfect for growing toddlers who want to stretch out a little.
How cool is that?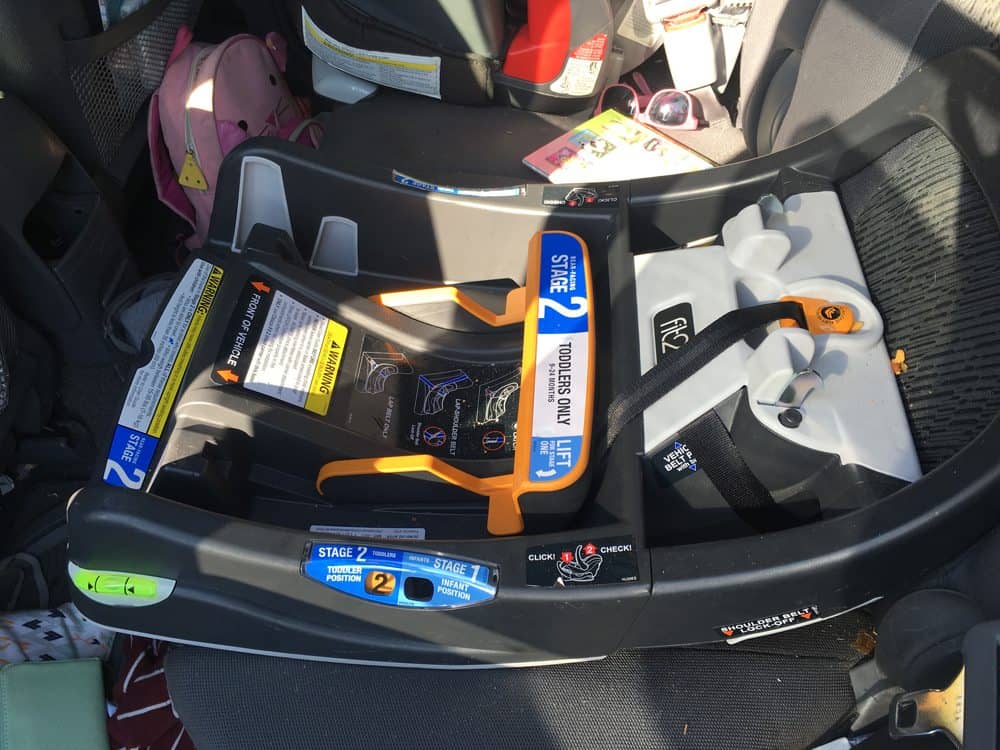 Things I Love
Regardless of what position it is in (infant or toddler), the seat can be easily removed and brought inside if your kid falls asleep
You can adjust the handle with ONE HAND. Brilliance.
Huge, lightweight sun shade
Super easy to adjust from infant seating to toddler seating
No bigger in dimensions than the Key Fit 30
Doesn't take up more room in your car, regardless of position (infant vs toddler)
Features the LATCH system for easy install
Classy, clean look
Adjustable handle bar for easy carrying
One seat for infancy through early toddlerhood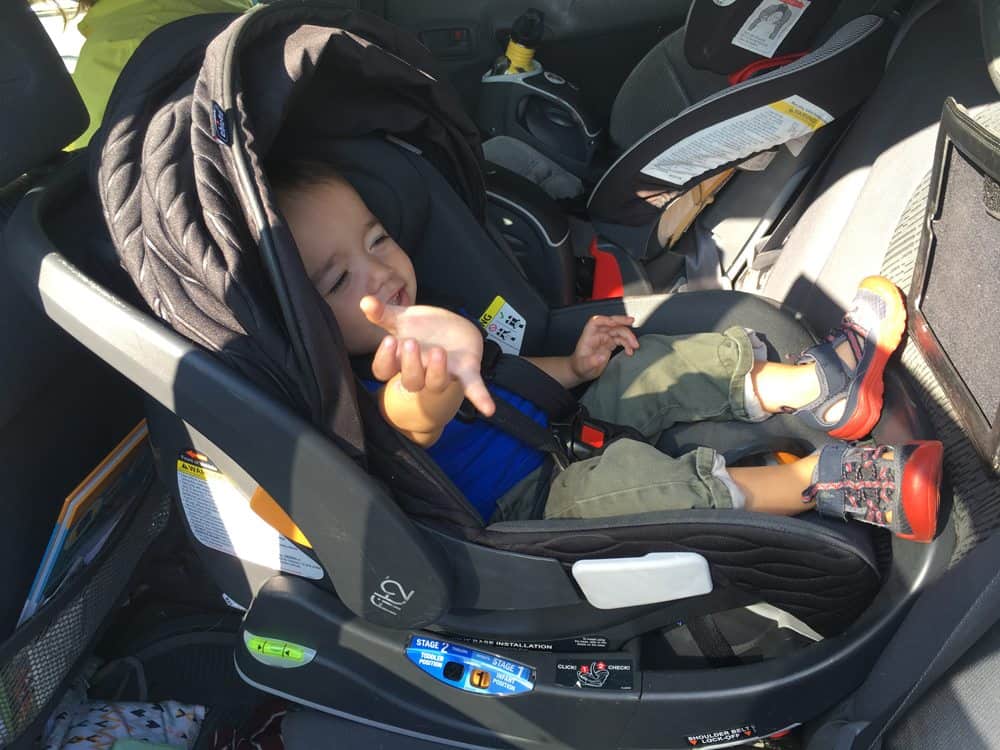 Things worth considering
I personally find the straps a little harder to adjust, compared to Key Fit 30 – perhaps this is better because it forces me to slow down and ensure their proper fit each time I use it
$280, so still a big purchase
This car seat is a great option for those who want to adhere to the latest safety rules, but don't want to purchase multiple seats. And, as a mom of a toddler who still often falls asleep in the car, it's aaaamazing to be able still schlep him in the house in his seat, without risking waking him up.
You can find out more about the Chicco Fit2 car seat on their site.
Related: Common Car Seat Mistakes
---
Get posts & giveaway updates delivered right to your inbox
---
---