Let's get one thing out of the way first: the vast majority of daycare centers, preschools, nurseries, and in-home providers are good safe places. Most of the people who work in childcare are there because they really love children and they want nothing but the best for them. They go to hours and hours of classes and training every year on how to provide a secure, healthy environment for your child and then go back to work ready to follow all the guidelines correctly.

But how do you know which places are the best when it's time to select one? What things should you be looking out for? If you have no experience with childcare it might feel like you're picking one and hoping for the best, and that's not a comfortable feeling.

After over a decade of working in the childcare setting, mostly in infant/toddler rooms, I can tell you about three big red flags to watch out for. Think of them as basic guidelines to tell the good from the bad. You will also want to look for centers that match things on your specific wishlist and find the place that is the best fit for your family in price, location, and schedule. These three indicators are only a place to start.
Three red flags to watch for while looking for childcare:
1. Too Many Kids
This is a big one. Many countries have different licensing requirements, but all of them should have what's known as a ratio of children to caregivers. If there are more children than the caregiver can handle, it's not a safe environment and the children are getting inadequate care (plus it's illegal).
You can look up the law for your specific area by Googling [where you live] + childcare ratios, but ideally, the caregivers at the center should be able to tell you the ratio without having to look it up in the regulations.

Bottom line: If there seem to be too many kiddos running around free-range and the teachers are running around after them looking stressed and distracted, it's time to ask about those ratios.
2. No Health or Cleaning Policies
Like the ratios, there are licensing requirements for handling food, cleaning the room and toys, changing diapers/potty time, and sick child policies. Part of every childcare provider's year is spent going to health and safety training to learn or be reminded of all of these procedures. When you're looking at centers the teachers should be able to tell you their cleaning routines, diapering routines, and food handling rules at the drop of a hat. After all, they spend all day, every day doing them.

Bottom line: Not washing down tables after mealtimes, not using gloves when changing diapers, and not washing hands after either of those activities is a big red flag.
3. Can't Answer Your Questions About Guidance & Discipline
When you're visiting a center and observing how the children and caregivers interact you will get a sense of how they handle different situations. Still, one visit won't be enough to show you how they handle every behavior unless they're having a really bad day! Experienced, caring providers have seen it all and dealt with it all. They should be able to answer your specific questions about things like biting, hitting, sharing, or anything else you can think of that might create a problem. You should be able to get a sense of what philosophy they use when it comes to guidance and how well it aligns with your own parenting philosophy.

Bottom line: If the childcare providers at that center have no idea how they would handle difficult behaviors when you ask them, that's not a good thing.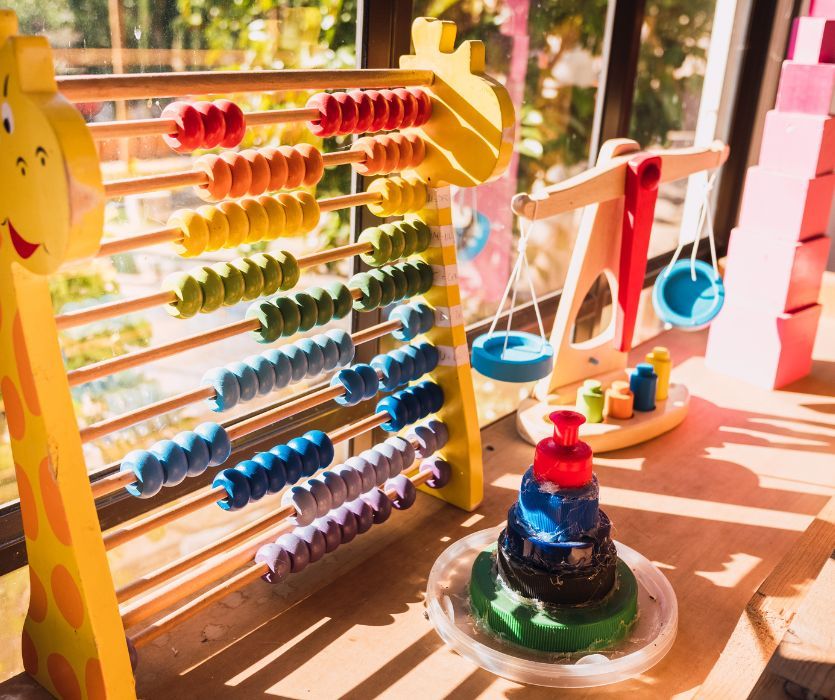 Here's a quick checklist of 19 things to look for in good childcare:
There are plenty of clean, age-appropriate toys
There are separate spaces dedicated to different activities
Their license is clearly displayed
Bookshelves are full of fun choices to read
Caregivers seem warm and responsive
Director returns your calls/emails promptly
They welcome your visits, even unannounced (but try not to go at naptime, to be nice)
They have a daily schedule that is consistent, but also flexible when needed
Other parents recommend it
The rooms look fun and inviting
There's an outdoor play space and it is used all the time
No TVs or they are used as a special treat (not every day)
The center can give you a manual of all of its policies and procedures
You get a daily handout of what your child's day was like
The same staff has been working there for years
They have policies on bringing extra clothing/supplies, and the policies make sense
Who provides the diapering supplies and who provides the food (you, or the center) is clearly stated, never ambiguous
The cost is reasonable for your budget. Helpful tip, there might be some sort of state subsidy or scholarship type assistance available. You can always ask!
It's close to your work, or home so that you can be there quickly when needed
Our next recos: 5 Things to Love About Daycare
---
Get posts & giveaway updates delivered right to your inbox
---
---