Double strollers are often double the trouble. They are big, bulky and difficult to push when you factor in the body weight of two kids. But they are also a necessity for families who have two kids of a certain age, who are either unable to walk on their own or just refuse to out of principle.

The lovely people over at Joovy have addressed a few common issues the typical double stroller faces and created the Caboose Ultralight Graphite Stand-On Tandem stroller. With the help of my kiddos, I put this puppy through the ringer with a month of straight-up abuse that only a toddler and a baby are capable of.

The strong point of this stroller is that it's essentially the Swiss-Army knife of the stroller world. There are four different ways you can arrange your kids according to need, which is incredibly handy when dealing with a toddler who wants to stand one day and sit the next. You can set it up in any of the following configurations:
Two seats – tons of room, someone even gets a tray (second seat is extra)
One seated, one standing with small bench seat if needed
Car seat and one seat – still plenty of room for seated child
Car seat and standing – plenty of room to stand, pretty tight for utilizing the small bench seat if needed, but fine if the trip is short
It's light by double stroller standards at 21.8 pounds (net weight, gross weight is 24), and is narrow enough to easily fit through doors. It is compact, handles well, and can be pushed with one hand. Both seats have the option to recline, are roomy, and seem comfortable, and the buckles are easy to operate. Folding and unfolding it is quick and easy once you get the hang of it.
There are, however, a few things I'd love to see addressed.
The biggest issue for me is how noisy the stroller is. The wheels squeak, squeal and chirp like ten thousand angry finches in a raucous bird fight, and is enough to drive even the most Zen of ornithologists to their breaking point. This problem is common enough to be found on message boards, and can apparently be fixed by spraying the wheels with silicone lubricant, which I have yet to procure.

I also found the storage basket to be smaller than I'd like, and difficult to access in every configuration, though I understand that in order to make the stroller smaller, compromises must be made for non-essential items. It is also worth noting that the break is controlled with a foot pedal, which I found I was unable to disengage while wearing sandals (the underside of the pedal is molded plastic, which hurt my toes – this would not be an issue with other kinds of shoes).

All in all, this is a great, lightweight option for a stroller that will grow with kids from infancy through toddlerhood. I would spring for the extra seat, and definitely get your hands on that lube… unless, of course, you find the sound of a ten thousand-finch bird fight enjoyable in any way.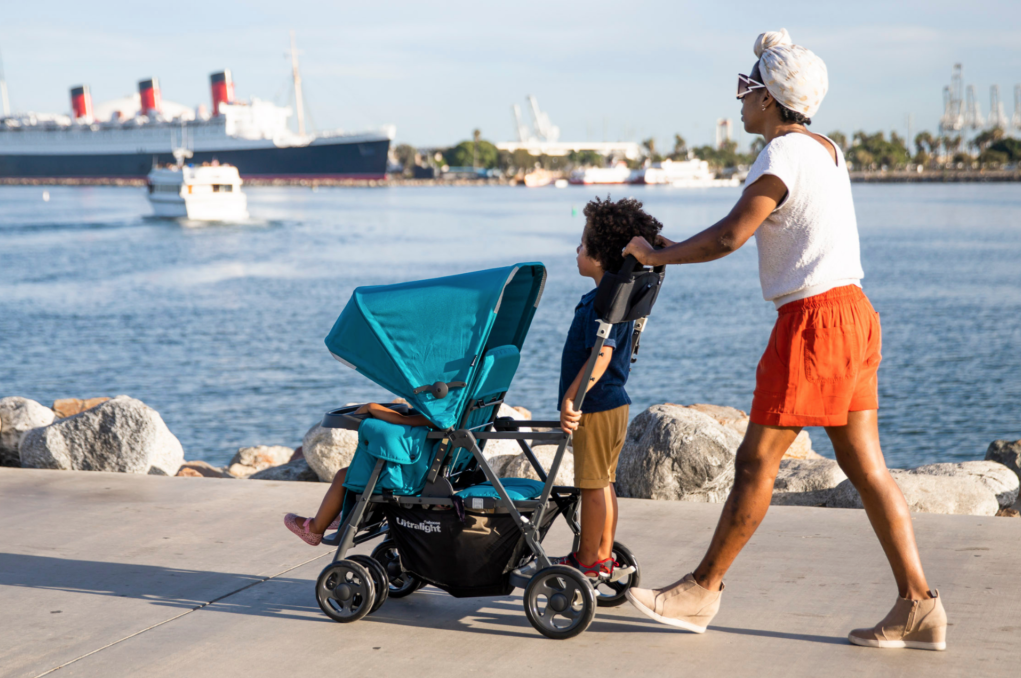 🟢 Joovy Caboose Pros
Versatile with many different arrangements for maximum child happiness
Light by double stroller standards with a net weight of 21.8 pounds
Handles very easily
Folds/unfolds easily
Relatively small, though it is a double stroller, so really think about if you have space to store something of this size when not in use. (Open size: 41.5 x 21.5 x 37 inches, folded size: 10.5 x 21.5 x 41.5 inches)

🔴 Joovy Caboose Cons
Squeaky wheels
Small basket
Break disengagement is difficult with some footwear
Best for city usage – wouldn't take it on anything other than cement or very well groomed gravel trails.
Where can you buy the Joovy Caboose Ultralight Sit and Stand Double Stroller?
---
Get posts & giveaway updates delivered right to your inbox
---
---