Post contains affiliate links.
The Lovevery play gym is on many a baby registry, but is it worth all the praise or are cheaper activity mats just as good? We put it to the test to find out.

We had two testers - one who tested it with her baby from 3- to 5-months old and one who tested it with her 10-month old – so we could get feedback from a couple of ages as one of the perks of this gym is the extended play value.
What Is The Lovevery Play Gym?
Play gyms provide a safe, baby-friendly space to let your baby hang out and explore their surroundings. With a combination of contrasting colors, interesting textures, and sounds, play gyms help both babies' brains and bodies develop by exposing them to different stimuli. Designed by child development experts for kiddos aged 0-12 months, Lovevery has taken this idea and incorporated a clean, minimalistic appearance that appeals to adults and babies alike.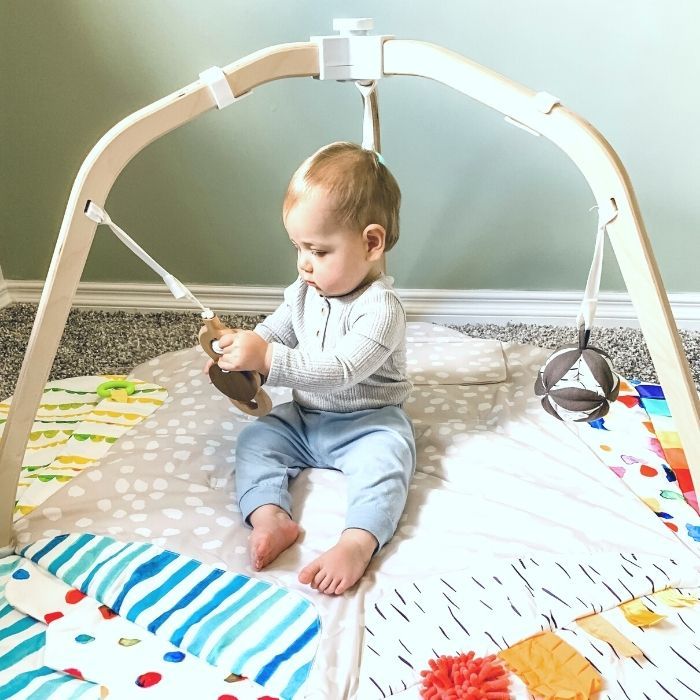 The mat has flaps that provide five zones of play that can be opened or closed to promote or minimize stimulation. As your kiddo gets older, you can turn the play gym into a fort with the provided fabric, creating a fun space for your young toddler to play, or, if we're being honest here, hide and poo.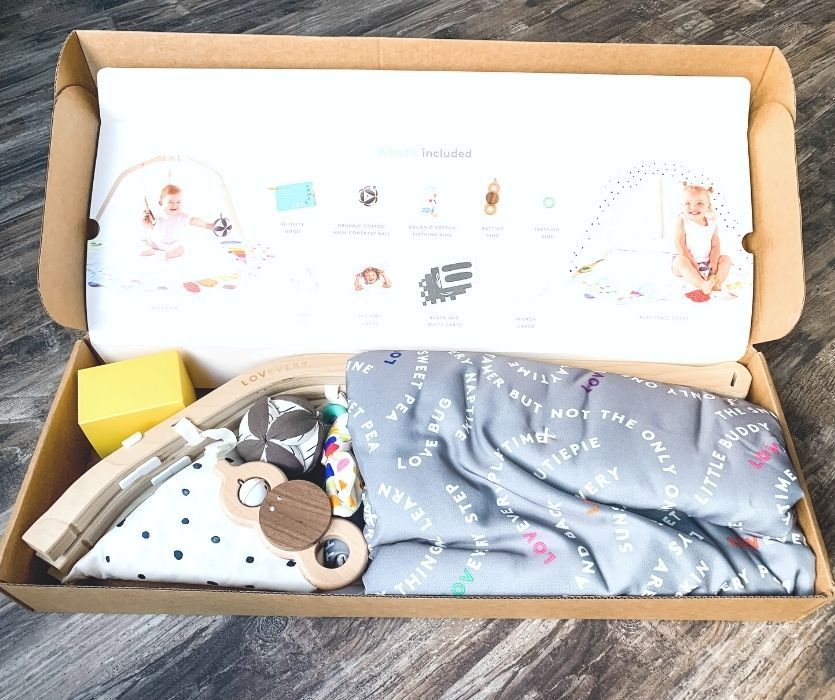 What comes in the box?
Wooden Stand:
Made from ethically and sustainably sourced wood.
Play mat:
Includes five development zones: Learning to focus, Making sounds, How things feel, Hiding and finding, Exploring colors, and Play Space Cover for imaginative play.
Three accessories:
Organic cotton high contrast Montessori ball, sustainably sourced wooden batting ring, and a cotton teether and silicone ring manufactured without PVC.
System of interchangeable cards:
Black and White, Faces, Objects, and Mirror.
Booklet:
Written by child development experts, the booklet includes age appropriate games and ideas to maximize the educational potential of your play gym.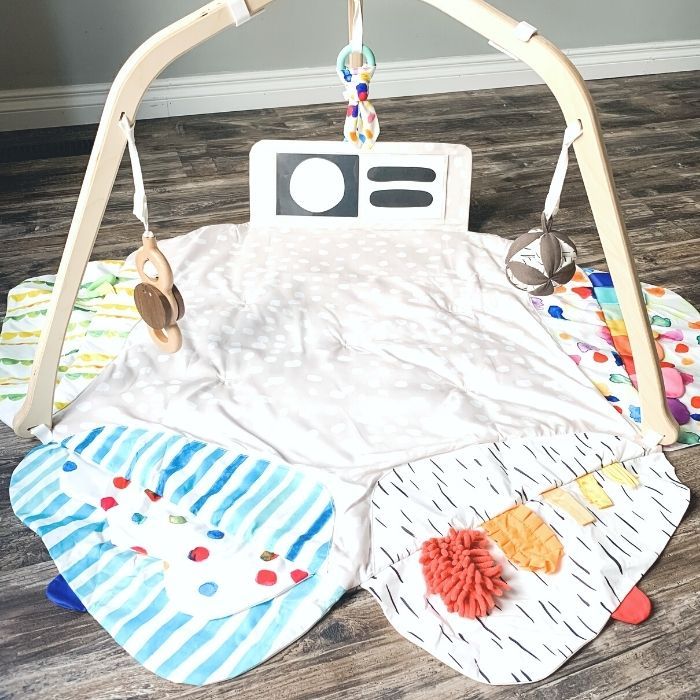 Pros of the Lovevery Play Gym
Depending on your style, the simplicity, toned-down colors (especially when the flaps are closed), and the wood are really appealing, especially compared to some of the more baby-centric pieces out there. Looks aside, here are some other highlights:
The wooden batting ring, with a bell and castanet sound, is a tad more gentle on the ears than some of the other play gym ditties.
It's on the bigger side, giving your kiddo room to grow and extending the timeframe you can use it. (This could also potentially be a con depending on your space, but it's fairly easy to take apart and roll up for short-term storage or travel if you want. For long-term storage Lovevery recommends keeping the box.)
Materials like sustainably sourced wood and organic cotton, and completely recyclable packaging makes the gym a little more eco-friendly than some other options.
It's a popular product so it will have good resale value if you ever want to part with it.
The fold up cards section is great for tummy time.
The hanging objects are all at different heights making it fun and interesting for different physical and developmental ranges.
Transition to tent extends the life of the playmat and also makes it fun for older siblings.
Very easy to assemble – didn't need to use the instructions.
Pockets for the sight cards are large enough to house all the cards when not in use.
"The size is great – lots of room to move around and play – the height of the wooden bars makes it easy to get babe in and out." - Liz
"Loved the flip up part for the high contrast cards and you can put the cards on the legs at the top as well.  It looks very nice and I like that you can fold in the zones in order to avoid overstimulating the baby (or parents!!)." - Kelly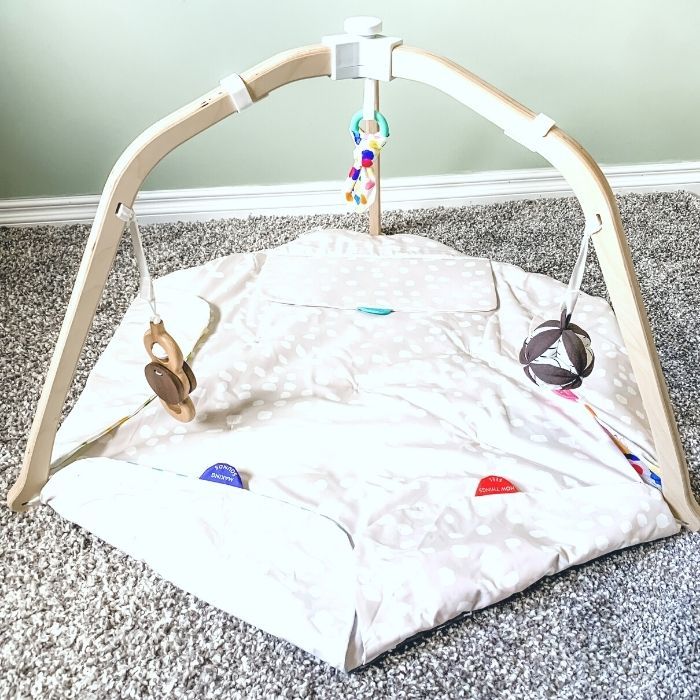 Cons of the Lovevery Play Gym
As with any product, there are always a few things that people aren't wild about. Here are a few things to consider:
The mat is polyester, which they're very clear about on the page, but can be a little confusing for some assuming the mat that was organic cotton (the teether is made from organic cotton). Keep in mind this also means it won't shrink or warp in the wash.
If you troll the reviews on their page (doesn't everybody do this?) there were a few people who mentioned their kids rolling over and hitting their head on the wood.
The wooden hanger toy has some weight to it, especially when it gets a good swing going giving it potential to be a noggin knocker.
A little more involved to tuck it out of the way if you need floor space, because of the rigidity of the wooden arms, but not a huge deal.
It has a pretty large footprint which is also a pro, however, might be an issue if you are tight on floor space.
"Although the location of each toy can be switched, you can't change the location where each toy hangs. It would be nice if it came with a storage/travel bag to hold everything for travel or in between babies, especially at this price point." - Liz
"The legs attach to the mat via little velcros which weren't the greatest." - Kelly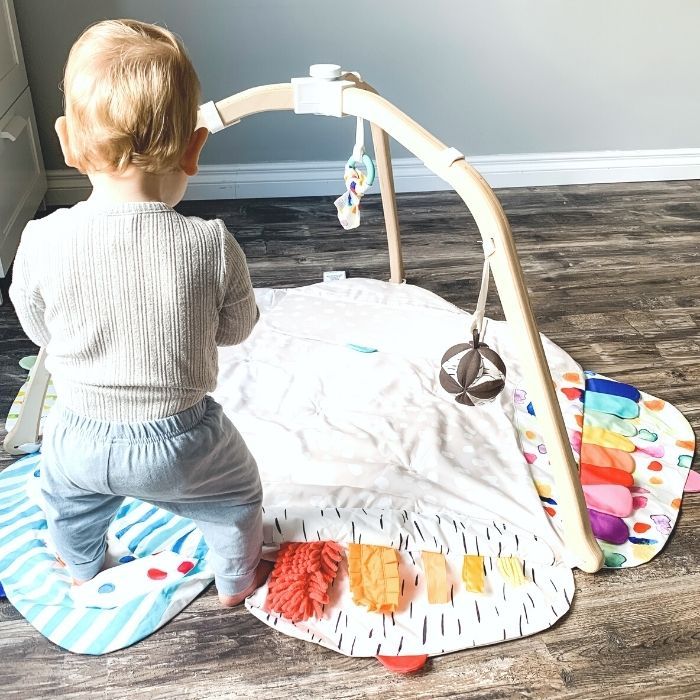 Play Gyms Of Comparable Quality
When it comes to play gyms, there are tons of options out there. Really thinking about things like durability, how easy it is to clean, longevity, how eco-friendly it is, and what it comes with are a few factors to consider. Here are the play gyms that would fall into the same camp as the Lovevery Gym: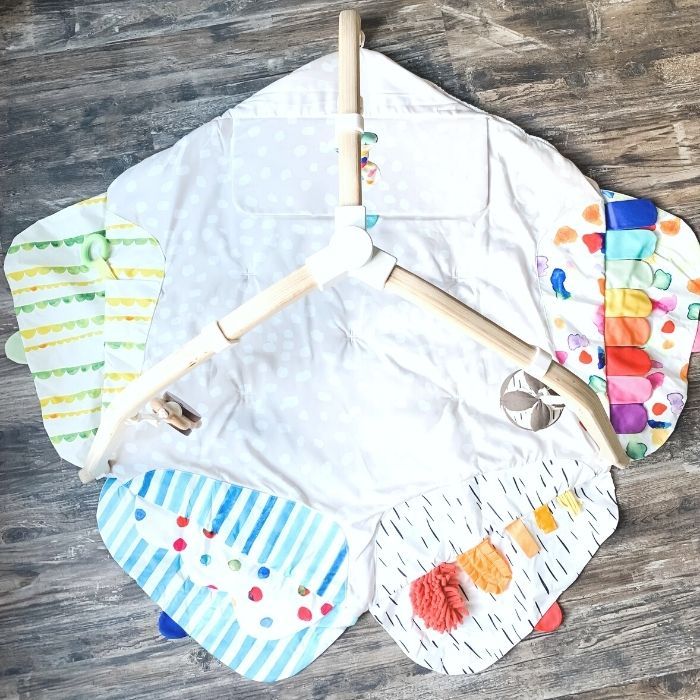 How does it fold?
No tools are required for setup and takedown. The wooden legs clip in and out of the top bracket and can be rolled up inside the mat when not in use.
How easy is it to clean?
The mat, organic cotton teether, and ball are all easily machine washable in cold water on the delicate cycle. Aside from closing the flaps, there's nothing special to be done, which is nice. The wood can just be wiped down, making the whole thing pretty easy to clean.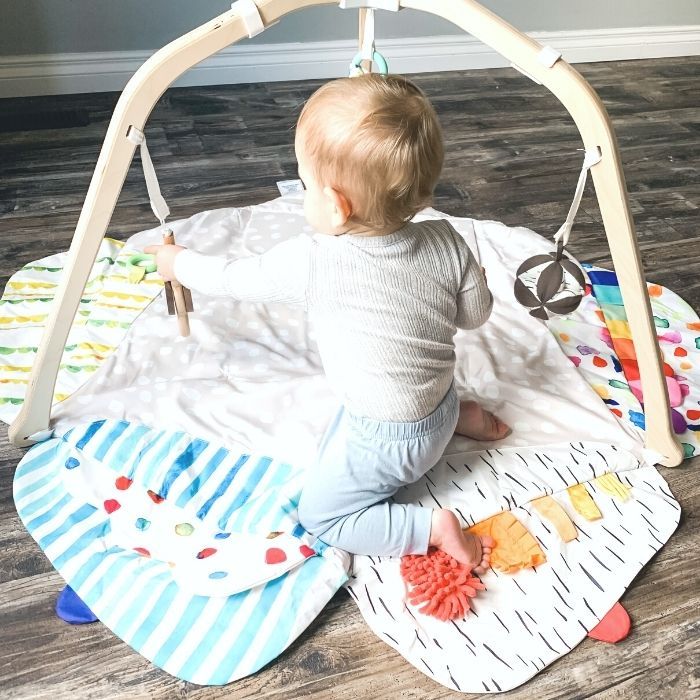 Is it good for newborns? Toddlers?
Per the site, this play gym is for babies 0-12 months of age, but there's nothing to stop older kids from playing with it, too. Even if they've aged out of the toy, the tent it comes with extends the longevity of the product, helping to justify the price. Just a quick note - as kiddos get older, they're going to want to use the legs to pull themselves up on - something Lovevery warns they aren't supposed to be used for - which might be an issue for some.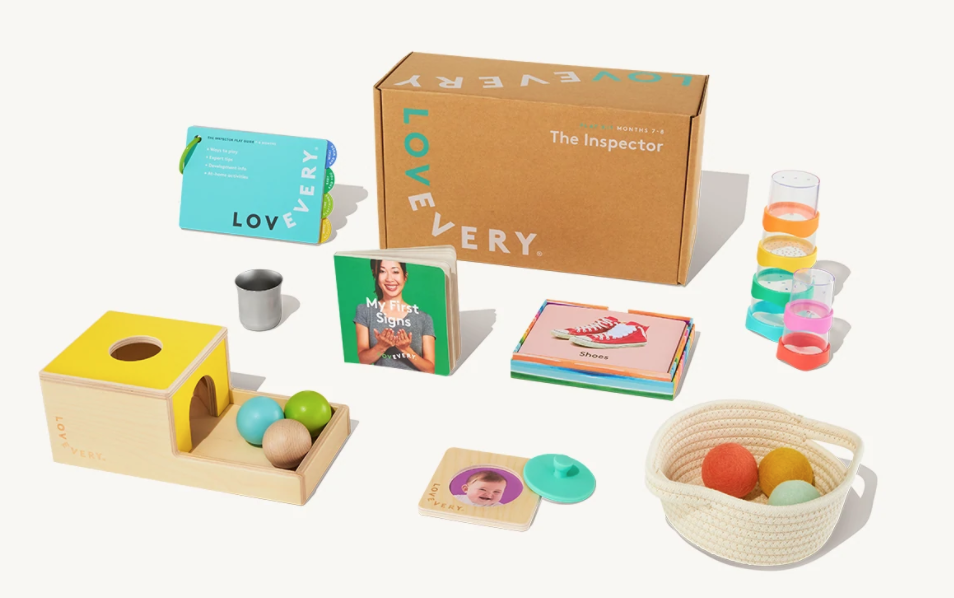 What about Lovevery Play Kits?
Need to spice it up a bit? You can also supplement your play gym with age-appropriate play kits that can be used in conjunction with or separately from your play gym. The kits are delivered every 2 months and include a fun selection of carefully picked toys and books for the developmental range your baby is in. Oh - they also come with a play guide written by child developmental specialists so you get the most out of them. They also preview each box on their site, which is nice. Check out the selection of Lovevery play kits here.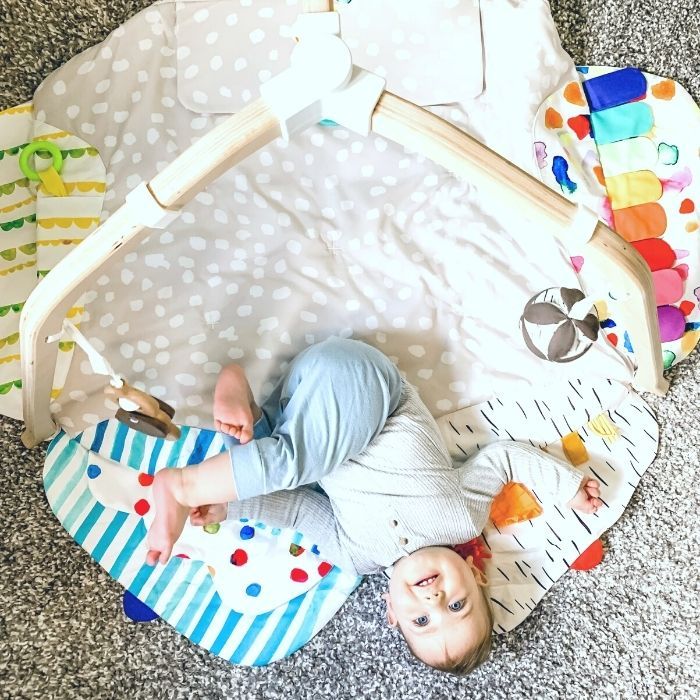 Final Thoughts
If you're looking for an adaptable, minimalist-inspired play gym with options for extended use, this is definitely one to consider. It's easy to set up, has lots of options to keep your kiddo entertained, and is designed by child development experts to make learning fun.

It's on the pricey side but when you factor in the size and the accessories, it's fairly comparable to its competition. If you have the funds, it's probably worth it. You can buy the Lovevery play gym on their site, on Amazon, or at Target.
Have you used the Lovevery play gym?
Were you happy with it? Let us know what you think in the comments!
Our next reco: Mockingbird Stroller Review - Too Good to Be True?
---
Get posts & giveaway updates delivered right to your inbox
---
---