This post contains affiliate links.
There are a lot of strong arguments for buying organic clothing for your baby. They contain minimal (or no) harsh chemicals or synthetic substances, the material is soft and gentle on delicate baby skin, and their production creates less pollution and has less environmental impact than that of regular materials. No mom shame here, though. If you're buying your kid's clothes from the "Last Chance" bin at the supermarket as I have been known to do, you're in good company. If, however, you're looking for a reason to purchase a few organic pieces for your little one, we've got ten awesome ones below. Check out our ten favorite places to buy organic baby clothes and just try to keep your shopping cart empty while you browse.
Best places to find organic baby clothes
We've marked the brands that have the full Global Organic Textile Standard (GOTS) certification with 💚 and the brands that use GOTS certified fabrics with 💜. I've been reading up on GOTS certification and it's kind of tricky because some companies say they use GOTS certified cotton (but this doesn't necessarily mean the finished product is GOTS certified). To receive this certification, the entire production process, from farming to manufacturing, must meet specific criteria. To receive an "organic" label, the product must contain at least 95% organic fiber, not be treated with bleach, formaldehyde or any other toxic substance, be colored with nontoxic dyes, and be produced using the highest social and environmental standards. I'm pretty sure any company that is fully certified has to pay a yearly licensing fee to be able to say that they are fully GOTS certified (so I think a lot of companies just use the certified fabrics).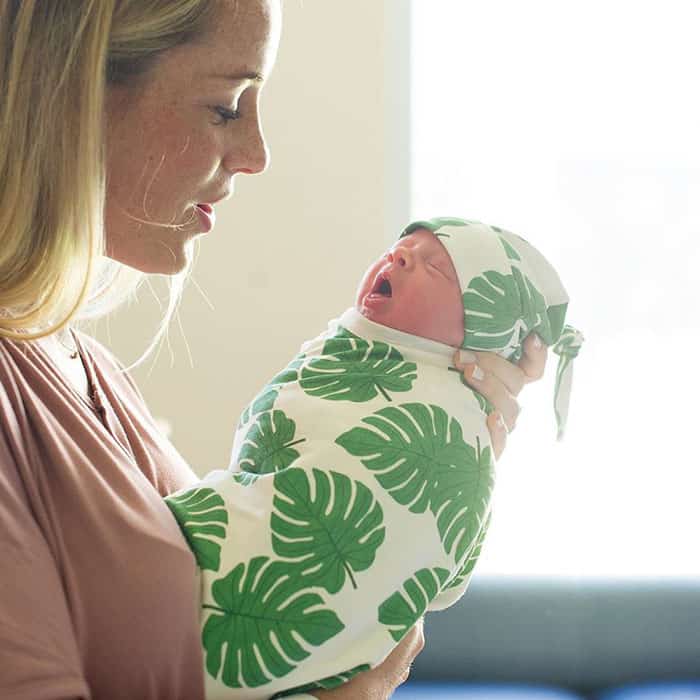 Monica + Andy 💚
Maybe the first thing you need to know about Monica + Andy is that their team is made up of 95% women and 80% moms. Can I get a hell ya? The founder, Monica, has made it her mission to create products for babies that are GOTS certified and come in the softest fabrics (many of which are covered in the cutest prints) ever. As an added bonus, their fabrics won't shrink, pill or fade, meaning the pepperonis on your baby's pizza-print bodysuit will look as mouth-watering the day they outgrow it as they did the first time they put it on. Monica + Andy makes pretty much every piece of clothing you could need to dress the most stylish baby (or kid) on the block, from T-Shirts and skinny jeans to vegan faux leather jackets and shiny pants. They've also got awesome gift bundles, maternity wear, loungewear (for mamas) and cute accessories for everyone. You can find them here.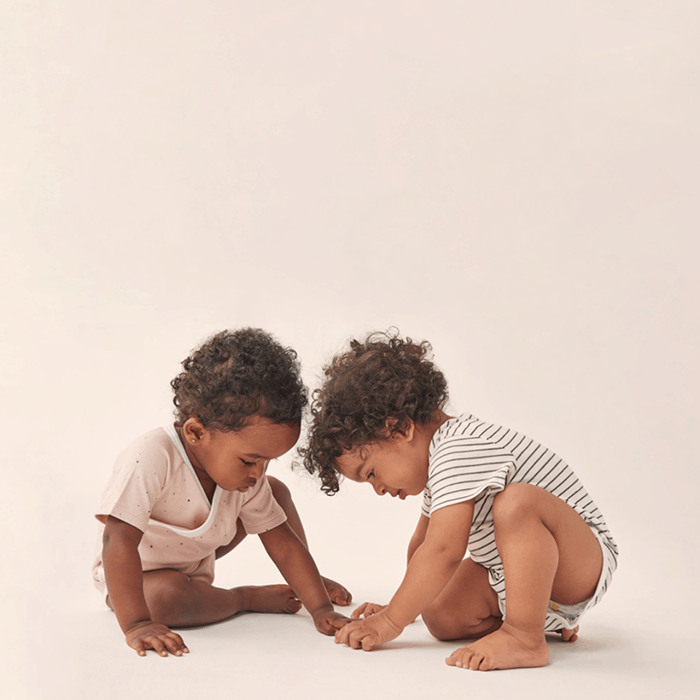 Mori  💚
There's so much to love about Mori's line of adorable baby and toddler gear. The fabric isn't just incredible because it's beyond soft and cozy. Mori's 100% organic products are GOTS certified, and the signature bamboo and organic cotton fabric is OCS (Organic Content Standard) certified, which means it contains at least 95% certified organic materials. These sustainably sourced fabrics are also super breathable, wick moisture away from baby's skin, help regulate body temperature, and are easy to care for. There are no harmful chemicals or substances used in Mori products, which means your kiddos will be cozy and totally safe while wearing them. In addition to bodysuits, rompers, bottoms, tops, tees and sweaters, Mori also makes outerwear, throws, blankets, burp cloths, towels and more (the Gruffalo hooded towel might be my favorite thing ever). You can check them out here.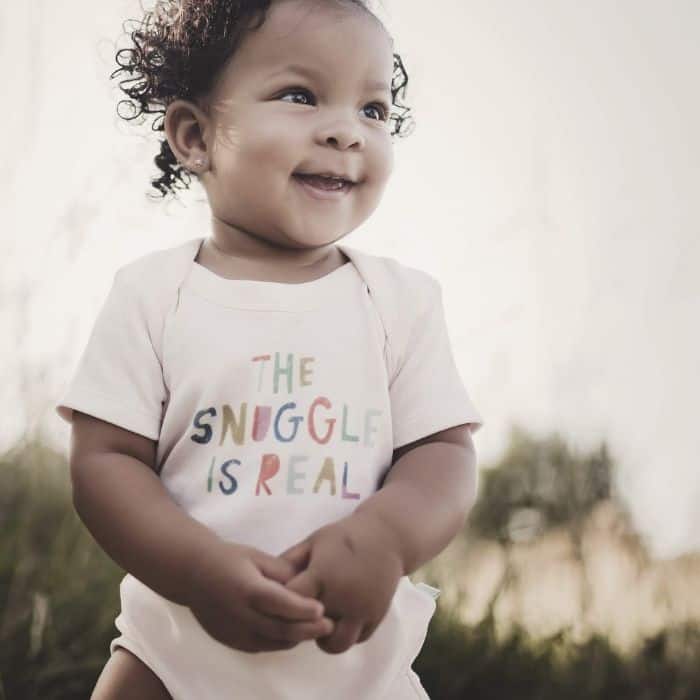 Finn + Emma 💜
All of Finn + Emma's clothing is made with G.O.T.S. (Global Organic Textile Standard) certified organic cotton which is super durable. They also use non-toxic, eco-friendly dyes. As an added bonus, you can feel good about your purchase knowing that all Finn + Emma employees are paid a living wage and work in safe conditions. Finn + Emma carries a variety of pieces including pants, bodysuits, bibs and hats in neutral colors and with graphics that'll make you swoon. I'll take 5 "Empowered Girls Empower Girls" bodysuits, please (do they come in adult sizes?). Available here.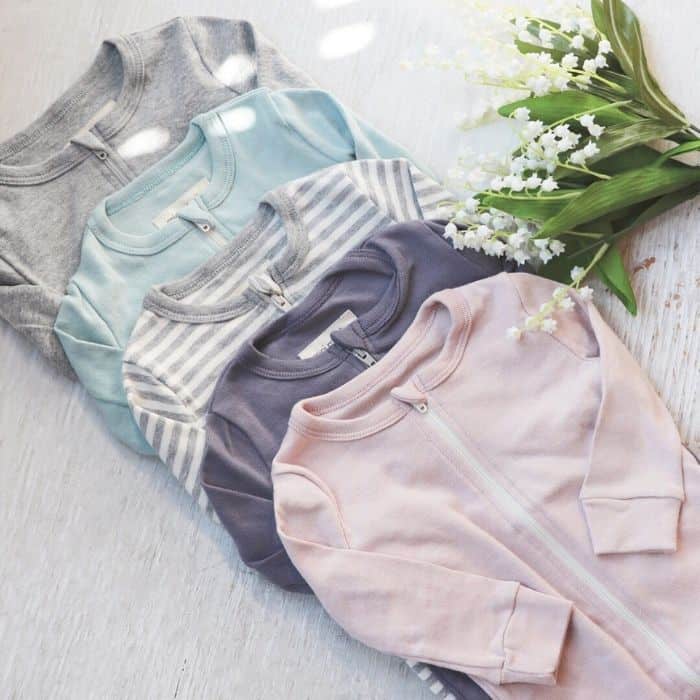 Mini Mioche 💜
Mini Mioche is a company focused on reducing their environmental footprint by keeping all aspects of their design process in one spot. Dyeing the fabric using non-toxic, environmentally-friendly dyes, knitting the fabric and cutting and sewing together the pieces all takes place in mills and factories located in Toronto, Canada. Tops, bottoms and rompers come in casual, comfy styles with neutral colors that will make styling your kiddo like a mini version of you a total breeze. Available here.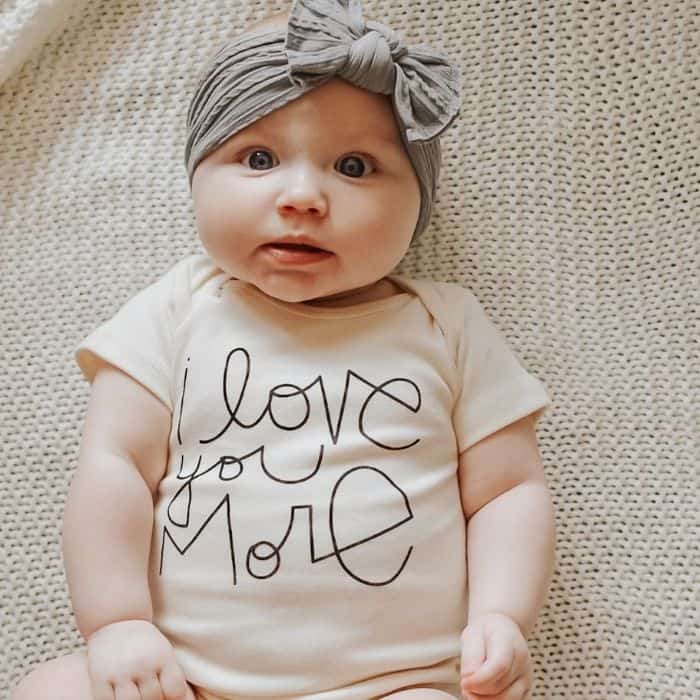 Nordstrom
If you're looking for a one-stop-shop for organic baby clothes, Nordstrom has a huge selection of quality pieces from many reputable brands. Whether you're on the hunt for pajamas, sweaters, scratch mitts or dresses, Nordstrom has a little bit of everything in every style for your kiddo. You can shop here.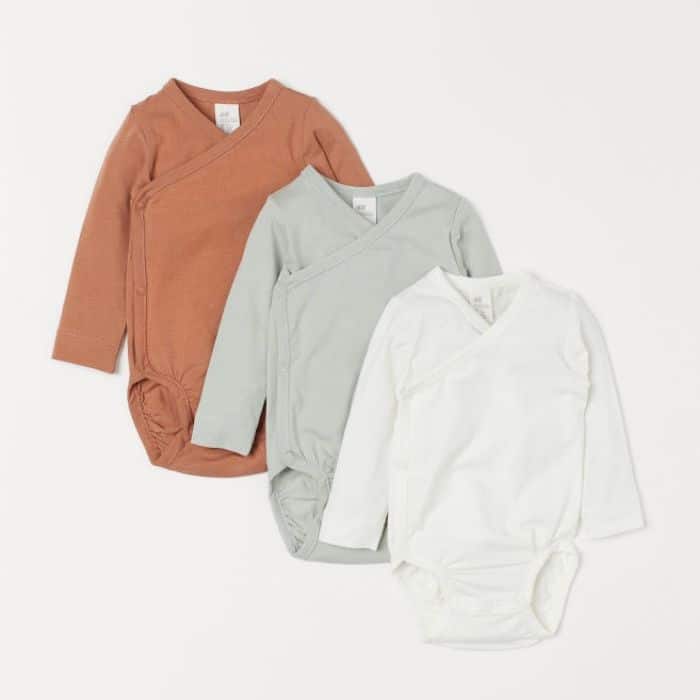 H&M
If you're a little ghostie who haunts H&M on the regular, you may have noticed their "Conscious" line of clothing, both for kids and adults. H&M is on a mission to transform the fast fashion world by making their products more sustainable and eco-friendly. In fact, H&M has been named as one of the most ethical companies in the world by the Ethisphere Institute.

Among other things, H&M has set a goal to ensure that by 2020, all of the cotton the company uses will come from more sustainable sources. They're currently one of the biggest users of organic cotton and recycled cotton. From neutral, basic pieces that can be worn over and over to more fashion-forward items like jumpsuits, overalls, button-down shirts and more, their selection is incredible and totally affordable. Just look for the green "Conscious" label under each clothing item while searching online. Available here.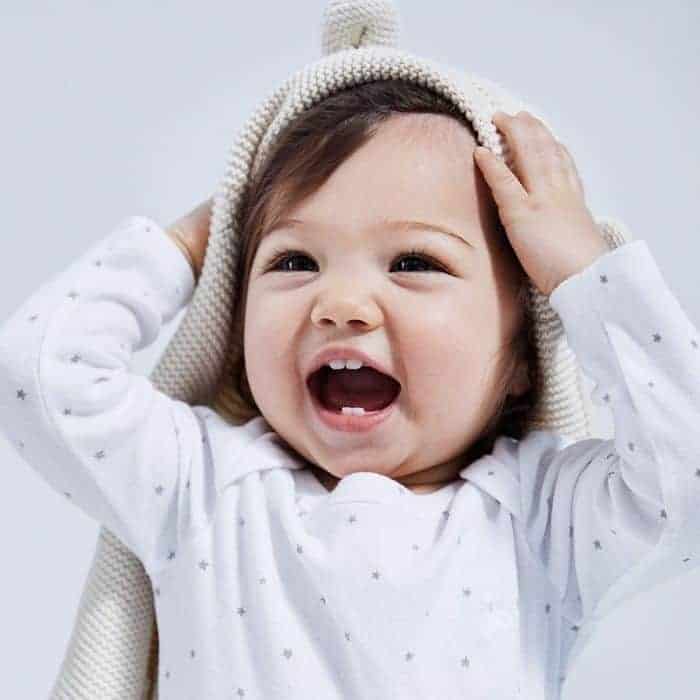 GAP
GAP made the list because there is simply nothing more squeal-worthy than a baby in a jean jacket, and they've got one made of organic cotton denim that's basically impossible to resist. In addition to that, they also have items like super soft pajamas and bodysuits with adorable prints, organic cotton denim overalls, and some pretty cozy-looking pants. All of their organic products are made of 100% organic cotton without synthetic pesticides and fertilizers. The neutral colors reflect the fact that no chemicals have been used to dye or bleach the material in order to preserve the natural qualities of the fiber. You can shop here.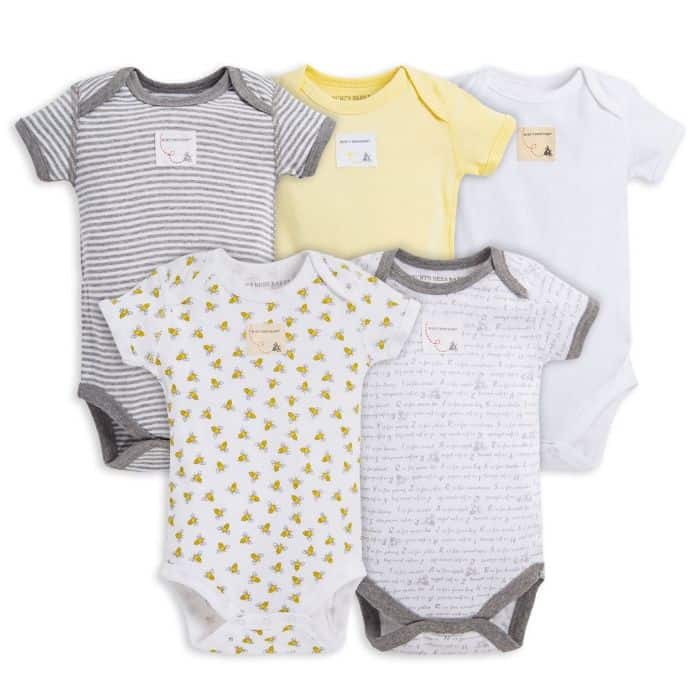 Burt's Bees Baby 💚
I have to admit, I totally thought Burt's Bees was strictly a skincare company and was pleasantly surprised to discover that they also make some pretty dang cute clothing for babies and toddlers. All of their products are made of 100% organic cotton which is G.O.T.S. certified and hasn't been treated with any synthetic pesticides. They've got zip-up footed pajamas (the best for squirmy babies), 2-piece pajama sets, bodysuits, rompers, sweaters, pants, shorts, wearable blankets and even nursery bedding! Available here.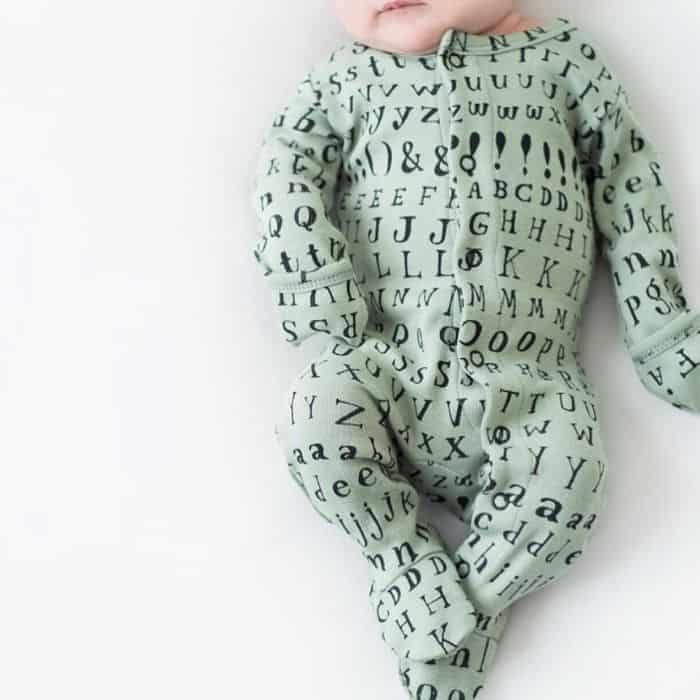 L'oved Baby 💜
L'oved Baby is a company that started out selling nursing covers (which they still sell), and grew to include a variety of clothing items for little ones, including rompers, dresses, shorts, headbands, tank tops, onesies, hats, tee-shirts, jackets, harem pants, and more. All of their products are 100% cotton with no added chemicals and they use only safe and gentle dyes. Even the snaps on each garment have been considered and contain no PVC, nickel or chrome. The factory employees of L'oved Baby are paid a living wage, work fair hours, have freedom of association and collective bargaining, and the company has a strict policy against child labor. Shop here.
Milk Barn Kids 💜
If there's one thing I can get behind in a clothing company, it's a mother-daughter duo who are absolutely killing it with adorable designs and sustainable products. Milk Barn Kids proves that purchasing organic doesn't mean you have to sacrifice vibrant colors and patterns. Bodysuits, rompers, pajamas, leggings, dresses, bloomers, headbands kerchief bibs, bowties and pinafore aprons are available in gorgeous graphics featuring florals, animals, fruits and more. Each product is made from G.O.T.S. certified Organic Cotton. You can find them here.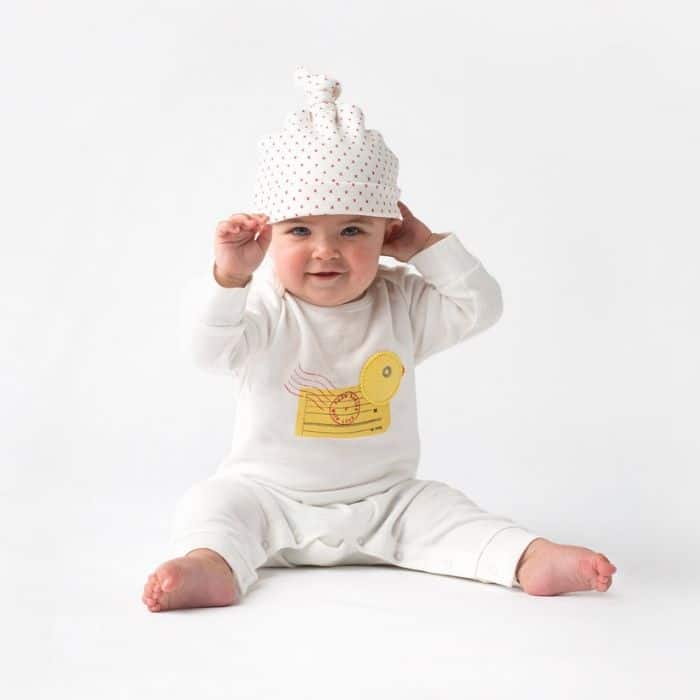 From Babies With Love 💜
From Babies With Love is an incredible company that donates 100% of their profits to orphaned and abandoned children around the world. Yep, you read that right. One. Hundred. Percent. With each purchase, you are supporting the From Babies With Love Foundation as they work with charities around the world to provide homes, education, healthcare and trauma support to children who have lost their families to war, famine, disease or poverty. Onesies, hats, bandana bibs, bodysuits and shirts are made from G.O.T.S. certified Organic Cotton. You can check out this awesome company here.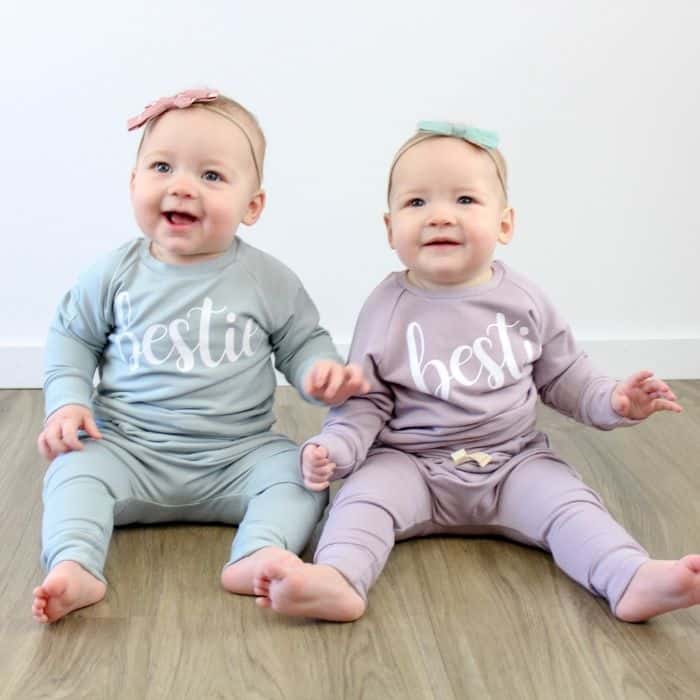 Posh & Cozy
Dress your kiddo in some vegan faux leather pants paired with a graphic sweater or tee-shirt from Posh and Cozy and you're guaranteed to have the most stylish kid at baby singalong group. All of Posh and Cozy's knits are made of a blend of organic bamboo cotton, and their denim and denim stripe products are made from a blend of recycled hemp and organic cotton. With graphics like "Be Brave" and "I Am Unstoppable", you might be tempted to get one for yourself (good news – you totally can). Available here.
What are your favorite brands for organic baby clothes?
Have you tried any of the ones above? Drop us a comment and let us know!
Our next reco: Cloth vs. Disposable Diapers
---
Get posts & giveaway updates delivered right to your inbox
---
---