This post contains affiliate links.
If you're like a lot of parents out there, having a kid may have changed the way you look at your career. The logistics or costs of finding childcare may have forced you to re-evaluate whether heading back to work was worthwhile. Maybe you made the decision that you'd rather be home than in the office when your kids were little. Whatever the reason, if you're a Stay at Home Parent looking for a way to earn income from home, we've rounded up a list of jobs you can do at home that pay well.
Most of the jobs we've listed here pay anywhere from $15 to $28 an hour and many allow you the flexibility to create your own schedule; so whether you're looking for a full-time or a part-time job, we've got some great resources to find the flexible jobs you're looking for.
Word of caution: there are a ton of great courses out there (we list some here) but many courses that are "How My Stay at Home Job Made $100k a Year" often make money from selling you their "How My Stay at Home Job Made $100k a Year" course and aren't helpful.
Great Stay at Home Jobs: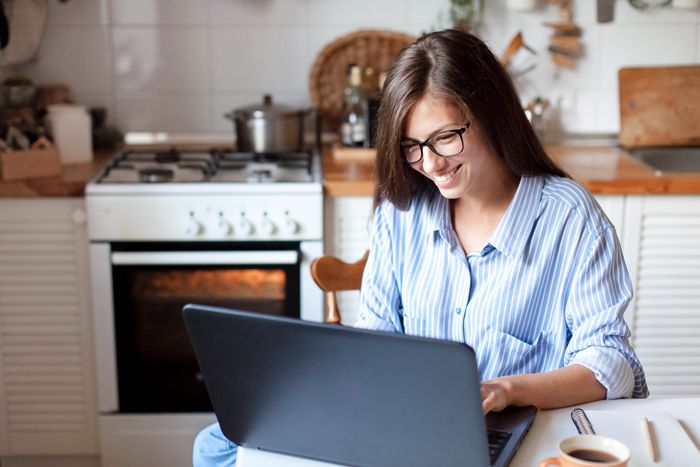 Virtual Assistant
If you've got strong organizational and administrative skills, a good internet connection and are interested in work that is more freelance-based (meaning you're a contractor for others), you should definitely check out the world of virtual assistants. Virtual Assistants take care of all the stuff that makes online business run smoothly and helps them to grow, such as payroll, emails and website maintenance.

How do I get started?
There is no formal education required to become a virtual assistant, although training in areas like English, marketing, bookkeeping, sales and graphic design may be an asset. Websites like Indeed, LinkedIn, ZipRecruiter and Upwork advertise Virtual Assistant positions in a huge range of fields.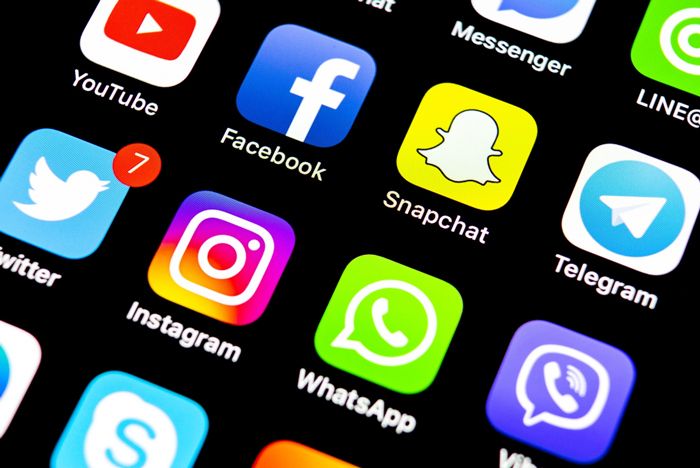 Social Media Manager:
If you're a wiz with social media platforms like Instagram, Facebook, Pinterest, TikTok, etc., companies often need someone to manage their social media accounts.

How do I get started?
There are some great courses through sites like Udemy, Coursera, and even LinkedIn. Some scheduling sites like Buffer, Hootsuite, and Later offer tutorials and courses as well. Websites like Fiverr and Upwork are great places for freelancers to offer their services.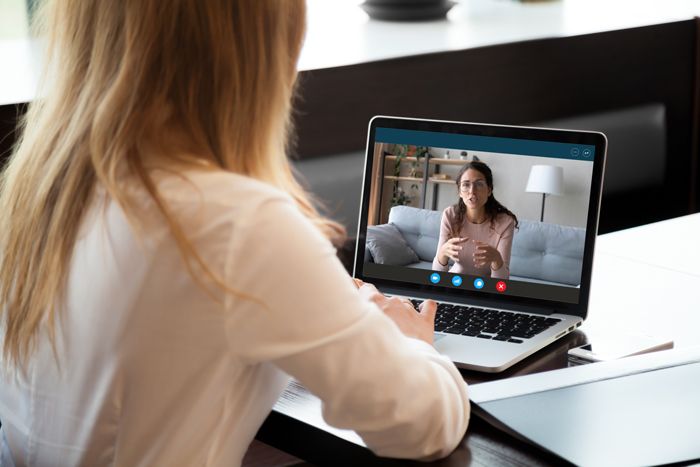 Online Tutor
Online tutors help students of all ages in a variety of subjects get extra support in their area of need. The difference between an online tutor and an online teacher is that a tutor is helping to support a student in a subject initially taught by someone else.

How do I get started?
The requirements to get started with online tutoring can vary. Some employers might ask for certification or a teaching degree. If you're highly skilled in a particular area, you may also be able to get hired privately as a tutor with fewer qualifications. There are websites online that you can apply for positions (with teaching qualifications), such as tutor, preply, and superprof, or you can try your luck finding a private tutoring job by advertising to acquaintances or over social media.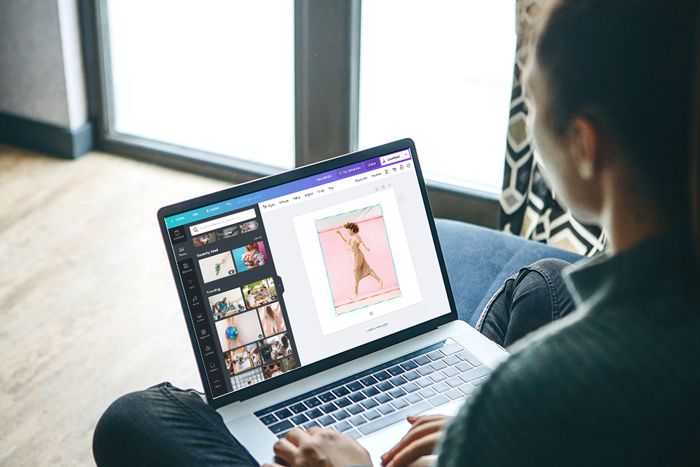 Content Creator
They're the people who create visuals to communicate a message as effectively and creatively as possible. This could be anything from a top-notch Tik Toker to a freelance writer with their own blog who knows how to craft the perfect caption on an Instagram post, and just about everything in between. Your grandparents might give you the side-eye when you tell them you're getting earnings through affiliate marketing, but who cares? Content creation is legitimate work!

How do I get started?
While a design degree will definitely give you a leg up, it's not always required in order for you to get a content creator job. Some people create social media templates on Canva then sell them through an online shop like Creative Market or Etsy (see Etsy below). Others create videos for brands and clients with tools like Wave (a fave of our site). If you already have a portfolio, websites like Fiverr and Upwork are a great place for freelancers to offer their services.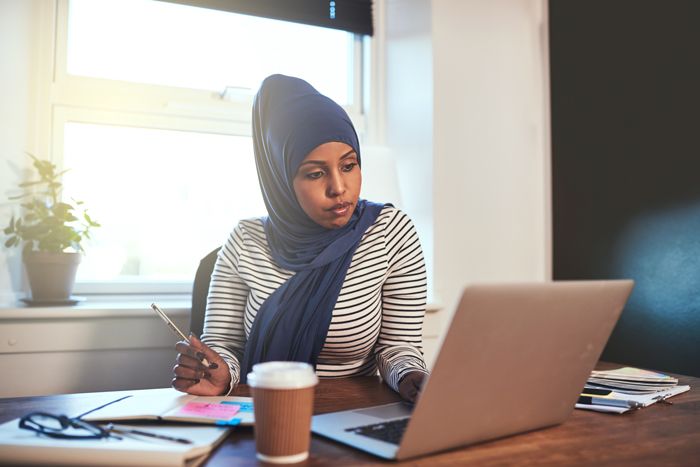 Copywriter
If you love reading stuff on the internet, you have copywriters to thank. They're the people who create content in a variety of areas, such as advertising, medicine, technology, finance and more, depending on the needs of their client and make a fantastic stay at home job.

How do I get started?
Many companies looking for Copywriters will look for a base level of experience or formal education but you can also be hired through writing examples of submitting your work. Sites like GlassDoor, LinkedIn and ZipRecruiter are a great place to look for companies who are hiring bloggers but you can also shop articles out to websites looking for contributors to see if they'll pay you for your stuff. Some parenting sites that pay for freelance writing contributions can be found on these lists from The Write Life and A Fine Parent but check out your favorite sites to see if they accept blog posts. Not to be biased or anything, but our favorite is Pregnant Chicken. You could also try the Patreon route where you write content for paid subscribers.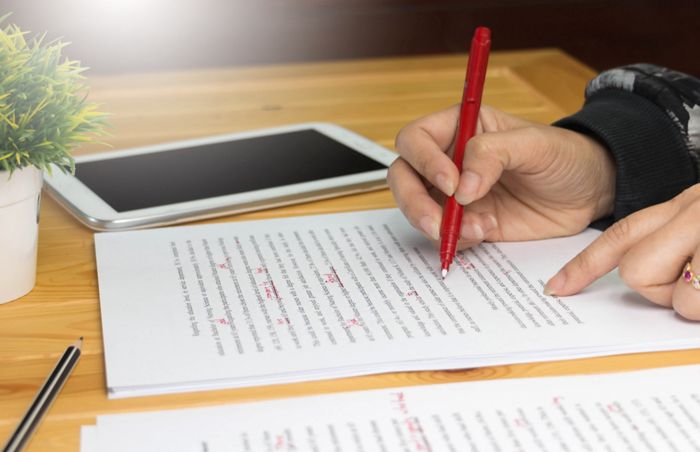 Copy Editor/Proofreader
Copy editors are the fine folks who read through an author's manuscript hunting down errors, inconsistencies and redundant stuff that can be pulled out for clarity and conciseness.

How do I get started?
A bachelor's degree in English or a related, communication-based field is a great place to start if you're interested in becoming a copy editor. You'll need to be able to demonstrate strong skills in areas such as proofreading (surprise!), journalism ethics, editing and public relations. Familiarizing yourself with academic style guides such as APA, MLA, Chicago and Turabian will definitely come in handy. Start out by looking for freelance editing jobs to build your portfolio and get ready to market yourself with a shiny resume and cover letter. Check out sites like Upwork, Indeed, Glassdoor and ZipRecruiter to see if they have any gigs up your alley so you can start to proofread anywhere!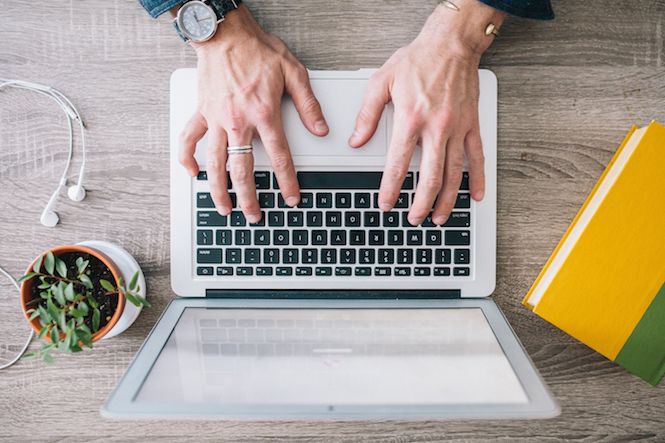 Data Entry
If you're a fast typer who knows the ins and outs of grammar and punctuation, you could make some extra moolah listening to audio or video files and typing them out, word for word.

How do I get started?
There are a few good websites you can check out to get your start in Transcription. Many of them will require you to take a quiz to show your typing and transcribing abilities before you can get started. Check out Quicktate, Rev, TranscribeMe, GoTranscript, Crowdsurf and CastingWords for just a few sites that can get you going. For additional data-entry jobs, check recruiting sites like Indeed, Glassdoor and ZipRecruiter to apply.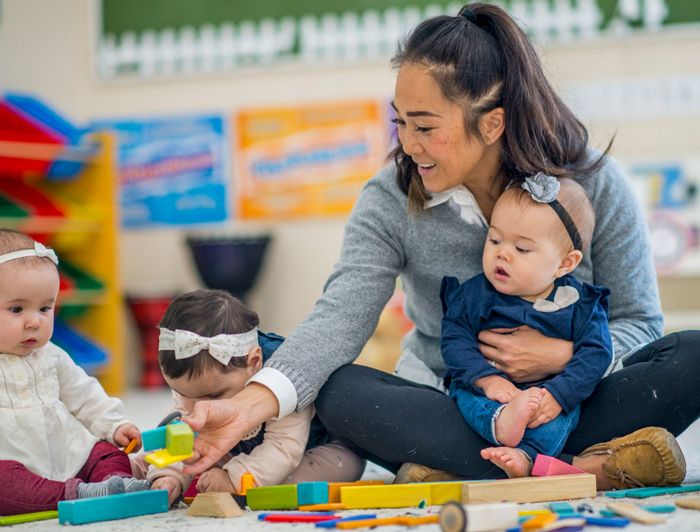 In-home childcare
If you've got the patience to watch other people's kids in addition to your own, have a heart to keep them safe and healthy, have the creativity to keep them busy and have the licensing to make it legal, in-home childcare might be right up your alley.

How do I get started?
There are quite a few logistics you'll need to work out before opening up a day home. Is your business going to be registered as a sole proprietorship, partnership or incorporation? What overhead costs do you need to cover as part of your budget? Do you have the proper licensing and insurance set up? You'll also want to have up-to-date First Aid, police and child welfare checks completed. Have a daily schedule complete with activities, snacks and meals available for parents to check out when they're considering your day home to decide if it's a good fit. This blog provides an in-depth look at all the things you should consider when setting up a day home.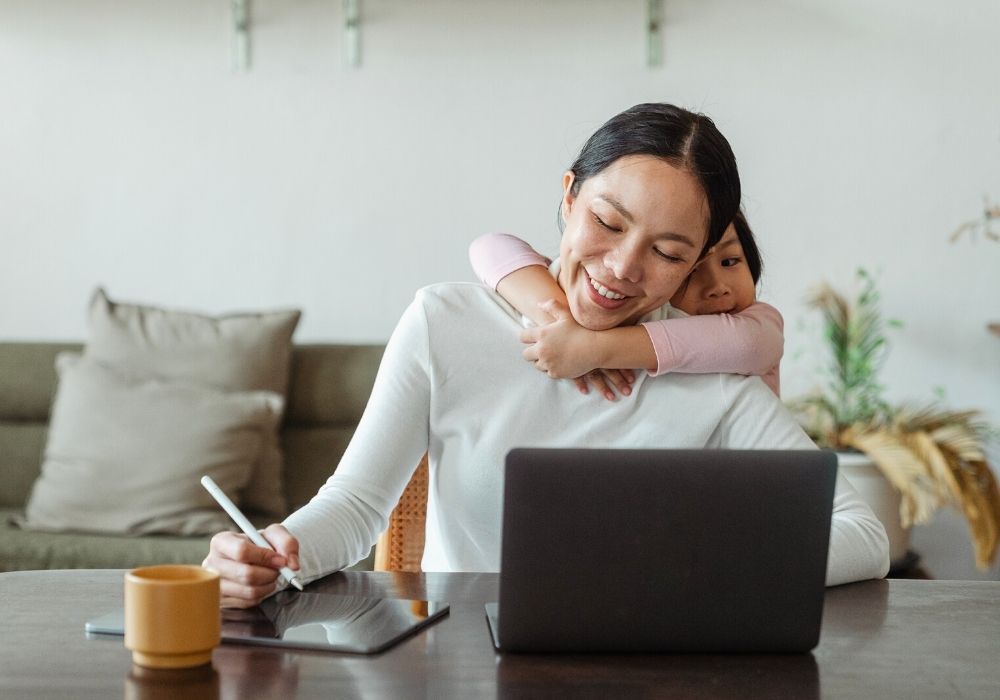 Translator
If you're a whiz in more than one language, online translating might be just the stay at home job you're looking for.

How do I get started?
Translators work in what's called "language pairs", which means you choose your two strongest languages to translate between and get started there. Certain language pairs, such as English to Arabic, pay higher per word, as translators in these languages are a little harder to come by. While being bilingual is definitely a great place to start, you also need to be a strong writer in both languages to be successful as an online translator. You'll also need to decide what your niche for translation is (for instance, financial, medical, or entertainment). Some niches may require a degree or a sufficient level of experience to apply. Upwork, Unbabel, Clickworker and LanguagesUnlimited are great places to start looking for freelance translation jobs.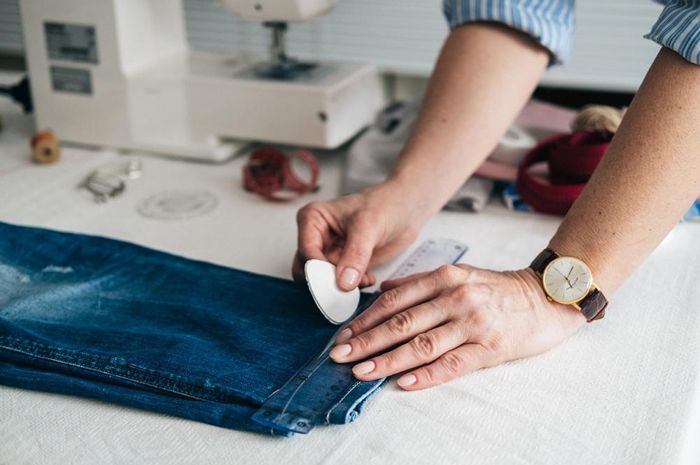 Clothing Alterations
We are going with the term, "clothing alterations" to cover the work of both seamstress/seamsters and tailors, who are responsible for both sewing original garments and altering existing ones.

How do I get started?
Advertising in places like Marketplace, Craigslist, in your local paper or on local bulletin boards is a good way to find clientele. Creating a social media presence on sites like Instagram is another way to show off your work and spread the word about your business.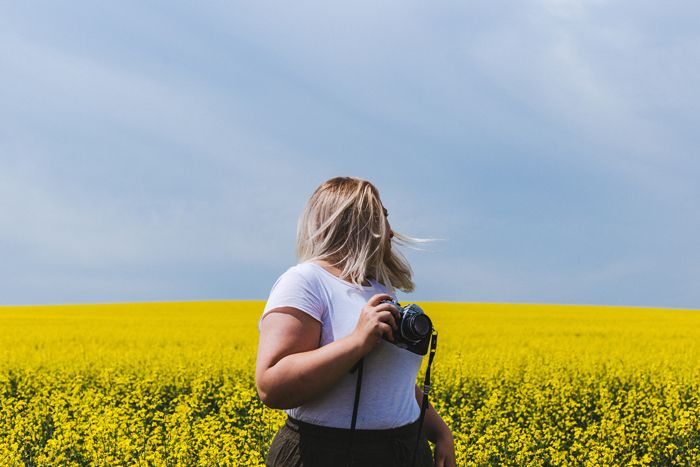 Stock Photographer
Any time you read an article online, it's more than likely it'll be sprinkled with images that have been chosen to supplement the content. A lot of those images are stock photos – pictures that are available for a licensing fee to the artist and stock agency.

How do I get started?
Ready to send your stock images out into the world? You've got a few different options for sites that will pay for your content, including Getty Images, Shutterstock, Alamy, Stocksy and CanStock Photo (which pay a royalty of about 50% per sale). You aren't limited to uploading your images to one site, either. By uploading your images to multiple stock databases, you'll have a better chance at making some decent moolah. Just make sure to read the requirements from each site to see what type of photos they're looking for. You can find some great information about selling stock photos here.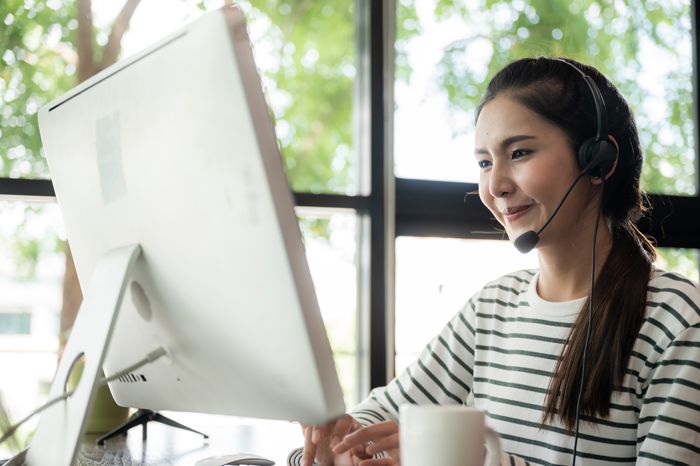 Customer service representative
Got a thick skin, great communication skills and like helping people? Customer service representatives answer customer calls to give them information about products and services, field complaints, find solutions and process returns.

How do I get started?
You'll need a high school diploma or GED as a minimum requirement to be a customer service representative. Most companies will offer on-the-job training that takes a few weeks or months, depending on the role. If you plan to become a customer service rep in industries such as licenses, certifications and registrations, you may need a state license in addition to more in-depth training to be qualified for the job. Flexjobs.com has compiled a list of 12 companies that hire for remote customer service jobs. You can also check websites like Indeed, LinkedIn, ZipRecruiter and Glassdoor to check for postings in the customer service industry.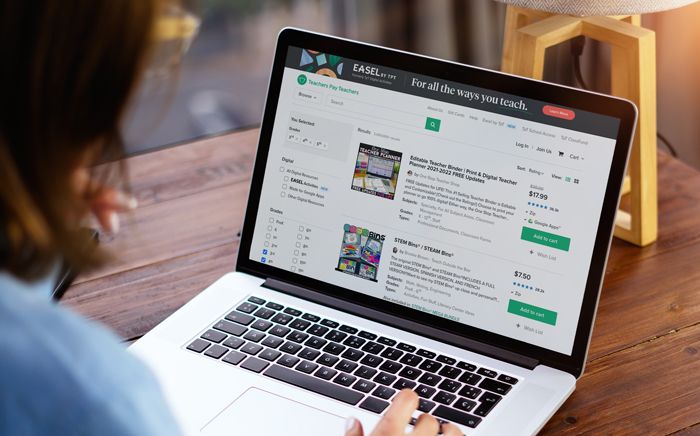 Teachers Pay Teachers
Teachers Pay Teachers describes itself as a marketplace for original educational resources. Whether you've got awesome digital downloads for a single concept or full unit, the perfect template for a project, or the perfect worksheet to hone in those math skills, you can make money by sharing these resources online. 7 million teachers accessed the platform over the past year, and since it started in 2006, at least 1 billion resources have been downloaded.

How do I get started?
To get started, sign up for a free teacher-seller account. You can start uploading resources as soon as you start up your shop. To earn a bigger cut of the profit of your sales, you'll have to sign up for a premium seller account, which costs $59.95 per year. This article has some great tips and considerations to check out before you get up and running.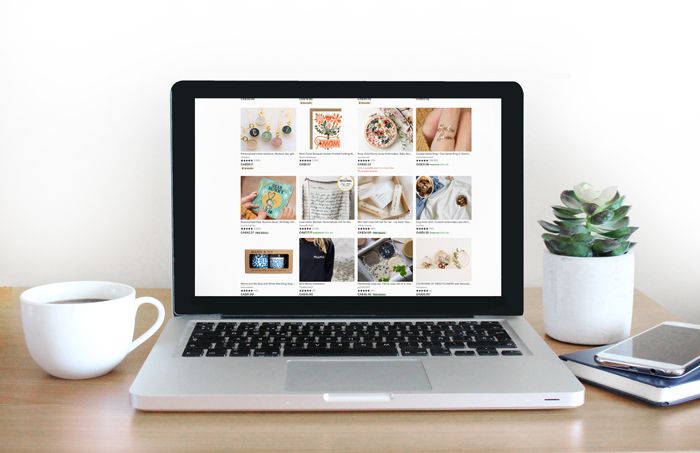 Open an Etsy Shop
For crafty folks looking for a spot to peddle their wares, Etsy provides a global platform to do just that. Whether you've got handmade goods, craft supply items, a rad piece of furniture or a printable work of art, Etsy is a digital marketplace that connects buyers and sellers.

How do I get started?
Creating your Etsy shop is free, but there are fees applied for each item you list. There's a listing fee ($0.25), a transaction fee (3-4% of the item) and a payment processing fee ($0.25). Click here for a step by step breakdown on what you need to do to set up your own Etsy shop.
Great stay at home jobs are out there!
Jobs that you can do from home that have great earning potential are out there, but sometimes you have to do a bit of digging to find the one that fits your lifestyle and skill set.

Do you have any other suggestions? Pop them in the comments!

Our next reco: 6 Truths About Being a Working Mom of an Infant
---
Get posts & giveaway updates delivered right to your inbox
---
---