With the hot weather days of summertime come visions of sunshine, sunglasses, swimming and slurpees. Although those are definitely things to look forward to, having an infant in tow during the sweat-soaked days of July means you also have to watch out for harmful rays that can lead to sunburn, heat rash, and general overheating. The good news is, a little know-how and some of the right gear are all it really takes to enjoy the dog days of summer while keeping your baby safe, comfy and cool.
Baby Carriers
It's no secret that carriers are a parent's best friend when it comes to getting from A-Z with a newborn. The problem is, when you and your baby are smushed closer together than your own sweaty butt cheeks, your baby's body temperature, as well as your own body temperature, are more than likely going to rise. Here are a couple of swaddles and carriers that have considered the heat factor in their design.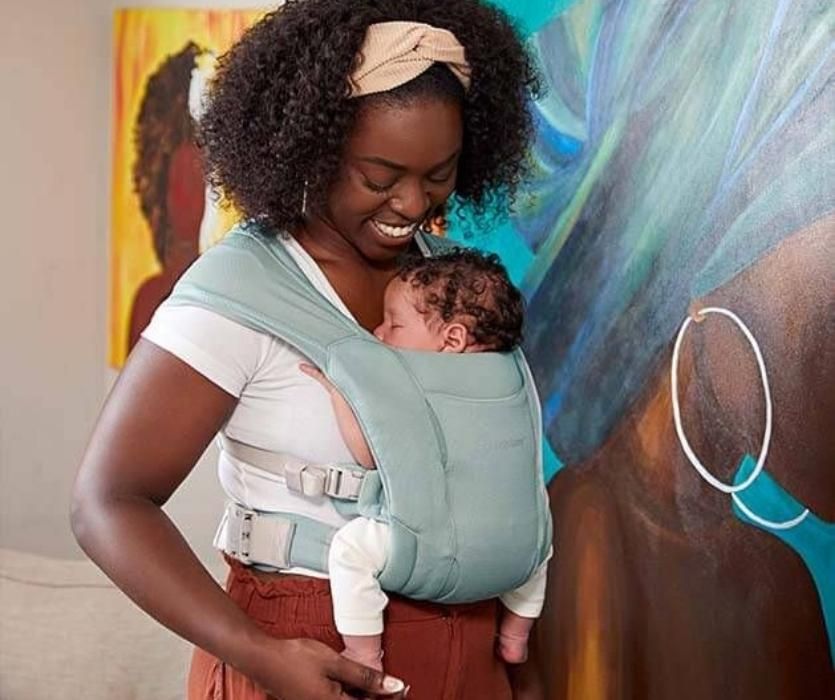 The Ergobaby Embrace carrier is a top notch summer accessory for babies between 7 and 25 pounds. You'll love this carrier because it's easy to throw on, offers cushioned neck support and is safe for your baby's hips, and it's both breastfeeding-friendly and machine washable. The construction is ideal for summer, thanks to its soft mesh on the shoulders and vented back panel. The moisture-wicking fabric will also keep you and your baby dry and comfortable in the heat of the sun. You can find it here.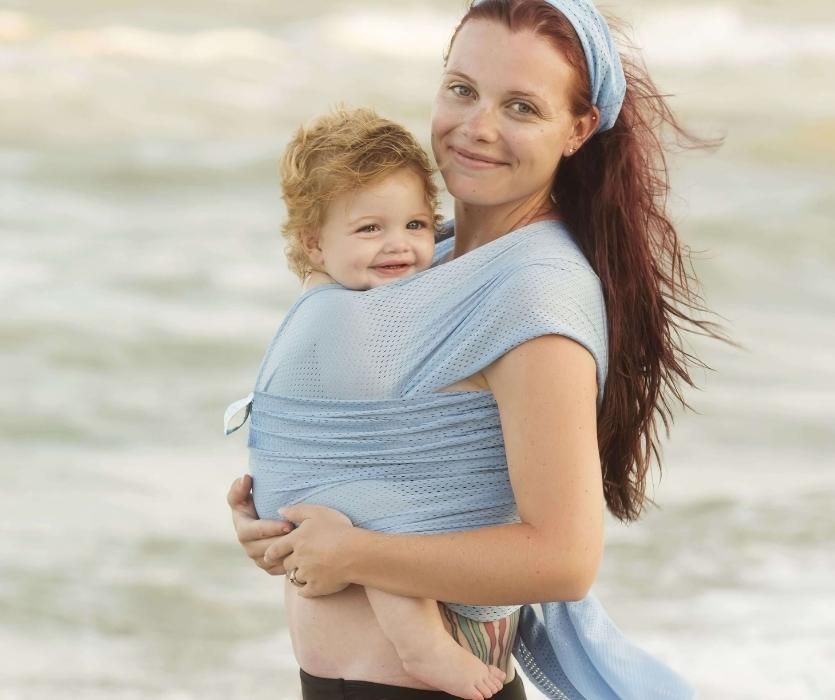 Pool days with a baby are a blast, but navigating the water when your hands are full will have you tired out faster than you can say Baywatch. That's where the Beachfront Baby Wrap comes in. Not only is it lightweight and moisture-wicking, it's also meant to be worn both in and out of the water. The wrap comes in three styles: wrap-style, ring sling style and buckle meh dai (which is the most versatile style, since it can be worn on your front or back). The Everyday by Beachfront Baby line of carriers also have a UPF rating of 15, meaning it blocks about 87% of UVA and 95% of UVB rays. You can find a selection on Amazon.
Sleep Accessories
When it comes to baby sleep, comfort is the name of the game. Summer can be tricky, since too many extra layers, heavy fabrics, or even just the temperature of the room can throw your baby's whole sleep routine to shit in an instant. The American Academy of Pediatrics warns against blankets and loose objects in your baby's sleep environment but has given the thumbs-up to swaddle or use a sleep sack. So, what should you look for in a summer sleep sack?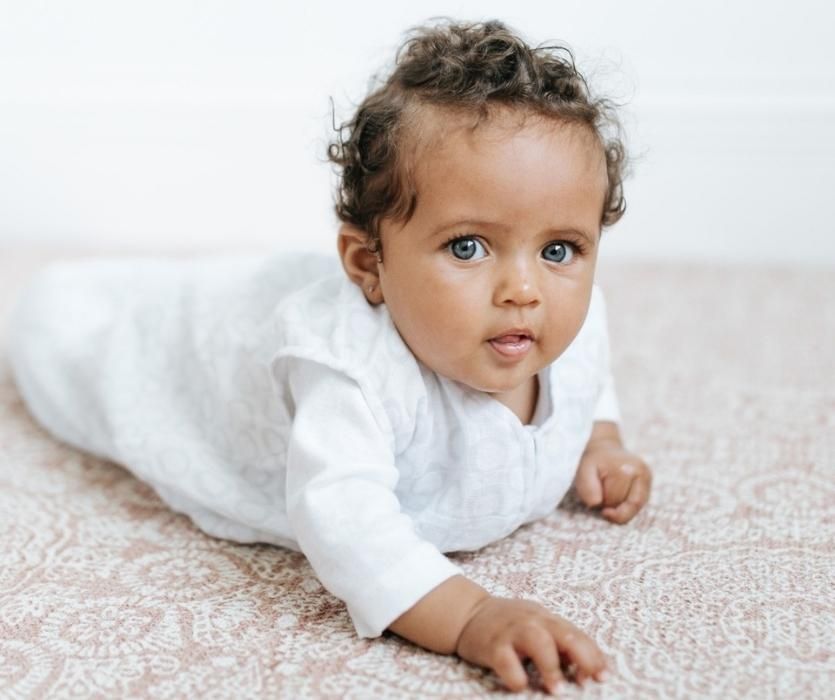 When visions of sleep sacks dance through your head, there's a good chance that the ones you picture were created by Halo, who have been in the sleep sack game for over 20 years. What makes this sleep sack so great? The sleeveless design prevents overheating, the inverted zipper design allows for easy diaper changes, and the premium fabric has no added chemicals and is super soft and breathable. You can find them here.
Car Accessories
Whether you have a newborn baby or a twelve year old pre-teen, I'm willing to bet that you've tried and failed to create an atmosphere in your vehicle where everyone is comfortable, and ideally not complaining about the temperature for more than fifteen seconds. Don't sweat it (see what I did there?) Although you might not have mastered the fine art of car temperature control just yet, these car accessories take the concept of cool to a whole new level.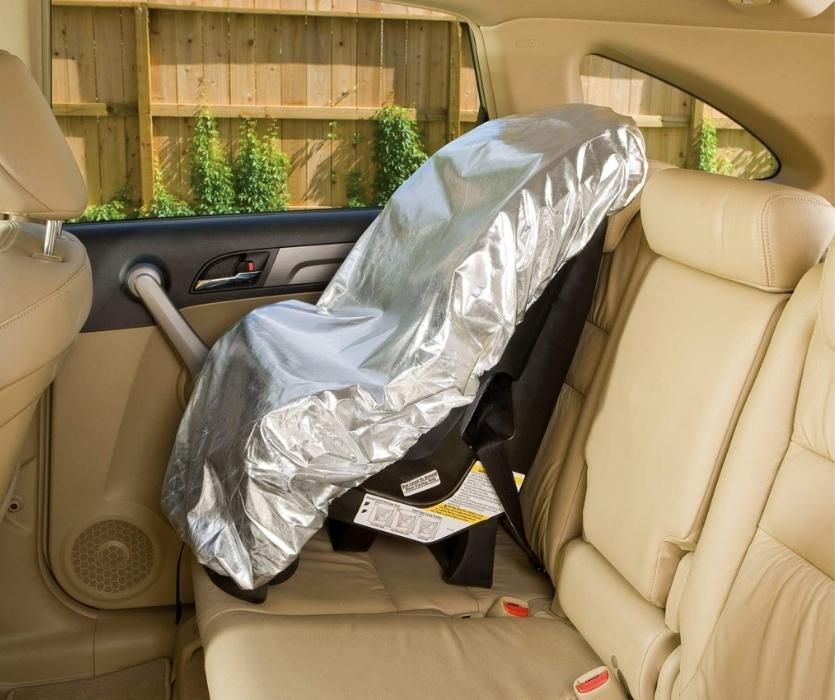 You know those fold up tin foil looking things that people put in their windshields to keep the rays of the sun the hell outta their cars on hot days? Well, this car seat sun shade cover follows a similar concept, but with a specific focus on your baby's car seat. Just pop the cover over your baby's seat and let the elastic edging keep things nice and snug. Although it'll probably remind you of a giant baked potato, your kiddo's seat will actually be kept up to 26℉ cooler than it would be without the sun blocker. You can find it here.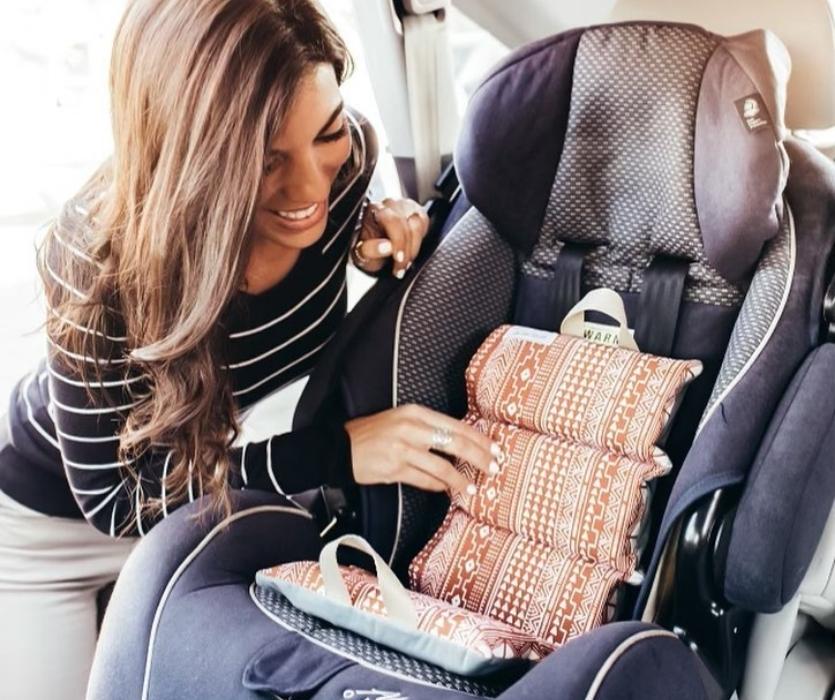 May baby swass be a thing of the past! But for real - Little Bum Coolers were designed by an Arizona mom who had been burned by hot metal seat belt buckles one too many times (literally) and decided to do something about it. Little Bum Coolers use ice packs surrounded by a water-resistant fabric cover to keep car seats nice and cool when they're not in use so your baby won't toast their tushie when you strap them in after taking them out (obvs). You can find it here.
If you've ever had the pleasant experience of kickin it in the back seat with your kids, you've probably realized very quickly that the glorious blast of cool air you typically experience in the driver's seat doesn't always make its way into the rear of the vehicle. While you could try to screw around with the air vents until they're juuuust right, the fine folks at Noggle came up with a better idea. Noggle is essentially a tube that hooks up to the air vents at the front of your vehicle and directs cool (or warm) air straight to the passengers in the back. It's been approved by car safety techs and the CPSIA and comes in three lengths - 6 feet, 8 feet, and 10 feet. You can find it here.
Stroller Accessories and Clothing
There's really no better time of year to get out for a walk than the summer, but there are a few things to keep in mind before you load up your baby in their stroller and head out on the town. Although it might seem logical to shade your babe from direct sunlight by putting a cover or blanket over their seat, doing this actually creates a little bit of a stroller greenhouse effect, which isn't just super uncomfortable for your baby - it's also kinda dangerous. Instead, opt to use the stroller's canopy, bring along an umbrella, or deck them out in an awesome hat and shades. There are also some pretty rad accessories you can deck out your stroller or wagon with to help your baby stay chill as a cucumber all summer long.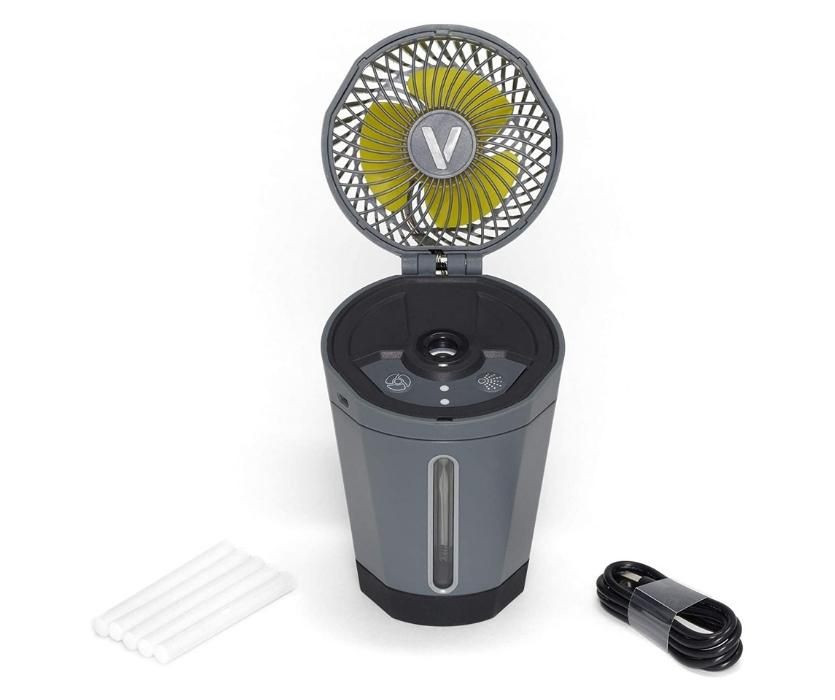 There's nothing like a little mist to keep your baby feelin' fresh while they're out for a summertime stroll. The Veer Misting Fan rests in the cupholder of your stroller or wagon, where it converts water into a fine, cool mist using ultrasonic high frequency technology. The 8.5 ounce water reservoir is easy to refill and can run for up to 10 hours on a fully charged battery. The adjustable fan angle means you'll even be able to swivel the device to give yourself a spray now and then! You can find it here.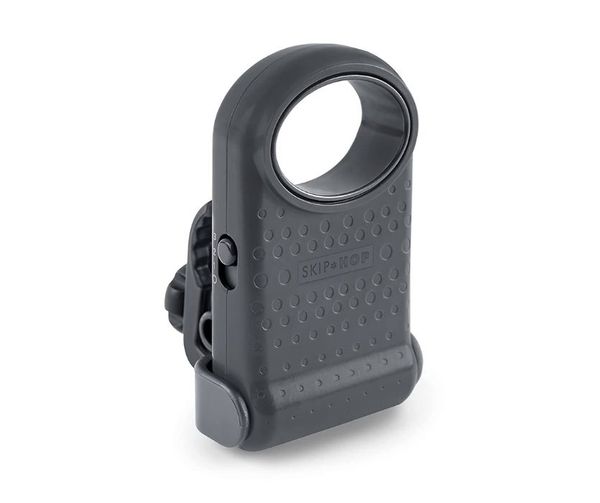 If you don't need the misting feature, this stroller fan has no blades and provides a nice breeze for up to six hours. It's rechargeable, has three speeds, and can connect to most strollers with a universal hub. It's around $20 and you can find it on the Skip Hop site and on Amazon.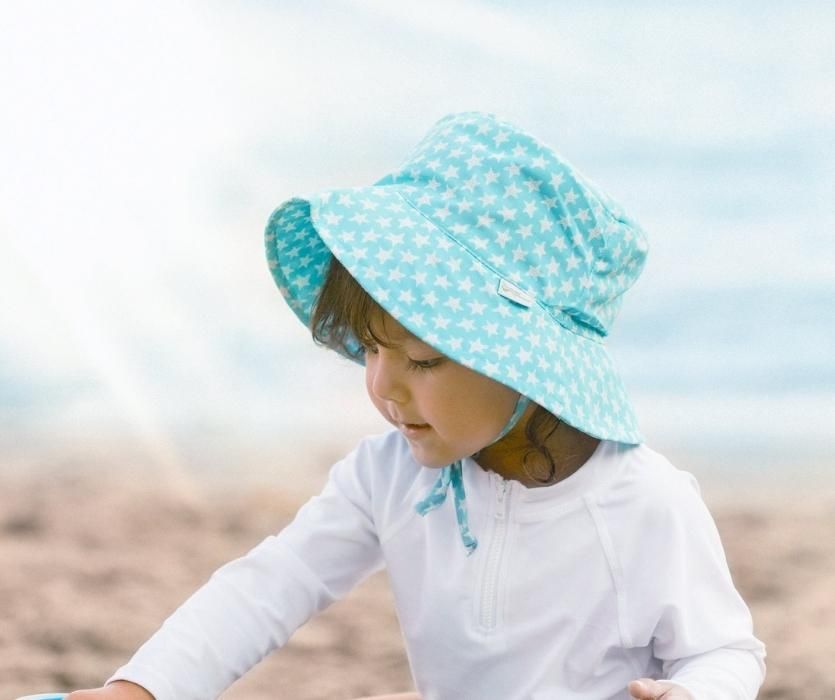 What is it about babies in giant, floppy hats that makes them so dang irresistible? Green Sprouts has a great selection of best-selling baby and toddler sun hats that offer UPF 50+ protection from the sun and come in 3 different styles.Whether you're looking for baby flap hats, bucket hats or swim hats, Green Sprouts has you covered in super cute shades and prints in sizes from 0 months to 4T. You can find them on the Green Sprouts site and on Amazon. (Note: they had a name change a few years ago from iplay to Green Sprouts but they are the same product.)
Feeding and Teething
It's no secret that babies love to stick just about everything they can get their hands on into their mouth, so using a teether or feeder as a keep-cool-tool seems like a no-brainer. Since the days of popsicles may still be out of reach for your infant,here are a couple of other, more baby-friendly options.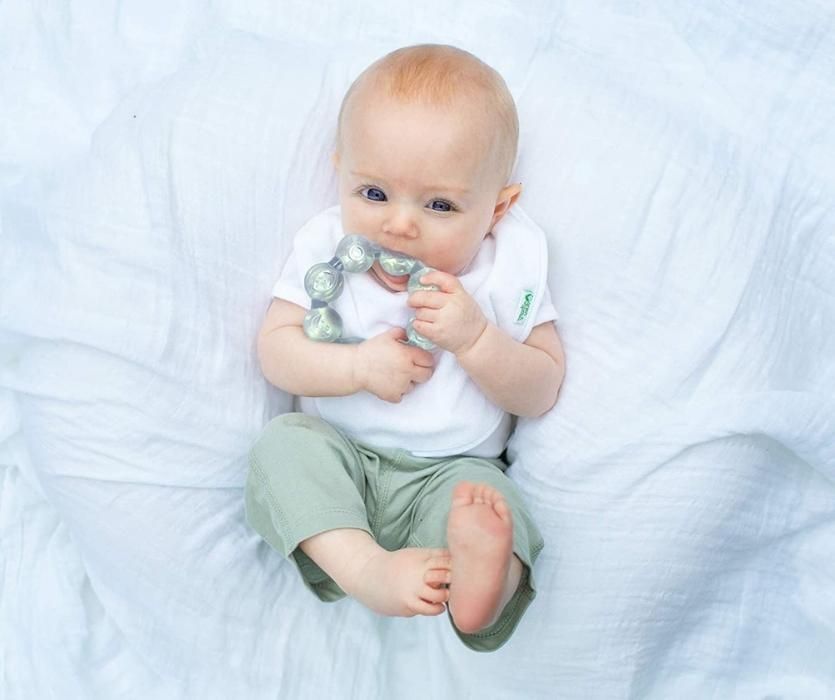 The Green Sprouts Cool Ring Teether can be popped into the fridge or freezer to keep your baby cool on hot summer days while also providing relief from sore gums due to teething. The multiple textures of the teether make it oh so gnawable, and the EVA material and sterilized water mean there's no yucky stuff for you to worry about going in their mouth. The ring shape is easy for your little one to grab, hang onto and chew, and it's the perfect size for babies aged 6 months and up. You can find it on their site and on Amazon.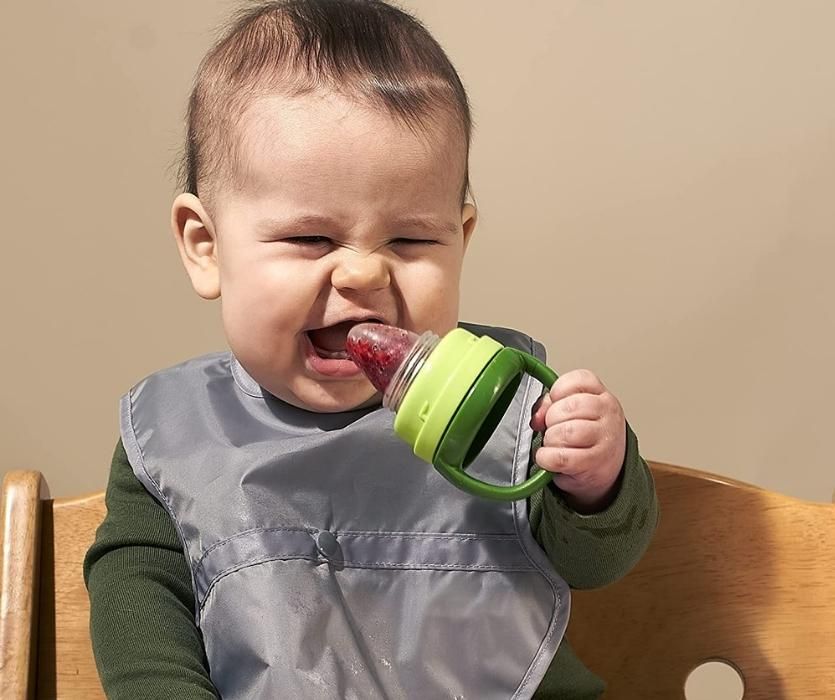 The First Foods Feeder is made from Sprout Ware plant-plastic, which is non-toxic, 100% plant based plastic that you can feel good about handing over to your baby so they can get their snack on. The feeder can be filled with a variety of purees, whole soft foods, frozen foods and liquids (frozen breast milk or formula, anyone?) making it a great snack for on the run and a perfect infant alternative to the iced-capp you might be sipping on to cool yourself down. You can find it on the Green Sprouts site and on Amazon.
What Are Your Hot Tips For Keeping Cool?
When it comes to keeping your baby (and yourself) cool in the summer, do you have any products, tips or tricks you'd recommend? I'd love to hear about them in the comments!

Our next reco: Summer Safety Tips for Babies
---
Get posts & giveaway updates delivered right to your inbox
---
---