'm in a play right now. You might have heard of it. Pink is my signature color.
Steel Magnolias, anyone?
Doesn't that conjure up images of a red-velvet armadillo cake and big 80's hair? The film is a cult-classic. Dolly Parton, Sally Fields, Julia Roberts, the list goes on…I think I might be the solitary southern girl who had never seen the movie. I thought Steel Magnolias was a fun-loving southern comedy, until I read the play synopsis. Yes, there are moments of sheer hilarity. But no one ever told me that it is also full of sadness. (Spoiler alert- Shelby dies.)
I was cast as Shelby–the spunky diabetic girl who risks pregnancy and forfeits her life. In real life I run a pregnancy loss support group. I can't escape grief for trying! But this play taught me something I've struggled with for years. In Act II the sassy ladies are sitting around Truvy's beauty salon getting all dolled up and gossiping.  Suddenly Truvy lays eyes on Shelby's bruised arms. All the ladies quickly gather round and learn that Shelby is on dialysis. Clairee bellows an entitled, "Why haven't I been told?"
Shelby responds, "Sometimes you just don't want to talk about things."
I refused to talk, too.
My miscarriage was a silent grief that I carried in my heart. A few weeks after my first loss I was at a social function when an acquaintance stubbornly told me it was time for me to have more children. Her mouth was stuffed full of food and she was reaching for her coca-cola. I thought about telling her about my plight, but I didn't. I figured my child's death deserved a bit more respect than a conversation over a chili dog. But I did lay out my heart to an acquaintance over sweat tea and a BLT at a local diner while we were discussing illnesses. She teared up and told me she'd lost a baby, too.
Still, it's bothered me for years. Why didn't I talk to everyone? Why did I omit portions of my life to some people?
Steel Magnolias taught me that sometimes you don't want to talk about things. And this is perfectly okay. At my most tender moments of time I only wanted to share my heartache with those who I knew would be gentle. My husband. My friends. The lady I chatted with over a sweet tea. Miscarriage was new for me and something I didn't expect to occur. I needed to be in control of the conversation. Most importantly, I needed to be in control of who I invited into the dialogue of my soul. A sacred, sacred event had happened inside my womb. A child had been lovingly conceived and a child died.
Although I was very mad at my body for failing me, I recognized that my body had been a temple carrying a sacred vessel.
I wanted to honor that tiny soul. And for me that meant only sharing my treasure with those I thought worthy.
I heard a wise woman once say that where matters of the heart are concerned we must be careful to guard our pearls so they don't become trampled upon. My treasure was my pregnancy and I didn't want it to be trampled with insensitive comments or pat advice.
As I got further away from the actual event of loss I grew more vocal. I'm so public now that I blog about the topic. I think it is important to talk about pregnancy loss, but not when it might impede our personal mending. You see time has given me space to process my feelings. It has given me an opportunity to articulate my thoughts. I feel safer sharing my story now. But I wasn't ready to share while it was happening.
We all need a place to talk. A place to speak. But we have to be ready and willing to speak our pain.
The lesson I've learned is that it is okay to be choosy about with whom we share our most sacred emotions. Cancer. Miscarriage. Death. Divorce. Likewise, it's okay if we are vocal from day one. We are all different. And we must respect and honor our varied needs.
Once Shelby was ready she did open her soul. And those southern ladies rallied around her. Bringing food, prayers, and laughter. We all need people to rally around us. To love on us. It's a fine line to walk. Being vulnerable and protecting our hearts. Trust your instinct. Expect some people to hurt you with their words, but know that many empathetic dears will wrap you in a warm embrace of support. If you are hurting right now and need something mindless to binge watch I invite you to run to your nearest video store (uuum, that's not right). I mean go on NetFlix and stream in Steel Magnolias. You'll laugh and cry.  It's a true reflection of life.
We all need a little laughter through tears.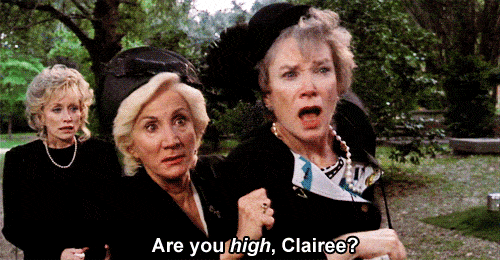 Our next recos: Losing a Baby Shouldn't Be So Isolating
---
Get posts & giveaway updates delivered right to your inbox
---
---