Let's be real. The holidays are for dressing up your baby in an adorable outfit, surrounding them with coordinating props, and taking hundreds of photos for your family and friends to ooh and ahh over. Once your kid becomes mobile or learns to say "I am not doing this shit", it's game over. We've got some fun ideas for a baby's first Valentine's Day photoshoot that'll make your heart skip a beat; so get out the poofy dresses and bow ties and get snappin' while you still can, mama.
Baby's First Valentine's Day Photo Ideas

Just one thing before we get started: As with any activity you'll take part in with your baby, remember that those little nuts love to try to hurt themselves the first chance they get. Keep an eye on your baby at all times. Consider having a second (or third) set of eyes and hands to help you out for your photoshoot. Don't let your kid get a chance to put tiny props in their mouth. Don't leave them unattended in/on/under/around any props at any time for any reason. Don't let them use a real bow and arrow when dressed up as Cupid and make sure they don't float away while holding a giant balloon bouquet.
Spell It Out
Impress all of your loved ones by telling them that your baby has already learned to spell, and then give them the photographic evidence to prove it.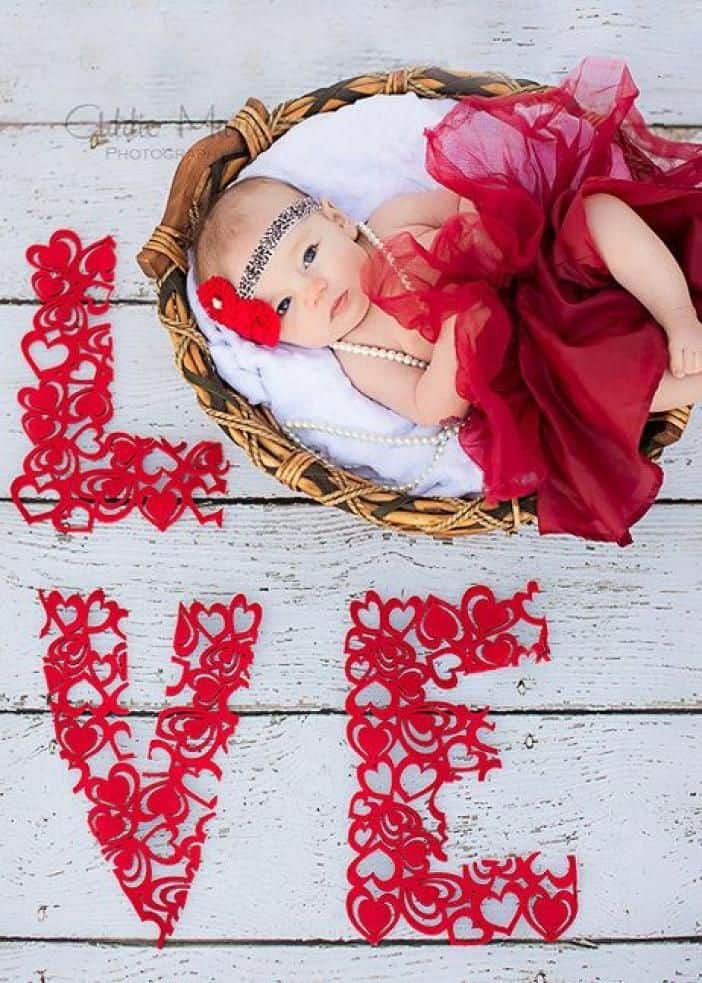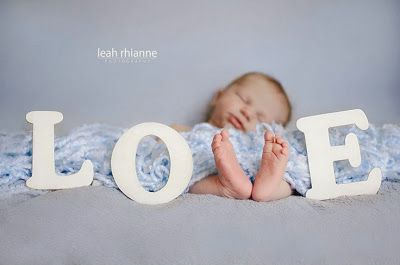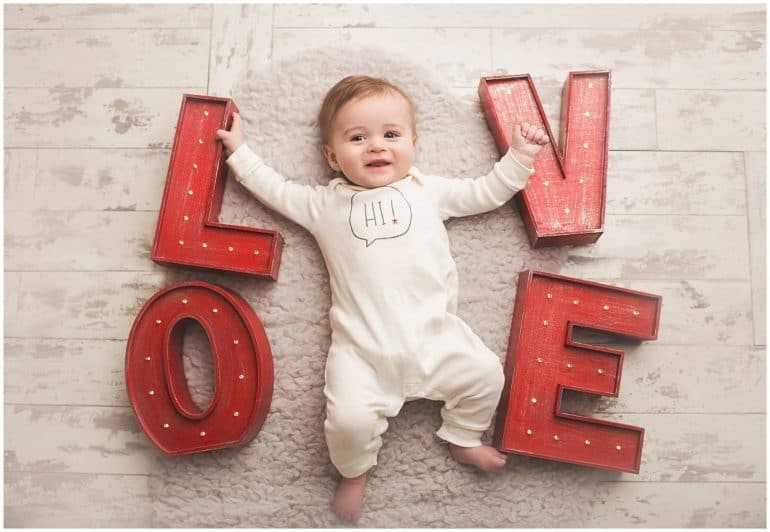 Send a Message
Sorry, Cupid, but there's only enough room for one half-naked baby delivering love letters around these parts. Write a sweet (or funny) message and get your kiddo to pose with it for a Valentine's greeting that'll rival even the fanciest store-bought card.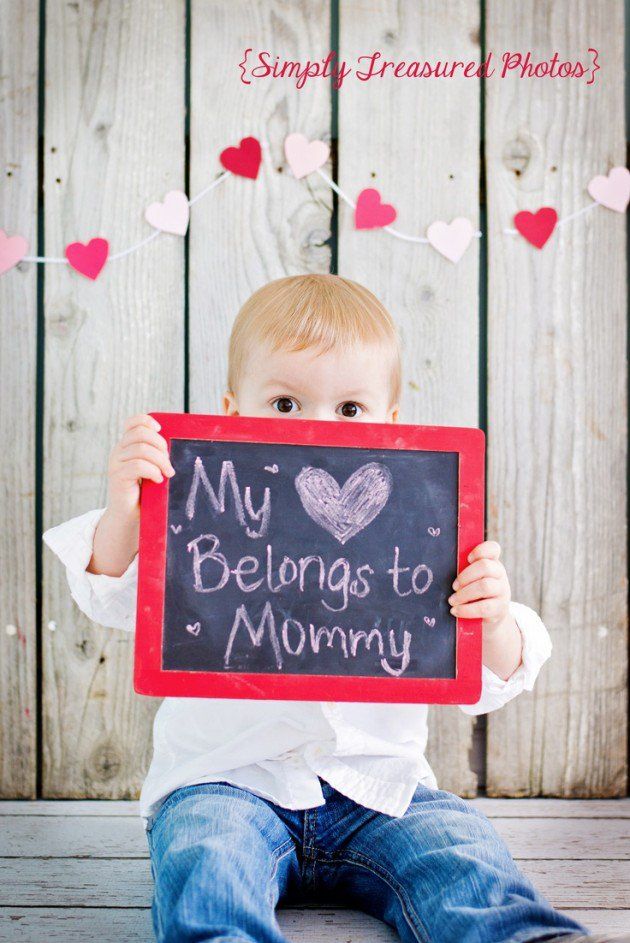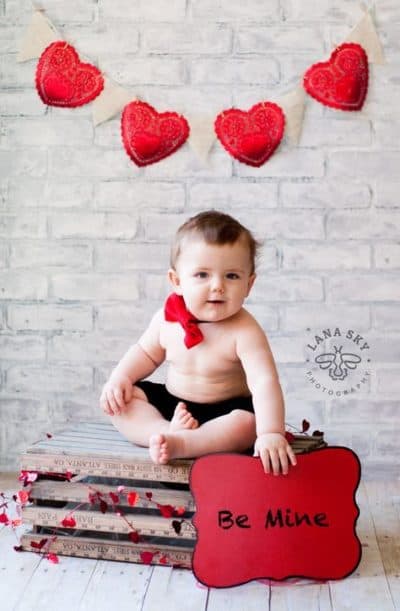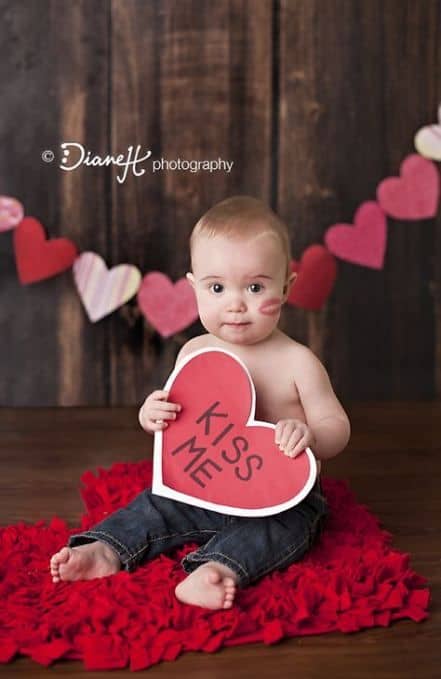 Pucker Up!
Like you need an excuse to cover their squishy little arms and legs in kisses. Put on a shade of ruby red lipstick and pucker up!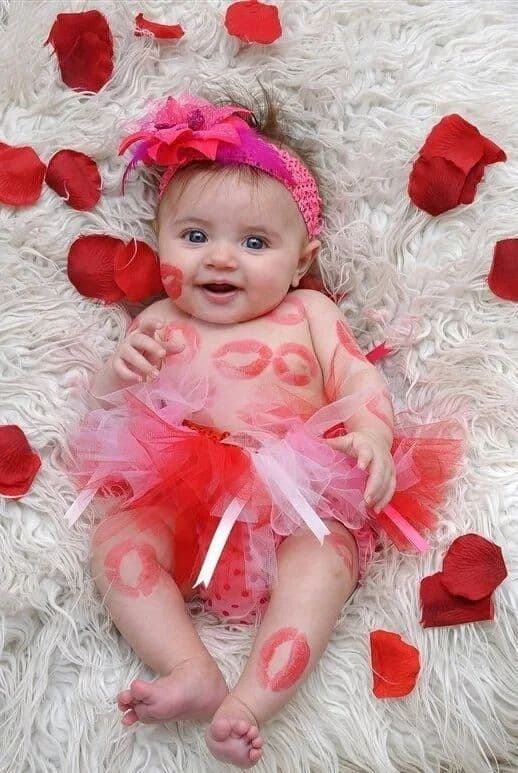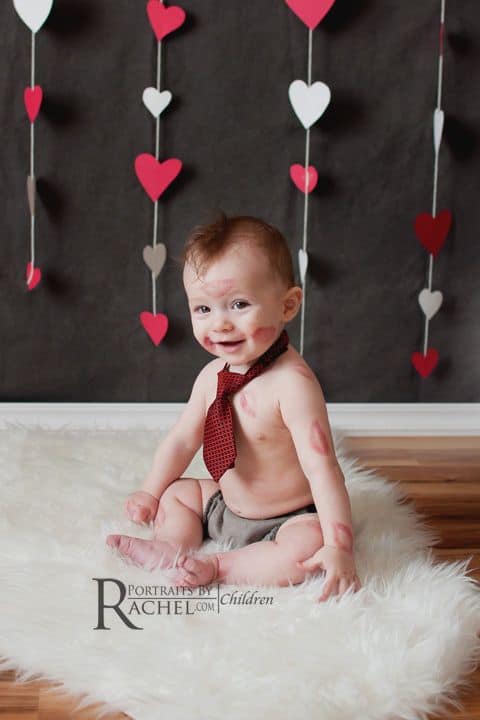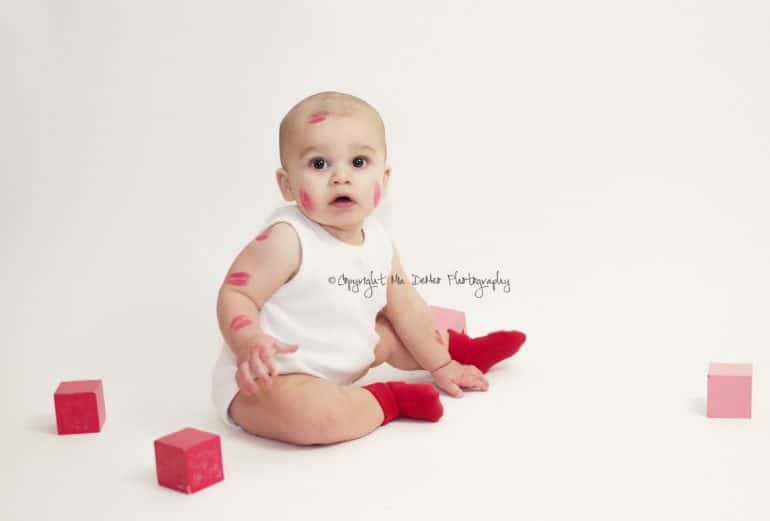 Dress them up
Whether you crafted it yourself out of old pillow feathers or found the perfect outfit in a store, there are some pretty dang cute Valentine's getups out there. Don't let the perfect onesie or giant hair bow go to waste – the world needs to see them!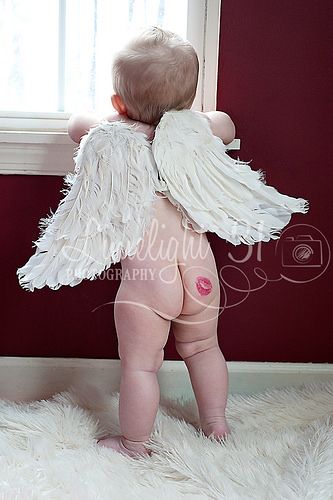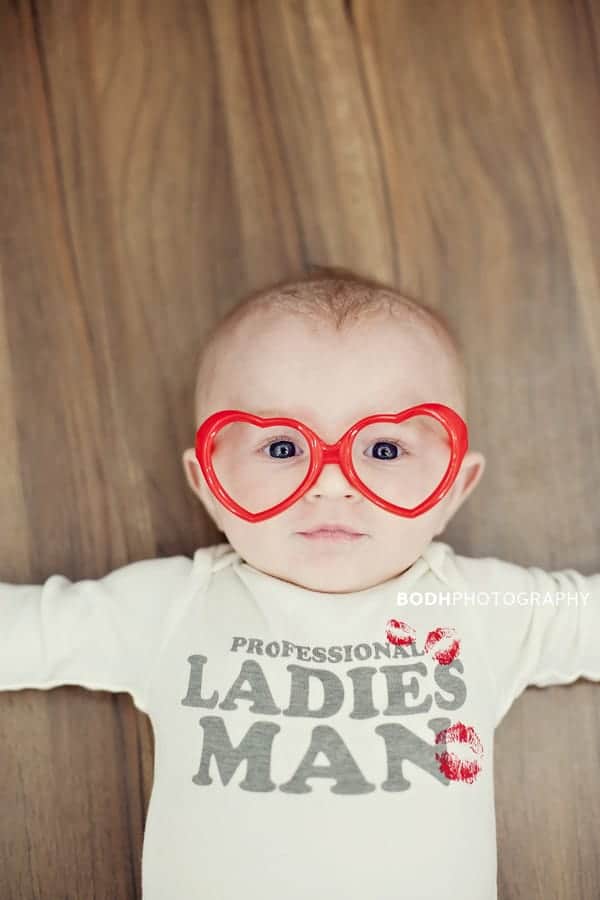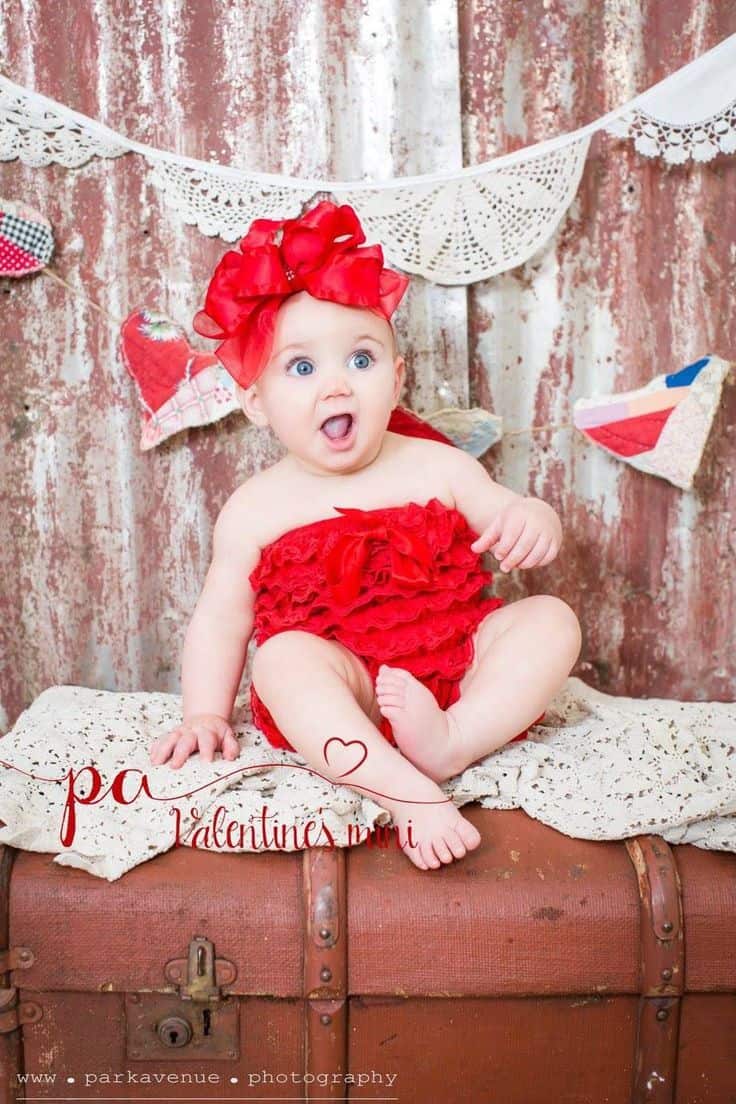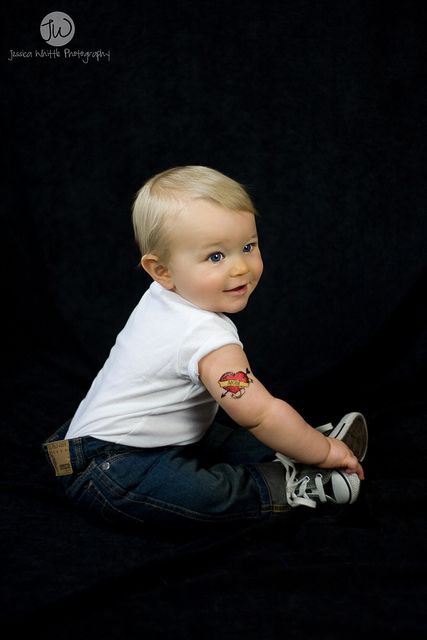 Flower Power
If you've ever gotten a bouquet of roses for Valentine's Day and peeked at the credit card bill afterward, you know how damn expensive those suckers are. Don't throw them away when they start to wilt – use the whole flower or pick off the petals for the perfect floral photo prop. Paper or fabric flowers will also get the job done you'd rather save your money for some discount Valentine's chocolate on February 15th.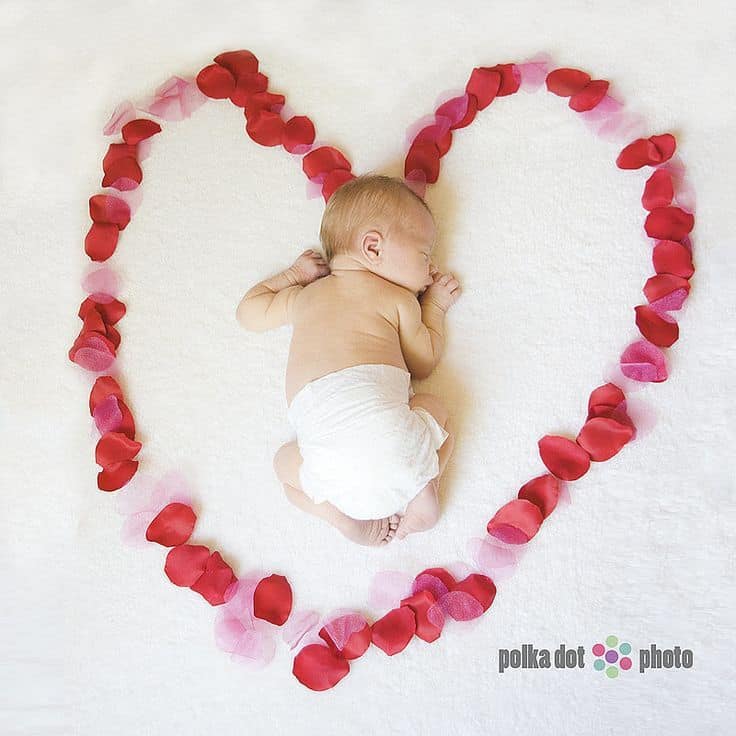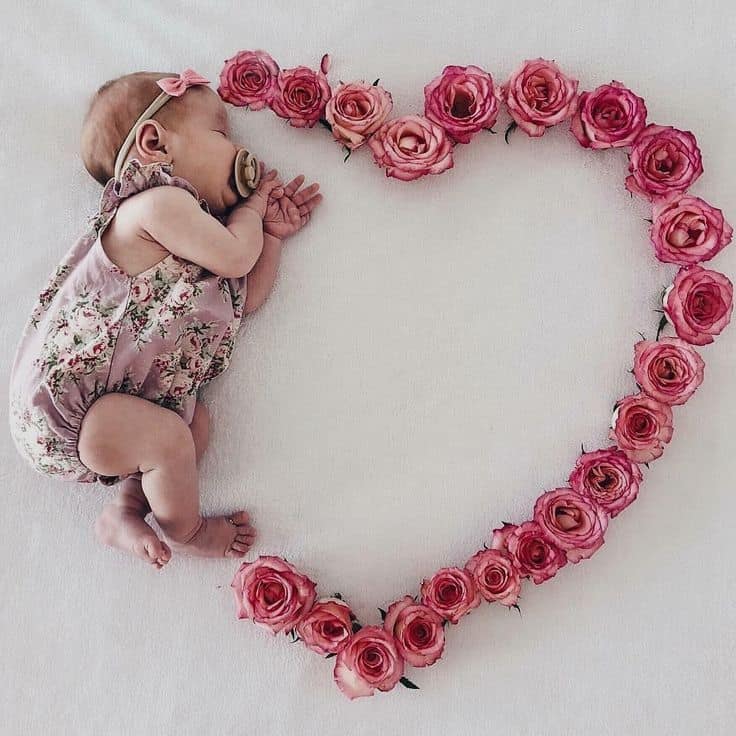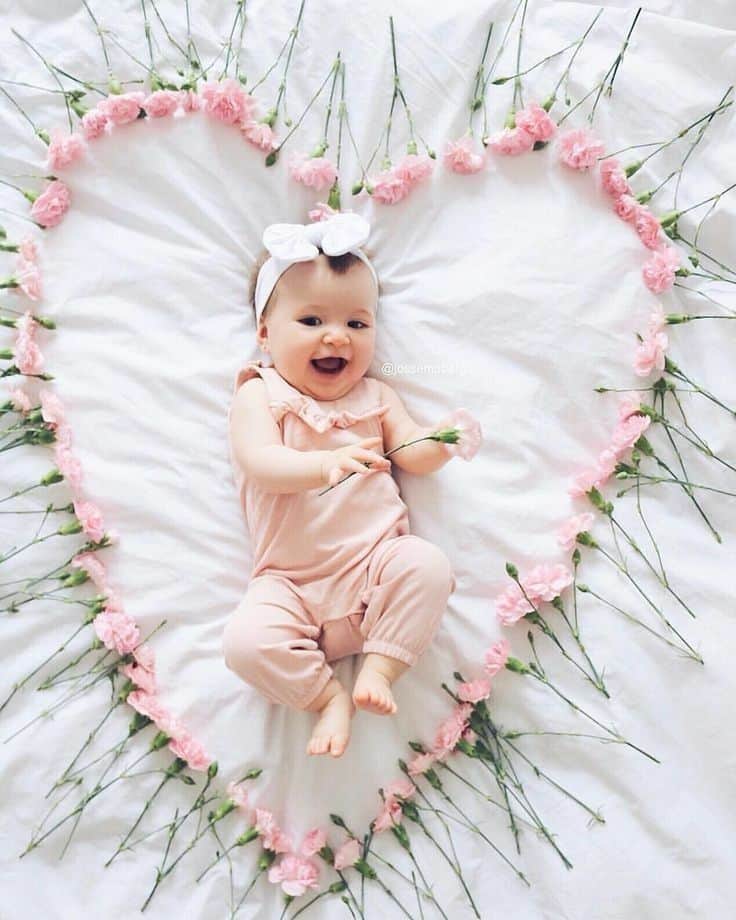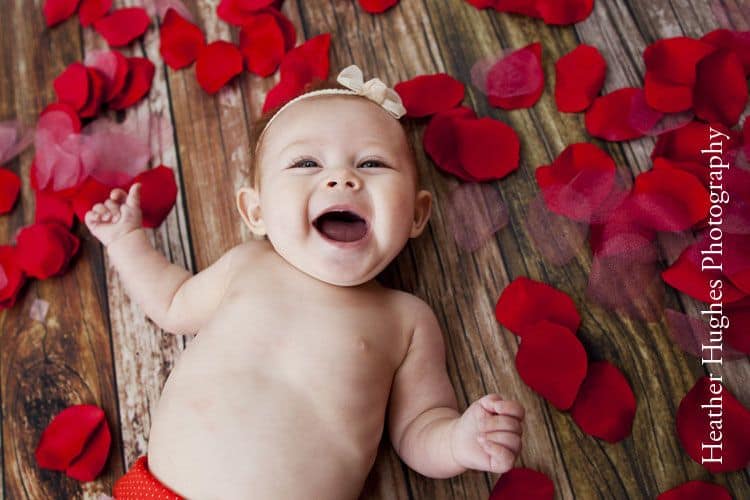 Have a Heart
Sleeping baby? Check. Heart-shaped receptacle to lay them in? Check. Perfect baby Valentine's Day photo? Check.

PRO TIP: If you're hoping to capture a serene sleeping baby photo like the ones below, make sure that the room is nice and warm (consider plugging in a space heater or two). Having some soothing music or white noise to encourage your baby to snooze on during their photo session also isn't a bad idea. Plan to take your photos during their scheduled nap time, if they have one, rather than a time of day where they're typically more alert and active.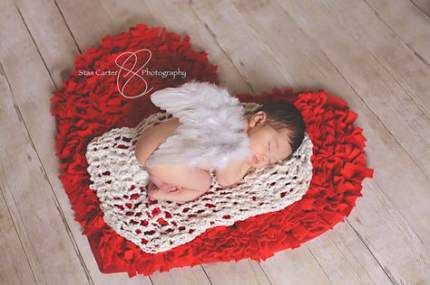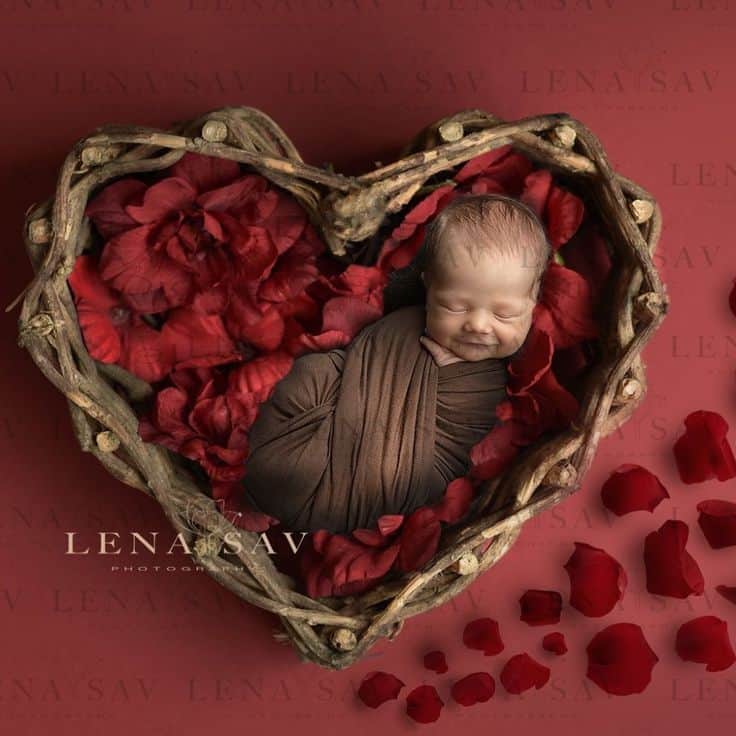 Indulge that sweet tooth
Nobody really eats those conversation hearts anyway – if you're looking for the perfect, colorful photo prop, head to your bulk candy store and stock up! Just make sure your curious little one doesn't try to sneak a fistful when you aren't looking – you probably won't be so eager to share your sweet little photo with friends if it has a backstory that involves administering backblows.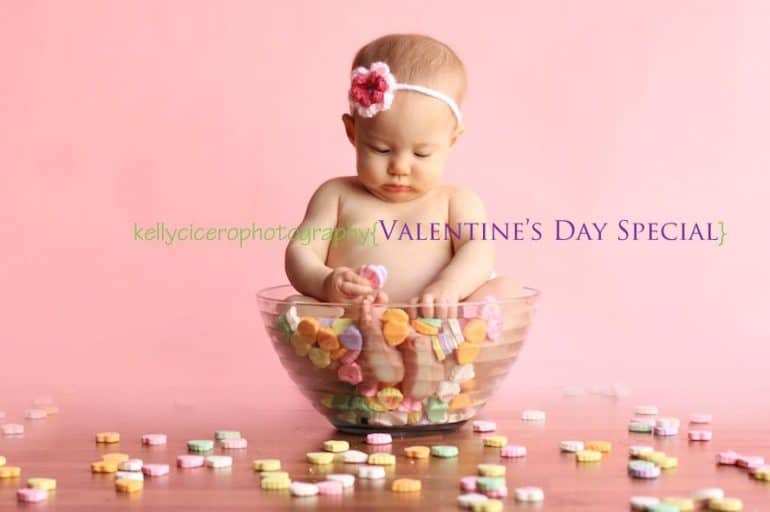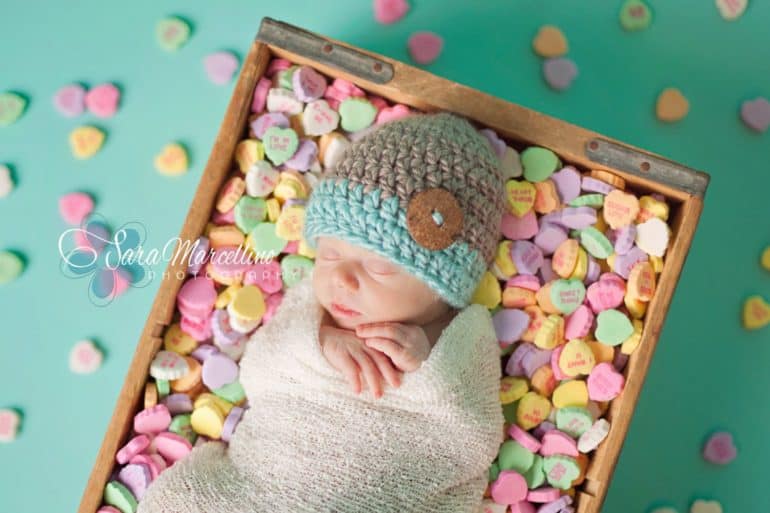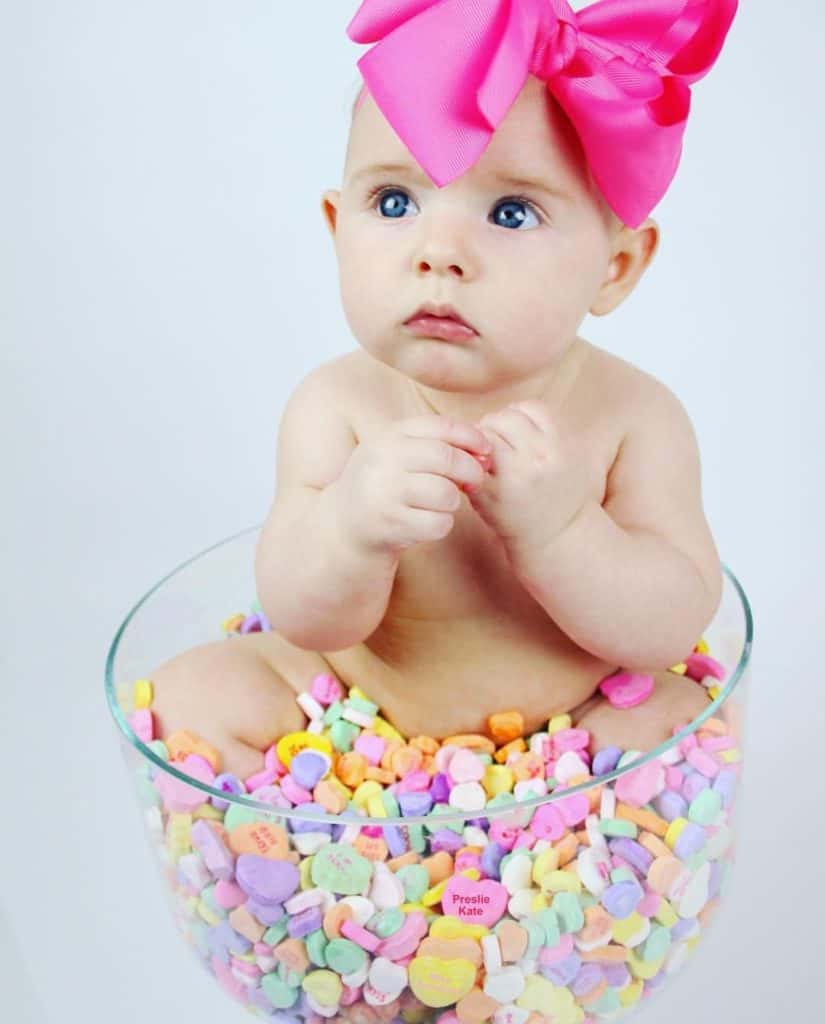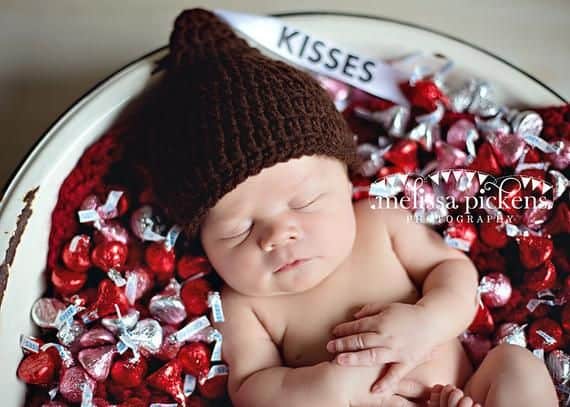 Sibling LOVE
Is there more than one little Valentine in your life? Bribe the big one(s) with heart-shaped confections if they promise to pose nicely for a photo or two. Bonus treats shall be awarded if your children allow you to dress them in coordinating outfits, all are looking at the camera at the same time, and no one vomits or cries until after the camera is put away.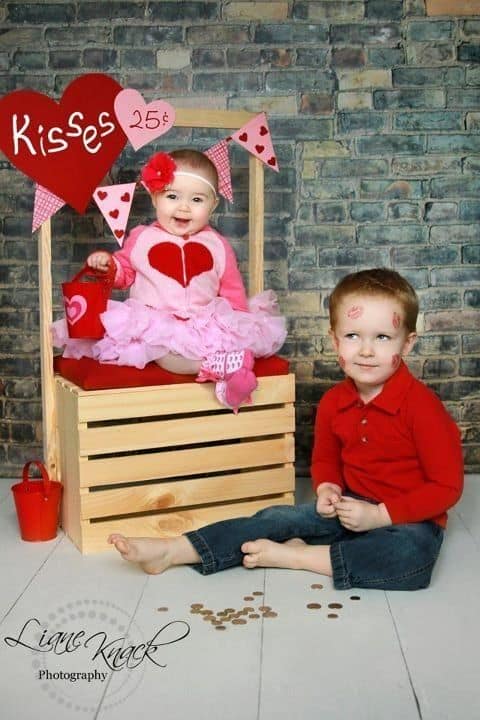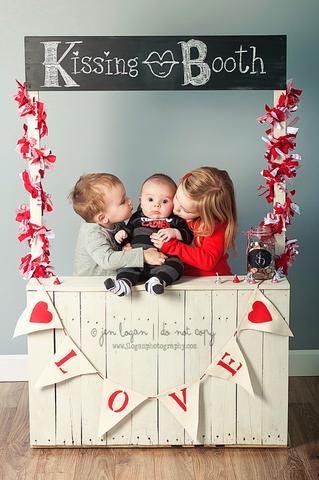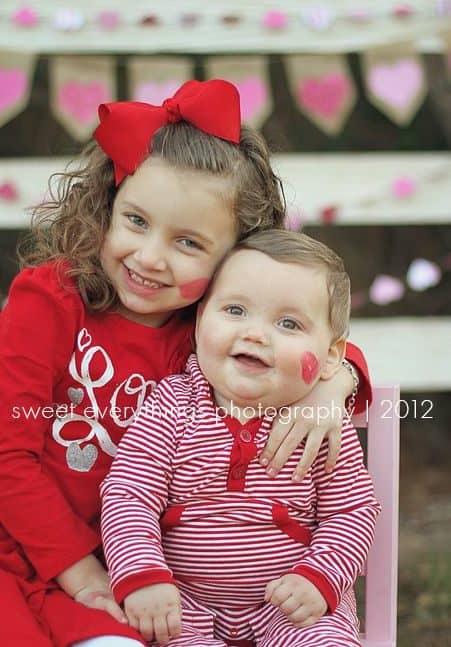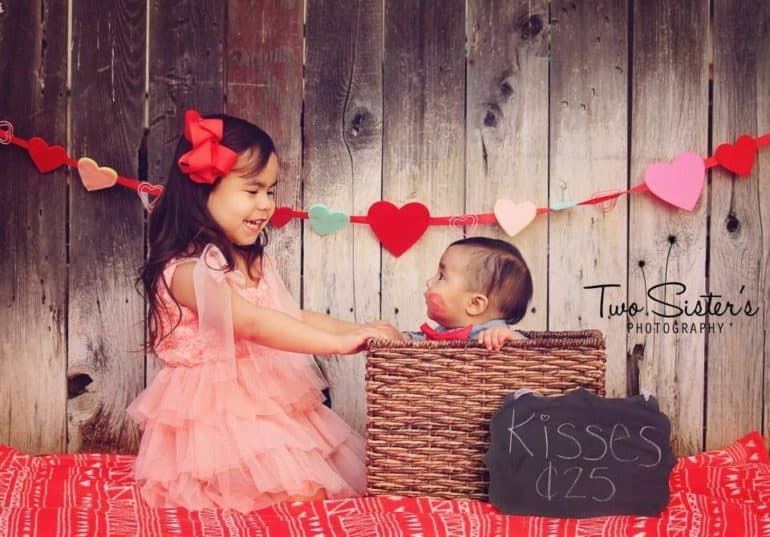 Try something unexpected
Spoiler alert: You can totally still have a Valentine's Day photoshoot even if you don't have anything heart-shaped to use as a prop. Go for a color theme, like red or pink, dress your baby up and find items around the house that'll convey the theme of l-o-v-e. Kill two birds with one stone and turn bath time into a photo shoot (again, if you're using water or anything trachea-sized as a prop, please don't leave your baby unsupervised – not even to change the camera lens). Of course, a big ol' bouquet of balloons is enough to make your baby's best friend till long after February 14th has come and gone, so gather up a bunch and have the camera ready while baby plays away. Just remember – helium balloons have a bad habit of floating away when they're taken outdoors, so tie them onto your baby's clothes to avoid any tear-filled photographs.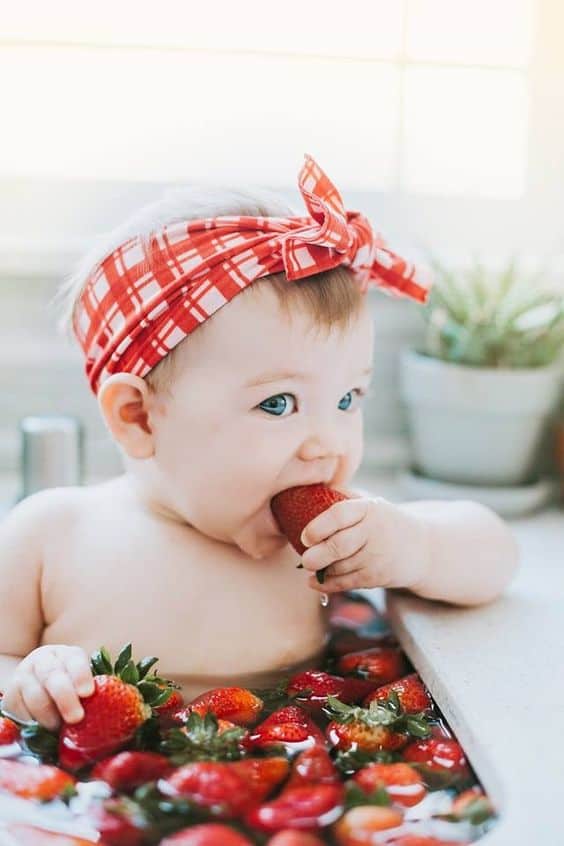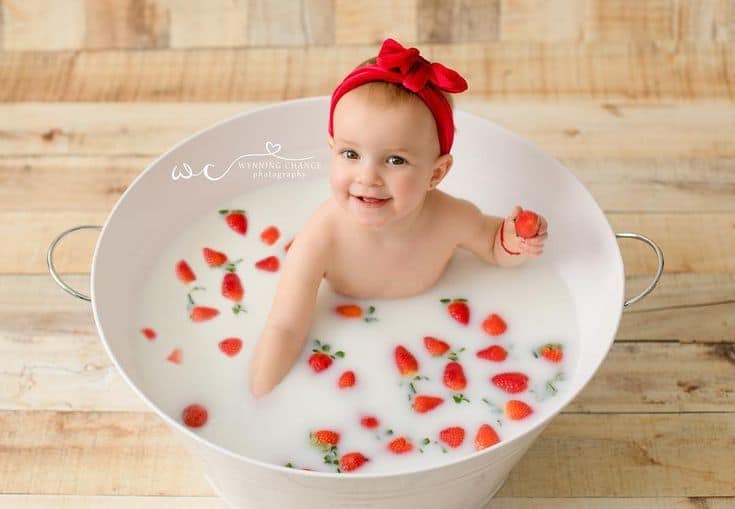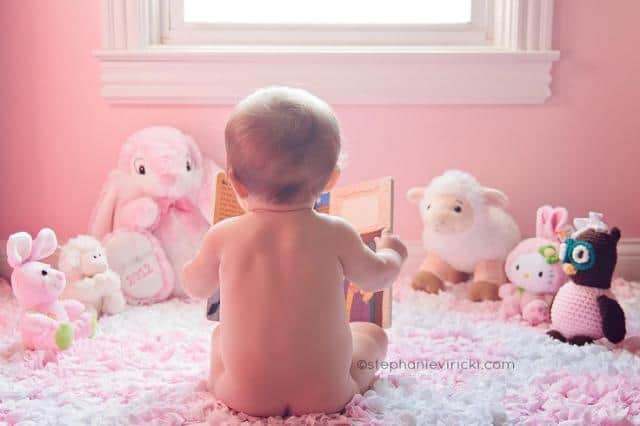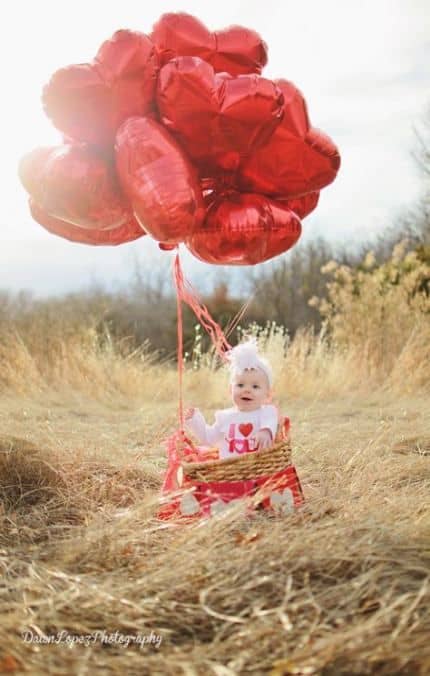 Make in Introduction
Parents of January or February babies take note: Valentine's Day can make for the cutest newborn photos. Dressing your baby up as a Hershey's Kiss or tiny little Cupid? Umm, yes, please.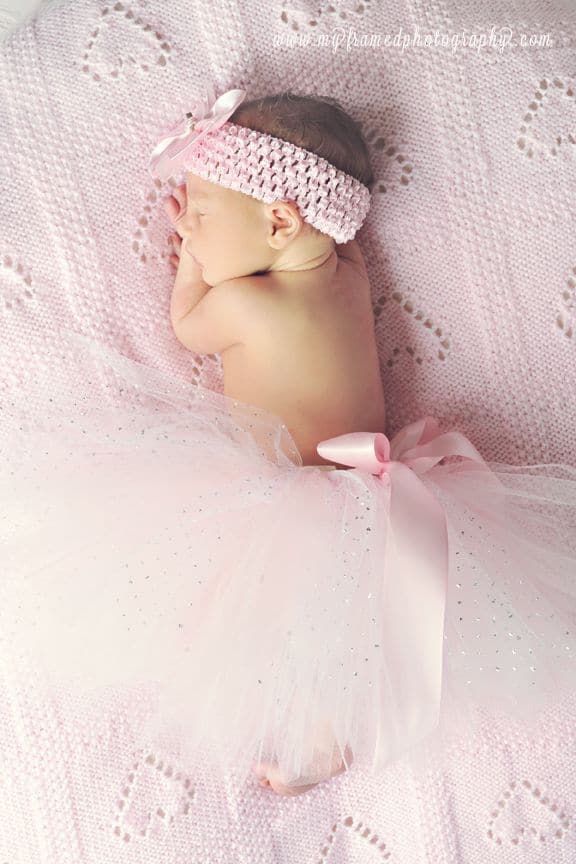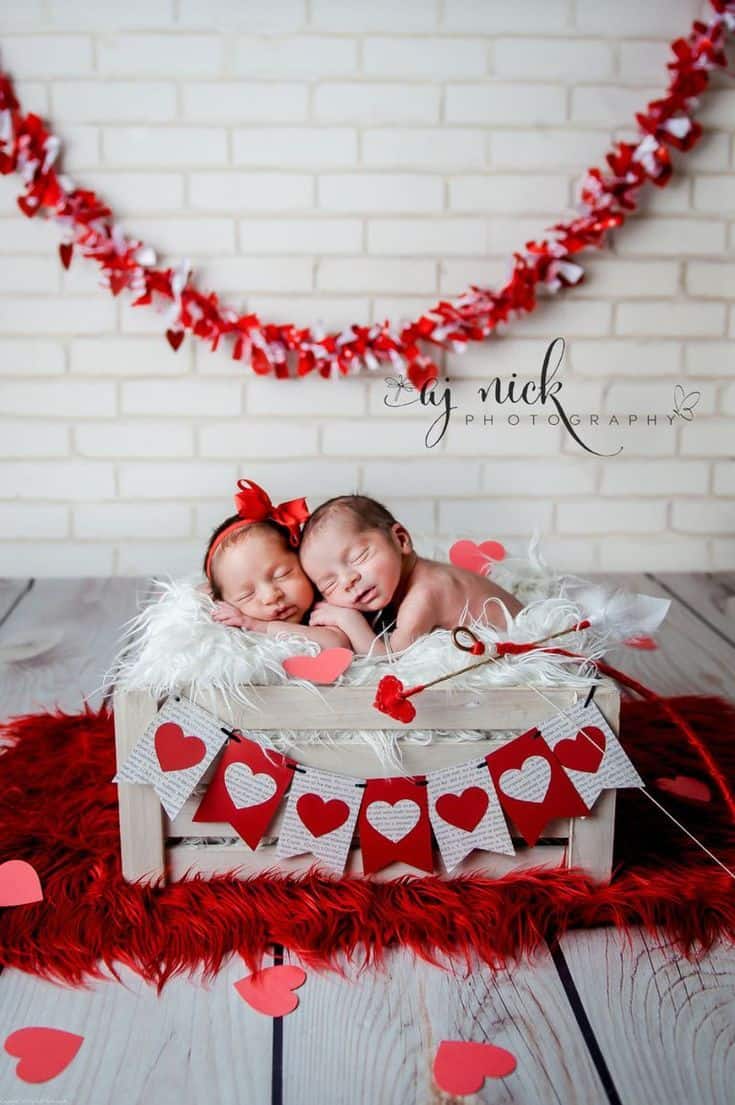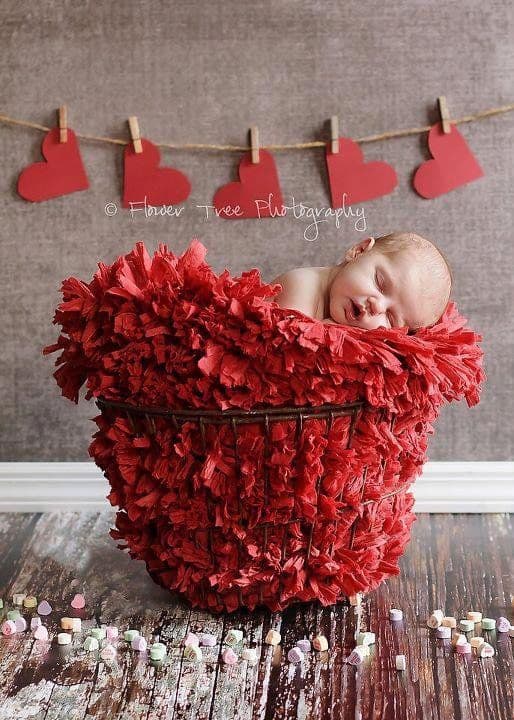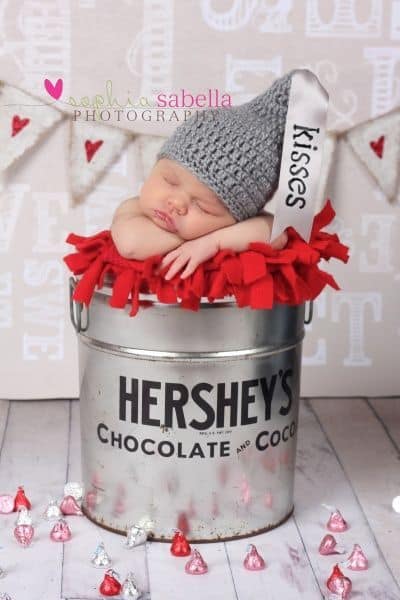 Make a Valentine Pregnancy Announcement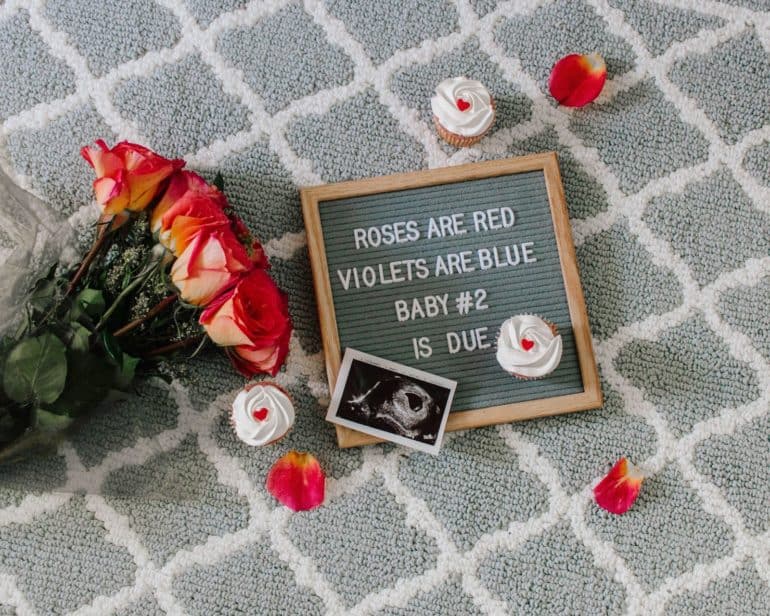 Let the world know you've got a very special Valentine coming in the month of February by creating a Valentines-themed announcement. A letterboard with some pink or red props (like flowers, candies, kisses, or hearts) makes the perfect V-Day flat lay.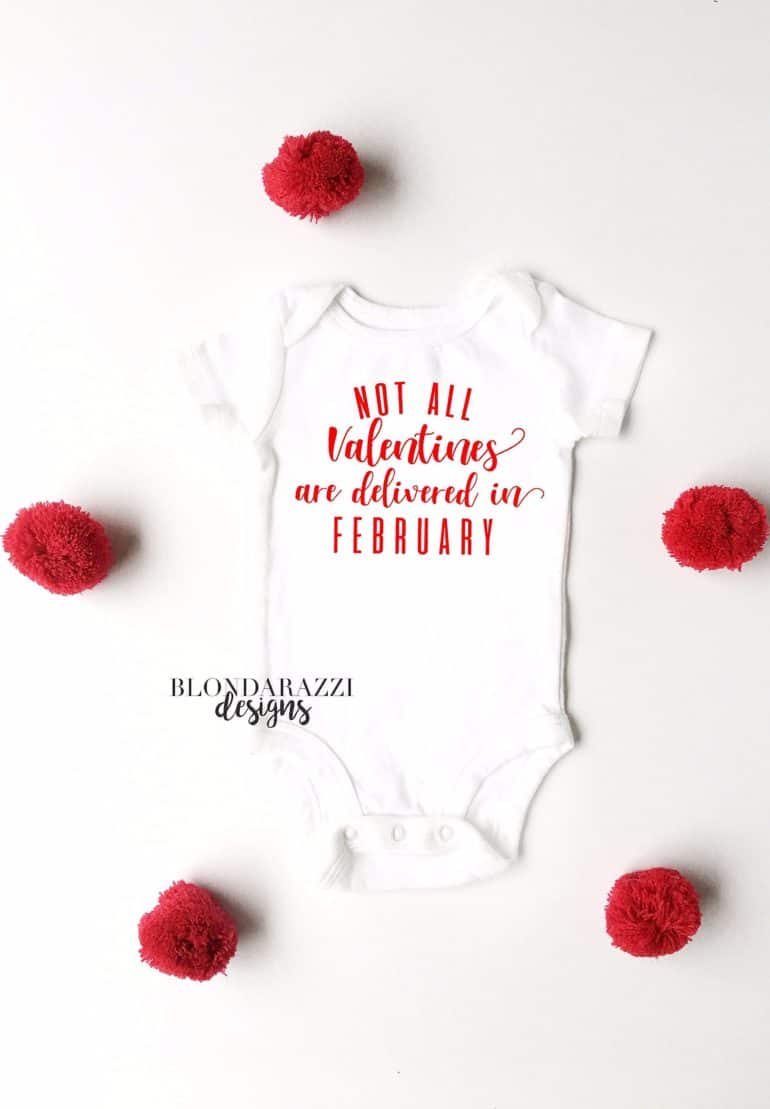 Why not get a custom onesie printed? As an added bonus, you can dress your new addition in it when they arrive and get some pretty awesome before and after photos!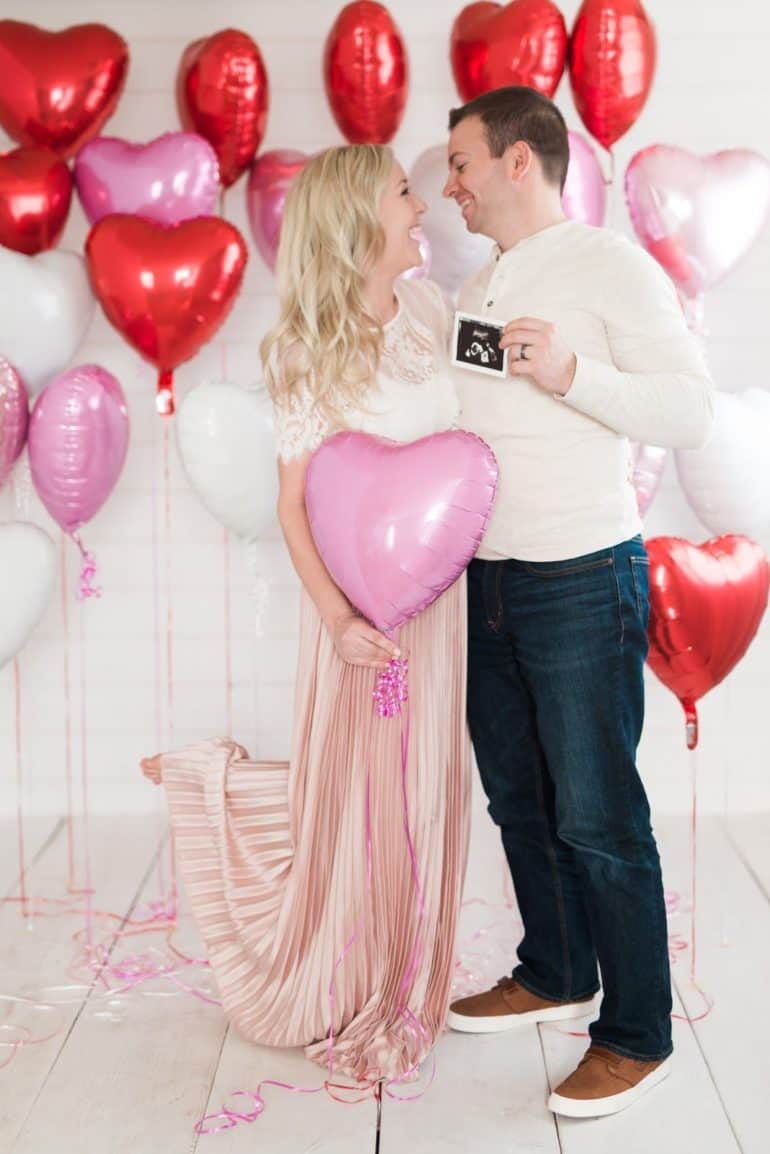 Forget the baby – go all out in a Valentine themed couple's photo for your birth announcement. After all, once that little bundle of joy arrives, nobody's going to want to see pictures of you anymore anyway.
K-I-S-S (Keep It Simple, Stupid)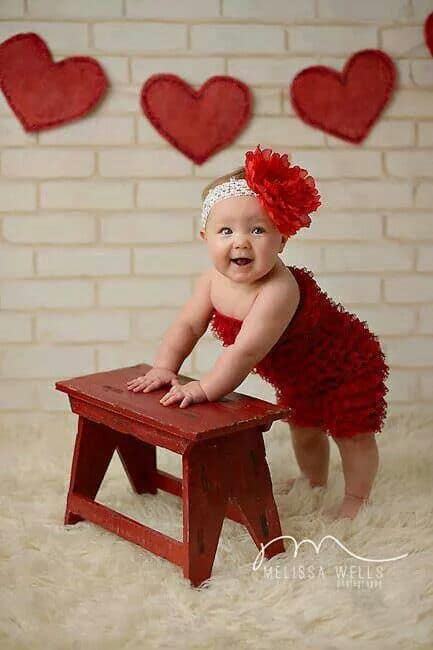 No need to go overboard, a simple neutral background and heart cutouts will do. Choose clothing and accessories in either pink or red to really drive home the Valentines theme.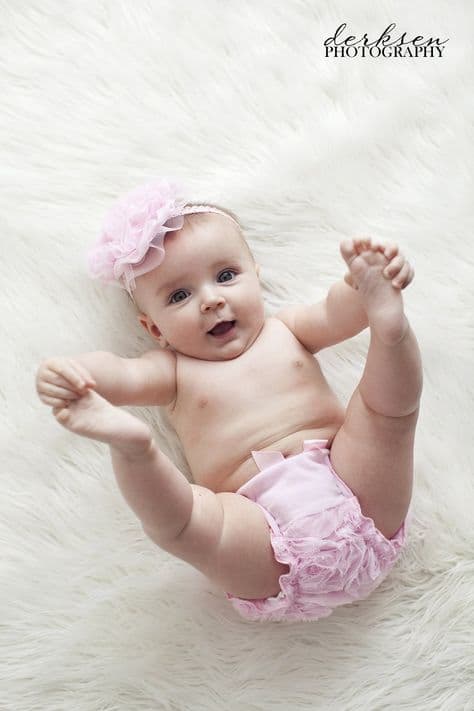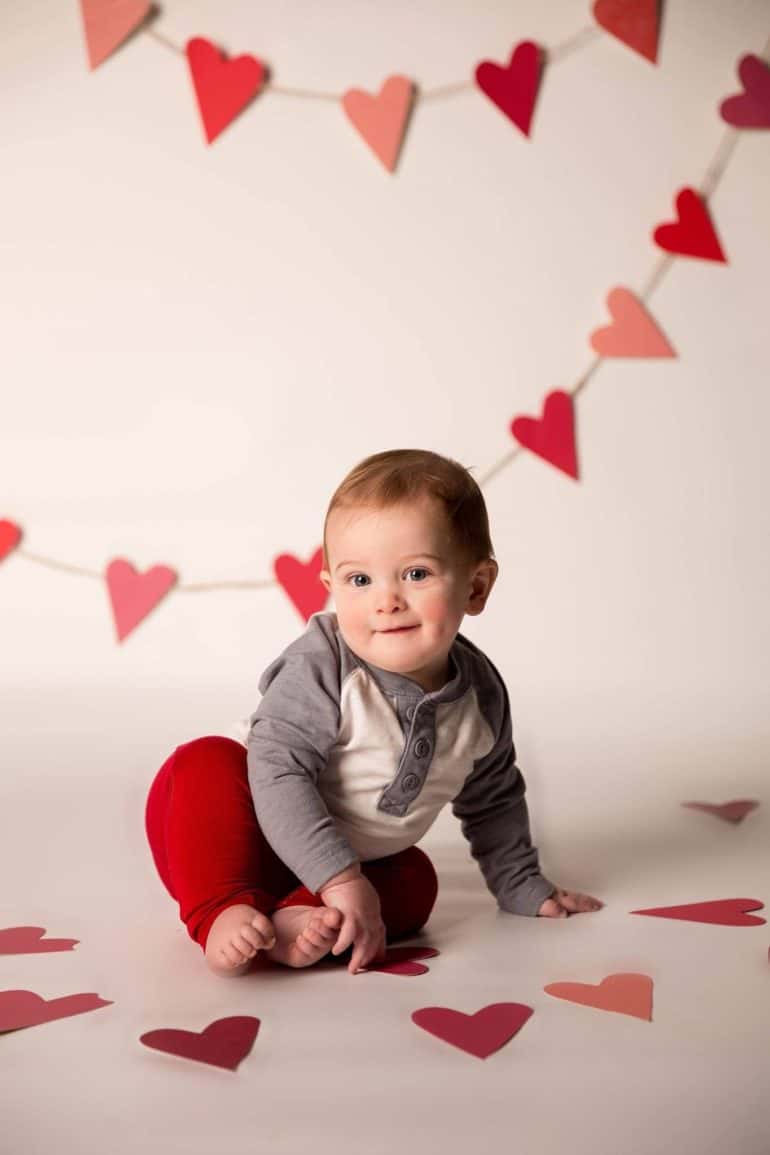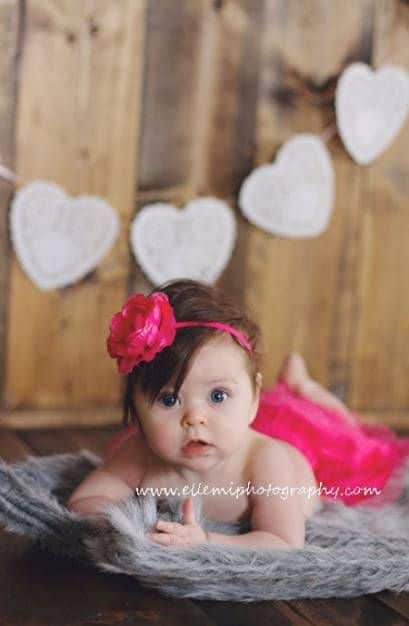 What are your favorite ideas for a Valentine's Day photoshoot?
Do you have some epic Valentine's Day photos of your baby? Don't keep those bad boys to yourself – drop them in the comments!
Our next reco: 20 Baby's First Valentine's Day Gift Ideas
---
Get posts & giveaway updates delivered right to your inbox
---
---