I don't know how familiar you are with bamboo baby clothes, but I've recently learned that the world of bamboo clothing is apparently a lot more than just apparel - it's a lifestyle. We're talking exclusive bamboo clothing groups on social media, stalking popular brands to be the first to learn about new product launches and copping VIP brand memberships to access exclusive new prints before they drop - the whole shebang.

Wherever you sit on the scale of bamboo fandom, it's easy to see why people love it. Bamboo viscose is buttery-soft, stretchy, naturally hypoallergenic, and the perfect fabric for your baby's sensitive skin. Because it's so breathable, it stays around 3 degrees cooler than cotton, making your baby snuggle sessions a slightly less sweaty affair for all involved. Any fabric that keeps you dry, cool and comfortable is pretty much a no brainer, so it's no wonder why many companies have started making bamboo apparel for the big people in your family, too (score!)

Wondering what the best bamboo brands out there are? Don't sweat it (a little bamboo humor for you there). Here are the best places to find bamboo baby clothes.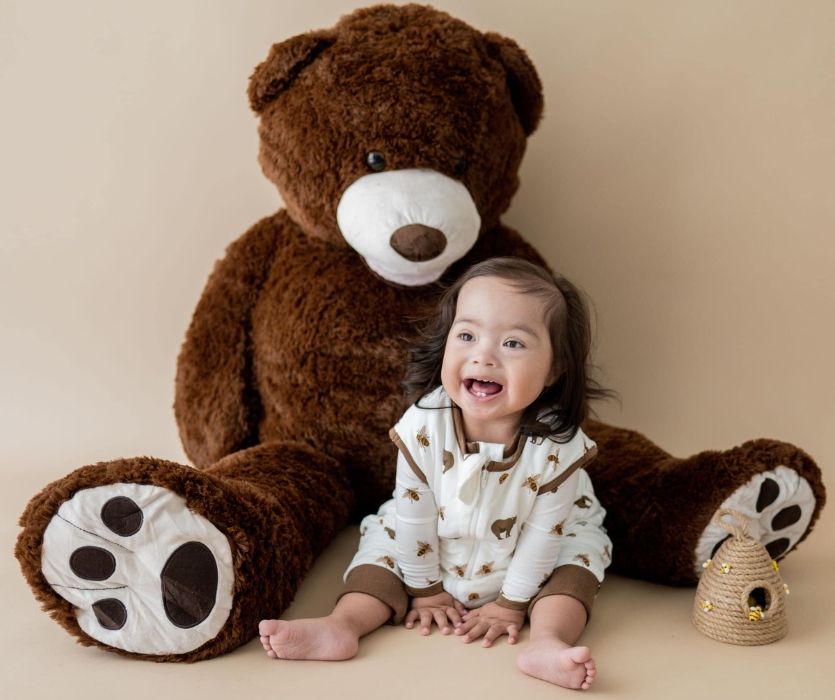 1. Kyte Baby
Kyte Baby is one of the OGs in the bamboo fabric game. Their products tend to ride a bit on the pricier side because they source the highest quality bamboo and make their bamboo rayon fabric with 97% bamboo, which is 2% higher than the industry standard. Join their Kyte Club on Facebook to meet other Kyte Baby fans, get insider access and sneak peeks on prints and promotions, and get first dibs on model calls. Sign up for their Frequent Flyer rewards to get sweet deals on future purchases and access to special offers.

What you'll love about them: Their ever-changing collections of 97% bamboo material, free, easy returns within 45 days and "Frequent Flyer" rewards program.

Where to buy them: kytebaby.com, Amazon, Nordstrom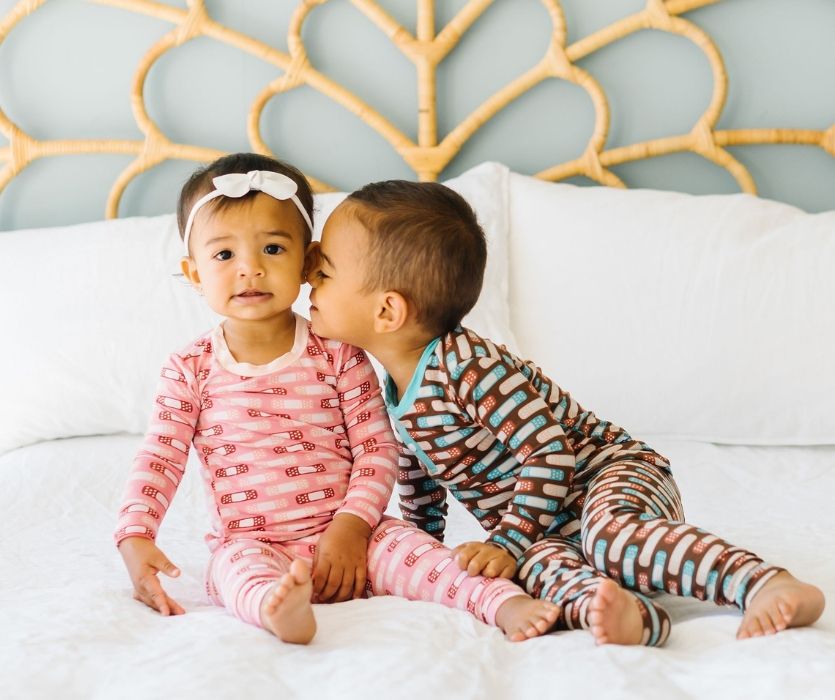 2. KicKee Pants
Rumor has it that KicKee Pants is the brand that truly got the bamboo baby ball rolling in the US. No matter who needs to get dressed in your family - be it your micro-preemie, your teenager or yourself, KicKee Pants has got you covered. If you're looking for a matching PJ set for everyone in the fam, including your furry friends, this is the place. Their products don't stop at pajamas, though - they've got just about anything you can think of for daywear including dresses, loungewear, tops, bottoms, underwear, swimwear and more. Check out their massive Sale section to find smokin' deals.

What you'll love about them: Their selection of daywear, nightwear, and accessories for everyone in the fam  (seriously - they even have stuff for your dog)

Where to buy them: kickeepants.com, Amazon, Nordstrom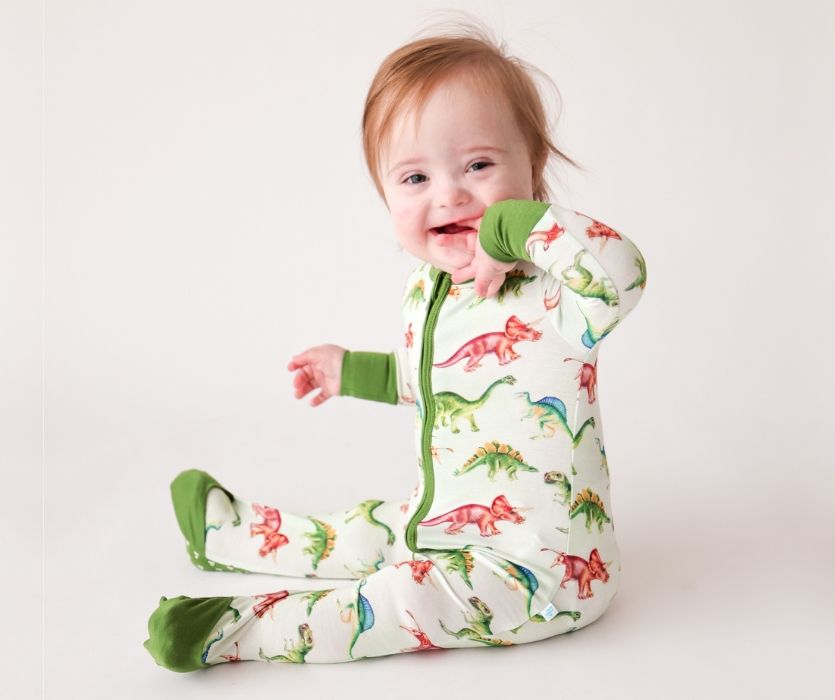 3. Posh Peanut
Whether you're new to the world of bamboo baby clothes or have been in on the secret forever, you've probably heard of Posh Peanut. That's because every major media outlet from Forbes to Oprah have sung their praises, probably thanks to their fun selection of colors and cute designs that are hand-created every season. They carry apparel for the whole family as well as bamboo blankets, crib sheets, towels, loveys, swaddles and more.

What you'll love about them: Their unique and super cute collaboration prints and family sets

Where to buy them: poshpeanut.com, Nordstrom, Amazon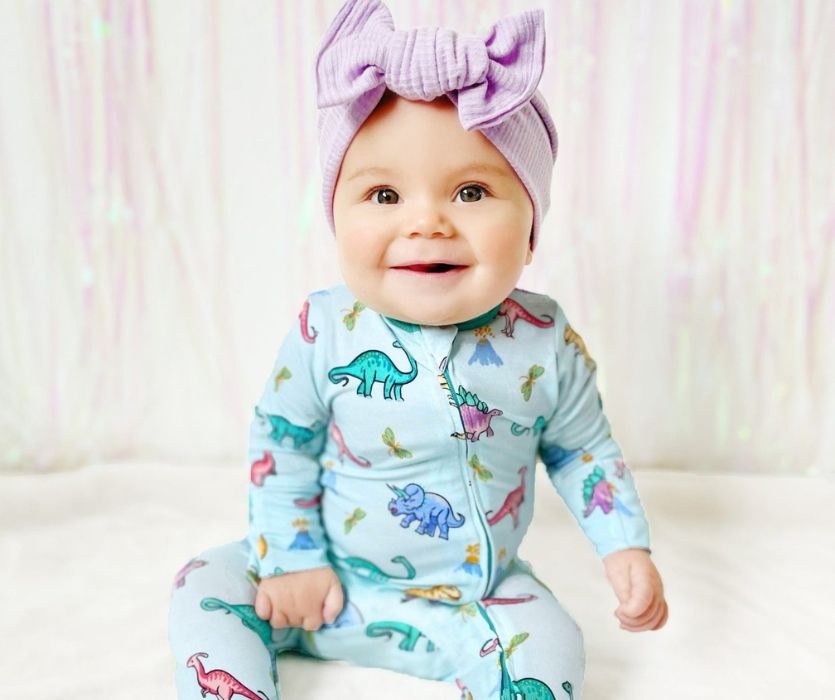 4. Free Birdees
Free Birdees heard the cries of the parents who are always looking for holiday-themed outfits and came to the rescue. For Christmas PJs, Valentine's Day dresses, Halloween coveralls and more, Free Birdies has the cutest, in-house designed prints to get your family suited up for the occasion. If you're looking for something simpler, they've got that too, with their solids and stripes collection. Be sure to sign up for their rewards program to start saving points to put toward future purchases.

What you'll love about them: Their in-house designed prints (especially for the holidays), rewards program and amazing customer service

Where to buy them: freebirdees.com
5. Nest Designs
Nest Designs is all about creating apparel that will stand the test of time. Making clothing that can be worn over and over again isn't just good for your wallet - it's good for the planet, too. This Vancouver-based company designs each of their products in British Columbia and works with vetted overseas companies to bring their products to you. Their bamboo basics line comes in four colors that are easy to mix and match, and are perfect for twinning with siblings and adults in the family.

What you'll love about them: Their clothing is designed to last and never go out of style, meaning it can be loved by all the kids in your family

Where to buy them: nestdesigns.com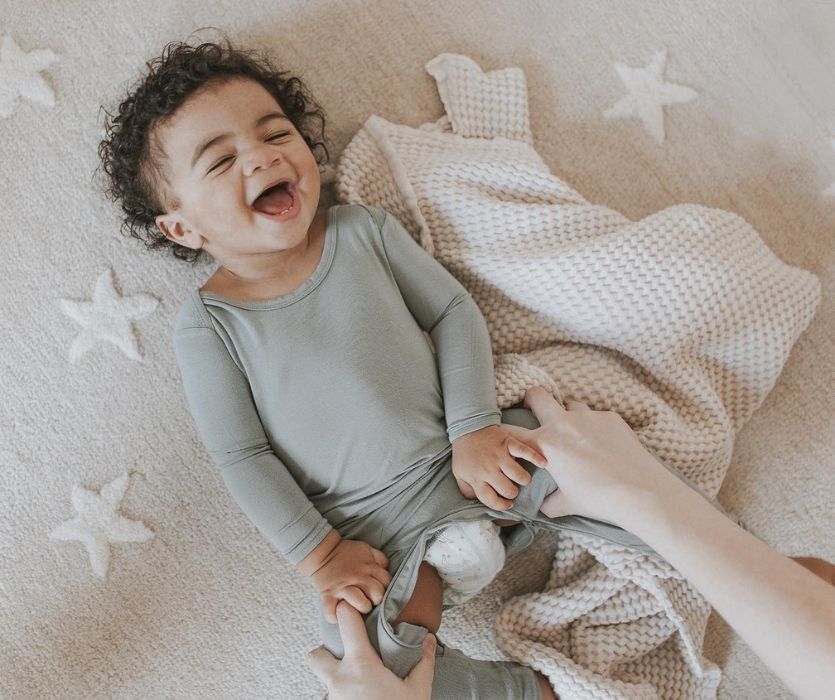 6. Gunamuna
The moms who founded Gunamuna have used their personal experiences to create clothing that makes diaper changes easy peasy. This includes zippers that go up and around your baby's legs, keeping their top half warm and cozy so you can deal with whatever horrors await down below. Most of their prints are beautiful and neutral, making them perfect for any baby as a first wear or hand-me-down.

What you'll love about them: Their Diaper Zipper makes diaper changes a breeze, and they've got an undyed collection with no added color or chemicals for babies with extra sensitive skin

Where to buy them: gunamuna.com, Amazon, Target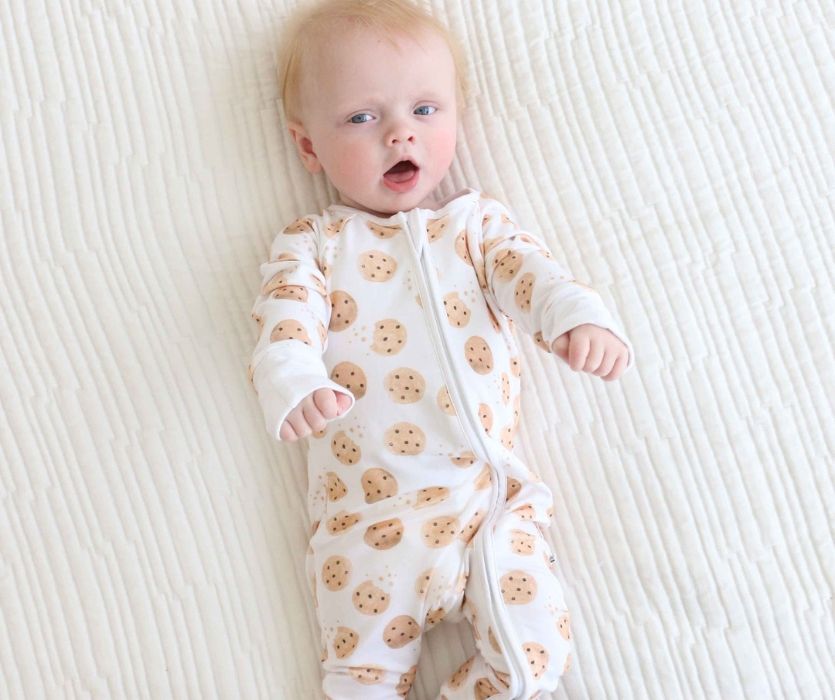 7. Caden Lane
Caden Lane began as a decor company with a line of crib bedding, diaper bags and baby accessories and has since grown to include fun, vibrant prints on their clothing and accessories for babies, kids and moms. Every sleep-deprived parent loves a zipper onesie, and Caden Lane's come in adorable prints and perfect neutrals. For the perfect holiday present, check out their line of personalized gifts, and for a totally unique shower gift, check out their Mommy + Me hospital sets.

What you'll love about them: They've got the cutest zipped rompers you ever did see, and have tons of personalized gear including clothing, blankets, hats and baby gowns.

Where to buy them: cadenlane.com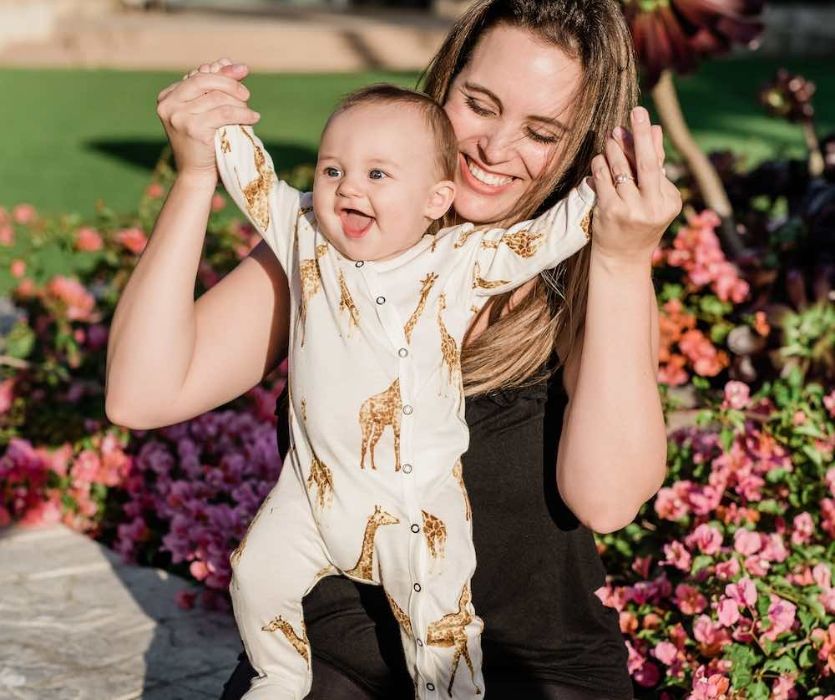 8. Milkbarn Kids
The prints at Milkbarn are created by mother-daughter duo, Stacy and Haley Hunt and pay homage to the imaginative world of your littles. Zippered pajama sets and adorable daywear, blankets, bedding, bibs and accessories come in nature-based, neutral hues making many items perfect for any kiddo in the family. They even have a super-cute line of children's books! Sign up for e-mails and receive a code for 20% off.

What you'll love about them: Their adorable dress and legging sets, overalls, pants and bloomers in a gorgeous range of prints

Where to buy them: milkbarnkids.com, Amazon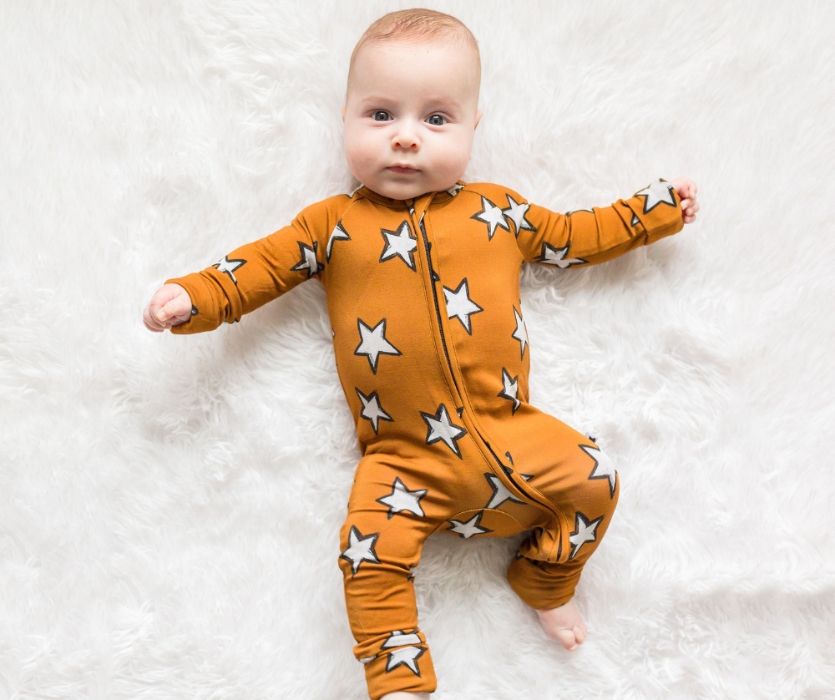 9. Kiki + Lulu
Kiki + Lulu is on a mission to bring your family the softest pjs, rompers, dresses and short sets in one-of-a-kind designs you won't find anywhere else. Their prints are created by independent artists all across the world, and are released in Core and Limited Collections. If you're up for a little surprise, they also have Mystery Bags. For $36, you get three surprise outfits for your Baby Boy or Girl or Toddler Boy or Girl. If you're not totally in love with your clothing or accessories after they arrive, you can send them back unwashed and unworn for a full refund (minus the Mystery Bag items, obvs).

What you'll love about them: Their one-of-a-kind prints, money back guarantee, oh - and their Mystery Bags - who doesn't love a surprise?!

Where to buy them: kikiandluluco.com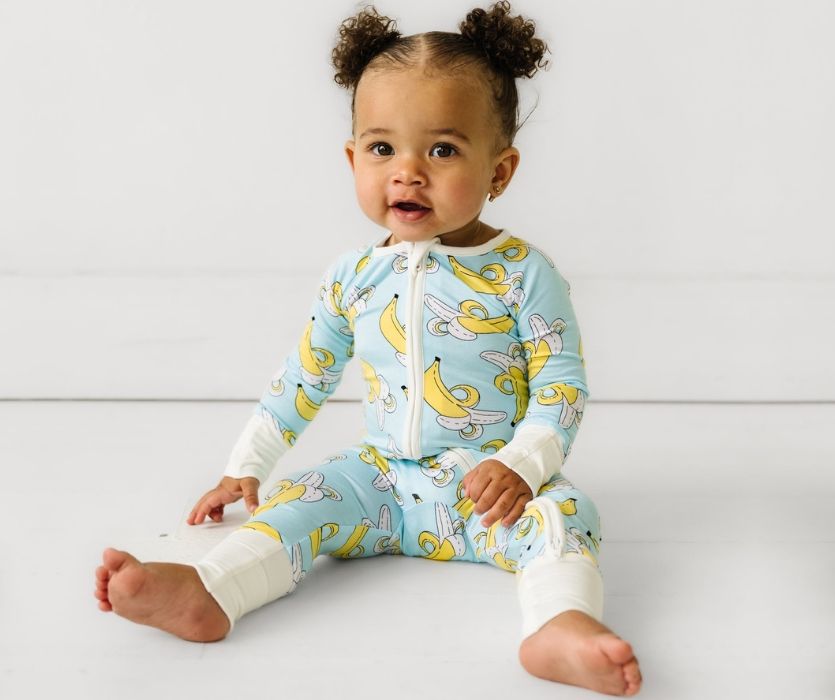 10. Little Sleepies
Sometimes, the best way to convince your kid to get dressed is to give them something plastered with the characters they've come to know and love through the magic of Disney +, ya know? If your kiddo is Anna and Elsa obsessed, mad over Mickey Mouse, or constantly trying to find Nemo, Little Sleepies has the cutest character PJs, clothing, accessories and bedding around. If characters aren't your jam, they've also got sleepwear, daywear, holiday outfits and matching family sets galore in a variety of other prints. Check out their Little Sleepies VIP Facebook Group to get access to sneak peeks, model calls, free giveaways, sample sales, VIP discounts and more.

What you'll love about them: Their Disney character prints and selection of everything from pajamas to holiday wear for the whole fam

Where to buy them: littlesleepies.com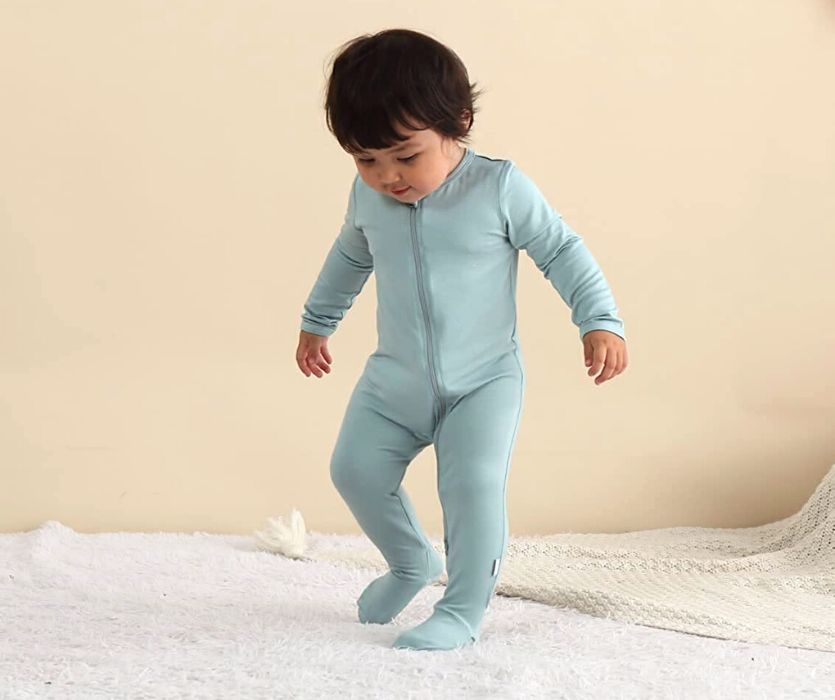 Where To Find The Best Bamboo Brand Dupes:
Amazon
If bamboo brands like Kyte Baby are just a little outta your price range, check out Jimonda on Amazon. They've got some pretty decent dupes in simple colors and basic designs. For the comfort of bamboo in gender-neutral designs with a 2-way zip closure, head on over to Amazon for a peek at Jimonda.
Etsy
Etsy is another great resource for bamboo baby gear. With a huge range of small shops and makers to explore, you're guaranteed to find apparel and accessories in cute prints and unique designs, often at killer prices. Find your new favorite seller of bamboo clothing here.
What are your favorite places to snag bamboo baby clothes?
Did we miss any great brands? We'd love to hear all your faves in the comments!

You might also like: Best Places to Find Affordable Baby Clothes
---
Get posts & giveaway updates delivered right to your inbox
---
---