There's no denying it. Getting something in the mail that isn't a bill or a parking ticket is almost as exciting as clocking in a full night's sleep. If you're on a mission to increase your happy mail, we've got a list of 12 subscription boxes for baby stuff that your little one is guaranteed to go gaga over. We've even sorted them by cost to help find a box in your price point!
The 12 Best Baby Subscription Boxes Out There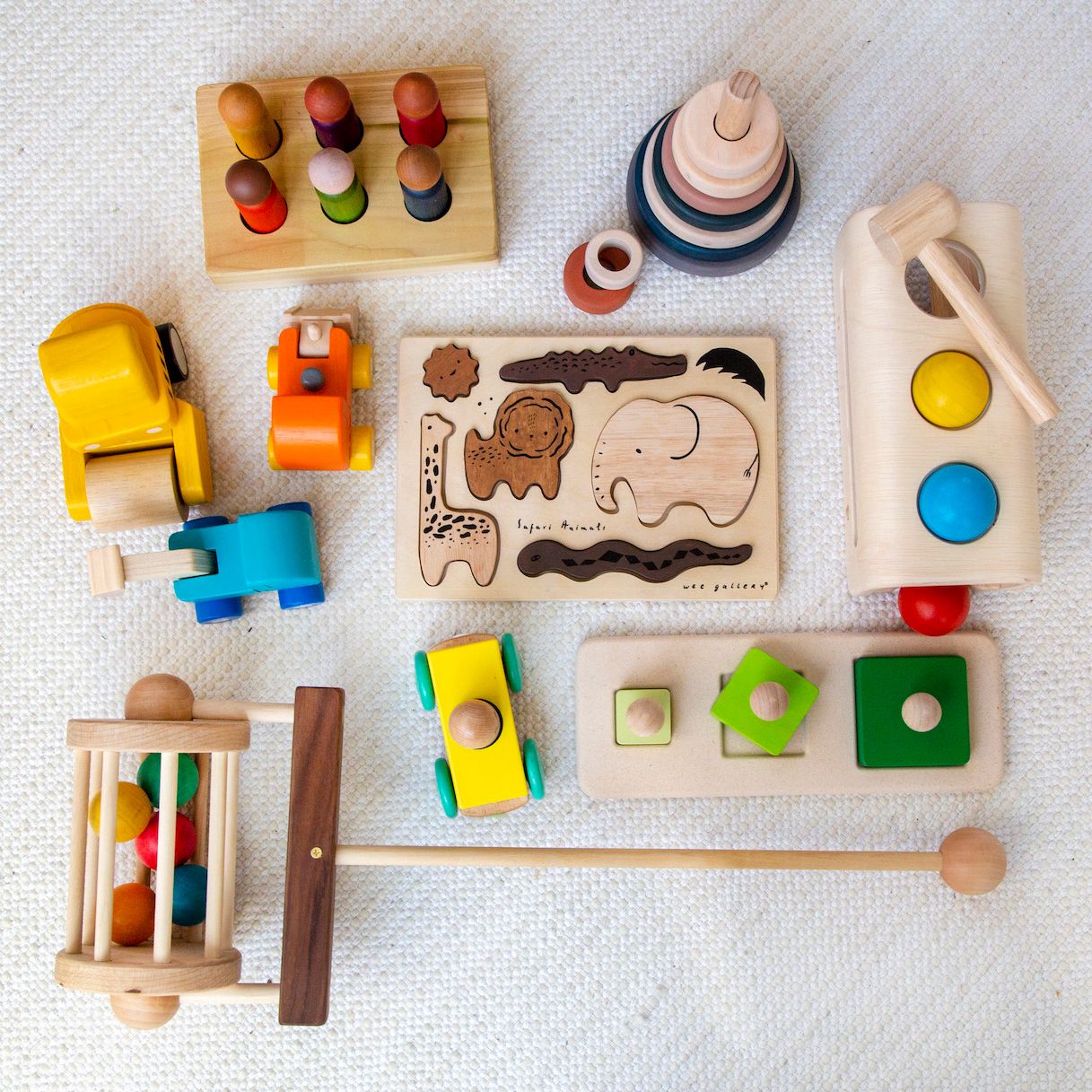 Great if you're tired of throwing out mountains of toys while your kids are asleep.
Average Box Cost: $29 – $49
Shipping: Free both ways in the U.S. only
If you want to avoid the inevitable accumulation of toys that comes with having kids, Tiny Earth has the perfect baby subscription box for you. Each kit comes with a selection of educational wooden toys that are curated by experts in sustainability and early childhood education. Play away and send them back when you're done!  Best of all, you can purchase any toys that your little can't bear to part with. The service is good for children from 0 to 4+. You can find them here.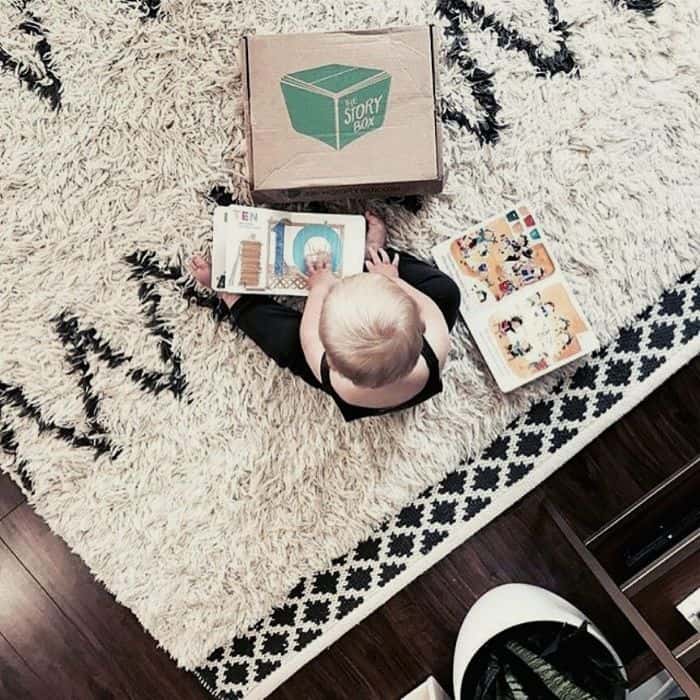 Great if you're looking for fun and beautiful books filled with learning opportunities.
Average Box Cost: $15 – $20
Shipping: $2 in the U.S. only
Each Story Box is curated by a speech-language pathologist and contains two children's books and a parent guide. There are three packages to choose from. The Board Books program is for kids between 0 and 2 ½ years, The Picture Books Package contains two hardcover picture books for kids 2 ½ to 6 years. The Family Package is for families with kids who fall in both categories and contains one board book and one picture book. Each box contains a parent guide full of tips to help encourage growth in your kiddo's speech, language and pre-literacy skills. Best of all, The Story Box uses a portion of their proceeds to purchase books and educational materials to donate to kids with disabilities and from low-income families. You can find them here.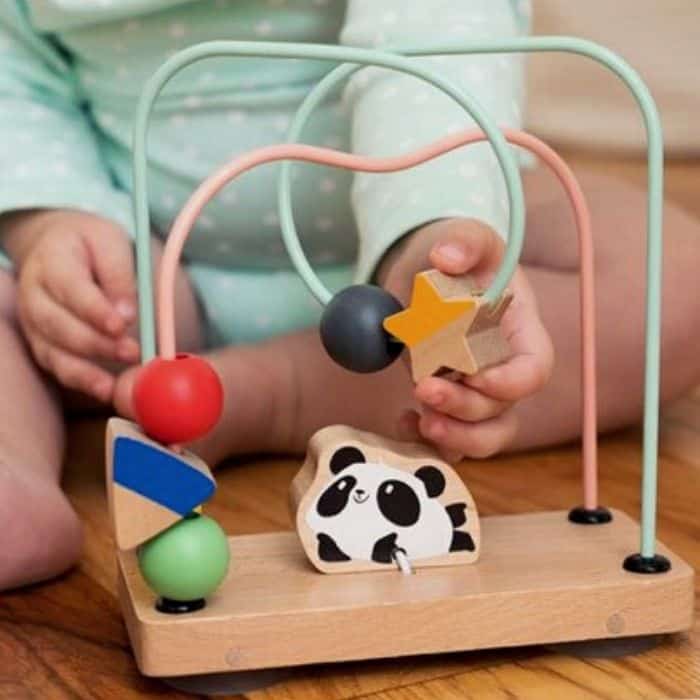 Great for curious kids (and babies) who love hands-on activities.
Average Box Cost: $15-$20
Shipping: Free in the U.S.
KiwiCo has hands-on, STEAM (that's science, technology, engineering, art and math) inspired discovery boxes for every kid in your family, whether they're a newborn or a teen. For little ones aged 0-24, check out the panda crate, which contains developmentally appropriate products and activities (think stories and toys that promote skills such as hand-eye coordination and cause and effect) shipped every 2 months. The boxes also include activity cards with tips on how to use each product, as well as a copy of Wonder Magazine and Beyond the Crate Cards filled with easy at-home activities to try. The koala crate is geared towards 2-4 year olds and contains tons of high quality materials to try out 2-3 creative activities, as well as a parent guide, a copy of Imagine! Magazine, and online DIY ideas. You can find them here.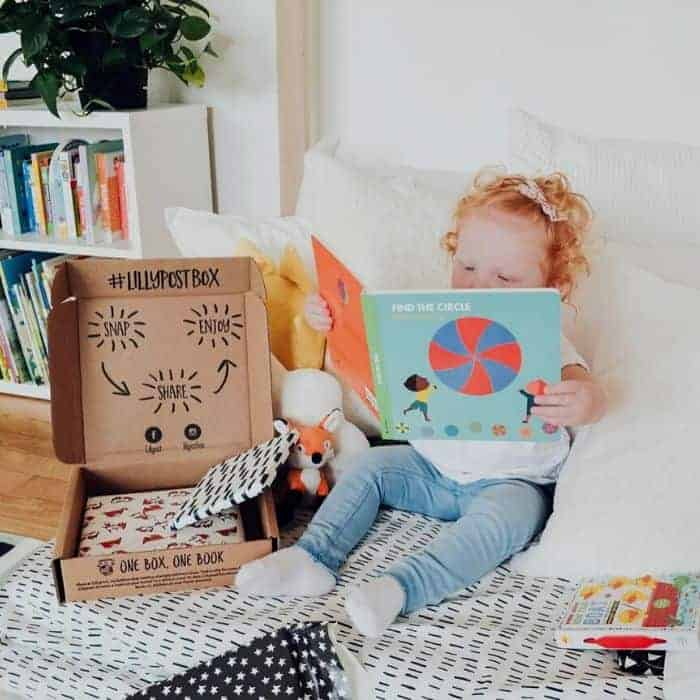 Great if you love giving books and love giving back.
Average Box Cost: $16- $20
Shipping: $5 per month in the U.S. ($8 in Canada)
Lilypost is passionate about sharing the gift of literacy with all kids. For every Lilypost box that's shipped, a book is donated to a child in need (so far they've donated over 90.000!) Perfect for kids from 0 to 7 years old, you can choose a box with 4 board books, 3 picture books, or a mix of both to arrive for 1 month, 3, months, 5, months or 12 months. You can even choose to have your books individually wrapped to make every month feel like Christmas morning! You can find them here.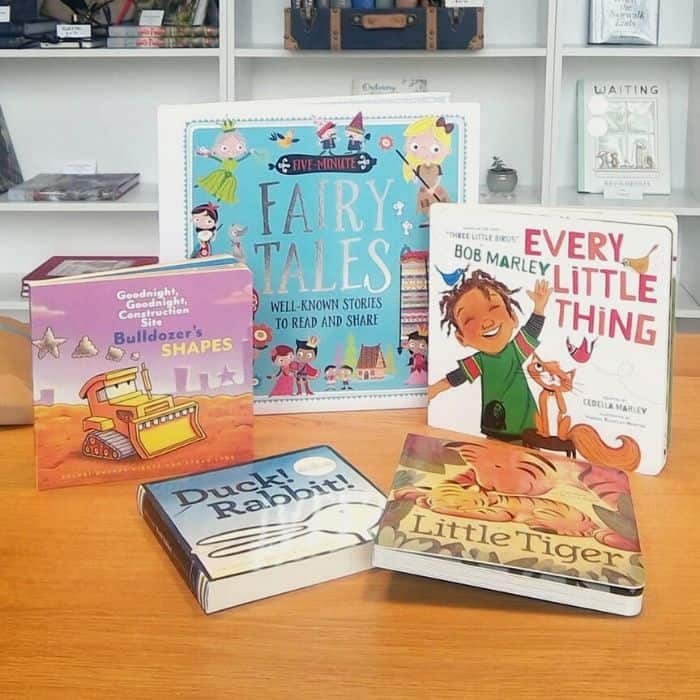 Great for book-loving little adventurers
Average Box Cost: $16- $26
Shipping: $5 within the continental U.S.
Little Fun Club has 2 and 3-book boxes filled with unique titles based on your child's age, reading level, and other preferences (like favorite genres and subjects to avoid). Although babies don't usually have much of an opinion on genre, they do love to be read to, so don't leave your newborn out on this one!  Subscriptions can be paused for up to 3 months if you need a chance to catch up on your reading! You can find them here.
Great if you're looking for books to grow your baby's brain and heart.
Average Box Cost: $19 – $23
Shipping: Free in the U.S.
Perfect for every book loving little in your family, Little Feminist delivers 2 board books or 1 picture book per month for 0-3 year olds and 2 paperbacks or 1 hardcover for older kids. These beautiful books come from a variety of authors and promote values such as equality, diversity and empathy for everyone. Also included in each box is a bookmark with discussion questions and a parent letter. Choose a subscription box based on your child's age category (0-3, 3-7 or 7-9) and then decide how often you'd like to receive your books. You can find them here.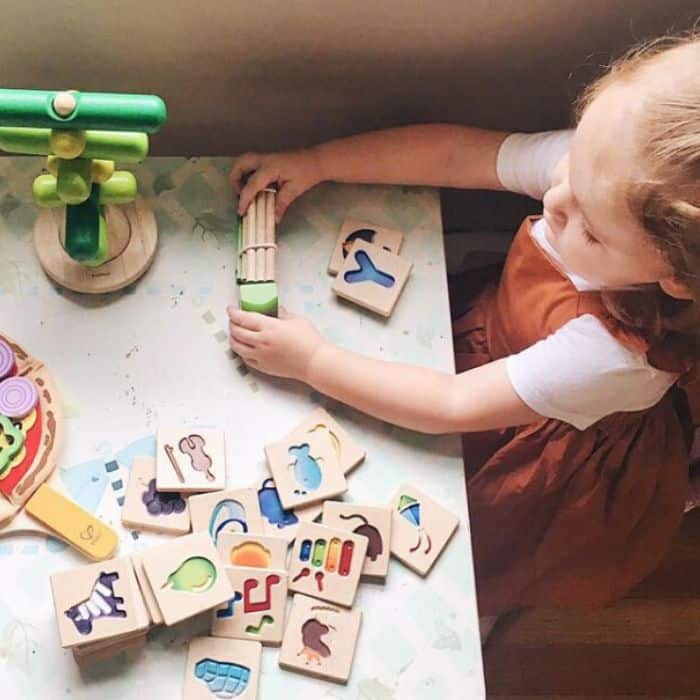 Great if you're looking for educational toys for your kid to play with but don't have a long-term spot to keep them (the toys, not the kids).
Average Box Cost: $25
Shipping: Free both ways in the U.S. only
Green Piñata is a toy rental service that has boxes full of (totally sanitized) fun for kids anywhere between 6 months and 5 years. Their toys are sorted by developmental level and can even be selected based on filtered skills such as fine motor, cognitive, language & math and social & emotional skills. You can expect to find up to 4 toys in a box, which can be played with for as long as you (sorry, I mean as long as your kid) would like, and then you can send the toys back to receive your next set. If your kiddo falls in love with a toy and can't seem to let it go, you have the option to purchase it. You can find them here.
Great if you want a baby subscription box that's got a little bit of everything for your mini trendsetter.
Average Box Cost: Holztiger Box: $20, Maileg Box: $28, Classic Surprise Box: $59
Shipping: Extra fee for U.S. and international shipping
The Why and Whale Surprise Pack contains between 3-6 super cute, modern items catered for your kiddo. You can expect to find an item of clothing, a toy, and a piece of baby gear to try out. With the annual subscription, you also get one month totally free! The Holztiger Surprise pack contains two Holztiger animals each month, and the Maileg Surprise pack contains 1-2 pieces per month, to help build your collections a couple pieces at a time. You can find them here.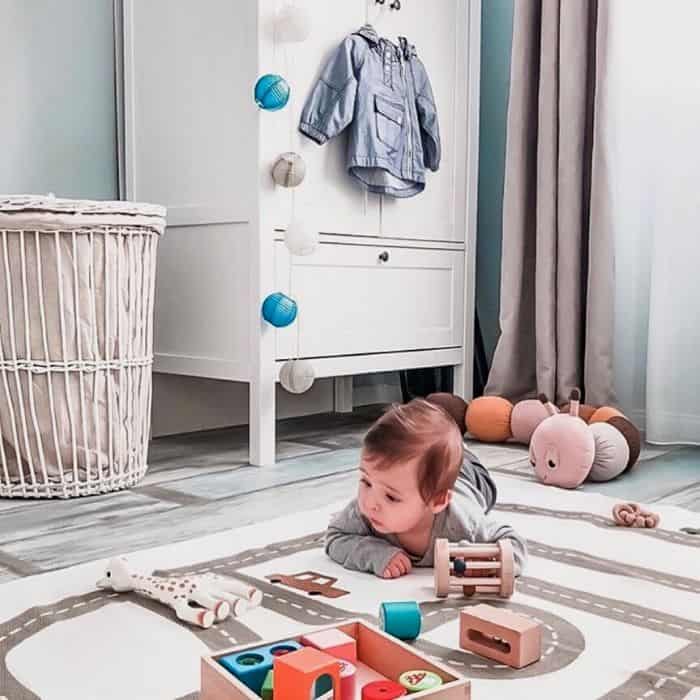 Great if you want toys catered to your child's development but want someone else to do the research.
Average Box Cost: $66-$75
Shipping: Free in the continental U.S.
The Hoppi Box subscription is made specifically for kiddos aged between 0 and 3 years. They make 4 deliveries total –in March, June, September and December. Each box contains 4 to 5 toys that are hand-picked for your little one's age and developmental level. You can expect to see items from brands like Hape, Moulin Roty, Plan Toys, Indestructibles, Bunnies By the Bay and Tegu, just to name a few. You can find them here.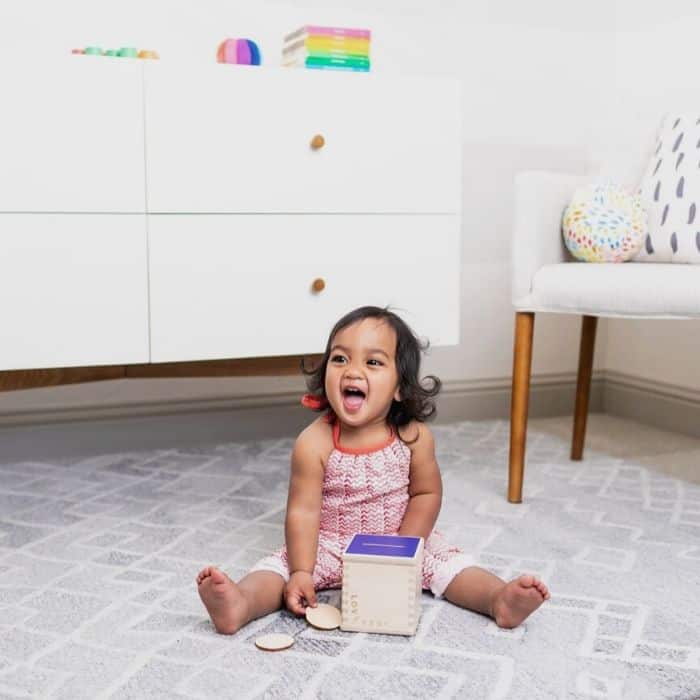 Great if you're looking for Montessori-inspired toys for babies between 0 and 24 months.
Average Box Cost: $80-$120
Shipping: Free ground shipping in the U.S. and Canada
Lovevery has baby subscription boxes filled with beautiful playthings to inspire your bub at every stage of development. The Lovevery team is made up of parents, academics, researchers and practitioners for various disciplines who have worked together to curate boxes that foster the growth of neural connections in the developing baby brain. The first play kit you receive is based on your kiddo's date of birth, but there is an option to receive the boxes from prior developmental stages if you choose. Boxes for months 0-12 arrive every 2 months, while boxes for toddlers aged between 12 and 24 months are shipped every 3 months. Each play kit comes filled with highly stimulating toys as well as information cards for parents packed with ideas on how to use each item in the box. You can find them here.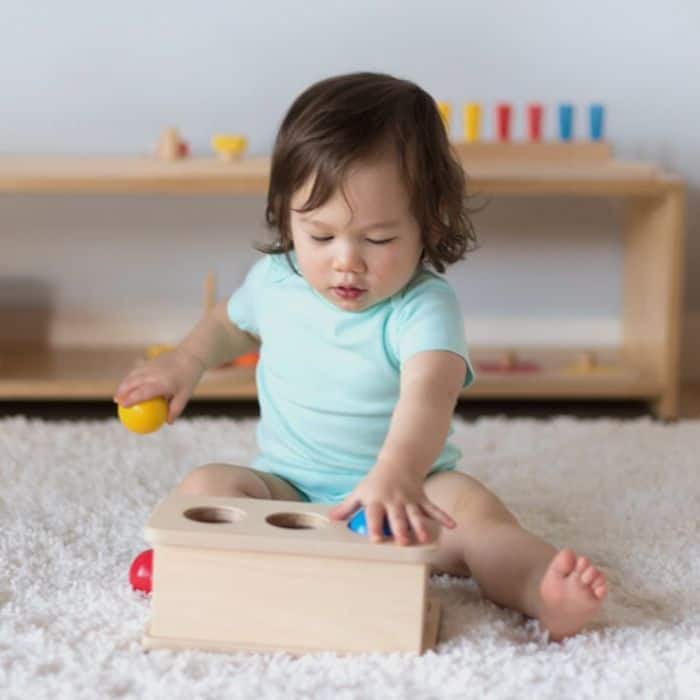 Great if you're looking for toys that are beautiful, educational, and suited to your kiddo's developmental level.
Average Box Cost: $297
Shipping: Free, but only available in the U.S.
Each toy in the Monti Kids box you receive is designed by educators in the Montessori curriculum. In case you're not familiar with the term, Montessori is a child-directed approach to learning. A kids' natural creativity and curiosity make up the foundation of Montessori. Monti Kids boxes come in 8 different levels – each catered to your child's age and developmental abilities. Hand-eye coordination, movement, fine motor skills, STEM (science, technology, engineering and math) skills, critical thinking skills and more are the inspiration for each toy your child receives. Join the Monti Kids Learning Center, which is filled with instructional videos, research and tips to help you make the most of your child's experience with their toys. You can also feel great knowing that each item is sustainably built and contains non-toxic paint. You can find them here.
Do you have a subscription box (for baby or you!) that you look forward to every month?
Have you been thinking of trying one out that didn't make the list? Is there one we mentioned that you totally love? We want to hear everything in the comments!
Related: 28 of the Best STEM Toys for Babies
---
Get posts & giveaway updates delivered right to your inbox
---
---