If you've been a member of our planet within the past few years, you've probably heard the acronym "STEM" and probably pretended to know what it meant while making a secret mental note to Google it later.
What does STEM mean?
STEM is more than just science experiments and coding robots. STEM an acronym for Science, Technology, Engineering and Math – 4 educational disciplines that have been receiving a lot of attention thanks to their prevalence in the careers of today and the future. Believe it or not, many of the activities your baby engages in before they can even say the word STEM can help to grow their knowledge, creativity, critical thinking skills, and passions in the areas of Science, Technology, and Math.
STEM toys for babies
Check out our roundup of the best toys to give your little genius a head start from a young age.
Science Baby Toys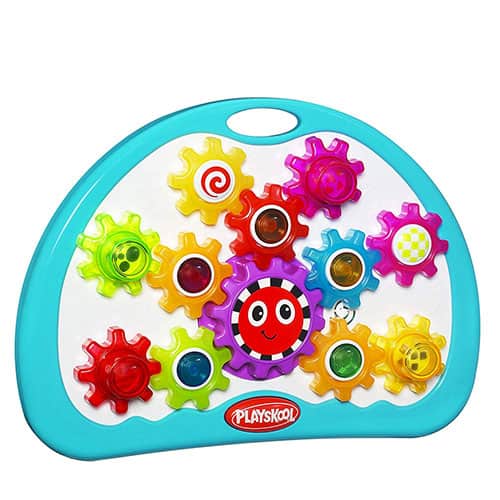 Playskool Explore 'N Grow Busy Gears
Toddlers one and up will love removing, sorting and stacking the eleven gears in this building set and watching them spin, light up, and play music. Little ones will learn about cause and effect as they rearrange the gears to decide which gears need to go where in order to make them turn! I feel like it's what you think of when you hear "STEM toys for babies". Find it here.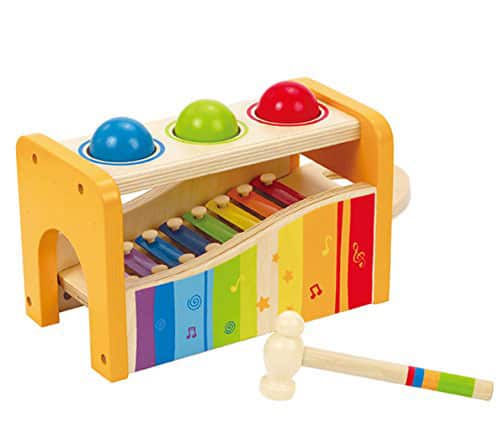 Hape Pound and Tap Bench
This toy gives the phrase "getting hammered" a whole new meaning. Problem-solving skills of logic, color matching, spatial relationships and an understanding of cause and effect will be developed as your little one uses the hammer and colored balls to make music on the xylophone keys below. The xylophone can also be pulled out and played separately. Find it here.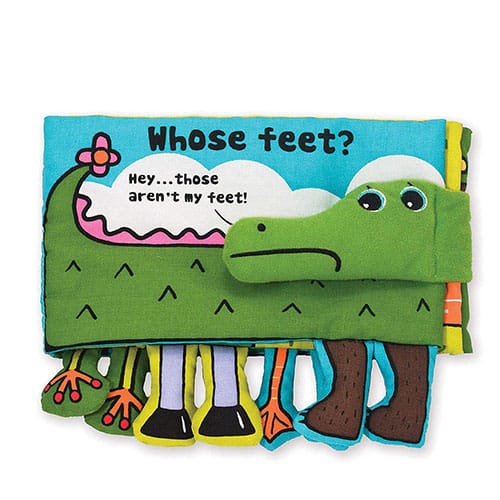 Melissa & Doug – Whose Feet? Book
If there's a cuter way for your baby to learn about different animals, I don't know what it is. The soft, dangling feet crinkle and squeak, inviting curious little ones to grasp, grab and squeeze this simple and fun story. Find it here.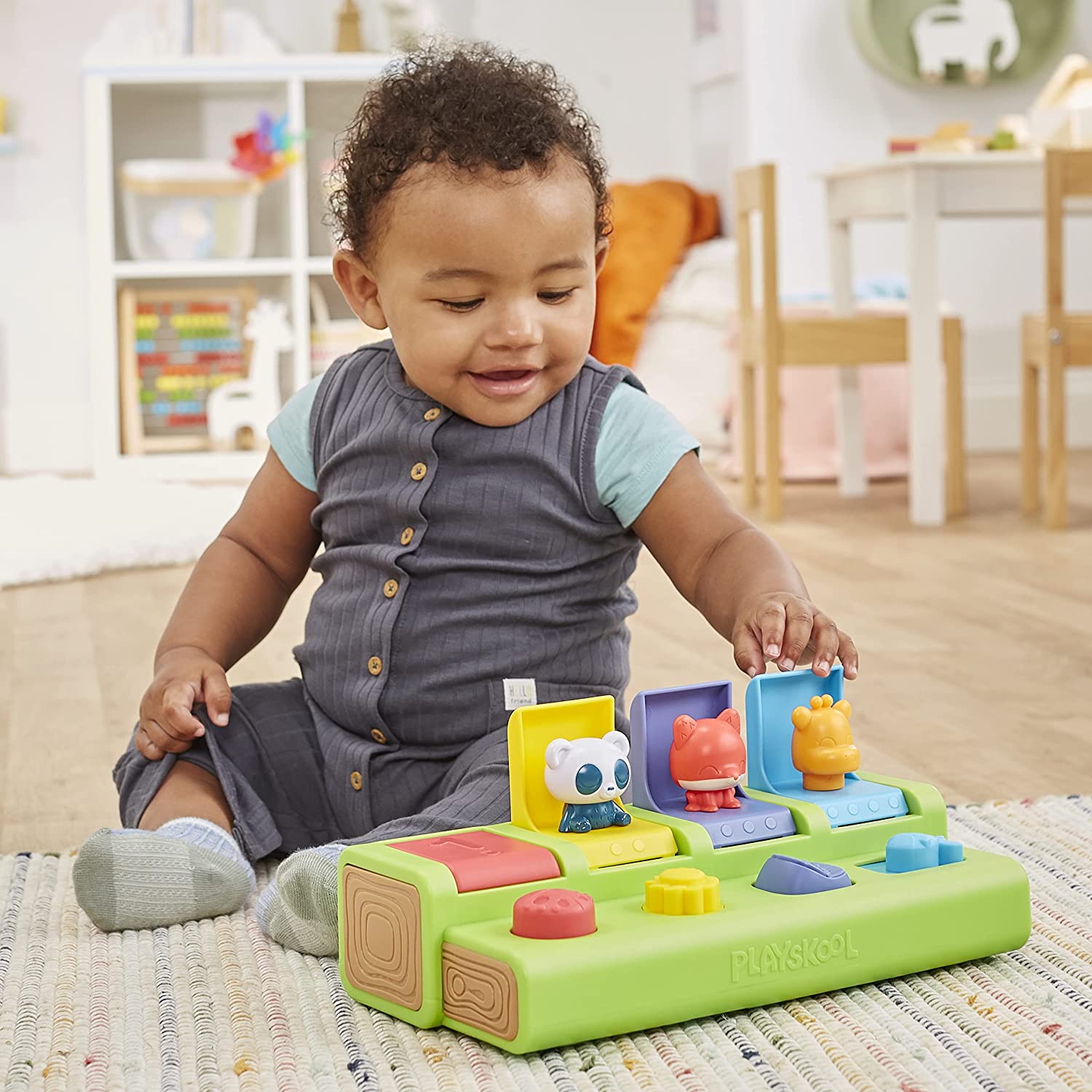 Playskool Poppin' Pals
Pop-Up Pals are a classic toy that you probably had when you were a kid, and they've stood the test of time for good reason. Babies love learning about cause and effect as they turn, twist and push the colored buttons to reveal a different critter hiding inside each corresponding colored "lid". This was one of my baby's favorites. Find it here.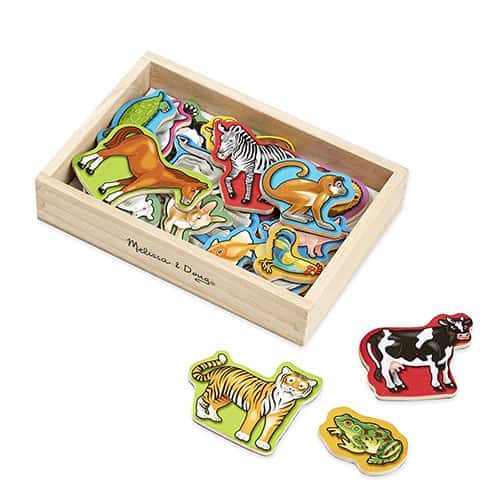 Melissa & Doug Wooden Animal Magnets
It's no secret that kids love animals, and they will definitely get a kick out of exploring the 20 different wild and domesticated critters in this set. Practice different animal sounds and pair a great animal story with these magnets and instill a love of zoology in your kiddo. Find them here.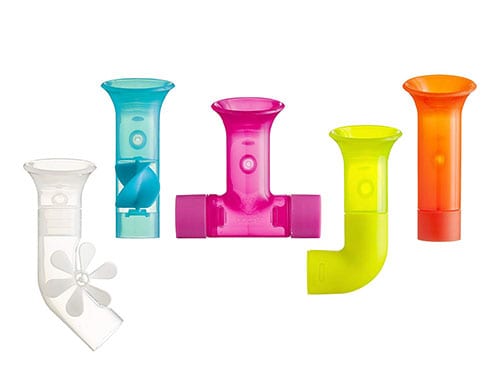 BOON Building Bath Pipes
These pipes are a definite favorite in our bathtub. My 3 and 1-year-old both love creating their own little science lab and discovering what happens when they pour water through the different-colored pipes. Over time they have come to realize that the tubes can be stacked and attached in different ways to make something new happen every time they pour the water through. It's fun to see the innovation involved in creating new combinations. Find them here.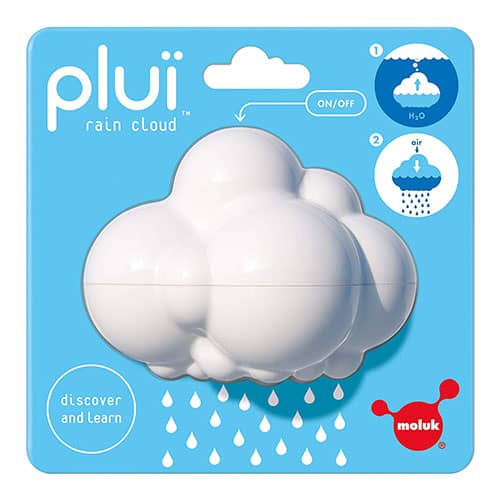 Moluk Plui Rain Cloud Tub Toy
The tub is the perfect place for a lesson about the water cycle, and this cute little cloud (which can be easily opened to clean) is just the toy to teach the concept. The Rain Cloud uses simple physics to suck up and dispense water, similar to a pipette. Your kid will be a scientist before bath time is over. Find it here.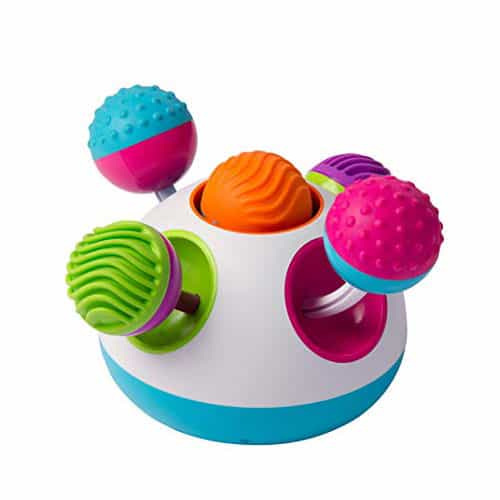 Klickity by Fat Brain Toys
This is basically the "Whack-a-Mole" game, but for babies. Curious kiddos will love exploring cause and effect as they push on one ball and another pops out. Each textured ball can spin and is filled with rattling beads. Find it on the Fat Brain site and on Amazon.
Note: I cannot express how awesome Fat Brain Toys are.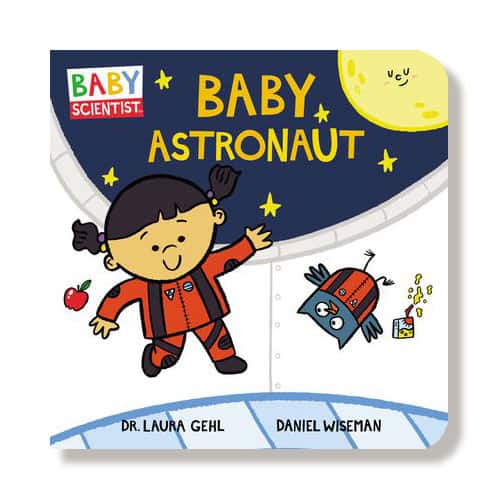 Baby Astronaut Board Book
Dr. Laura Gehl, Daniel Wiseman and HarperCollins have teamed up to bring you the Baby Scientist board book series that'll awaken your child's curiosity (and maybe yours, too!) Your budding scientist will love the simple language, familiar settings, and adorable illustrations, while fascinating facts (like, did you know ants can live in space?) will make Baby Astronaut, Baby Oceanographer and Baby Botanist three books you don't mind reading over and over again. Find it here on Amazon.
Technology and Engineering Baby Toys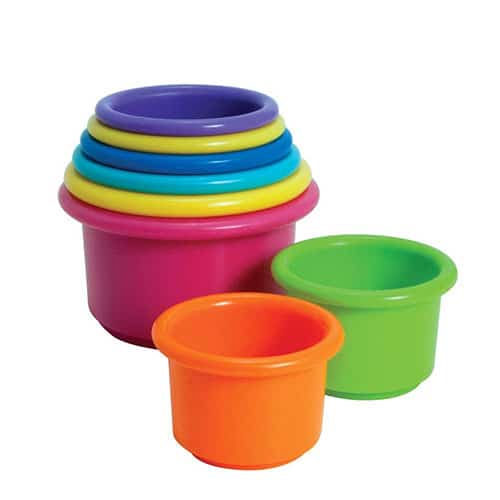 Stacking Cups
Who knew that every time your baby emptied out your Tupperware drawer they were just trying to practice their engineering stem skills? Spare yourself the extra dishes and get them a set of containers of their own. They'll love stacking up and knocking down these colorful cups and using problem-solving to decide what order to build their tower in. The possibilities for play with these cups are as endless as the places to play with them – they're also perfect toys for the tub, sandbox, or bulk rice bin at the supermarket (just kidding, skip that one). Find them here.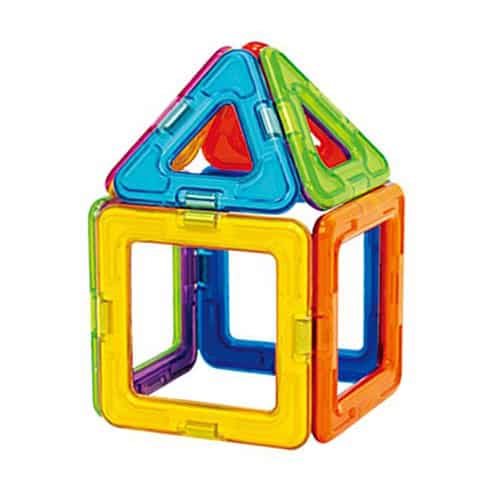 Magnetic Blocks
I'll start with the disclaimer that these toys should be played with under supervision for children who like putting things in their mouths, as they have magnets inside. There are so many things you can build with simple squares and triangles, and it's so satisfying to manipulate the shapes in different ways to see what you can come up with. This toy is perfect for STEM learning in all 4 disciplines! Find them here.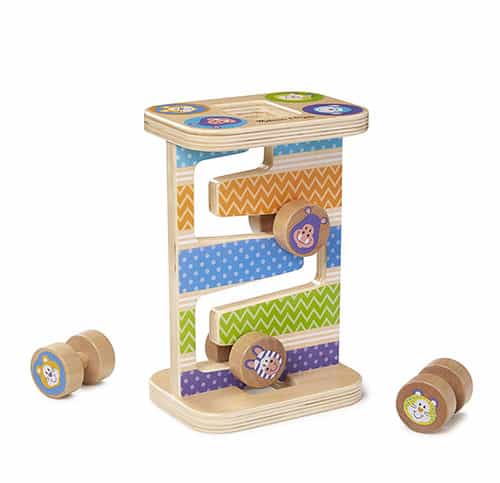 Zig Zag Tower
Little ones 12 months and up can match, stack and roll the cute and colorful safari-themed pegs and watch them zig-zag down the tower. Count the pegs and the zig zags, and talk about colors, patterns and animals as your kiddo has a blast with this simple yet super-engaging toy. Find it here.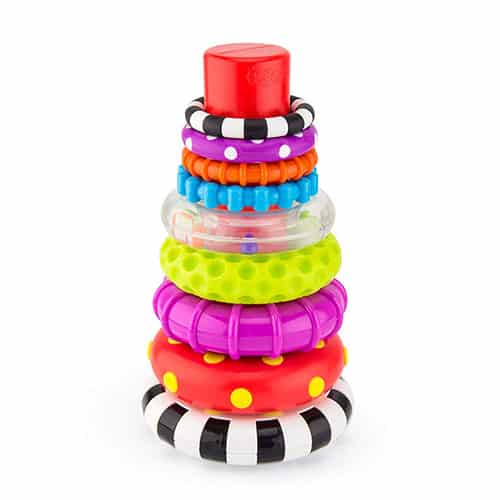 Stacking Rings
Betcha never thought of this classic toy as a math or engineering tool! These stacking rings are one of the best STEM toys for babies as they introduce them to colors, size, counting, sequencing and building. Little builders will be able to stack frustration-free since the rings can be placed on the middle peg in any order. Find them here.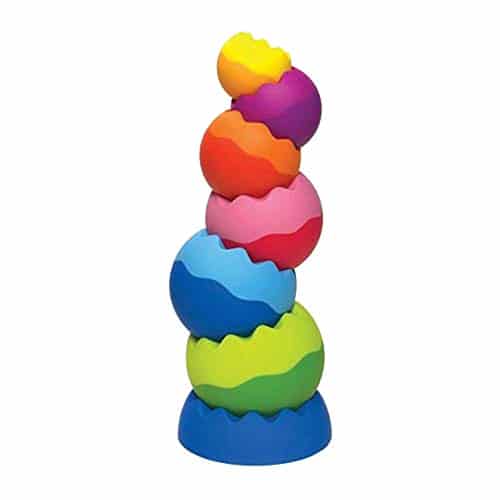 Tobbles By Fat Brain Toys
These colorful, weighted spheres are perfect for little builders aged 6 months and up. Stack them up, nest them together and watch them balance, spin, tilt, wobble and wiggle. Babies will be fascinated by the world of physics long before they ever know the word! Find them on the Fat Brain site and on Amazon.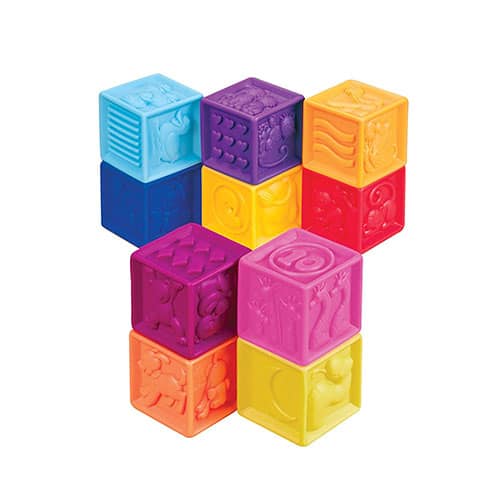 One Two Squeeze Blocks by B. Toys
Did you know that researchers have shown that blocks promote problem-solving and mathematical thinking and promote more engaged play for boys and girls than any other toy? Construction-based toys encourage open-ended play which may actually influence kids to pursue careers in science or math later in life. As an added bonus, these colorful, squishy blocks are easy to grasp and stack and are decorated with images of animals and numbers from 1-10. Find them here.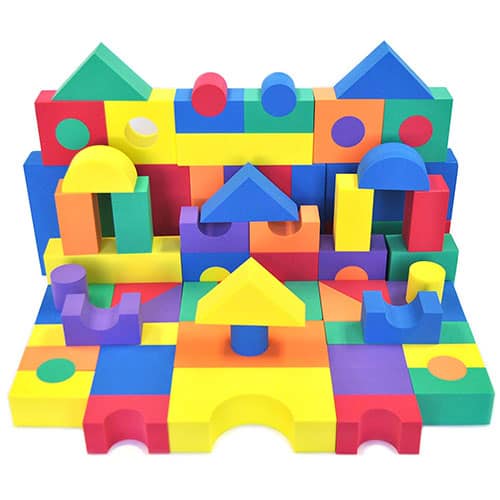 Foam Building Blocks
I don't think there's a kid alive who doesn't love building up these foam blocks into a tower taller than they are (or, at the very least, helping to knock that tower down). Your baby's favorite activity will no doubt be taste-testing every single foamy block, which is totally fine since they're made from non-toxic material that is EVA, BPA and lead-free. Watch your kiddo adventure in the world of shapes, colors, and engineering as they let their imagination take the lead in seeing what they can create. Find them here.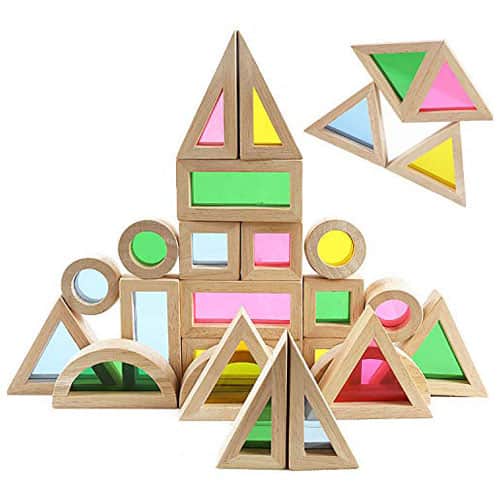 Wood Building Blocks with Rainbow Peekaboo
These blocks are tons of fun to play with on a light table or against a window or outside where you can see the sun shining through them. Kids will love seeing what happens when they stack different colors on top of each other to discover how they change. Find them here.
Math Baby Toys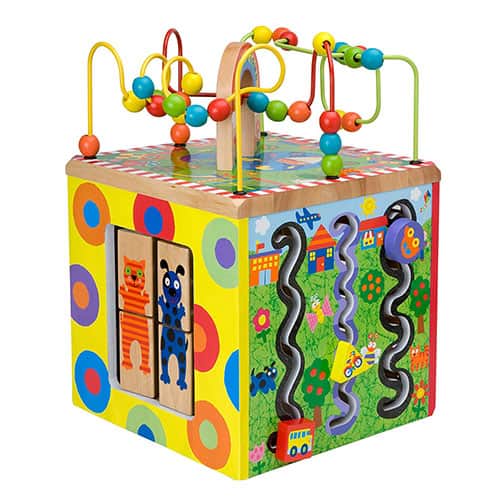 Activity Cube
Get yourself an activity cube at home so that your kiddo doesn't have to play with the germy one at the doctor's office. Each side has a different concept to explore, like shapes, colors, and counting. Kids will love playing with the bead mazes, practicing matching and even learning the ABCs as they develop fine motor skills and logic along the way. Find it here.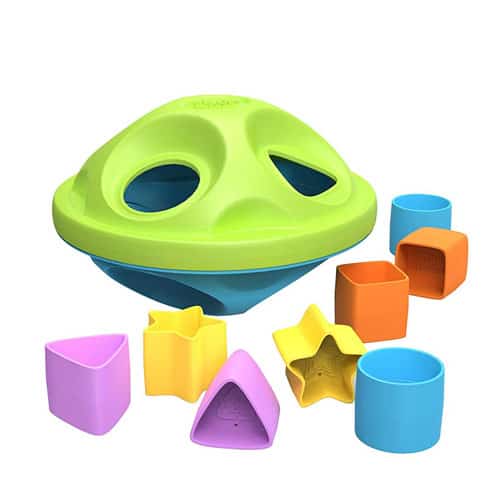 Shape Sorting Toy
Is there anything better than watching the look of utter triumph on your little one's face when they finally get that damn star in the hole? Let your kid go wild problem-solving as they turn to match and manipulate the colorful blocks to fit them into this shape sorting puzzle. The elliptical "shape storer" can be kept whole or separated into two pieces that lay flat on the floor, for little ones who are just learning how to sort and match the shapes. Best of all, this bad boy can be thrown in the dishwasher for easy cleaning. Find it here.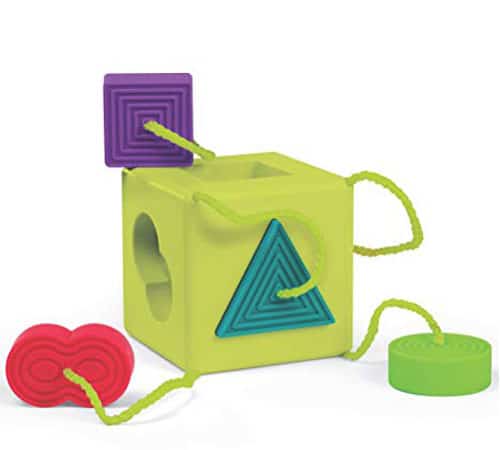 Oombee Cube Sorter by Fat Brain Toys
The Oombee cube is the perfect shape sorting toy for babies because it's made of food-grade, BPA-free silicone that's perfect for teething, and the rubbery, textured shapes are easy to grab a hold of. This is a great activity for in the car or stroller since the pieces are never out of reach. Find it here on the Fat Brain site and on Amazon.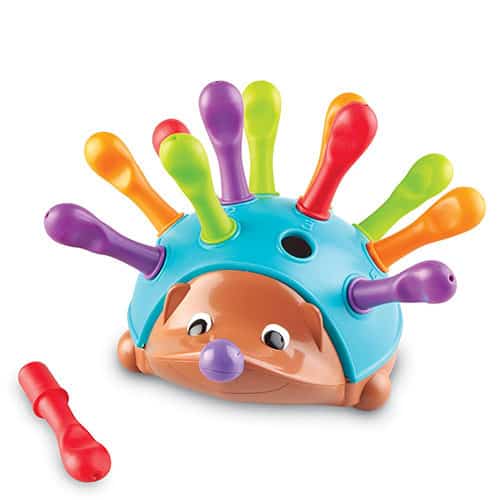 Spike the Fine Motor Hedgehog
Spike the hedgehog has colorful quills that help kids to build color recognition as well as sorting, sequencing, patterning and counting skills as they practice removing and replacing the pegs on his back. This cute lil' guy is also great for building fine motor skills. Find it here.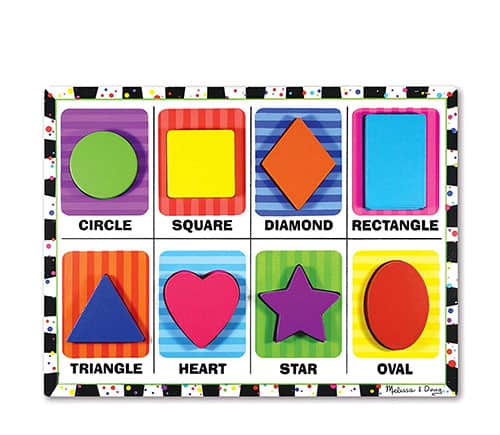 Melissa & Doug Shapes Puzzle
Colors, shapes, problem-solving and building are just some of the skills your little one can develop playing with this simple yet highly engaging puzzle. Each piece is chunky and easy to grab so that little hands can really get a feel for shapes. They'll love the sense of satisfaction they get when they manage to slide the shape into its spot on the puzzle! Find it here.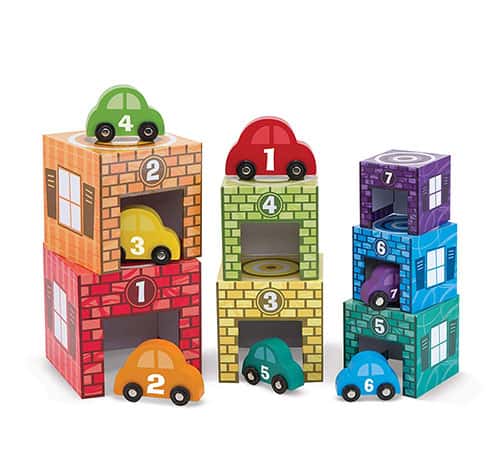 Melissa & Doug Nesting and Sorting Garage
The 7 different colored garages and cars in this set make this a perfect toy to practice skills in matching, number recognition, building, and stacking. While babies will probably love simply pushing the cars around and stacking the garages up and knocking them down, they can also eventually learn their colors by matching the car to its corresponding garage. Each garage is also decorated with objects to count and comes in a size a little different than the others – as do the cars, which helps to build more understanding of the concept of size. Find it here.
Melissa & Doug's Fish and Count Learning Game
My kids go crazy over any activity that involves a fishing rod, and the best thing about this one is that it's soft and plush and involves no sharp hooks or slimy fish attached to the end. Each cute little rainbow-colored creature in this set comes with a number from 1-8 to help kids develop counting skills and color and number recognition, as well as hand-eye coordination, sorting, matching, size comparison and more. Find it here.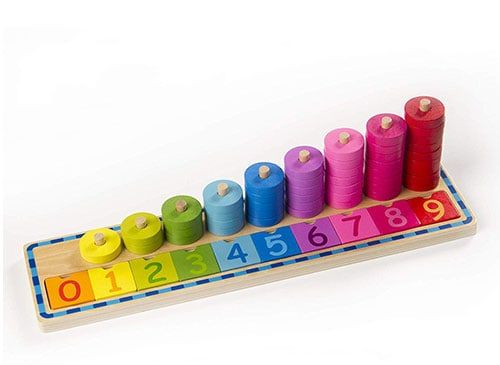 Counting Shape Stacker
Fat Brain's Counting Shape Stacker teaches concepts like counting, adding and subtraction, colors, shapes, measurement, sorting and fine motor skills. Count along with your little one as they add shapes to each peg and watch the stack grow and shrink back down again as they're removed. This will be a great toy for older kids learning about adding and subtracting and building a visual understanding of the difference between numbers, so you're guaranteed to get great bang for your buck as it'll be used for years. Find it here.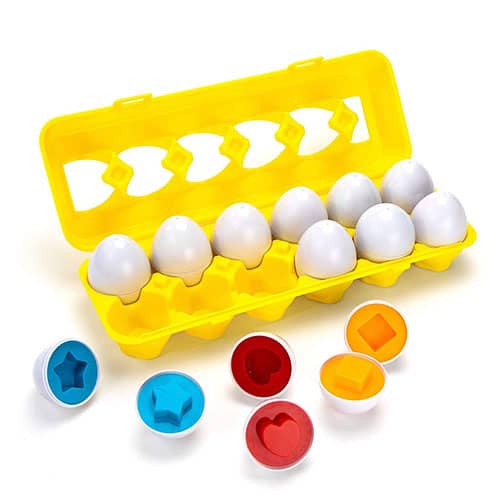 Color and Shape Egg Puzzle
Did you know that color matching and visual processing begin in the areas of shape and color? Give your baby a toy that encourages sorting and matching, which builds coordination and thinking skills. Find it here.
What are your thoughts on the importance of STEM?
Did we miss any awesome STEM toys for babies on the list? What are your favorites? Let us know in the comments!
Our next reco: Baby Gift Ideas: 100 Great Gifts for Babies Under One!
---
Get posts & giveaway updates delivered right to your inbox
---
---