I published a book called Little Faces Big Feelings: What Emotions Look Like with Little Feminist Book Club, and it's here!

About a year ago, I was chatting with my friend Brittany who owns Little Feminist Book Club. (It was right after they won the American Library Association medal for their We Are Little Feminists: Families –the first board book to win the award.)

She asked me if there were any books I thought were missing from the publishing world and the one that came to mind was a book about emotions.
The book inspiration
My kids LOVED a reference book we got out of the library that had a variety of adults with various facial expressions. (I think it was used primarily as a tool for therapists working with kids on the autism spectrum.) On a white background, each page showed an adult in various stages of mad, happy, sad, etc. It was very large, showed adults instead of kids, and everything was shot in a studio, so the photos had no context.

I tried to find a more kid-friendly version but with no luck.
How I became the author
I told Brittany, "It would be great if you could publish a book about emotions but with each emotion showing a variety of faces and situations to kids could understand the context better." She thought that was a great idea.

I felt very smug about my contribution to the literary world until she asked me to write it. Wait? What!? Er, okay.

It took me months of research and handwringing to create this sweet, seemingly simple book, but I'm so proud of how it turned out.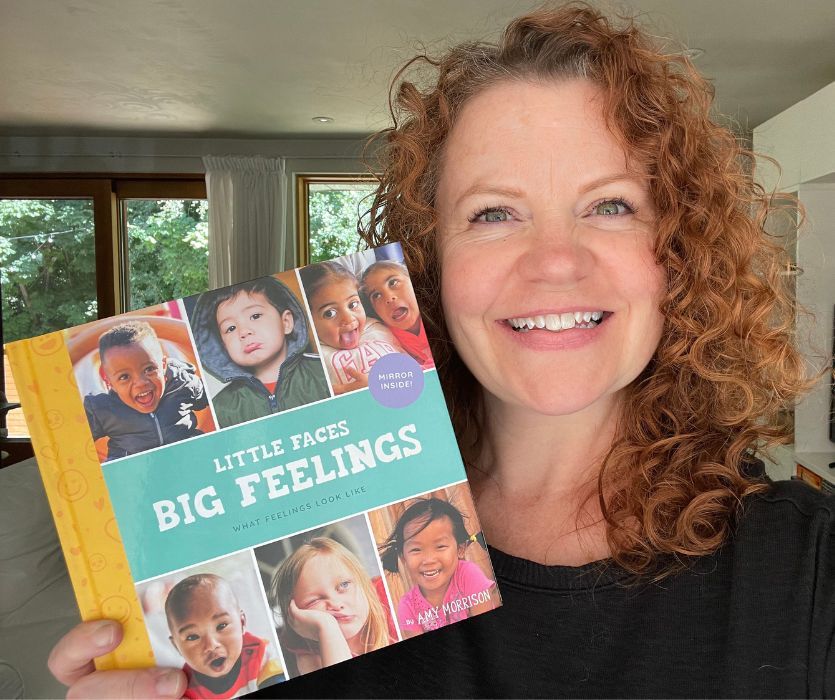 The book breakdown
Here is everything that went into the book and why I think Little Faces Big Feelings: What Emotions Look Like is pretty special.
More than one example
My biggest complaint about 'emotion' books is that they only show one example, often with an illustration – "the bunny is angry". I wanted to show real kids of various ages, genders, races, and scenarios expressing the spectrum of that emotion. Mad can be explosive, but it can also be seething, and it's important for kids to see what that might look like.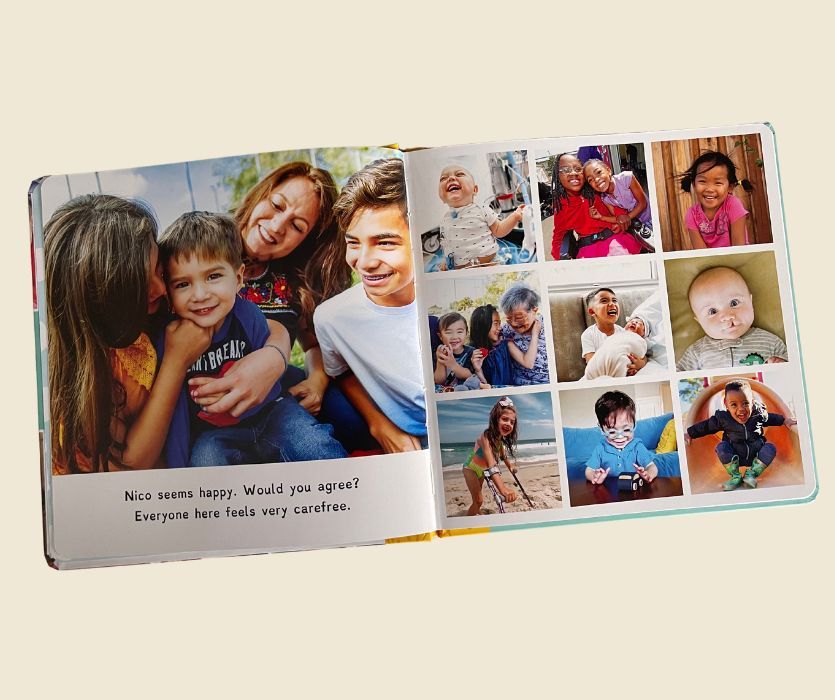 Context for kids
Most of the images focus on the emotion so kids can get a clear example of how it could look. In a few photos, I wanted to show context for the feeling so kids could think about the reason for each emotion. The dentist can be scary. Falling off your bike can be frustrating. Hanging out with your family can make you feel happy.
Busting stereotypes
In showing a large variety of backgrounds, genders and ages, I wanted to be mindful of what is being communicated. It's important for kids to see older boys and men being comforting. Or an older child sleeping with a stuffed animal. Or showing that being brave doesn't mean doing something perfectly. I also spent an embarrassing amount of time researching the first names used in the book so they reflect different cultures and genders.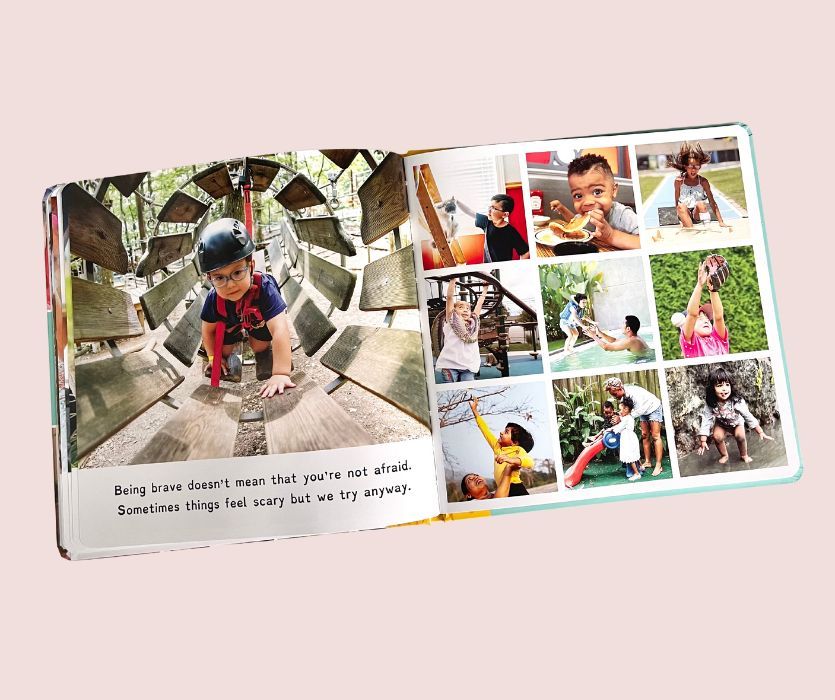 Keeping neurodiversity in mind
I wanted to include the challenges that some neurodiverse kids face. Trying a pancake, petting a cat, or recognizing when someone is bored might not feel like a significant milestone for some people. If you have sensory issues or anxiety or want to tell everyone about the inner workings of a steam engine, these things might be relevant. It also instills empathy in other kids when they see that everyone's comfort zone is different.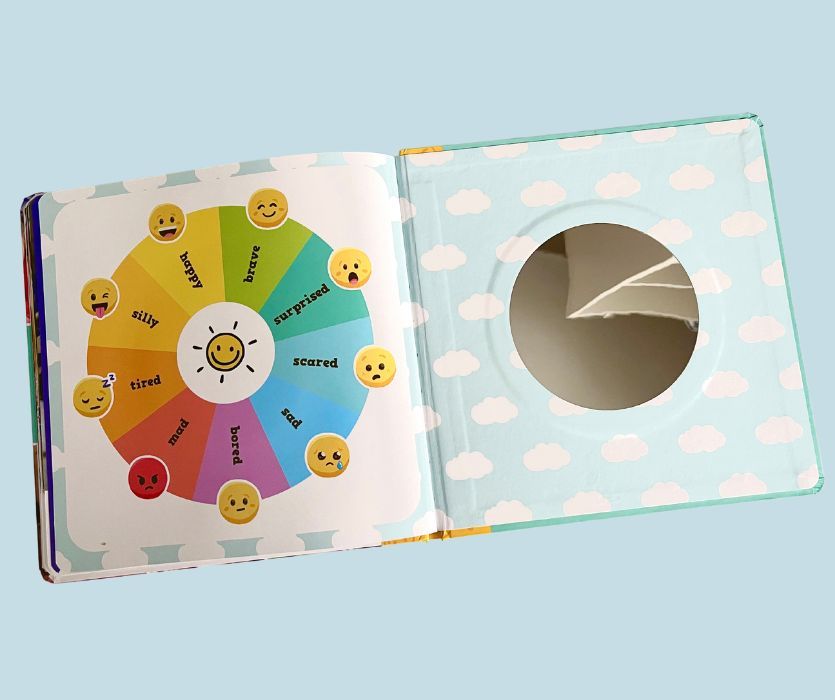 Emotion Wheel and Mirror
The back of the book has an illustrated emotion wheel to give kids a visual tool to label their feelings and see how emotions relate. The mirror serves as a fun interactive piece so they can see what their feelings look like. I wanted there to be places where kids could reflect both inward and outward.
Picture book format
We decided to make this book a durable picture book rather than a board book. Kids often decide that board books are for babies and I wanted this book to have a long shelf life (literally and figuratively). The pages are still heavier than a typical hardcover book so it will stand up to heavy use, and the corners are rounded to minimize eye pokes.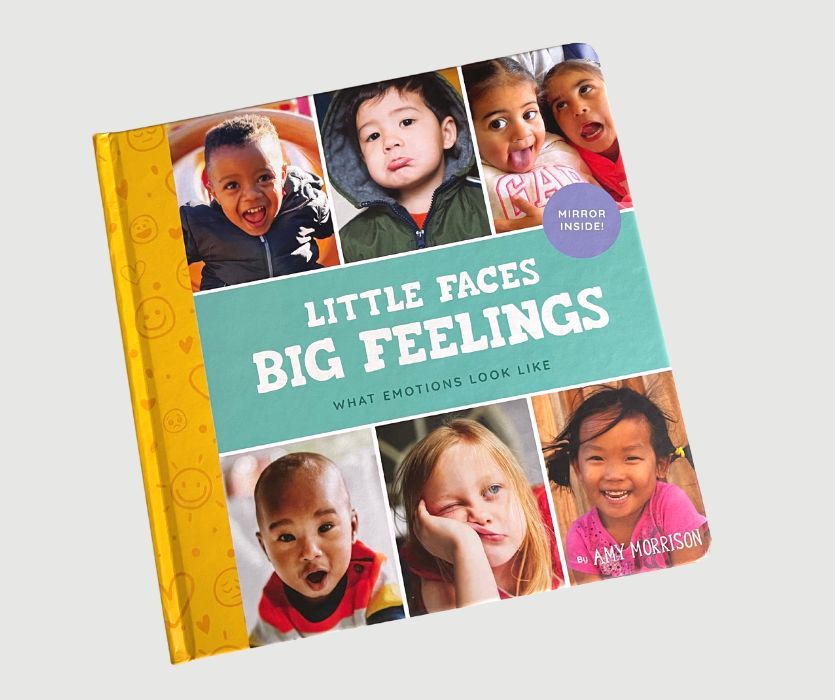 If I had to sum up Little Faces Big Feelings
I wanted to create a book with over 100 photos showing kids who are happy, sad, mad, surprised, scared, brave, bored, silly, and tired to help kids recognize emotions in themselves and others.

Each emotion is reflected on ten faces to show how it varies and the context for why someone might feel that way – like welcoming a new sibling, breaking a toy, or getting ready to sleep. This includes scenarios that kept neurodiverse kids in mind.

Did I cover everything? Nope. Did I get some things wrong? I'm sure I did.

The goal was not to create the perfect book of faces and emotions but to give kids and caregivers a tool to open up conversations about how we feel, how others feel, and how we react to them.

I hope you think it's as special as I do.
Where can you get it?
It's available for preorder and will ship in mid-March. You can grab a copy from the Little Feminist Book Club website, Amazon, Barnes & Noble, Walmart, or wherever quality books are sold.

You might also like: Little Feminist Book Club Review and Best Books for Babies (Including Some Hidden Gems)
---
Get posts & giveaway updates delivered right to your inbox
---
---