This post was created in partnership with
Rogers.
It's often hard to find a show that your kids love AND won't make you want to pull your hair out. So I asked parents what are the best kid shows that are best suited to toddlers and preschoolers and they came back some amazing suggestions. I've also tried to find the best place to watch them – this will definitely vary by area but hopefully, it will give you an idea of where to start.
Here are the best kid shows according to parents:
Puffin Rock
Age: 3+
Where to find it: Netflix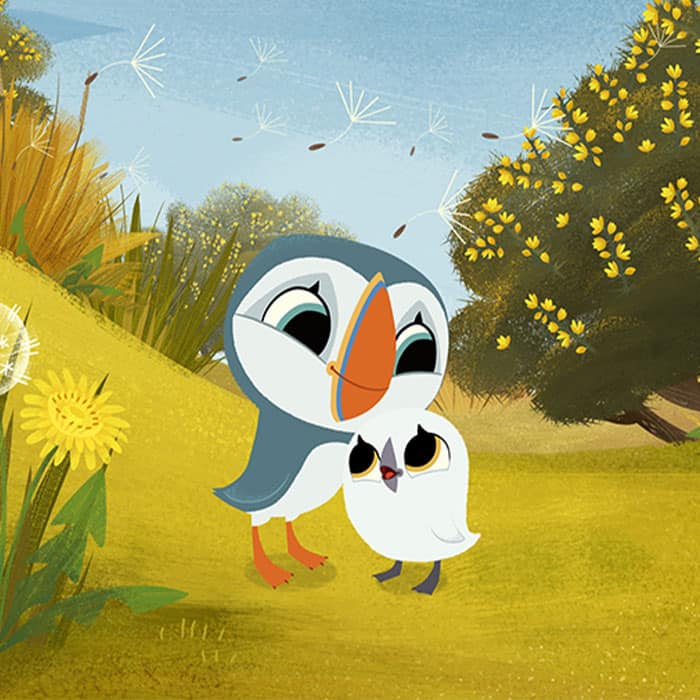 The adventures of Oona the Puffin and her little brother, Baba, on the coast of Ireland. Their family and friends learn and explore on their gorgeous and wild Irish island. For the record, if you start any sentence with "Irish puffin" I'm in.
"I've had a crush on Chris O'Dowd ever since he was Roy in the IT Crowd ?"
Tumble Leaf
Age: 4+
Where to find it: Amazon Prime Video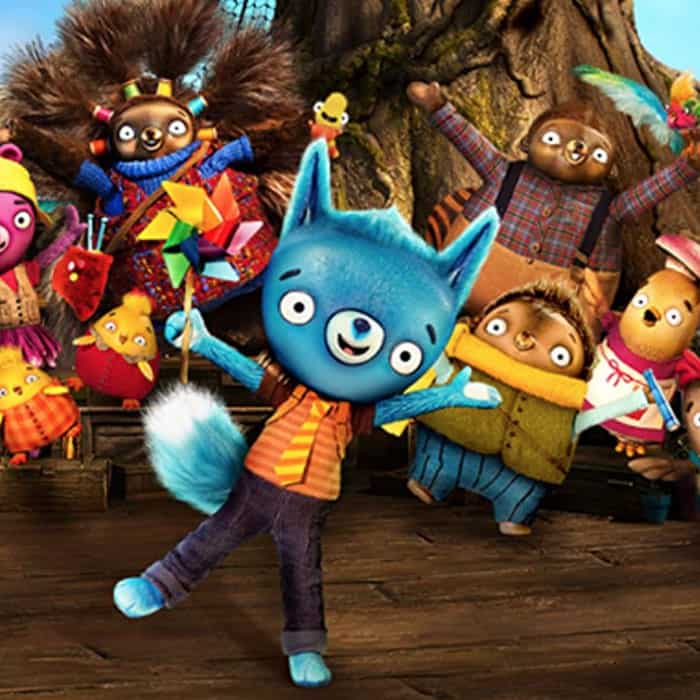 Features Fig the Fox who explores the world with his friends while figuring out how things work. It's a bright stop-animation series that kids love. This one got a ton of praise from parents.
"Tumble Leaf on Amazon Prime is SO good."
Octonauts
Age: 4+
Where to find it: Disney and Netflix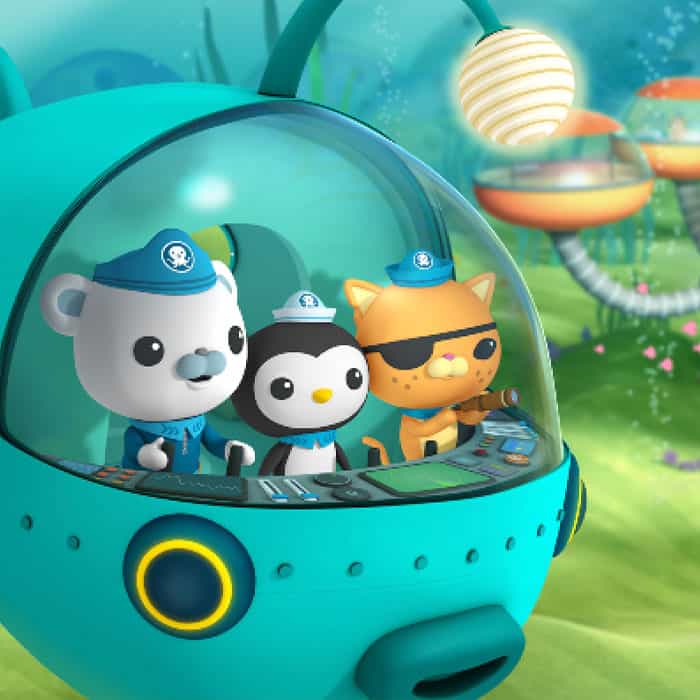 The Octonauts are a crew of eight adorable animals who explore the ocean in search of adventure and fun! The animated series, geared toward preschoolers, is based on a book series of the same name. It came up again and again as one of the best kid shows.
"Fun marine animal facts every episode that my 2yo loves to repeat, and I think the characters are great."
Stella and Sam
Age: 3+
Where to find it: Amazon Prime Video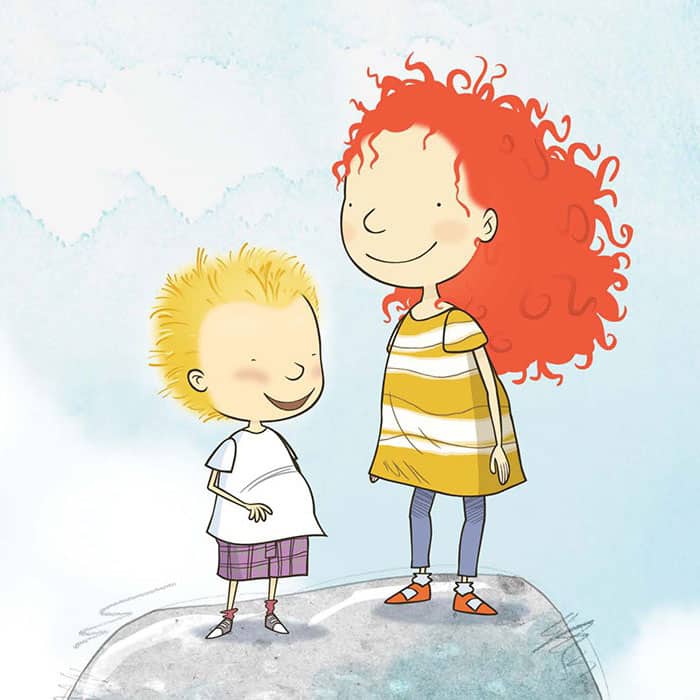 Imaginative 9-year-old Stella is a star in the eyes of 4-year-old brother Sam, who feels lucky to have a big sister like her. Not only does Stella include Sam in all the fun things she does, but she knows everything — or, at least, that's what it seems like to a 4-year-old — and uses her knowledge to help out little bro during his frequent exploring outings.
"It's about two siblings and their imagination. It's so chill – watercolor-like imagery. Love this show."
Bluey
Age: 4+
Where to find it: YouTube + Disney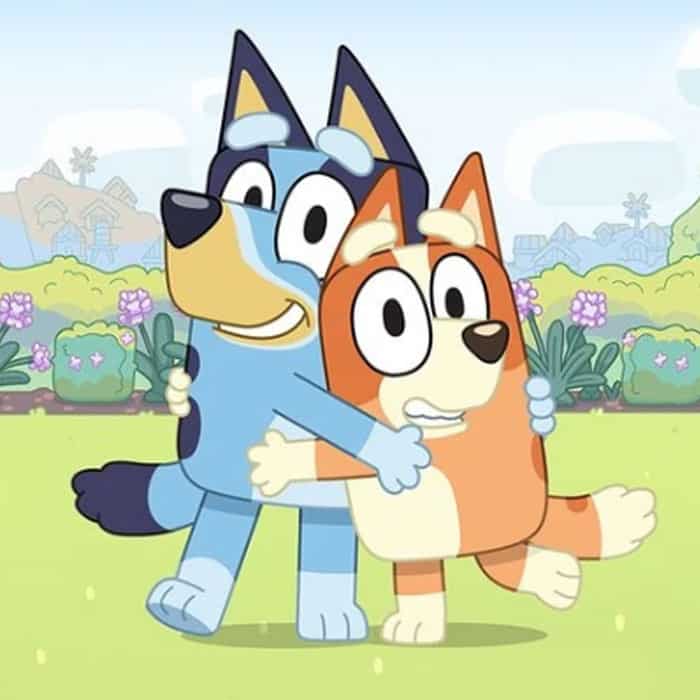 Follows the adventures of a Blue Heeler puppy, Bluey, who lives with her mum, dad, and sister. Her energy and lovable spirit gets her into all kinds of funny and unpredictable situations.
It got the most votes as a show that is just as entertaining for parents as it is for kids.
"Bluey is the BEST. kids love it! And it doesn't drive me mad. The dad is the most relatable cartoon parent out there."
Daniel Tiger's Neighbourhood
Age: 3+
Where to find it: CBC + PBS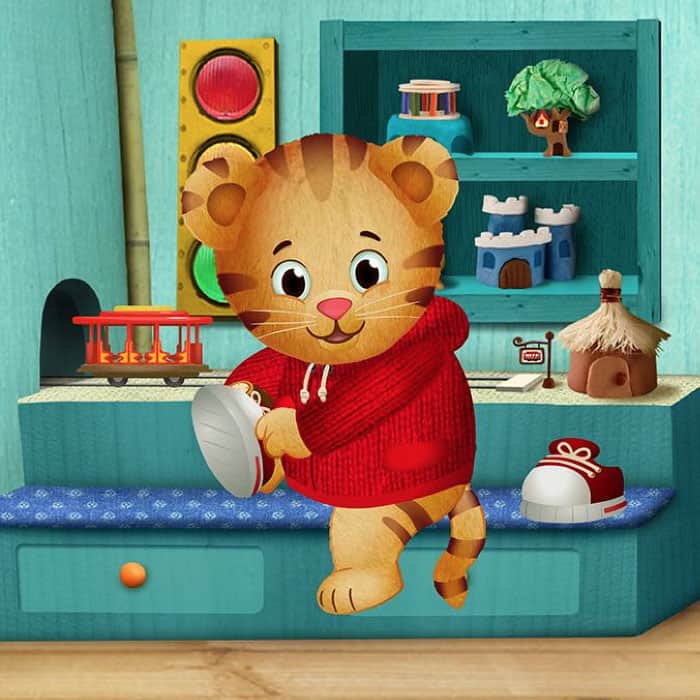 The first series inspired by `Mister Rogers Neighbourhood', `Daniel Tiger's Neighbourhood' features 4-year-old Daniel Tiger, son of the original program's Daniel Striped Tiger. With the help of Daniel and his friends, preschoolers have fun and learn practical skills necessary for growing and developing. Daniel got mixed reviews – he gets on the nerves of some parents – but he got high praise from enough parents and educators that I included it.
"My daughter and I sing the potty song a lot! As a parent, I feel like it shows me how to talk about things with her in a way that she understands."
Sesame Street
Age: 2+
Where to find it: Treehouse + PBS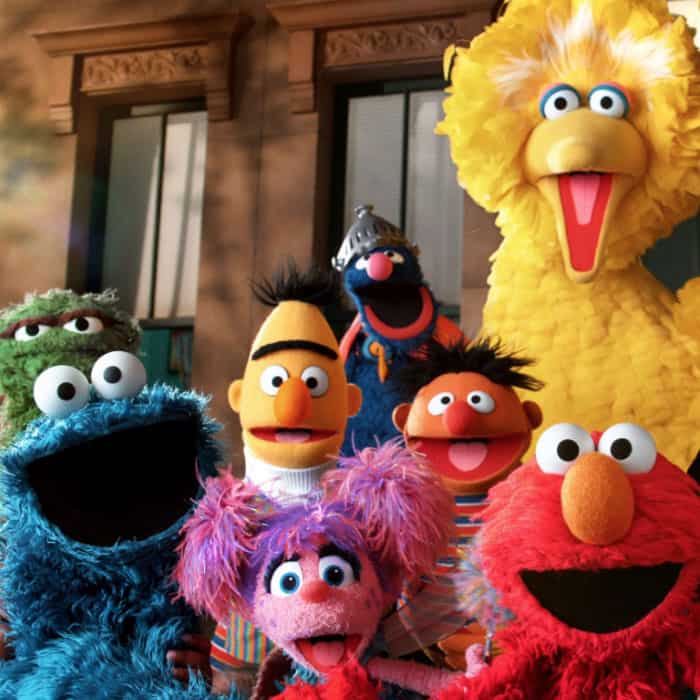 A longtime favorite of children and adults, and a staple of PBS, "Sesame Street" bridges many cultural and educational gaps with a fun program that teaches children numbers, colors and the alphabet. Fun fact: the first episode aired on November 10th, 1969.
"It's like SNL for kids."
Wild Kratts
Age: 6+
Where to find it: TVOkids + PBS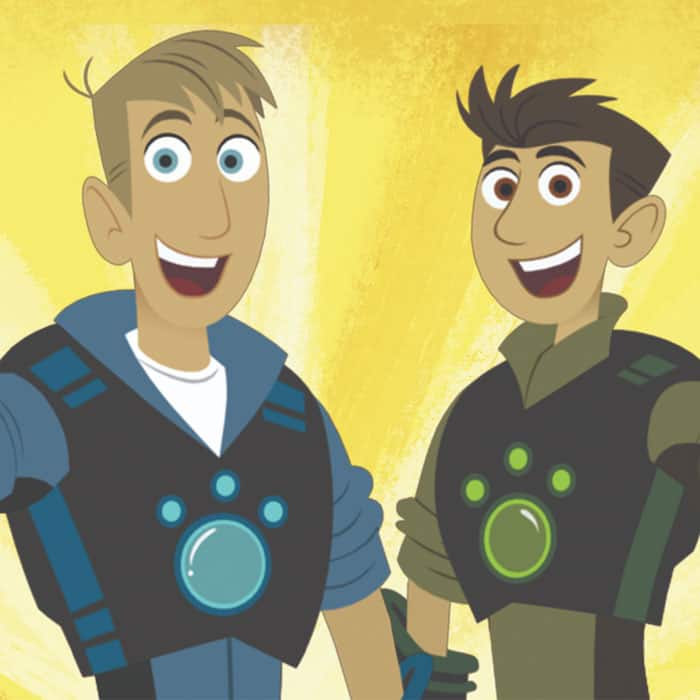 This show follows the adventures of animated versions of brothers Chris and Martin Kratt, hosts of such educational shows as "Kratts' Creatures" and "Zoboomafoo." In the show, the animated Kratts encounter wild animals during stories of adventure and mystery. I know a lot about Sloth Bears because of this show.
"I learn something new about animals in every show. It's amazing."
Sarah and Duck
Age: 3+
Where to find it: Amazon Prime Video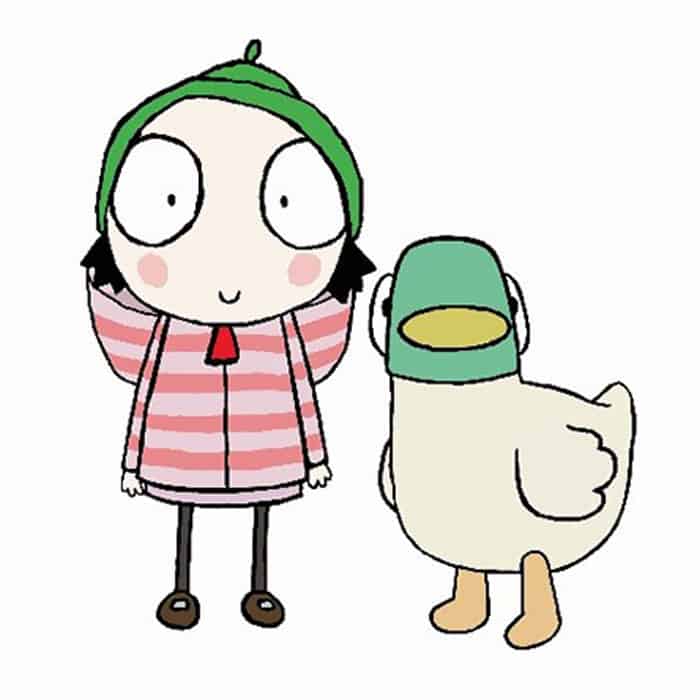 Sarah is a 7-year-old girl with big eyes and a green hat. She lives with her best friend, a quacky, slightly manic fowl appropriately named Duck. Each episode features the pair setting out on simple but exciting adventures as they explore the world in their own imaginative way.
"Excellent and short – perfect for any age."
Wiggles
Age: 2+
Where to find it: Netflix & Amazon Prime Video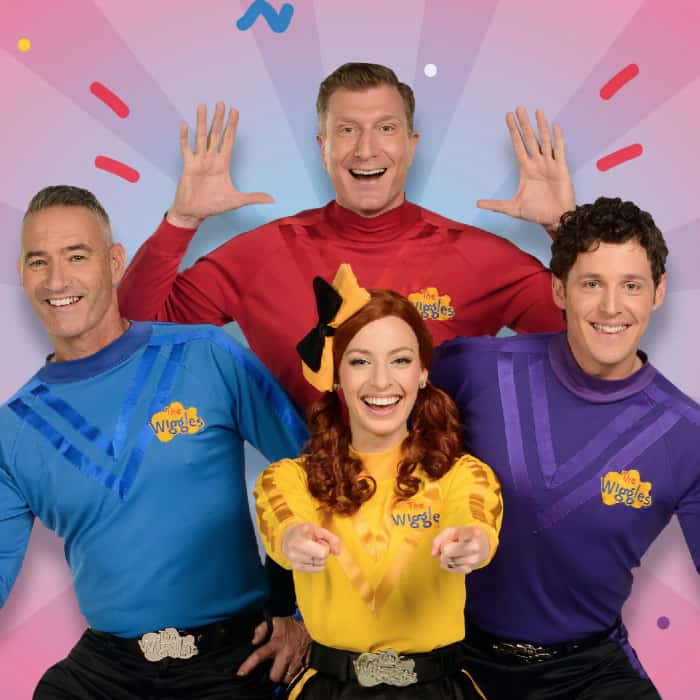 The Wiggles are an Australian children's music group formed in Sydney, New South Wales in 1991. They weave great messages into toe tapping songs and they have a TON of music, shows and movies. In my opinion, Anthony, the Blue Wiggle, will be forever hot.
"It's amazingly good exercise if you dance with them on the videos ?"
Go! Go! Cory Carson
Age: 4+
Where to find it: Netflix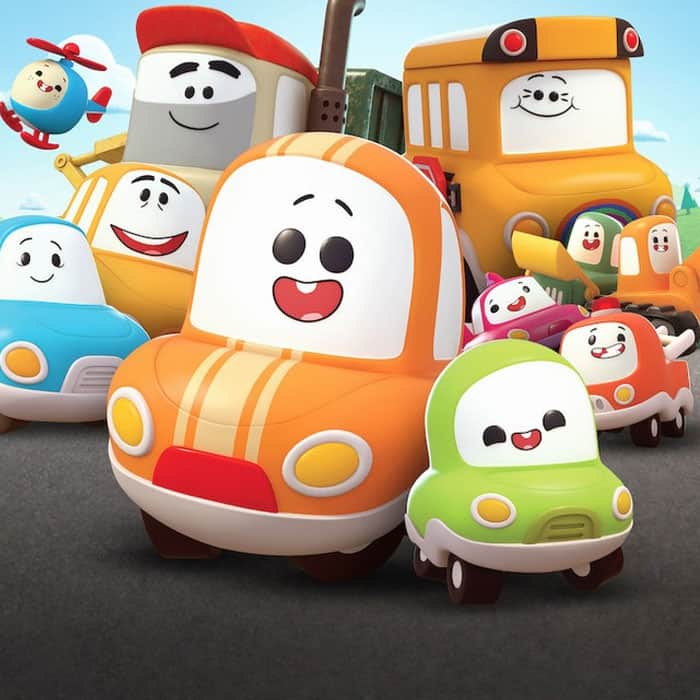 Go! Go! Cory Carson is an animated television series based on a line of toy vehicles manufactured by VTech. Kid car Cory Carson goes on adventures around the winding roads of childhood in Bumperton Hills.
"I think I enjoy Cory Carson as much as my kiddo (or more)!"
Beat Bugs
Age: 4+
Where to find it: Netflix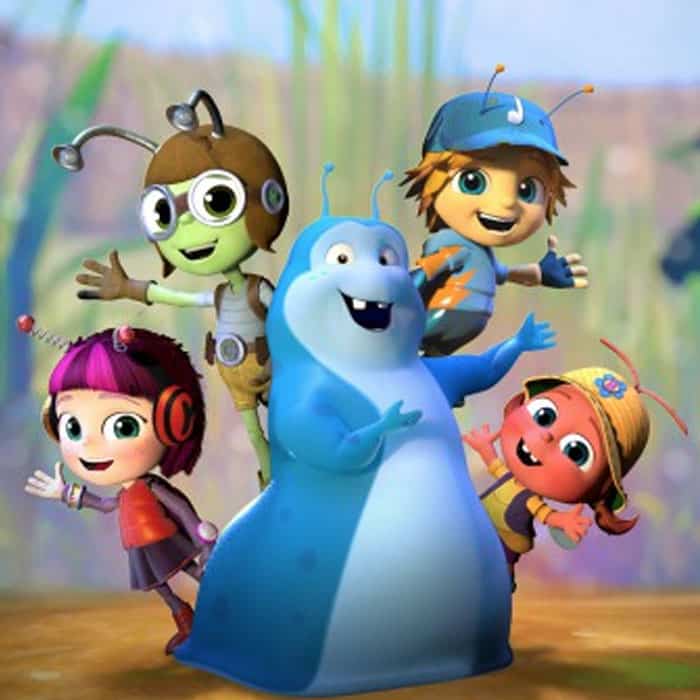 Beat Bugs is set in an overgrown suburban backyard, which serves as an environment that five young bug friends regularly explore. Featuring the music of `The Beatles'. I'm going to guess they skip "Happiness is a Warm Gun".
"I'm a huge Beatles fan so I love this show."
Motown Magic
Age: 4+
Where to find it: Netflix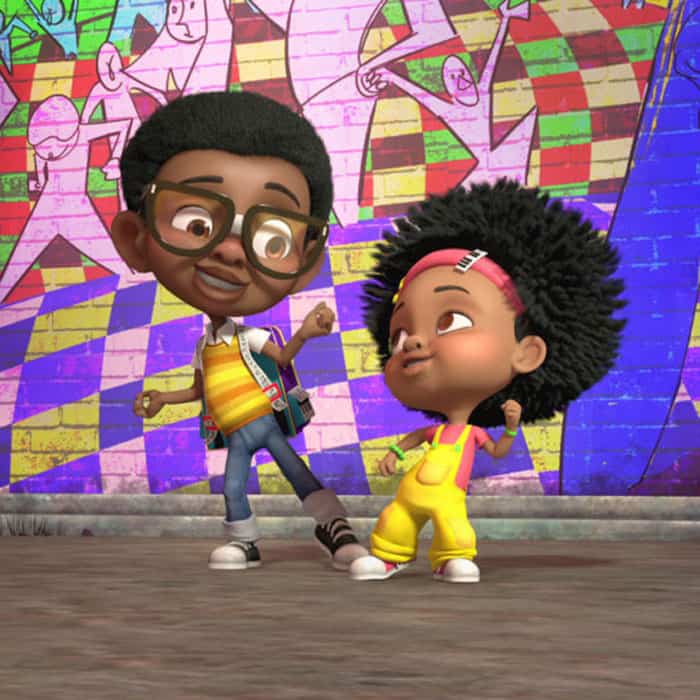 Imaginative boy Ben transforms his city by bringing colorful street art to life, armed with a magic paintbrush and the classic sounds of Motown.
"This show is amazing! My three year old and one year old literally stop what they are doing to watch every single time."
Let's Go Luna
Age: 4+
Where to find it: TVO Kids + PBS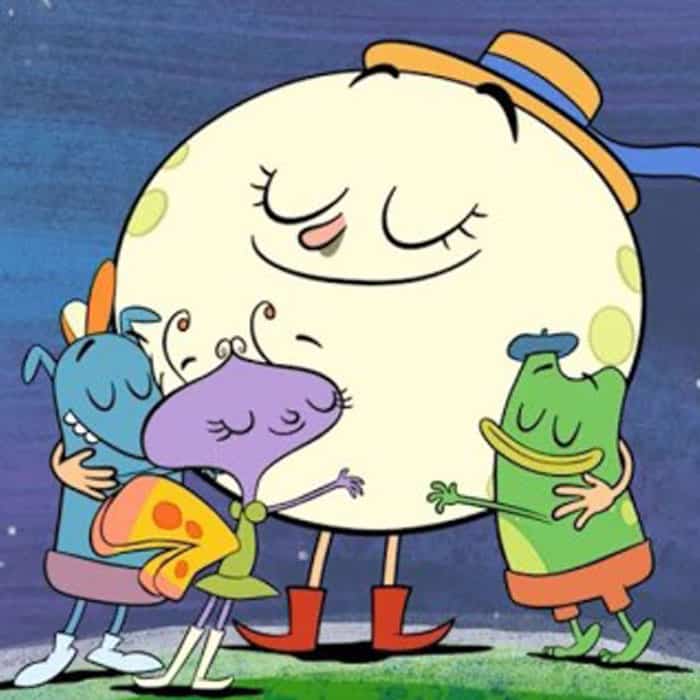 Luna the moon guides three friends – a wombat, a butterfly and a frog – as they visit new places around the world with their parents' traveling performance troupe.
"Teaches kids a little about a different country in each episode. I love it just as much as my kiddo."
Ben & Holly's Little Kingdom
Age: 3+
Where to find it: Nick Jr. and YouTube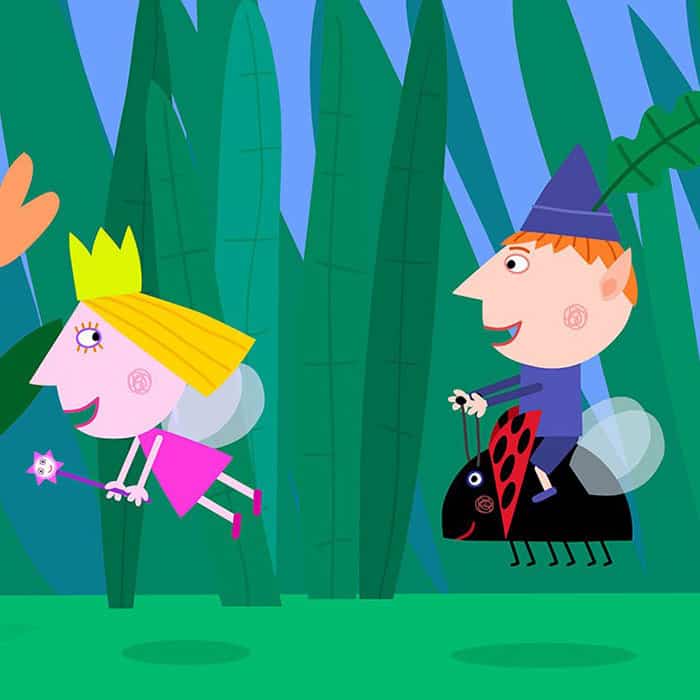 Young fairy princess Holly and her best friend, Ben Elf, live in Little Kingdom, a tiny land where flowers and grass grow above the tallest towers. Together, Holly and Ben go on adventures with their friends, including Gaston the Ladybird, and work together to fix magical mistakes. Frankly, as soon as you add a British accent, you're in the running for some of the best kid shows.
"That is the one and only show I actually enjoy. It's hilarious. "Chickens Ride West" is my favorite."
StoryBots
Age: 3+
Where to find it: Netflix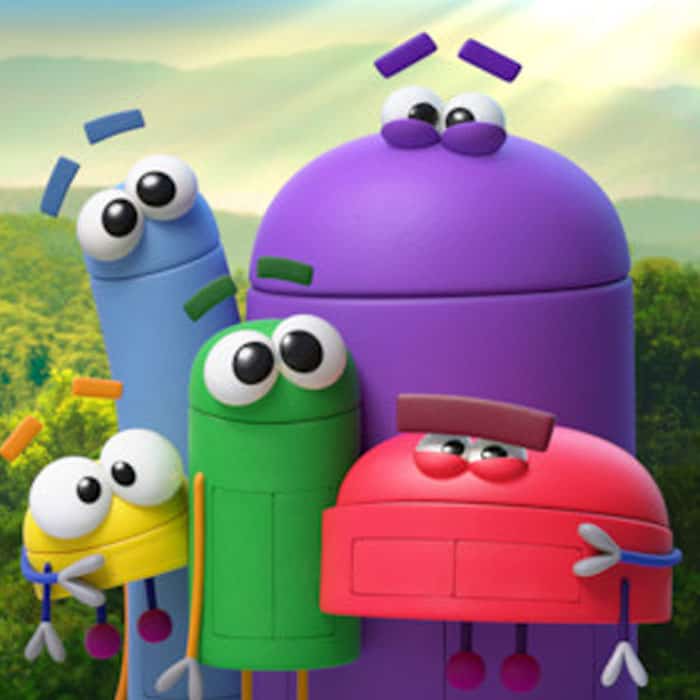 The StoryBots are curious little creatures who live under our screens. The intrepid quintet of Beep, Bing, Bang, Boop and Bo of Team 341B go on an adventure to the human world to help answer kids' biggest questions.
"My kids have learned so much from "Ask the Storybots" including how viruses work."
Peppa Pig
Age: 3+
Where to find it: Netflix and Amazon Prime Video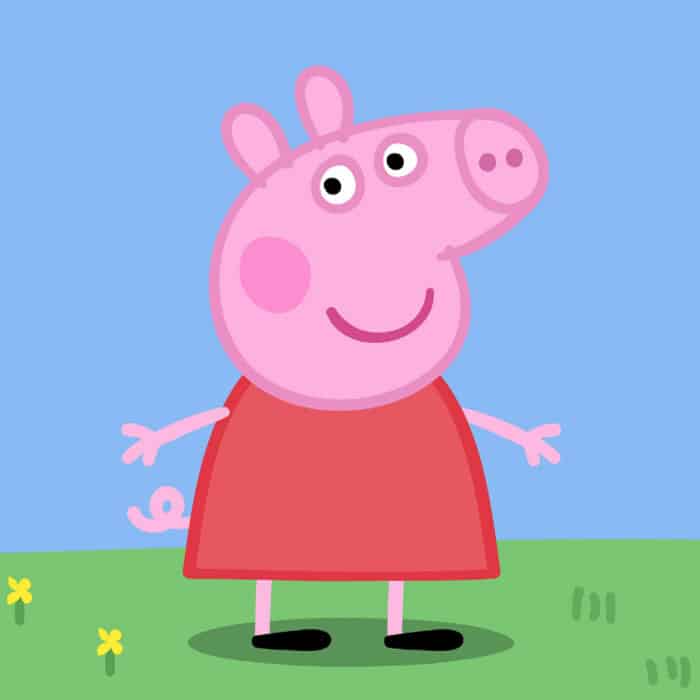 Peppa, an outgoing preschool pig, participates in many energetic activities. She learns something new every day and has a lot of fun with her family and friends.
"The subtle adult humor in Peppa is soooooo my husband. ?"
Hey Duggee
Age: 3+
Where to find it: Nick Jr. and YouTube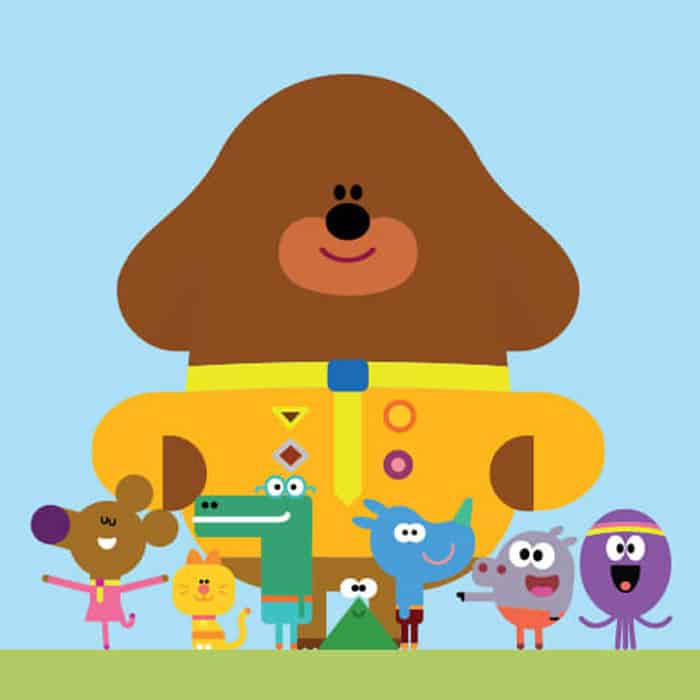 Friendly dog Duggee is the leader of The Squirrel Club, which is an after-school club that is a place where kids can go to have adventures and earn activity badges. The animated preschool series, which promotes exercise and learning, is narrated by BAFTA-winning comedian Alexander Armstrong.
"This show is so sweet. I love it."
Molly of Denali
Age: 5+
Where to find it: CBC + PBS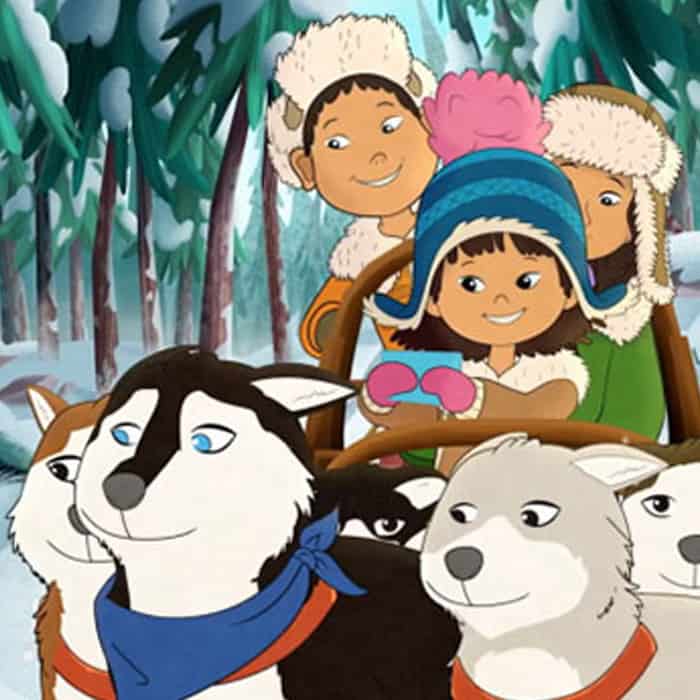 The daily adventures of 10-year-old Alaska native Molly Mabray, her family, her dog Suki and her friends Tooey and Trini.
"Great information, great problem solving, visually pretty to watch, and a good theme song."
Puppy Dog Pals
Age: 3+
Where to find it: Disney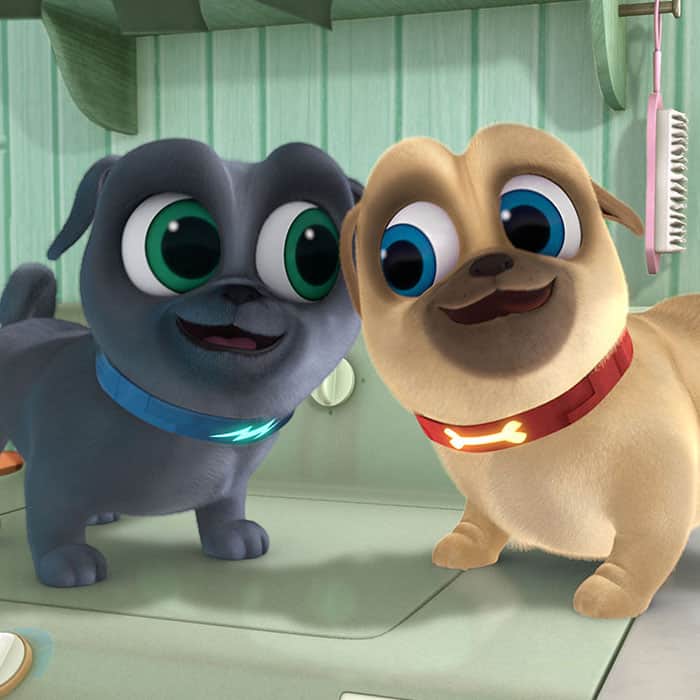 Puppy brothers Bingo and Rolly like to be around Bob, their owner, and help him do various activities. While he is away, they travel across the neighborhood and complete exciting missions.
"Definitely fits in jokes and sight gags for the parents and the music is fun."
Shaun the Sheep
Age: 5+
Where to find it: Netflix + Disney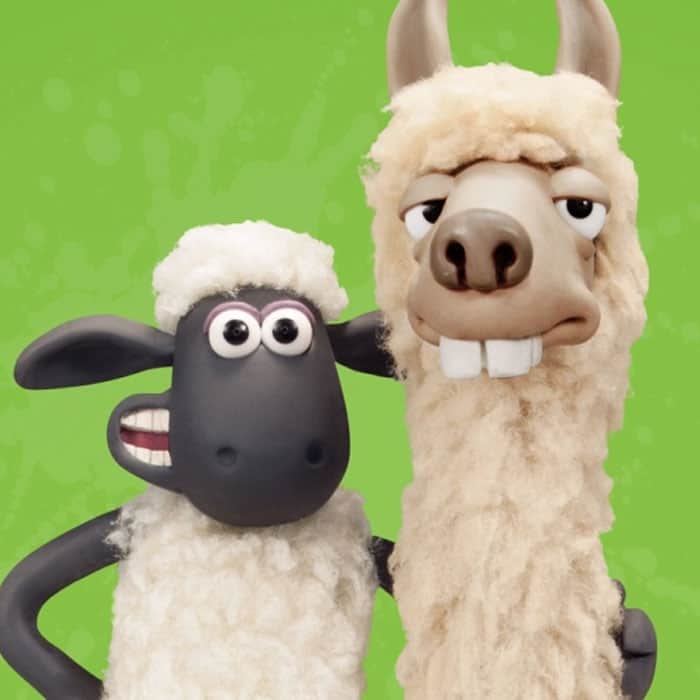 Shaun is a young and clever sheep who leads his flock at a small farm in the countryside. He constantly gets into misadventures with his friends and locks horns with Bitzer, a sheepdog.
"I made my kids wait for me to watch it because I love it."
Peg + Cat
Age: 3+
Where to find it: PBS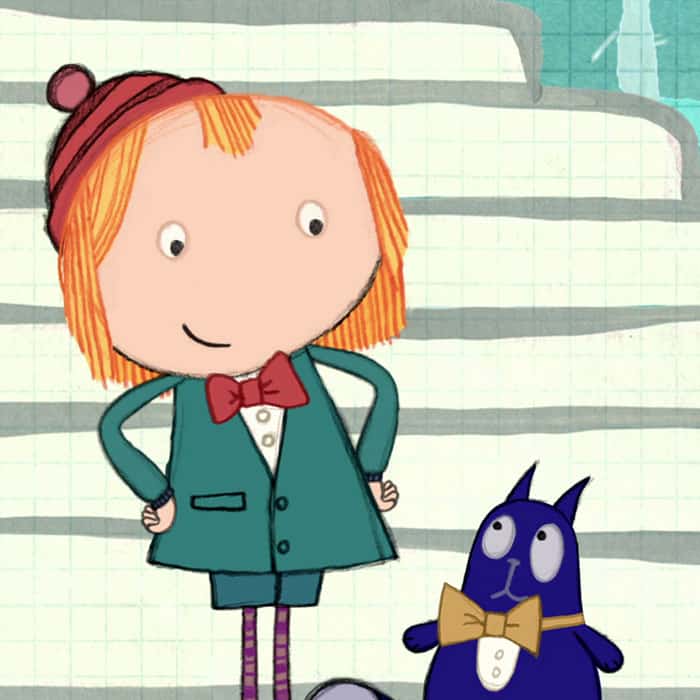 Each episode features two stories in which Peg and Cat face a math word problem that they must solve. Children will learn how to build calculation skills and think about larger concepts that will help them form the foundation for learning math at any level, from kindergarten through calculus.
"It is a fun and whimsical animation with a diverse community of characters working together to solve problems using math skills."
Hey Bear Sensory
Age: 2+
Where to find it: YouTube
Sensory videos created with fun characters set to music. They are super simple but really delightful.
"It's for babies but actually has good (not annoying) music."
What are the best kid shows out there in your opinion?
Did we miss any? What would you add to the list?
Special thanks to Rogers for working with me on this. Their KidsZone on Ignite TV is a section where you can lock on age-appropriate channels and only exit out with your pin (no Walking Dead for you today, Aiden). It features channels like Disney Jr., Treehouse, Family Channel, YTV, Nickelodeon Canada, Teletoon, Duck TV, and Disney XD just to name a few. Plus, Ignite TV allows you to tie in your Netflix and Amazon Prime Video subscriptions so they are all at your fingertips. You can find out more here.
Our next reco: Best Books for Babies (that don't always make top 10 lists)
---
Get posts & giveaway updates delivered right to your inbox
---
---