Whether you want to be kinder to the environment, reduce your kiddo's exposure to plastic toys and chemicals, or you're just tired of replacing batteries every 18 minutes, wooden baby toys are an awesome way to entertain your little ones.

Wooden toys are great due to their durability, sustainability, and child-safe materials, as well as their tendency to inspire your little one's creativity and cognitive development. Keeping cost, customer reviews, and longevity in mind, we've rounded up 25 of the best wooden toys for babies from newborns to young kids and every age in between.
Here are the 25 best wooden baby toys that made the list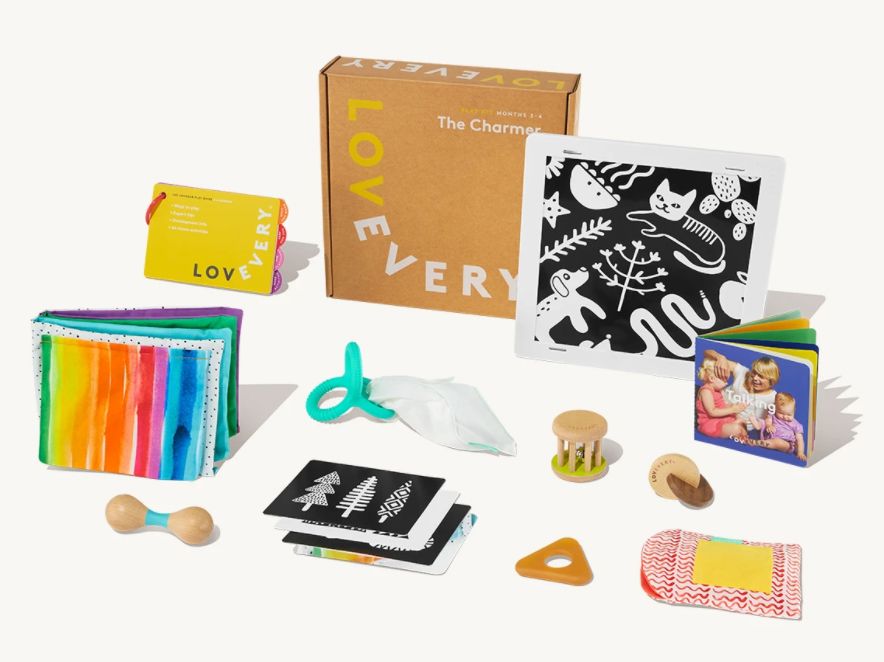 Lovevery Play Kits
Lovevery makes stage-based play kits that use sustainably harvested wood, organic cotton, non-toxic paint, and baby-safe plastics. This set I've shown here is the Charmer, but you can check out all the kits available on the Lovevery site.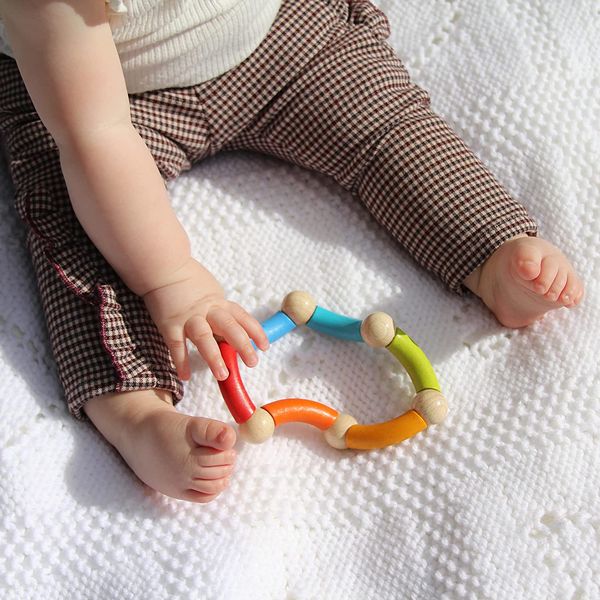 HABA Color Snake Clutching Toy
All of HABA's wooden clutching toys are made in Germany using reforested Maple or Beech wood. Parents reviewing this mesmerizing little teether have said that it's entertained their babies for extended periods thanks to its ability to be twisted and bent into all kinds of shapes by small hands. Get it on the Haba site or on Amazon.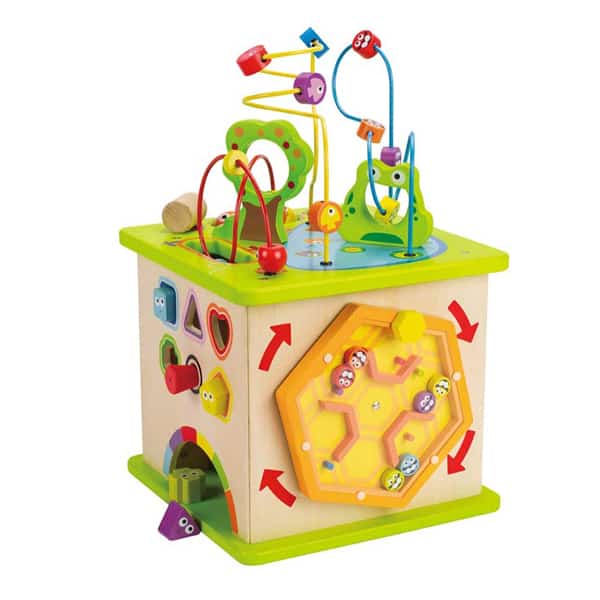 Hape Country Critters Wooden Activity Play Cube
Give your little one all the fun of a wait in the doctor's office without any of the nasty germs. With activities including a shape sorter, bead maze, turnplate to spin and more, young children will love exploring each of the five sides of this non-toxic play cube. You can get it on Amazon.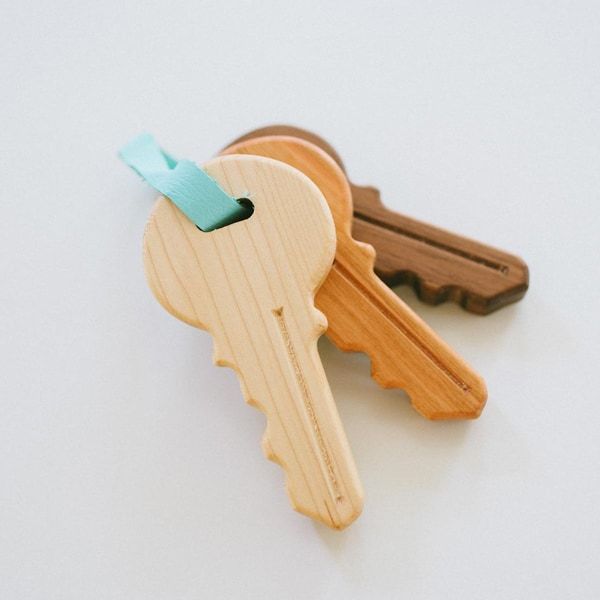 Wooden Key Teether
One day it'll be a lot harder to hand the keys over to your baby, so it might be a good idea to start practicing now. These keys are made from Maple, Cherry and Walnut and can even be personalized in case they get lost (but that rarely happens with keys, right?) Get it on Etsy.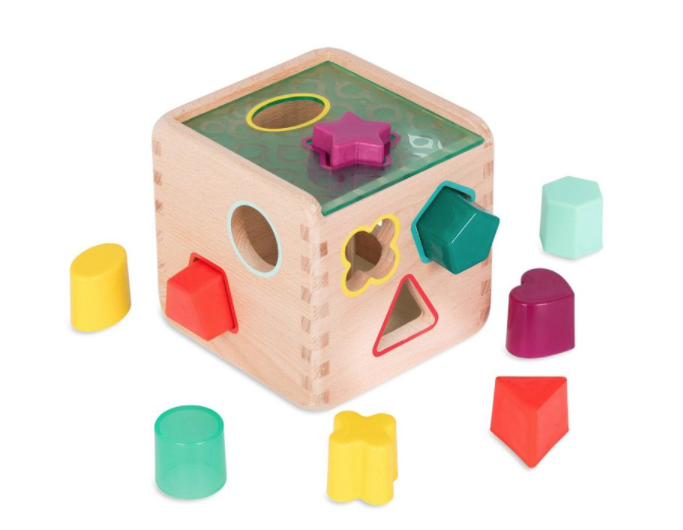 B. toys Wooden Shape Sorter
This is a classic toy complete with wooden blocks in a variety of shapes ready to be matched and sorted into the zoo-themed box, complete with sliding doors to add to the challenge. You can find it at Target or a similar version by Melissa and Doug on Amazon.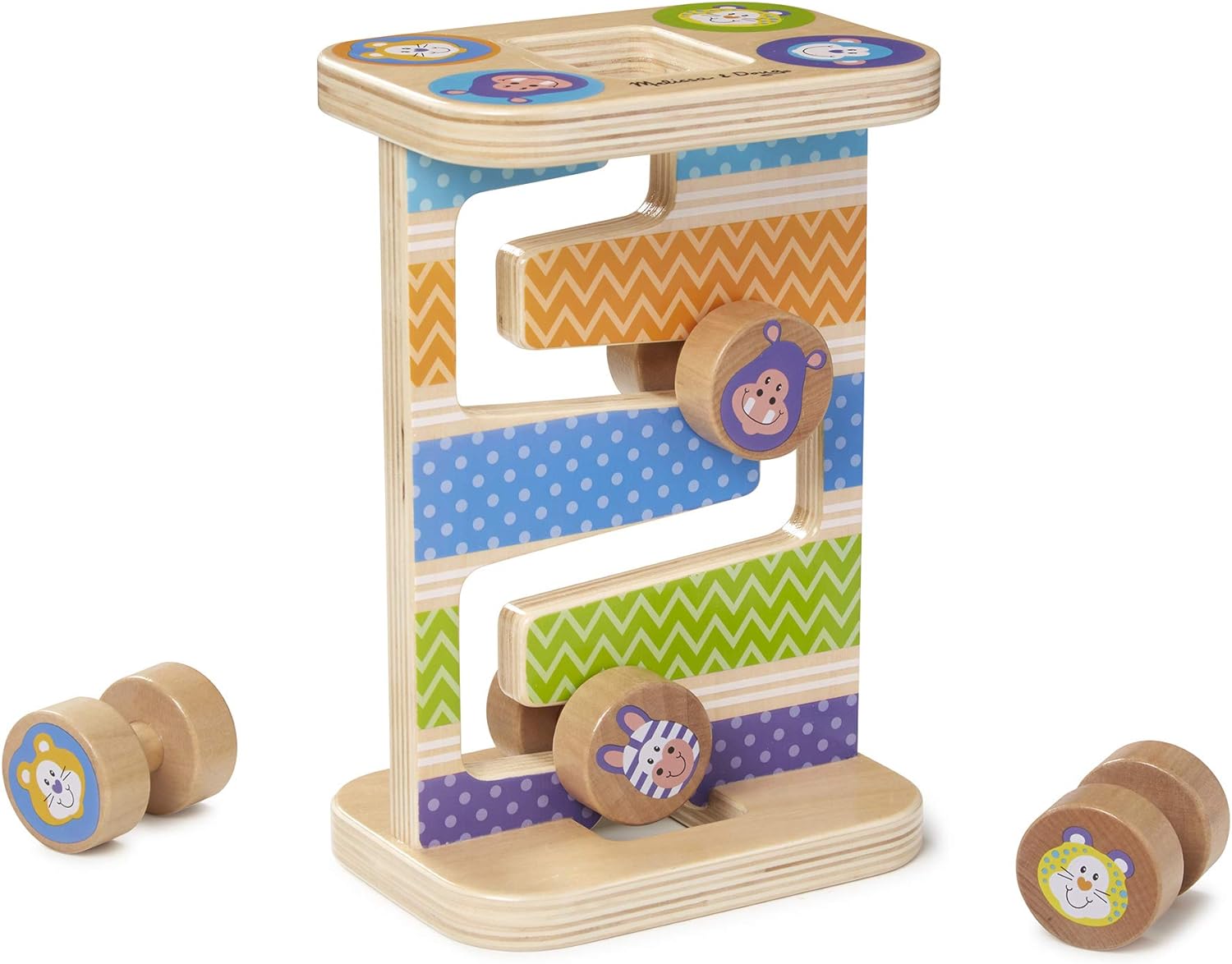 Melissa & Doug Safari Zig-Zag Tower
Get the fun rolling with this sturdy wooden tower and four pieces that spin down the zig-zag track. Babies and toddlers 12 months and older will delight in matching, stacking, and rolling the smooth, solid wood pieces with friendly safari animal faces that store right in the tower when it's turned sideways. Find it on Amazon.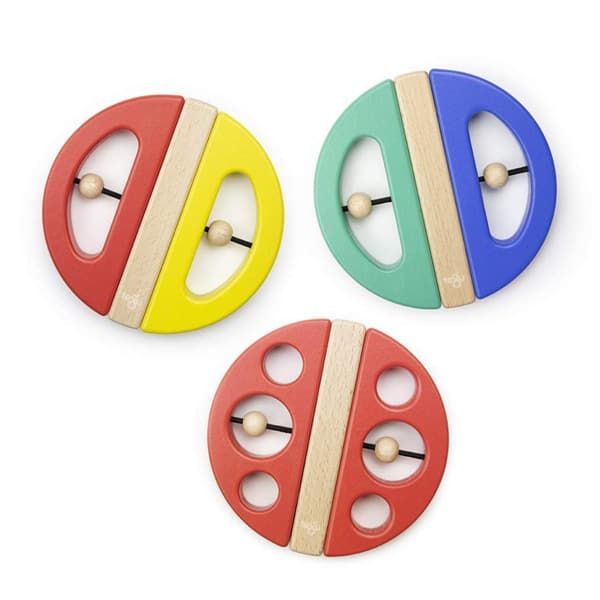 Tegu Swivel Bug
Hidden magnets give a satisfying "click!" when the pieces of this little wooden bug from Tegu are twisted and snapped automatically back into place. This toy is recommended for kids anywhere from one month to eight years, which means it'll be one you can keep in the toy box for years. It's fun to shake, twist, and pull apart, and it's safe for chewing on due to its non-toxic, water-based finishes. You can find them on Amazon..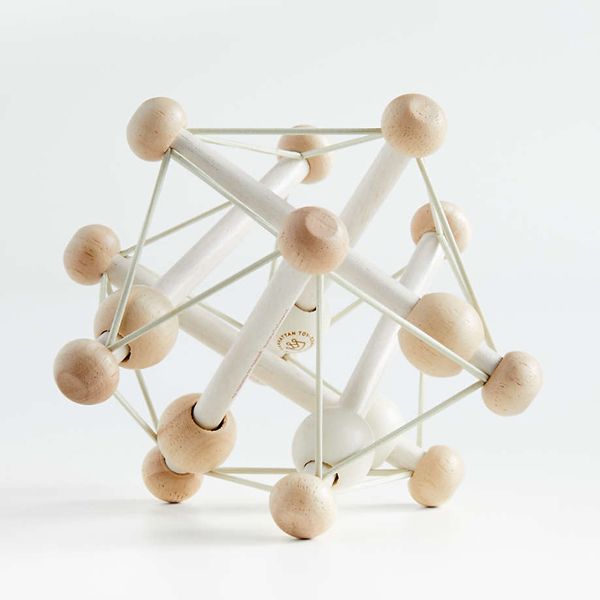 Manhattan Toys Skwish Rattle and Teether
My son received one of these as a gift, and after trying to figure out what the heck it was supposed to be used for, it quickly became one of his favorite toys. It's fun to squish (hence the name), easy to grab and shake, exciting to drop on the floor, and maybe one of the most interesting things to chew on of all time. Get it at Target and on Amazon.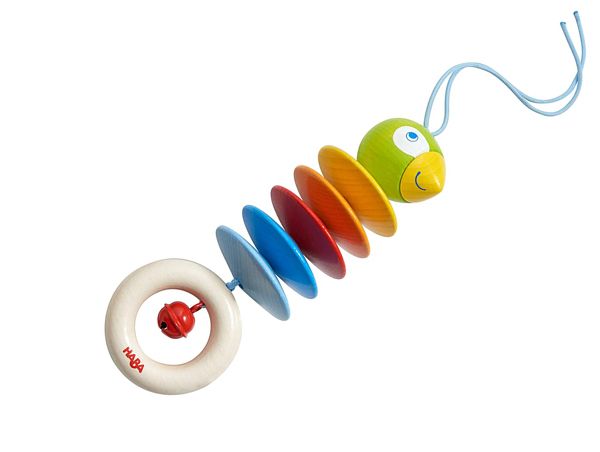 HABA Rattle Stroller Toy
This cute little rattle makes a clacking sound that babies love, is easy for tiny hands to grasp, and comes with the option to clip it onto something if you're a mean parent like me who doesn't want to play the "pick up the rattle off the floor" game for the 200th time in a row. Get it on the Haba site.
Plan Toys Wooden Push and Pull Car
Sometimes the simplest designs are the best and this toy is no exception. This sweet car is made from natural wood (no paints or dyes) and can be pushed and pulled along the floor. The four wooden disks flap forward and backward to create a soothing sound. I found this one at Monica + Andy and on Amazon.
Personalized Name Puzzle
Personalized baby toys are always incredibly special, and this puzzle will help your kiddo to practice not only their fine motor skills but also their letter recognition as they get a little older. Etsy has a great selection. You can check out all the options here.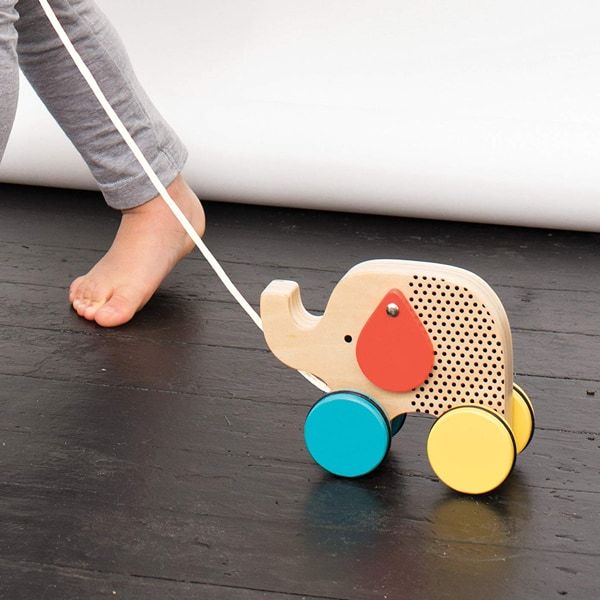 Petit Collage Jumping Jumbo Elephant Pull Toy
The wooden pull toy is a classic and comes in pretty much any shape, size and style you can imagine. This sweet little elephant is eco-friendly and finished with water-based non-toxic paint and varnish. Babies mastering the walking stage will love watching this guy's ears flap and body bounce as he's pulled along behind them. Get it on Amazon.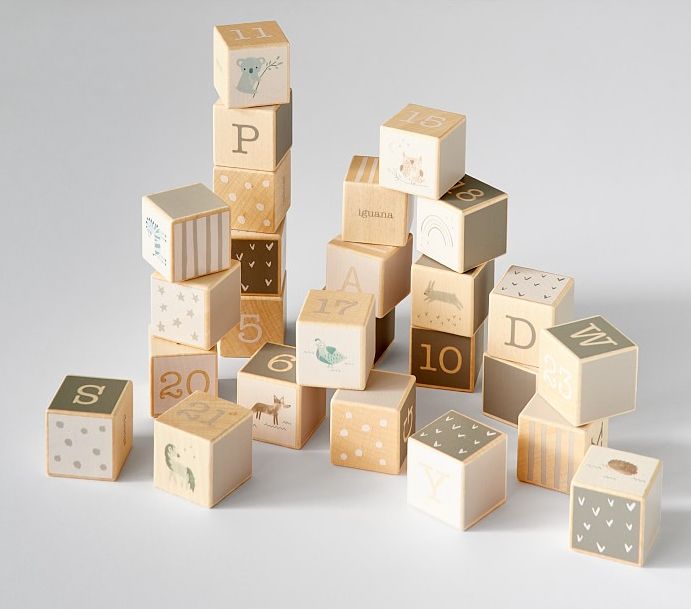 PBK Neutral Blocks
These 26 blocks are made from solid beech wood. They are finished in child-safe, water-based paint, and are free from BPA, phthalates, and lead. You can find them on Pottery Barn Kids.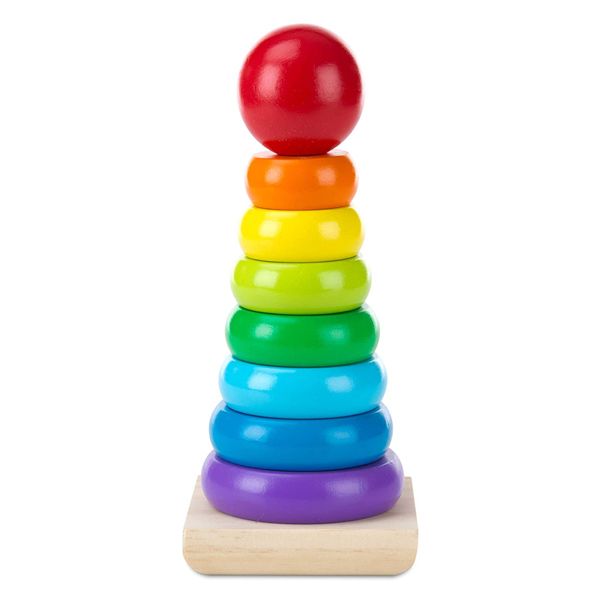 Melissa & Doug Rainbow Stacker
Give your baby the chance to practice their hand-eye coordination and fine motor skills with this stacker made with 8 smooth, easy-to-grasp wooden pieces stacked on a solid-wood rocking base. You can find it at the Melissa and Doug site and on Amazon.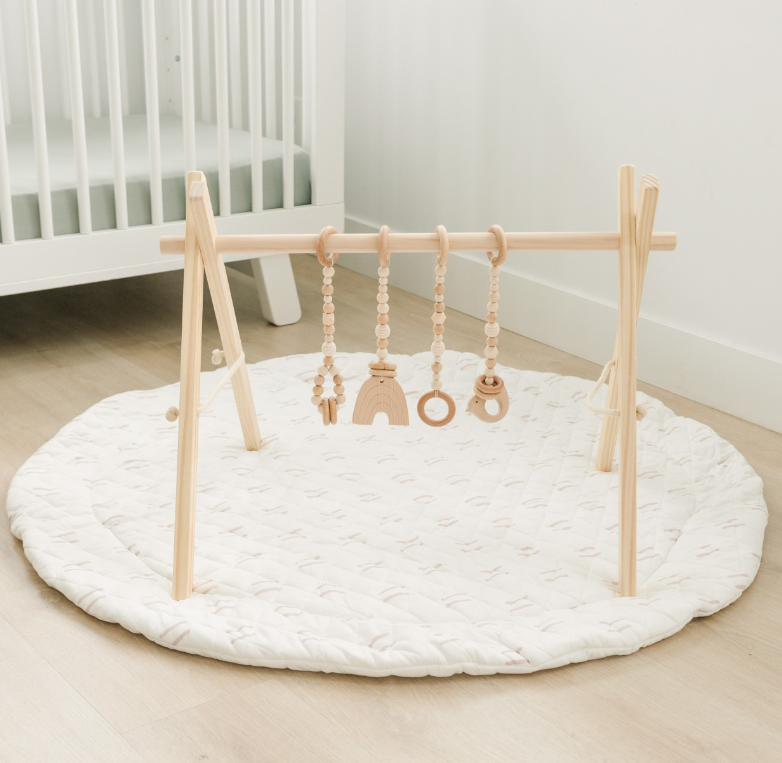 Wooden Activity Gym
This Poppyseed Play Wooden Baby Gym is crafted of smooth, sanded natural pine with no paint or finishes.  It's simple to assemble (no tools required) and comes with your choice of sweet wooden baby toys to hang on the bar. When not in use, it also folds flat for easy storage. You can find it on Babylist and on Amazon.
Bead Maze and Rocking Rabbit
Toddlers can learn to assemble and stack, watch it rock on its wooden base and slide the colorful beads along the maze. You can find it on Babylist and on Amazon. (The whole Janod line is really lovely.)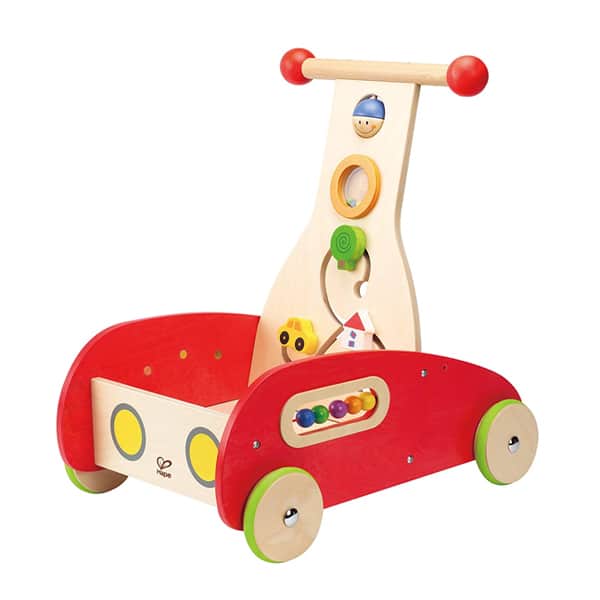 Hape Wonder Walker
Even though this is a walker, crawling babies will still love to load up the storage area and play with the beads, gears, and car on the handle bar on this fun toy from Hape. Early walkers, older babies and toddlers can push the sturdy walker around the room – just make sure all stairs have gates to keep them safe while they explore! You can find it on Amazon.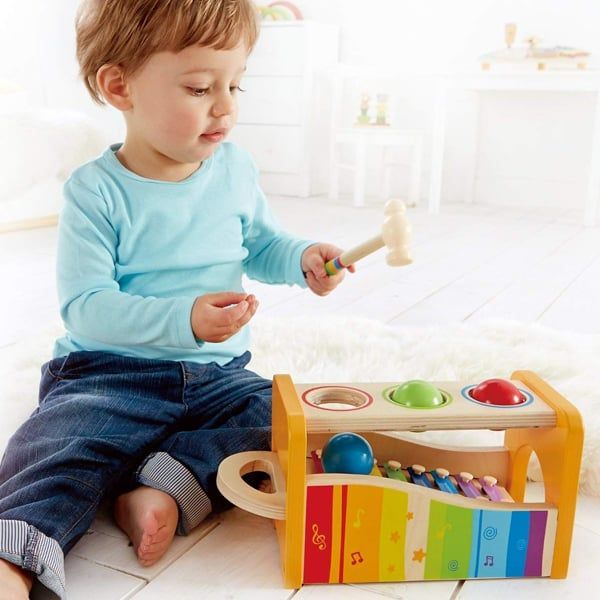 Hape Pound and Tap Bench with Slide Out Xylophone
What could be better than a toy that involves banging things with a hammer and making music as a byproduct? The 770 people who gave this toy a 5 star review would probably say "nothing". Falling balls roll down the xylophone to make a fun sound, and even the tiniest babies can appreciate the fun of smashing things with the little wooden hammer. This one's a winner. Get it at Walmart or Amazon.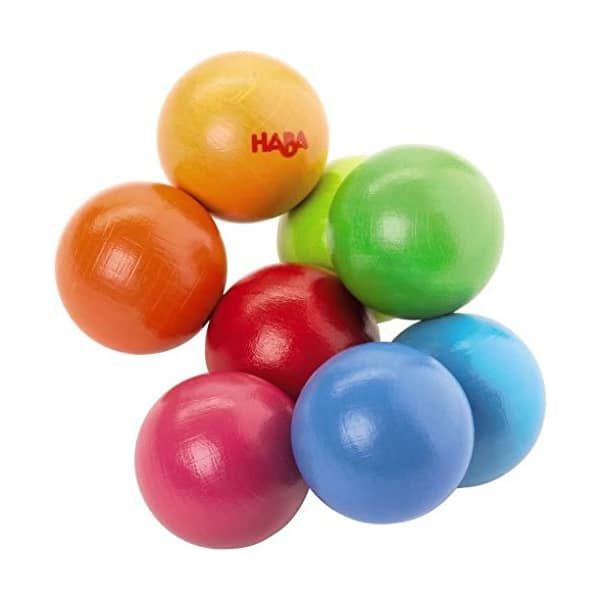 HABA Magical Clutching Toy
Honestly, this whole list could have been made up of toys created by HABA. This colorful clutching toy is fun to squeeze and pull, easy to grab onto, and fun to rattle, drop and throw (hey – babies have to get their kicks where they can). Get it on the Haba site or on Amazon.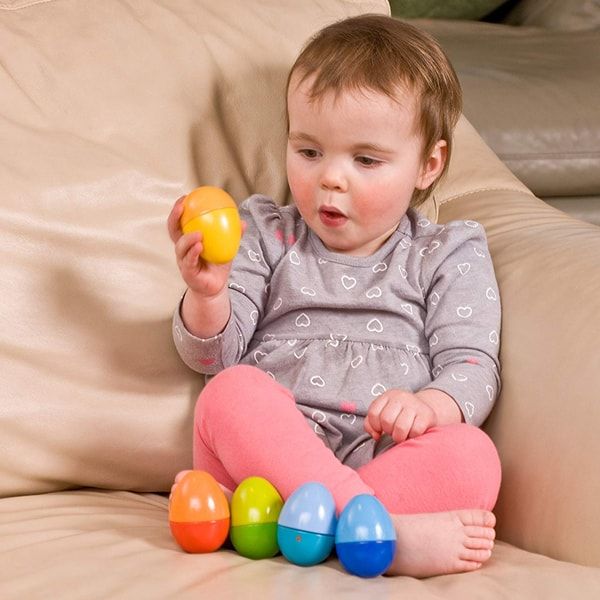 HABA Shakin Eggs
The best kind of egg is the one that doesn't smash when it hits the floor, and these ones have the added benefit of making different sounds when they're shaken, rattled and rolled. Budding rhythmists will love making music with these colorful eggs, and noise-conscious parents will love the muted sound these wooden baby toys make. Get them on the Haba site and on Amazon.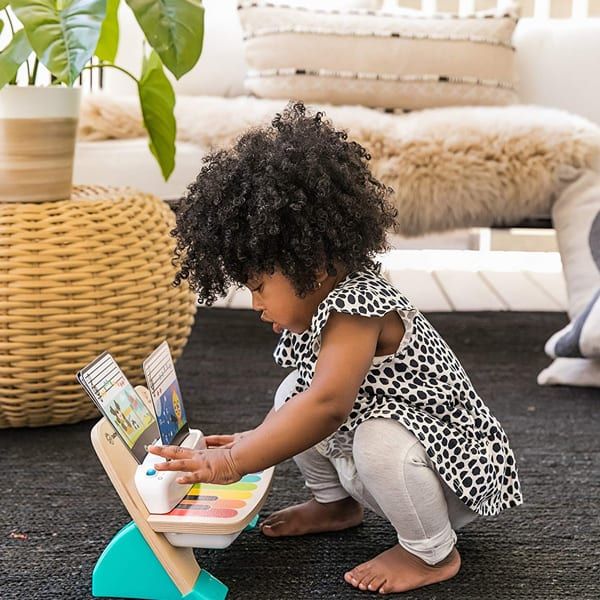 Baby Einstein Magic Touch Piano
When my husband and I came across this gem at the toy store, we were tempted to buy it just so we could play with it ourselves. If your little one is too young to read the song cards that come with the piano, you can set it to auto mode so no matter what key they press, the next note from the song will play. It may be a wooden toy that comes with batteries, but it was too cool to leave off the list. Get it at Target or on Amazon.
What are your wooden toy picks?
Are there any wooden baby toys that you and your wee one couldn't live without? Drop them for us in the comments!

Our next reco: Setting up a Montessori Play Space for Your Baby
---
Get posts & giveaway updates delivered right to your inbox
---
---