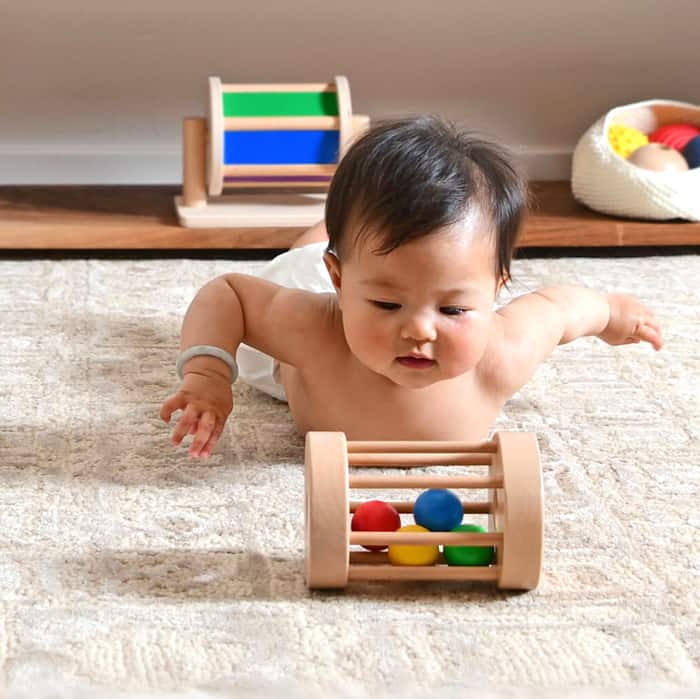 We've seen the minimalist look dominate nursery design for a few years now. Parents seem to be moving toward a "less is more approach" and the term Montessori is riding along with this trend but what does that even mean?
What the heck is "Montessori"?
Montessori is an educational approach, named after its founder, Dr. Maria Montessori.
It is based on the philosophy that children learn by doing, which is why Montessori encourages setting your child up for independence as they work to develop a growth mindset.
This can include child-sized areas in your home that set your kids up for success when it comes to navigating their day with some autonomy. These spaces can be as simple as a low hook for their jacket by the door, or a bottom cupboard in the kitchen where they have access to their own dishes.
Key to the Montessori play area:
Turns out there are a few key elements in a Montessori play space.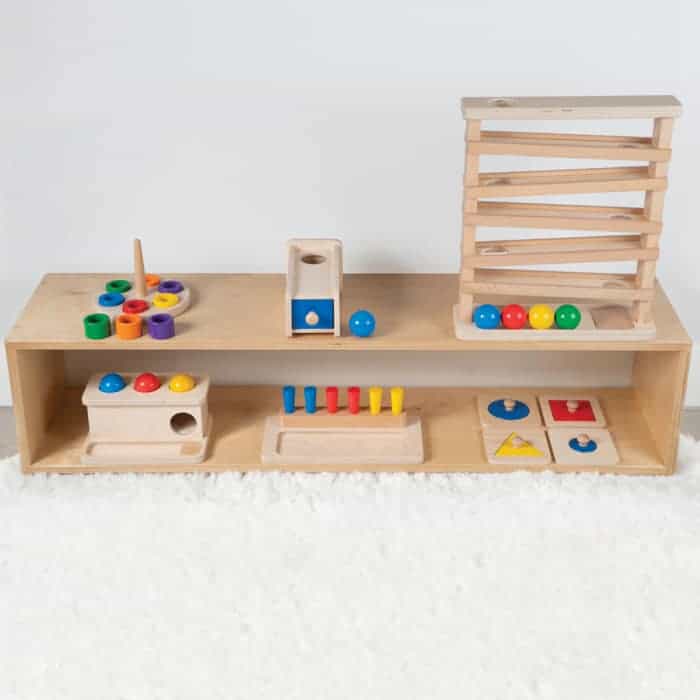 A low shelf
The difference between a stylish minimalist nursery and a Montessori nursery is that Montessori prioritizes the child's perspective. A low shelf with 6-8 toys empowers even pre-walking babies to select materials to play with.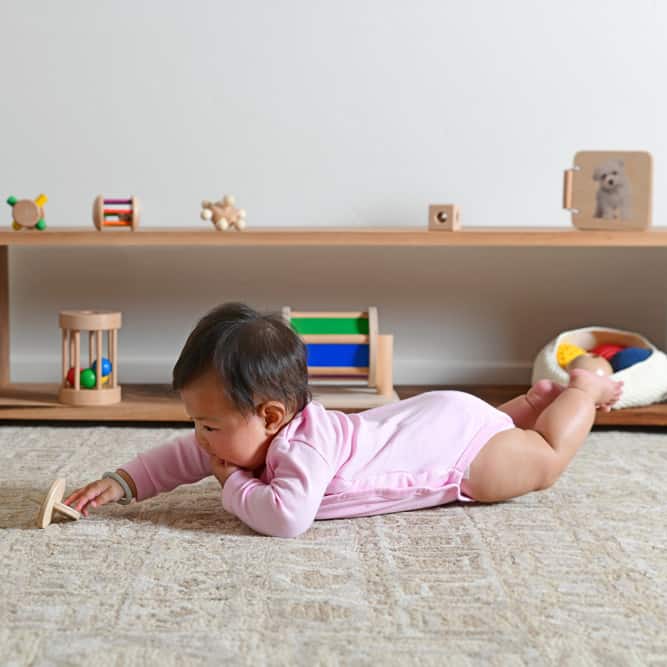 The Montessori play area has few toys
Having too many choices can be overwhelming and dissatisfying. It is harder for babies to decide what they want to play with, and it is harder for them to stick with the toy once they've chosen it.
Rotating from their collection and offering a curated selection of toys will allow time to explore and use all the toys they have. This allows for choice-making, deeper concentration and meaningful engagement with the carefully selected toys.
You can check out this TED talk by Monti Kids founder Zahra Kassam to see what we mean about the benefits of a great learning environment.
The jist of the TEDx talk is this:
The first three years of brain development are important, but we as parents are not supported on how to best prepare an environment to maximize learning in these very early stages.
By prioritizing real learning before preschool, not memorization of ABCs, but the development of the ability to focus, concentrate, and persevere, we can help our children be ready for the world we live in.
By offering experiences for our babies – without interrupting them – it allows them to stretch their abilities. Montessori toys are time-tested materials that help children work on visual skills, motor skills, language skills, and problem-solving.
It's definitely worth a watch.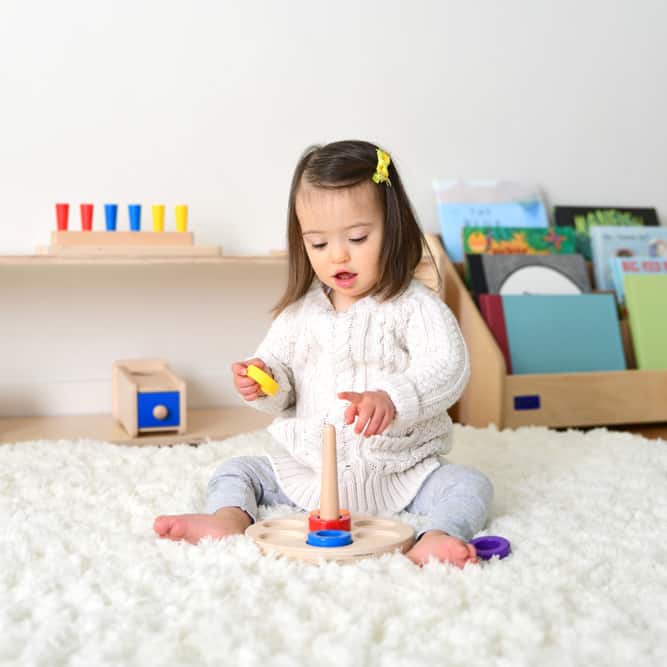 Less is more
Whether you're being more mindful of the toys your baby has to be more eco-friendly, more consumer conscious, to save space and money (or all of the above) it looks like you're doing your baby's brain a favor as well.
What do you think?
Do fewer, good quality toys make for a better play space? Would you consider setting up a Montessori play area?
If you are looking for a place to start, we featured Monti Kids in our Best Baby Subscription Boxes post. They deliver online lessons for parents and authentic Montessori toys for babies on a quarterly basis. You can check them out – or subscribe – on the Monti Kids site.
---
Get posts & giveaway updates delivered right to your inbox
---
---