When it comes to getting out and about with your little ones, having a stroller you love can really elevate how easy (and successful) your adventure turns out. But who says your stroller has to be a traditional stroller? Meet the Veer Cruiser, an all-terrain, premium wagon ready to tackle your next adventure with your infant, and/or toddler.
Is it a stroller or a wagon?
The beauty of this workhorse is that it falls somewhere in the middle, making it extremely versatile and fun for the whole fam. Unlike the wagons of our childhood (shout out to my fellow Radio Flyer daredevils!), the Veer all-terrain cruiser comes with two ergonomic passenger seats with 3-point safety harnesses, a footwell and high sidewalls to keep that precious cargo safe and sound while you're out adventuring.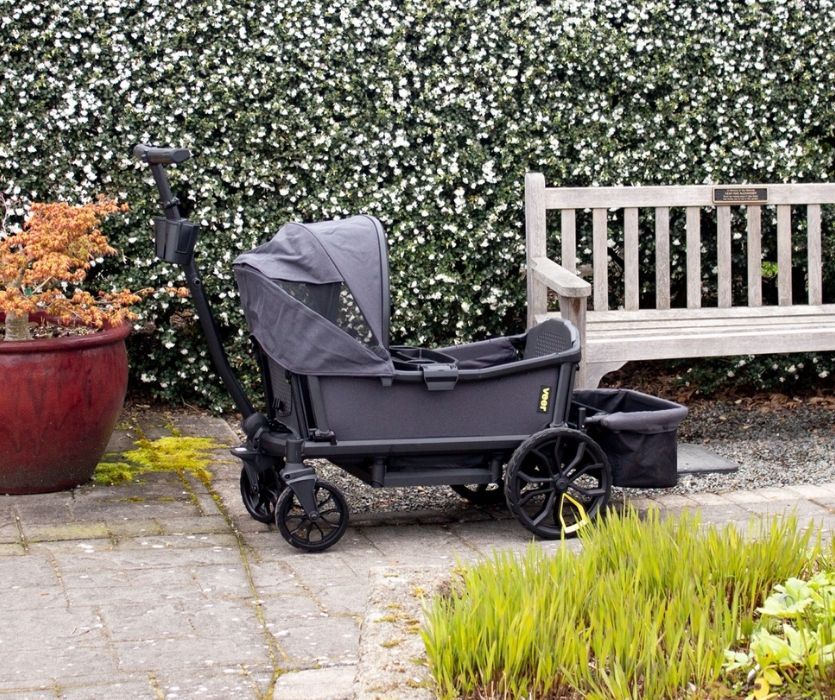 Okay, I get the wagon part, but what makes it like a stroller?
For starters, the lockable handle and exceptional maneuverability means you can pull OR push this wagon with ease.

Being able to buckle your kiddos into the 3-point harnesses is also very stroller-y. And it comes with a ton of storage – from the foldable rear storage basket (an add-on) to the interior mesh storage pockets, you can easily store anything from a diaper bag to a fruit pouch in a way that's easy to find and out of the way of delightfully muddy toes.

Unlike our old rattle-trap Radio Flyers, the low friction bearings and knobby rear tires make for a super quiet and smooth ride, regardless of if you're pushing or pulling. It also collapses down for self-standing, compact storage, which is a hallmark of many premium strollers. Oh, and it has a flip-flop-friendly foot brake, giving it strong stroller vibes.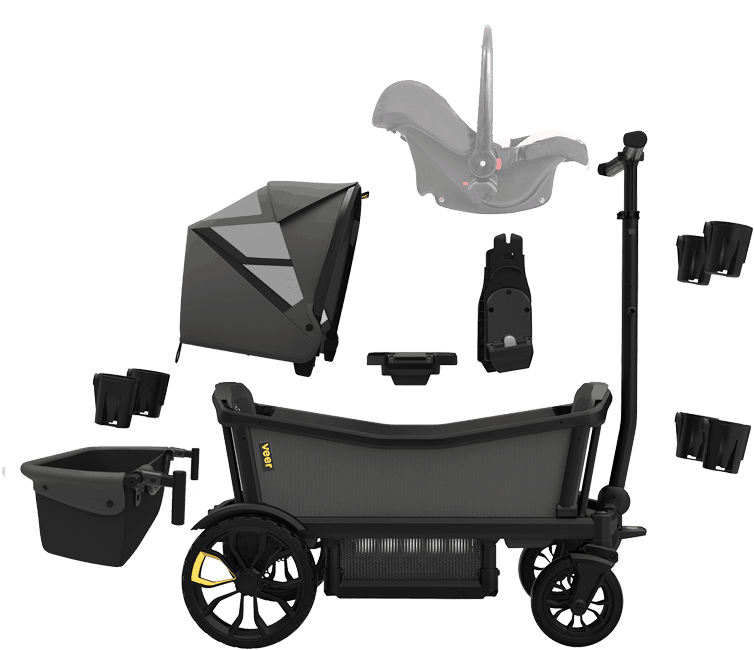 What comes in the box?
Like many strollers, cup holders and a snack and drink tray come standard. But the sky's the limit when it comes to optional accessories.

From more basic necessities like an infant car seat adapter and extendable sun canopies to more specialized products like a nap system, fenders, or a weather shield, there are so many different ways to customize your ride. You can also dress it up to match your family's aesthetic with some really fun custom sidewall kits. Or ya know, just let your kids finger paint it with yogurt like a standard stroller.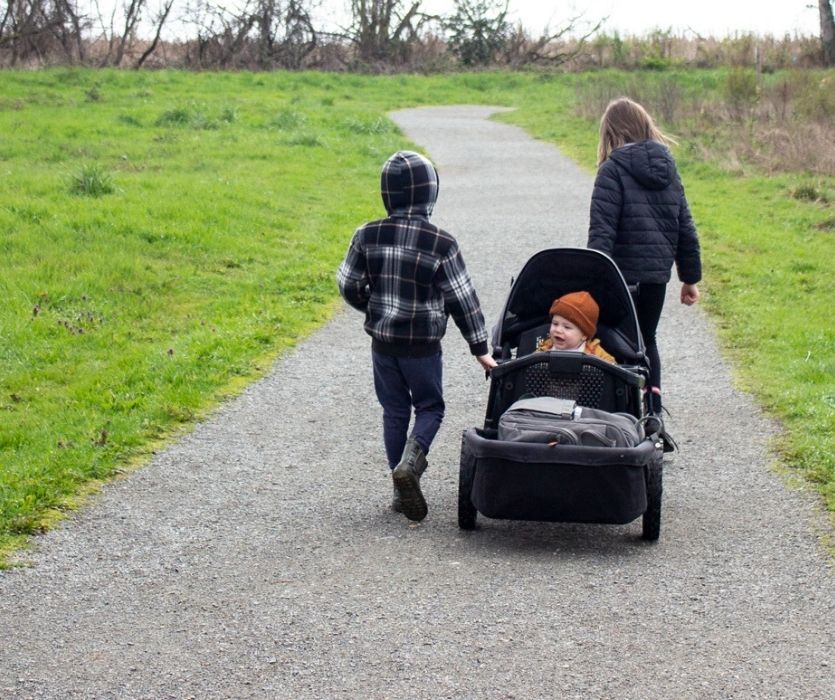 What's the age range?
If you get the infant car seat adaptor, you can start using this from day one. It technically maxes out at 110 pounds, so depending on how flexible they are (and how strong you are), you could probably pull your middle schooler across the graduation stage if you felt so inclined. But the target audience for this one is 0-5 year olds, giving it serious longevity compared to your standard stroller.
Have my elementary-aged kids pushed the boundaries and lived out their Olympic bobsled dreams and bombed down our driveway once or twice? Yes. Yes, they have. And it handled it like a champ. I'm crediting the front swivel wheels for letting them steer it away from the tree, and the aircraft grade aluminum frame and the all terrain suspension for being able to take a beating here and there and be no worse for the wear.

It also meets ASTM safety standards and is JPMA certified which provides some comfort to caregivers who review things like this. (Are you wondering what I'm talking about? We have a great post about that here.)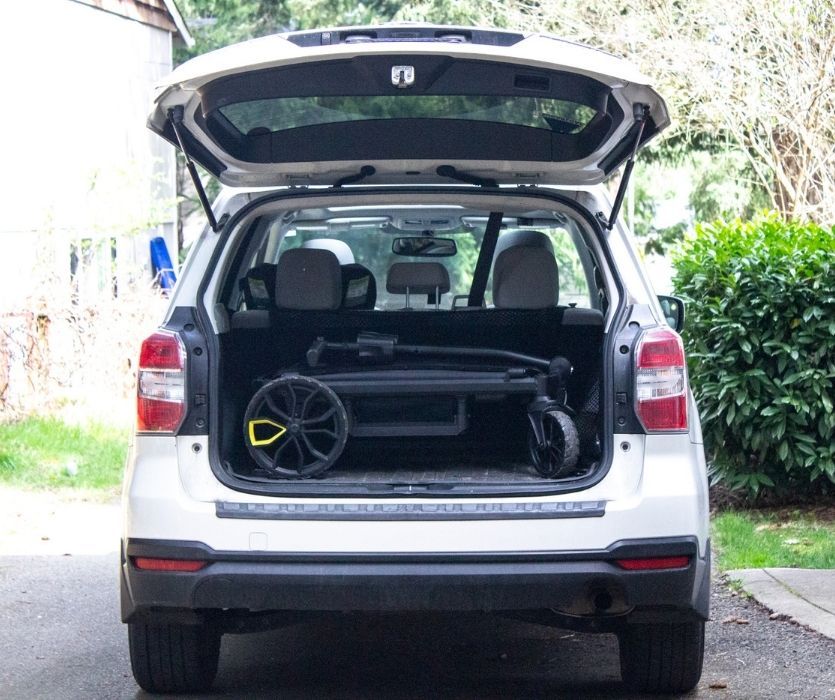 How big is it?
Okay so it's not exactly small, but it's only got about 4" on a comparable premium stroller (the Vista V2). It's also a little heavier, but nothing outrageous. I easily fit it into the back of my Subaru Forester, collapsed down but with the wheels still on. Oh, and it folds super easily, which is always nice - just lift two handles on the back of each seat, and collapse the sidewalls down.
Here are the specs from the Veer site: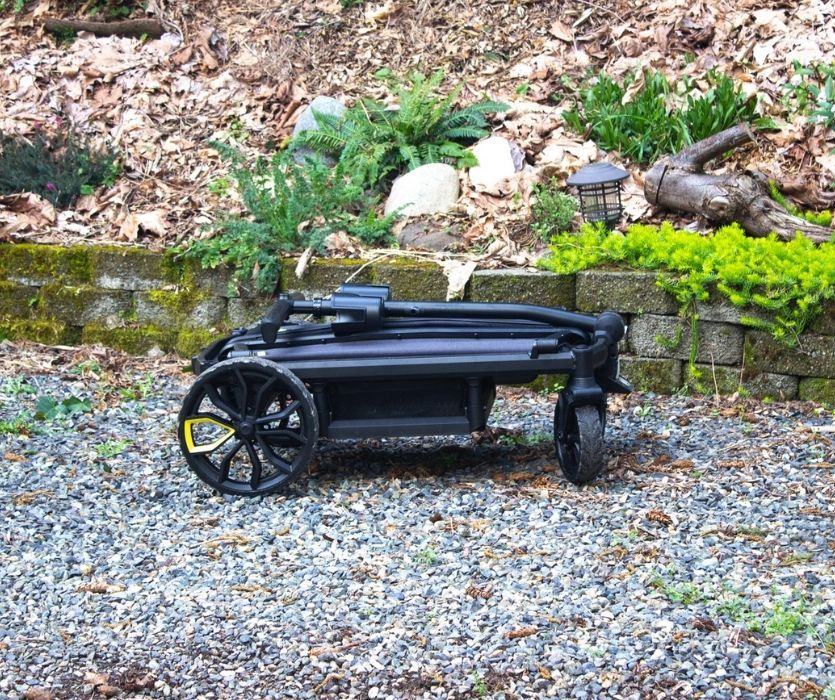 Interested in something a bit bigger? They just released the Cruiser XL which seats four and still folds down to be about the same size as its predecessor. Check out their site for the full deets on that bad boy.
Can you fly with it?
Yes. Pop off the snack tray and sunshades, collapse it down, and voila! It will fit through most TSA scanners and can be stroller checked at the gate - although this does vary depending on airline carriers. If you are going to fly with it, there's a handy travel bag sold as an accessory to help keep everything protected.
Can you use the Veer Cruiser at Disney?
No. You can't use the Veer Cruiser Wagon at Disney or Disneyland, so keep that in mind if that's where you're headed. There's conflicting information about using stroller wagons at Universal Studios, but feel free to chime in in the comments below if you have personal experience here.
Is it easy to clean?
You don't have to be scared of mud, spilled milk, or dirty hands. The fade and stain resistant fabric is easy to clean with a hose and cold water. There is some special care recommended if you take it to the beach and get it salty or sandy, but it's mostly a good hose down.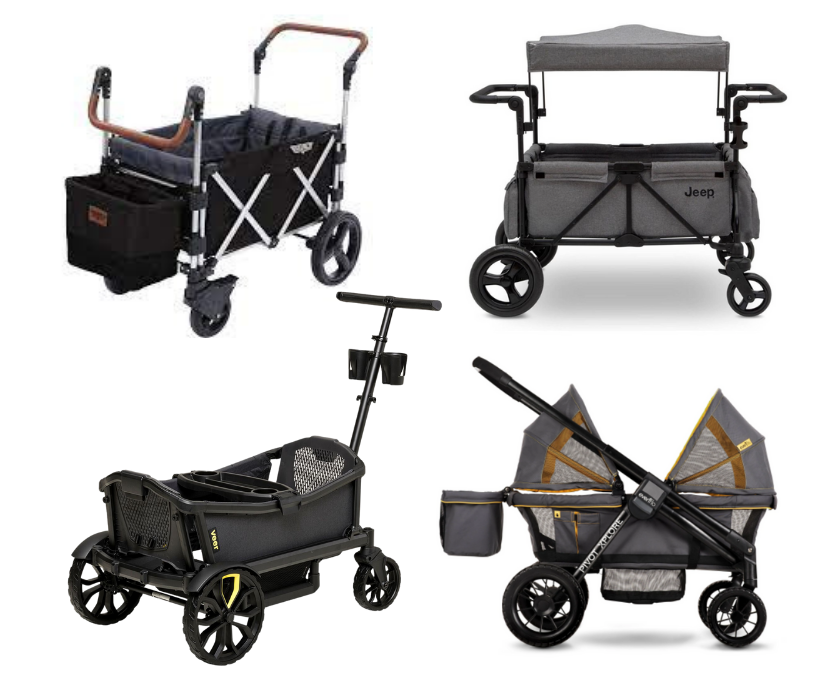 How does it compare to similar stroller wagons?
Veer isn't the only stroller wagon (or 'baby waggon' if you're a creative googler) out there. There are other popular brands, like
One of the biggest differences between these three models (besides price) is the handle style.

The Veer has an adjustable height handle which makes it easy for people of any height to push or pull with ease without having to adjust their stride. The Veer sunshade style is also more "stroller-y" than a couple of the other styles, so depending on what you're looking for that might be a plus.

Overall though, it feels like the most sturdy and "wagon-y" option of the stroller wagons, which does make it seem like it has more longevity than the others.
Is it worth the cost?
This is a very personal call. $700 is nothing to sneeze at, but unlike a traditional stroller, there is the promise of being able to use it for years to come.

It's constructed of high quality materials, works for infants through the toddler stage, and is big enough to lug beach gear or the odd elementary aged kiddo who decided the car is just too far to walk once your toddler ages out of it. It folds up small enough to fit in a trunk and stands alone like a stroller for easy storage, so it's not a huge space commitment like a traditional metal wagon.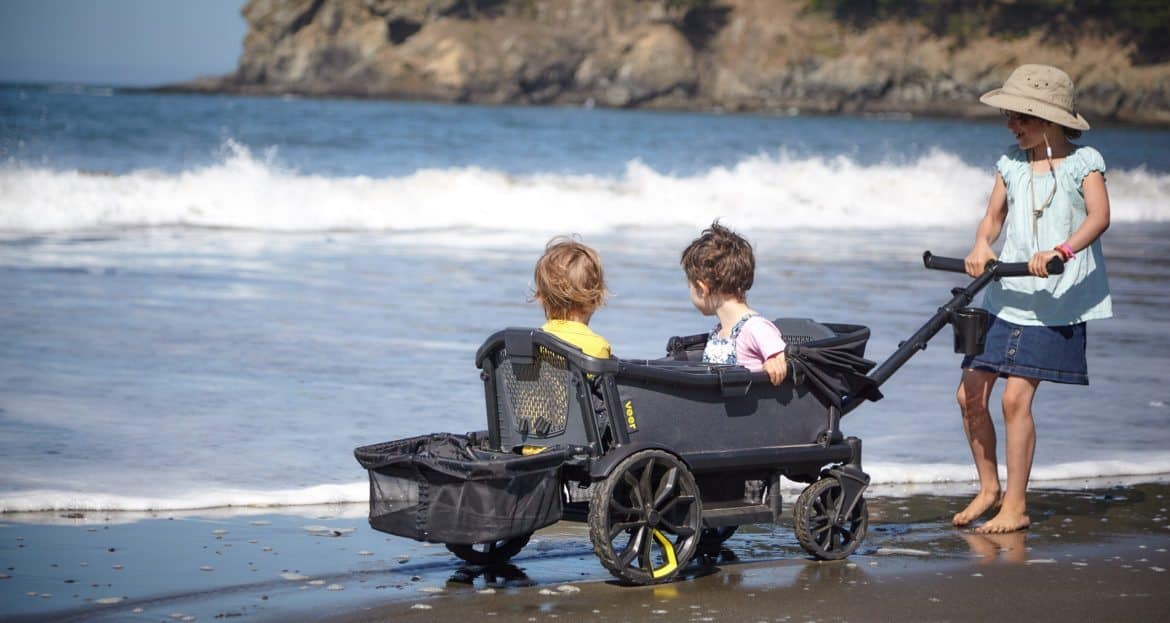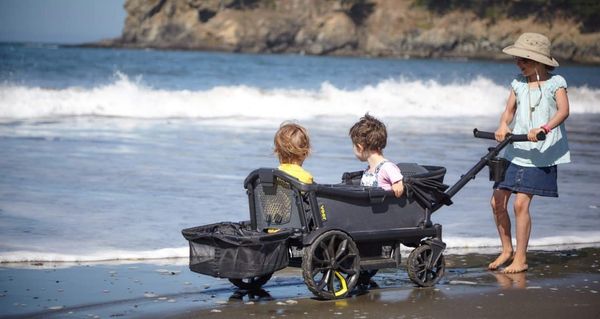 Summary of the Veer Stroller Wagon
The Veer Stroller Wagon is versatile, easy to push or pull, comfortable, and breaks down for upright, stand alone storage. It can be used for infants through the young kid stage, and then easily transitioned into more of a traditional gear hauling wagon.

It's not cheap, but it's also made from high quality components that are built to last. Perfect for moderate trails, sidewalks, and just about anything in between, families who are looking for something other than a traditional stroller (or a traditional wagon for that matter) should consider this fun, rugged, adaptable stroller wagon.
If you'd like to buy one, here's where you can find them:
Our next reco: Mockingbird Stroller Review – Too Good to Be True?
---
Get posts & giveaway updates delivered right to your inbox
---
---