It's that time of year when I pack up Kelly and Emily and we head off to Vegas to the ABC Kids Expo to check out the latest and greatest pregnancy and baby products.
Here's what we scoped out this year!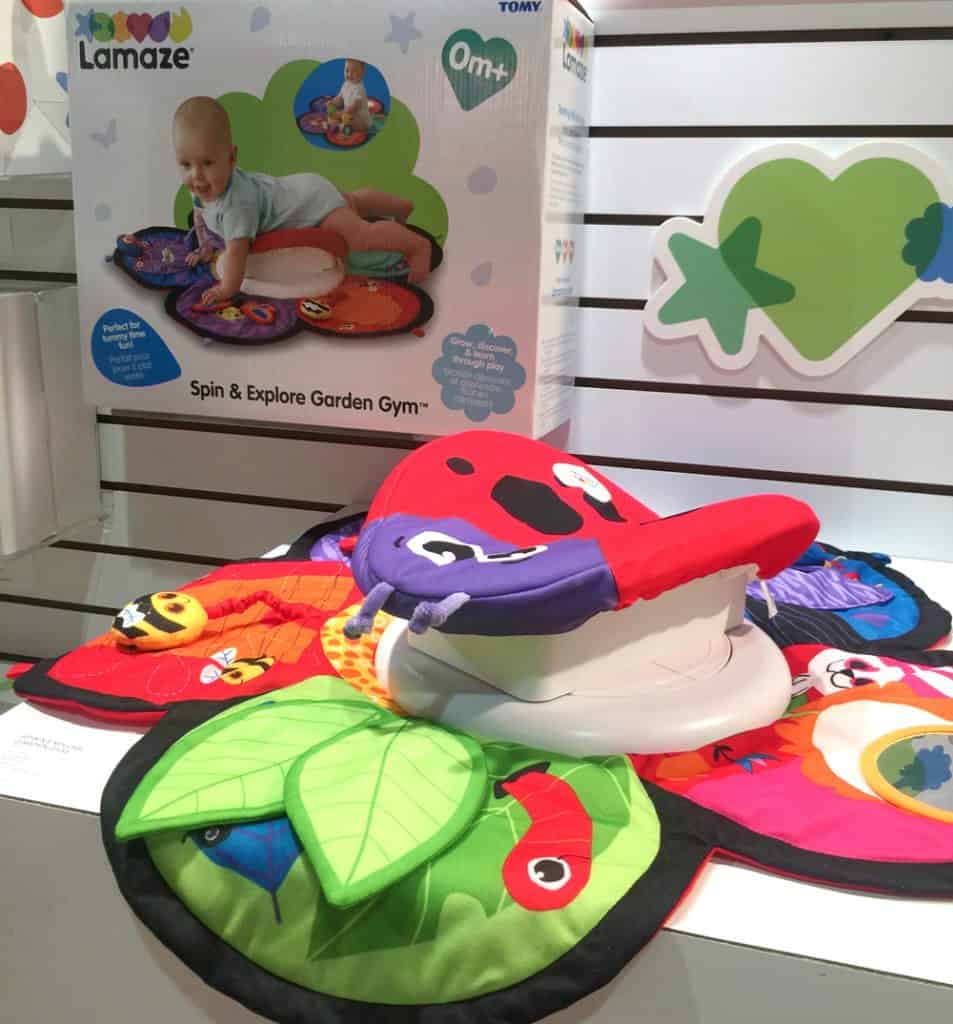 Lamaze Spin and Explore Garden Gym
My kids HATED tummy time so I thought this Spin & Explore Garden Gym from Lamaze looked really cool. Your baby can rotate themselves around while checking out all the goods on the fun playmat. (Kelly wants an adult size one to make her workday more efficient ? )You can find it here.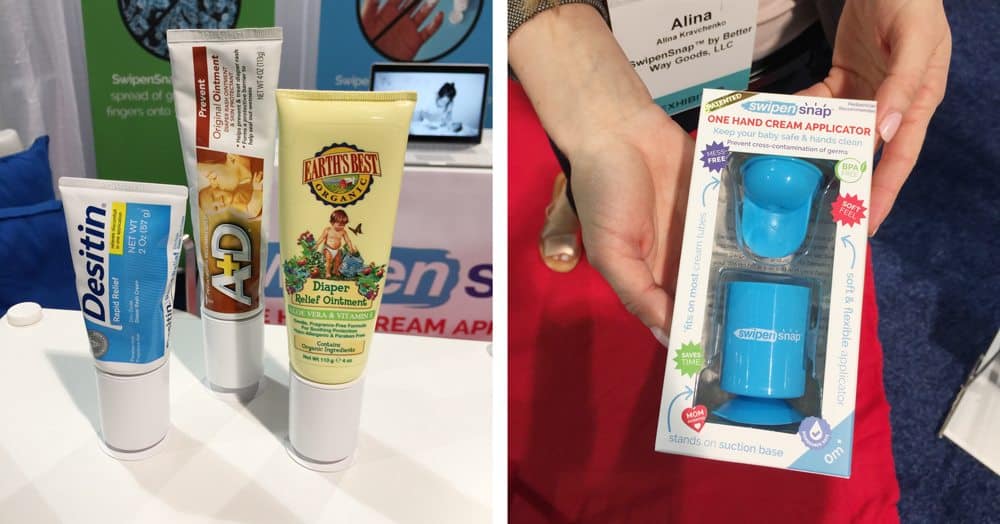 Swipen Snap Diaper Cream
Holding up baby legs while trying to unscrew the cap on the diaper cream is a pain in the ass (yuk yuk). So I love that this brilliant mom came up with this cap to make one-handed diaper cream application a snap. It sells for $10 and is available on her site.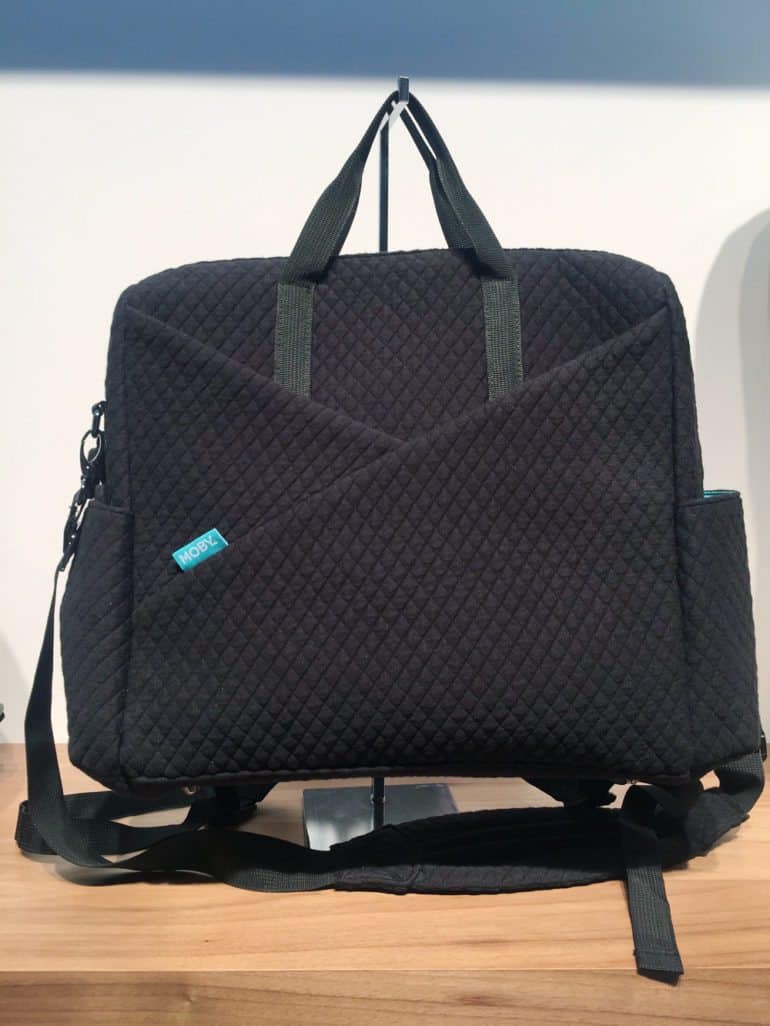 Moby Diaper bag
This diaper bag from Moby caught our eye because of its cool, sleek design. I was shocked to find out it was only going to be $45 because it looked a lot more expensive when I was up close and personal with it. It has a great teal interior so you can see all your crap and corruption and a padded shoulder strap for extra comfort. You can shop it here.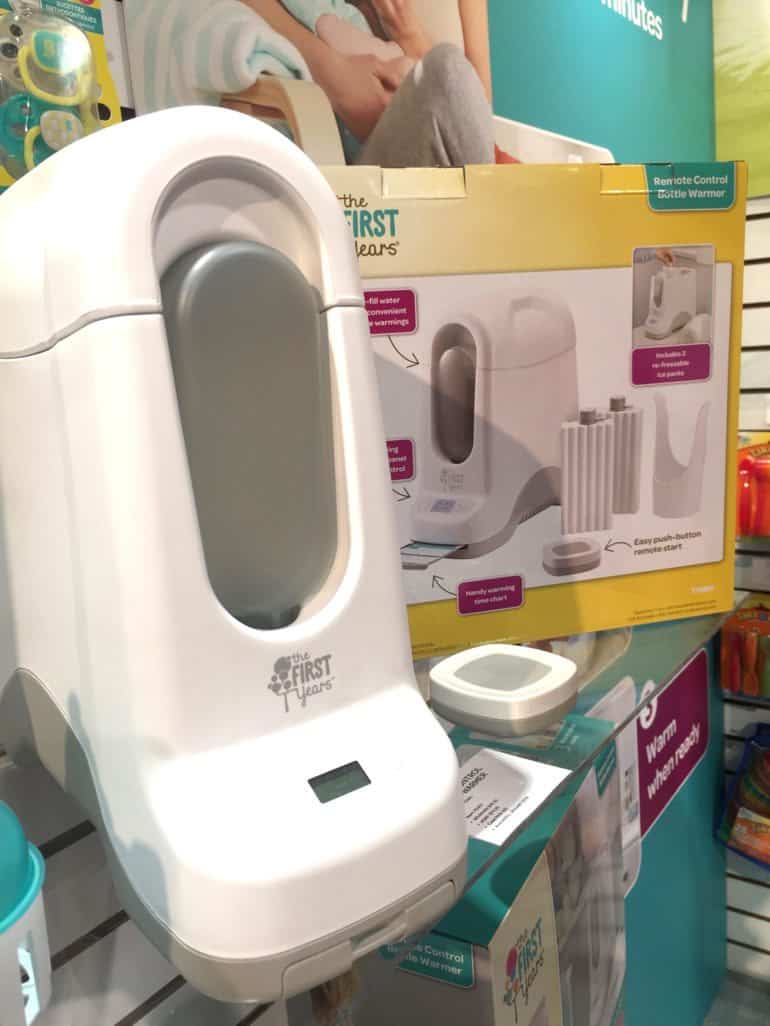 First Years Bottle Warmer
You can prep all your bottles the night before, set them in this insulated holder, then hit the remote beside your bed when the baby wakes up. By the time you shuffle down the hall with the baby, you have a perfectly warmed bottle ready to go. You can shop for it here.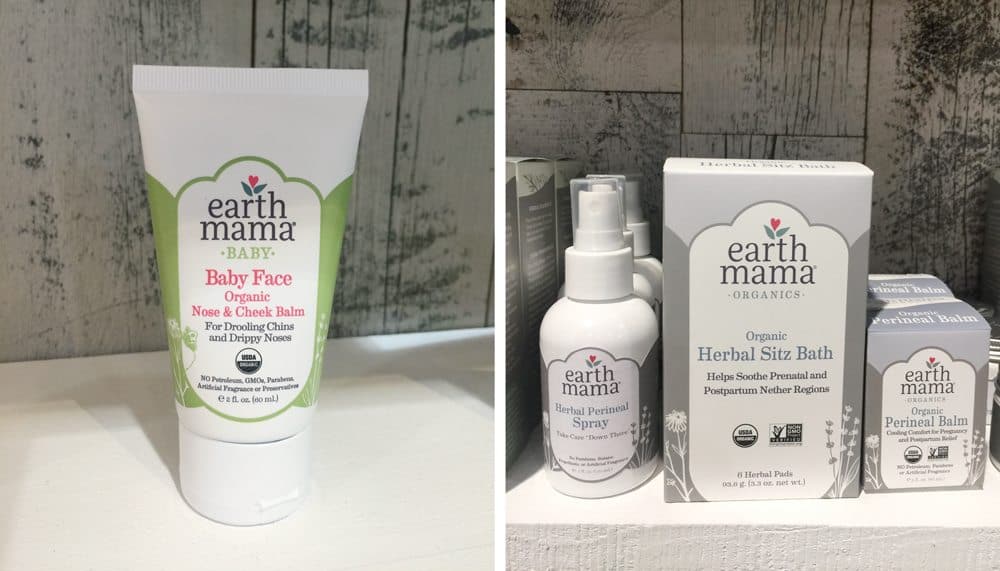 Earth Mama Baby Face (and new packaging)
I was SO happy to see that Earth Mama dropped the "Angel Baby" (it was a mouthful) and updated their look so they awesome look outside matches the awesomeness inside. They have added some great products to the line this year including Baby Face Organic Nose and Cheek Balm. It feels like a dream and smells like a kitten sigh – I used some on my lips as a quick lip balm. It will sell for $9.99 and is available now.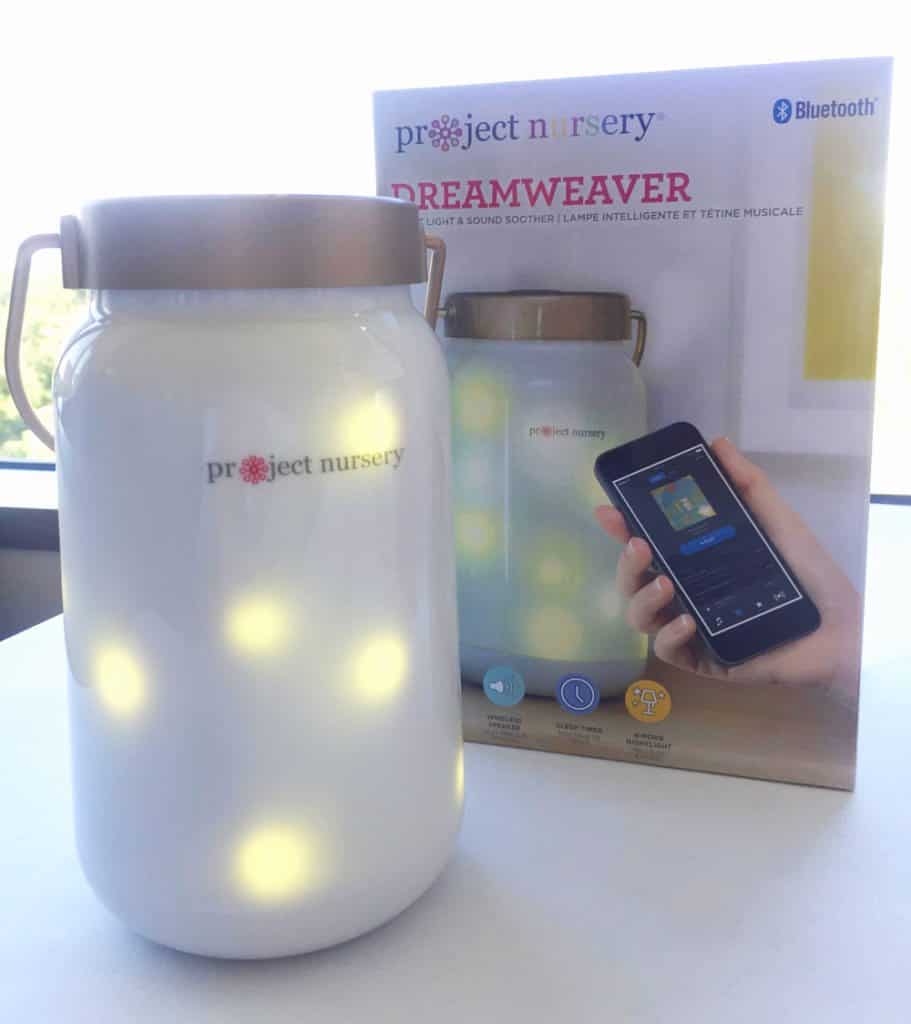 Project Nursery Dreamweaver
If you're going for a woodland nursery theme, I thought this Dreamweaver light from Project Nursery was cool.  It's a wireless speaker that can pipe your favorite tunes into your child's room while the little "fireflies" gently flicker on and off inside. (I could have done without the logo on the front but I still think it's sweet.) It sells for $39.99 and you can find it on their site.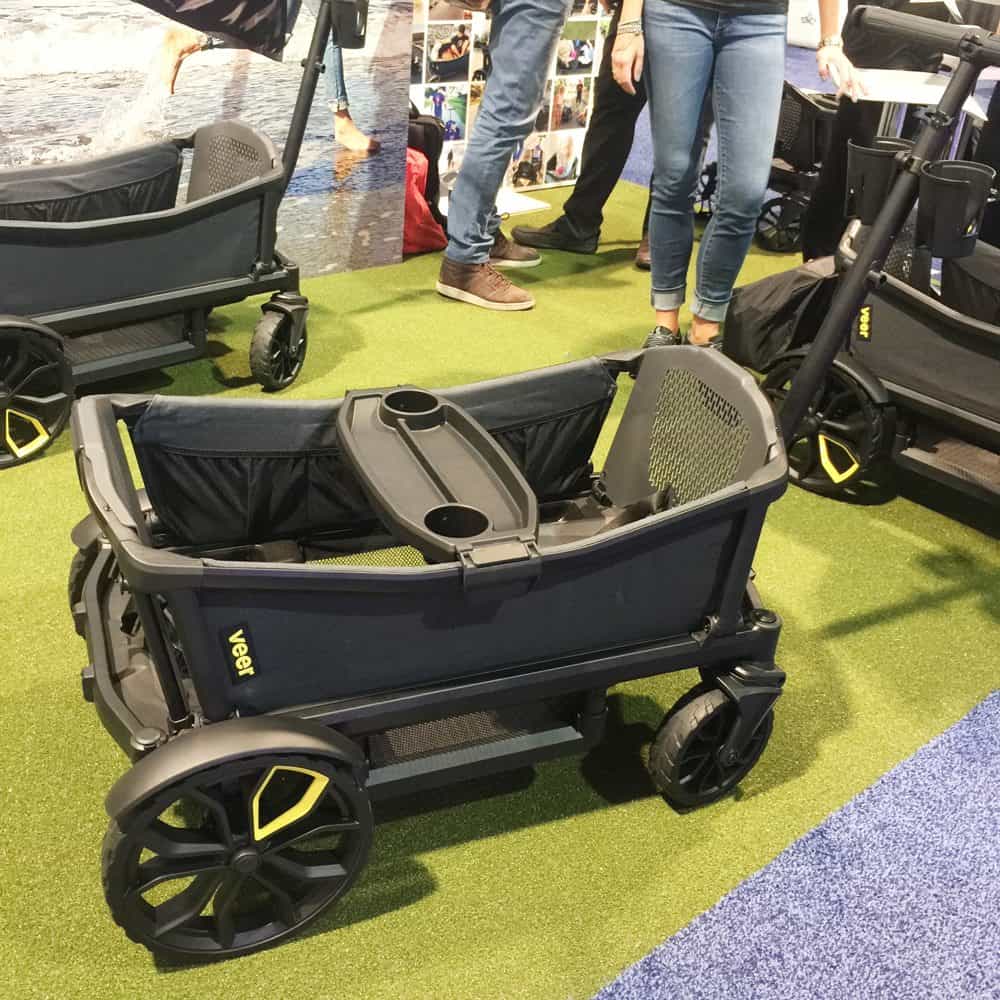 Veer Wagon
I was really intrigued when I saw the press release on this. The Veer Cruiser is a hybrid of a premium stroller – with its car seat adaptor, cup holders and canopy – merged with the utility (and fun) of a wagon. Bonus: because of the push function, you may be able to take these suckers into Disney so keep an eye out for them. It's available now at Babylist, Potterybarn Kids and buybuy Baby.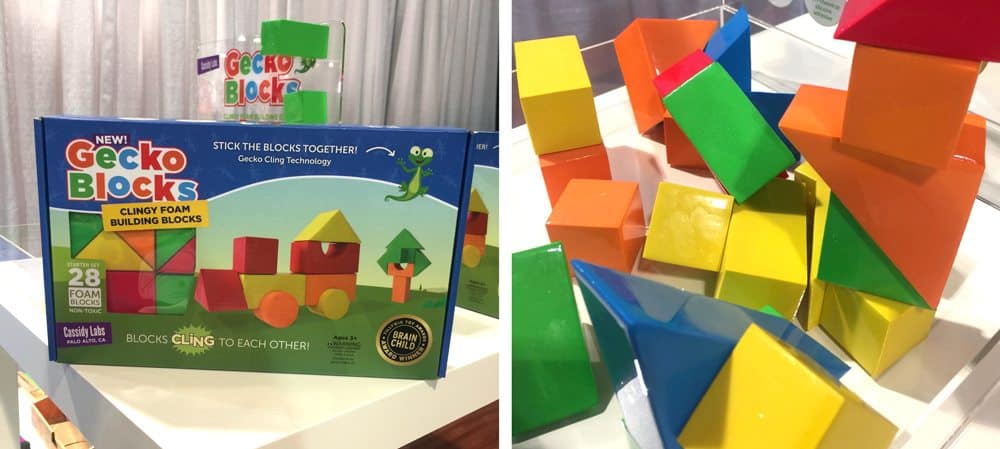 Gecko Blocks
These block are lightweight foam coated in silicone so they 'stick'. They are easy to stack so tiny hands can still create kick ass structures without the frustration factor of continuous tower topplings. You can even use them in the bath. You can find them on their site.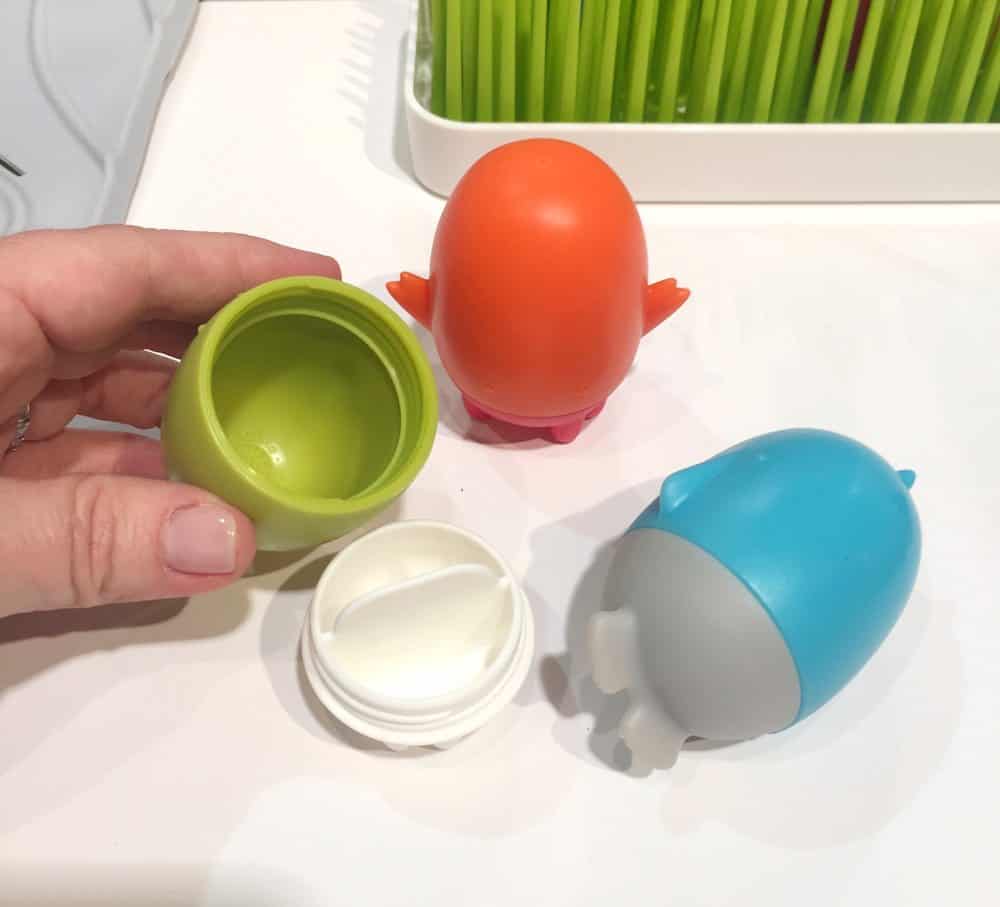 Boon Squirt Toys
Oh Boon, you never fail me with your bath toys (I'm looking at you, my beloved Marco!) These Squirt bath toys easily screw apart so you don't have rabid sea monkeys growing in the bath toys your baby inevitably sucks on in the tub. Plus, they screw together rather than snap together so they don't accidentally break apart when you squirt them. You can shop them here.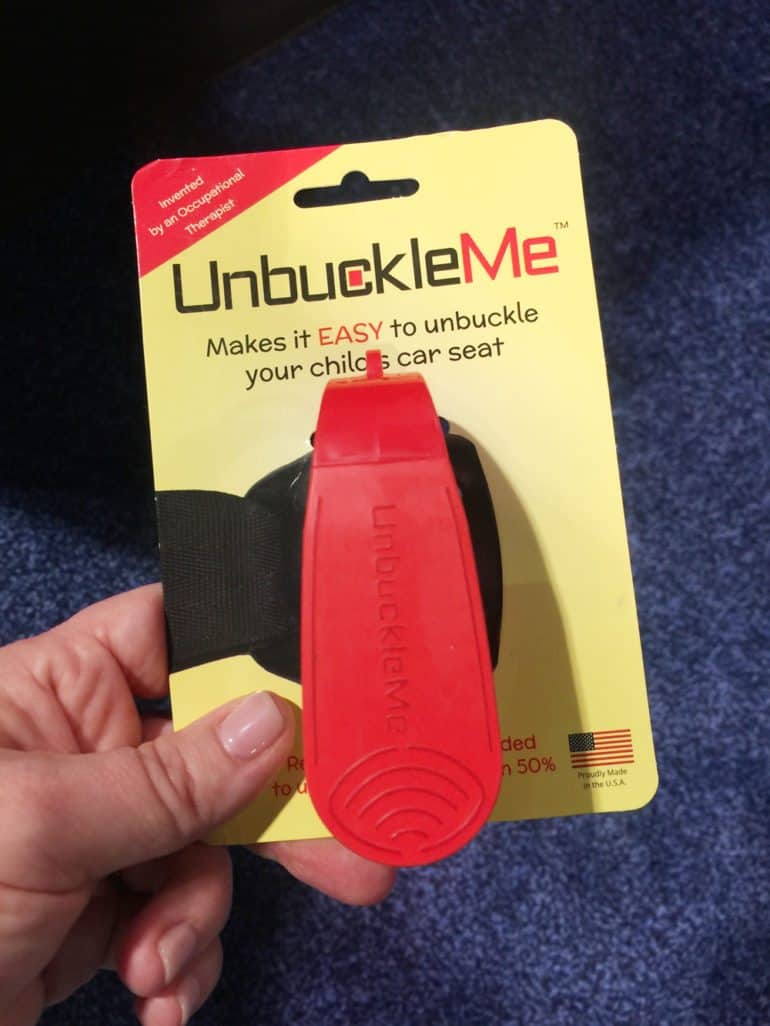 Unbuckle Me
I get a little twitchy whenever I see car seat stuff, but this UnbuckleMe is a great idea. It's a small plastic tool that makes it easier to unbuckle a child's car seat buckle. Designed by an Occupational Therapist, it helps with people with arthritis, people with long nails, or just people that find pushing that damn button difficult. You keep it with you (not on the car seat) so it doesn't interfere with the car seat function while driving nor can your child bust free while driving on the highway. Two stiff thumbs up! They are available now on their site for $14.99.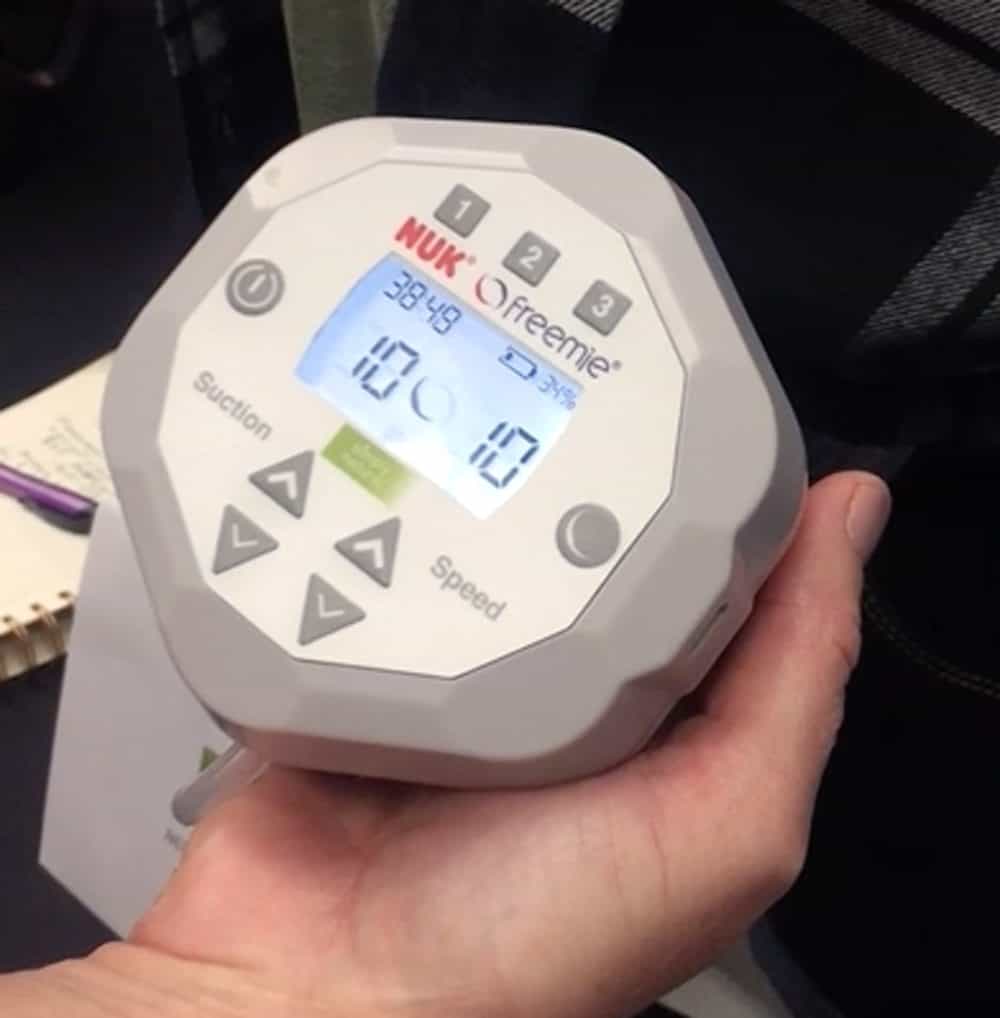 NUK Simply Natural Freemie Double Electric Breast Pump
We couldn't get over how quiet this pump was! It sells for around $300 and you can find it here.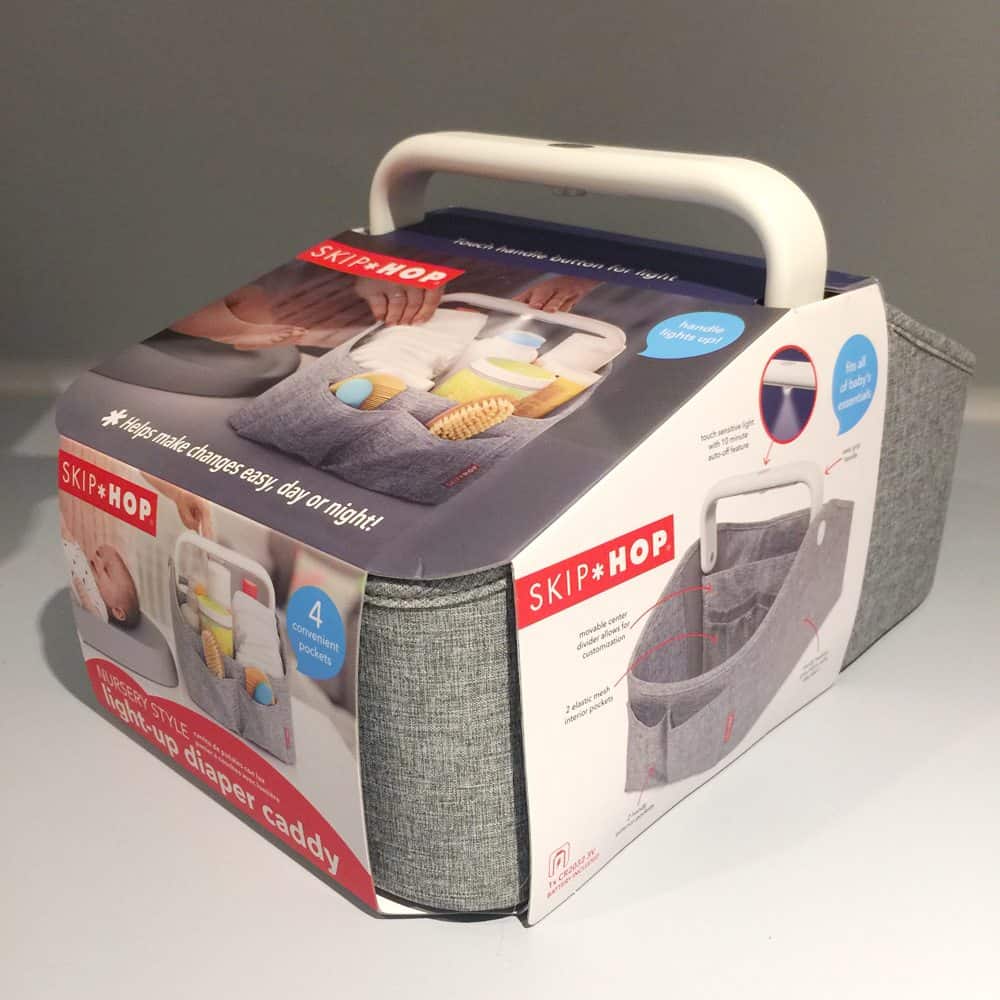 Skip Hop light up diaper caddy
Skip Hop has come out with this sharp diaper caddy that you can tote around the house. Best part, it has a little light in the handle so you're not fumbling around for the wipes when dealing with a nighttime poosplosion. It is available now on the Skip Hop site and costs $45.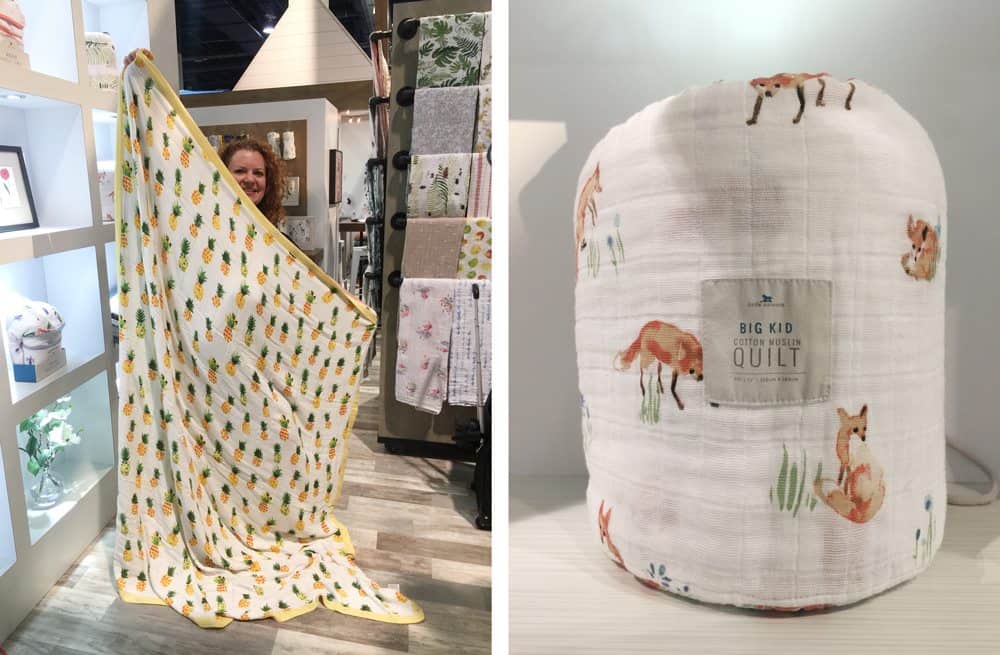 Little Unicorn Big Kid Quilt
Little Unicorn makes some of the most gorgeous swaddles so we were really jazzed to find these Big Kid Quilts. They are the softest most cosy blankets you'll ever drape yourself in and I was tempted to make a run for it with the Pineapple print above. They have an illustrator on staff that creates all the images and they are just soooo beautiful. The Big Kid quilts will be available in the new year and run between $85-$98.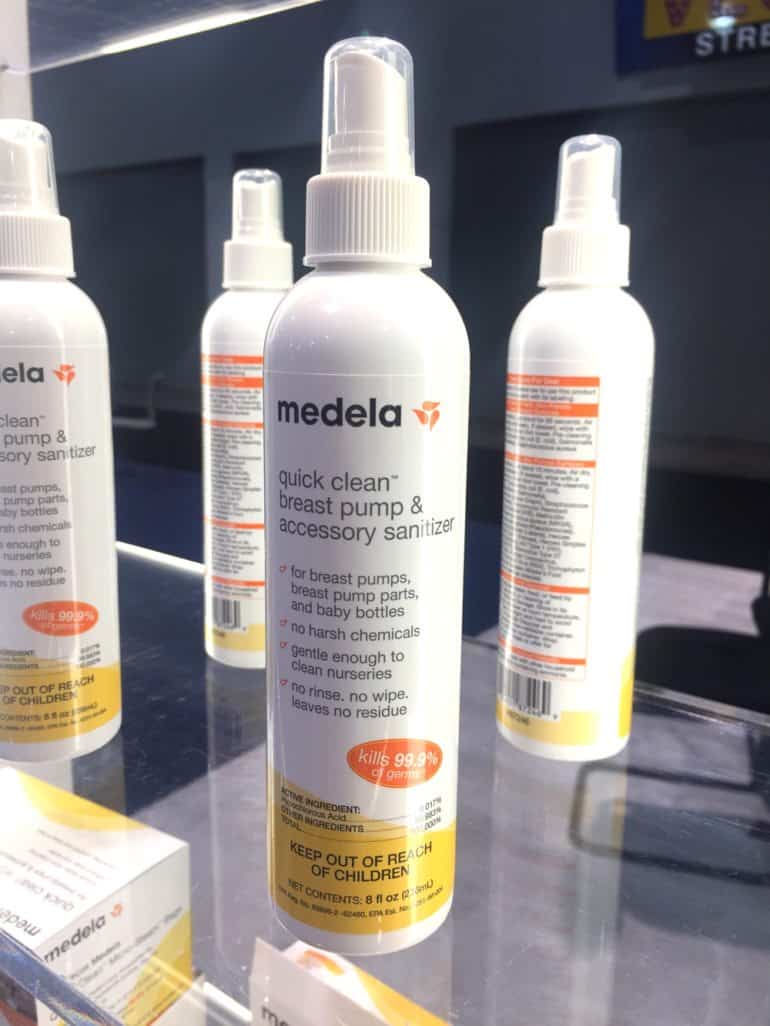 Medela Quick Clean Breast Pump and Accessory Sanitizer
Medela is coming out with a quick clean sanitizer so you can give a quick spritz then toss your pump parts back in your bag so you don't have to wash stuff out on the go. It will be available in January of 2018 and sell for $7.99.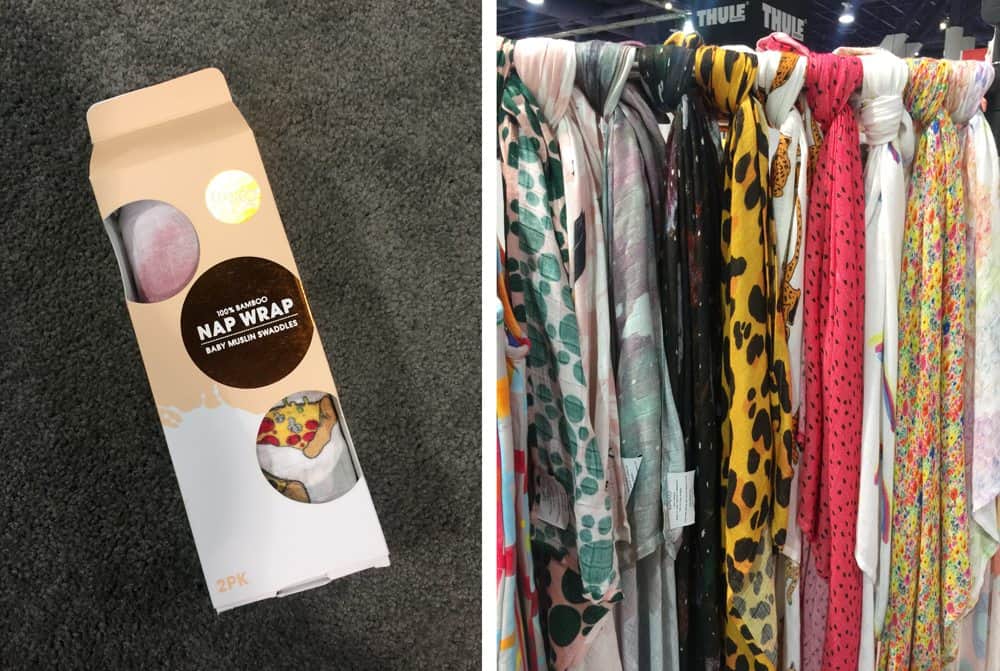 Kip & Co swaddles
Kip & Co has some amazing designs if you're looking for something a little outside the box. Their swaddles come with cheetah patterns, outer space, watermelons and (my fave) pizza slices. Plus, they come packed in this amazing milk carton design – makes for a nice "wow" gift. Their swaddle sets sell for $49 and many of them are available on their site now.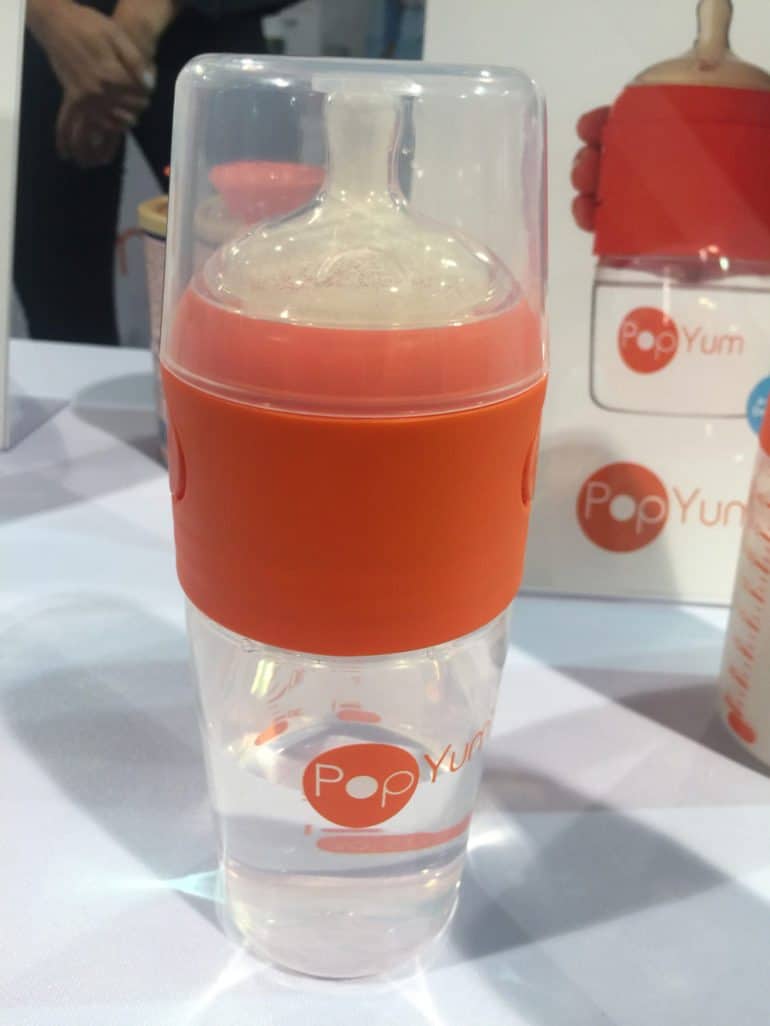 Pop Yum Bottles
PopYum stores water and formula separately in the bottle. When hunger calls simply press the buttons to release the seal, shake it to mix and you're ready to go. You can even use it to store breast milk – the seal prevents accidental leaking from the bottle nipple. You can shop them here.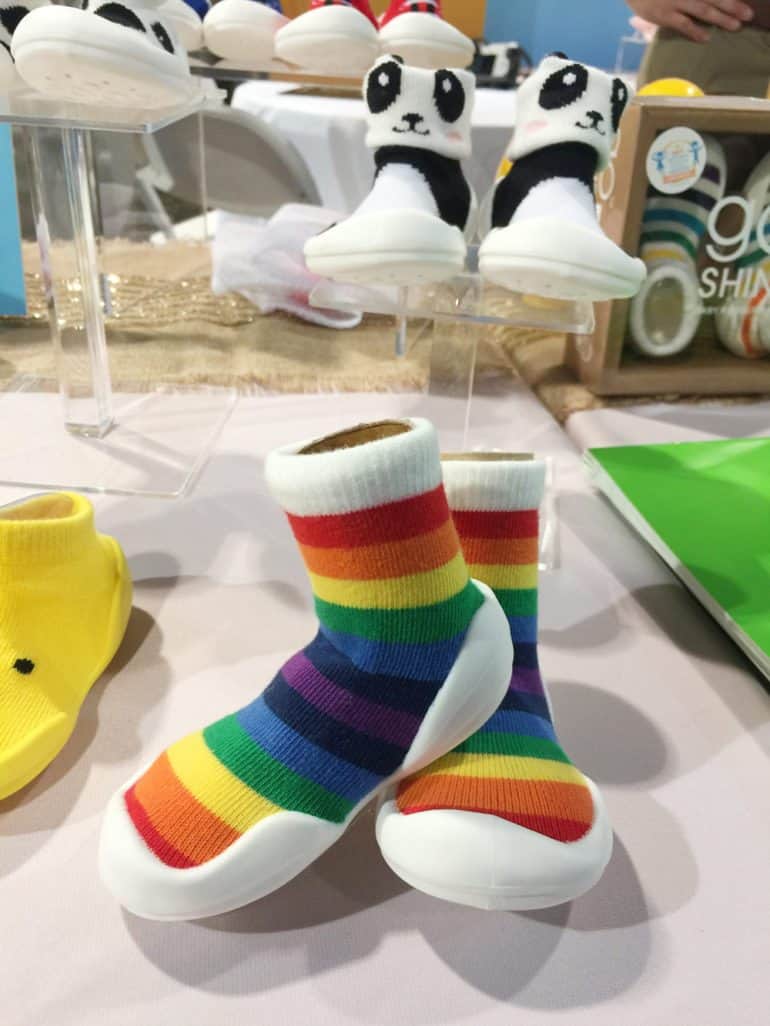 Go Shins
These clever shoes are like "socks on Crocs" they are soft, flexible and provide great traction for little feet. They come in THE CUTEST styles (I think Cheeky Panda and Peep Peep are my favorites) and you can already find them at goshins.com for around $33.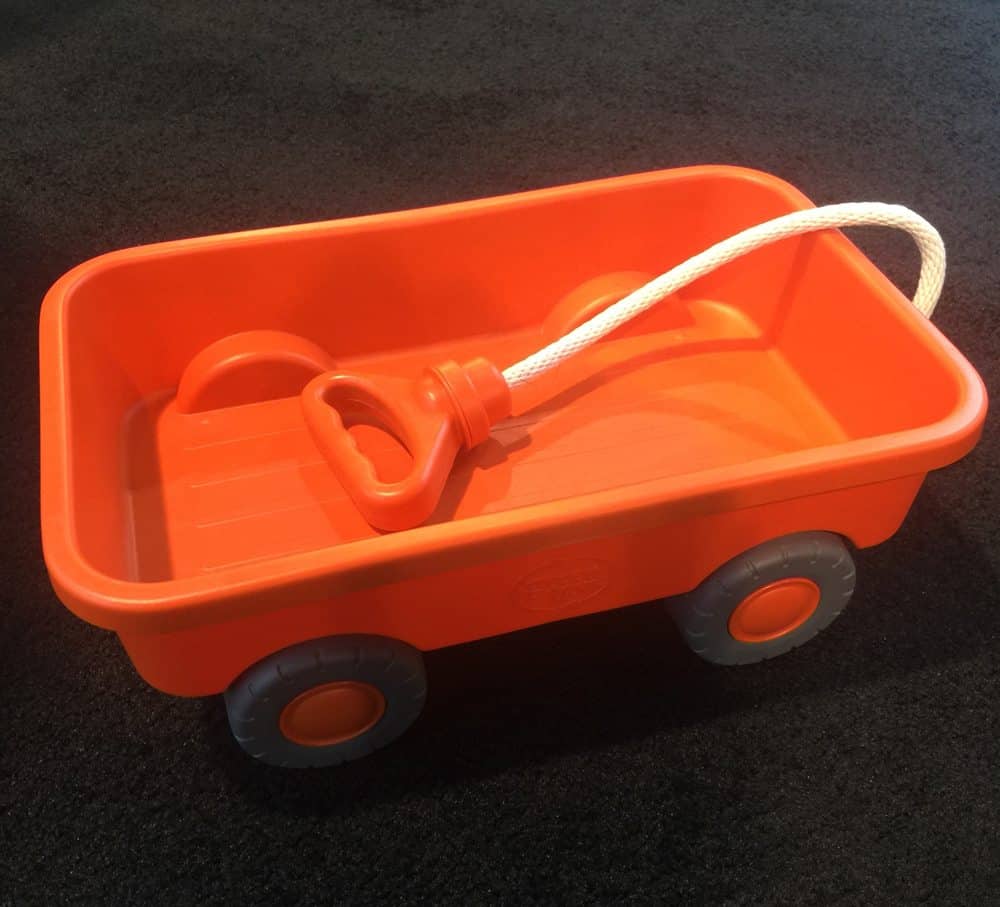 Green Toys Wagon
You know I love me some Green Toys – eco-friendly U.S.A. made toys with incredible play value –you can even toss them in the dishwasher. Their new Wagon is sturdy and durable, and features a 100% cotton rope handle that easily tucks inside for convenient, safe storage that can haul stuff indoors and out. It's available now and it sells for $20.
Bink Safety Stuff
It's about damn time that someone made nice looking safety stuff! Bink makes modern baby and child safety products  that are designed to be longer lasting, safer and complementary (aka not butt ugly). Right now they have safety corners, a magnetic cord holder for blinds and outlet covers. You can find them on binkmade.com and range in price from $13 to $30.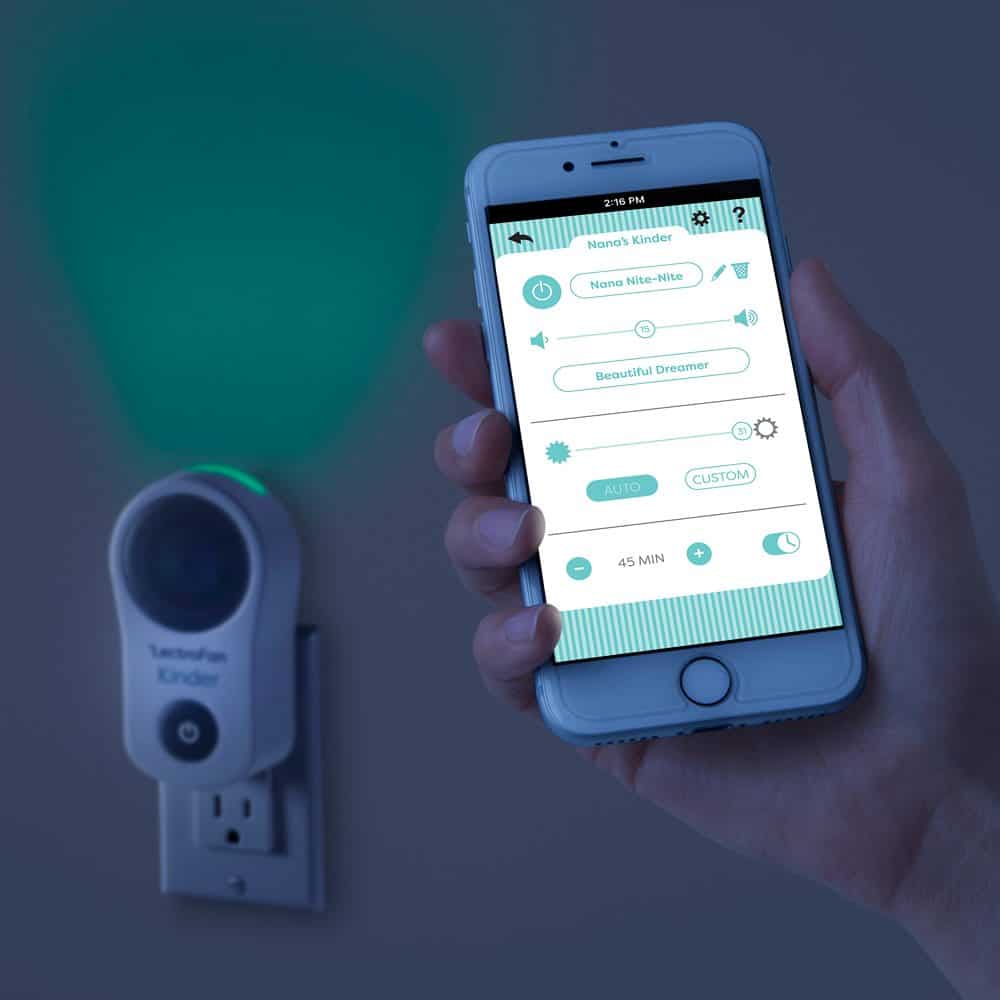 LectroFan Kinder
I am obsessed with my Lectrofan sound machine (it drowns out my husband's snoring which has prevented his murder many a night) so I was stoked to see that they are coming out with an app controlled night light version for nurseries. It plugs into an outlet and cranks out the same rich, non-looping sounds that the LectroFan does but also includes lullabies and a variety of nature sounds that you can control from your phone. You can find it here.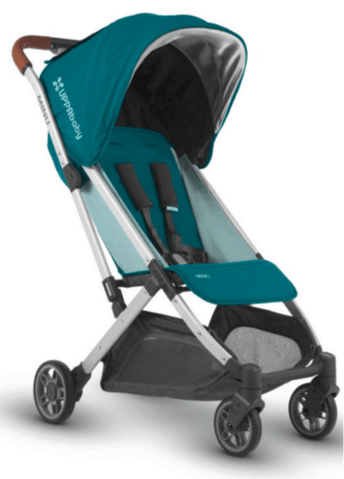 UPPABaby Minu
If you're a fan of lightweight stollers, UPPABaby is coming out with this Minu. It's under 15lbs, has a one-handed fold, can carry a car seat, and can be used from birth. It will be available in the Spring of 2018 and will sell for around $400.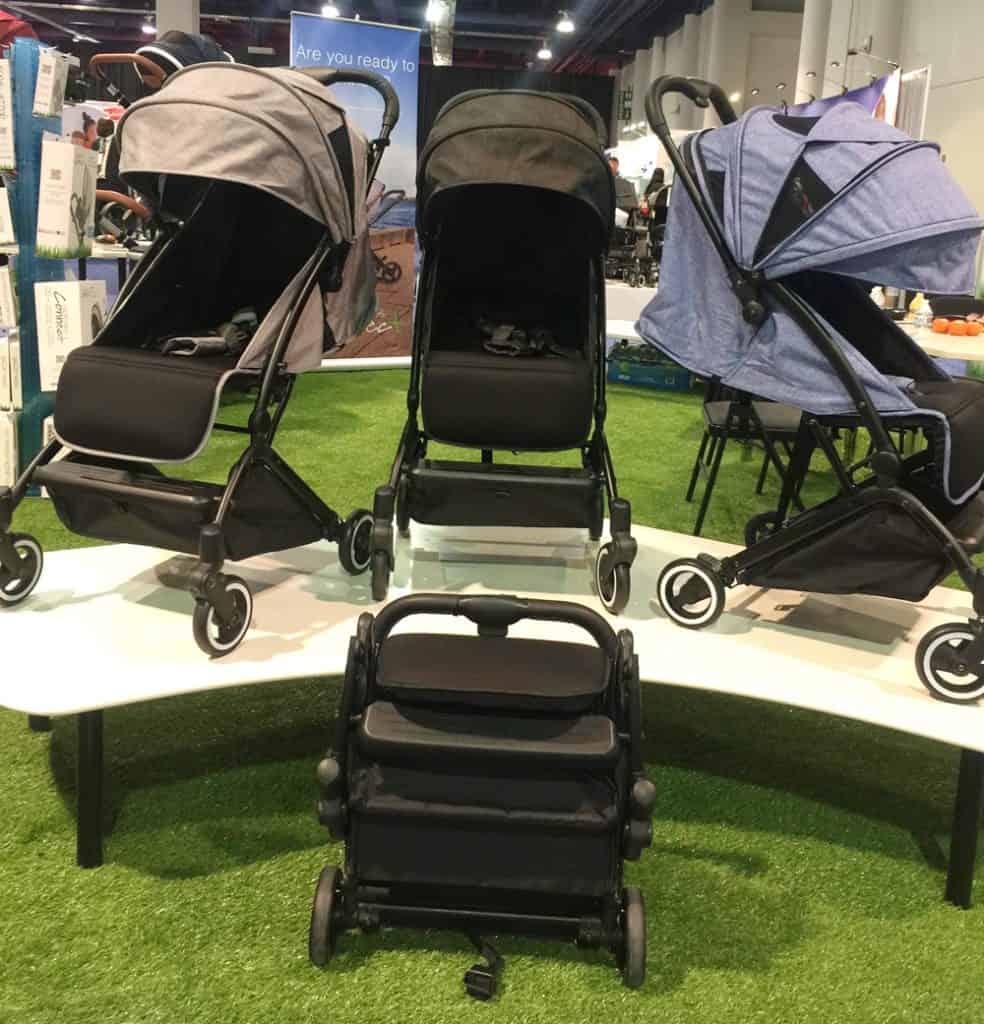 Guzzie+Guss Oxygen stroller
Gussie+Guss do a great job of making strollers with high end features at a lower price point. Their Oxygen stroller is lightweight, has a one-hand fold, full recline, weighs 11.8lbs and has a killer canopy. You can also attach their universal stroller hitch which I think would make for a bad ass setup if you're traveling with a baby and a kid (hello Disney). Best part is that it's going to sell for $199 which is a great price compared to many of its counterparts. It should be available Spring 2018.
There you have it. Our very favorite picks of all the pregnancy and baby related goodies for 2018!
Sign up for our newsletter if you want to be updated on when these products are released (psst, we may give away a few too!).
Also check out: Best Pregnancy & Baby Products for 2020
---
Get posts & giveaway updates delivered right to your inbox
---
---