As a doula, childbirth educator, and parent, it's no surprise that I'm asked about different birth class philosophies. Like anything, when it comes to pregnancy and raising tiny humans, there's not one right way to prepare. Luckily there are loads of options.

There are five "name brand" organizations that train childbirth educators in a specific method: Lamaze, Bradley, Hypnobirthing, Birthing From Within, and the newer Evidence-Based Birth. You can pretty easily find someone (in your area or online) who teaches one of these methods or someone who's blended methods and teaches independently. Here's a brief summary of how each birthing method compares.
Comparing the different types of birthing classes: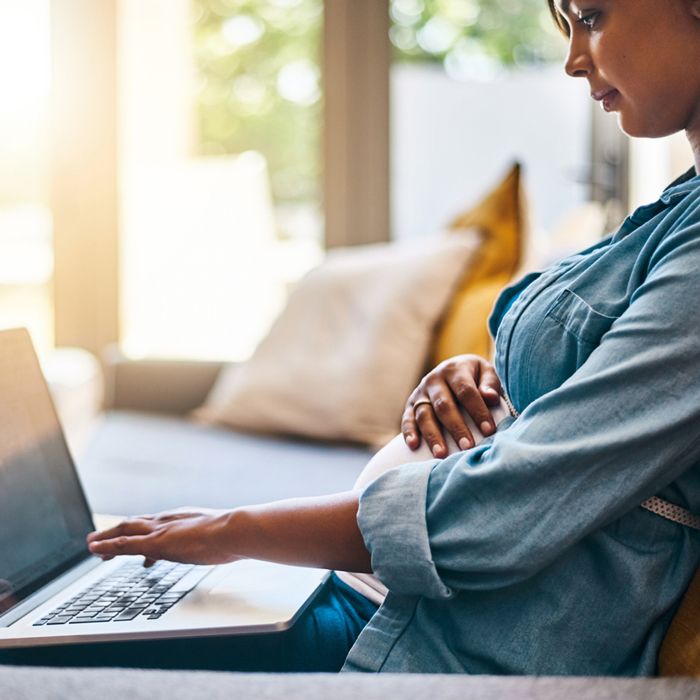 1. Lamaze Classes
Lamaze is the oldest branded labor coping method out there. The one that got famous for teaching "hee-hee-hoo" breathing techniques you see in the movies. The Lamaze name is so well known that most people will look for "lamaze classes" not knowing there are any other options. It's like the Kleenex of Childbirth Education.

Why you might love it: Lamaze classes focus on a variety of pain coping strategies to help with labor in order to increase confidence and ensure the safest delivery for mom and baby. You can find a local Lamaze educator teaching live classes, a Lamaze educator selling on-demand classes, or learn from one of the Lamaze branded Online Videos.

Why you might not: If you're planning to deliver with pain medication or are likely to be induced, you may feel out of place in a class with a core principle of avoiding unnecessary medical interventions. Also, "hee-hee-hoo" breathing causes hyperventilating and isn't really taught anymore. Just make sure your educator is up to date in their continuing education. There is no set curriculum from teacher to teacher so it's important to investigate your specific class and instructor.
2. Hypnobirthing
The Hypnobirthing Method is a set curriculum (five, 2.5 hour sessions) that works to replace the fear-based narrative of childbirth with positive messages and teaches tools for self-hypnosis, breathing, and movement.

Why you might love it: Rooted in the understanding that fear of the process will hinder the process, Hypnobirthing classes, the accompanying meditation tracks and book,  prepare you and your partner for a medication-free and intervention-free birth. You can also read the book and listen to the audio tracks on your own, without taking a class to learn more or supplement any other birth-preparation program.

Why you might not: Hypnobirthing is a strong theory that does not leave much room for flexibility or surprises. Some people who prepare for birth solely with Hypnobirthing can feel bad about themselves if they weren't able to have an Instagram worthy intervention free birth.
3. Bradley Method Birthing Classes
The Bradley Method prepares couples for an unmedicated, intervention-free delivery through a set 8 or 12 week series. Previously referred to as the Husband-Coached Childbirth class, they equally engage the partner as well as pregnant person.

Why you might love it:  Given the length of the series, you cover a ton of information and join a community of other dedicated parents in a Bradley Method class. You will learn a ton about the history of childbirth and medical interventions, and practice relaxation techniques in depth. The Bradley Method, obviously centers the role of partners-as-coach, and a lot of people are able to have a drug-free, intervention-free birth after taking class!

Why you might not: It's time and information overload for a lot of folks. Also, if you don't have a partner – or don't have a partner who wants to be your primary labor coach – it might not be a great fit. Like Hypnobirthing, Bradley Method classes can make you feel bad for not achieving the perfect Bradley Method intervention-free birth.
4. Birthing From Within
Birthing From Within classes focus on birth as a rite of passage and provide expectant parents with creative explorations in order to discover deep inner resources. You can take class as a stand-alone endeavor or to complement a more traditional birth preparation program.

Why you might love it: Birthing From Within leaves room for the unpredictability of birth. Instead of training you to work toward an outcome, Birthing From Within hones in on the core emotions that can come up during birth. If you want to go beyond the basic "breathing and positions" and dive into emotions and instincts you'll appreciate the hands on, interactive, and personal exercises from Birthing From Within.

Why you might not: It's pretty woo.
5. Evidence-Based Birth Classes
Evidence Based Birth is newer to the scene. These 6-week classes were designed to put evidence-based information into the hands of expectant parents who often find themselves in the position of needing to advocate for themselves inside of large medical institutions.

Why you might love it: Research, research, research. You'll love this class if you want to approach your doctor as an intellectual equal. If you want to take charge of your care and get the data you need to make decisions for yourself and your baby.

Why you might not: It's pretty business. And, if you're not wanting to advocate for yourself in labor and are more comfortable following doctors' orders and going with the flow, this class will be stressful and overwhelming.
6. Hybrid Classes
While these are the well-known methods of preparing for childbirth, there are thousands of educators that train with organizations like CEA/MNY, ICEA, and DTI that do not have a specific method. Instead, educators that move through these programs are able to pick and choose what, when, and how much information to cover.

For instance, Birthsmarter has curated the best elements of Lamaze, Hypnobirthing, and the Bradley Method and rolled it into a complete course.
Which birthing class is the best for me?
Here are some considerations when looking at your options:
Do you want a class that focuses on unmedicated birth or do you want a class that will help you prepare for an epidural or cesarean birth should those become helpful or necessary?
How do you learn best and what class structure and an instructor can help you the most? (Pre-recorded video versus live sessions, activities versus PowerPoint slides, etc). Reading reviews of birth classes can tell you a lot more than a website.
Do you want to learn alone, 1:1, or with a small group of other expectant parents?
Are you looking for information beyond labor-preparation? For example for information on the pelvic floor and pushing, postpartum preparation, lactation, and / or newborn care?
There are a lot of options these days, but good birth classes are worth taking.
What about water birth and other techniques?
Water birth is a birth location and coping strategy more than a birth preparation method. (FWIW, there's also a difference between laboring in a tub for pain relief, which is super effective and delivering your baby in the water. Not every birth location has a tub and not every place with a tub allows you to deliver the baby in the water.)

You can apply what you learn in almost any birth class to laboring in water, though some people interested in water birth enjoy learning more about unmedicated and calm birthing environments like the Leboyer Method created by Frédérick Leboyer, French Obstetrician and author of Birth Without Violence.

The Alexander Technique is a method that helps your body find ease and flexibility through movement. It can be combined with other techniques like Prenatal Yoga, Spinning Babies, training with a prenatal fitness specialist, working with a pelvic floor physical therapist, and scheduling pregnancy-safe bodywork such as acupuncture, massage, and chiropractic care. These techniques can help create space in your body and prepare it for delivery. This is a complement to traditional childbirth education, which mainly focuses on providing information and emotional support.
Are childbirth classes really necessary?
Technically no, but a really good class can make a world of difference.

While a childbirth class can't prepare you for every situation it can be so helpful to get an overview of birth, understand birth physiology and what's happening in your body, learn how partners can be actively involved, and gain strategies for advocating for yourself in medical environments.

Taking a class with a live instructor comes with the benefit of building a relationship with an expert who can point you to more resources if and when you need them, and if you take a group class you have the added benefit of learning from other people's questions and maybe even making a friend.
When Should You Take A Birth Class?
You'll get the most out of a childbirth education class between 28 and 32 weeks.

If you're taking a multiple week series you'll just want to make sure that classes are completed before week 35 in case you go into labor early – and to give you time to practice. There's also a lot you can learn before you're in your third trimester! In early pregnancy, you have to choose a midwife or obstetrician, decide where you want to give birth, and you'll want to at least consider hiring a doula. It's helpful to do a little bit of reading to get a sense of what kind of birth experience you may want to help inform what kind of birth class you'd like to take as well. It's important to know that not all medical providers and birth locations are equal. And there are reasons why you might not want to go with your gynecologist or take a recommendation from a friend.
What's your plan for birthing classes?
I'd love to hear your thoughts and experiences in the comments.
Our next reco: 5 Reasons to Create a Birth Plan
---
Get posts & giveaway updates delivered right to your inbox
---
---