I was compensated for my time to organize this review and the testers were given a pair of socks to test and keep, but all the opinions are our own. As always, I won't tell you about stuff that I think is shitty.
One of my biggest pet peeves when I had babies was socks that wouldn't stay on. I'd just happen to look down and notice a sock had been jettisoned and think, "Dammit! When did that come off?"
So when Beth from Cheski Sock Company asked me if I'd like to review her baby socks that are designed to stay on I was all game, except I was lacking one thing – baby feet.
Enter my awesome peeps and some little peep feet!
I had ten of you take Cheski Socks for a test drive and your feedback was awesome.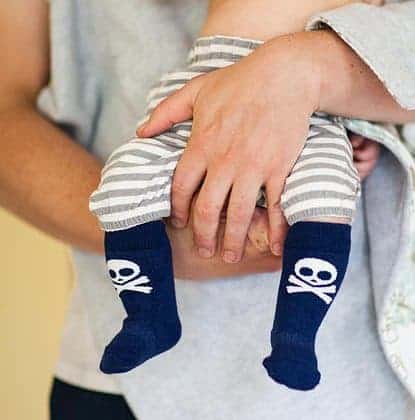 Here's what you had to say:
Everyone pretty much agreed that the socks stayed on well and would feel good about recommending them to other parents.
When I asked what you liked best about them, here are some of the things you said:
"I liked how tall they were. I liked that once over the chubby thighs, they were more likely to stay on. Oh! And because they were bigger, we didn't instantly lose them in the washing machine."
"They were very good quality and super cute."
"I loved the adorable designs and the fact that they stayed on better than the average socks! It was also a relief to not have to add booties over the socks to help the suckers stay on."
"The band on the arch. It really helped keep the sock on while not making a huge red mark!"
"They felt super soft."
"They stayed on. I did not have to worry about them and my baby seemed comfortable wearing them. I also liked that they were longer socks and they protected my baby's legs and kept them warm."
As for recommendations, only one tester found them too tight, and one person commented that the tighter portion made it tricky to get the socks on. Another person suggested a skinny kid version for kids that have less "sock holding chub". And another suggested making a solid colour version.
Everyone found $5.99 a little pricey for a pair but most agreed that the price was reflected in the quality of the product.
So in conclusion, if you want socks that stay put and are willing to pay a little more for something special, then it looks like Cheski Socks are a really good fit.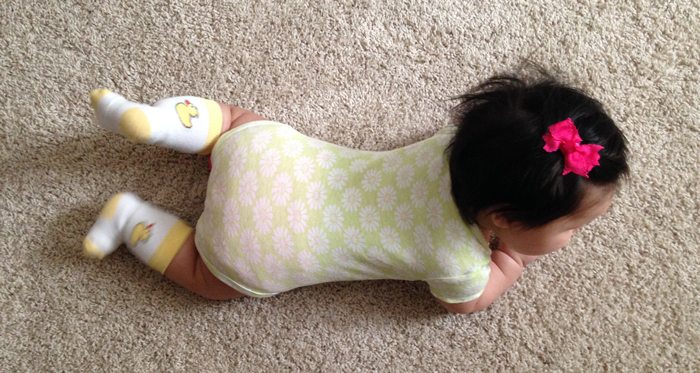 Thank you to the wonderful gals and babies who tested the product and filled out the questionnaire, and thank you to Beth from Cheski for making sure everyone got their super socks.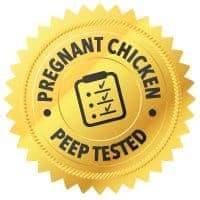 ---
Get posts & giveaway updates delivered right to your inbox
---
---