When parents have babies born still, they have only a limited amount of time to say goodbye – so every minute counts.
CuddleCots are small cooling units that pump cold water into the padding of your baby's bassinette, slowing the changes that occur after death and allowing you more time to keep your baby with you. They can be incredibly comforting, as they offer you more time for bonding, taking pictures, bathing, dressing or even just having your baby in your room with you for a while so you can talk.
I spoke to Samantha Bogle about her personal experience with this amazingly comforting product that doesn't have a lot of awareness just yet.
Samantha's Story
"We lost our first baby, Luke, at 24 weeks and 1 day due to a cord accident. Shortly after Luke was born, our nurse came in and asked if we were interested in using their CuddleCot. Since Luke was our first baby, my husband and I knew nothing about it or what it was used for. We didn't know how much of a blessing it was – but with the use of the CuddleCot, Luke was able to stay in our room beside my bed for our entire hospital stay."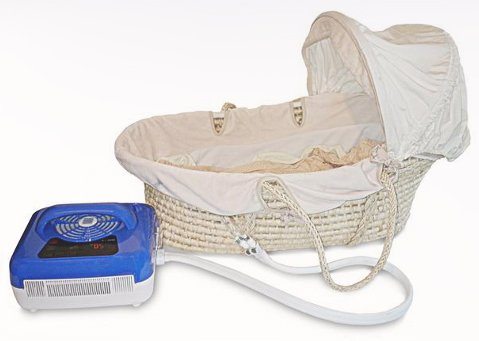 Most hospitals have a protocol when dealing with a stillbirth, however, it's still your birth, so you certainly have a say in how things play out. And for most people, that takes time. Even if you're not sure how you want to approach the situation, or how you'll grieve, CuddleCots offer you choice and options.
The CuddleCot that Samantha and her husband used had been donated to the hospital in memory of two little boys. So they wanted to do the same in honor of Luke and decided to raise money through a Go Fund Me page. They ended up raising enough money to donate two CuddleCots to the Cuddle Cot Project. If you're interested in making a donation to help cover the cost for one of these invaluable machines, you can do that here, or here (this also shows where other CuddleCots have already been donated).
"Our hope was that Luke's Cuddle Cot wouldn't get used and that no family had to go through what we went through – but we know that's not the reality. We've already been contacted by one hospital with a message from a family who ended up using Luke's cot – and they just wanted us to know how grateful they were. Those families and stories will forever hold a special place in our hearts. Our goal was to give the gift of time to families going through something so awful, just like we were given. And at the same time, it helps to keep Luke's memory alive."
Interested in learning more about CuddleCots? Check out the site for the company that makes them here.
Thank you to Samantha, her husband, her son Luke and her Rainbow Baby, Harrison, who is now 7 months old. xoxo
---
Get posts & giveaway updates delivered right to your inbox
---
---