In case you needed an excuse to show off your adorable new baby to everyone in the neighborhood, there's no shortage of baby costumes to choose from for your little one's first Halloween, but why should they have all the fun?

Get the whole family in on the trick-or-treat action with one of these fun family costume ideas and prepare to rake in the candy.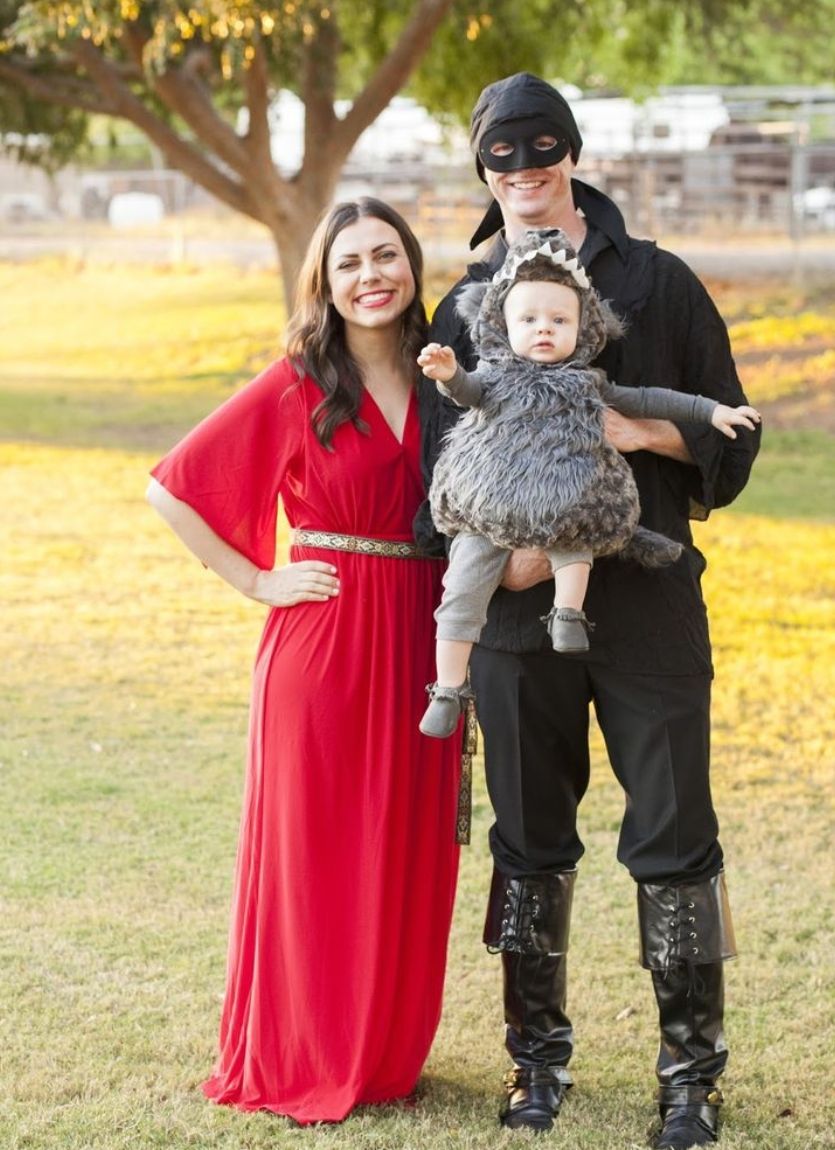 There's no doubt that your sidewalks will be filled with princesses, villains, witches and wizards on October 31st, but what about references to your favorite classic movies? Sure, your baby may have absolutely no idea who Inigo Montoya is, but sometimes the best family Halloween costume is the one that only the parents understand, anyway.
If scary monsters aren't really your family's thing, dressing up as Boo and the crew from Monsters Inc. is the perfect alternative. Prove to the world that Mike and Sully aren't the only ones who can craft the perfect human disguise with some stuff around the house by DIY-ing your costumes, or check out Spirit or Amazon if you'd rather let someone else do the handiwork.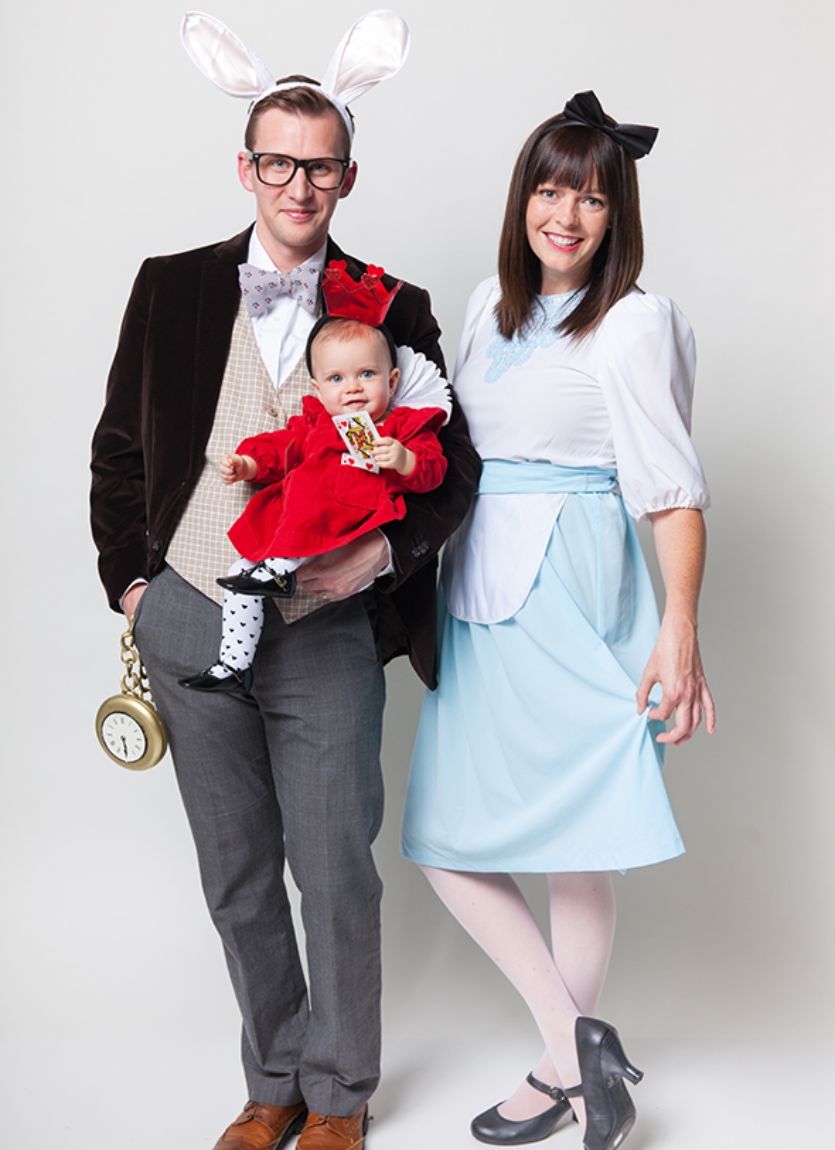 Dressing your family up in an Alice In Wonderland theme can be done by pulling together a few items you probably already have hanging in your closet. And really, isn't it the perfect way to remind the whole world that your little cutie is the Queen of your Heart?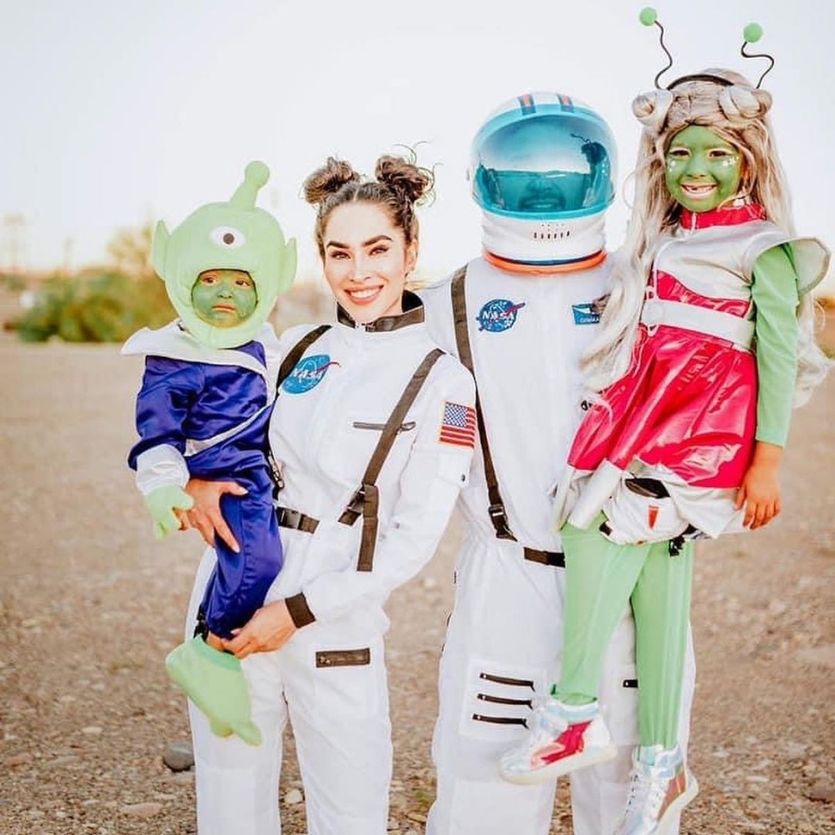 For a look that's totally outta this world, deck out your crew in alien and astronaut costumes. You'll probably need to purchase most of the outfit and accessories, but I have a feeling that space suits and martian wear will stay in heavy rotation year-round in the dress up box.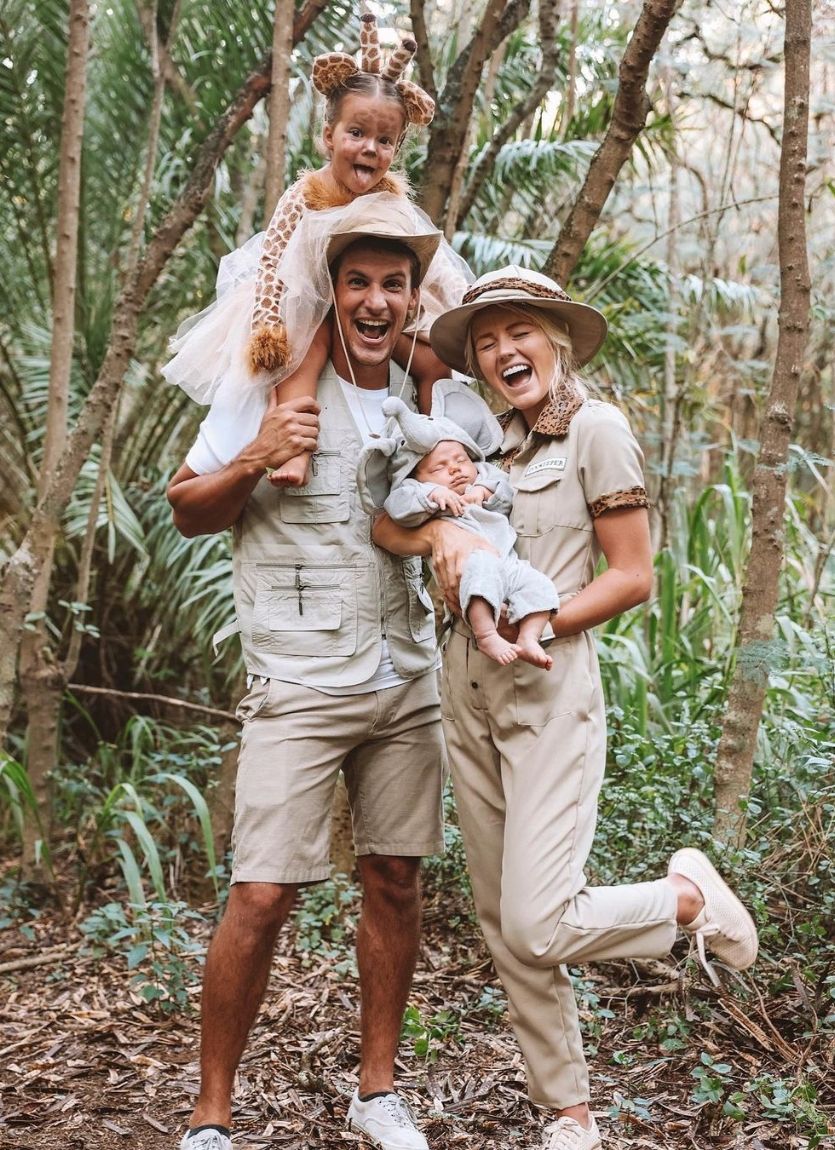 Channel your inner Jungle Cruise skipper with some head to toe khaki and whatever adorable animal costume your kid has decided they want to wear this week. The great news about babies is they won't change their mind about their costume as you're heading out the door, so even if all you do is throw on a pair of ears, you'll be good to go.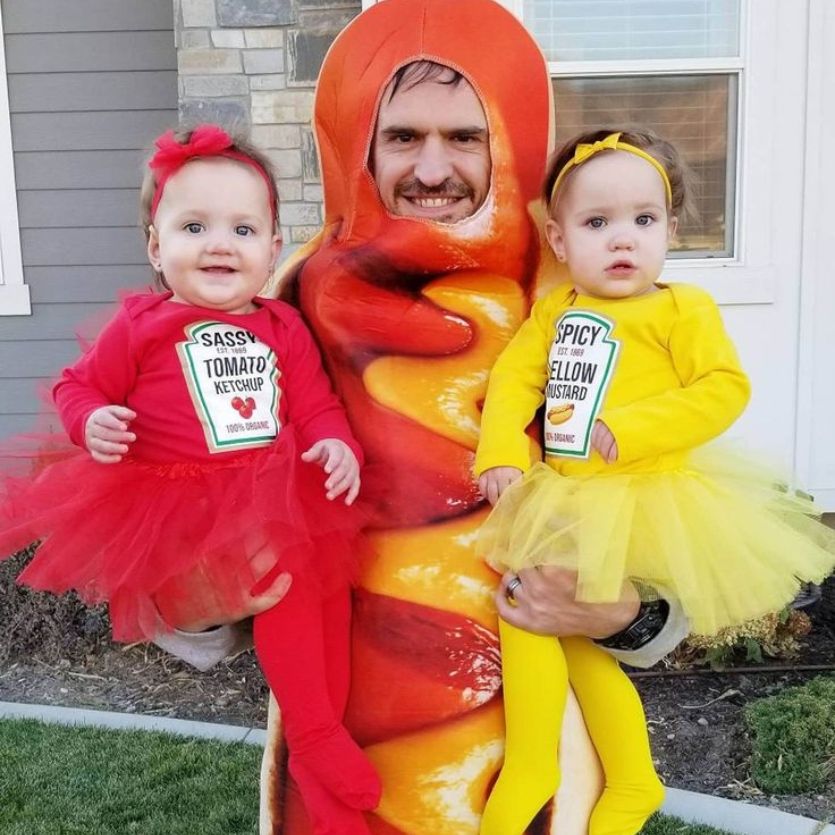 Ex-squeeze me, but how clever is this little condiment getup? I don't know about you, but in my books, a hot dog just ain't a hot dog without ketchup and mustard, and this costume proves it.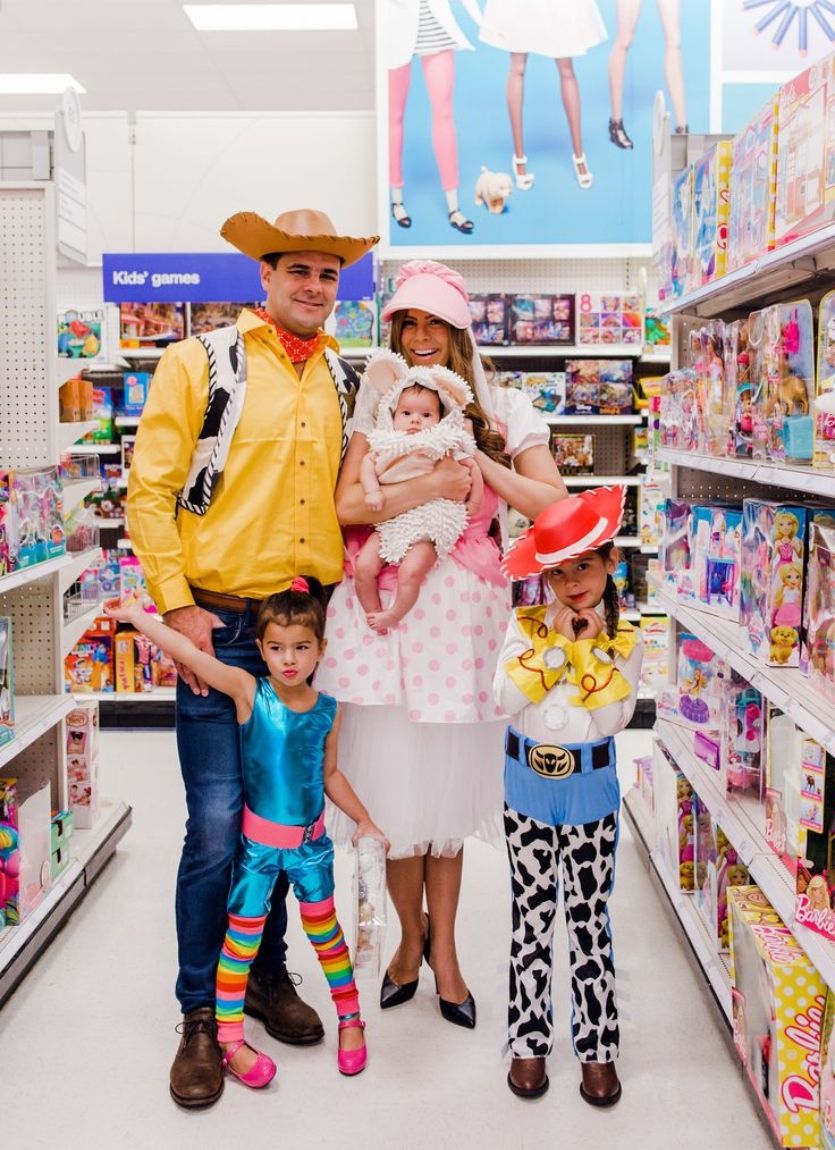 Regardless of what decade you were born in, dressing up as Woody and the whole gang from Toy Story is a guaranteed crowd pleaser.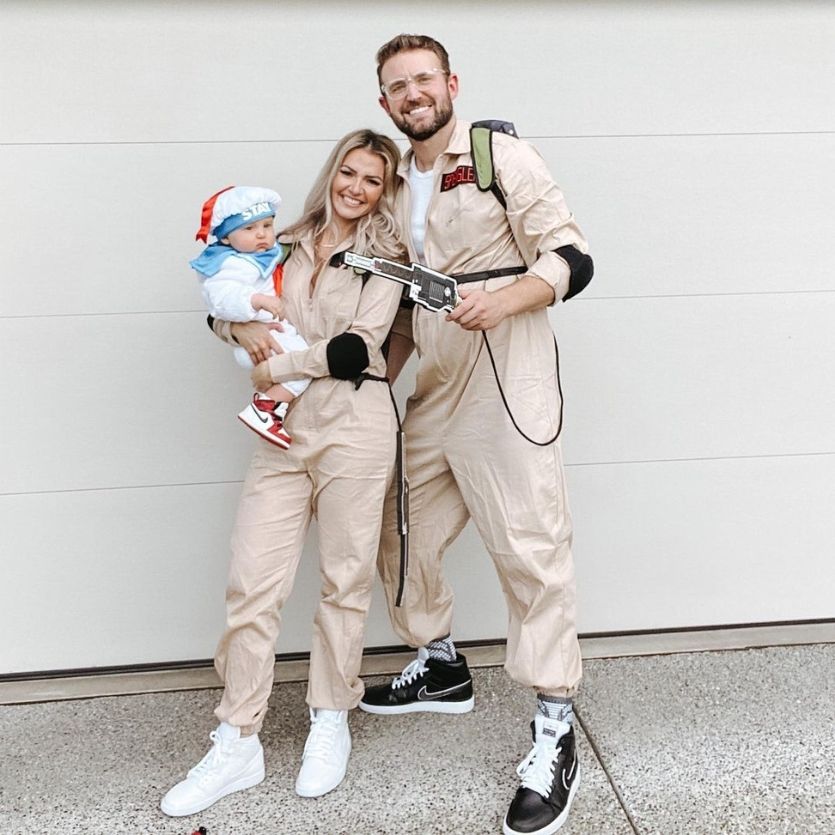 If your baby's blessed with sweet little rolls that remind you of the Stay-Puft Marshmallow man, why not lean into that for inspiration and get dressed up in a Ghostbusters themed costume?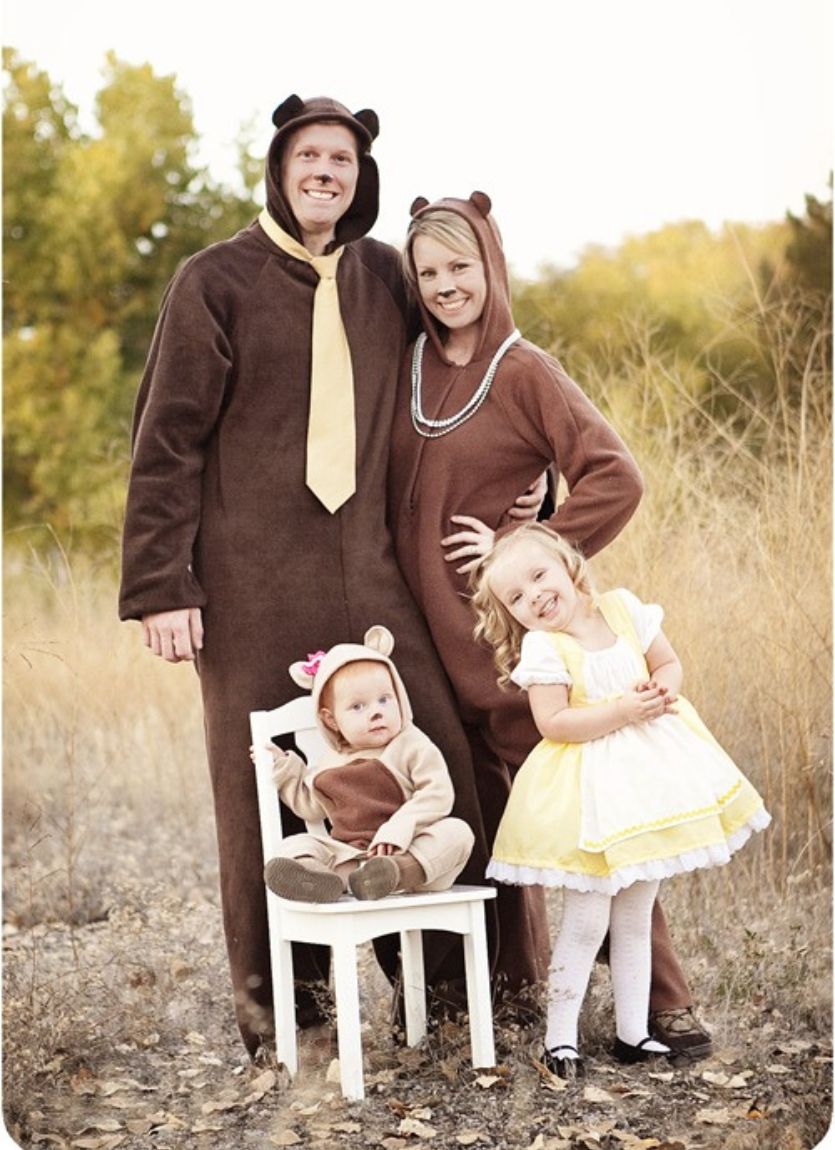 For a costume idea that's not too expensive and not too hard to throw together yourself, a Goldilocks and the Three Bears theme is just right. All you need for mama, papa and baby bear are some brown onesies and ears, and you can let your little Goldilocks pick out whatever outfit their little toddler heart desires.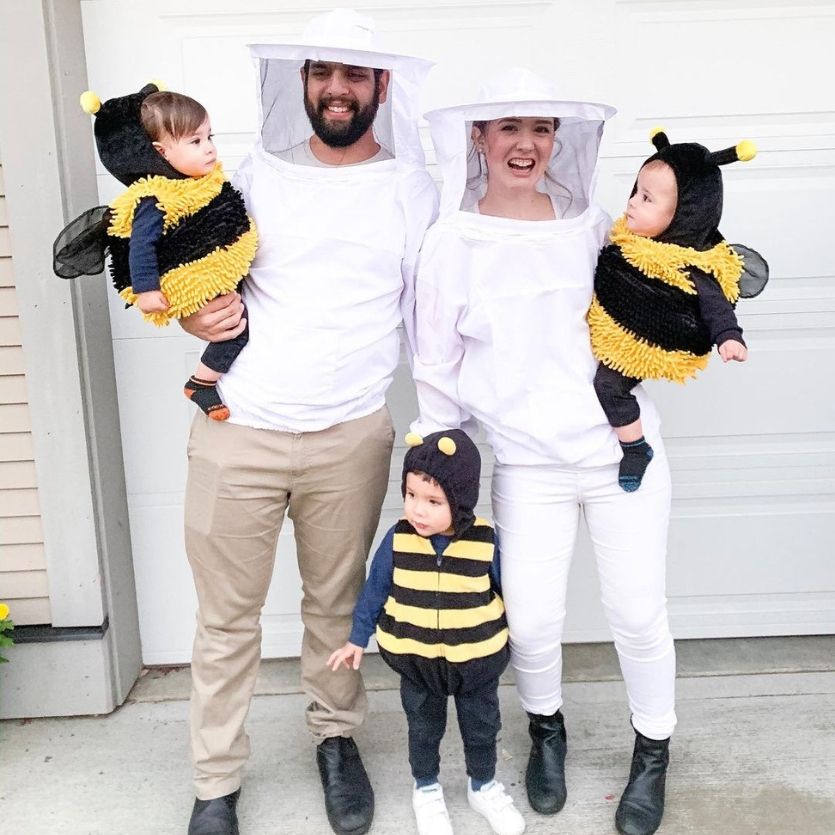 This beekeeper/baby bumblebee getup is sweet as honey and will have everyone in your neighborhood buzzing. As an extra treat, these bee baby Halloween costumes look like they'll keep your littles warm and cozy, meaning you can (hopefully) enjoy a longer evening of fun before anyone starts feeling uncomfortable or cranky.
All you need for a Mario and Luigi-inspired DIY costume is a green or red shirt and cap, some suspenders and gloves. Once mom and dad are ready to cruise Rainbow Road, the sky's the limit for dressing up the rest of the gang - when you've got Princess Peach, Yoshi, Toad and more to choose from, this is a costume you might want to revisit year after year.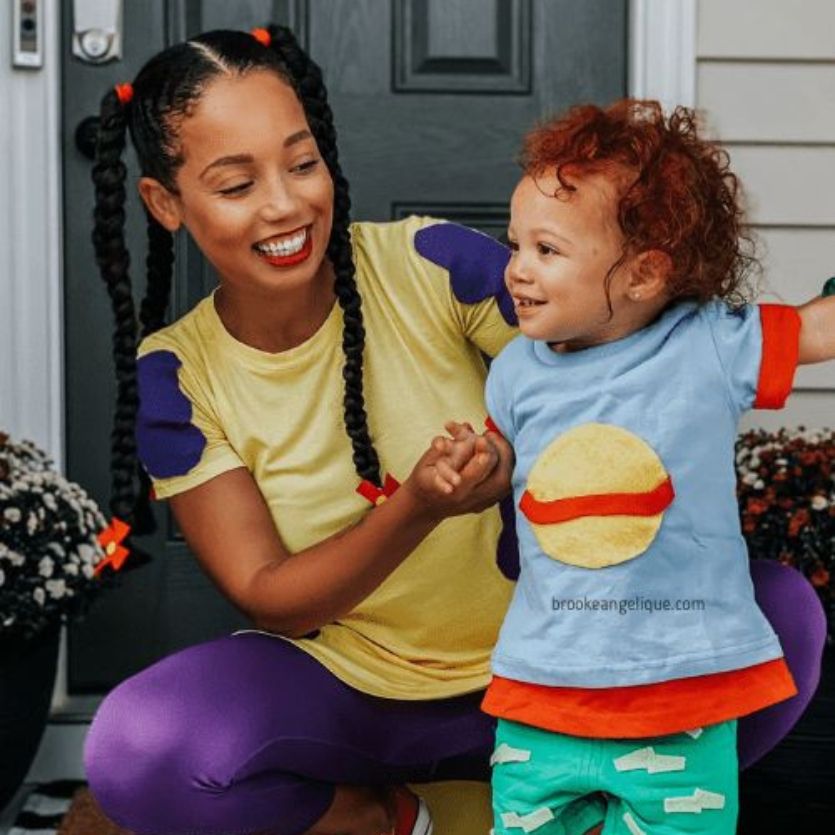 If you're a millennial parent, there's a better than good chance that you grew up watching Tommy, Chuckie, Angelica and their toddler squad getting up to no good on Nickelodeon's Rugrats. For an easy DIY that requires no sewing, grab a t-shirt, some felt, and some hot glue to recreate the outfits of your favorite Rugrats, and go to town on a matching hairstyle (or lack thereof if you're recreating Tommy Pickles).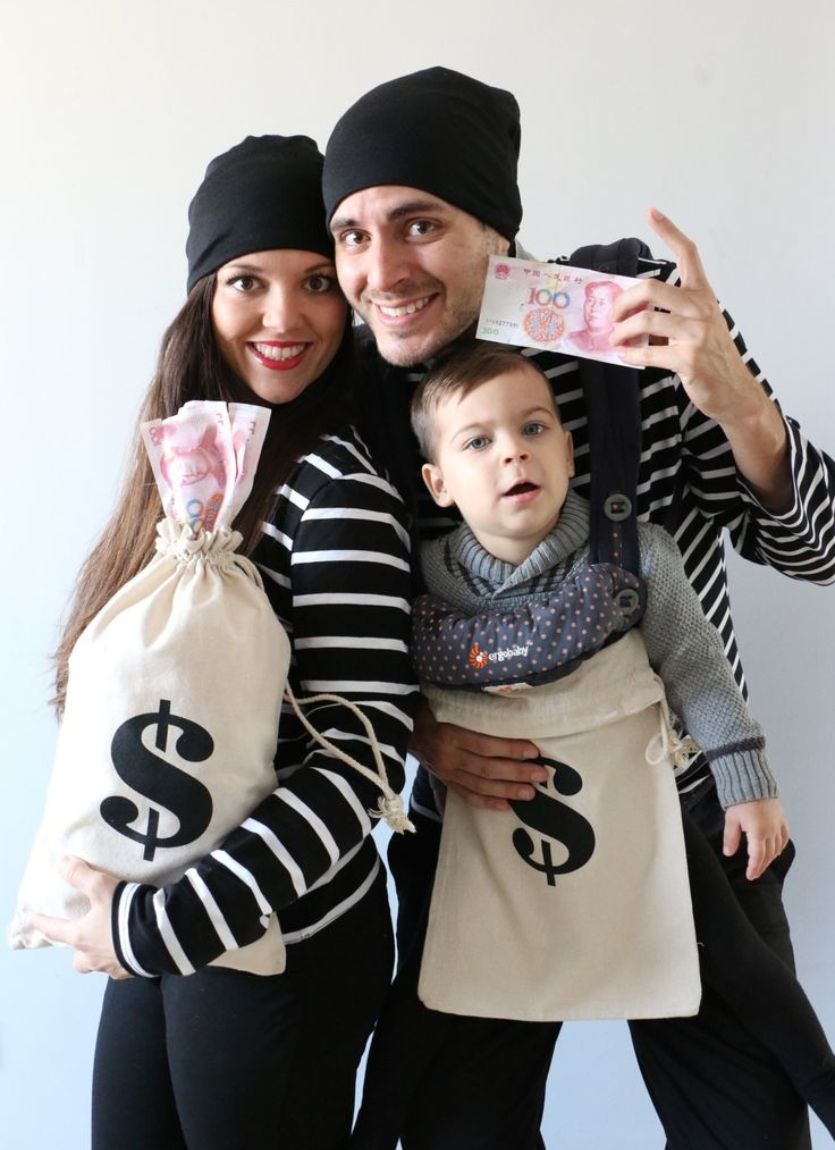 If simplicity is the name of your costume game, dressing your family up as a trio of robbers is money in the bank. To become a convincing thief, throw on some dark clothing, grab some fake money, and put a big ol' dollar sign on the bag of your choice and you're all set!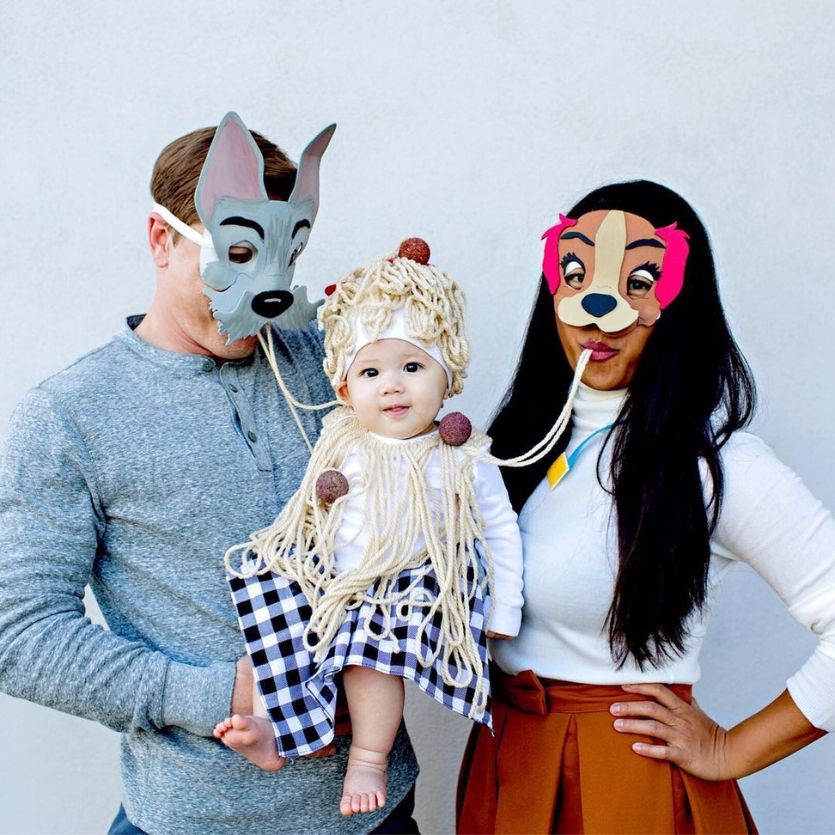 The spaghetti scene from The Lady and the Tramp is absolutely timeless, and a costume this adorable is sure to go down in history as well (at least in your neighborhood, anyway). Transforming your baby into a bowl of spaghetti and meatballs just requires some yarn, styrofoam balls, spray paint and glue. If you're looking for a tutorial, there are tons online!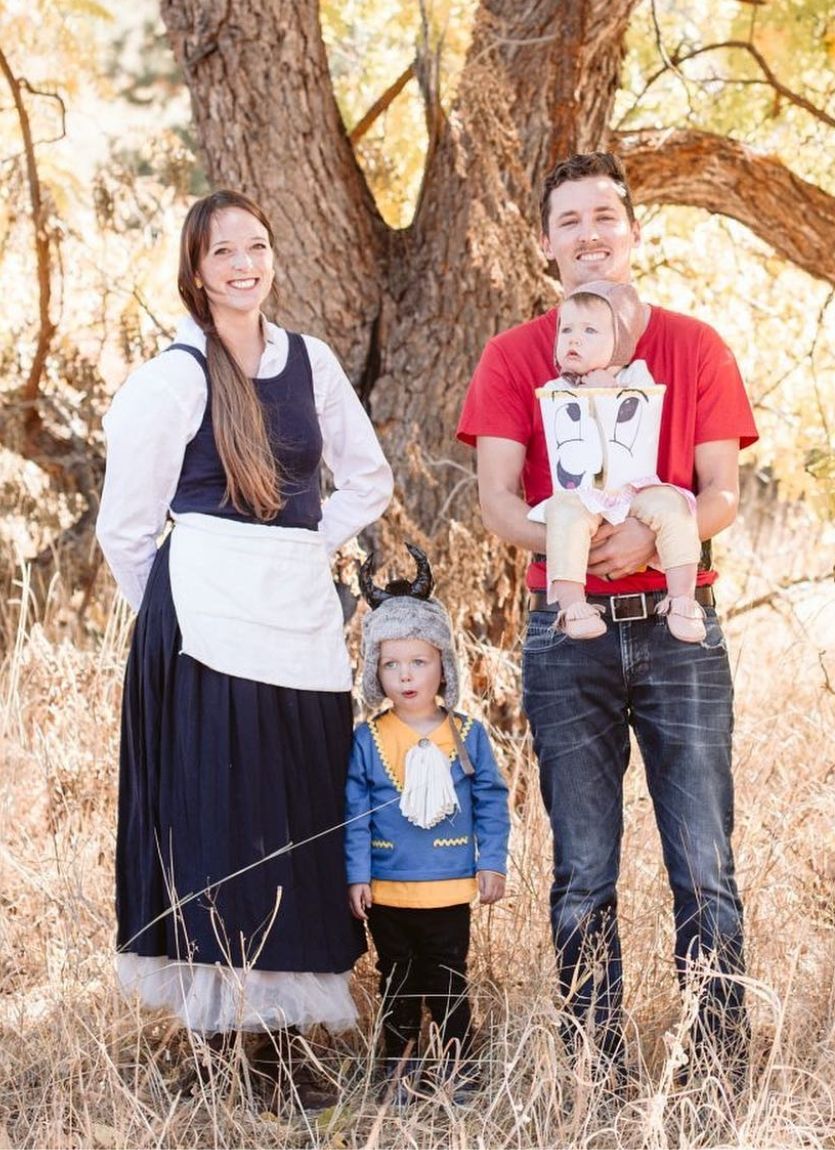 Dressing up like a Disney princess doesn't have to be a beast if you've got a little imagination on your side. Look for color inspiration in your closet to recreate the look of your favorite characters, and let markers, craft paper and glue bring the rest of your costume to life.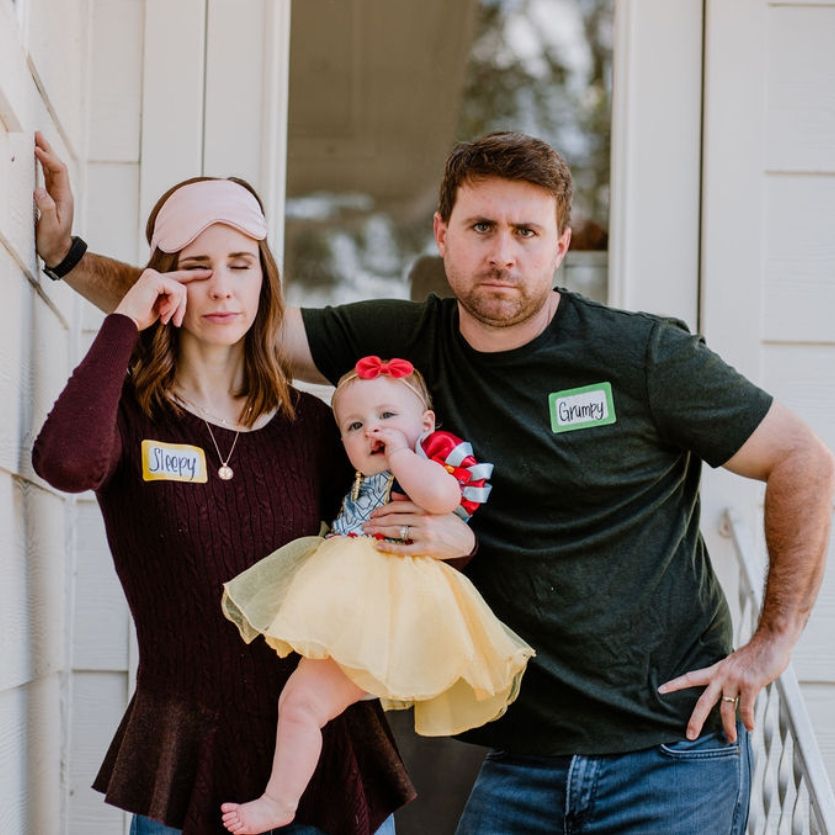 There's something extra fun (and cost-effective) about a costume that captures the essence of what you're going for without taking things too literally. A nametag and a sleep mask are the perfect accessories to go along with your existing under eye circles if your little Snow White has turned you into the live action remake of Grumpy and Sleepy.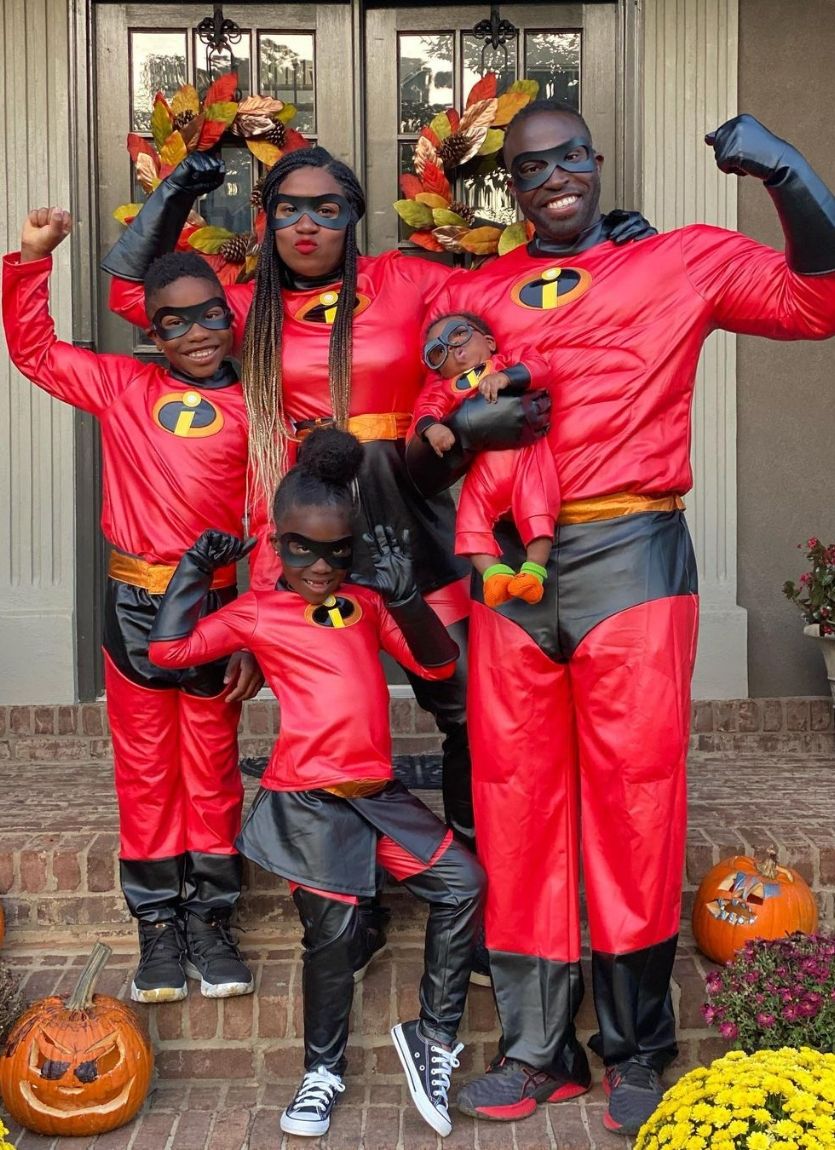 You can snag an Incredibles costume off of Amazon for every member of your family (even your dog!) for a pretty decent price. As an added bonus, you won't have to worry about ghoulies trying to steal your candy stash when you're walking around with a full-on superhero squad.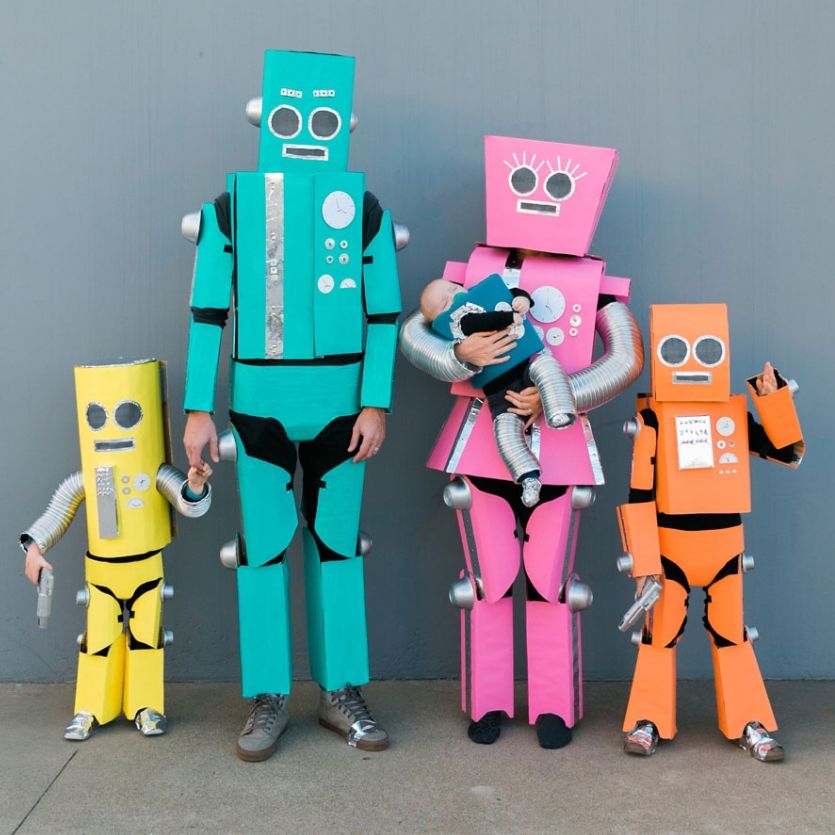 Calling all DIY masters - this robot family costume is not for the faint of heart, but dang will it be worth it when you're done. Check out all of the instructions to bring this colorful robo fam to life here.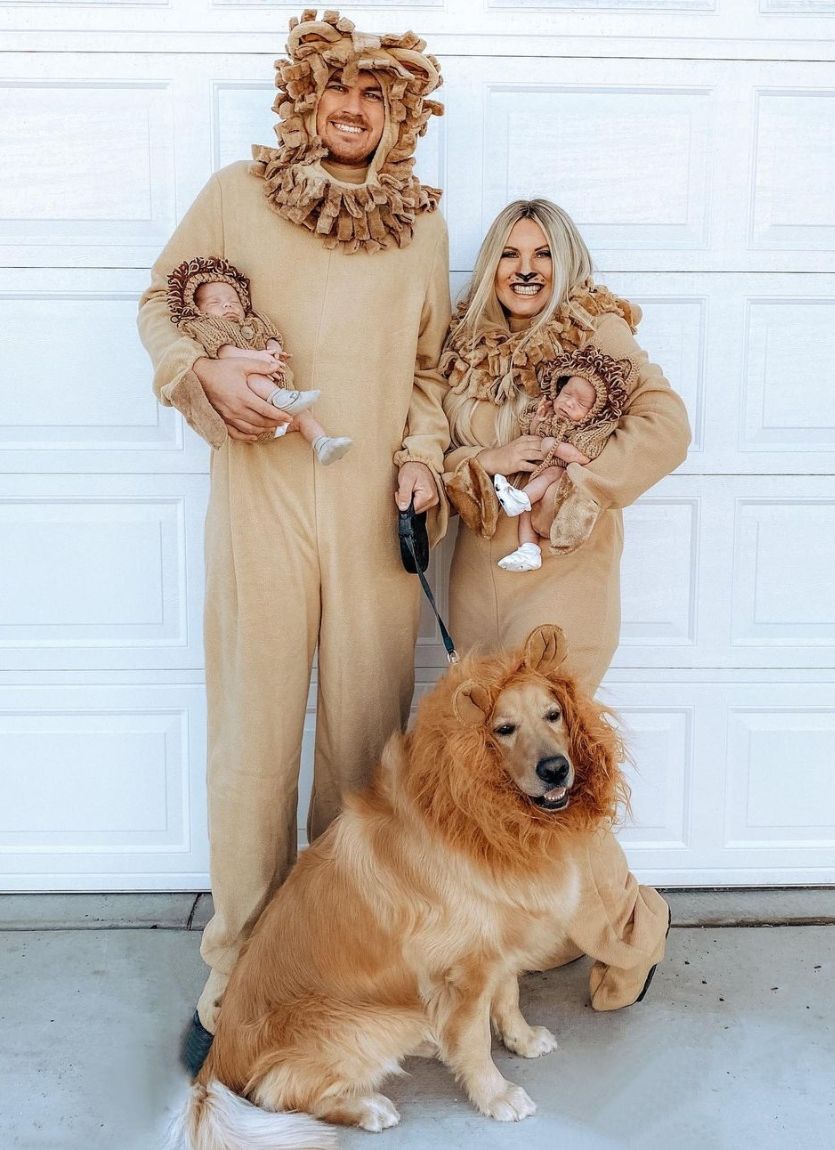 I'd be lion if I said I didn't absolutely love this family of jungle cats for a Halloween costume. If you're handy with a crochet hook, you can totally make the baby lion costumes yourself or find one on Etsy.

Hopefully you can find a pup as good humored as the one in the photo because I don't think the costume is complete without one.
To Sum Up Family Halloween Costumes
Halloween is a fun time of year to show off your creative side, and dressing your whole family in a coordinating costume can be both hilarious and a ton of fun.

Whether you want to try your hand at making your own costume or would rather buy what you need instead, there are tons of fun ideas for dressing up everyone in the family in a memorable getup, including your baby.

Are you planning a family costume for this October 31? I'd love to see what you came up with in the comments!

Also check out: 13 Clever Baby Carrier Costume Ideas for Babywearing this Halloween
---
Get posts & giveaway updates delivered right to your inbox
---
---