Spooky Season is upon us, and in addition to creating a built-in excuse to eat mini chocolate bars for dessert for the next month, it's also the perfect opportunity to craft a cute Halloween pregnancy announcement.  

Whether you're setting up your photoshoot to show off on Instagram, or just want some announcement photos to share with your family and friends, here are some cute ideas to let everyone know you're adding a new little pumpkin to your patch.
Pumpkins
Nothing says "fall baby announcement" quite like a trip to the pumpkin patch (or one of those giant cardboard boxes full of pumpkins at the grocery store, if that's more up your alley).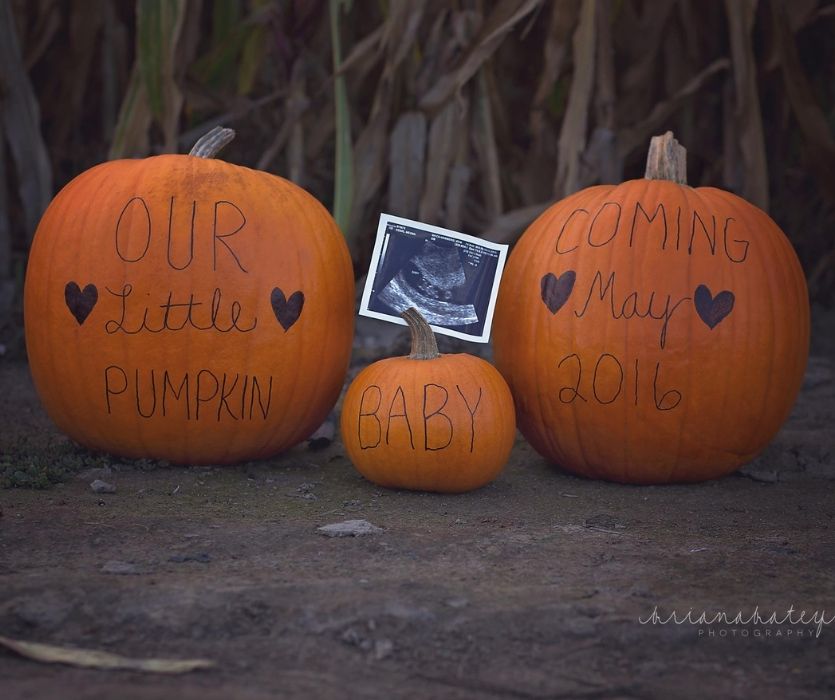 Finding any excuse to avoid pumpkin carving is a win in my books. A couple gourds, a sharpie and an ultrasound photo are all you need for a fun way to share your exciting news sans the pumpkin guts.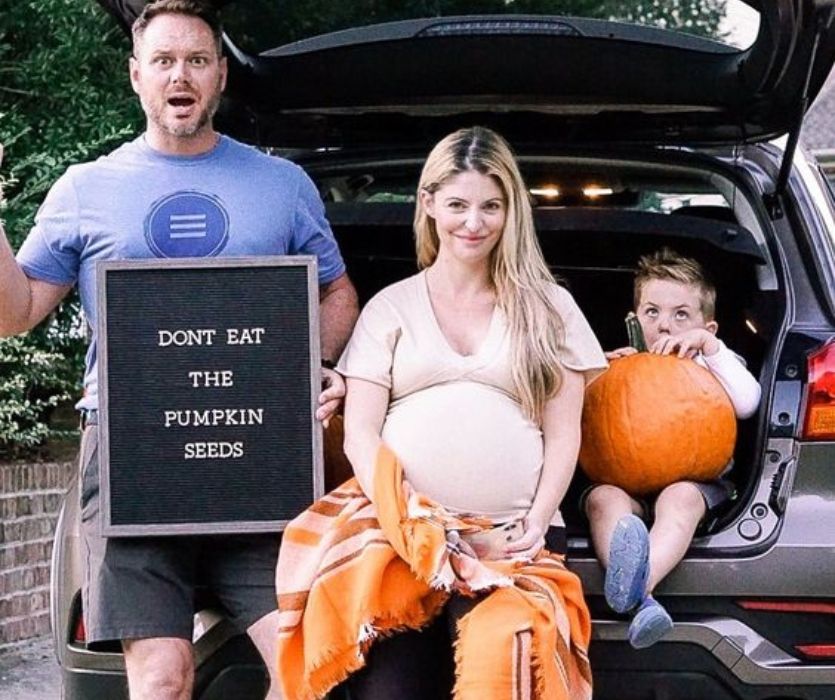 The sky's the limit when it comes to letterboard photo ops (a chalkboard or even a piece of paper could also be used to get your message across in a pinch!) Blame your baby bump on one too many handfuls of pumpkin seeds for a fun pregnancy announcement.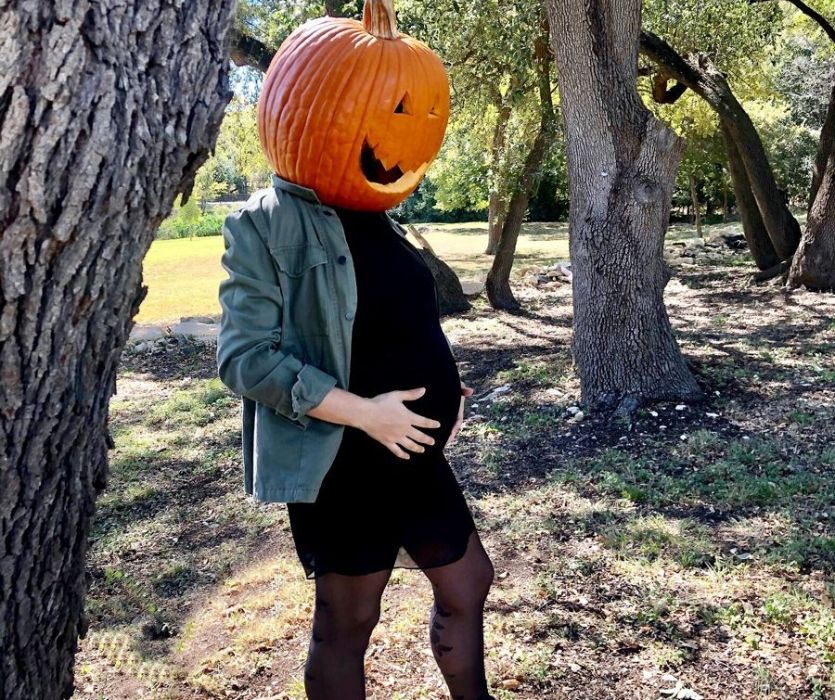 If the slimy inside of a jack-o-lantern doesn't give you the heebie jeebies, pull a Monica (you remember that episode of Friends, right?!) and stick that sucker on your head for a hilariously unexpected pregnancy photo.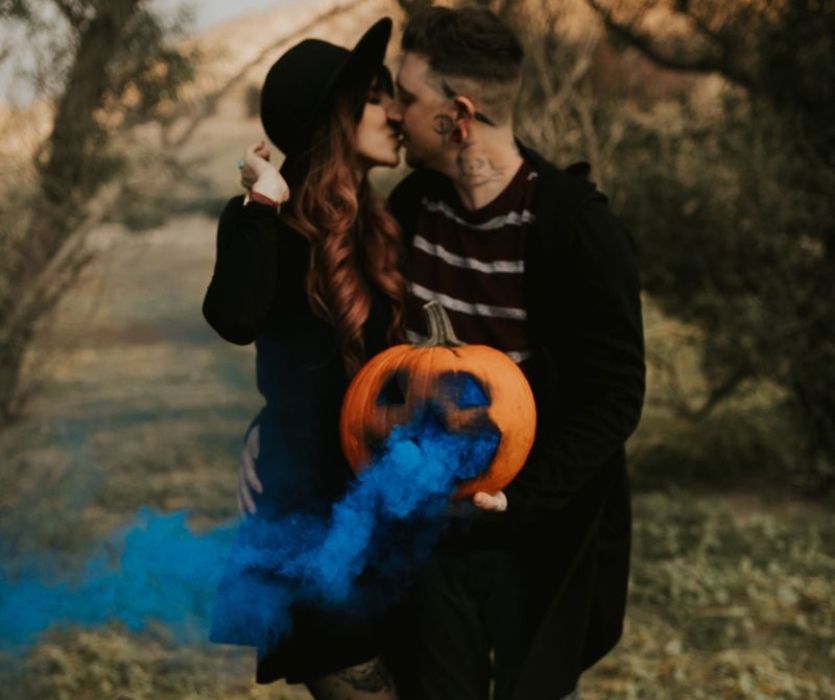 On the hunt for a cute idea for a gender reveal photo with a Halloween theme? Snag a colored smoke bomb off of Amazon or Etsy, pop it into a big pumpkin and say, "Hocus pocus!"
Costumes
Using a clever Halloween costume might just be one of my favorite ways to let the world know you're expecting. The baker with a bun in the oven will always be a classic, but there are tons of creative ways to incorporate dressing up into your Halloween pregnancy announcement.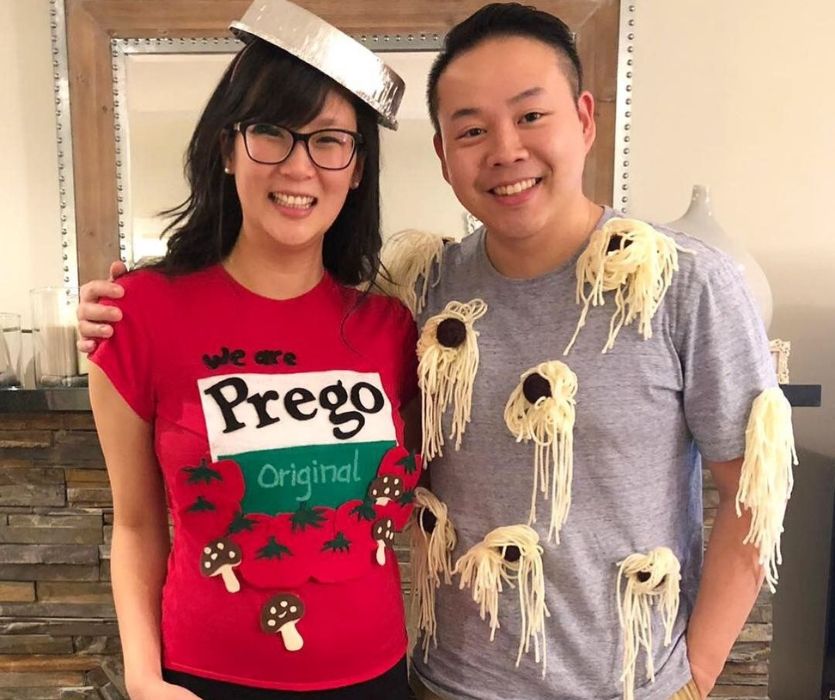 The best Halloween costume is one you don't have to break the bank to go out and purchase. This fun idea requires little more than a t-shirt, some felt, yarn, and a (preferably clean) takeout container and voila! You're guaranteed to be the talk of your next Halloween party.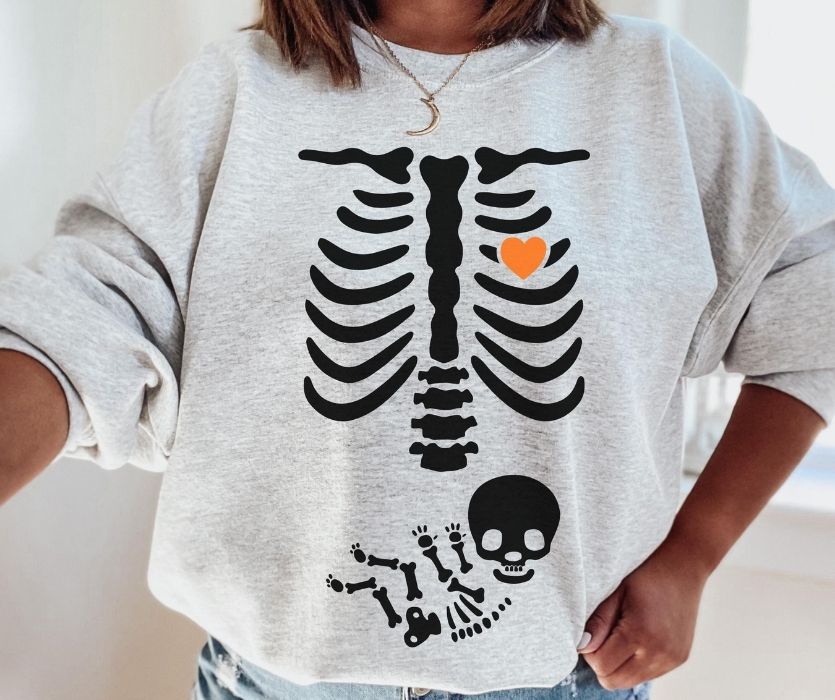 The thing about Halloween costumes is you only get to wear them once or twice a year. A cute Halloween pregnancy announcement shirt, however, can arguably be worn on repeat all year long. This skeleton shirt is so cute it's spooky.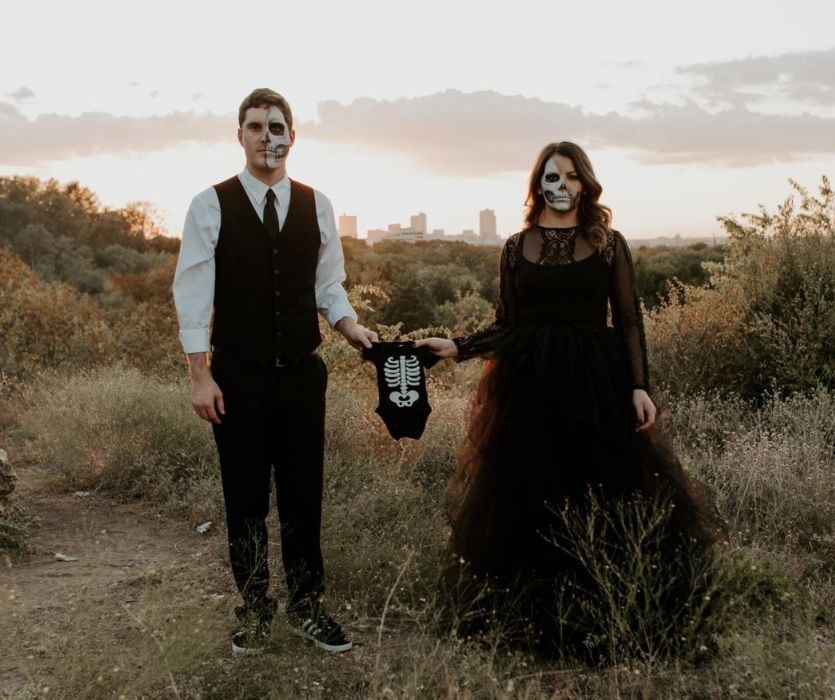 Throw on some black tie apparel and paint your face to create a skeleton costume that's as eerie as it is elegant. Complete the look with a baby skeleton onesie, and you've got yourself a cute pregnancy announcement that'll have people screaming for all the right reasons.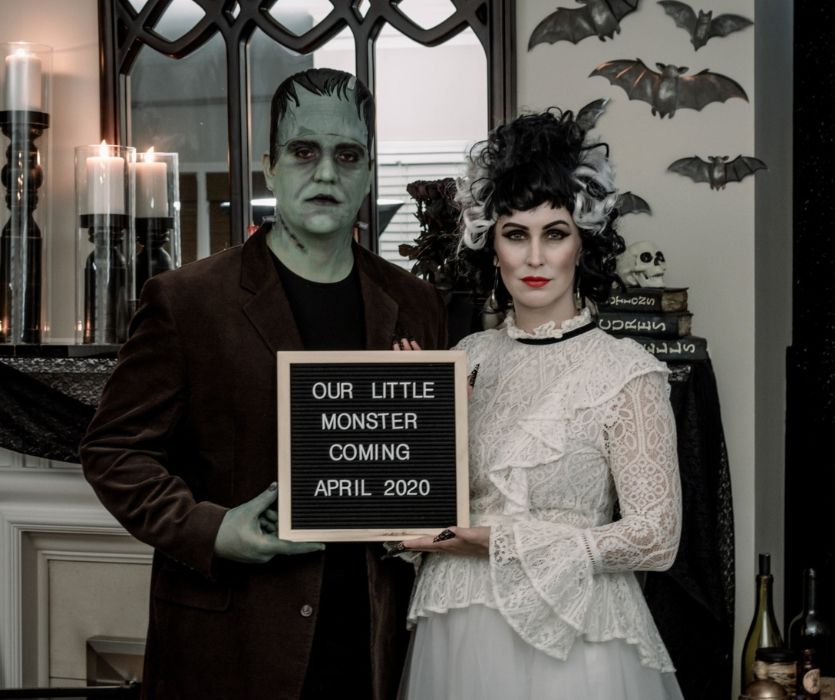 The best way to take your Halloween photo op to the next level is to pair an already killer costume with a cheeky bit of text to share your news!
Kids
Getting your baby's big brother or big sister in on the action when it comes to announcing the growth of your family is always adorable, but bringing in a Halloween twist definitely takes the cake - er, candy corn? You catch my drift.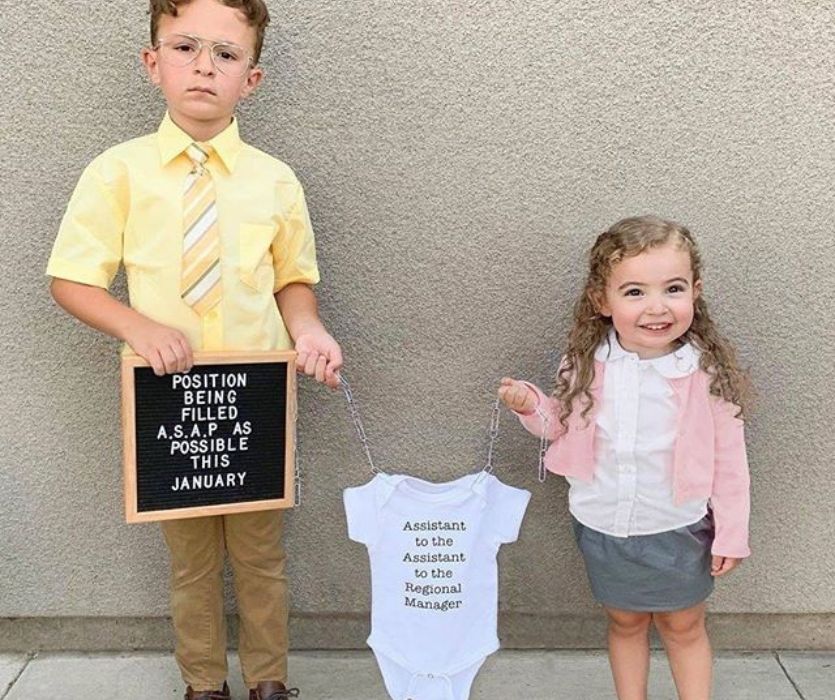 Sure, your kid has probably never seen a single episode of your favorite TV show, but they probably won't mind you dressing them up as an iconic character for a photo that will absolutely stand the test of time (especially if you bribe them with the candy from your stash). I found the onesie on Etsy.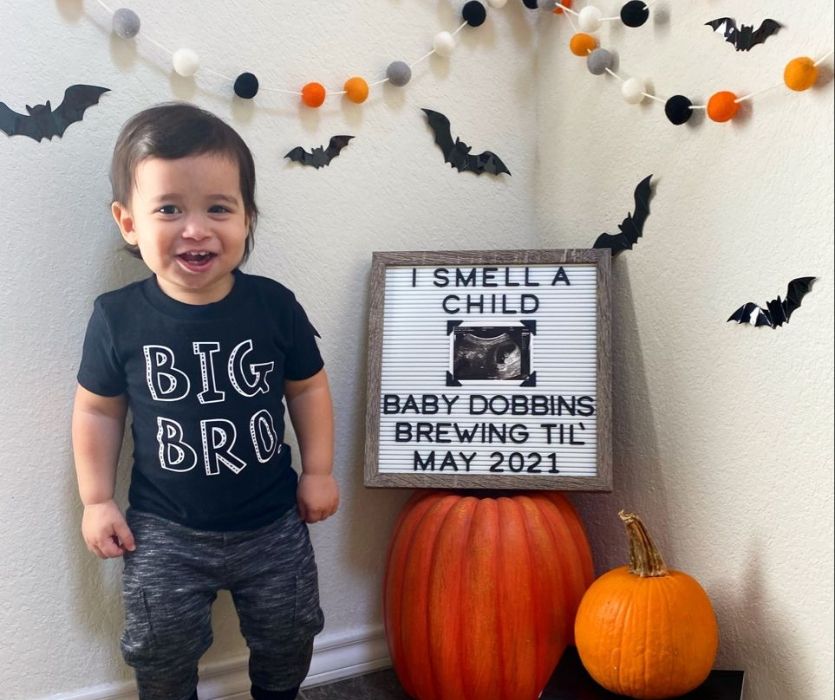 If you've already got some adorable Halloween decor up in your house, pairing an ultrasound picture with a sweet sibling and a classic promo tee is basically a no-brainer. If you manage to get them to smile for the photo and look at the camera, you may want to run out and buy yourself a lottery ticket, as well.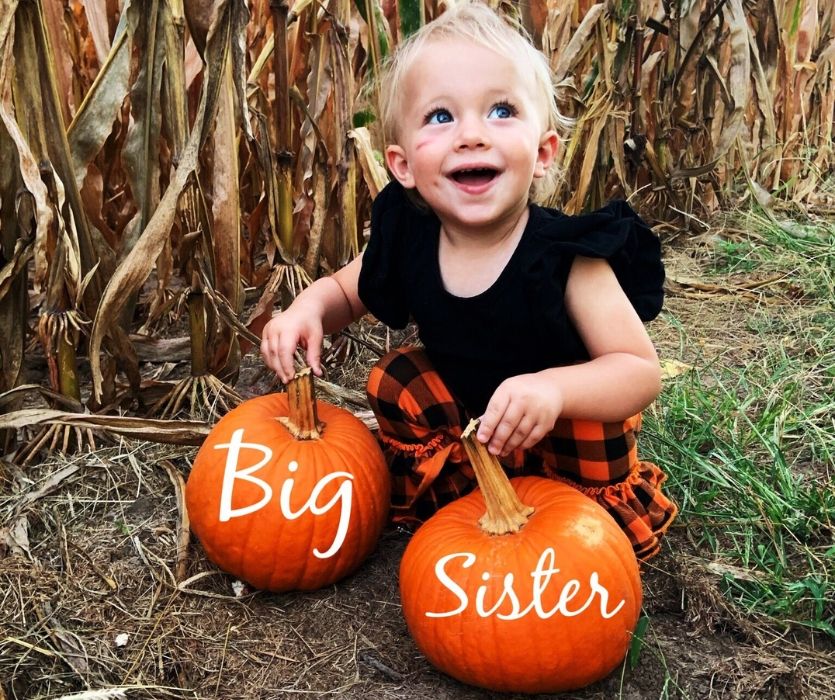 The only thing cuter than a tiny pumpkin is using your tiny pumpkin to announce the arrival of your even tinier pumpkin. What I'm trying to get at here is, pumpkins + siblings + pregnancy announcements = cute.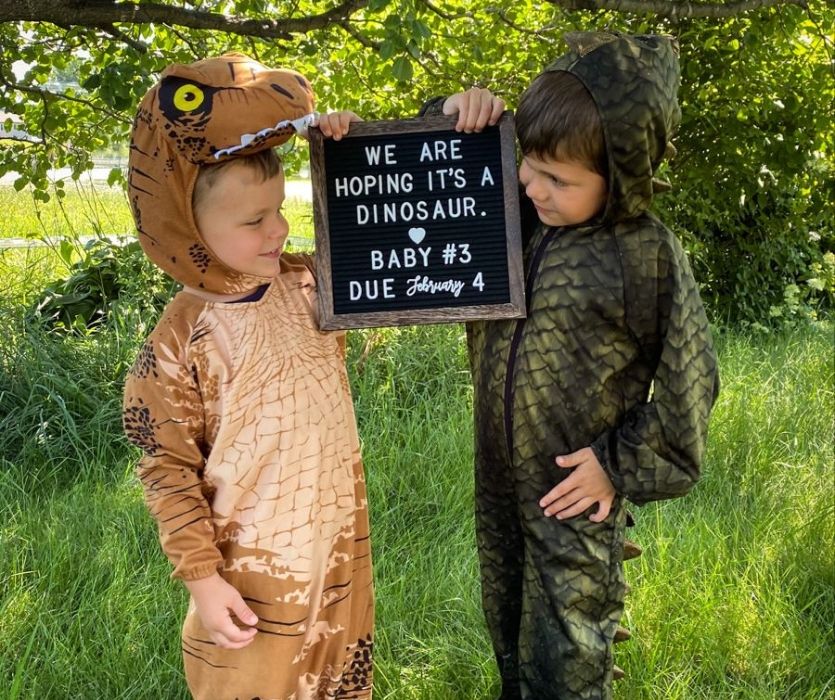 Not only are Halloween costume photos a fun twist on the traditional announcement, but it's also a cute way to remember what the whole family dressed up as when you look back. Come up with a cute quote or find one on the internet to go with the theme, and you've got an announcement for the memory books.
Treats
Halloween doesn't have to be all about tricks - there's no denying that food is the way to most people's hearts, so treats tied to a baby announcement are sure to speak to their souls.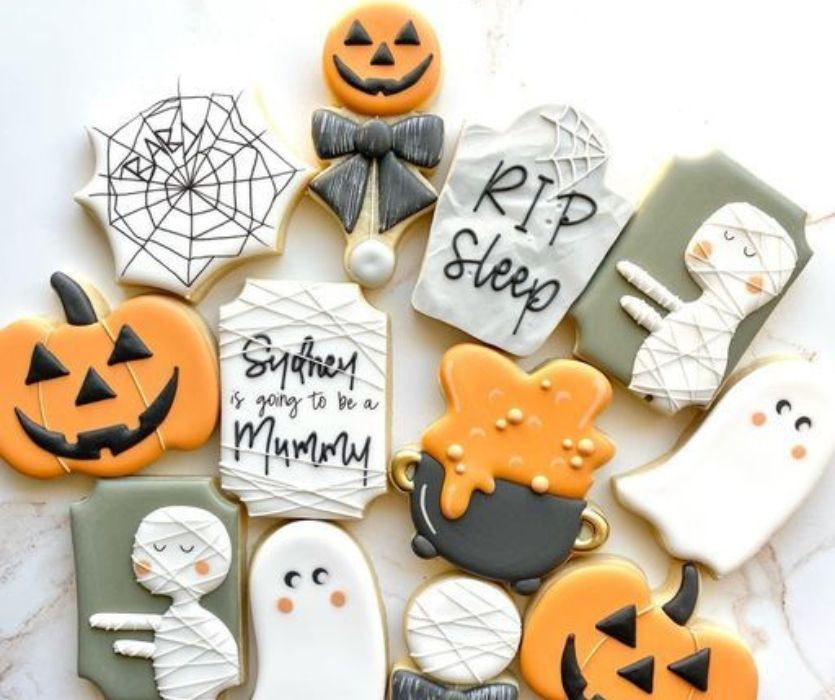 Take your Halloween treat game up a notch by handing out custom made cookies with an extra special twist on the mummy theme (don't forget to save some for yourself!).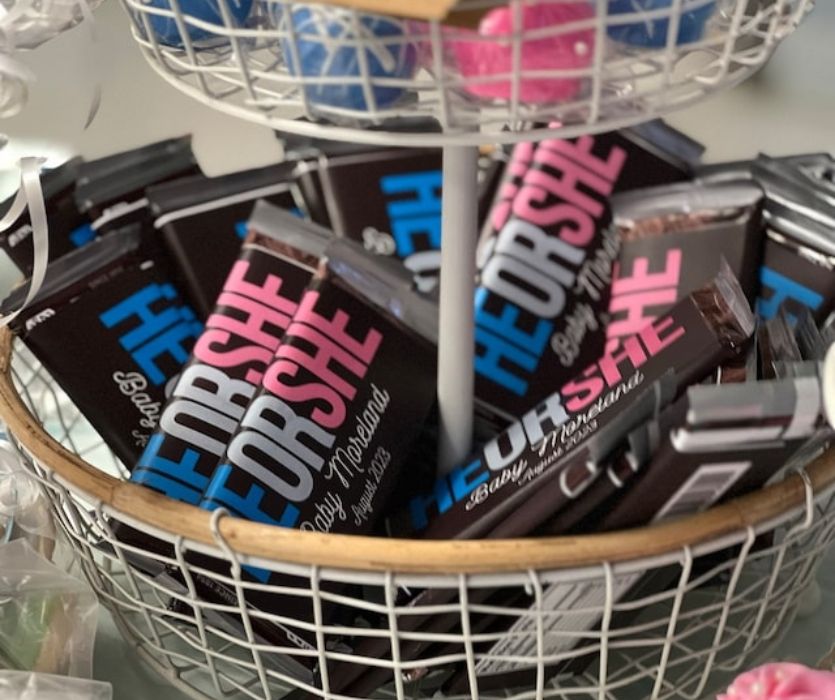 Willy Wonka isn't the only one who can hide an exciting surprise inside a chocolate bar. Download a "He or She" digital file template from Etsy, or find the instructions to make one yourself on Pinterest.
These teeny crocheted pumpkins are a sweet treat that won't leave their recipients having to reach for a toothbrush (can't promise they won't need a tissue, though!)
Decorations
If social media is any indication, decorating for Halloween is not to be taken lightly. If 6 foot skeletons and pumpkins, ghouls and ghosts galore are your Halloween vibe, using your already fab decor to tie in a baby announcement is a no-brainer.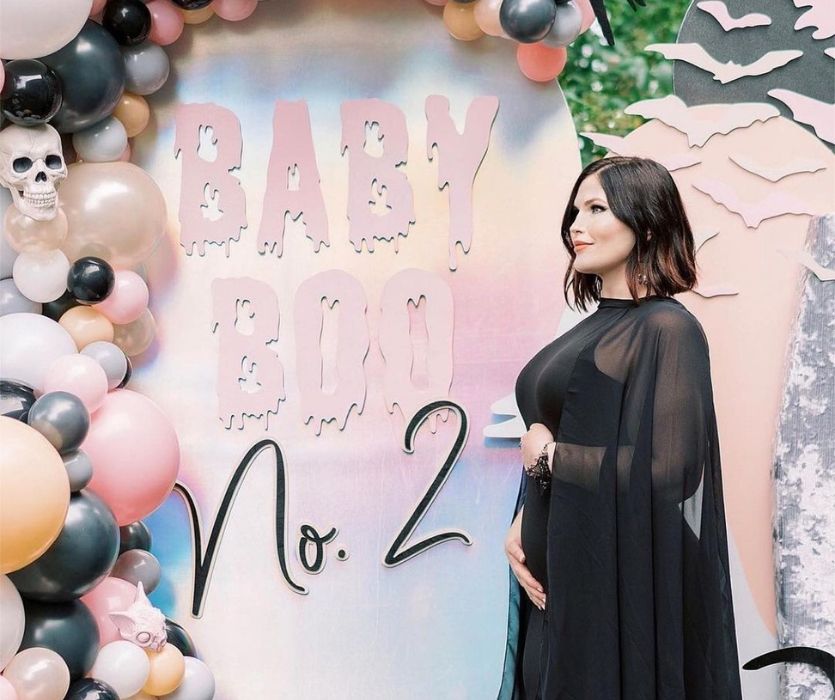 Channel your inner Morticia and pair it with a fun font to make the perfect backdrop for your baby announcement. If you're artsy, you could freehand a sign, but many fonts are available to download online.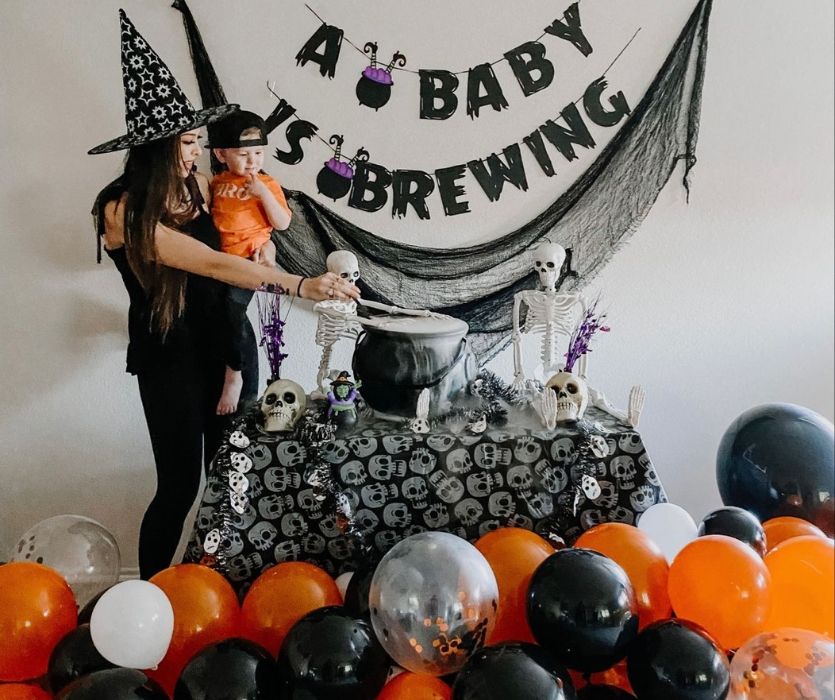 Pregnancy may have left you short of breath, but if you've got air to spare, blowing up a bunch of balloons to go along with a smoking cauldron and "A Baby Is Brewing" signage may just be the cutest Halloween pregnancy announcement out there.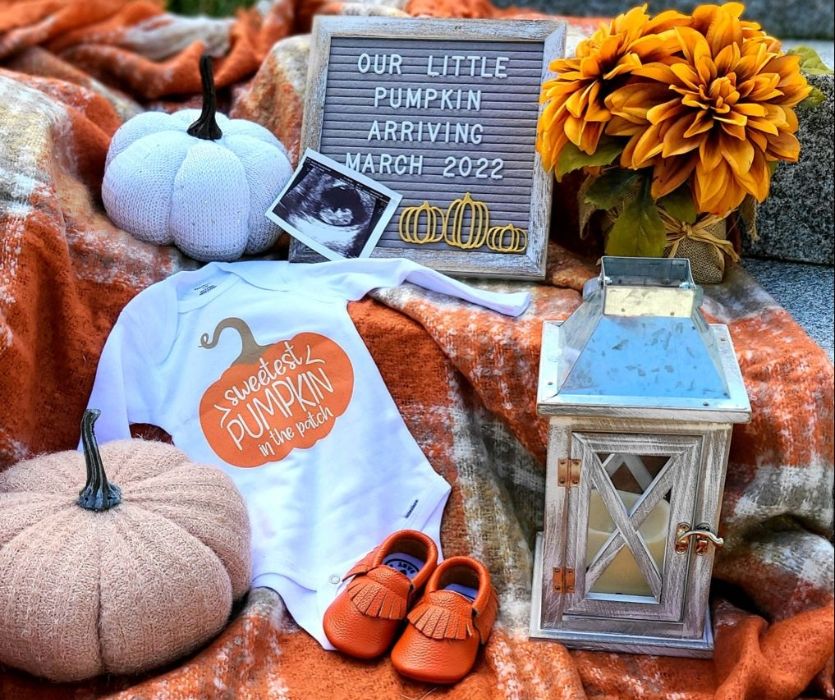 Don't feel like posing for your baby announcement photo? No problemo. Gather up some fall decor and a baby onesie and you're all set!
Halloween is a fun time to announce a pregnancy!
Many parents-to-be love tying a good theme into their baby announcements, and Halloween offers tons of ways to get creative.

Using pumpkins, creating a clever costume, pulling in kids (and pets!) for the occasion, using fall colors and Halloween decor, and whipping up specialty treats are all ways to lean into the spookiest time of year when brewing up Halloween pregnancy announcement ideas.

Are you team announcement theme, or do you prefer something more neutral? I'd love to hear how you got creative with your announcements in the comments!

For even more inspiration, also check out The Best Pregnancy Halloween Costume Ideas
---
Get posts & giveaway updates delivered right to your inbox
---
---