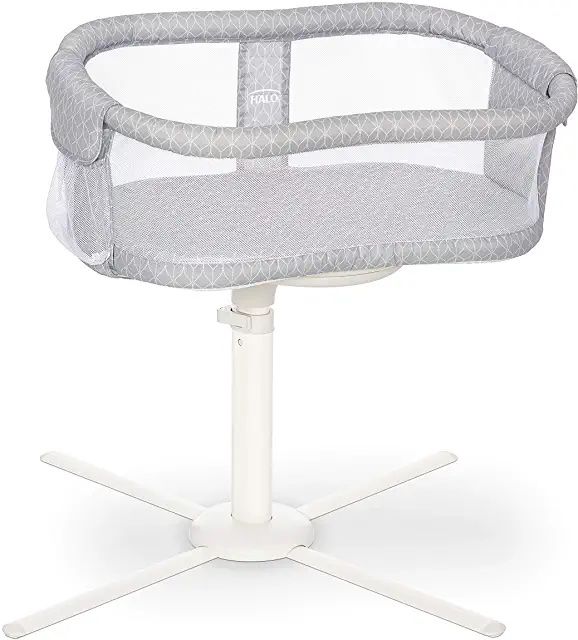 This sucker is the hottest ticket going these days – I'm seeing it everywhere – so I thought I'd better have a boo at it myself.
The Halo Swivel Sleeper Bassinest is a bassinet that can sit up right next to your bed and swivel over your bed for easy access to your baby. It also has a drop-down side, a light, music, good vibrations (mmmm) and a nursing timer.
Halo Bassinest Review
Have a peek at my lovely video to find out more:
Things I loved about the Halo Bassinest:
Can swivel over the bed
Your baby is right at eye level
Mesh sides for great air circulation
Nice neutral color and design
Drop down side
Maneuvers out of the way easily
Very sturdy and stable
Reasonably easy to put together
Things to Consider:
It's a little pricey
You still have to lift the baby over the drop side so it's not a seamless transition
It's heavy (a good thing for stability) so you're not going to be moving it a lot


Halo Bassinest Comparisons:
Graco Pack N Play Playard with Bassinet: About $160 cheaper. Doesn't have the swivel function or the do-dads, but extends its use by converting to a playyard when your child is older.
Arm's Reach Concepts Mini Arc Co-sleeper: Similar to the Pack N Play but this one can butt up right against your bed.
Summer Infant By Your Side Portable Bedding: This one is $60 bucks so there's a big price difference. It sits on your bed instead of beside it so if you are sleeping in a double or even a queen, dad/mom/partner may get the boot.
Should you buy the Halo Bassinest Swivel Sleeper?
I think it's a great product. Especially if you think you're going to be nervous with a newborn. (::raises hand::) Personally, I think I would opt for the Essentia version without the vibration and sounds and use the savings to buy a LectroFan and a Tranquilo mat. It's one less thing to break and the sound machine and vibrating mat can transition with your baby long after the bassinet days.
You can find Halo Bassinests here on Amazon.
Do you have a Bassinest? What do you think of it?
Our next recos:
Safe Sleep: The AAP Wants Me to Do WHAT??!!
Do-Not-Disturb Baby Door Hangers (free printable)
---
Get posts & giveaway updates delivered right to your inbox
---
---