Llamazing stuff for baby!
It looks like llamas might be dethroning unicorns as 2020's "it" animal, so here's a round up of the best llama baby stuff out there.
Halo Muslin Sleepsack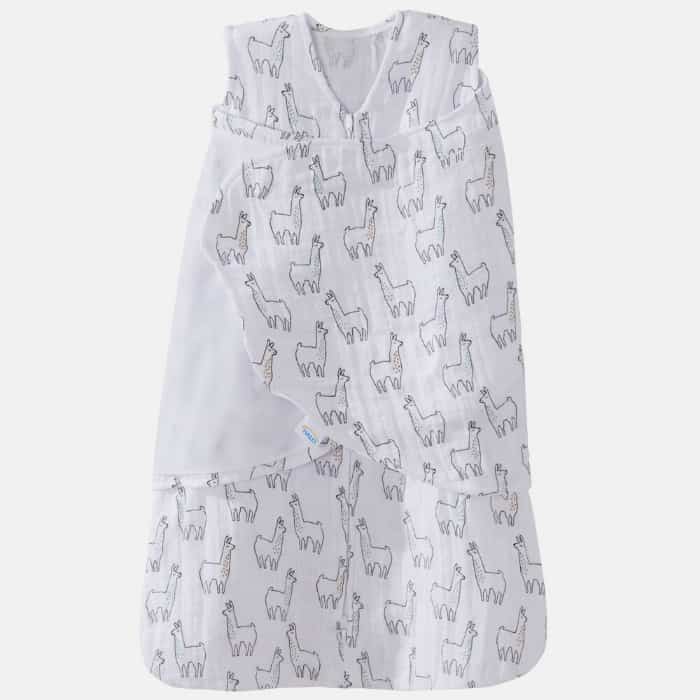 Halo's llama patterned sleep sack provides an extra layer of warm and cozy comfort to your baby while they snooze. This 100% cotton sack can be opened from the bottom for easy diaper changes and gives your baby space to move their little tootsies without kicking off their blanket.  
Get your Halo Sleepsack here.
Skip Hop Zootensils Fork & Spoon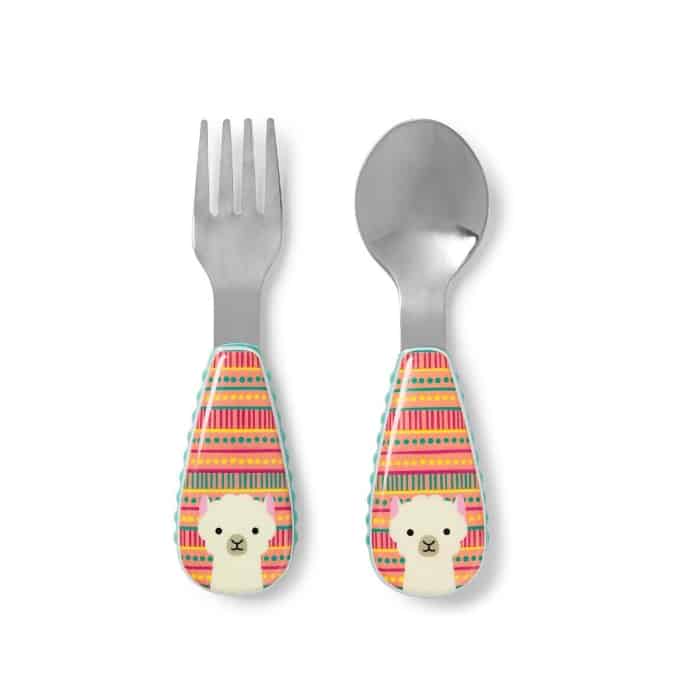 This stainless fork and spoon both have grips that are perfect for little hands and will look dang cute in your cutlery drawer (and your dishwasher – woop!) Warning: There's an entire line of Luna the Llama accessories and you're going to have a hard time stopping yourself from buying them all.
Get a set of Zootensils here.
Gund Baby Toothpick Llama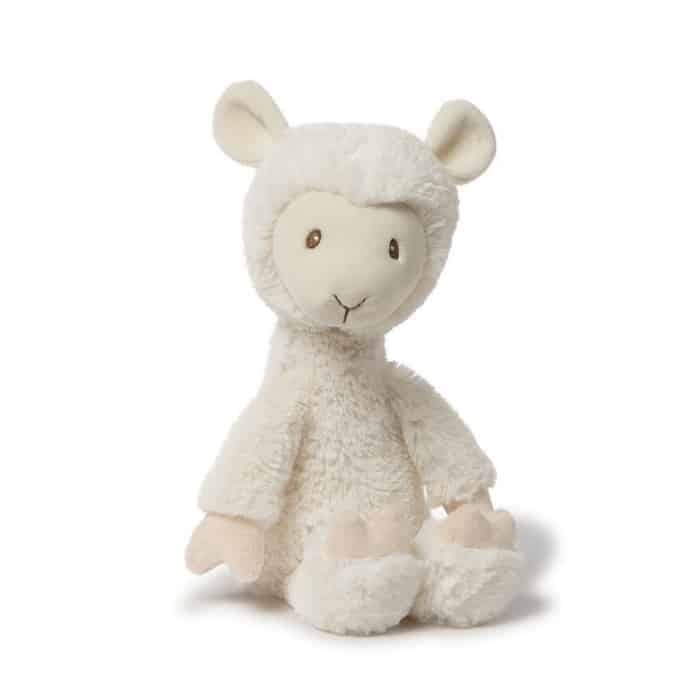 If you're looking to get your baby a stuffy that's cuddly and guaranteed to stand the test of time, look no further than GUND's baby toothpick llama. This sweet 12" plush is machine washable, super durable and has embroidered details, making it safe for even the most curious (read: destructive) babies to snuggle.
Get a Toothpick Llama here.
Bumkins Bibs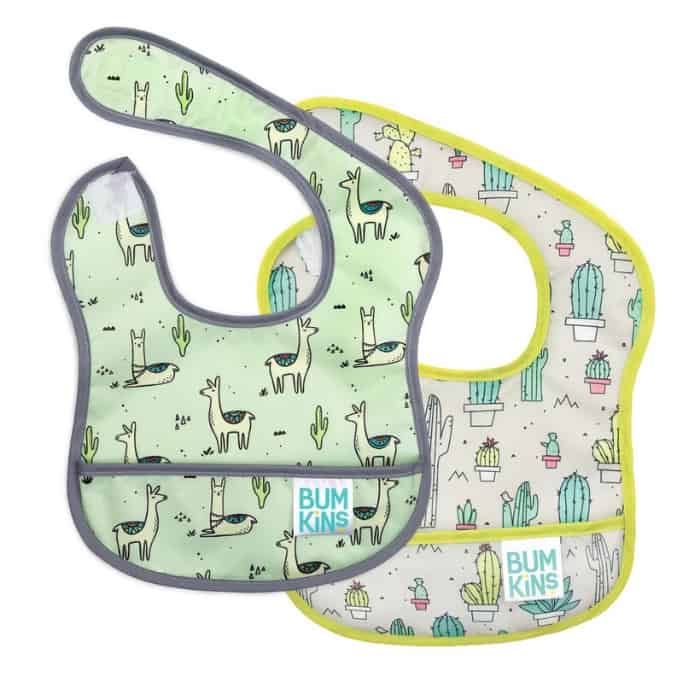 Apart from coming in tons of super cute designs (in other words: LLAMAS!), Bumkins bibs are made from a stain and odor-resistant fabric that's waterproof and easy to wipe. For extra gross messes, these guys can also be thrown into the wash.
Get your bibs here.
Loulou Lollipop Teether With Clip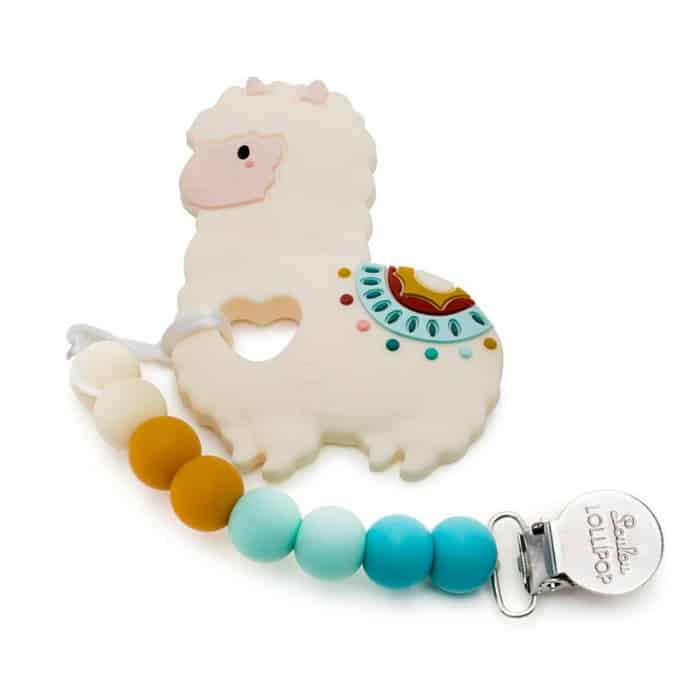 My baby's Loulou Lollipop teether was her number one favorite accessory. My only regret was that she didn't get to nibble on this adorable little llama.
Get your Llama teether here.
Loulou Lollipop Washcloths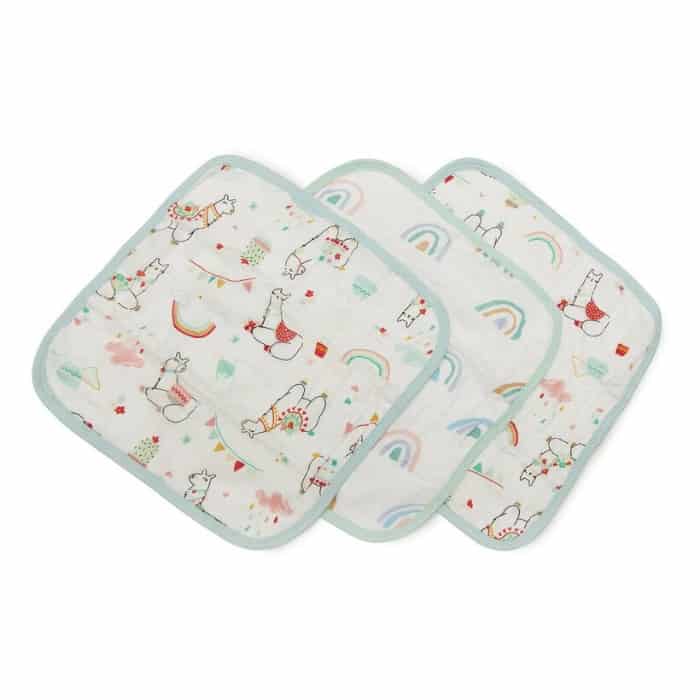 If your baby can't snuggle their face into the soft fur of an actual llama, these washcloths are definitely the next best thing.
Get your llama washcloths here.
Fisher Price Click Clack Llama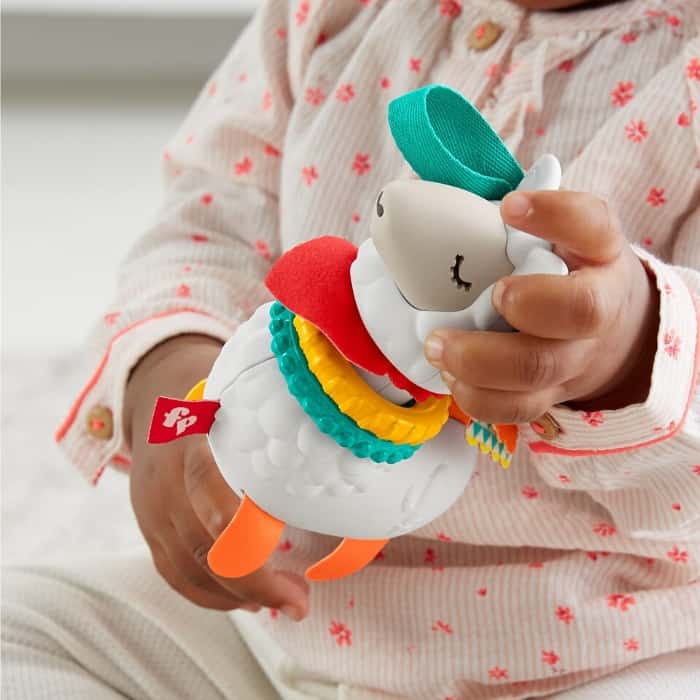 It's no secret that babies love exploring different textures and sounds. The colourful Click Clack Llama from Fisher Price can rattle with the best of 'em (but is probably the cutest little noisemaker out there).
Get your Click Clack llama here.
Tummy Time Pillow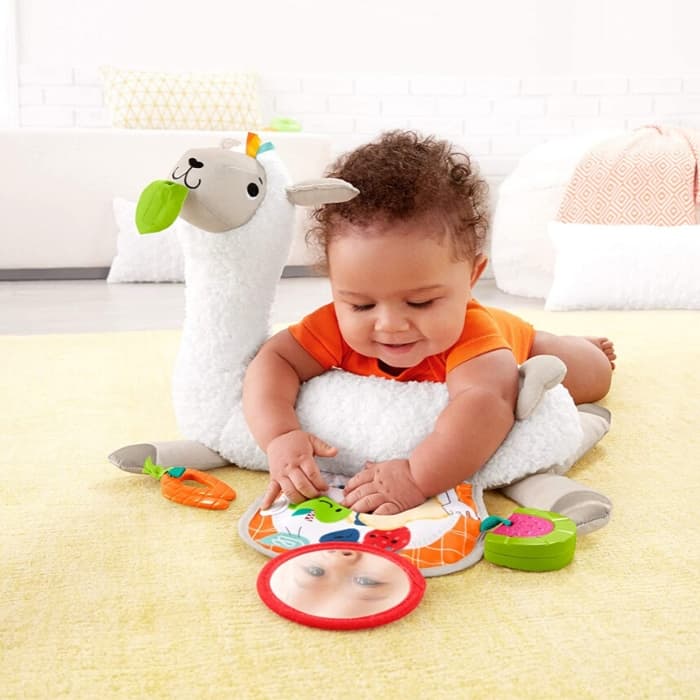 Set your baby up for tummy time success with this fun little llama pillow that'll keep them entertained for hours (okay, maybe minutes, but it doesn't hurt to dream). Your little will love gazing at themselves in the mirror and playing with the toys and play mat. As a bonus, this llama will still be your little's best friend once they're mobile, since it makes an awesome stuffed animal, too.
Get Tummy Time Pillow here.
Cuddle + Kind Lola and Lucas Plush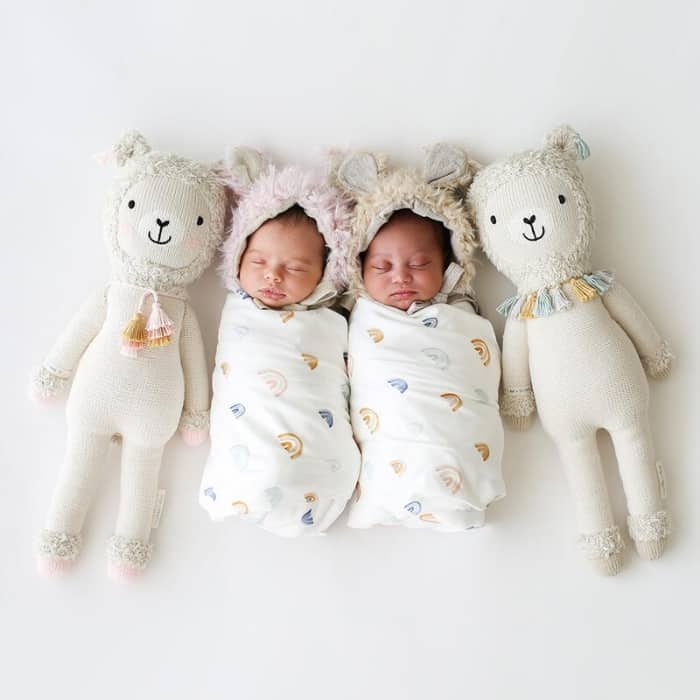 In case you haven't heard of Cuddle + Kind, we'll fill you in on why their stuffed animals make our hearts skip a beat. Aside from the fact that they are the cutest ever, they are hand made in Peru with fair trade practices and the company provides 10 meals to kids around the world for every doll sold. We'll take a Lola and a Lucas, thank you!
Get your Cuddle + Kind stuffed animal here.
Llama Jumpsuits by finn + emma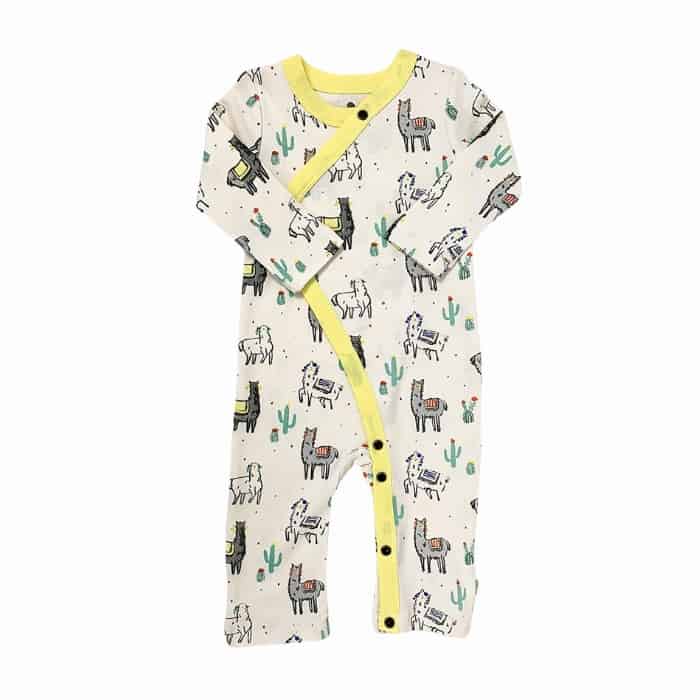 Llamas and pajamas are a match made in rhyme heaven, and finn + emma's cute little jumpsuits are here to prove it. All of their clothing is ethically made in India from super soft organic cotton and non-toxic, eco-friendly dyes that both you and your baby will love.
Get your Llama jumpsuit here.
Llama Llama Little Library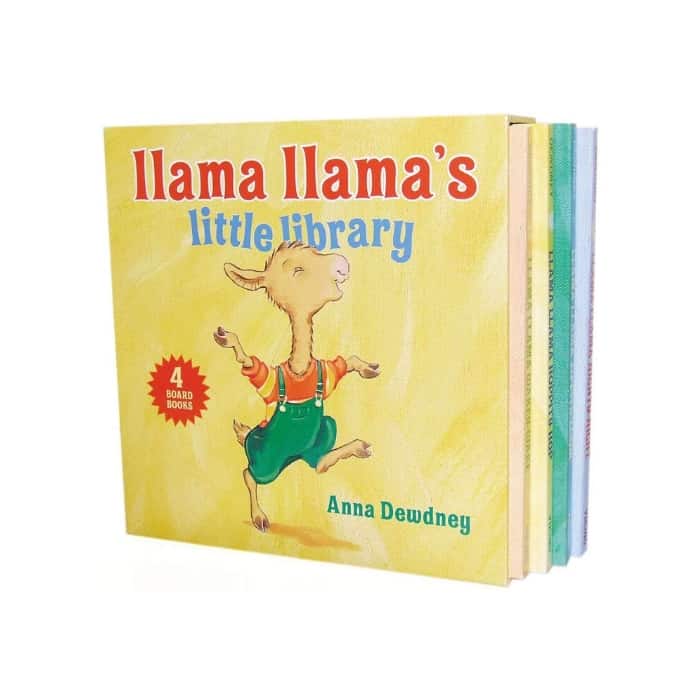 This boxed set has four bestselling board books that your little llama will be begging you to read over and over again (once they learn to talk, that is).
Get the Little Library here.
Llama Baby Shoes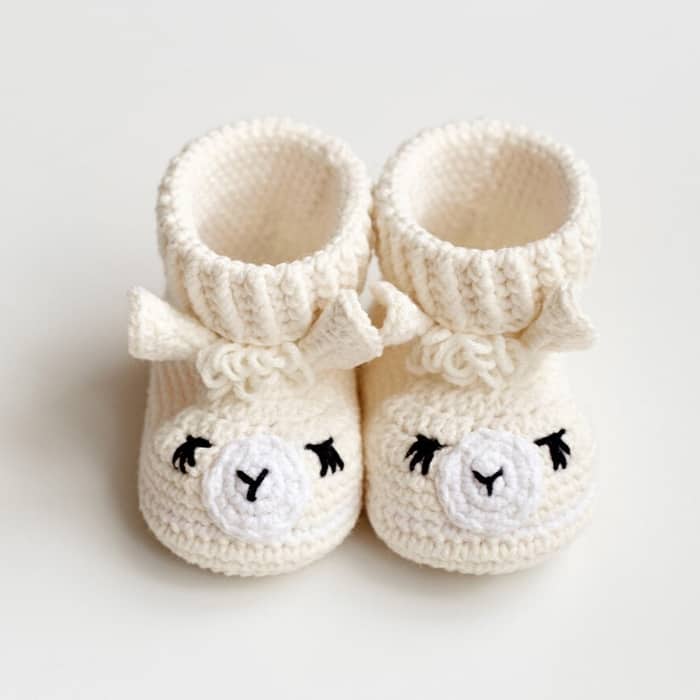 Uhhh hello. If there's anything cuter than itty bitty baby feet with llamas on them, I don't think I've found it.
Good luck picking your favourites here.
Crate & Barrel Llama Storage Bin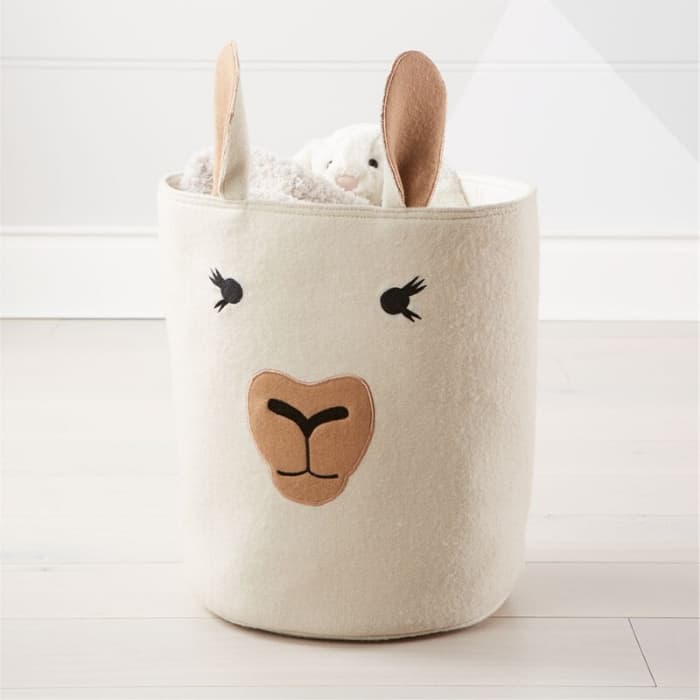 It's a toy bin! It's a laundry hamper! It's a blanket holder! Who cares what goes inside? It's cute as hell and we're getting one.
Get 'em here!
Llama Wallpaper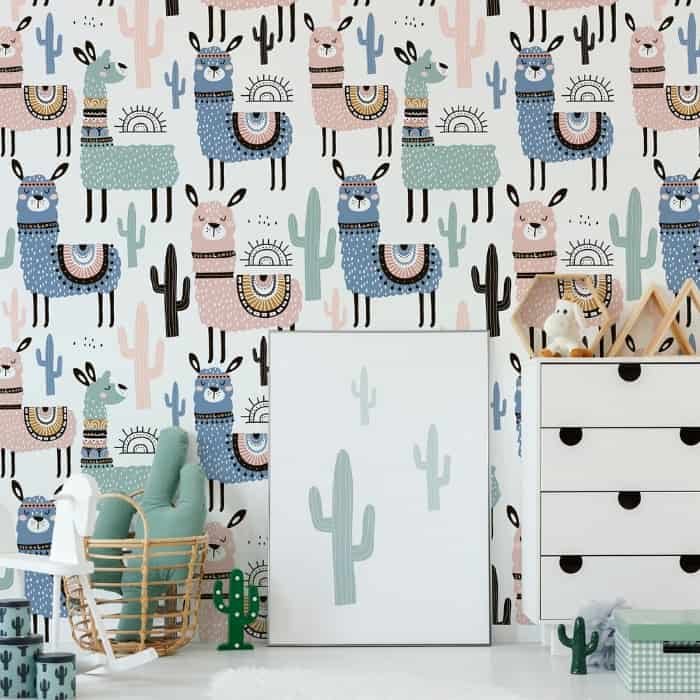 Whether you're looking for bright and bold or something a little more subtle, Etsy has llama wallpaper till the cows come home (wait, are we allowed to say that on a llama post?)
Get your favorite roll here.
Crate + Barrel Larry the Ride On Llama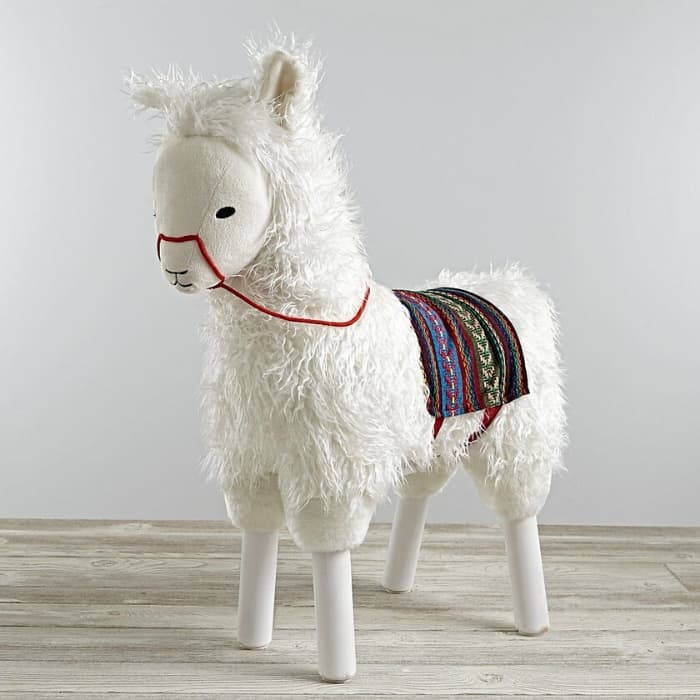 If your baby won't let you live out your dreams of putting a real llama in their nursery, let this be your compromise. Larry the Llama is the cutest effing creature on this planet and anyone who thinks otherwise doesn't get to ride on him.
Get your Larry here.
Minted Llama Print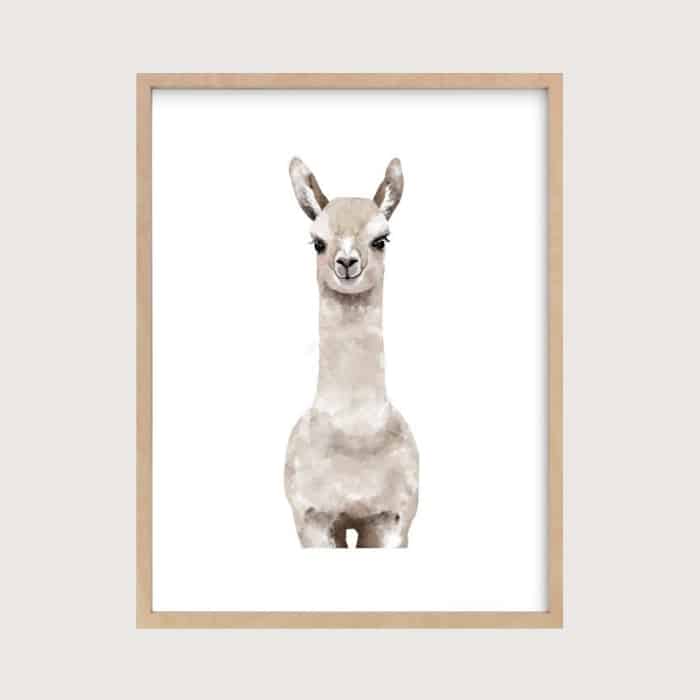 Minted has a whole series of cute baby animals to grace the walls of your baby's nursery (or any room in your house, really). This print can be purchased on its own or matted and framed to match your decor.
Get yours here.
Copper Pearl Premium Knit Fitted Crib Sheet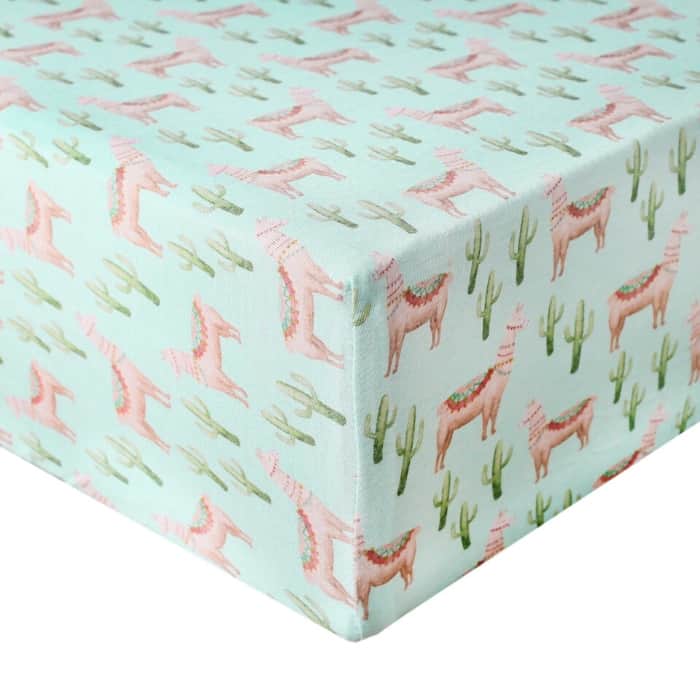 Is there anything cuter or more cozy than snuggling up for a nap with hundreds of llamas? The good news is, the llamas on this fitted crib sheet don't spit, and the cacti don't prickle, so your babe is guaranteed a super-soft snooze (and if for some reason you don't love this sheet, there's a 100% money back guarantee).
Get it here.
What do you think about the llama trend?
Will you be joining the herd, or are you still on team unicorn? We wanna hear your thoughts in the comments.
---
Get posts & giveaway updates delivered right to your inbox
---
---