I found making meals after I brought my newborns home the most daunting and unappealing task.
I knew I should eat but I was so tired that I just couldn't bother with anything other than toast, so when people showed up with food I was beyond grateful. The only problem was sometimes the food showed all up at once so I had a ton of food for three days and then nothing for the rest of the week (I'm sure I ate some "questionable" leftovers at the time but I didn't care.)
This is why this Meal Train registry is so brilliant.
All you have to do is, set up a free registry, list the days you'd appreciate a meal, then send out an email to let people know they are invited to participate (or add it to your regular registry like I did on Babylist.)
There's even a spot where you can put your likes, dislikes, any allergies and how many people need to be fed.
Participants register themselves then pick the date that they'll bring the food. If they aren't in the cooking mood, they can even select a gift card or donate to a food charity instead. (By the way, I like that they have to register so looky-lous can't see what you're eating, although, I have no idea why I care.) Plus, because they're registered, they get a friendly little reminder email from Meal Train to let them know that their day is coming up.
Here's a sample Meal Train registry: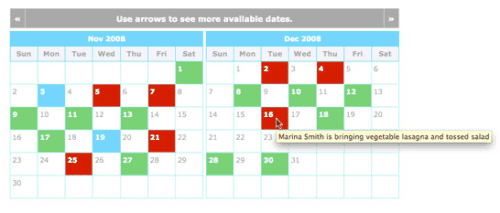 So I love this idea on three levels: One, it is a nice way to ask people to bring you food without being bossy boots. Two, it allows the people that aren't as baby crazy to help out in a really meaningful way. And three, it is a fantastic way to spread out visitors so you're not bombarded with everyone all at once.
Here are the features of the free version:
Interactive online calendar
Reminder emails sent to participants 1 week and also 1 day prior to date
Organizer email options. Receive alerts when dates are booked or canceled
Ability to list meal preferences and allergies
Digital gift cards for Grubhub, DoorDash, restaurants, and more
Organizer and Recipient can book dates for others
Invitations via email, Faceboook, Twitter, and more
Easily share updates and photos with family and friends
Allow participants to make financial contributions
Editable at any time by organizer or recipient
Add multiple organizers for ease of editing
Is this a great idea or what?
After all, there is only so much room in the freezer and your husband can only make his famous chili so many times. Toot! Toot!
What do you think? Is it a nice way to spread out the generous grub or do you still think it's too presumptive? I'd love to know what you think in the comments.
Our next reco: Best Non-Baby Gifts to Add to your Registry
---
Get posts & giveaway updates delivered right to your inbox
---
---