Post contains affiliate links.
See our disclosure.
This post is not sponsored and we ordered and tested both products at our own expense.
It's no secret that most of us parents are walking around with camera rolls bursting at the digital seams with photos of our kids' every sneeze and fart.

Although it's great to be able to whip out our devices on a whim to sneak a peek at our picture perfect offspring, there's something to be said about a good old fashioned photo album.

With so many options available to make your own photo books, it can be hard to know where to start, so I've narrowed the search down to two top photo book sites that are easy and inexpensive to use - Mixbook and Shutterfly.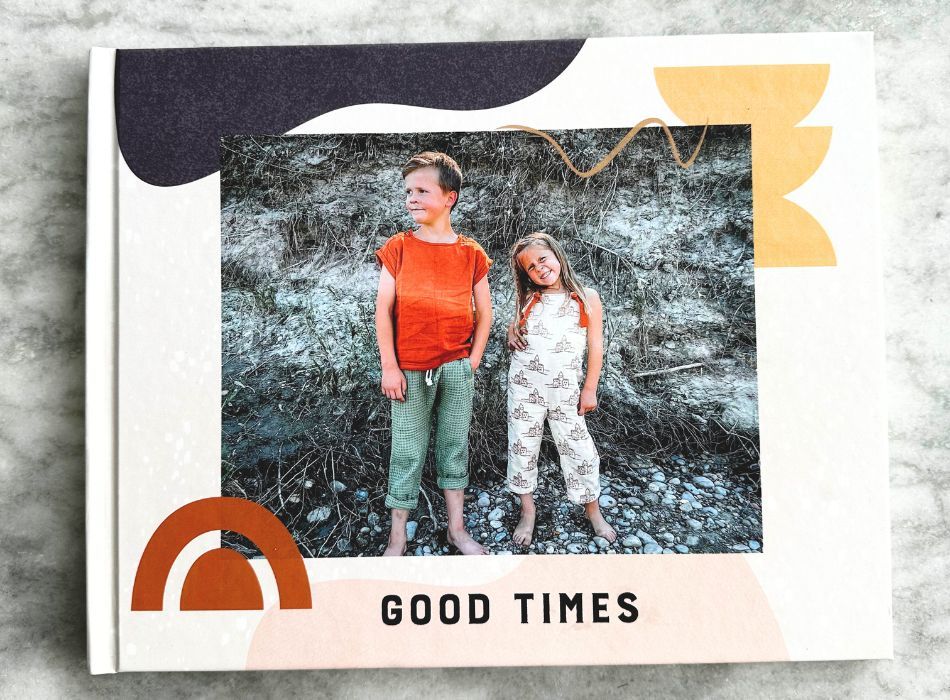 Mixbook Overview
Over 15 million projects have been created using Mixbook since it was established in 2006. It's the go-to place for many folks for everything from wedding albums, invitations and guest books to calendars, holiday cards, home decor and, of course, photo books. Projects can be created on their desktop or mobile sites, or the app.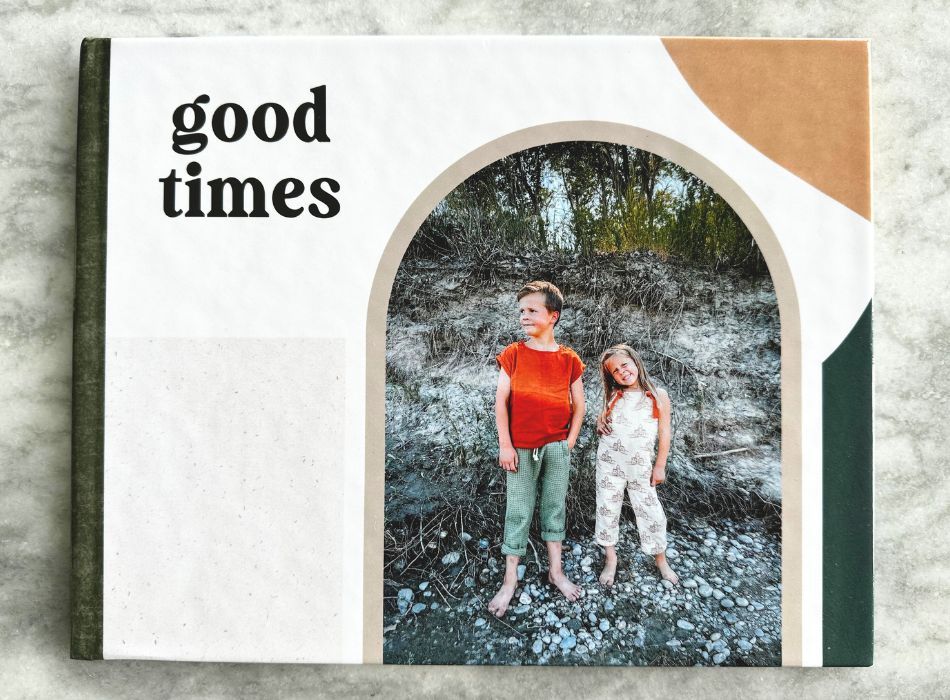 Shutterfly Overview
The name Shutterfly probably rings a bell because the company has been around since 1999 and is the leading digital retailer and manufacturer of personalized goods like photo books, gifts, cards, stationery, home decor and more. Shutterfly is the parent company of a range of other popular brands including Spoonflower, Lifetouch, Tinyprints, Snapfish and BorrowLenses. Their desktop site, mobile site and app can all be used for whatever project you've got on the go.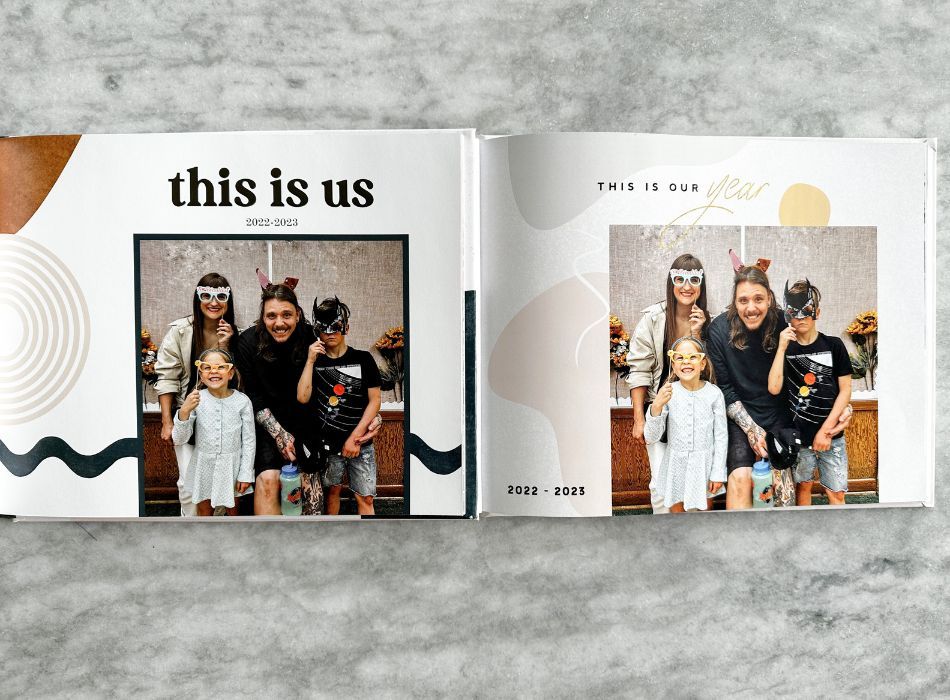 Comparisons
In order to determine which photo-book service reigns supreme, I decided to put each one to the test. To do this, I used the same photos to create a 41-page hardcover book with the same landscape layout, size, cover and page materials, on each site.
Pricing
Winner: Mixbook

One thing I really liked about Shutterfly was that the site kept a running count of the price of my book at the top of the screen. I've found it's easy to get a little over-enthusiastic adding pages to my photo books in the past and then have been super disappointed  having to remove them when I get to the checkout only to find my book's gone way over budget.

The starting price for an 8x11 hardcover book with 20 standard pages on Shutterfly was $55.97 USD. Each additional page was $2.19. When I got to the checkout for my book from Shutterfly, the total was $77.50. I was able to use a discount code for unlimited additional pages, which saved me $32.13 and kept the final price at $45.37.

Something else to keep in mind is that Shutterfly is also now affiliated with Costco. Active Costco members get 51% off regularly-priced Shutterfly orders, plus free shipping on orders $49.
Over at Mixbook, the starting price for an 8.5x11 hardcover with 20 standard pages was $15.66 USD. Each additional page was $1.79. My total came to $63.05, but I was able to find a coupon code that saved me $23.16, giving me a final price of $31.99.

Even without a discount code, Mixbook ended up being the cheaper option by just under 15 bucks, and the books had a similar price difference with the deals I scored.

I would definitely recommend watching both sites to see what types of deals they currently offer because they almost always have some kind of promotion going on.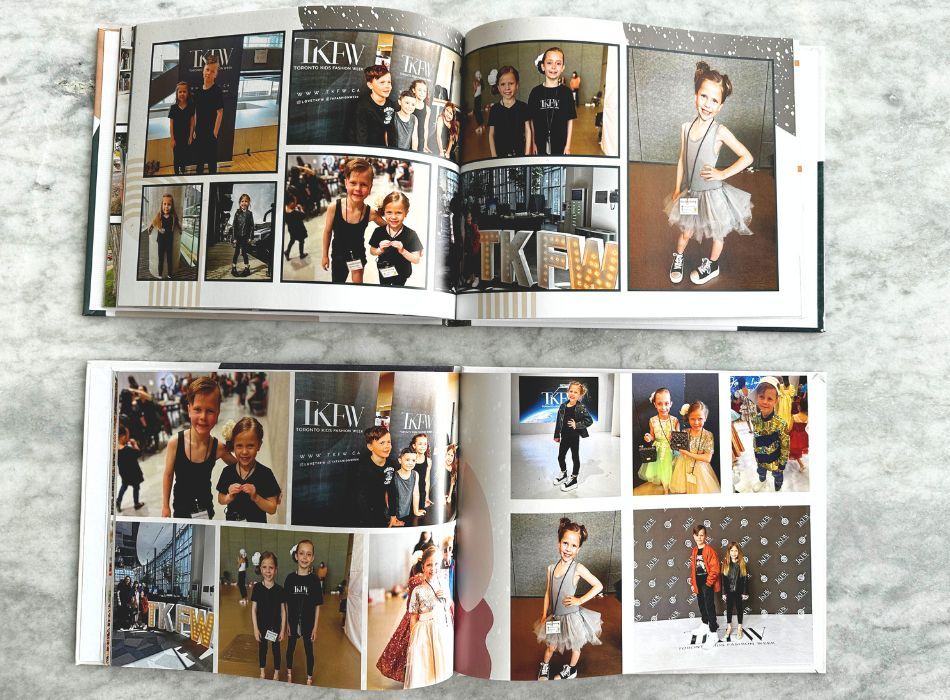 Print Quality
Verdict: Tie

Overall, I was really happy with the print quality of both books. The color saturation was impressive and the images were crisp and clear. The glossy hardcovers had a nice contrast in the photographs I chose, and I liked the graphics of the abstract themes I chose were eye-catching and fun.
Layout Options
Winner: Mixbook

Mixbook has 688 different design templates to choose from when setting up your photo book, each of which is easy to customize. There are 22 different themes to browse to start narrowing down your search, including Family, Kids, Baby, Year in Review, Adoption, Travel and more.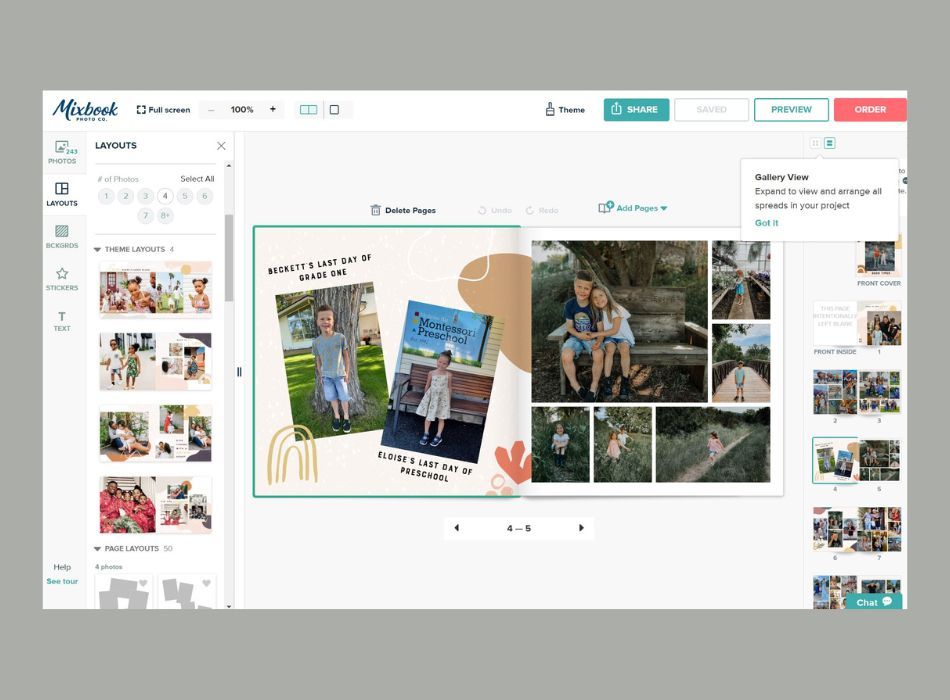 It was easy to drag and drop page spreads into the workspace, and to choose layouts based on the number of photos I wanted on a page. There were layouts for 1, 2, 3, 4, 5, 6, 7, and 8+ photos. Those layouts then could easily be changed by moving elements around, changing their size, or removing them completely.

Shutterfly had 95 different photo book styles with themes such as Kids & Baby, Family, Everyday, Celebrations, and a Designer Collection (which you can use for an extra 5 bucks). I found it easy to find great layouts to showcase my photos, with different layouts available for 1, 2, 3, 4 and 5+ photos.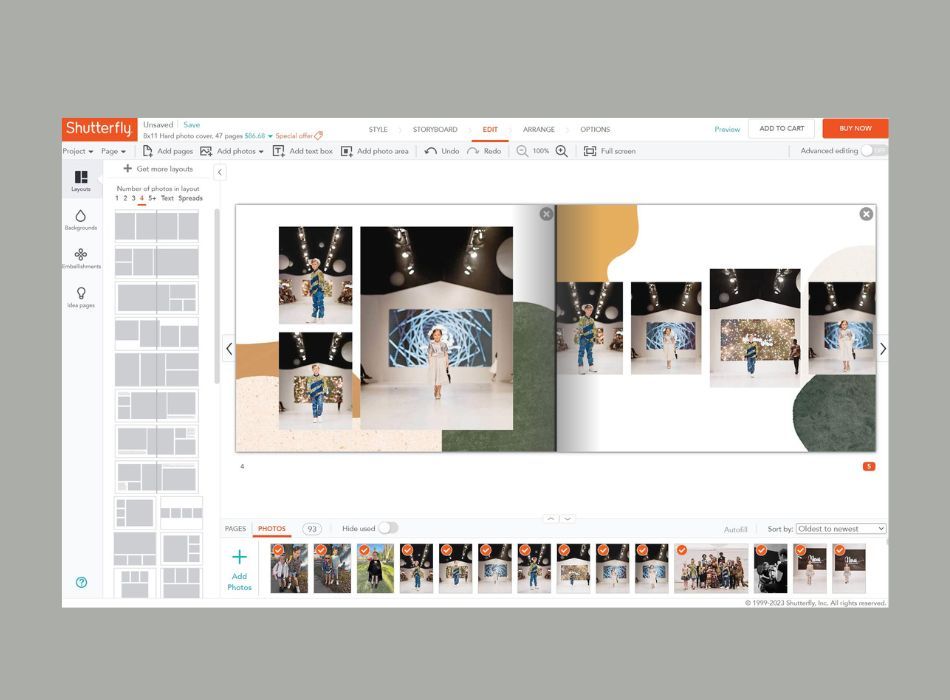 Unlike Mixbook, the layouts cannot be further customized. One thing that was a bummer for me was that many layouts spanned across both pages of the book, which I thought was great while I was making the book. However, I didn't select lay flat pages (for an extra $25) and ended up losing quite a bit of my photos in the crease of the book.
Ease of Use
Winner: Mixbook

Full disclosure: The first photobook I created was using Shutterfly, so Mixbook may have felt a little easier because I had a bit of a system down for adding and organizing my photos by the time I got to the second book. However, overall, I did find Mixbook's site to be more user-friendly.

A couple of things that put Mixbook in the lead for me in this category were website functionality and features. I found Shutterfly's website to be a bit glitchy and slow at times, particularly when uploading my photos from Google Photo. Mixbook's site felt less laggy to me.

Both websites offered a variety of options for importing photos, including adding from your desktop, phone, Google Photos, Facebook, and Instagram. Mixbook also allows uploads from SmugMug. I found it easiest to organize my photos into a folder in advance (I used Google Photos) and then just upload the whole thing to both sites.

Each site had some pretty cool features that deserve a mention. Mixbook has a cool collaboration feature that allows you to create a book alongside anyone you invite as a collaborator.

One feature I totally missed on Shutterfly until my book was complete was their Storyboard, which allows you to drag photos onto a template of your whole book. It then organizes the photos for you, and you can tweak things to your liking afterward.

Both Mixbook and Shutterfly had "Make it Fast" options, where your selected photos are auto-filled into the book for you. In both cases, I didn't love the end result and found it to be more of a hassle to move the photos around once they were placed, so I started from scratch.
Design Services
Winner: Shutterfly

Shutterfly offers a free 24-hour design service. I tried to find the catch, but there really and truly isn't one.

You pick your book style, add 50-800 photos, and let the designer know if you want them to select all of the photos you chose, some of the photos, or just the best quality ones. You can specify if you want the photos sorted by date and time, a theme you describe, or would like to sort them yourself, and specify the size of photos and how many embellishments you'd like your layouts to include.

Finally, you can leave any special instructions for the designer, and they'll have your design sent to you within 24 hours.

I tried it out and thought they did a pretty decent job. However, I think it's tough for a total stranger to capture the moments in the way that you'd do it yourself, so I'd recommend trying it if you're strapped for time, or just want a good place to start with layout ideas.

While Mixbook does offer a video tutorial on how to get started, they don't offer a design service to help do the work for you.
Customization and Editing
Winner: Mixbook

When it came to customizing and editing my project, Mixbook made it super easy and intuitive to drag, drop and edit photos, embellishments and text.

I found myself playing around with Shutterfly a little bit more before I got the hang of things. As I mentioned before, a lot of the design elements with Shutterfly are fixed once they're selected, like photo orientation, location and size.

Mixbook allows you to play with all of these elements and get them looking exactly how you want them to.

Both sites had fun stickers and backgrounds that were easy to add to make each page truly customized.

Shutterfly also had some cool metallic embellishments available at an additional cost.
Printing Options
Verdict: Tie

When I was ready to print my photo books, both websites offered a variety of printing options at different price points. Soft cover and hard cover options are available in 7 photo book sizes from Shutterfly and 4 from Mixbook.

Both sites offer glossy softcovers and glossy or matte hardcovers and Shutterfly also offers leather binding (but with a pretty significant price increase).

For the inside of the book, I was able to choose between semi-gloss and matte paper finishes for both sites, with premium lustre pages being an additional option with Mixbook. High quality, extra durable pages are also available as an add on from Shutterfly.
Customer Support
Verdict: Tie

Both websites have a "Chat Now" feature which makes it easy to troubleshoot your project virtually. Mixbook's chat is available Monday - Friday from 5 am - 12 am PST and Saturday - Sunday from 8 am to 4:30 pm. Shutterfly's chat service is open 24/7. Support is also available for both sites via phone and e-mail.

While I didn't have any issues that required support, I took a peek at the reviews from customers who have, and on the whole, folks seemed overwhelmingly more satisfied with Mixbook's customer service. Some reviewers mentioned getting disconnected and experiencing long wait times when trying to reach Shutterfly's customer service team, while Mixbook scored points for their responsive, solution-focused representatives.
Shipping Time
Winner: Mixbook

Even though I ordered my book from Shutterfly before I had even started creating my Mixbook, I was surprised to find my Mixbook at my door first. I received my Mixbook 4 days after placing my order and my Shutterfly book 8 days after placing my order. I'm pretty sure this is because I'm located in Canada and Mixbook has a location in Canada where Shutterfly does not.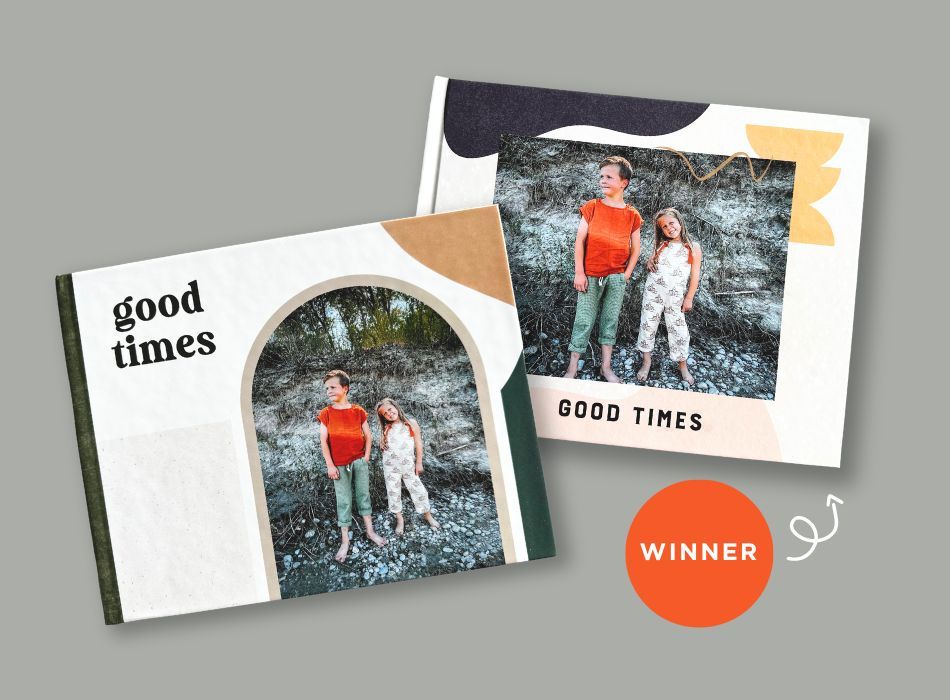 Verdict on Mixbook vs. Shutterfly
I came out of this experiment with two beautiful photo books that are pretty hard to tell apart in terms of style and quality.

If I was to do the process over again, I'd probably lean towards Mixbook, because I had more flexibility customizing my Mixbook and found the process of creating my book on their website more user-friendly.

However, if I was crunched for time and wasn't feeling too picky, Shutterfly's free design service is a great option. My time investment to build each book from scratch was about 5 hours per book, and knowing that there's a free option to get someone else to do the bulk of that work for me is pretty much a no-brainer.

If you'd like to create your own photobook, here's the direct link to Mixbook's photobook section and Shutterfly's photobook section.
Have you used either (or both) of these websites to design a photobook before?
Which would you recommend and why? Drop your thoughts in the comments!

You might also like: Best Custom Photo Books for Every Type of Parent
---
Get posts & giveaway updates delivered right to your inbox
---
---