Every year I round up some of the coolest baby and pregnancy gear that came out (or is coming out). Turns out a global pandemic doesn't slow down innovation and good design but it does shut down baby gear shows.

I wasn't able to do a roundup for 2021 so this year I'm going to do something a little different and highlight the gear that I love whether it's available now vs. 'coming soon'.

I'll keep adding to the list throughout the year.
Here's what's cool and new in pregnancy & baby products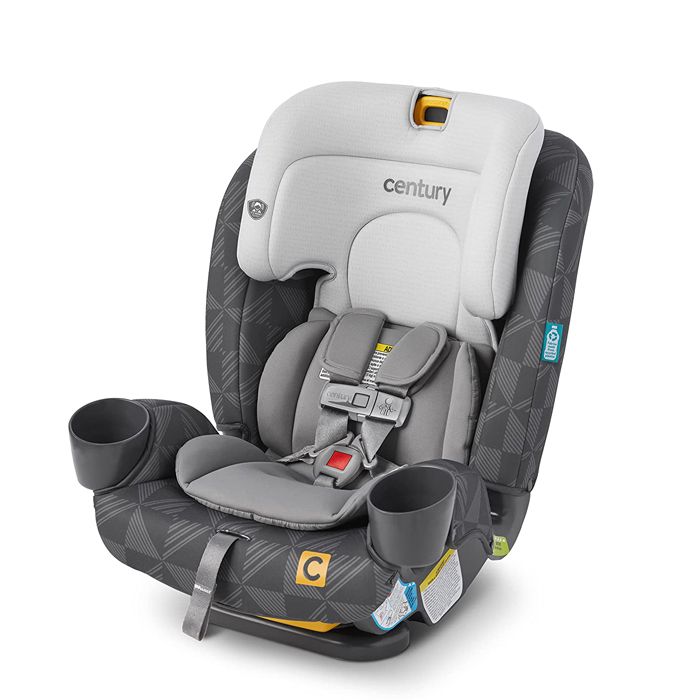 Century has a new, sustainable line of planet-friendly baby gear. The Drive On All-in-One Car Seat is made from 68% recycled fabrics (including all fillers, foams, etc.) and can be used from 5lbs in rear facing mode to forward facing mode all the way to a belt positioning booster for use up to 100lb. This affordable seat is available for a surprising $160. You can find it on Amazon and BuybuyBABY.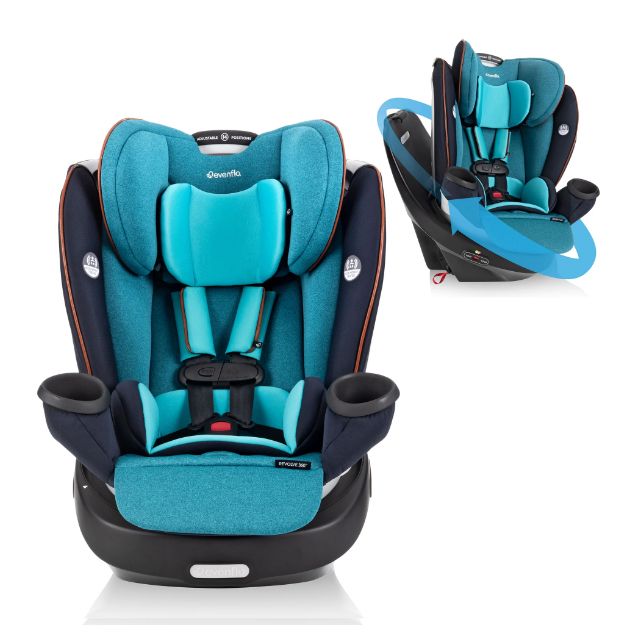 Rotating car seats seems to be an emerging hot trend. This car seat is designed for kids weighing 4 – 120 lb and can be used for up to 10 years. Install it just once and you're done. It has a rear-facing mode, forward-facing mode, and high back booster mode. Cybex came out with something similar two years ago with the Sirona S but this one is $120 less expensive. You can find it on the Evenflo website, Target, BuybuyBABY, and Amazon.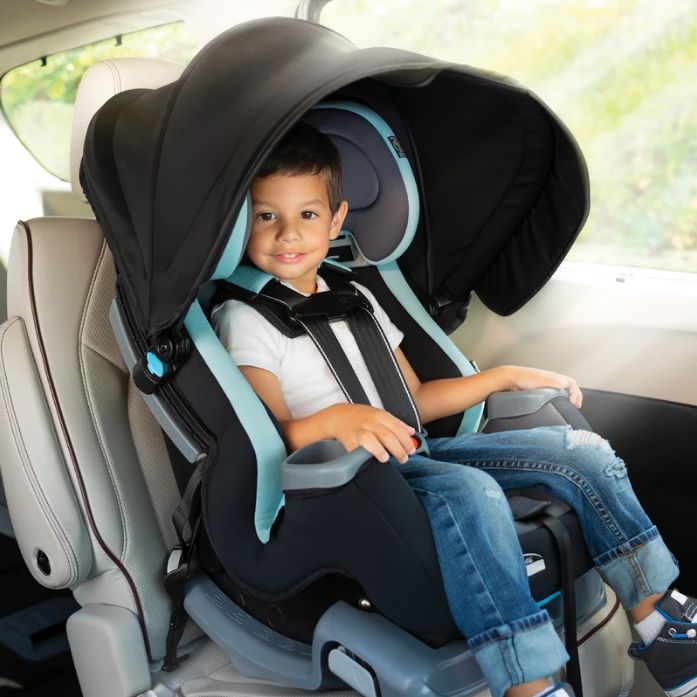 Sun beaming in your child's face is a common ass ache for parents. Unfortunately, many after market sun shades are dangerous in an accident so I was really excited to see a non-infant car seat that has a canopy. Even better? This affordable seat comes in around $150 and can fit three across if you need the space. You can find it on Amazon, Buybuy BABY and Walmart.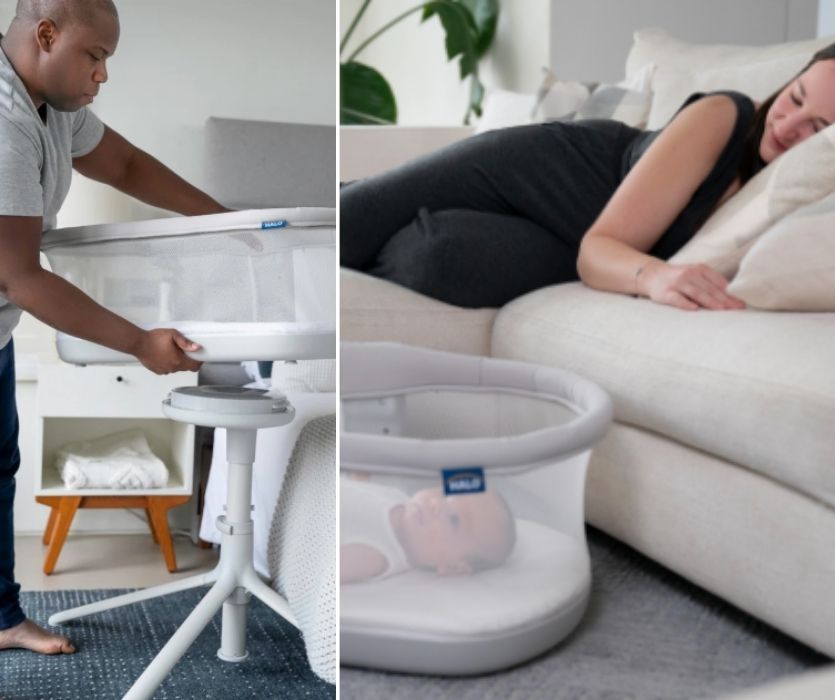 I loved the Bassinest but they typically stay put in one spot because of the sturdy base. HALO has come out with an updated version that still has the 360° swivel feature but the sleeper can detach to become a portable nest to safely lounge and nap around the house. You can find them on the HALO site.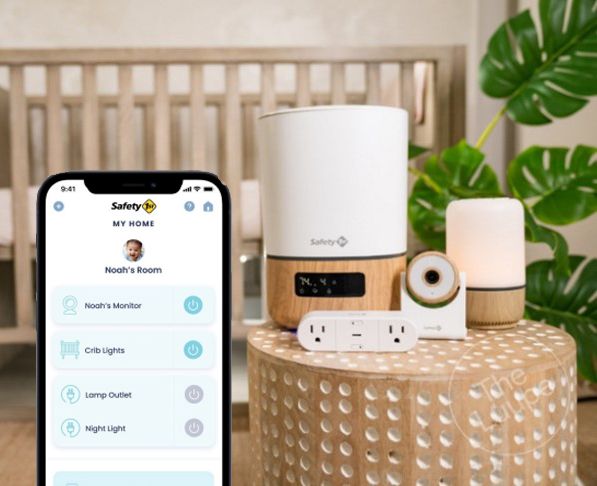 This cohesive collection from Safety 1st, features a Smart Humidifier, Smart WiFi Baby Monitor, Under Crib Smart Light, Smart Soother, and Dual Smart Outlet. Get alerts, monitor your baby and make adjustments on multiple products through your phone. They aren't the first brand to pair their tech with an app but I've never seen a nice looking lineup like this all tied into one spot. Each piece is sold separately and can be found on Amazon.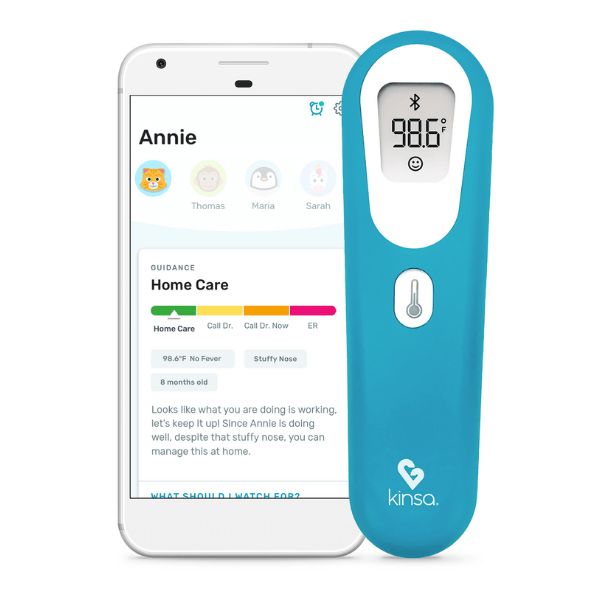 Kinsa thermometers have always been one of my go-to baby shower gifts and this is more than your average forehead thermometer. Take fast, sanitary, non-contact temperature readings on multiple family members, plus get personalized guidance to feel better faster. Pair your new contactless thermometer with the free Kinsa app to track symptoms and take action in real-time. You can find them on the Kinsa site.
This stroller automatically folds itself in seconds without the use of springs or motors then morphs into a compact self-standing stroller with just the flick of the handlebar. Despite its compact design this full-size stroller can be used from birth through the tallest of toddlers and features a large UPF50+ sun canopy a full recline. You can find it on Amazon.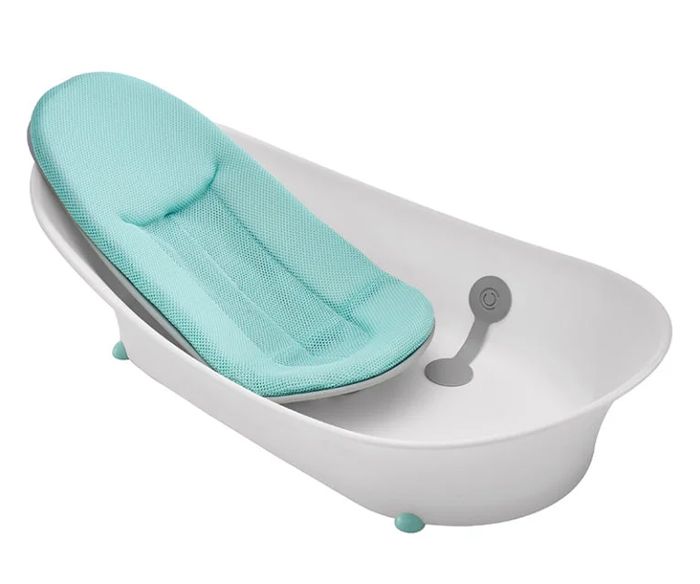 This grow-with-me tub starts with a newborn bather seat that provides head & neck support during the wet chicken stage. As your baby grows the infant seat is easily detachable and can be used as a cushion on the bottom of the tub – converting it into a standard tub. I like how well thought out this tub is, from the cushion for added stability and warmth to the non-skid feet and the curve of the sides for less head 'bonkability'. You can find it on Amazon, Walmart and Target.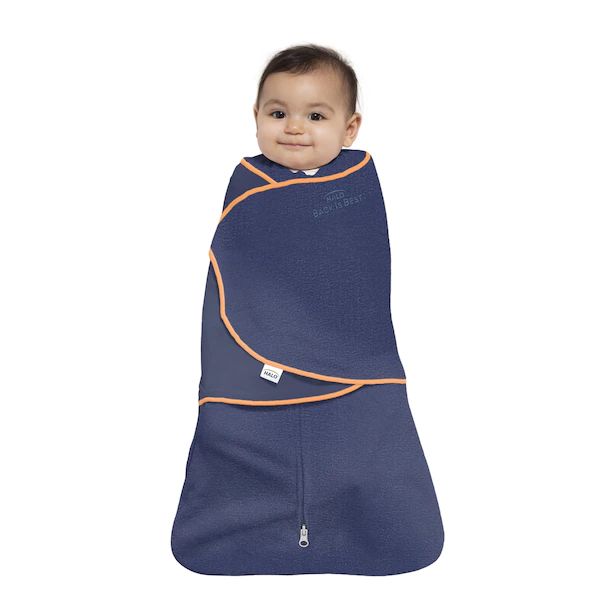 HALO is known for their great swaddles and they've upped their game with this swaddle that helps regulate your baby's temperature. IntelliThread technology absorbs heat, stores it, and then releases it back to your baby (I feel like there is a Black Panther suit reference in here). It maintains an ideal temperature while avoiding heat spikes that came often lead to wakeups. You can find them on the HALO site and on Amazon.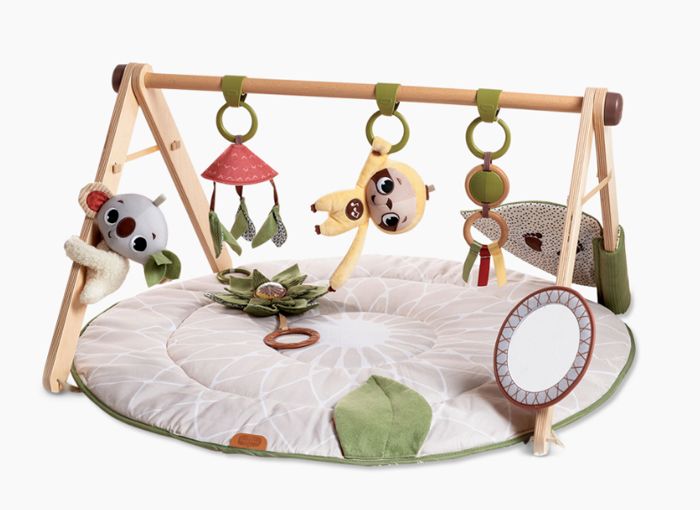 Packed with 20 developmental activities and twelve month-by-month development milestone cards, this wooden stand-alone arch and premium mat feels like an upgrade to the usual play gyms. The natural tones are a nice change and will probably appeal to parents who don't want an explosion of color in their home. You can find it on Amazon.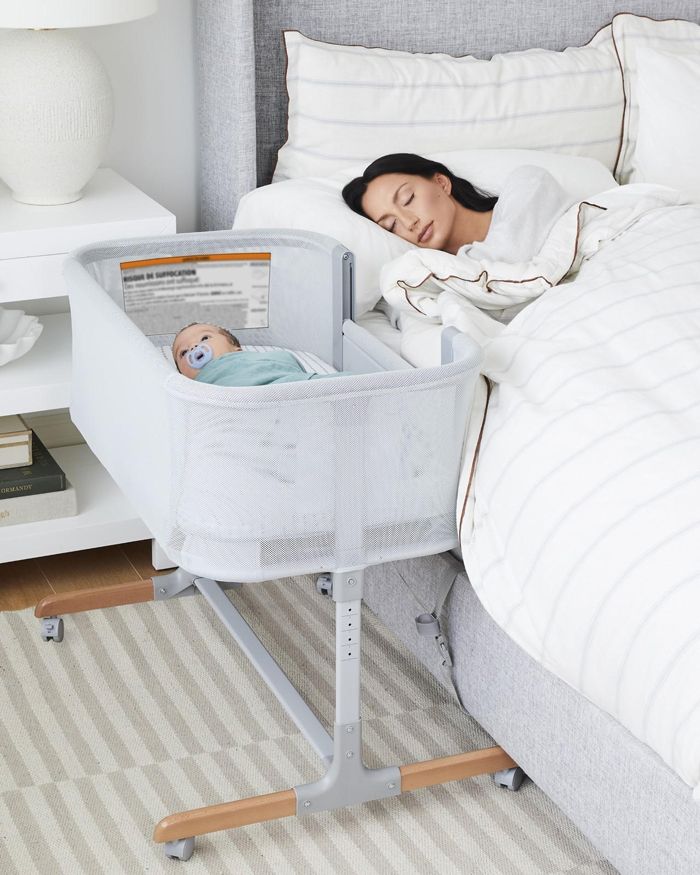 You can use this as either a bedside sleeper or stand-alone bassinet. It has an 8-position height adjustment up to 32.7 inches high so you can raise or lower it depending on your bed. Unlike many other bedside sleepers, it has wheels and it's fairly lightweight so you can move it around making it a little more flexible. You can find it on the Skip Hop site and on Amazon.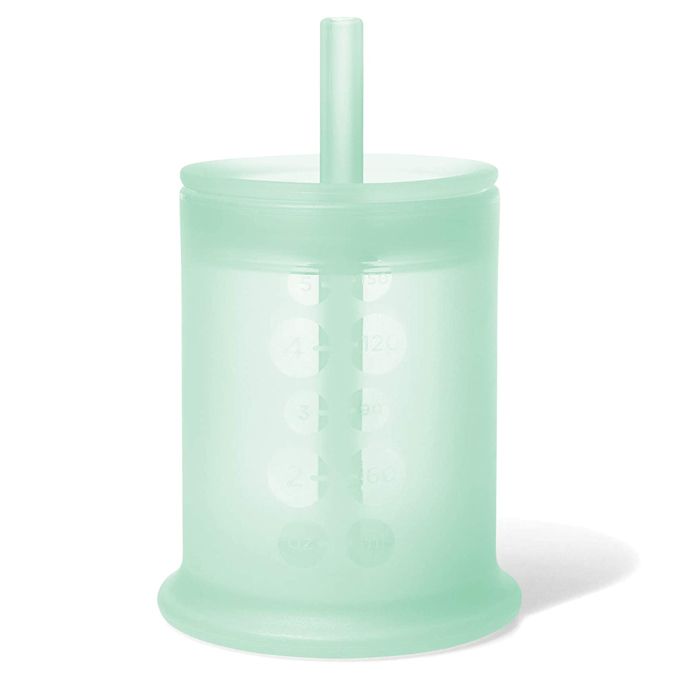 This set is designed to encourage a smooth transition to independent drinking from an open cup. At first, I wrote this one off as just another silicone sippy cup, but it turns out you can't see what's in most silicone cups and many kids don't like that. I never thought of how kids don't like to drink a 'mystery' beverage. I love that it looks easy to clean and transitions into a regular cup with a sturdy base. You can find it in green and soft pink on Amazon.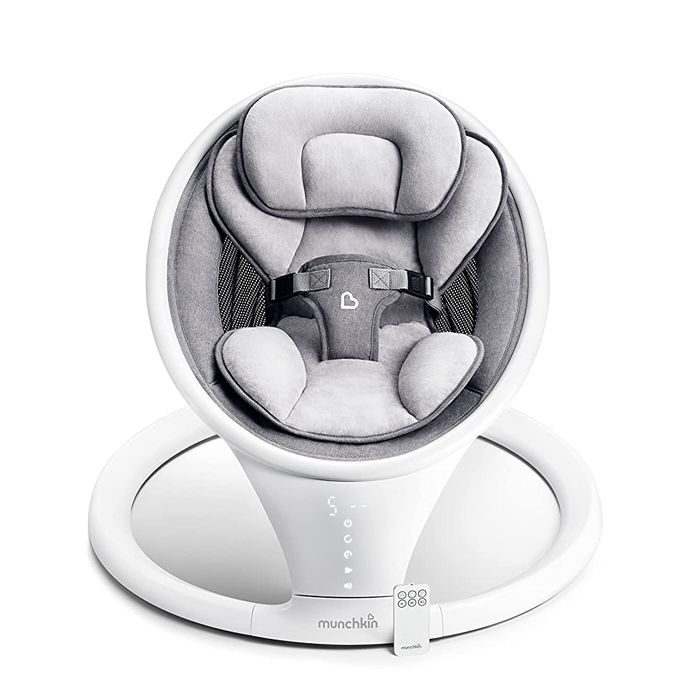 This compact side-to-side swaying swing is easy to put together and break down again. Operate swing speed, sounds and timer with the touch display or with the included remote control. Since the swing is Bluetooth compatible, you can connect to your phone and stream your baby's favorite tunes, too – cue "Enter Sandman" by Metallica. You can find it on the Munchkin site, Buybuy BABY, Target, and Amazon.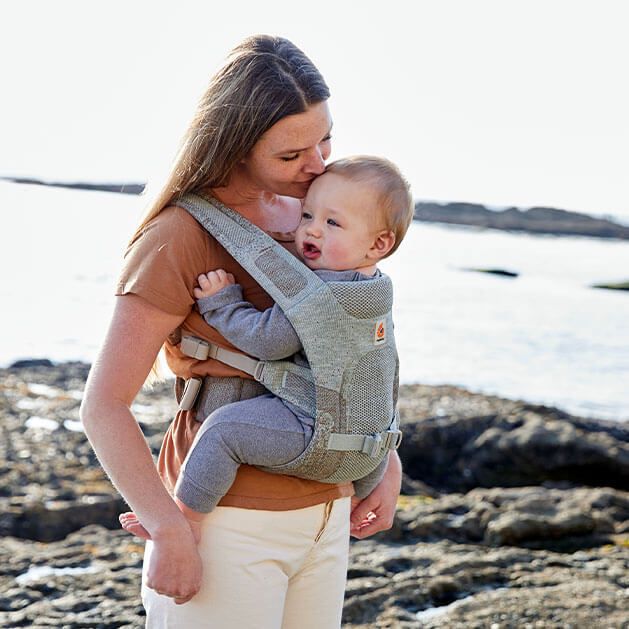 Aerloom by Ergobaby is the first-of-its-kind, stretch knit baby carrier that is made to move and breathe in all the right areas. The carrier knit is made with 87% of post-consumer recycled polyester – for each carrier that is the equivalent of about 26 water bottles (with cap) – and it's one of the lightest structured carriers on the market weighing just 1.45 lbs. Each color is a limited edition so once they sell out, it's gone. You can find them on the Ergobaby site.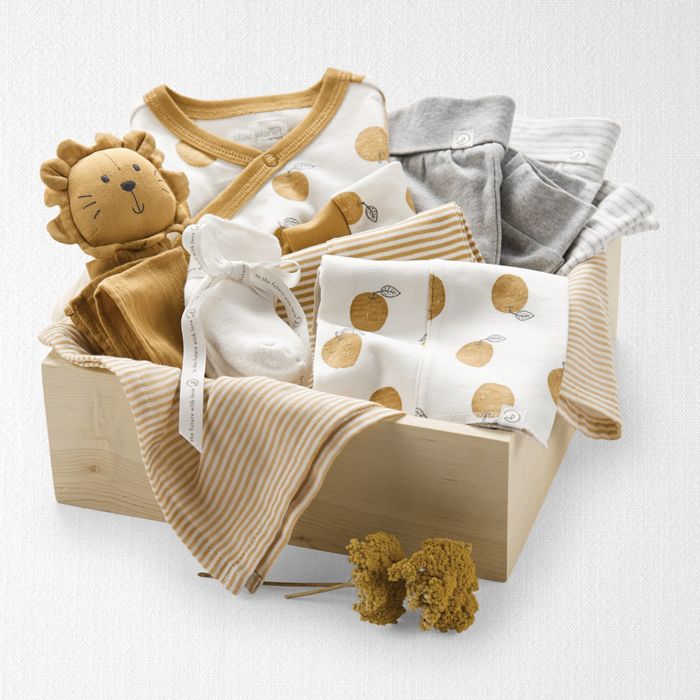 Carter's has come out with a line of affordable GOTS certified organic cotton clothes in timeless patterns and styles. The goal is to create clothes that last longer, grow with your child and can be passed along regardless of the season. Even the packaging is more planet-friendly which is nice to see. You can see the full line on the Carter's website.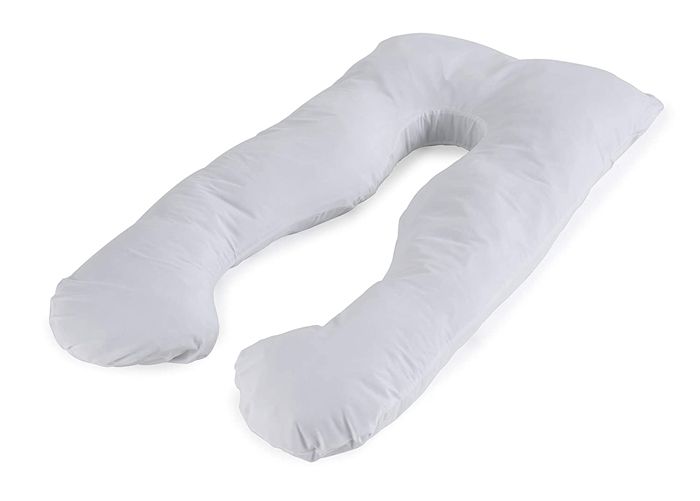 When I was 4,000 months pregnant a cooling pregnancy pillow would have indeed been my soulmate. I love that this pillow gives you lots of support with none of the heat. The U-shape supports growing bellies and helps alleviate back pain for side-sleepers and features hypoallergenic fill. You can find it on Amazon.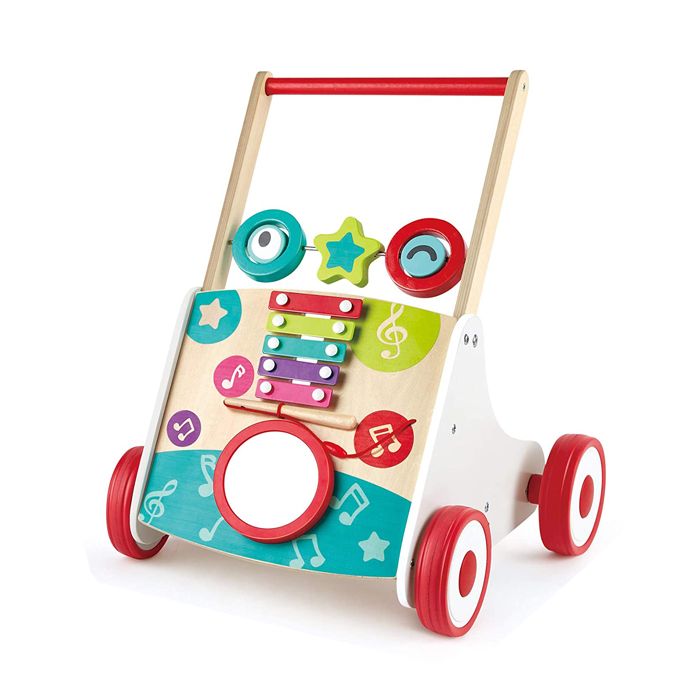 This battery-free walker has adjustable speed settings for kids walking at different stages – aka to prevent face plants and wall crashes. It has a built-in music box that plays fun music as you push it around as an extra motivator (it can be turned off too) and features a drum, xylophone, and three spinning blocks for additional musical play. You can find it on Amazon.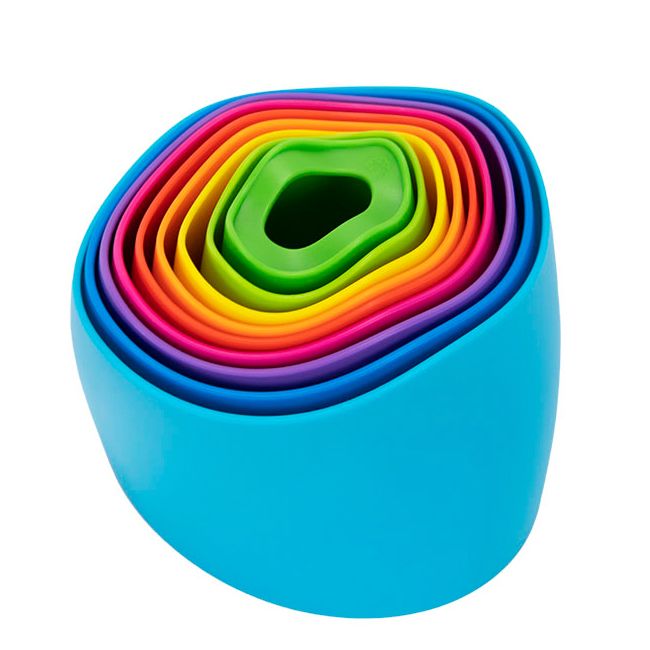 This is not a typical stack-and-nest toy. The weirdly-shaped pieces can be stacked and arranged any way you want. Nest them together, pull up on the smallest, and the whole thing stretches into a tall, spiraling tower! Frankly, I'd like one of these. You can find it on the Fat Brain Toys site and on Amazon.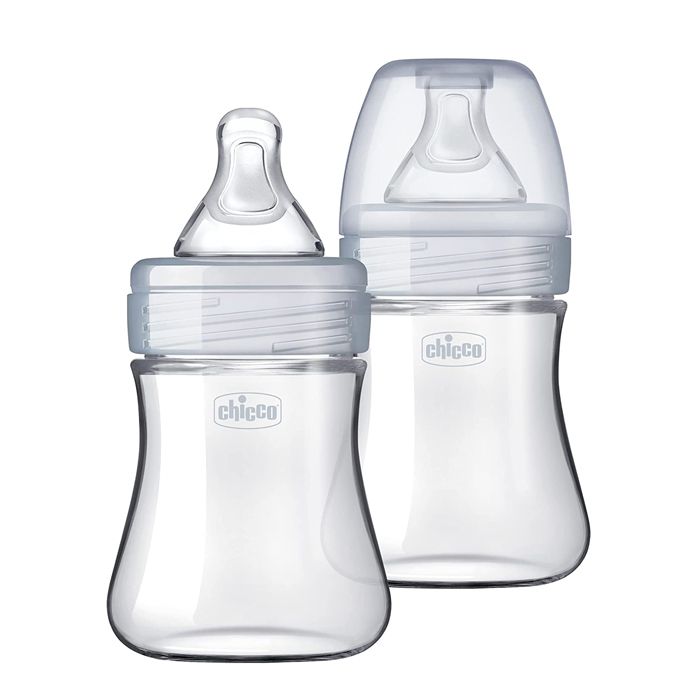 These new bottles are made with a patented technology used in medical products that bonds micro-thin inner layers of 100% pure Invinci-glass to a premium plastic outer layer. This creates a first-of-its-kind hybrid baby bottle that has the benefits of glass but it is break-proof, lightweight and long-lasting. They are BPA, BPS, PVC, and phthalate-free and are dishwasher, bottle warmer and sterilizer safe. You can find them on Amazon.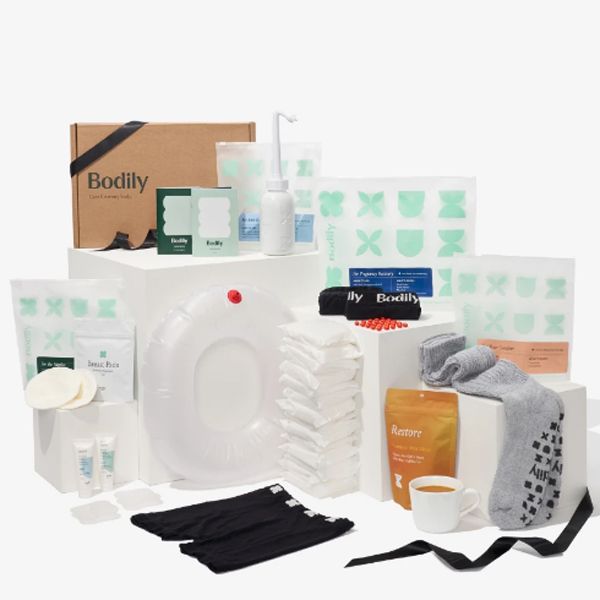 Bodily has been out for a bit but I haven't done a roundup in a while to be able to feature them and I want to get them on your radar. They do a great job of curating essentials for birth recovery, postpartum, breastfeeding, and even pregnancy loss in a non-condescending and refreshing way. I've shown their Care for Birth Box here but the whole line is great. You can check it out on the Bodily site.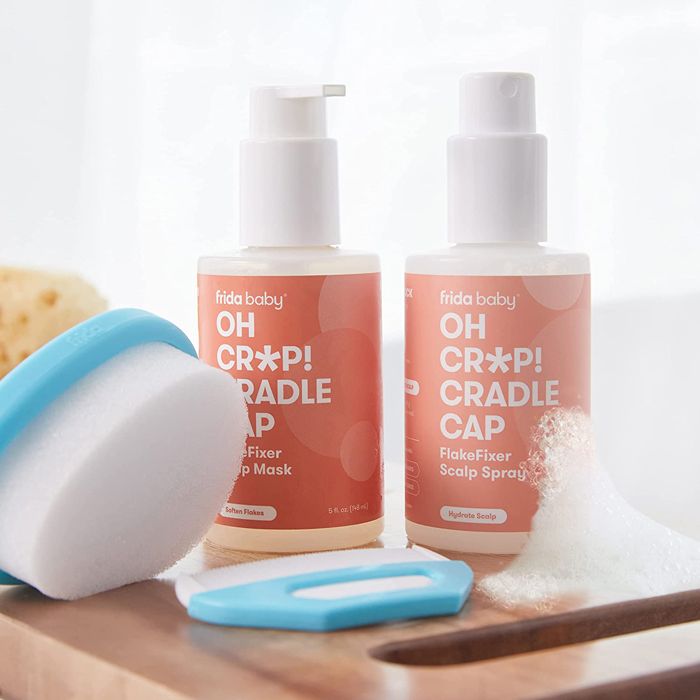 This two-step set calms baby's skin thanks to soothing aloe and hypoallergenic moisturizers. Start with the Scalp Mask during bath time to soften flakes and clean your baby's scalp. Rinse off at the end of bath time and follow with Scalp Spray to hydrate + soothe the scalp while your baby sleeps. You can even pair it with the FlakeFixer for an extra scuzz-free head. You can find them on Amazon.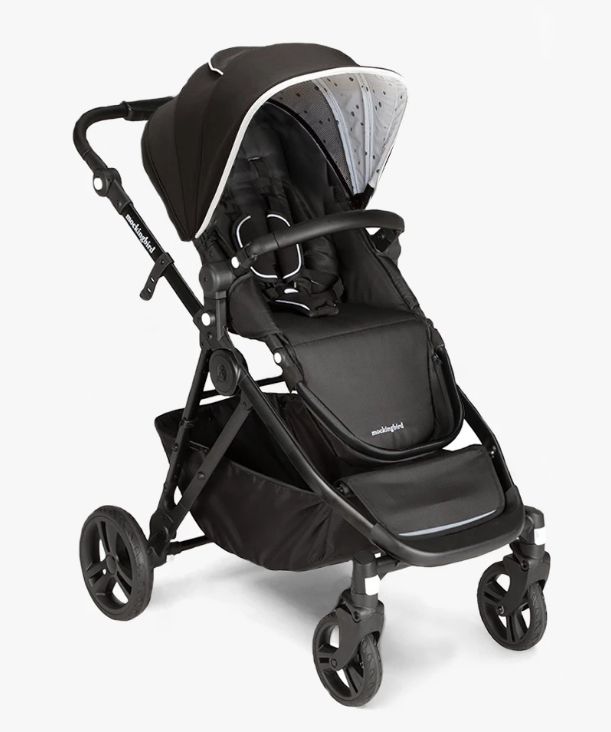 It's no secret that I'm a big fan of Mockingbird strollers – it's a high-end stroller that is a fraction of the price of its competitors because they sell directly to customers to cut out store markups. You can find our review on them here. This year they have come out with a new riding board and a very snazzy black matte version that is a limited edition so once they sell out they are gone. You can find them on the Mockingbird site.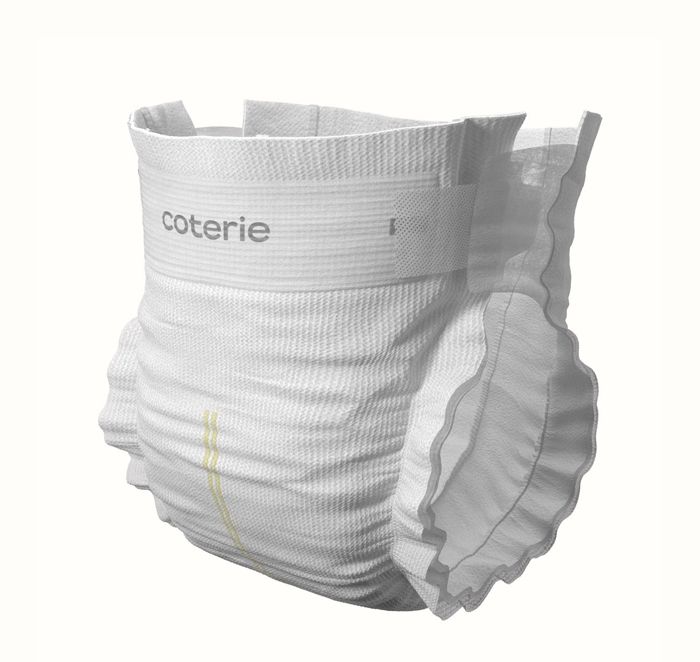 These premium disposable diapers have an extra-wide back panel and absorbent core that is 3x drier than leading brands. I requested a sample, and let me tell you, these things are soft. They feel like they are woven from the mane of a unicorn and angel sighs. They aren't cheap but you definitely feel the quality in them. They also created the first wipe that is 100% plant-based with 99% water. (Most wipes are made with a synthetic material even when water is the main 'liquid'.) You can find them on the Coterie website.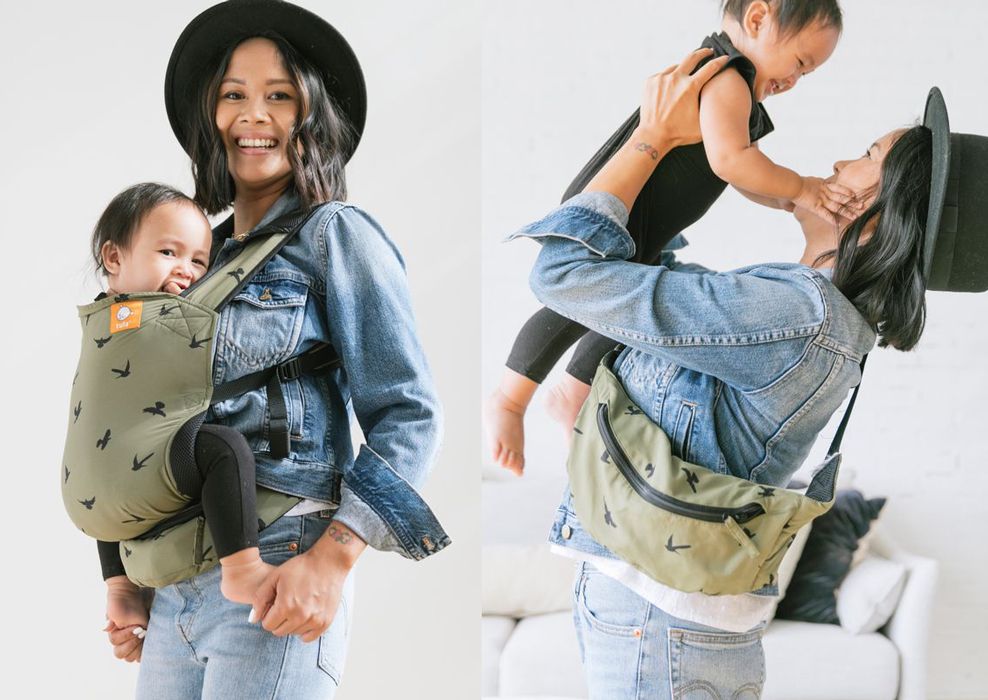 This two-position carrier comes packed into a hip pouch and is easily tucked away when you don't need it. (I will forever call this a 'fanny pack' just to make people in the U.K. giggle.) It allows for both front and back carrying, has a detachable hood and can be used from 12-30 lbs. Plus, it has an extra front pocket to hold other items like cash, lip balm, keys, etc. You can find the Tula Lite on their website.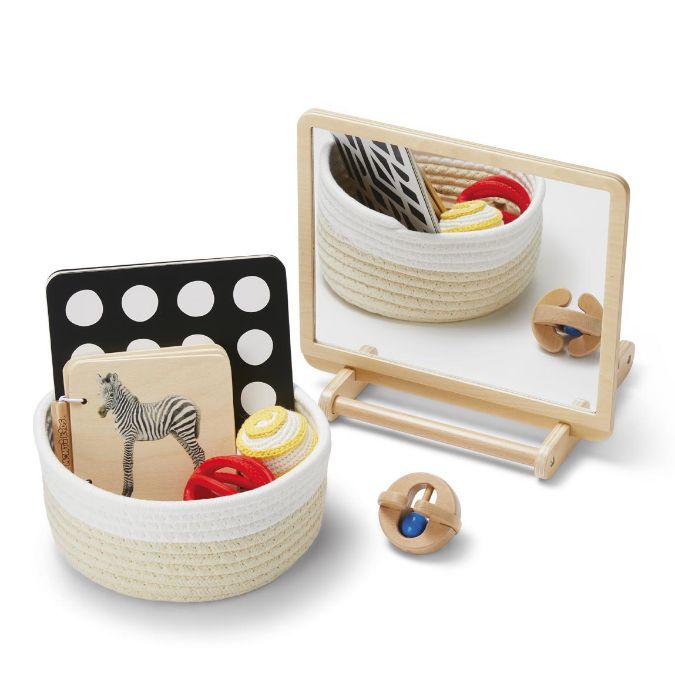 This toy collection promotes concentration, visual tracking, core development, grasp development, an early love of reading, and pre-crawling movements. Each educator-designed toy is safety-certified and made with sustainably sourced wood, non-toxic ink, and food-grade silicone. At first, I thought it was a little pricey but once I tallied up each item it's pretty reasonably priced. You can find it on the Monti Kids site.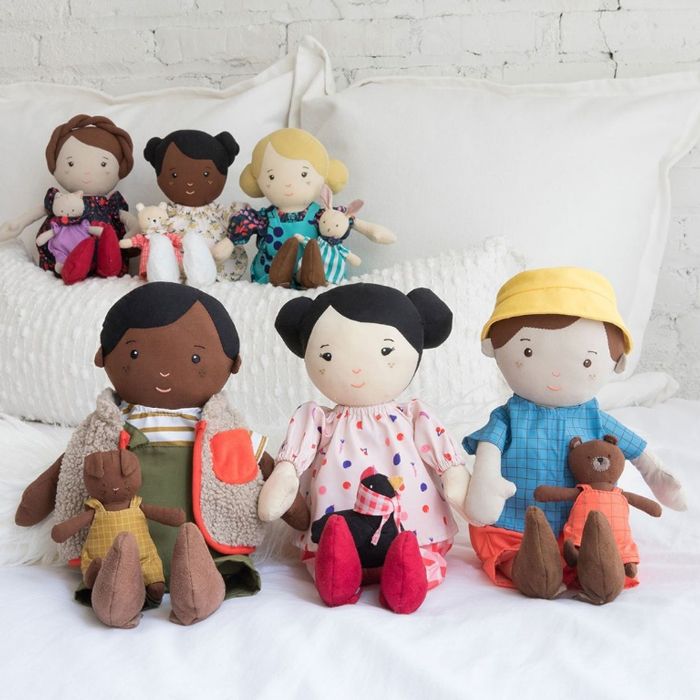 Each doll, outfit, and animal companion in the Playdate Friends plush doll collection is machine washable and dryer safe. I love the diversity and that they skip the gender stereotypes. You can find them on Amazon.
Have you heard of anything coming out this year that sounds cool?
Let me know in the comments or email me! I'll keep updating the list throughout the year as new pregnancy and baby gear comes out.

Also check out: Best Pregnancy & Baby Products for 2020 because there are some incredible products in there as well!
---
Get posts & giveaway updates delivered right to your inbox
---
---