There are plenty of reasons parents might want to use something other than a crib for their baby's nursery. Full-size cribs can take up a lot of space, they aren't very portable and they can be on the pricey side.

Here are some of the best crib alternatives that might fit your needs better and still follow safe sleep guidelines for a newborn.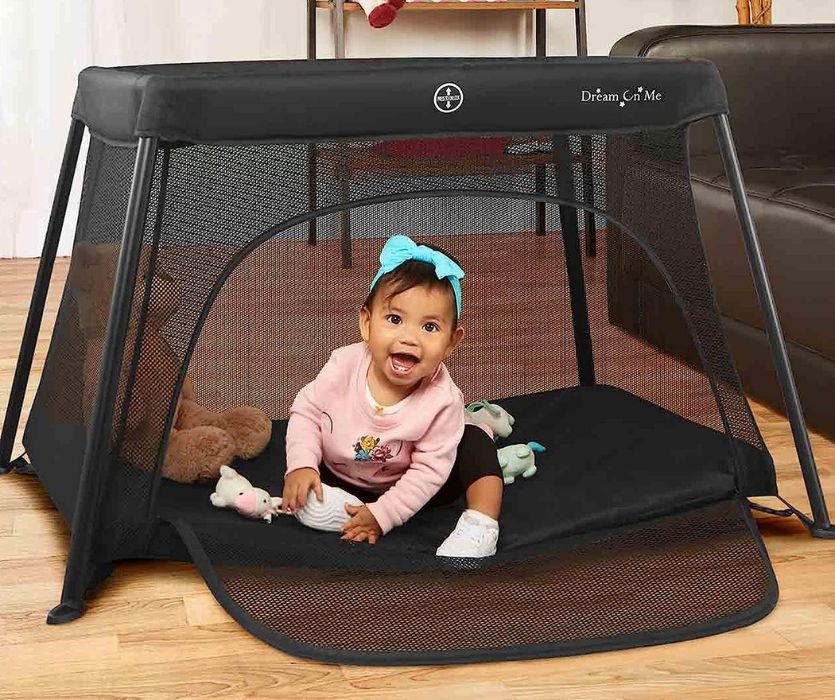 Travel Cribs and Playards
Travel Cribs and Playards can be good options for creating a safe sleeping environment for your baby. They don't take up a ton of room when set up, and can be tucked away completely when not in use. Portable cribs go by many names including Pack and Play, Pack N' Play, and playard.

Fun fact: The term Pack 'N Play is actually trademarked by Graco but is widely used to describe the thing we're talking about here: a lightweight, foldable metal frame with breathable mesh sides that often comes on wheels.
🟢 Pros
You can take 'em anywhere, so no more scrambling to create a safe sleep situation for your baby when you travel.
They also double as a spot to let your little one play when you need to keep them contained.
They're usually lightweight and easy to stick into storage if you're in a small space and need the extra room when your baby is awake.
Relatively low-cost options are available.
🔴 Cons
Due to its size, you can't change out the mattress, and it's never safe to add blankets or other soft bedding for the sake of comfort, as it can increase the risk of suffocation and SIDS.
Smaller size means your kid may start climbing out of it sooner than a traditional crib.
A little less aesthetically pleasing than other crib options.
Top 3 Travel Cribs and Playards:
✅ Graco Pack 'n Play Travel Dome LX Playard: It comes with a detachable 'travel dome' and is a great budget friendly option for a sleep space that can be used for infants to toddlers at home and on the go.
Get it at: Graco, Amazon and Target

✅ Dream On Me Travel Light Playard: Combines two features of my favorite travel cribs– it's lightweight like the BabyBjörn Travel Crib and it has a zip side for easy access like the Guava Lotus – but it's about $100 less expensive.
Get it at: Target and Amazon

✅ 4moms Breeze Plus This version includes a newborn bassinet and change station. Alone it provides a toddler sleep space and safe, sturdy place to play. It's unbelievably easy to set up making it a favorite with parents.
Get it at: 4moms and Amazon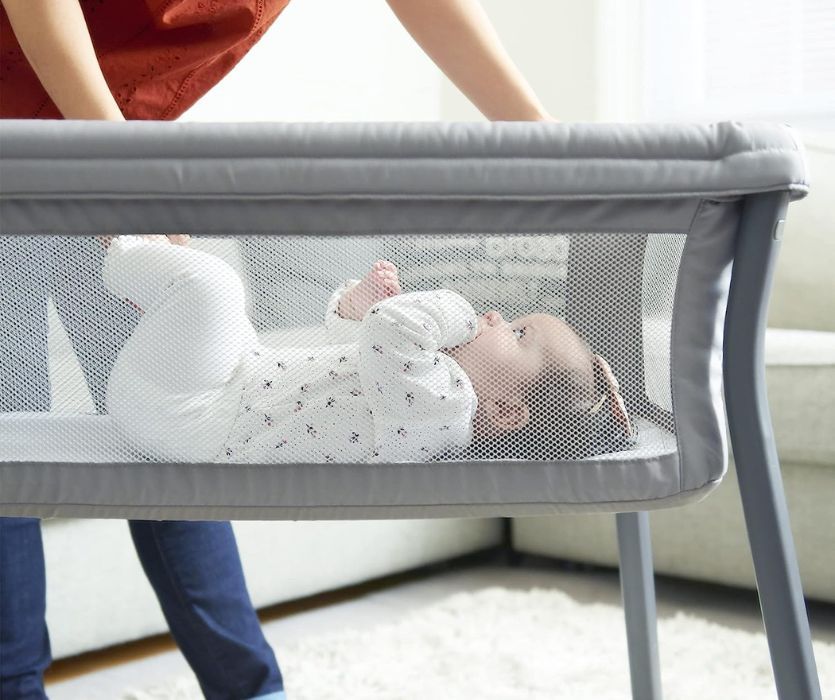 Bassinets
Baby bassinets are a great option if you want to have your newborn sleep in the same room as you, which is actually recommended by the American Academy of Pediatrics until at least 6 months. Bassinets are smaller in size, and come with different features, like cradles, rocking features, lights, music and storage underneath, as well as more basic designs.
🟢 Pros
Small size can feel more comforting for your baby than a larger crib.
Small size makes it easy to move to different parts of the house and takes up less room.
🔴 Cons
Baby will outgrow it much sooner than a crib or other alternatives (generally around 4 months)
Top 3 Bassinets:
✅ Chicco Lullago Anywhere Portable Bassinet: This is a great option for a bassinet at a decent price. It's easy to pack up and take with you when you travel thanks to its sturdy, snap-on metal legs and carrying bag. Get it at: Chicco, Target and Amazon

✅ Halo BassiNest Swivel Sleeper Luxe Bassinet: A mid-range bedside bassinet that comes with various features to help lull your baby back to dreamland. It's a great option for a safe co-sleeper, thanks to its ability to swivel 360° over your bed. Get it at: Halo and Target

✅ SNOO Smart Sleeper Bassinet: This smart bassinet comes with a hefty price tag, but you can also rent one or buy one second-hand if you aren't in a place to make the investment. This bedside sleeper has a fancy algorithm that responds to your baby's cries by automatically choosing the best motion and white noise to help calm and get them back to sleep, often within minutes. Get it at: Happiest Baby, Target, and Amazon

Note: While Snoos are very coveted, there is some controversy around them, which you can read about here.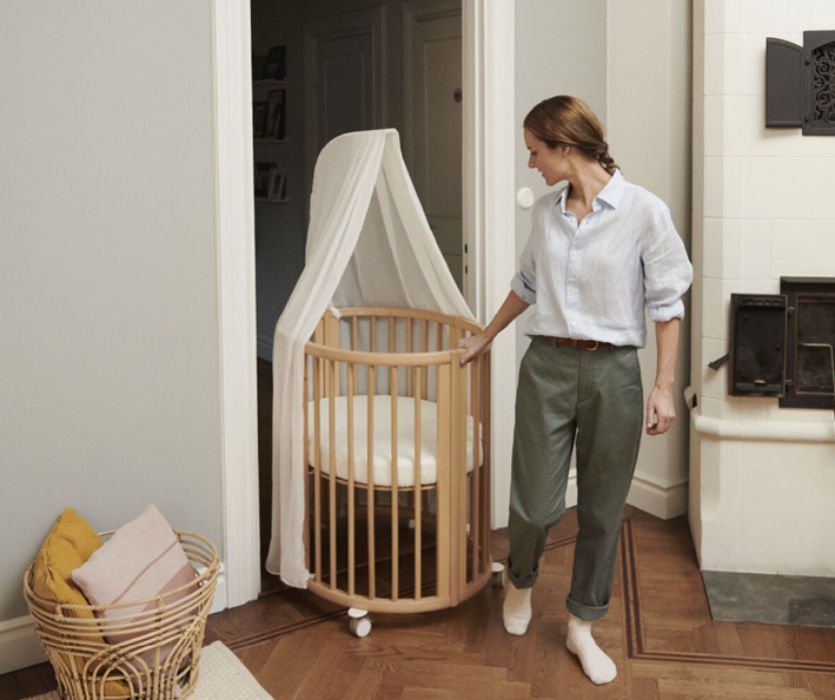 Mini Cribs
Mini cribs are fantastic when you're tight on space but want something that lasts a little longer than a bassinet. Some parents think of mini cribs as the best of both worlds, whereas others think of them as the worst.
🟢 Pros
Great for small spaces.
Get the look of a crib without the bulk.
The mattress can be lowered once your baby is rolling over, giving it a longer life than a bassinet.
🔴 Cons
Baby will outgrow it much faster than a full size crib.
Tend to be pricier than an average bassinet or playard.
Less mobile than some bassinets or playards.
Top 3 mini cribs
✅ Delta Children Classic Mini Crib: This little space saver is well-priced and converts to a twin bed when your baby gets older. Get it at: Target

✅ Babyletto Origami Portable Mini Crib: Not only is this crib nice and compact for your infant, but it can also fold flat for easy storage. Get it at: Target

✅ Stokke Sleepi Mini: This iconic crib pops up in many celebrity photoshoots because of its distinct style and clean lines. You can also buy conversion kits to create a full-sized crib or toddler bed similar to the Nestig crib below. Get it at: Stokke and Nordstrom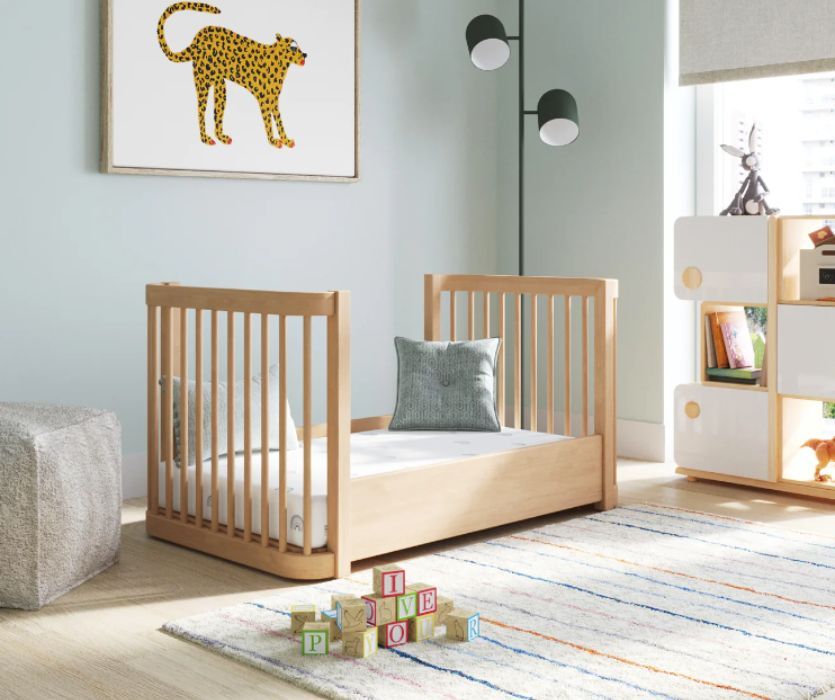 Convertible Cribs
Convertible cribs are a popular option because they'll meet your baby's sleep needs long past the diaper stage. Most cribs can transform into a toddler or twin bed (or both) with just a few turns of a wrench and a larger mattress.
🟢 Pros
Adjustable mattress positions and rail options mean you can use the same bed for your kid as they grow.
Feels most like a traditional crib.
🔴 Cons
Can be a little pricier at the outset, but will save you money in the long run.
Will need to purchase a new mattress for some conversion sizes.
Some require extra conversion kits not included in original purchase price.
Top 3 convertible cribs:
✅ Delta Children Jordan 4-in-1 Convertible Crib: This crib has a fun and modern design that'll be a standout in any safe sleeping space. This versatile crib comes with an affordable price tag and will last you well into the toddler years. Get it at: Target

✅ BabyGap by Delta Children Charlie 6-in-1 Convertible Crib: It's a heavy-hitter when it comes to getting the best bang for your buck. This crib is like a dang transformer that'll conquer sleep across all of your kid's ages and stages including a full size bed. Get it at: Target

✅ Nestig Wave Crib: Similar to the Stokke Sleepi Mini above, this gorgeous crib starts as a convertible mini crib and can transition to a full-size crib, and finally a toddler bed with a few turns of a wrench. If you're not totally sure if the Wave is the crib for you, Nestig offers a 60-day free trial on all cribs as well as an 18-year limited warranty. Get it at: Nestig
Less Safe Alternatives
When your budget is tight, or you're in a pinch (like unexpectantly crashing at someone's house), parents might think, "I wonder if I could just use XX?".

In mid-2022, the CPSA updated their rules that sleep products must meet federal safety standard. Here are some of the more common choices that no longer make the cut:
Baby boxes
Moses baskets
Soft-sided baby nests and pods
In-bed sleepers
Infant hammocks
Portable or travel infant beds
Baby tents
Many of these don't have legs which means they are sitting on the floor where things like pillows, blankets, etc., can fall on the baby. It's also tempting to put these on a bed, counter, etc., where they can fall off. The other risk with some of these products is that they put a baby in a not great position for breathing. Rock n' Plays were recalled a few years ago but many of them are still knocking around.

Here's a look at the AAP policy explained and here's a more in-depth look at solutions where sleep scenarios that are less than ideal from a pediatric injury prevention specialist with a focus on infant safe sleep: Safe Sleep for Babies: Good, Better, Best
How about a mattress on the floor?
What's easier than just popping a mattress on a floor with a fitted sheet? Floor bed are very popular in Montessori circles because they are purported to encourage independence and confidence. (They also encourage your toddler to show up at your bedside at 3 am like a psychopath, but I digress.)
🟢 Pros
You only need the mattress and a fitted sheet.
You're close to the floor if you roll off.
🔴 Cons
It is incredibly dangerous if your baby could get wedged between a wall and the mattress.
People tend to pile pillows around this kind of sleeping arrangement which puts babies at high risk for asphyxiation or suffocation.
Your baby is vulnerable to siblings, pets, or adults that don't see the baby on the mattress. We've all tripped over stuff in the night.
This is a better solution for toddlers vs. babies.
Can I get away without using a traditional crib?
With so many great alternatives to a traditional crib, it's no wonder why many parents are opting to choose something a little more flexible in design, cost and function. Choosing what's right for you will depend a lot on factors such as home space, budget, and lifestyle.

If you're a family full of travelers, a portable option like a playard or bassinet probably makes a lot of sense. If you're looking for a crib to last your kid into their elementary school years, a convertible crib may be where it's at. If you're desperate for a good night's sleep, a crib alternative that comes with extras like white noise and vibrations could be worth the extra moolah.

Are you team "Traditional Crib" or do you have a favorite crib alternative? Let me know your faves in the comments!

Also check out: Checklist: Setting Up a Safe Sleep Space
---
Get posts & giveaway updates delivered right to your inbox
---
---