One thing any outdoor enthusiast knows (and probably dreads) is how much gear you need for individual activities. No matter if it's camping, biking, or even just jogging around your local trails, each activity requires something different.

Add a baby into the mix and you unlock a whole new level of gear needs.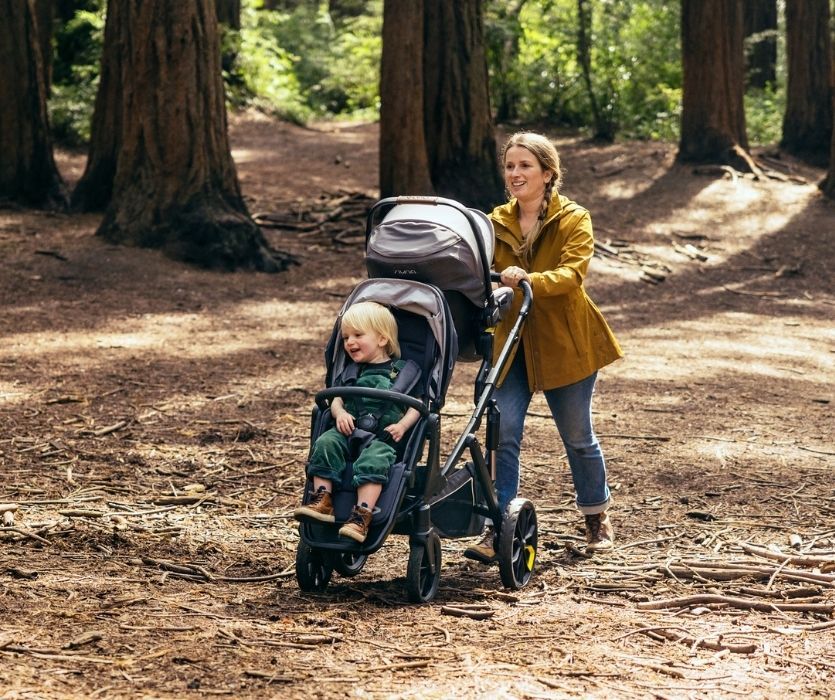 Veer considered this problem and came up with a pretty clever solution – one seat that can be used in a handful of different ways to help simplify life for active people. The base of the Switchback is the booster seat – a top-of-the-line baby seat that essentially pops in and out of several different bases depending on your needs. When used with the infant adaptor, it can be used in the stroller frames or Cruiser from birth on.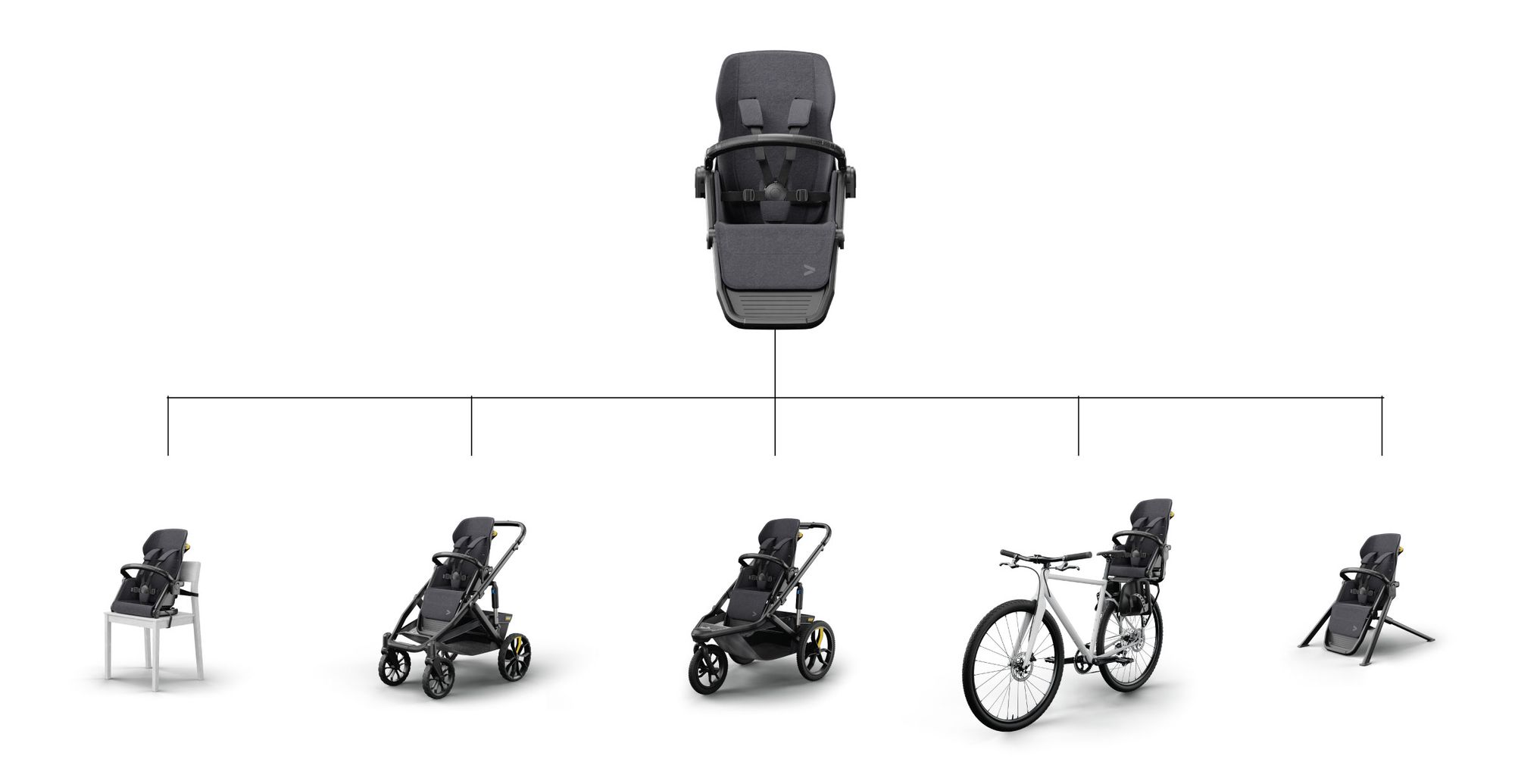 What can the Switchback do?
When talking about the Switchback, Veer describes it as "one seat, multiple personalities"  - and that seems fair. With the right adaptor, you can use the Switchback seat in several different configurations:
It can be used alone as a booster seat in a restaurant or if you're visiting friends or family (no adaptor needed, and no more wheeling a giant stroller through crowded dining rooms).
It can fit into their new four wheel Switch&Roll, all-terrain stroller frame (as a single or a double stroller).
It can fit into their new three wheel Switch&Jog, ultra-terrain jogging stroller.
It can fit on the back of your bike.
It can be used as a secured camp chair that sits above the ground.
It can be used on the Veer Cruiser if you need a reclining seat for your babe.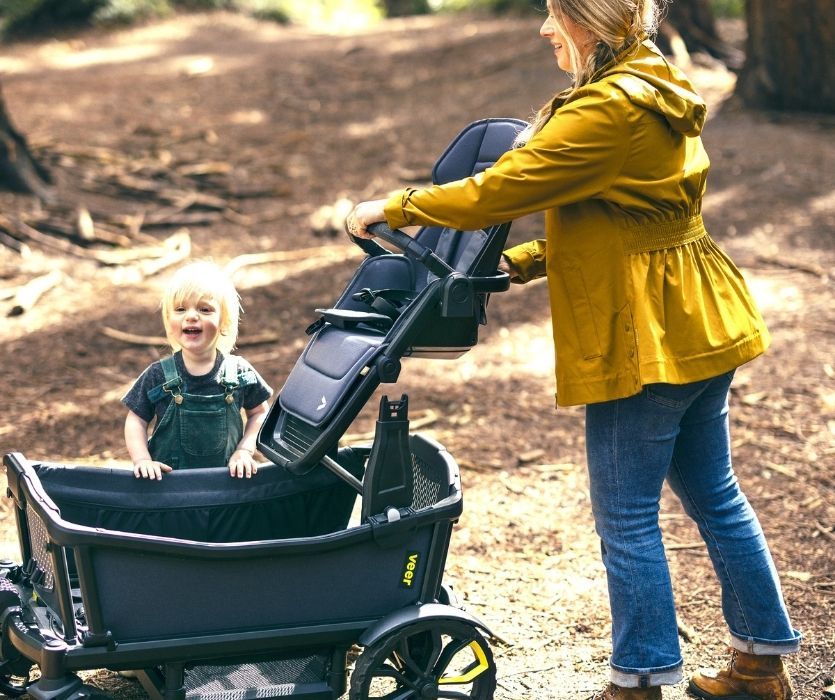 What makes the Switchback special?
For starters, there really isn't anything like this on the market right now in terms of one product that can be used in this many capacities. There are ways to cobble things together to achieve a similar goal, but in terms of ease of use, comfort, and safety, this is definitely one of a kind.
Design-wise, the Switchback is made for adventure. This structured seat comes with a 5-point safety harness, an extended sun canopy, and pretty serious shock absorbing powers making it comfortable and safe for your babe no matter the terrain. It's also easy to clean and can be used with or without seat inserts if you know it's going to be a muddy day.
Like the Veer Cruiser stroller wagon, it's also super customizable with tons of options for switching out colors, soft goods (cushions and seat inserts), and accessories.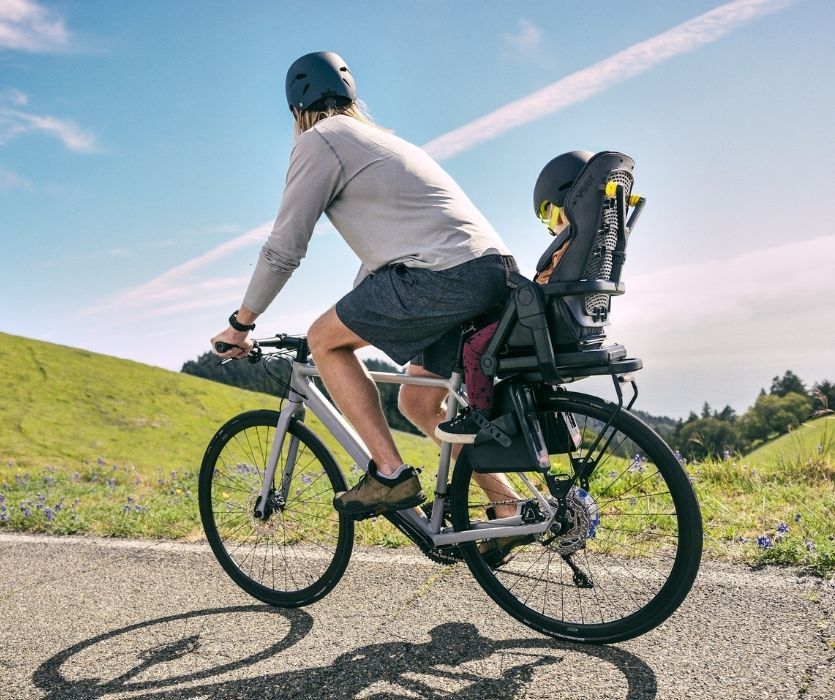 What's the run down on the full Switchback line?
The seat on its own is pretty cool, but you'll need at least one other accessory to really maximize its potential.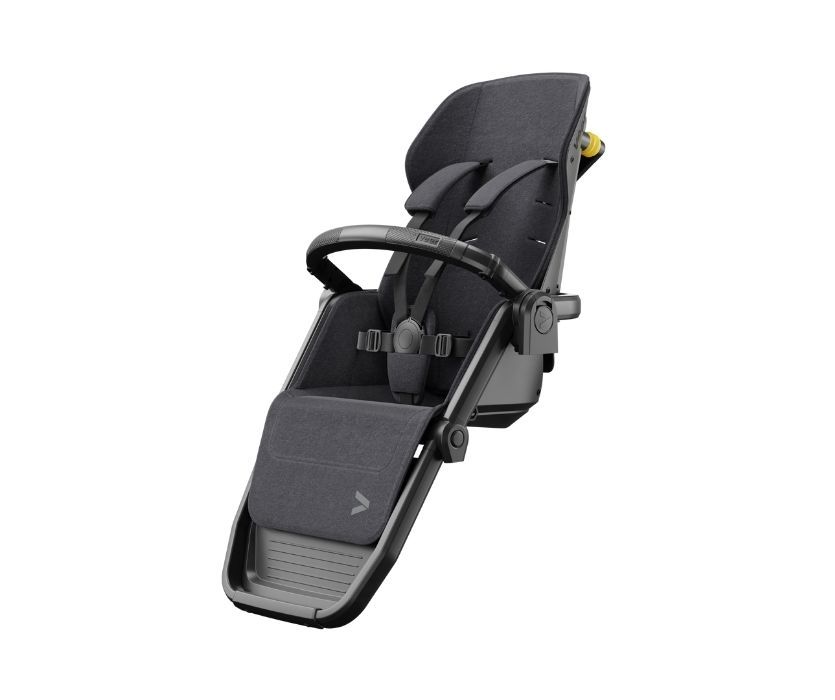 Switchback
($399) - the seat that makes this all possible. Made with an energy absorbing plastic exoskeleton and aluminum frame, this seat has two shock absorbers – one on the back, the other in the design of the plastic allowing it to bend and flex to reduce shock by up to 30% – an important feature when your future involves (safely) shredding some sweet singletrack or jogging on a bumpy trail. Can be used alone as a seat, and fits seamlessly on any other product in this line.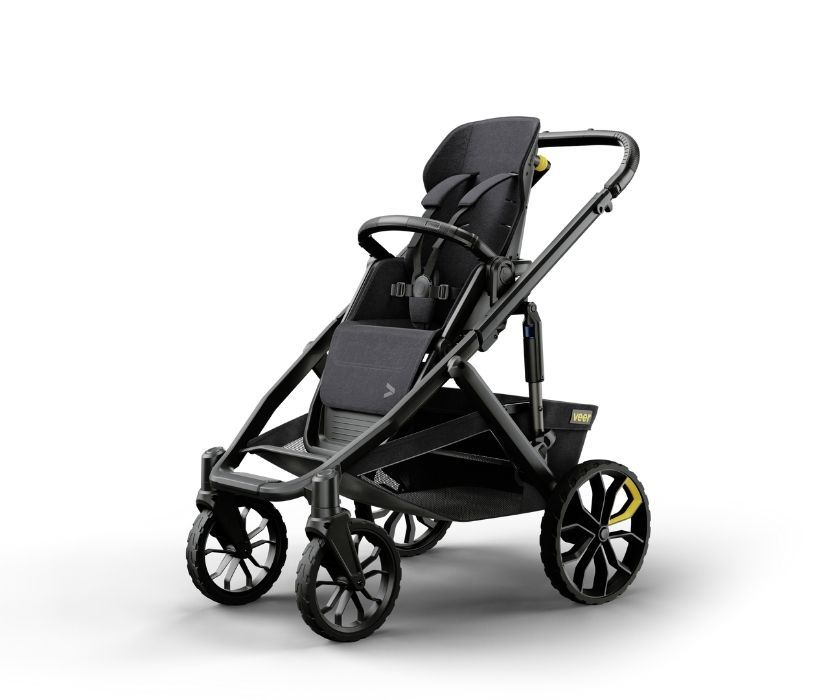 Switch&Roll
($499) - single or double four-wheeled stroller with large basket, adjustable height handle, aluminum frame with two additional shock absorbers, all-terrain wheels and stand alone fold - with or without the seat. Can fit two full-size Switchback seats in any configuration (forward, or rear facing).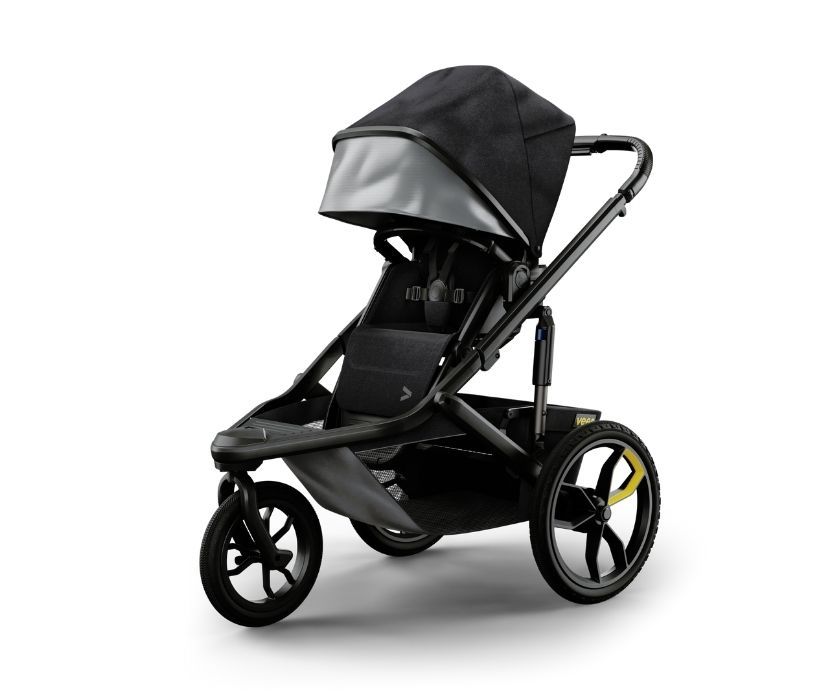 Switch&Jog
($499) - single three-wheeled jogging stroller with large basket, adjustable height handle, aluminum frame with foam-filled "never flat" rubber tires, deceleration break, the ability to switch the seat to be either rear or forward facing, and stand alone fold - with or without the seat. It also has larger wheels and two additional shock absorbers to make a smoother ride on any terrain.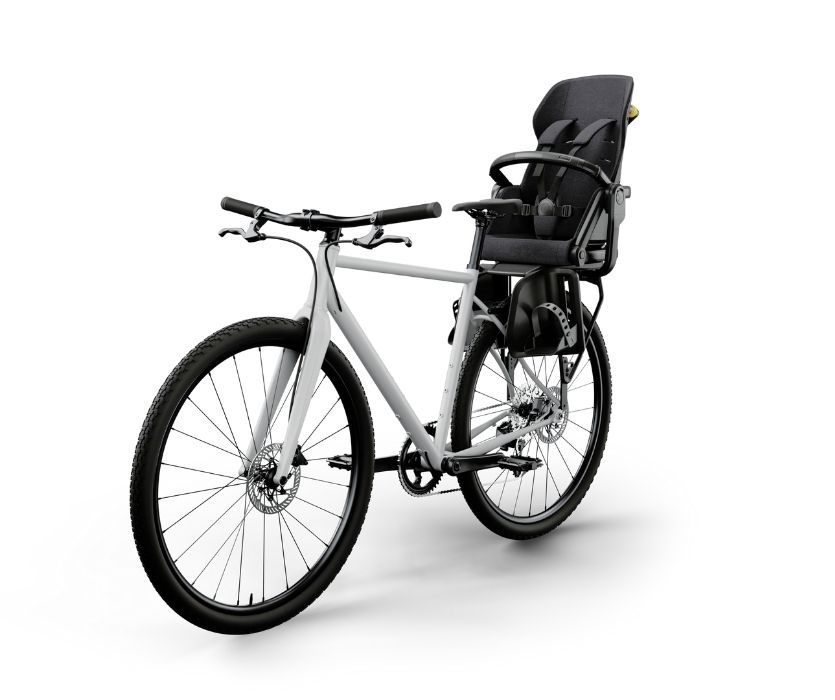 Switch&Bike
($129) - adaptor attaches Switchback to the back of a bike.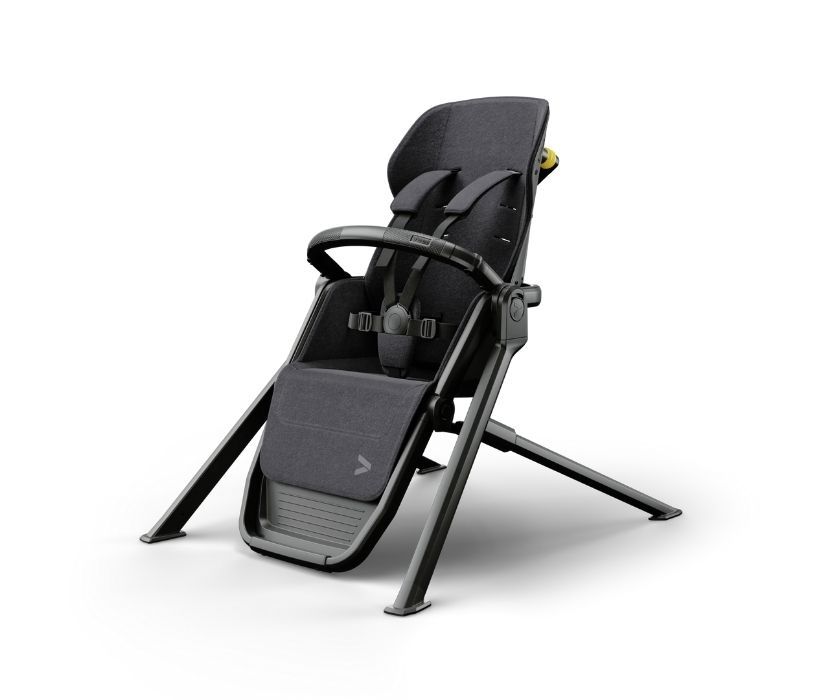 Switch&Chill
($99) - adaptor attaches to Switchback to turn it into a secured trail and camp chair that can sit on the ground.
Oh, and each of the products in this line meets or exceeds safety standards for strollers, joggers, bike seats, feeding boosters, and bassinets, and the Switchback system is JPMA safety certified in every category it can be. Just be thankful you (probably) didn't have to file all that paperwork.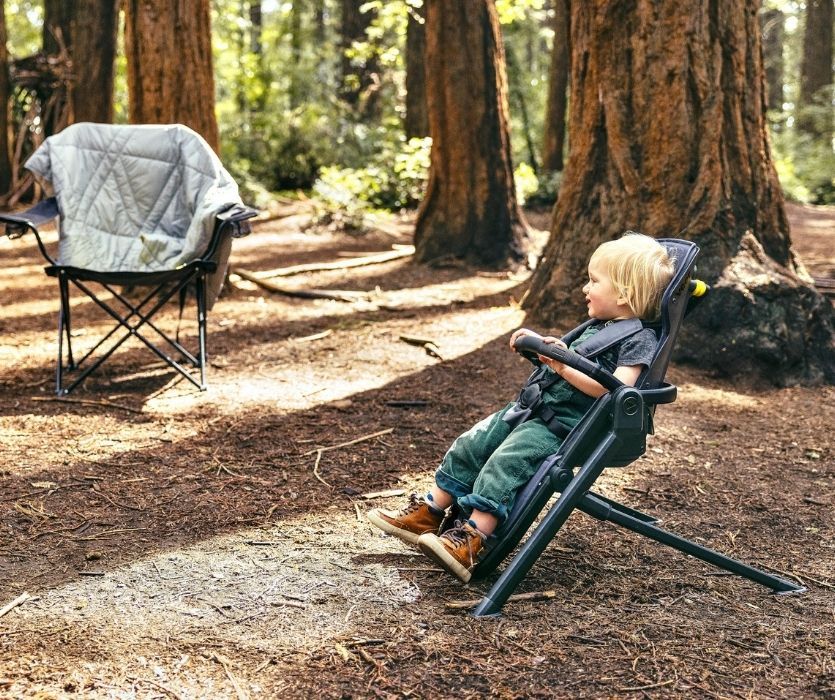 Do I need a stroller system that's this versatile?
This really depends on what you envision your life with your baby looking like. There are a million combos of how you could find two or three of these products useful. Probably it will be most helpful for those who already know they'll be doing a few of these things, like biking and jogging with their baby, and are interested in a high-quality system that makes that incredibly easy and safe to do.
When deciding if this is the right product for your family, thinking about things like cost and storage of individual items, ease of use, safety, and quality of materials used may help point clearly in one direction or the other.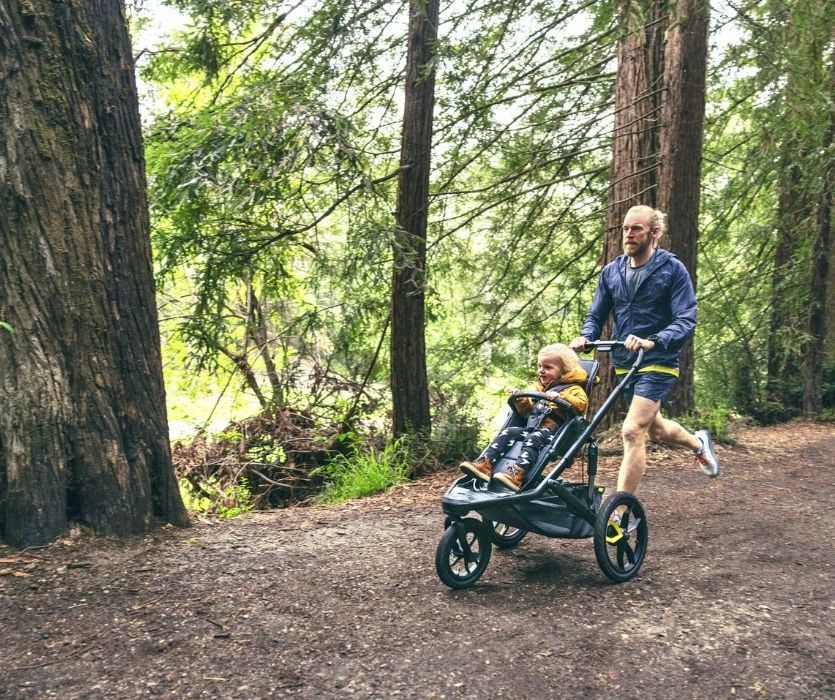 The bottom line on the Veer Switchback?
Veer really does go above and beyond when creating high quality products for outdoorsy families. Cost can certainly be prohibitive, but these products are all built to be used and abused for years to come while exploring all of what this incredible place we call home has to offer. The Switchback system is another thoughtful offering from a company that takes designing top of the line baby gear seriously.

You can find and buy the Switchback on the Veer site.
Our next reco: Camping with a Baby - Best Tricks and Tips
---
Get posts & giveaway updates delivered right to your inbox
---
---