If there's one piece of holiday wisdom I can share with new parents, it's that it's never too early to take your kids trick or treating. You've only got a few good years where your child will willingly (okay, unknowingly) share their treat stash with you, so you might as well make the most of it.

Simple costumes are enough to get you the goods, but if you really want to take your Halloween ensemble to the next level, stroller and wagon costumes are a fun way to get even the teeniest kiddos in your family in on the excitement of Halloween night.

Prepare to get your creative juices flowing - here are some wagon and stroller costume ideas that are sure to make your baby the talk of the neighborhood.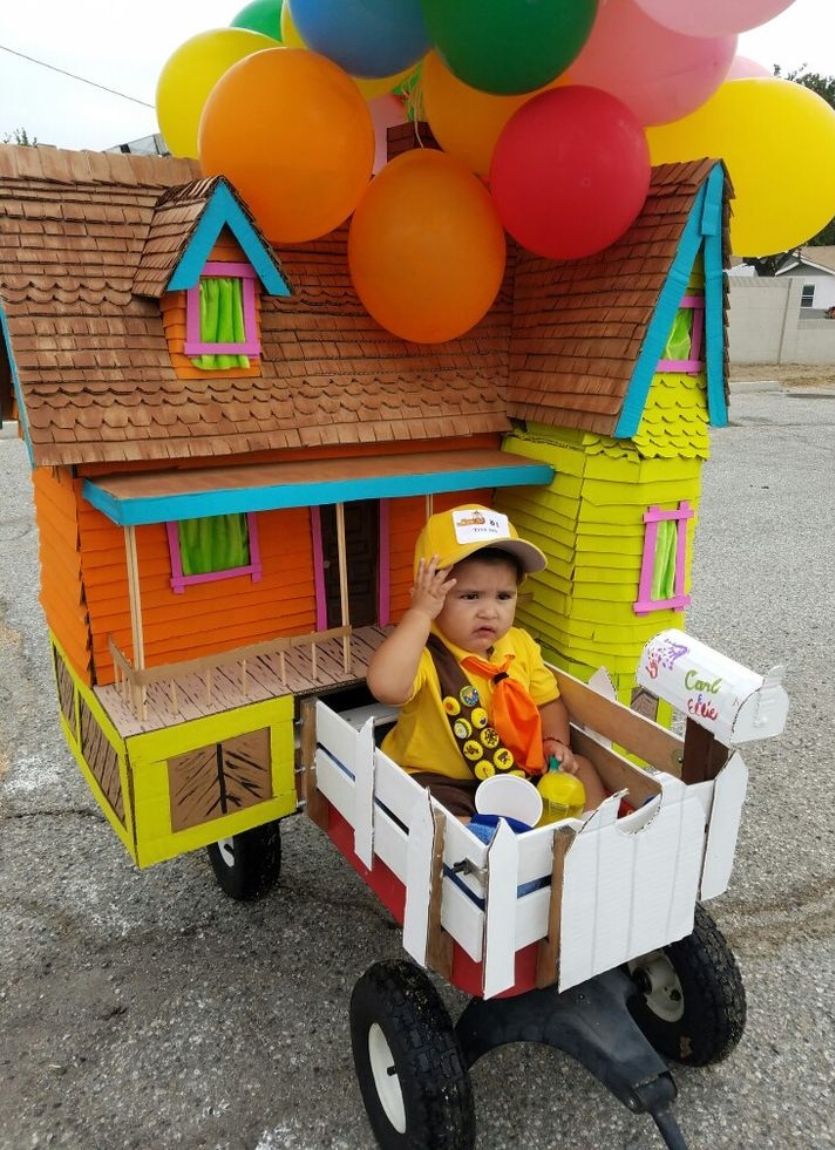 Admittedly, the skill level and patience required to pull off this Up-inspired transformation of your child's wagon should not be underestimated. However, if you're handy with a hot glue gun and prepared to commit, this one is guaranteed to get you a one way ticket to the front of the costume parade.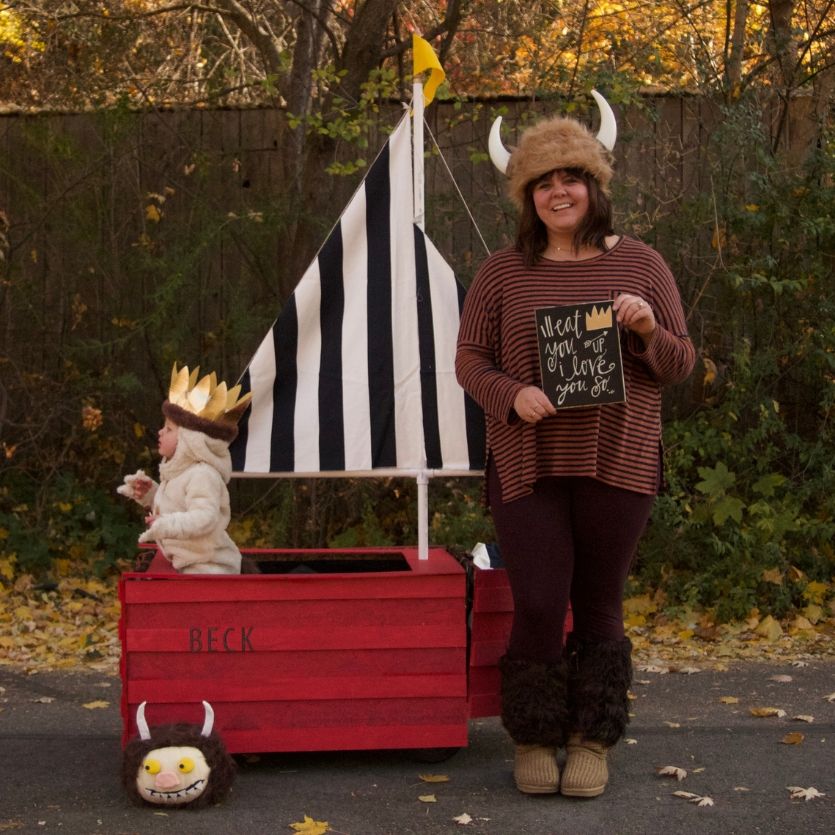 There's more than a good chance that your toddler will be a wild thing on October 31st anyway, so it only makes sense to make them a Halloween costume to fit the theme. Dress up a cardboard box with some paint, grab a PVC pipe and some paper or cloth for a sail, and you've got a pretty convincing boat for your little Max to sail away to where the candy bowls are.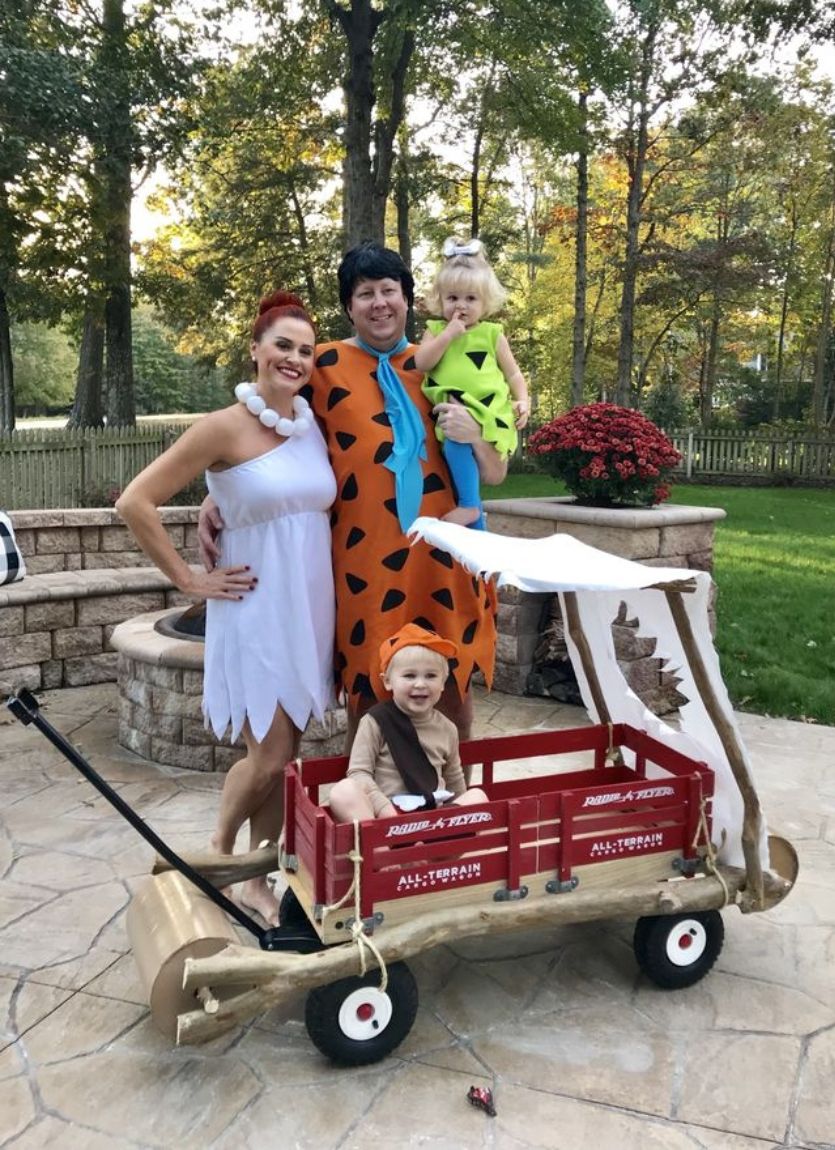 Take your Radio Flyer back to the stone age with a family costume using The Flintsones as your inspiration. A drop cloth, cardboard, and some tubing or sticks are your main ingredients for replicating Fred Flintstone's car, but I yabba dabba do recommend checking Pinterest for instructions on how to put it all together.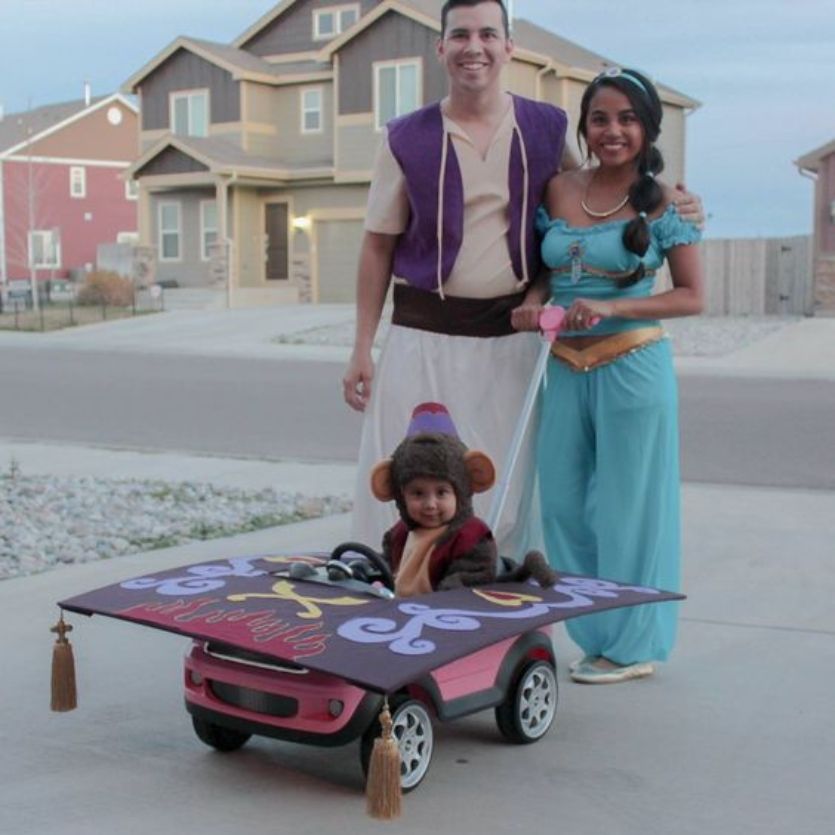 This Aladdin costume is as adorable as it is simple. Paint an oversized piece of cardboard, throw some tassels on it and cut a hole to fit over your kid's wagon or ride-on car/bike/whatever and you've got yourself a magic carpet. A cute little monkey, princess and wannabe prince make this a whole family costume that most of us could only wish for.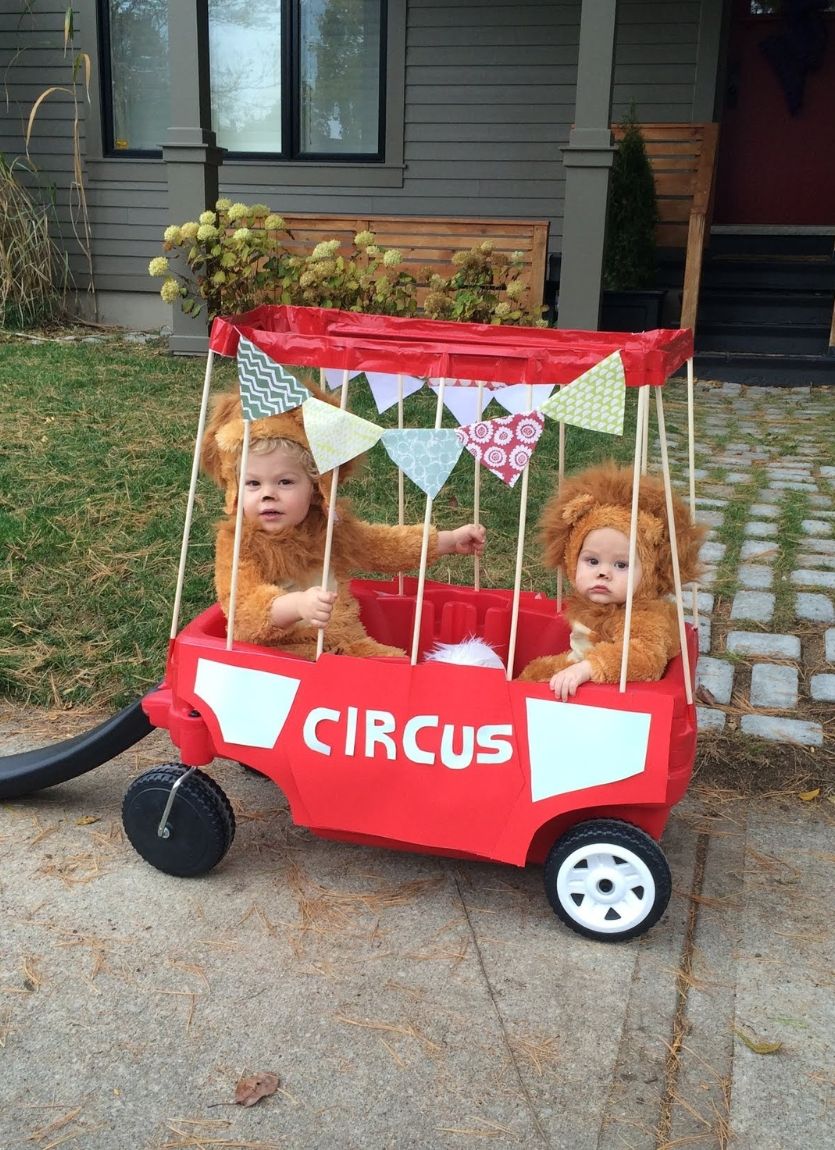 There's nothing better than a homemade costume that's both relatively cheap and easy to execute. Pair a sign for your circus train made from dollar store poster board with wood dowels, bunting and a costume of whatever animals your kids are currently obsessed with, and let the circus begin.

Disclaimer: I'm not totally sure what the getting in and out of the wagon situation is for this one, so you may have that to contend with, but maybe it'll keep your kids contained for a minute or two before the sugar rush kicks in.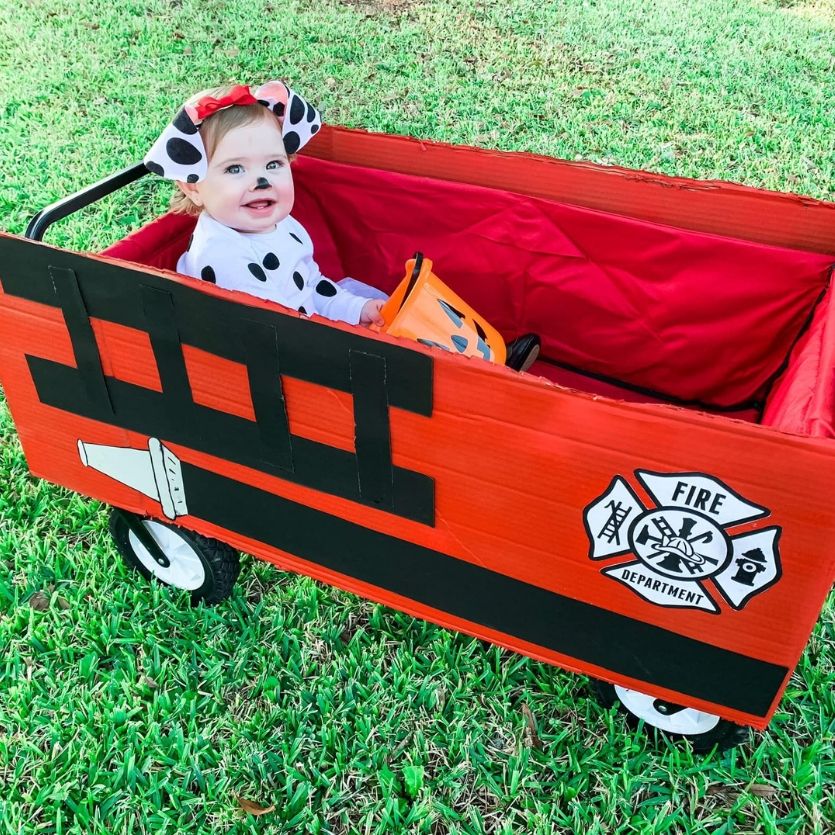 What kid wouldn't want to spend Halloween night coming to the rescue in a firetruck? The beauty of this costume is that you probably have most of the things you need to make it at home already. A few pieces of cardboard to cover your wagon and another to cut out to look like a ladder are all you need for your fire truck, and some facepaint and a Dalmatian costume (or a polka dot shirt and some ears) will give you a firehouse duo that's spot on.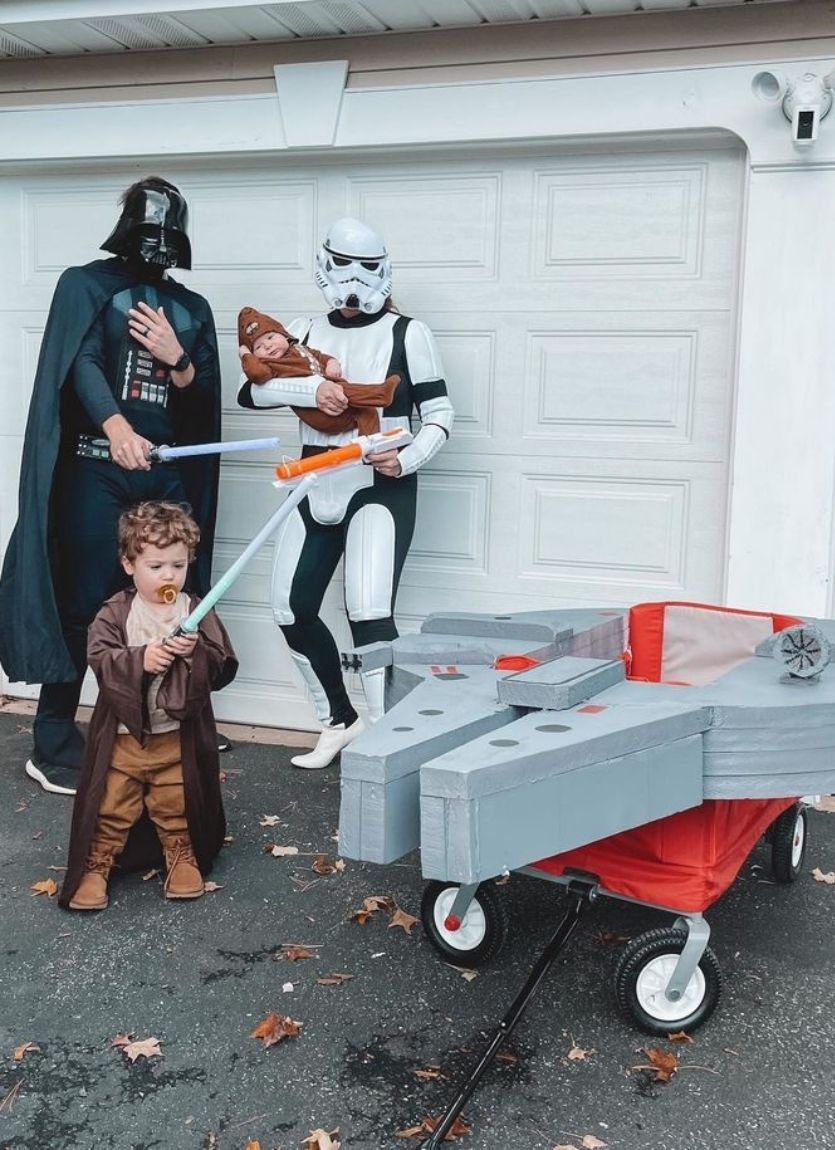 Can we all agree that the commitment of Star Wars fans to a well-executed cosplay costume is out of this galaxy? I figured some instructions on recreating the wagon version of the Millennium Falcon might be helpful, and continued to be blown away by the number of parents who have done it (and done it well). Take a quick cruise around Google to get the down low on how to do these.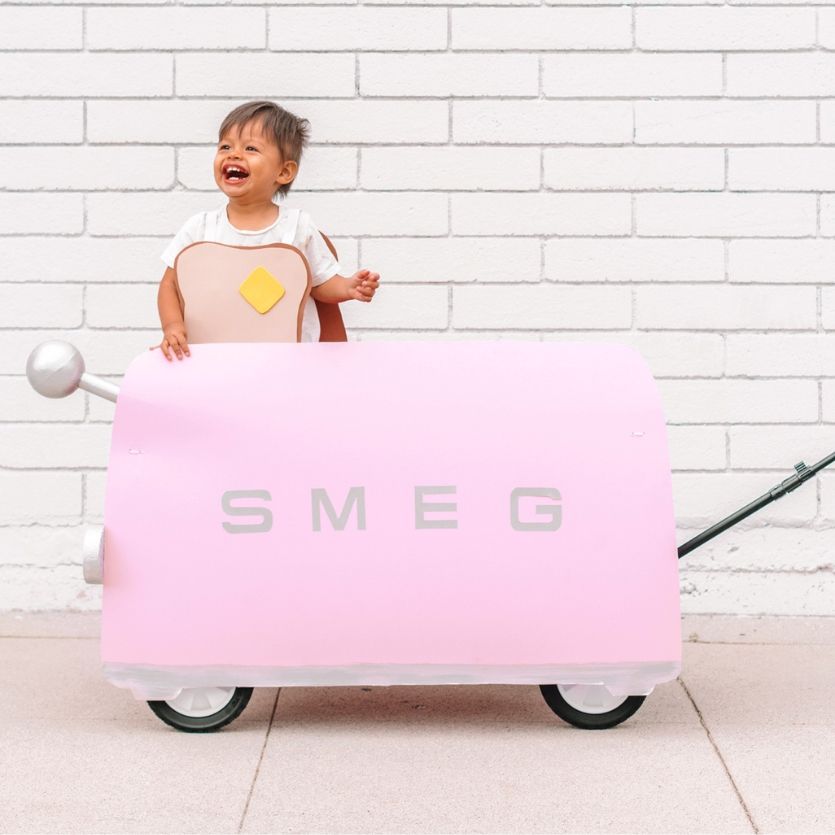 I'm not gonna lie - this costume had the millennial parent in me absolutely squealing. Here I thought I had to have a Smeg toaster for my kitchen, and all this time what I really needed was a giant wagon costume version of it.
If your kiddo doesn't want to do Halloween without their wingman, help them channel their inner Maverick with a pair of aviators and some cardboard to transform their stroller into a Super Hornet. At first glance, I thought this looked pretty complex, but on closer inspection, I think some painted cardboard, zip ties, and creative folding are all you need to pull this one off.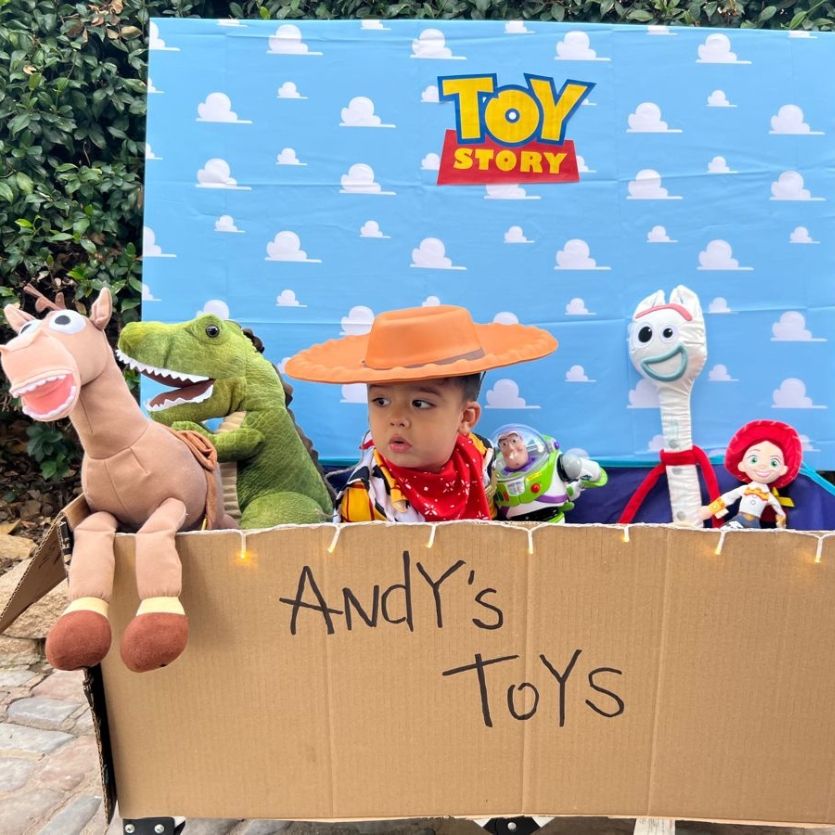 I have to give it to whoever came up with this genius costume idea. I don't know if there's a kid alive who doesn't love Toy Story, and all you need to make your wagon into Andy's toy box is some cardboard, zip ties and a quick raid of your kid's bedroom to round up Buzz Lightyear and friends to throw in the wagon with your little cowboy.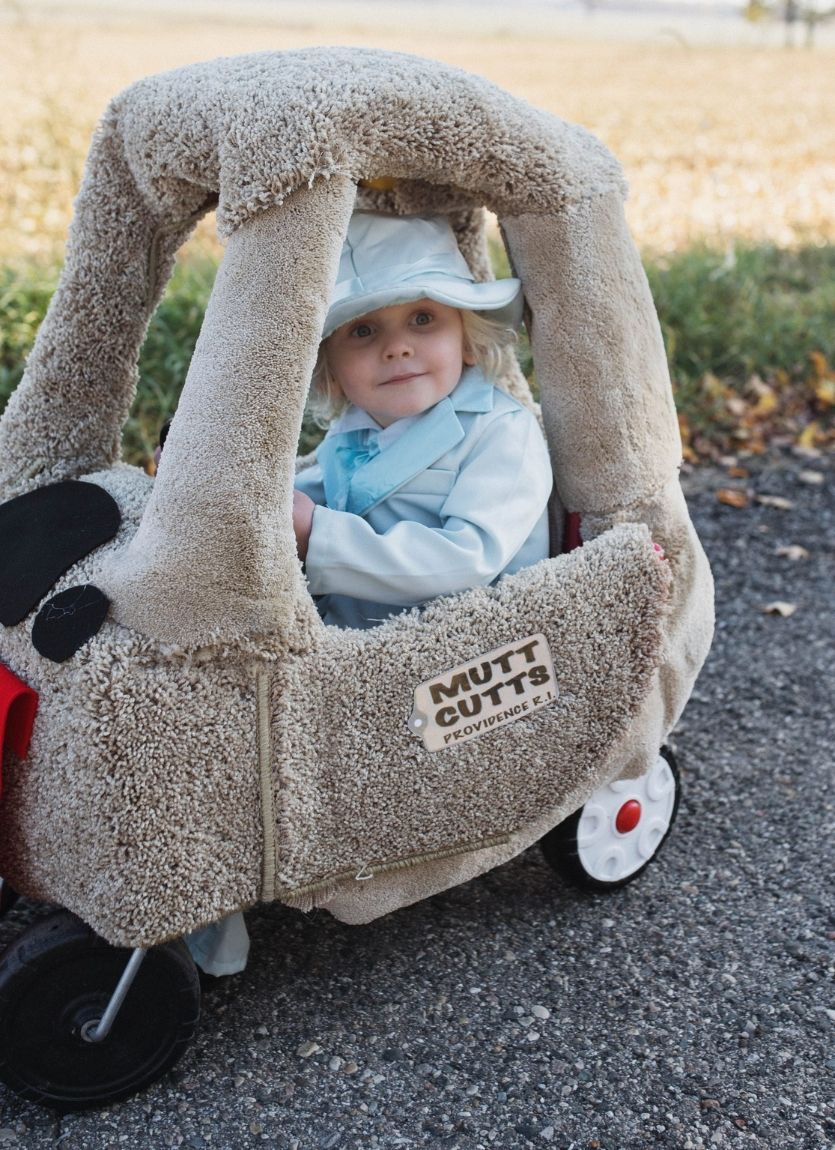 So, you're telling me there's a chance you can identify all of the parents on your trick or treating route who grew up in the 90's? Transform your toddler's Little Tikes car into the Mutt Cutts Van from Dumb and Dumber with some pieces of scrap carpet and there's a pretty good chance you'll be in for a steady stream of one-liners all night.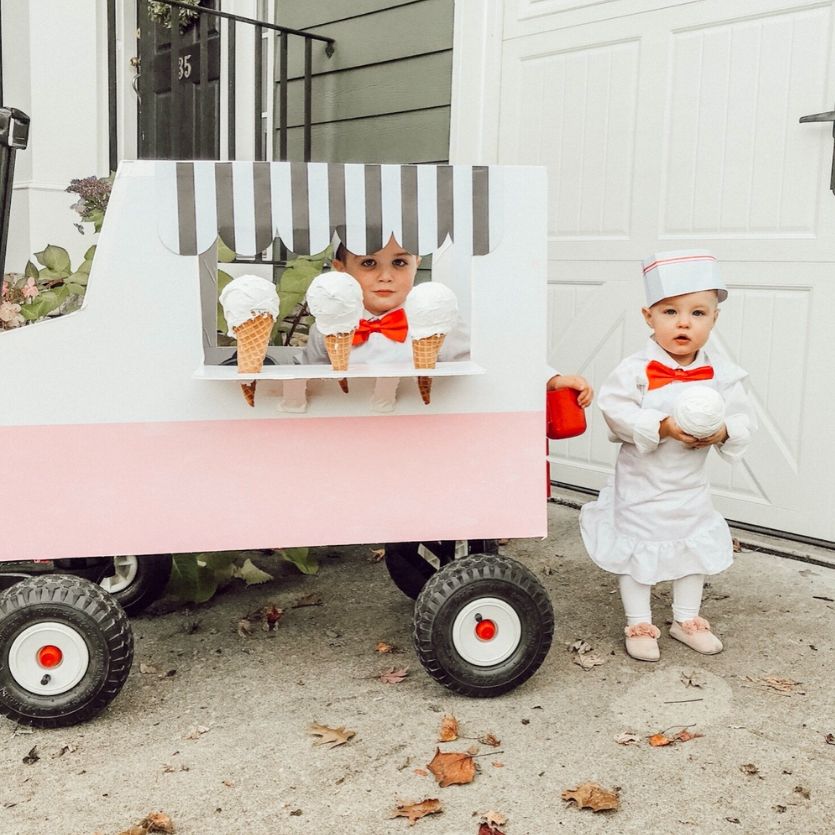 Everybody gets excited when they see the ice cream truck coming around the corner, and this super sweet wagon costume is no exception. Every kid you pass on the street will probably make you stop as they ask their parents for money to buy a cone, but that's showbiz, baby.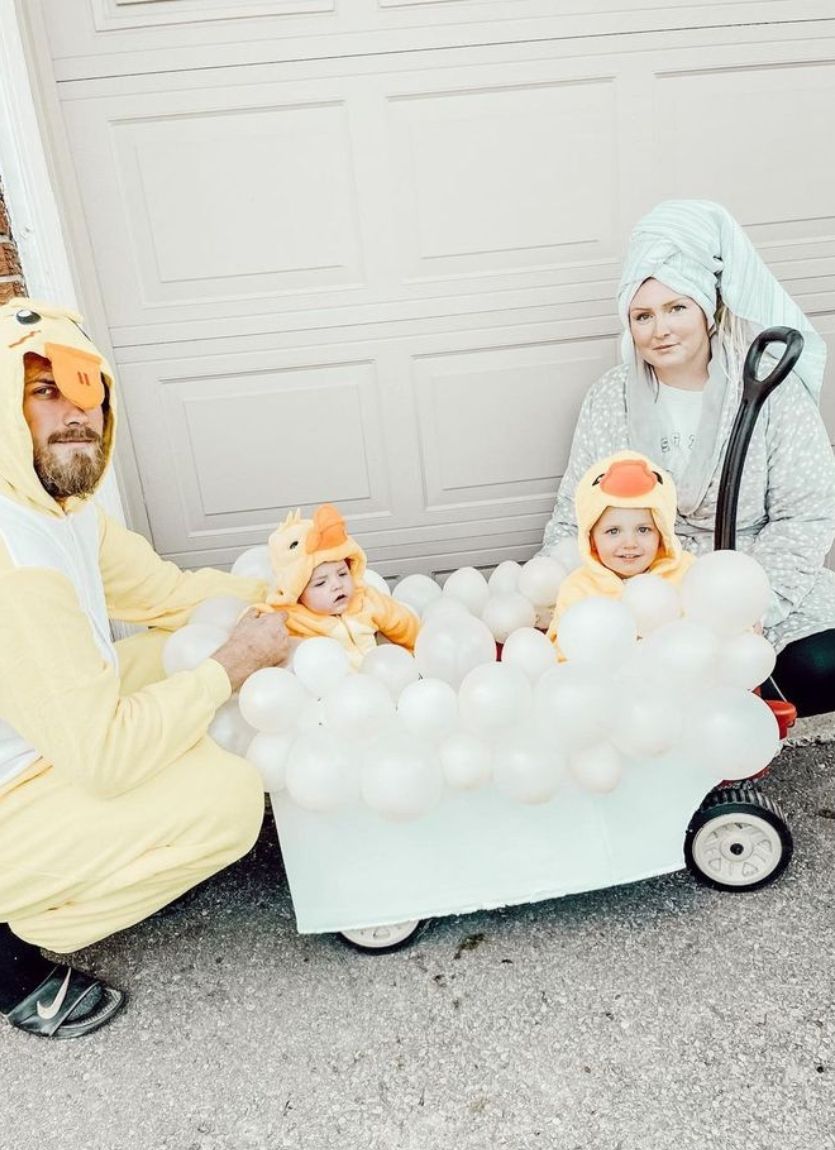 Transform your wagon into the cutest (and driest) bubble bath of all time with some white balloon bubbles and a piece of cardboard or poster paper to make your tub. Grab some hooded towels out of your linen closet for your kids and a robe or towel for yourself and you're good to go!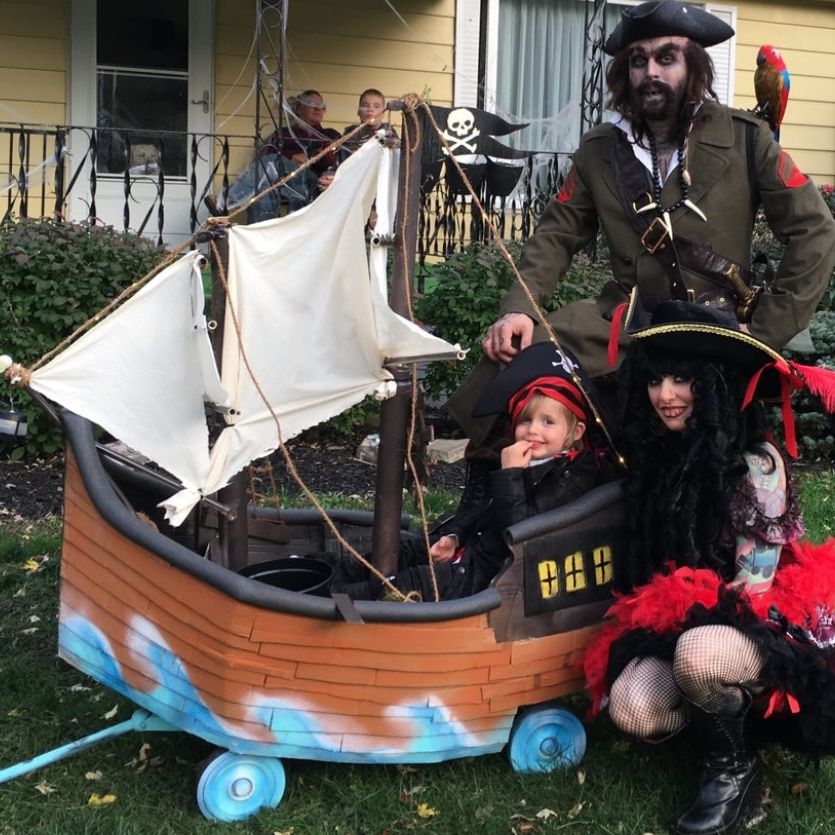 Whoops - you just let your kid watch Pirates of the Caribbean and now nothing less than the Black Pearl itself will suffice for their Halloween costume. The good news is, I found your step-by-step instructions here. The bad news is, you may spend the rest of your life trying (and failing) to top this costume.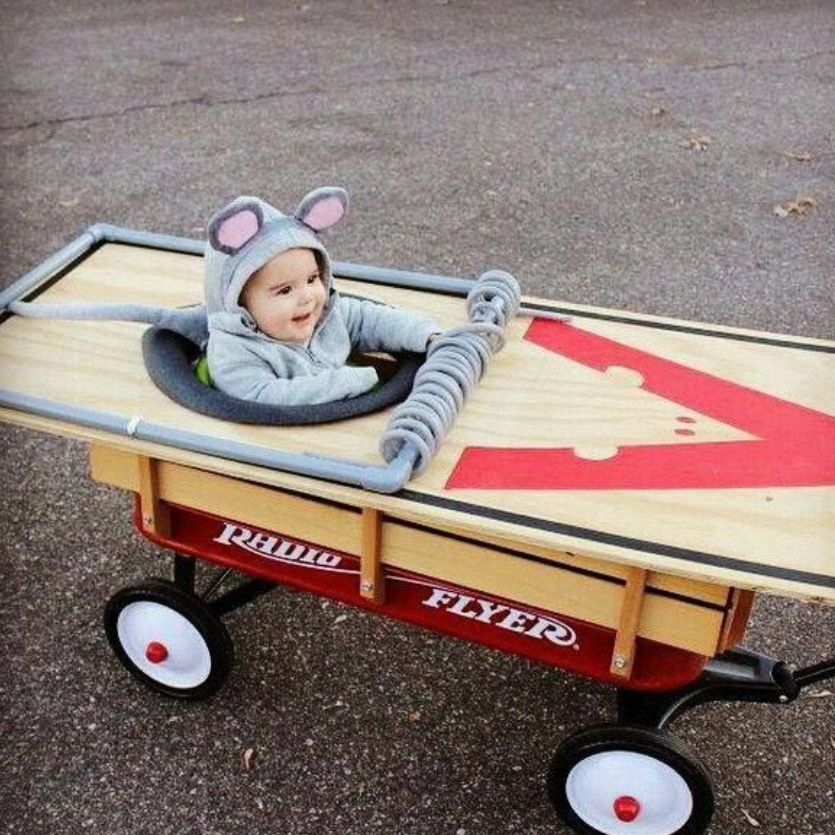 If you've ever wished you had a mousetrap to snap the fingers of one too many strangers who have tried to pinch your baby's cheeks, this is your chance! This mouse trap wagon costume just needs a piece of plywood or cardboard for the base of the trap, and then some PVC pipe and plastic rings for the metal part. Find yourself a little mouse costume and prepare to stroll the sidewalks cheek-pinch free!
Will your little one be rolling down the streets on Halloween night in a wagon or stroller this year?
Even if they're too little or tired to walk, there are tons of imaginative ways to dress up their wheels to make sure they still get to be part of the Halloween fun.

Whether you're tying in a pop culture reference, trying to find things you've already got kicking around at home, or want to go all out on the ultimate wagon upgrade, incorporating a stroller or wagon into your kid's costume can have impressive and sometimes hilarious results.

Are you planning to make a wagon costume for your little one this year (or have you in the past)? If you have, show those babies off in the comments!

Also check out: The Best Baby Halloween Costumes
---
Get posts & giveaway updates delivered right to your inbox
---
---