You've probably heard of boy math and girl math but what about parent math? As in, how does one person the size of a loaf of bread come with enough stuff to fill the volume of an entire apartment?

Whether you're trying to figure out how to fit all this gear into a small space, are living somewhere with no storage, or are just interested in super innovative baby gear, there are some seriously cool options for space-saving baby essentials that minimize space requirements without losing functionality.

Here are 17 of the best space-saving pieces of baby gear out there and why we love them.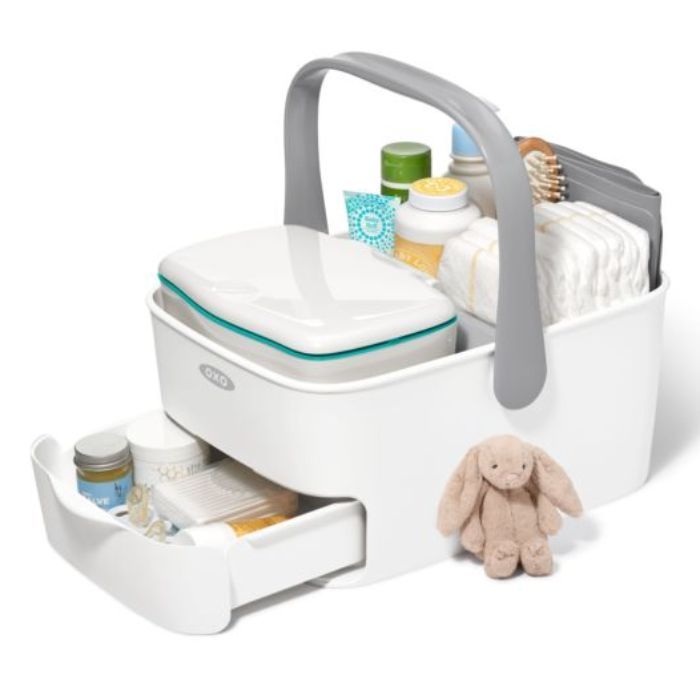 OXO Travel Diaper Caddy with Changing Mat
This mobile changing station holds wipes, diapers, and a changing pad, and has a drawer for any assortment of tubes, creams, and doodads you might need when you're on diaper duty. This small but mighty caddy could replace the changing table if you just end up using the floor. Find it at Amazon, Target and Babylist.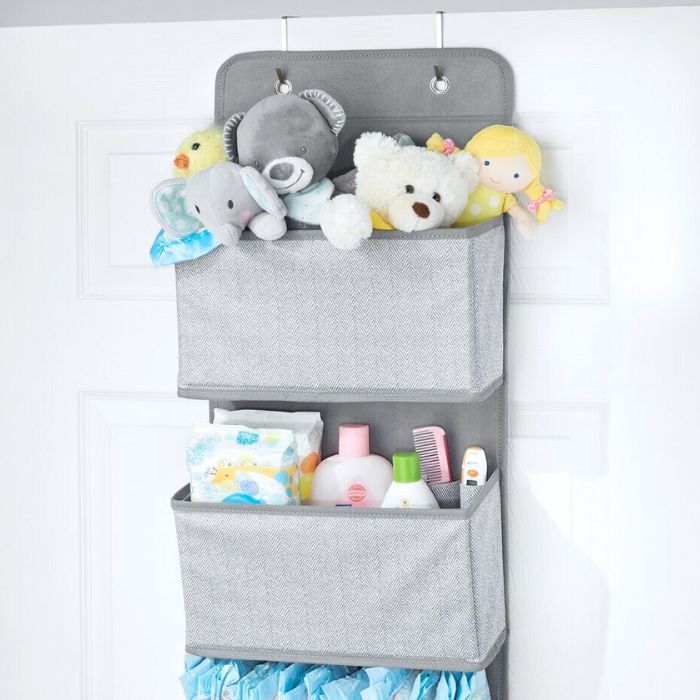 Over Door Organizer
Smart and easy storage for a variety of products saves wall space by utilizing the back of the door so you don't need to use coveted shelf space. Find it at Amazon and Target.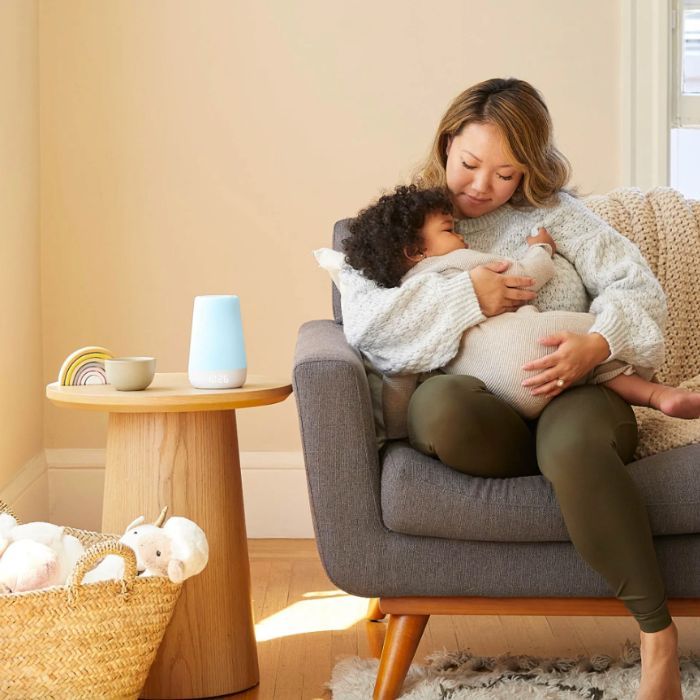 Hatch Rest+
Part nightlight, okay to wake clock, and sound machine, the Rest+ is small but mighty in terms of nursery jobs. There are also stories, music, and more, with a subscription to the Hatch Sleep Membership, so you can use this beloved parenting tool for years to come. (Here's our review about it if you want more details.) Find it at Amazon, Target, Babylist and on the Hatch site.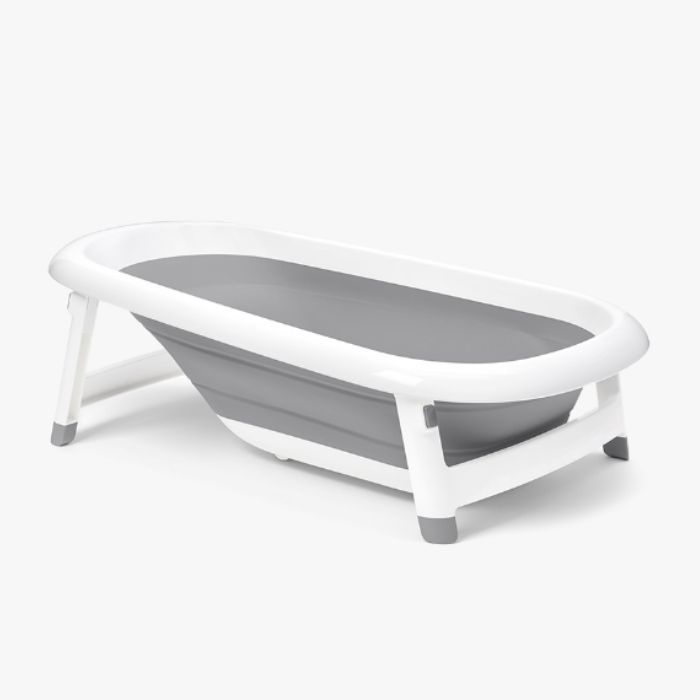 OXO Tot Splash & Store Bathtub
In terms of baby bathtubs, this one checks a lot of boxes. After bath time this tub can be collapsed down for smart storage in a bathroom cabinet or closet, or hung up in the shower until you need it next. The slanted design makes it good from birth through 18 months, meaning no infant inserts to store or deal with. Find it at Babylist, Potterybarn Kids, and Target.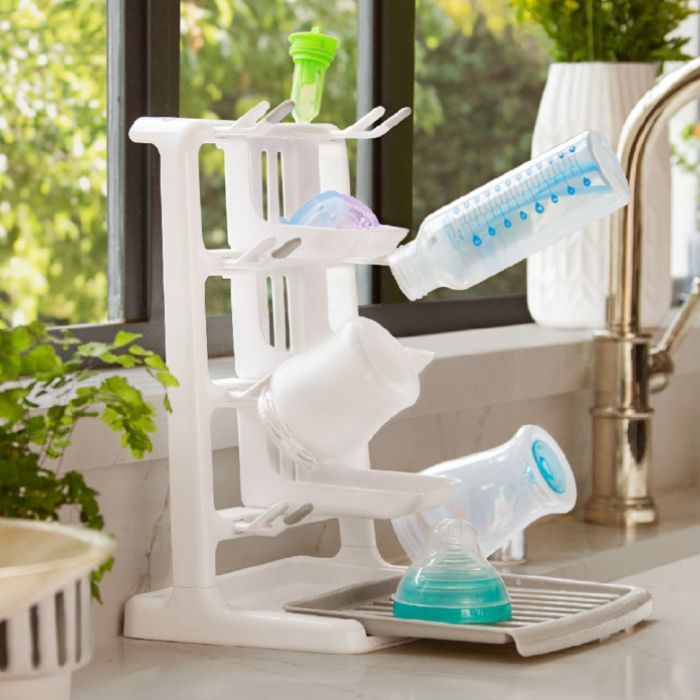 Munchkin Tidy Dry Vertical Bottle Drying Rack
The vertical design of this drying rack allows you to maximize your available drying space while minimizing how much countertop space is donated to all things baby. With hooks, shelves, and an extendable tray, there's space for a haul of bottles, pacifiers, pump parts, and more. Find it at Amazon and Munchkin.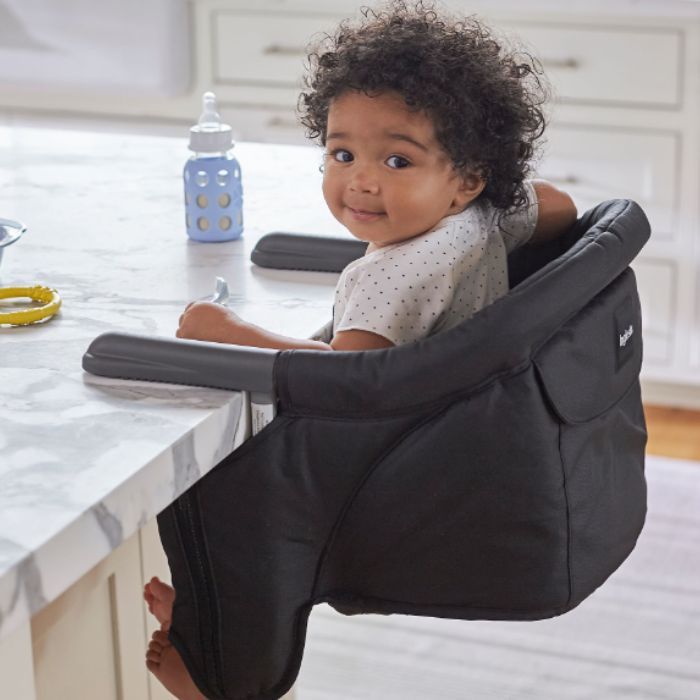 Inglesina Fast Table Chair
Small enough to travel with but sturdy and comfortable enough to replace a full-size highchair, this adaptable seat also fully collapses down for easy transport or storage. This one also won the JPMA Innovation Award a few years ago. Find it at  Amazon, Potterybarn Kids, Target, Babylist.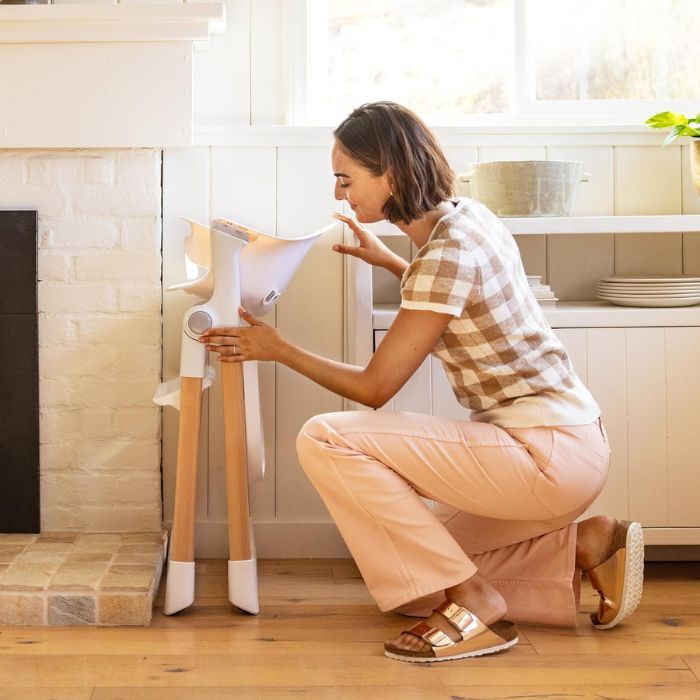 Munchkin Float Foldable High Chair
The removable tray and foldable legs make for a nearly flat fold, meaning this sleek, lightweight high chair can tuck away in some pretty small spaces. It also was a 2023 JPMA Innovation Awards finalist, which might be because of how small it folds down or because it's made without nooks and crannies for easy cleaning, but no matter what, parents are the winners in this scenario. Find it at Amazon, Target and Munchkin.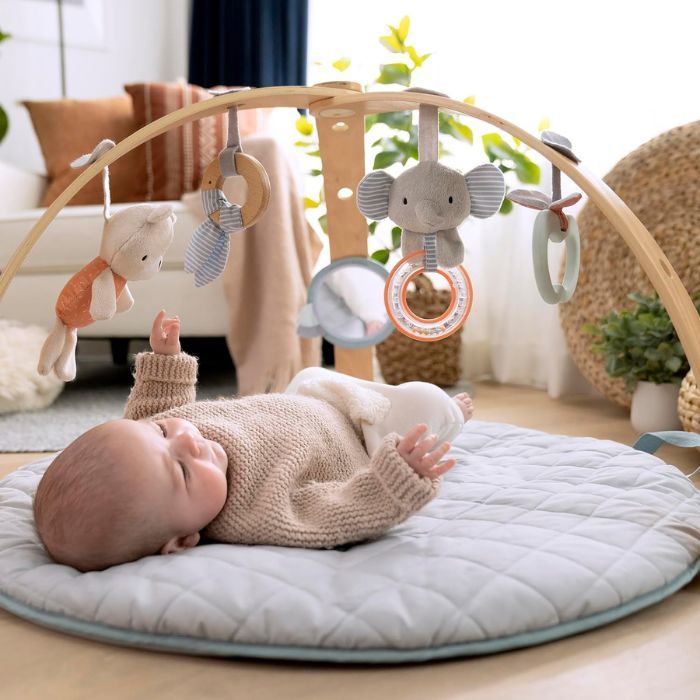 Ingenuity Cozy Spot
This cozy and safe play space is easy to move and store, thanks to the SlimFold design, which collapses everything down into a taco shape - including the wooden supports. The toys and tummy time pillow can both be folded into it, and the whole thing can be slipped under a couch or into a closet (or if we're being honest, shoved into a corner on that pile of Amazon boxes you've been meaning to recycle) when not in use. Find it at Amazon and Target.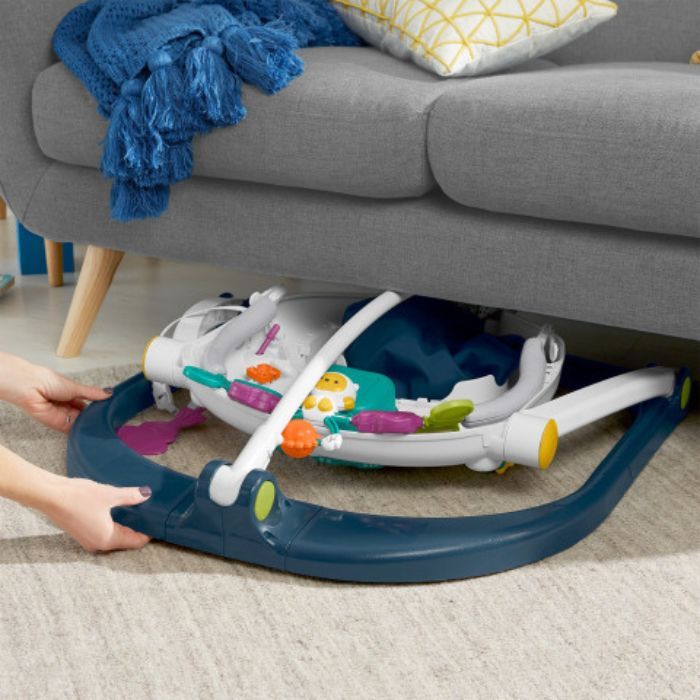 Fisher-Price SpaceSaver Jumperoo
This infant activity center comes with the usual bits and bobbles found on most jumperoos but has the added benefit of folding flat for easy transport or storage. This is handy considering these can really eat up floor space when they're not in use, so even if it's folded and propped up against a wall, it's still an improvement. Find it at Amazon and Target.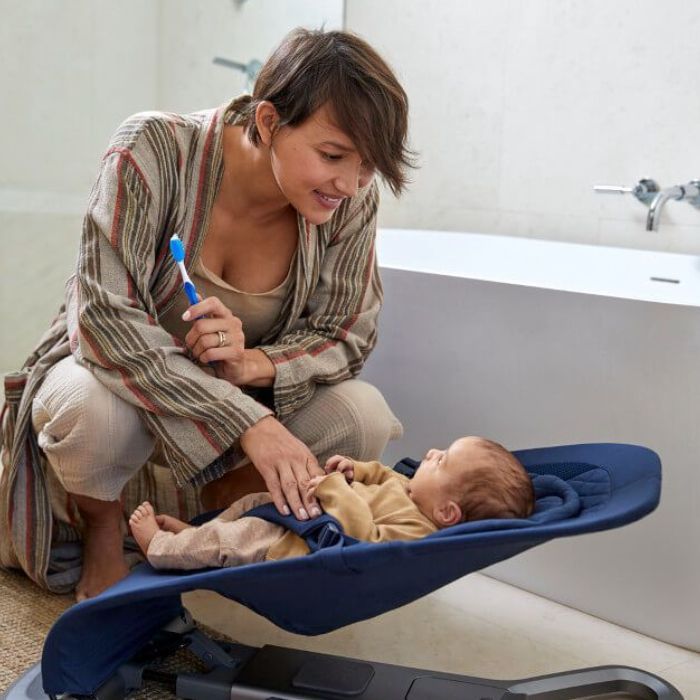 Ergobaby Evolve 3-in-1 Bouncer
This lightweight and adaptable chair has a flat fold and can be used safely for a new baby up through toddlerhood. Use it as a bouncer for infants, then remove the buckles to give your toddler a rocking chair that's the perfect size for their perpetually moving little bodies. Find it at Amazon, Target and Ergobaby.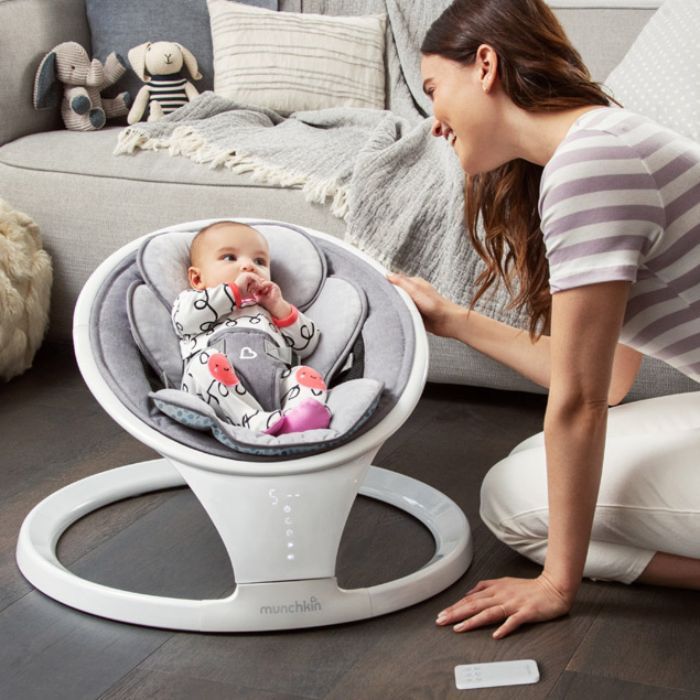 Munchkin Lightweight Baby Swing
Weighing in at an impressive 8.6 pounds, this full-size baby seat isn't only light, but it also has a small footprint. Good for babies who are 5-20 pounds and unable to sit up on their own, this cozy swing is a safe place for babies to sit or swing. Because it's Bluetooth enabled, parents don't have to listen to preset music either and can play whatever they desire via their phone. Welcome to the Thunderdome, Baby. Find it at Amazon, Target, Babylist and Munchkin.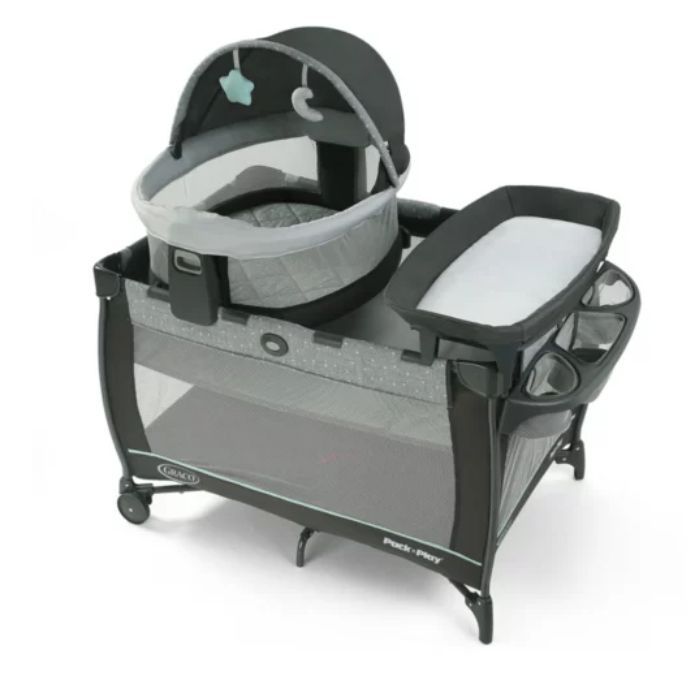 Graco Pack 'n-Play Dome LX-Playard
While the footprint of this isn't necessarily petite, the fact that it is three different pieces of furniture in one - and even has a little storage - makes it stand out.

You can use this as a safe sleep space for your infant with the bassinet, use the changing pad as your changing station, and then use the actual playard as a safe play or sleep space as your baby gets older. The bassinet also collapses down into a compact fold for easy transport between the living room, nursery, or anywhere else you might need to use it. Find it on Amazon, Target, and Graco.

Note: if you don't care about the dome but need to move it around a lot, check out the 4moms Breeze Plus. It's easier to put up and down than a pack n' play but it's a bit pricier.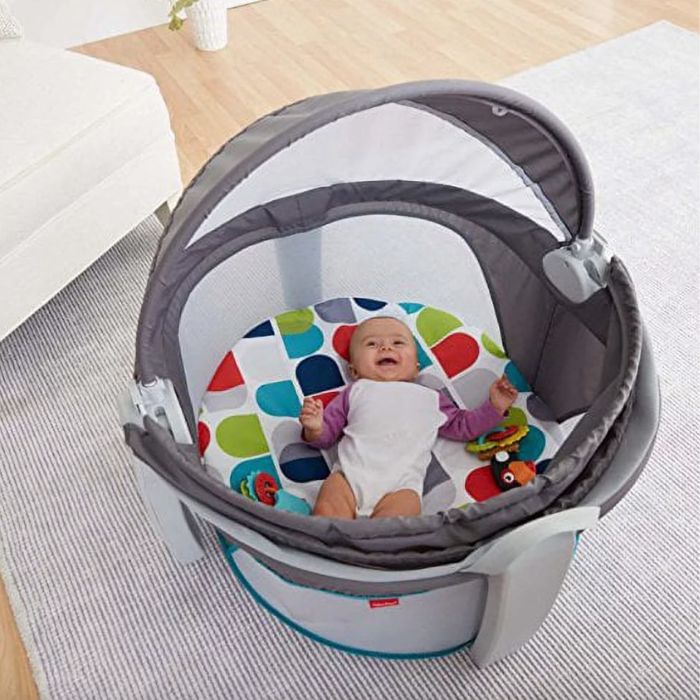 Fisher-Price Baby On-the-Go Baby Dome
This bassinet has a small footprint and can be used in a variety of situations, which scores it points in the multifunctionality column. Use it inside as a safe sleep or play space, or bring it outside and use the built-in canopy that fully encloses your baby to protect them from the sun, bugs, or whatever mysterious item your toddler is clutching in that tiny little fist of steel. Find it at Amazon and Target.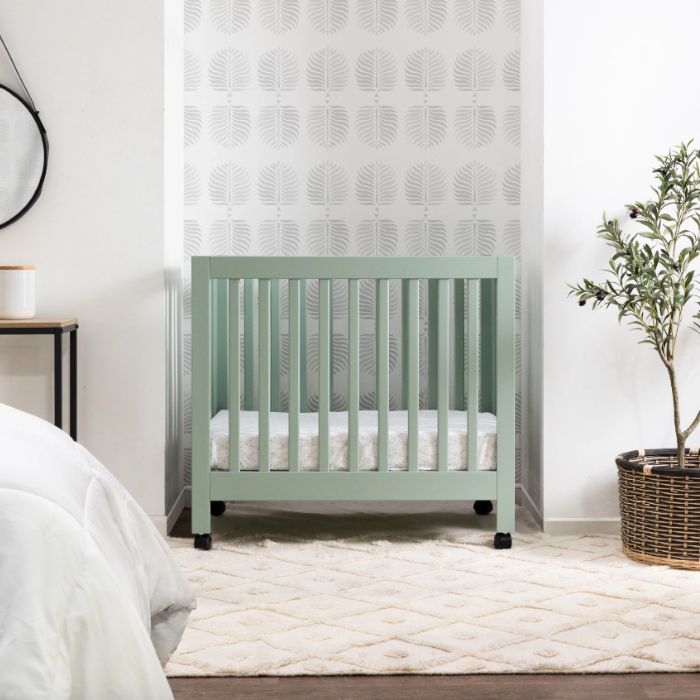 Babyletto Origami Mini Crib
This itty bitty mini crib is perfect for any nursery - big or small. With its minimal footprint, and wheels on the bottom for easy transport, you could use this in a nursery nook or somewhere you're transforming into a safe sleep space on a nightly basis. It can be used from infancy to toddlerhood. Find it at Amazon, Target, and Babylist.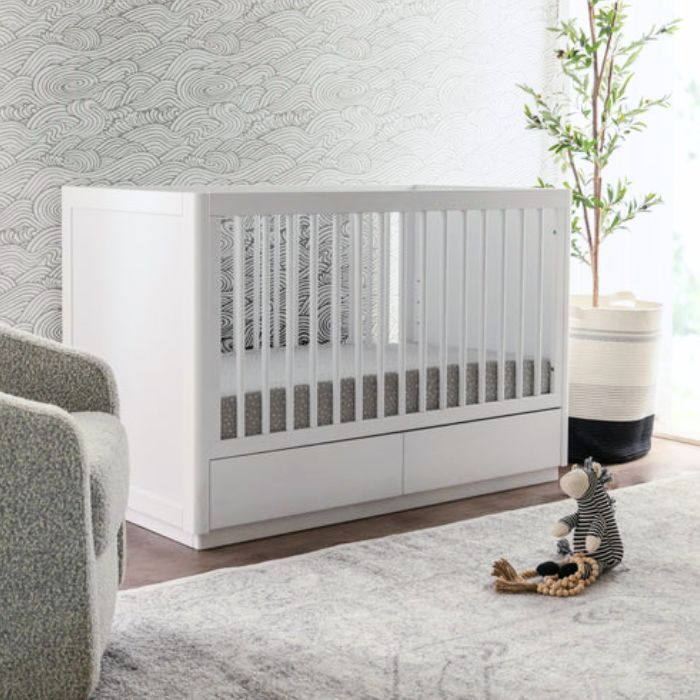 Babyletto Bento 3-in-1 Convertible Storage Crib
The Bento 3-in-1 has the comfort of a full-size crib with a small footprint to free up precious floor space. It's good for infants through toddlerhood and has drawers below for extra storage or baby clothes. Find it at Amazon, Target and Babylist.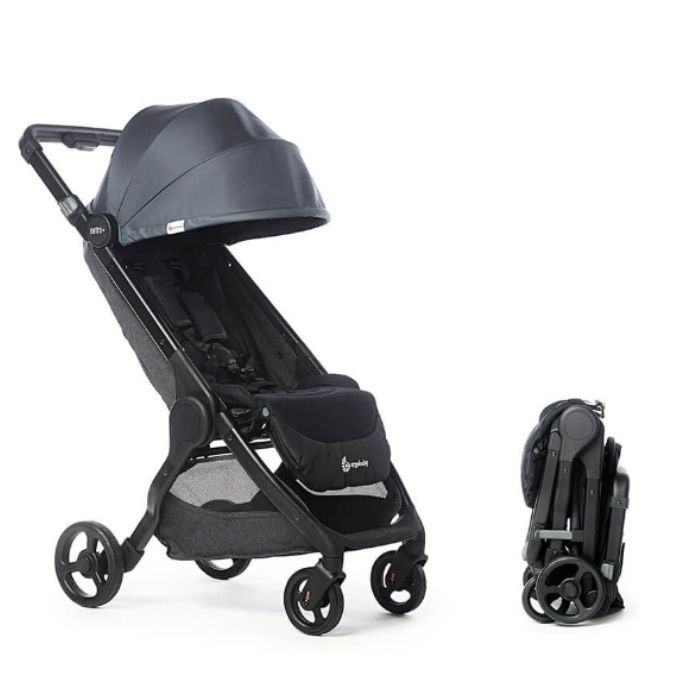 Ergobaby Metro+ Stroller
Comfortable enough to be your primary stroller but folds down compactly enough to fit in an airplane overhead bin, this stroller showcases Ergobaby's ingenuity. It also comes in seven colors, is car seat compatible, and can be used from infancy through toddlerhood. Find it at Amazon, Babylist and Ergobaby.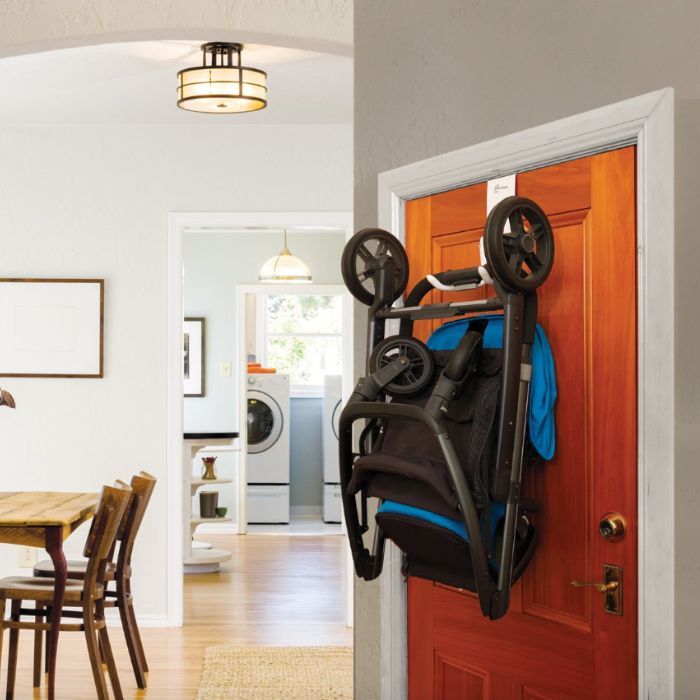 Dreambaby Strollerbuddy Strollaway
This handy hook attaches to the back of your door and allows you to hang your stroller up and out of the way. This frees up room in closets, garages, or hallways and utilizes a space often left open. Find it at Amazon and Babylist.
Small space savers with a big impact
These products may be petite, but they pack a big punch when it comes to minimizing the amount of space they eat up.

Whether you have a tiny home, an apartment with no storage, or some other living situation where you are trying to save as much space as possible, these products are a good place to start if you're on the hunt for solutions.

Do you have a favorite product that minimizes space and/or maximizes storage for baby gear? Let us know about it in the comments below.

Our next reco: Best Nursery Nook Ideas - Creating Space for Baby in a Master Bedroom
---
Get posts & giveaway updates delivered right to your inbox
---
---