When it comes to planning a space for your newborn, the Internet can be a bit of a cruel mistress. While there's no doubt that there are some pretty inspiring nursery ideas out there, the truth is that not everyone has the luxury of having a separate room to dedicate to their baby, let alone one that comes complete with a crib, a slide and a rocking chair big enough to fit the entire family.

Fortunately, having less space doesn't mean you have to sacrifice your dream nursery, as long as you don't mind sharing your master bedroom with your baby to do it. Internet, meet the nursery nook.
Check out these gorgeous nursery nooks for the master bedroom and try not to drool.
⚠️
Editor's note:
there is no doubt that these rooms or gorgeous, but not all of them follow the
AAP safe sleep recommendations
. I'll make a note of where modifications should be made. Let me know if I missed anything!
If you want to make sure the sleep space you're setting up is safe, check out our post on
Setting Up a Safe Sleep Space
.
---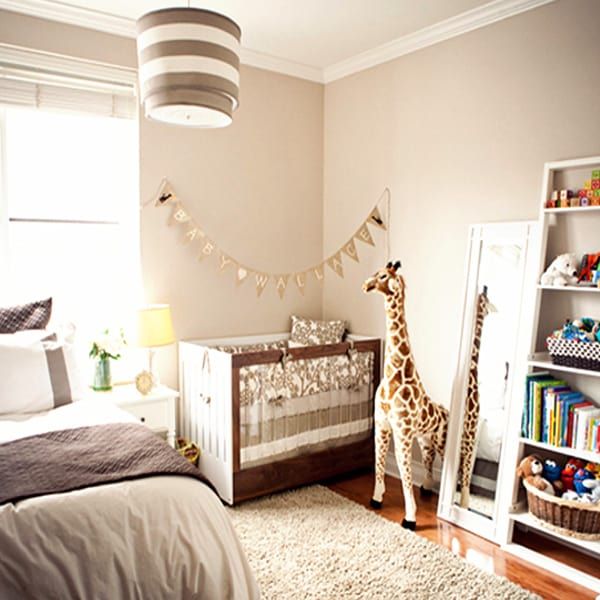 What better place to sleep than this sweet space complete with shelving for books and toys and a 4-foot giraffe to keep everyone company? (Note: watch things hanging over the crib – if tiny hands can grab it, or it can fall into the crib, then it's a no go.)

Note: keep bumpers and pillows out of the crib and don't hang anything over your baby that could fall over them while they sleep.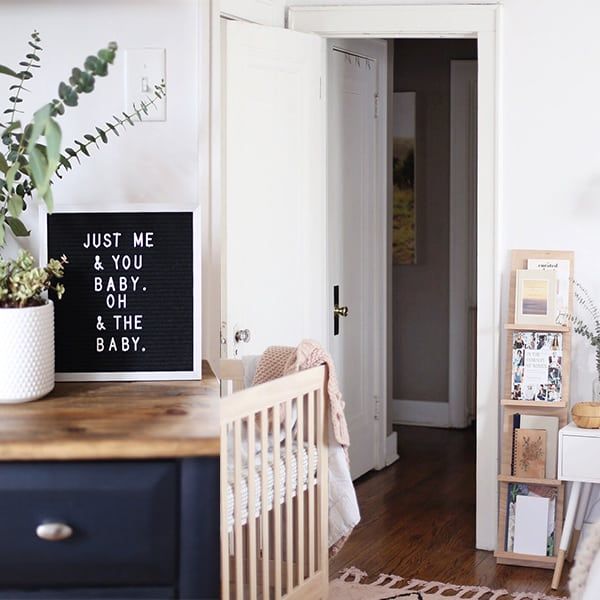 Make your new roommate feel right at home with the perfect letterboard welcome.

Note: use a sleepsack or swaddle instead of blankets in the crib.
Is there anything a well-placed IKEA shelf can't do? Divide your room into two distinct spaces, and separate that nursery nook from your area using a bookshelf (just don't forget to secure it to the wall).

Note: use a sleepsack or swaddle instead of blankets in the crib.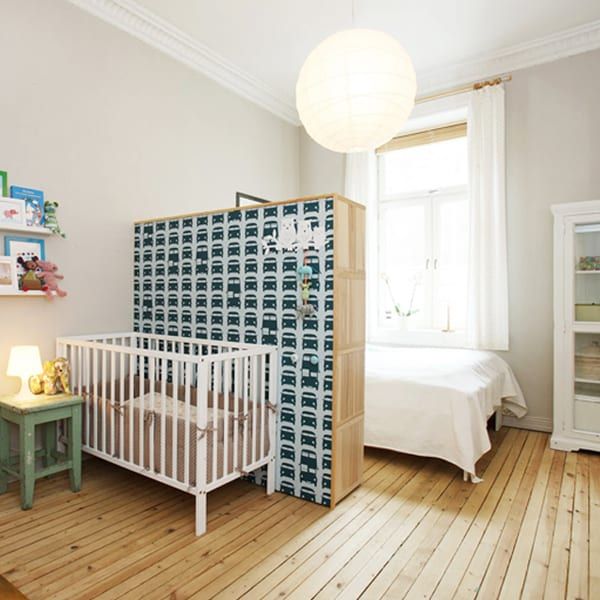 See what I mean about the bookshelves?

Note: skip the bumpers in the crib.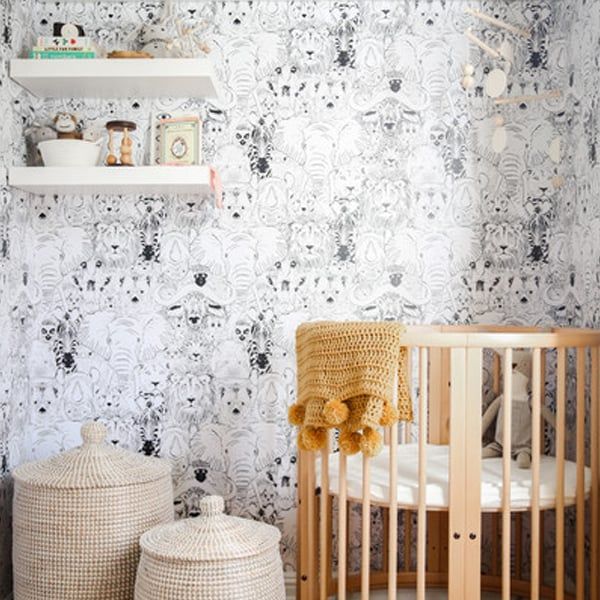 Could this wallpaper be any cuter? Make babe's space really feel like its own by compromising on a wall design you'll both love (bonus – babies can't talk so you really get to choose whatever you want).

Note: take the blanket and the bunny out when your baby is in the crib sleeping.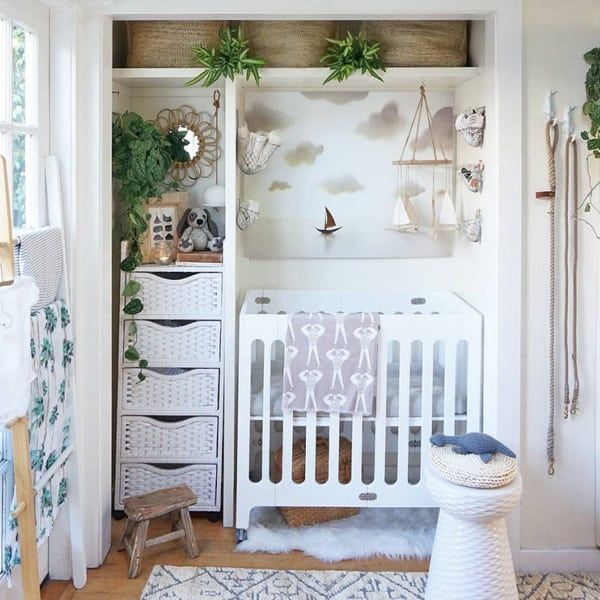 Who says a baby needs a room of its own? Reimagine a closet into the perfect nursery nook for a bassinet, shelving, and a dreamy mobile.

Note: it looks super cool, but don't have anything over your crib that could fall in it.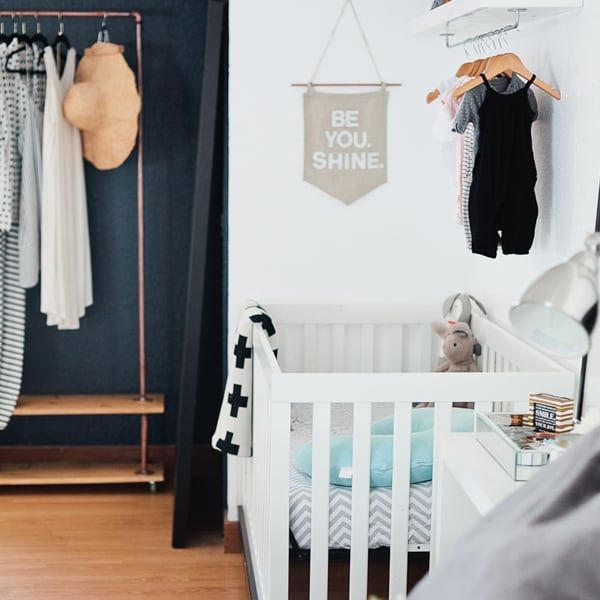 Someone get this designer a medal because using a shelf to do double duty as a place to hang your little one's clothes is genius.

Note: move the shelf and clothes so it's not over the crib and remove any contents – bobby, bunnies and blankets – before your baby goes in there.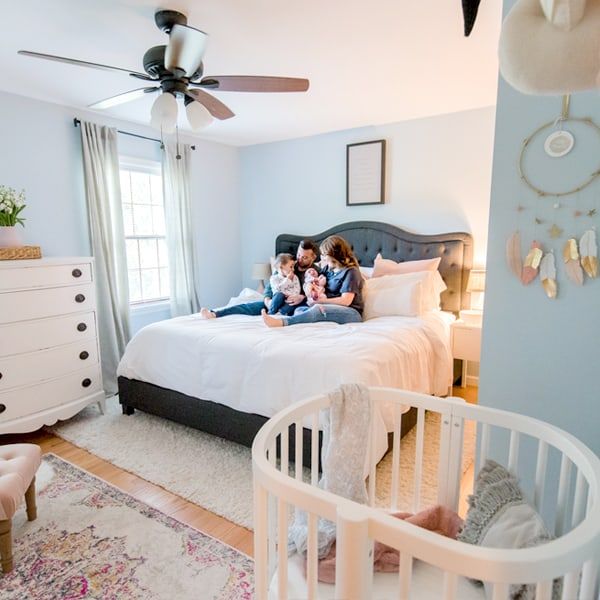 Where is everyone finding these teeny little cribs? They are PERFECT for a nursery nook!
P.S. It's incredible what a 5 second Google search can do. I found them here.

Note: just make sure nothing is over or in your crib. (Am I getting repetitive? Sorry.)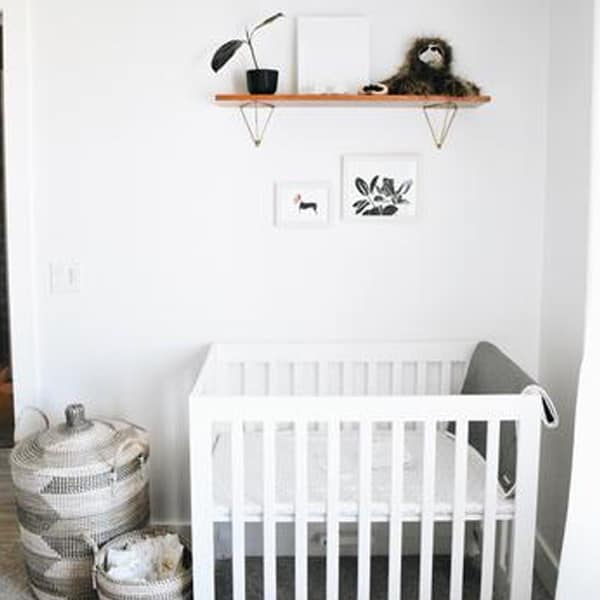 This minimalist nook shows that you don't need to change much to create a space any baby would give its last clean diaper to live in.

Note: you know what I'm going to say – nothing over the crib.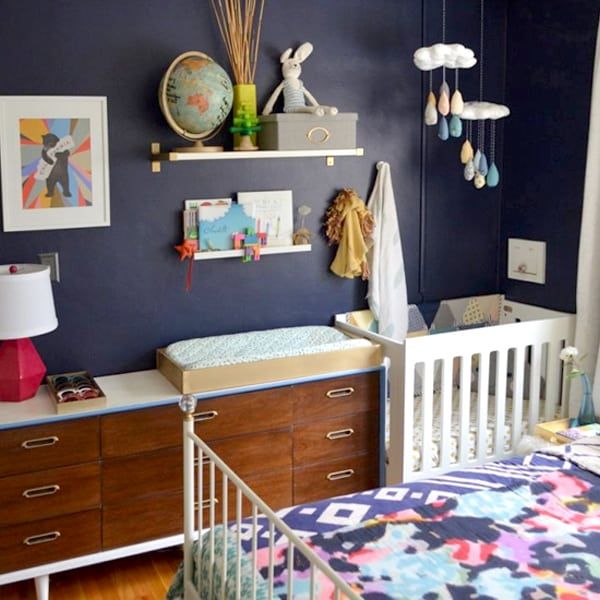 Does a baby really need a piece of furniture that can only be used for changing its butt? This beautiful setup proves that the answer to that age-old question is a definite no.

Note: nothing over the crib.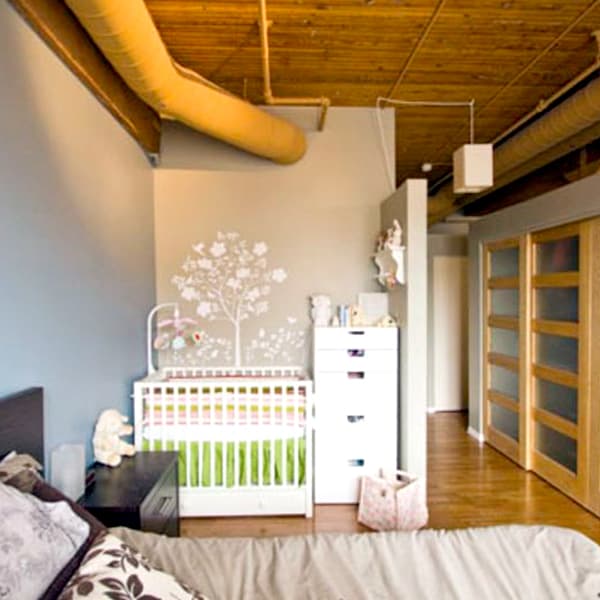 This 800 square foot loft shows that the only move you need to make to make space for a baby is the furniture.

Note: skip the bumpers and the stuff that could fall off the shelf and into the crib.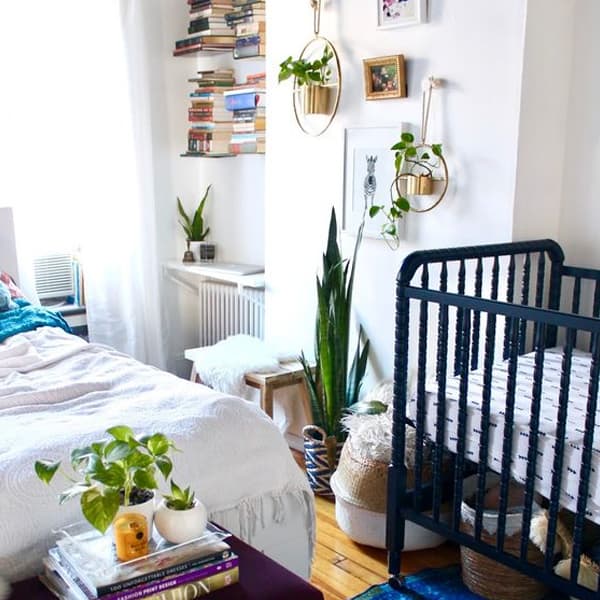 12. Boho Chic Nursery Nook
You may or may not be surprised to learn that babies are rarely picky when it comes to décor choices, so keeping your current pieces on the walls is a-ok as long as they have a safe place to sleep.
(Please let me know if you've seen the original of this.)

Note: I have no note! There is nothing over the crib!!! Woohoo!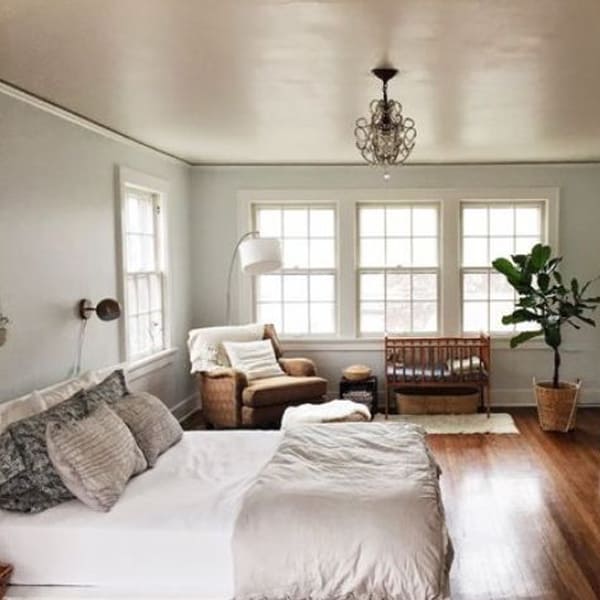 What baby wouldn't want to share this bedroom with its parents?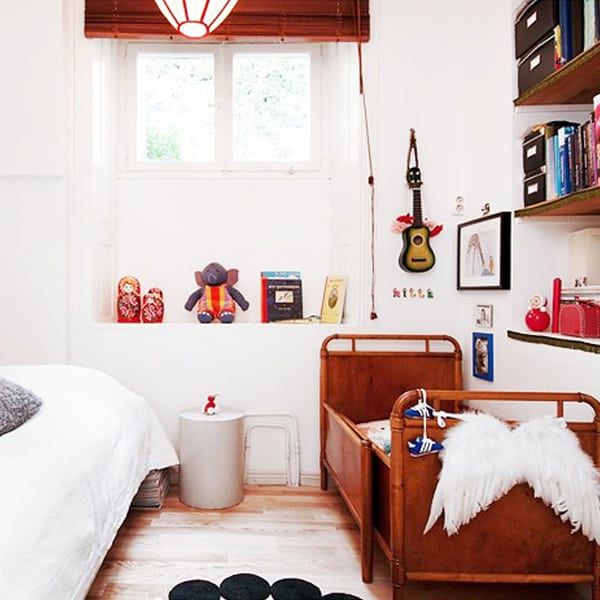 14. Toddler Roomie
Ok, ok. Technically, this is a toddler bed, but you get the idea. Any size of space can be perfect for a roommate!
(Give me a heads up if you know where this image is originally from.)

Note: say it with me! "nothing over the crib"
If you are really gung-ho about having a rocking chair in your nursery but don't have a ton of room, a smaller version is a great option. I used one similar to the one pictured, and although it is plastic, a few pillows made it comfy and the perfect fit for our space.

Note: skip the picture or move 'er.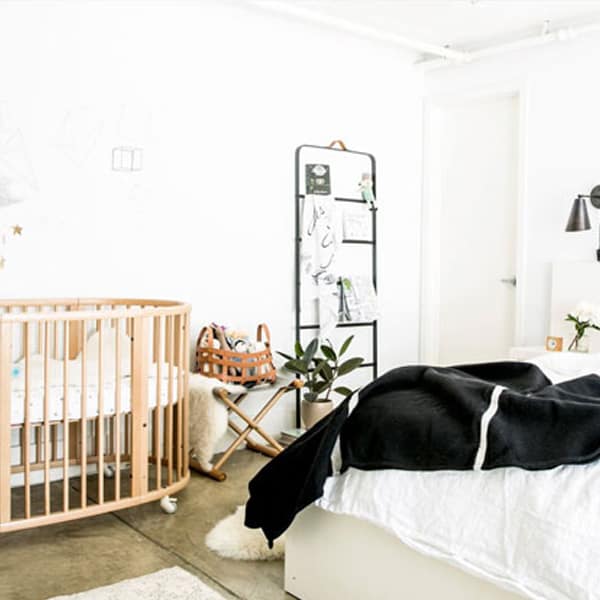 The crib pictured grows with your baby, so it only takes up as much space as you need from birth to age 10 (as long as you get the crib conversion kits and the mattresses for each size).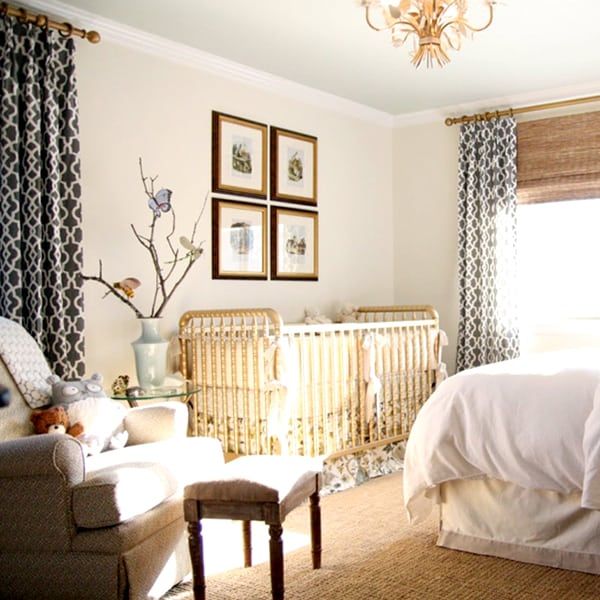 If you put your baby at the foot of your bed, I can guarantee you'll have cuter entertainment than any TV could ever provide.

Note: move the pictures to the side.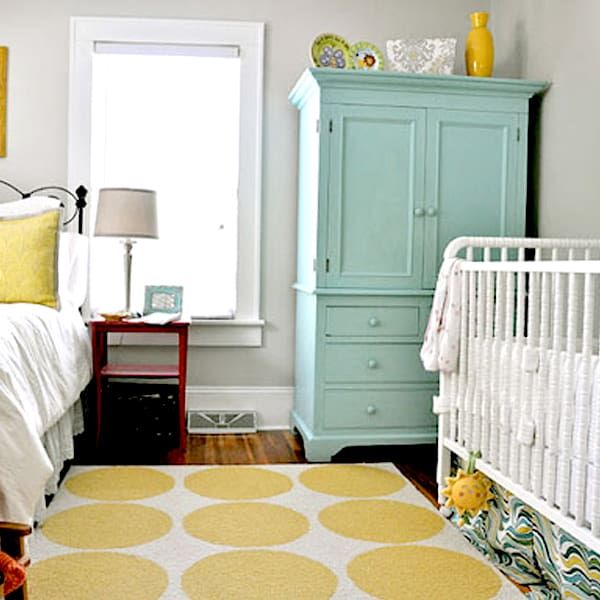 Keeping a crib a few steps away from your bed means you'll barely have to open your eyes to get up for middle of the night feeds. It's a win-win, really.

Note: skip the bumpers.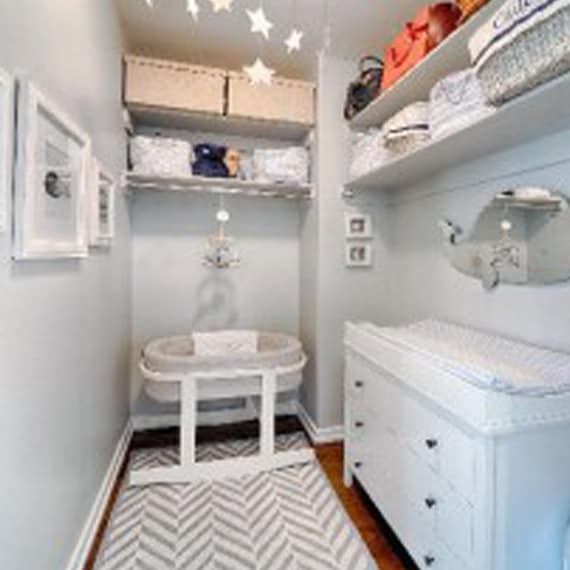 Harry Potter totally made it sound like having your room in a closet is a bad thing, when this adorable space proves that that is obviously not the case.

Note: pull the bassinet out when the baby is in it so it's not under the shelves.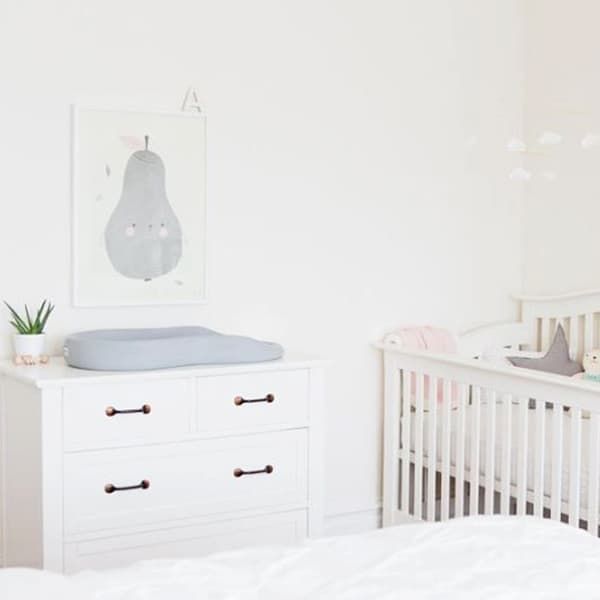 A totally white nursery means you will never miss any spots when you're cleaning up a blown-out diaper. All jokes aside, though, this space is a total dream.

Note: take the goodies out when the baby is in.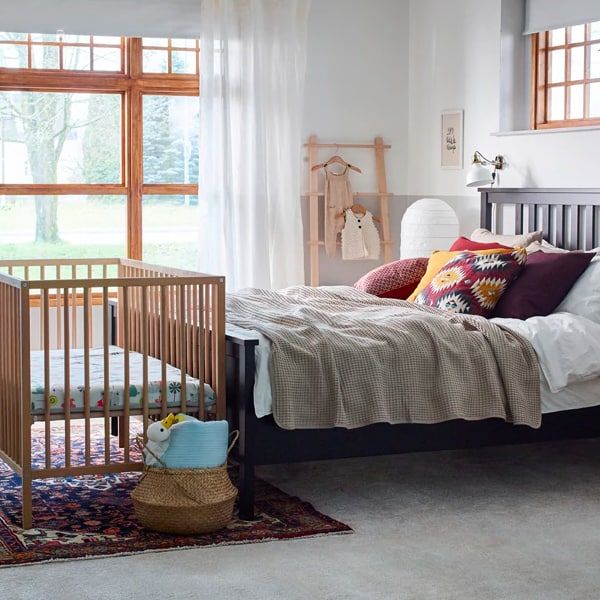 Who better to look to for space-saving ideas than the master itself? Thanks, IKEA.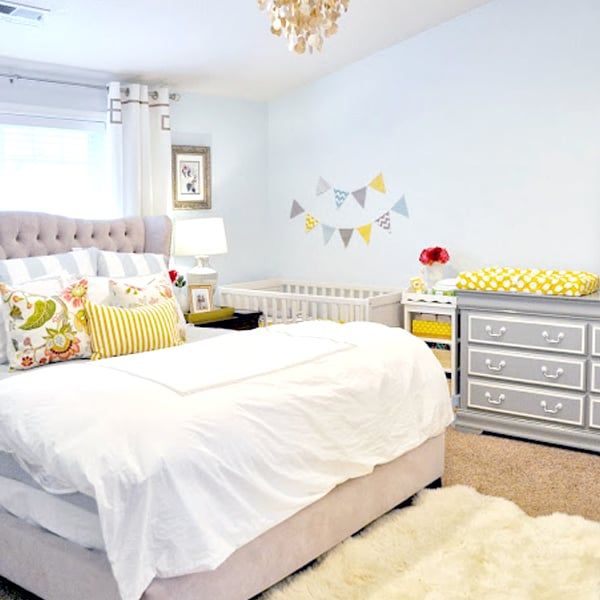 How could you wake up in a fun space like this and not be happy?

Note: move the banners.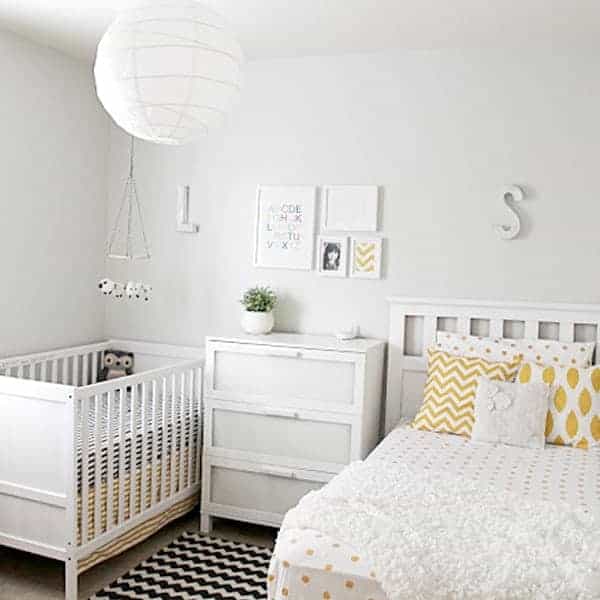 Hanging initials over your respective beds is not only cute, but will help to remind you who's supposed to sleep where after those extra-long days (and nights).

Note: make sure mobile strings are no longer than 7 inches and have should be at least 16 inches above the surface of your crib mattress.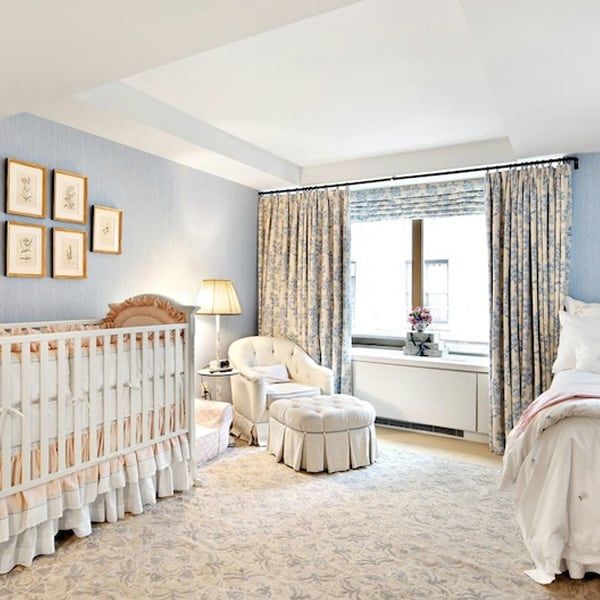 Disclaimer: this is the nursery nook in a 9 million dollar apartment that Jennifer Aniston checked out, but it's beautiful so it made the list. Stars – They're Just Like Us!

Note: skip the bumpers and the pictures.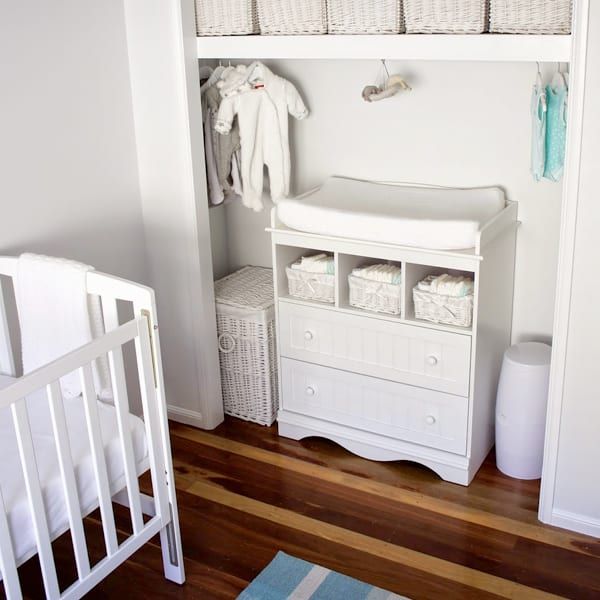 Sure, you're going to have to find a new space for all of your clothes, but has any closet space ever looked more adorable (or more organized)?
If you're looking to keep things super simple, a bassinet and a changing pad are all you really need to create a cozy and blowout-resistant space for your little one. (Note: the bassinet shown is from Halo.)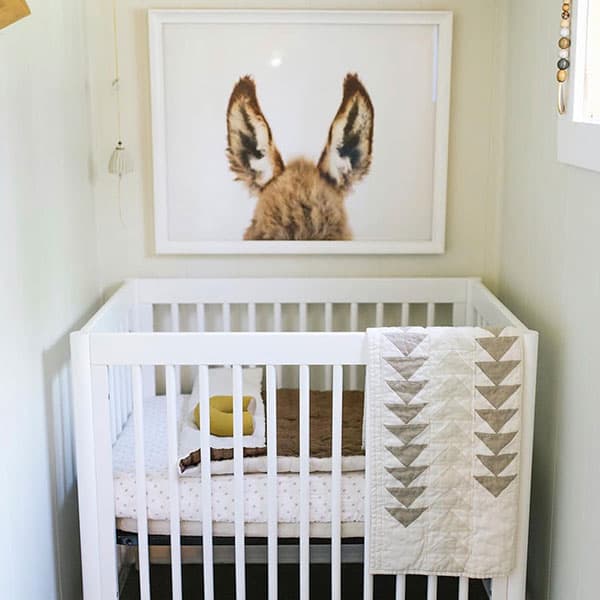 This adorable nursery is tucked away in the closet. Check out her feed to see more pictures!

Note: you might be able to get away with the picture if you move the crib out. Skip the blanket though. 🙂
If you want to make sure the sleep space you're setting up is safe, check out our post on Setting Up a Safe Sleep Space.
Are you planning on sharing a space with your baby?
Share your nooks with me!

Related: Do-Not-Disturb Baby Door Hangers (free printable)
---
Get posts & giveaway updates delivered right to your inbox
---
---