Sometimes it's hard to find affordable, useful AND small gifts to fill a baby's first Christmas stocking. I wanted to find a variety of items that can be used long after the holidays, are under $20 (most are under $10), and are small enough to fit in a Christmas stocking. Here are a few of the best stocking stuffers that are sure to make the season merry.  
The Best Baby Stocking Stuffers: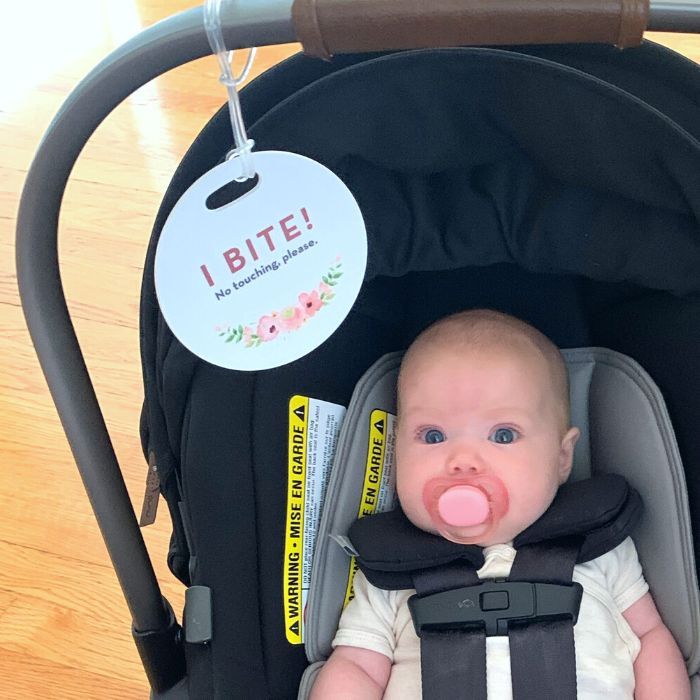 Do Not Touch Tag
These lighthearted tags help with a very serious problem – people touching vulnerable babies when they shouldn't. We have everything from sweet butterflies to severed fingers (depending on how hard you'd like to drive the point home) that can go on your car seat, stroller, or carrier. You can find the whole selection in our shop.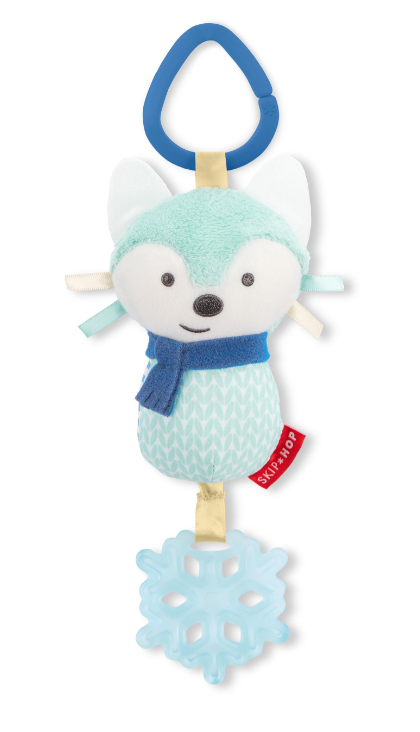 Stroller Toy
Skip Hop has these Bandana Buddies Teethers that are fun all year round. The cute chime and easy grip keep everyone busy at home and on the go. Complete with a textured teether and a colorful clip that easily attaches to strollers. You can find them on Amazon.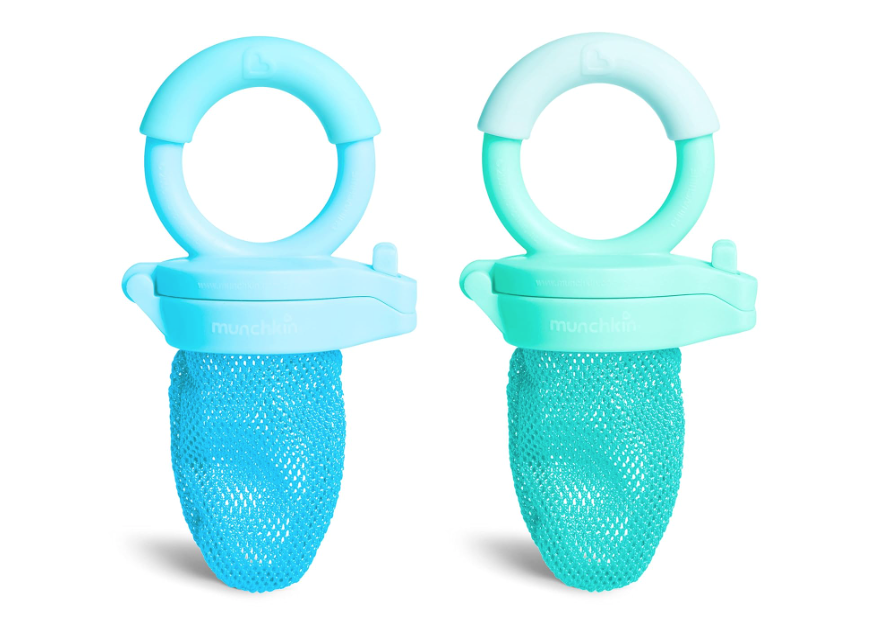 Munchkin Fresh Food Feeder
The Munchkin Fresh Food Feeder allows babies to gnaw on foods safely. Simply place a piece of fruit, vegetable or even meat into the mesh bag and snap it shut. I've also popped an ice cube in there to help with teething. Find them on Amazon.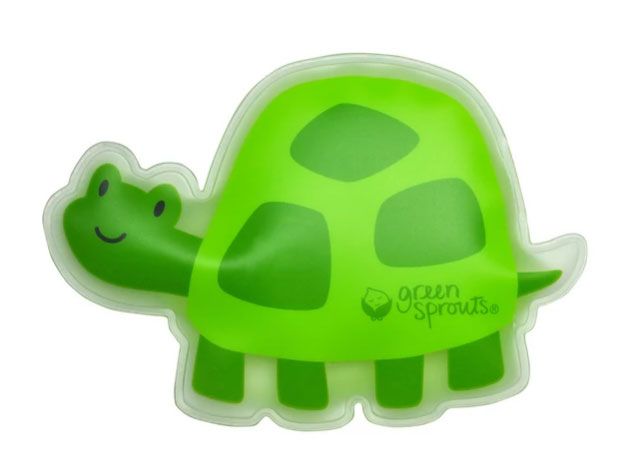 Cool Calm Press
If your baby isn't moving around much yet, you may not realize how often they fall, bang, and crash into everything by the time they start walking. These cute animal-shaped ice packs help keep the goose eggs to a minimum. Find them on the Green Sprout site and on Amazon.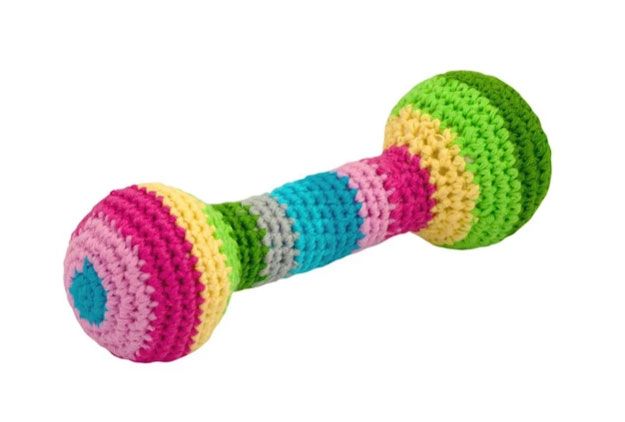 Organic Cotton Chime Rattle
This organic cotton rattle provides interesting textures for your baby's gums. It's also soft enough that when they hit themselves on the head with it, it won't hurt. It's from Green Sprouts, so you know the fabrics and dyes are safe. And yes, you can wash it. Order it from the Green Sprouts site and on Amazon.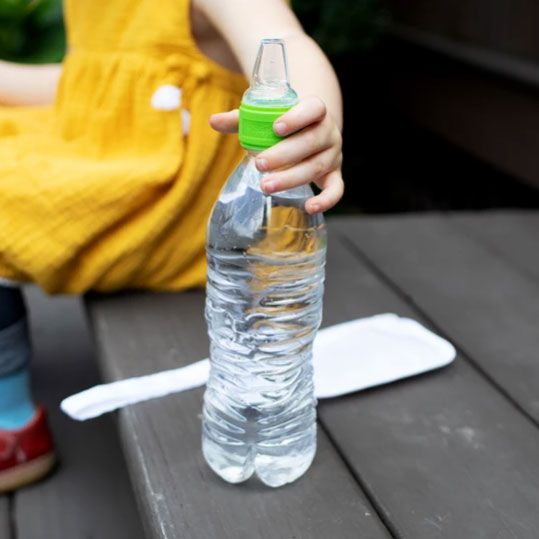 Water Bottle Adapter
This brilliant gadget converts any water bottle into a sippy cup. It's great to have in your diaper bag or car for those 'oh, crap' I forgot a sippy cup moments. Shop them on the Green Sprouts site and on Amazon.

Chunky Christmas Books
These mini palm-sized board books are fun to hold and keep with the holiday theme. Amazon has a Ho-Ho-Ho pack and a Santa's Workshop pack.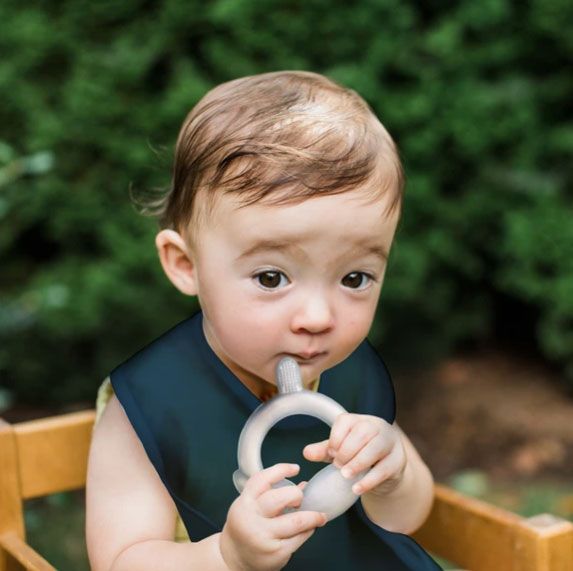 Silicone Teether Toothbrush
This soft, double-sided, silicone teether is easy to hold and safely massages and cleans sensitive gums and budding teeth. The shape also means they won't constantly gag themselves like they can with a typical toothbrush shape. Find it on the Green Sprouts site and on Amazon.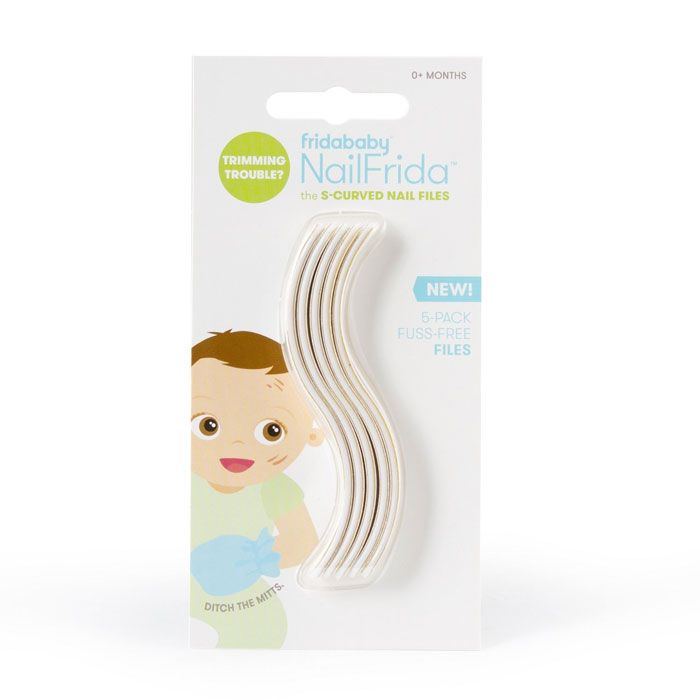 S-Curved Nail Files
This file follows the contour of your baby's nails for a smooth finish after clipping or can be used on its own to tackle those mini razorblade talons. For the record, FridaBaby makes amazing products, so peruse their whole baby line for great gift ideas. Find them on Amazon.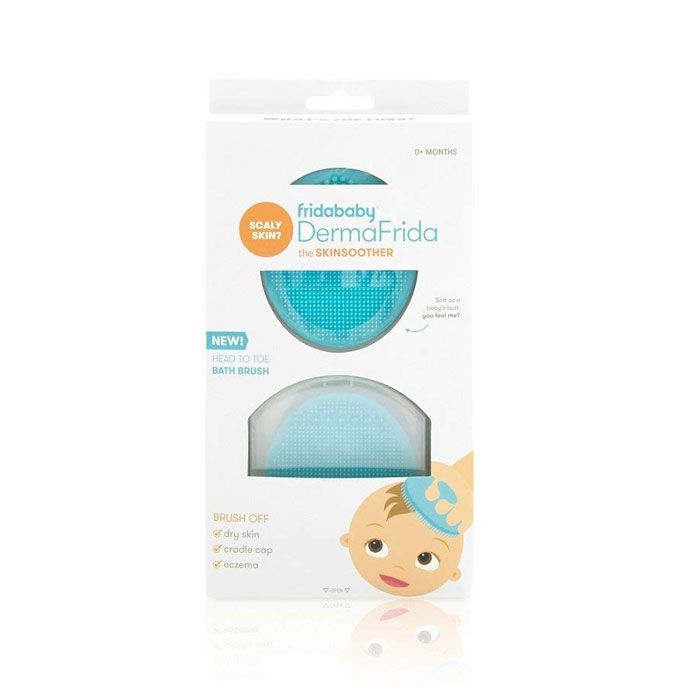 Bath Brush
This brush is great for cradle cap (or cradle crap as my grandmother used to call it) but is still soft enough to use everywhere. Find it on Amazon.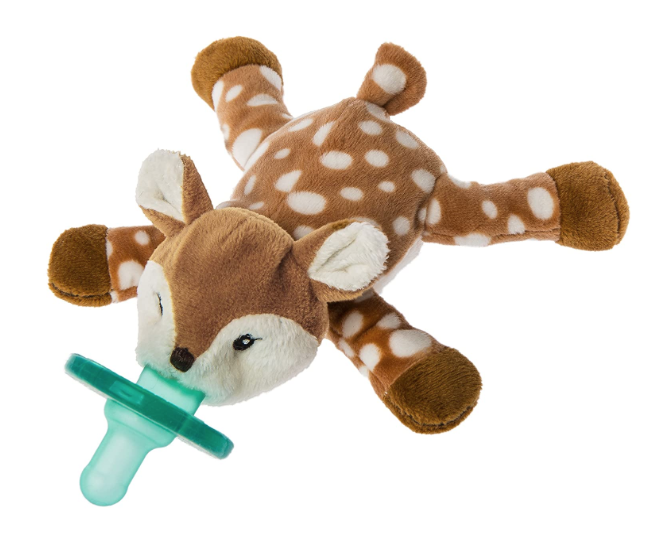 WubbaNub Fawn
This little deer's legs are super-easy for tiny hands to grab hold of, while the unique style of the WubbaNub pacifier always allows it to remain close and be easily positioned by your baby. You can find it and an assortment of other friends on Amazon.
Onesies
These simple onesies are ubiquitous for good reason. You can layer them, use them as sleepwear, or as a blowout backup. These Gerber onesies come in a five-pack on Amazon.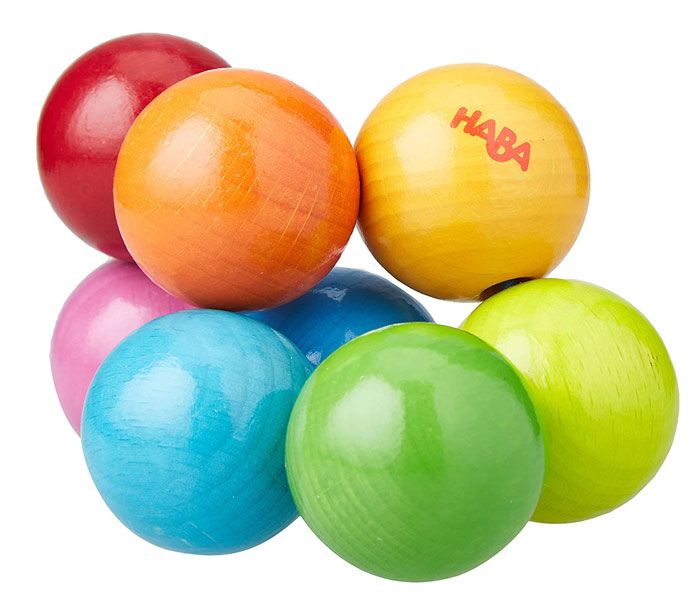 HABA Magica Clutching Toy
These wooden beads are made from fancy trees in Germany and use water-based, solvent-free lacquers to make the surface extremely resistant to wear and safe for chewing. HABA is another brand where you can't go wrong if you wanted to check out their other toys. You can find the Clutching Toy on Amazon.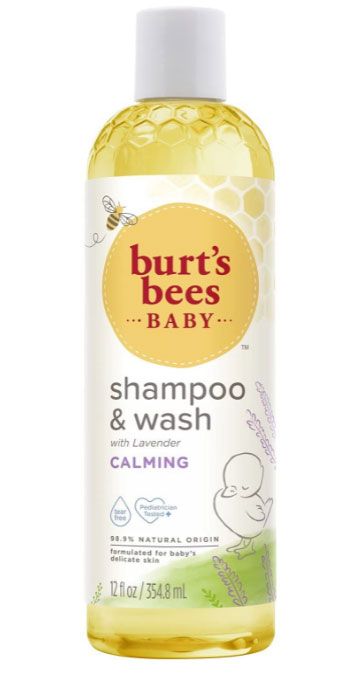 Baby Wash
Bath accessories always make great stocking stuffers because kids always need baths. Plus, bubbles are fun and festive, right? I found this Burt's Bees Baby Shampoo and Wash on Amazon.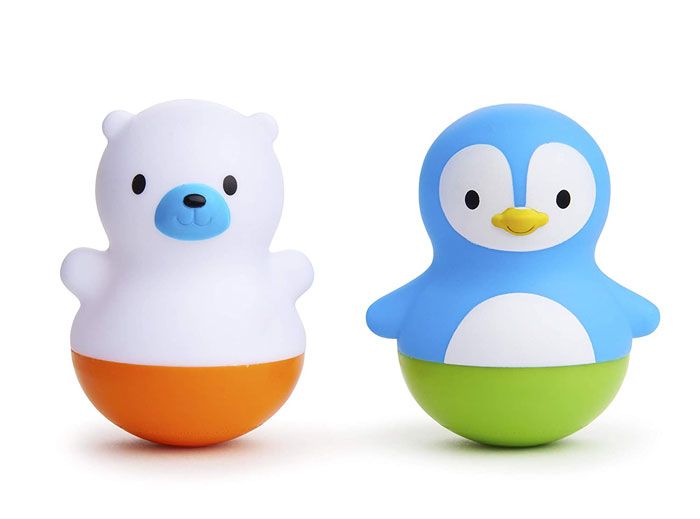 Munchkin Bath Bobbers
These bath toys bob vs squirt so they won't get filled with gunk. They are also the perfect size for little hands making bath time tons of fun. You can find these ones on Amazon.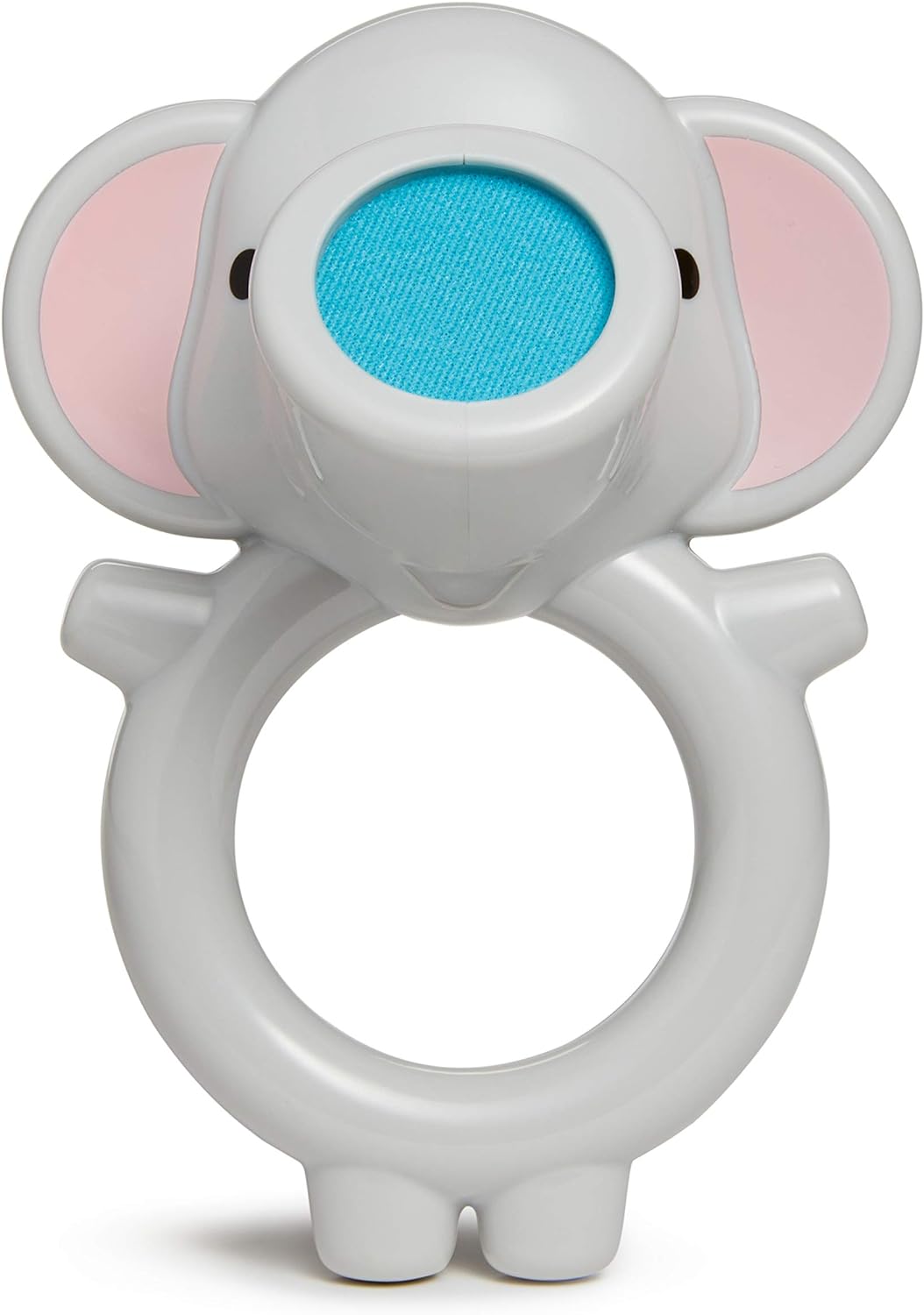 Munchkin Bubble Bestie
This adorable elephant toy creates a magical bubble stream when you wet the cloth nose, add soap or shampoo, and blow through the one-way mouthpiece. It's beyond cool, and it's no surprise that kids love it. You can find it on Amazon.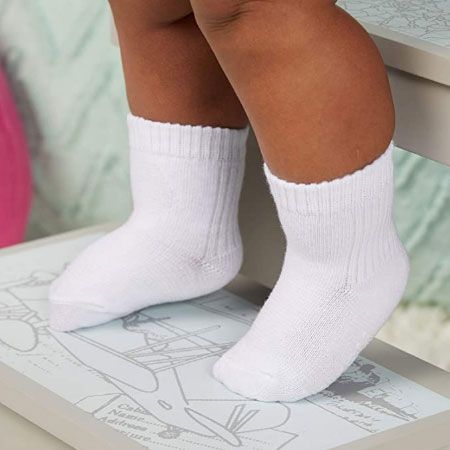 Socks
While socks might not be a fun stocking stuffer, they certainly are a practical filler. I have no idea why they list these as 'girls socks' – I mean, they are white socks.  You can find them on Amazon.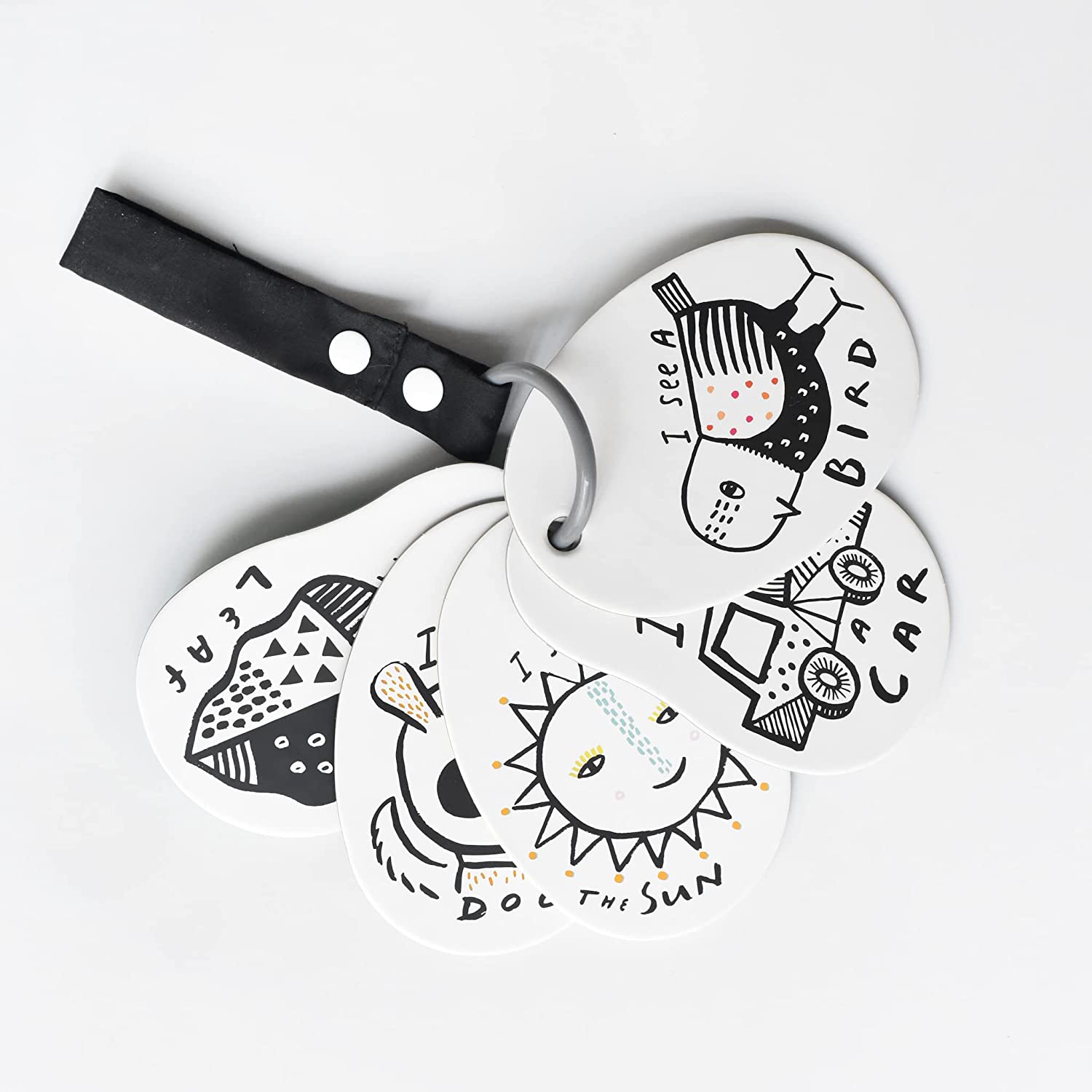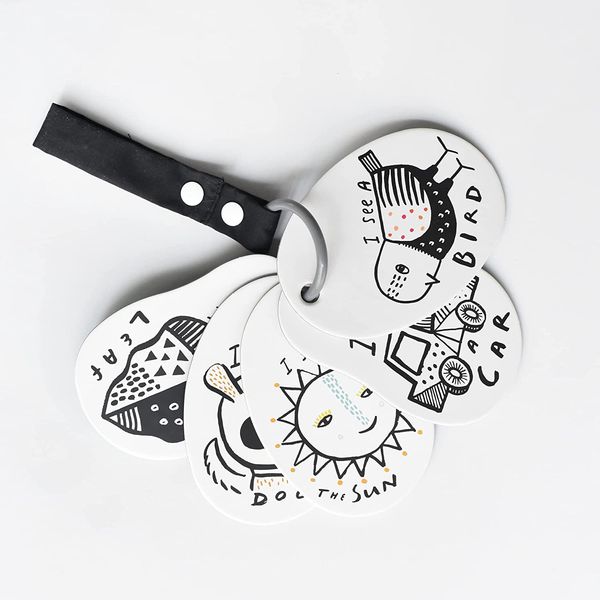 Wee Gallery Stroller Cards
These beautifully illustrated cards are super sturdy and held together with a ring and strap that connects to your stroller, backpack, or diaper bag. You can find them on Amazon.
Zutano Cozie Fleece Booties
These cozy soft fleece booties have a cult-like following for good reason. They keep your newborn baby's feet warm and they stay on! For babies and toddlers starting to crawl or walk, Zutano also makes a version with grippy bottoms. You can find them in a variety of colors and sizes on Amazon.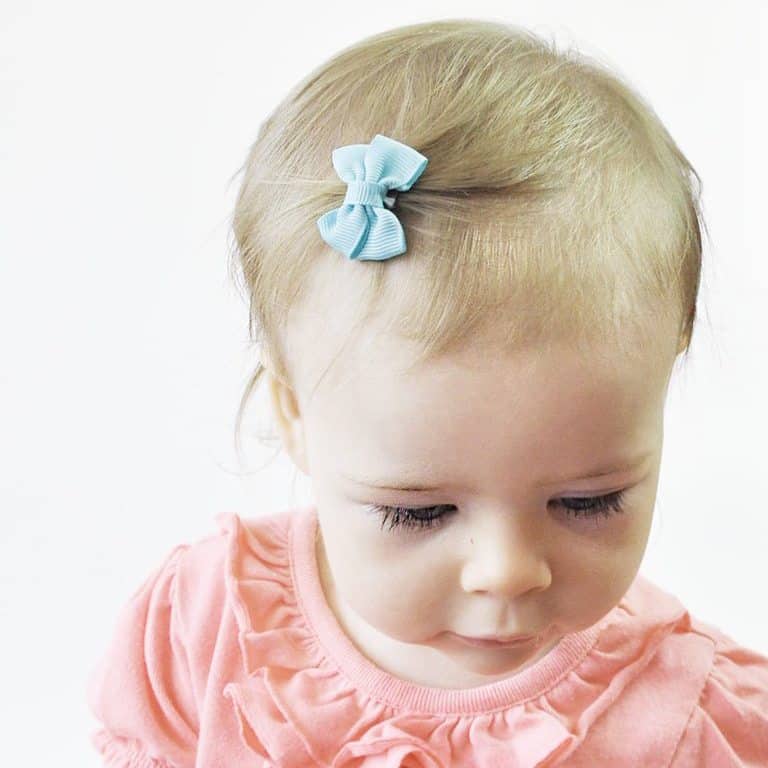 Baby Wisp
These adorable hair bows and headbands are built to stay put on even the baldest of baby heads. You can check out our review, and buy them on Amazon.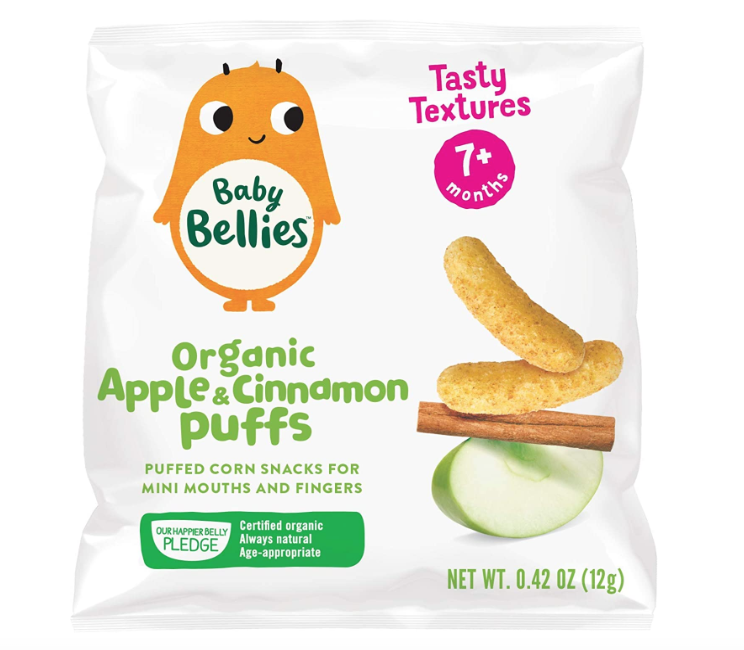 Snacks
If your baby has started solids, snacks like rusks, puffs, or these organic puffs from Baby Bellies are fun treats without getting into candy. Plus, the pincher grip you need to eat them can help with fine motor skills. You can find them here on Amazon.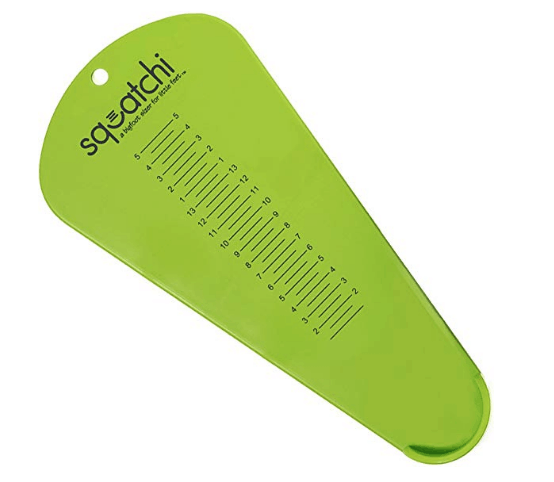 Squatchi
This foot measuring device helps you figure out shoe sizes for your kids up to age 12. Handy for online shopping and confirming fit before a dreaded trip to the mall. You can find it in a few colors on Amazon.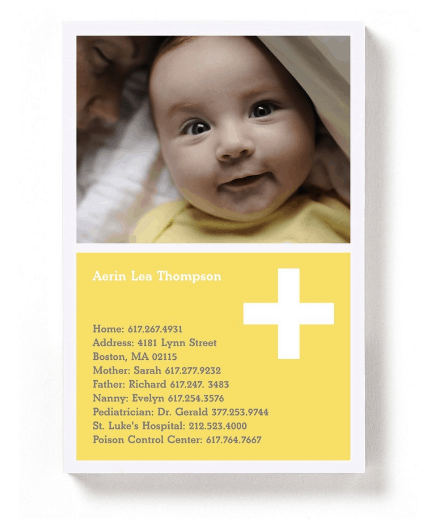 Emergency Contact Magnet
This custom magnet keeps emergency information at the ready when you need it most. Handy for grandparents or babysitters too. You can find them here.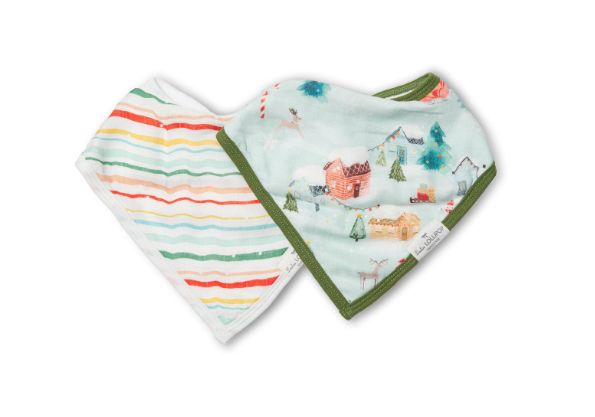 Bandana Bibs
Loulou Lollipop makes these beautiful, soft bibs that come in a variety of patterns. I've picked their Merry and Bright pattern because it has a bit of a holiday theme without it being full 'Santa Comes to Town'. You can find them all on the Loulou Lollipop website and on Amazon.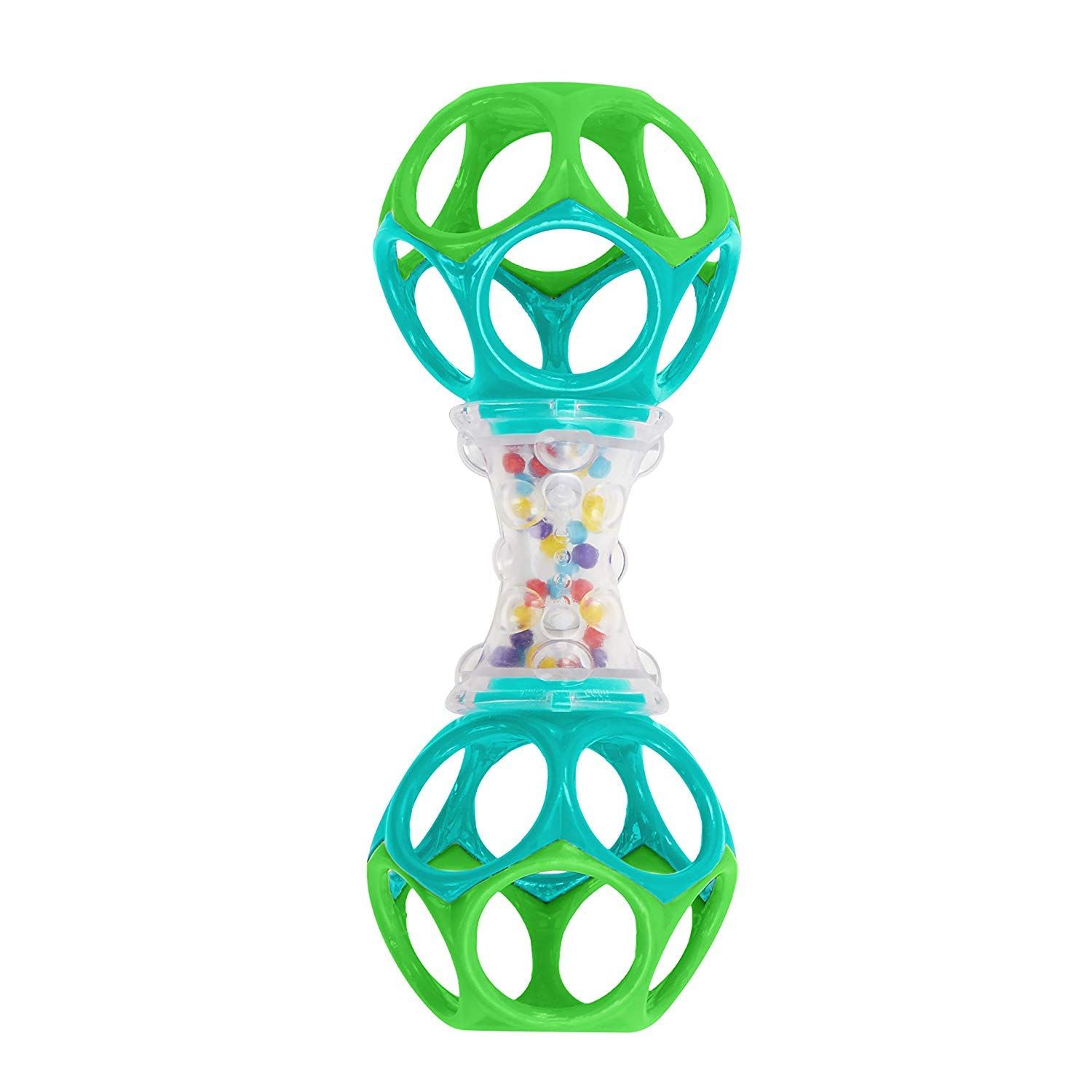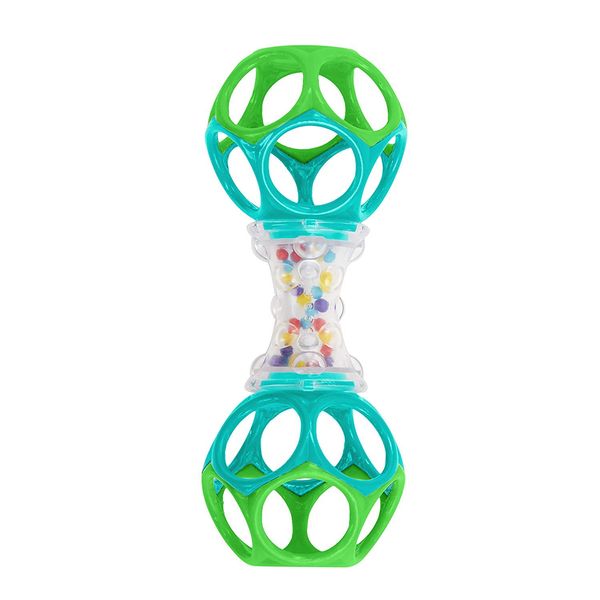 Bright Starts Oball Shaker
This colorful rattle has two minis flexible, teethable Oballs that are easy to hold and the beads create fun sounds. You can find it on Amazon.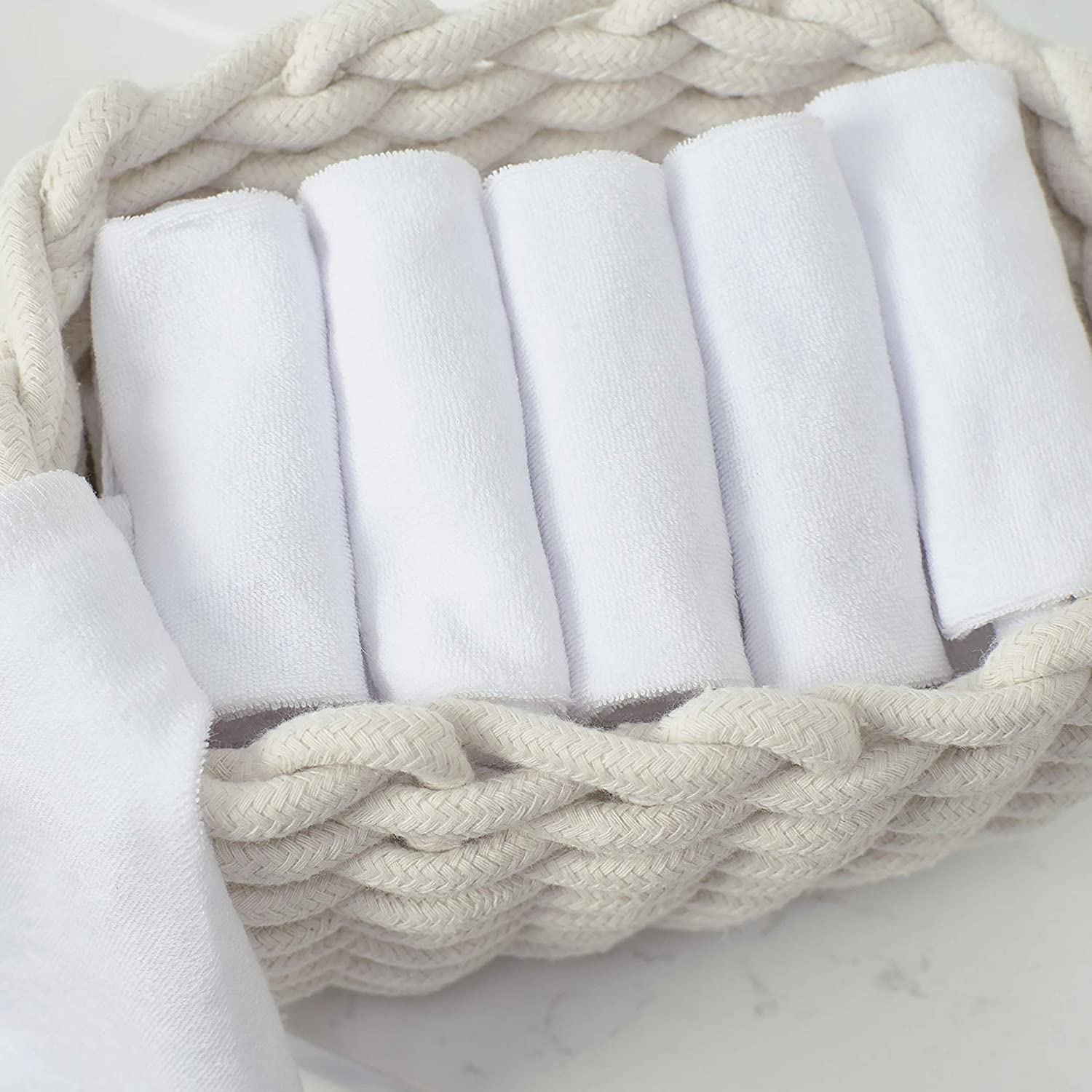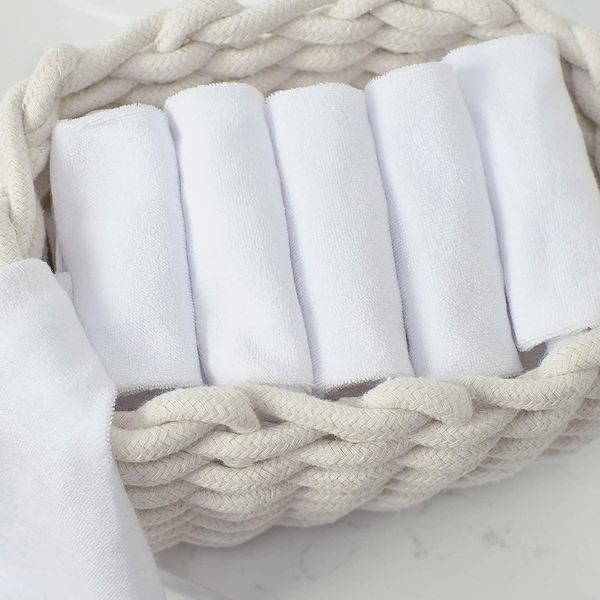 Gerber Washcloths
This little six pack can be used for wiping faces and hands and used in the bath. You can find them on Amazon.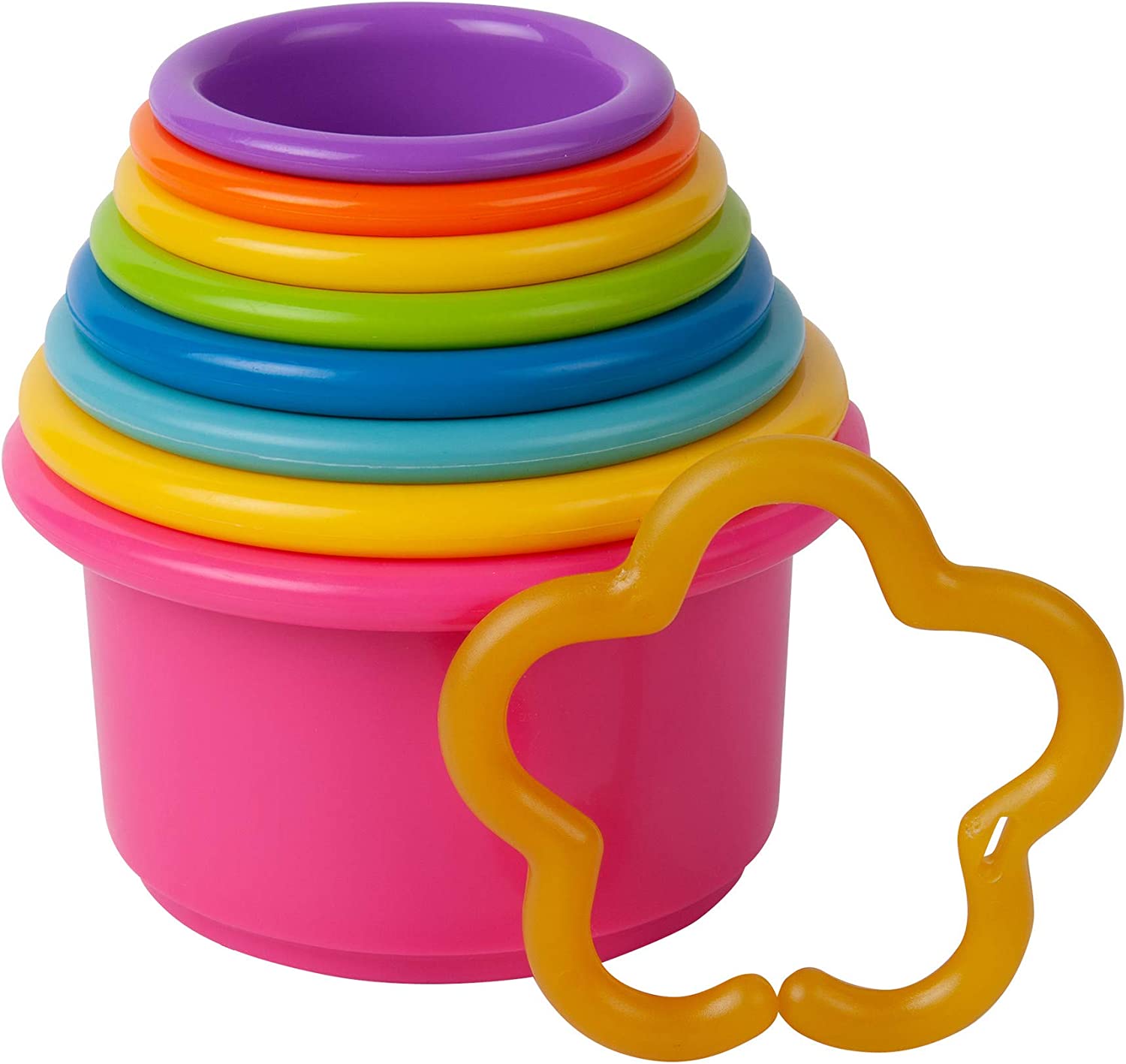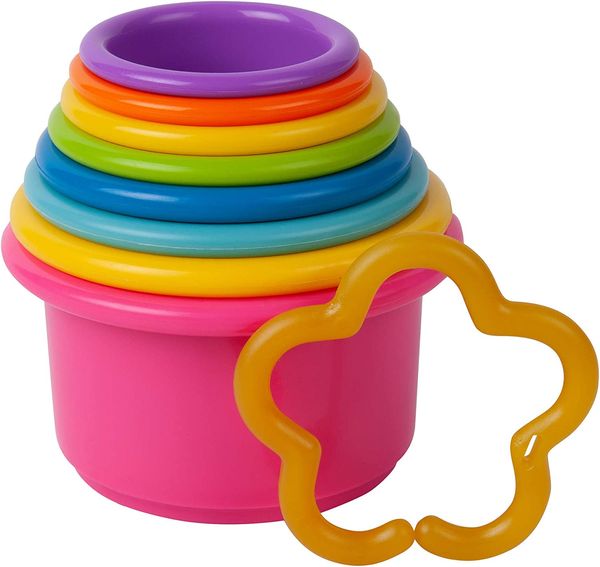 The First Years Stack N Count Cups
These eight brightly colored cups stack together with unique holes in the bottom for water play. You can find them on Amazon.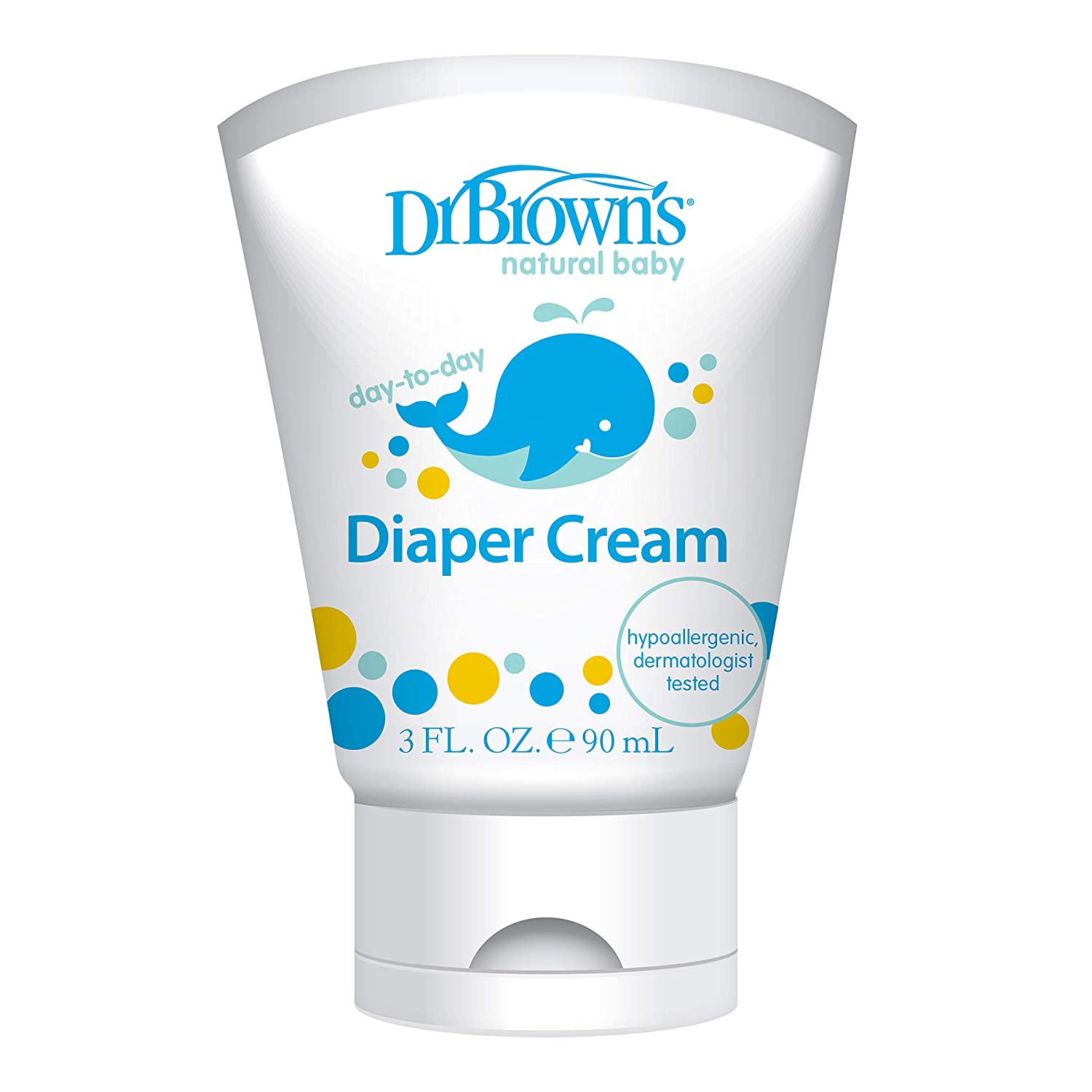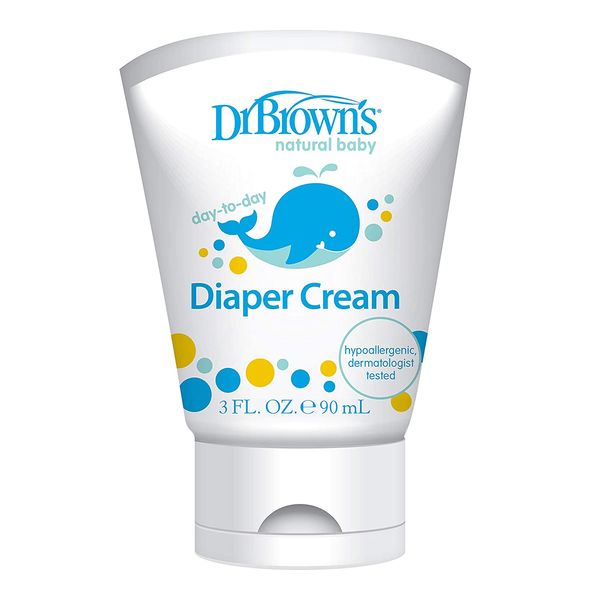 Dr. Brown's Natural Baby Diaper Cream
This cloth friendly diaper cream is hypoallergenic, fragrance-free, contains no petroleum jelly, parabens, phthalates, or sulfates, and is Cruelty-Free. The size is nice to pop in a diaper bag too. Find it on Amazon.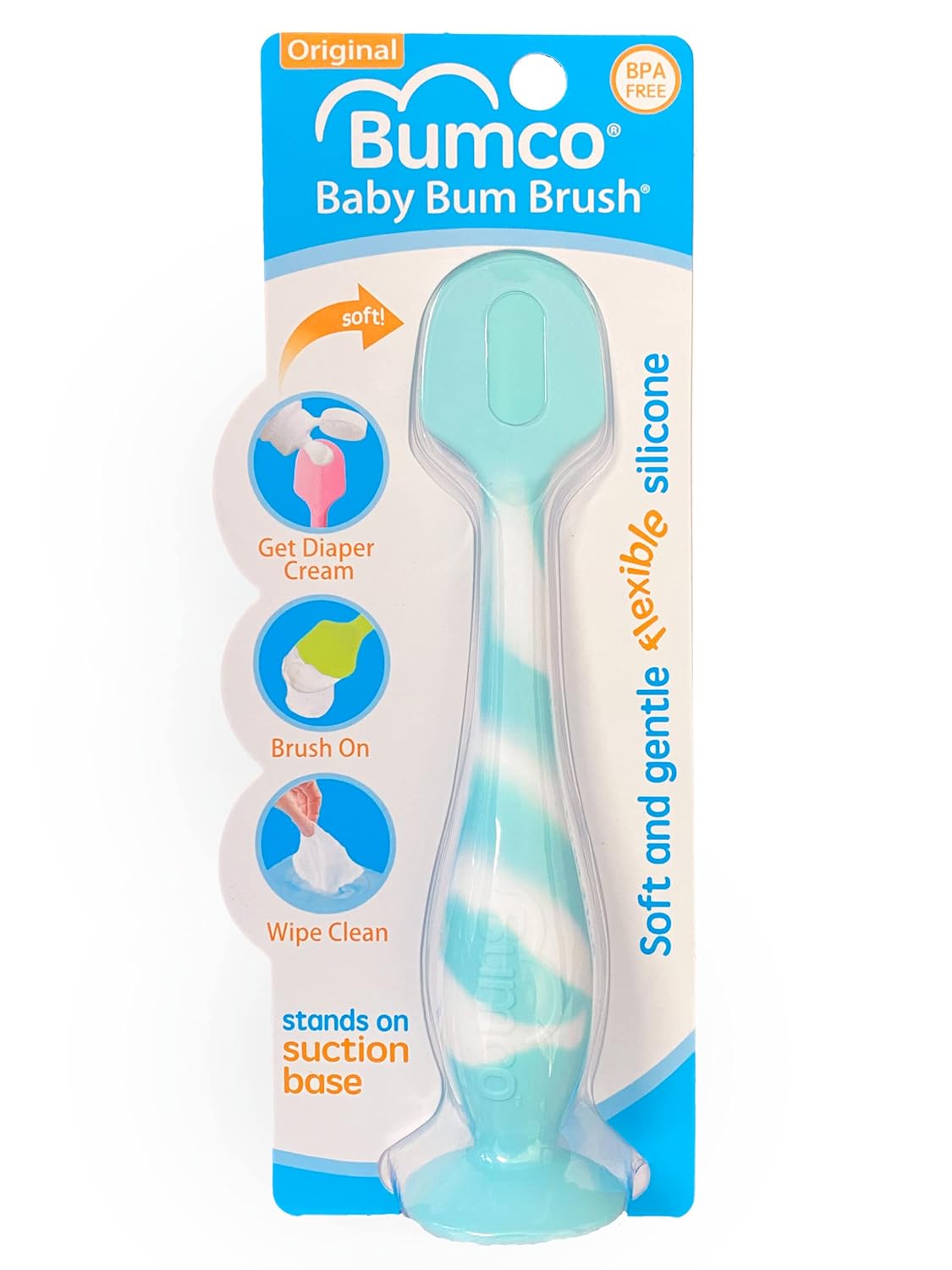 Bumco Baby Bum Brush
While we are on butts, use this silicone applicator to gently apply ointment to your baby's sensitive skin. Keep your fingers clean and get your diaper cream on smoother, thicker, and faster. You can find them on Amazon.
Got any other great baby stocking stuffer ideas?
Let me know if you have any other ideas and I'll add them to the list!
Our next reco: 100 Great Gifts Ideas for Babies Under One
---
Get posts & giveaway updates delivered right to your inbox
---
---